The very popular fasole batuta, a creamy, garlicky, Romanian white bean dip, topped with caramelized onions.

ROMANIAN FASOLE BATUTA RECIPE
This amazing Romanian white bean dip or fasole batuta, fasole frecata or fasole facaluita is a staple in Romanian cooking. Try it, you will probably like it so much, it will become a staple for you too. You can serve it, not only as a dip or bread spread but also as a side dish for many other dishes.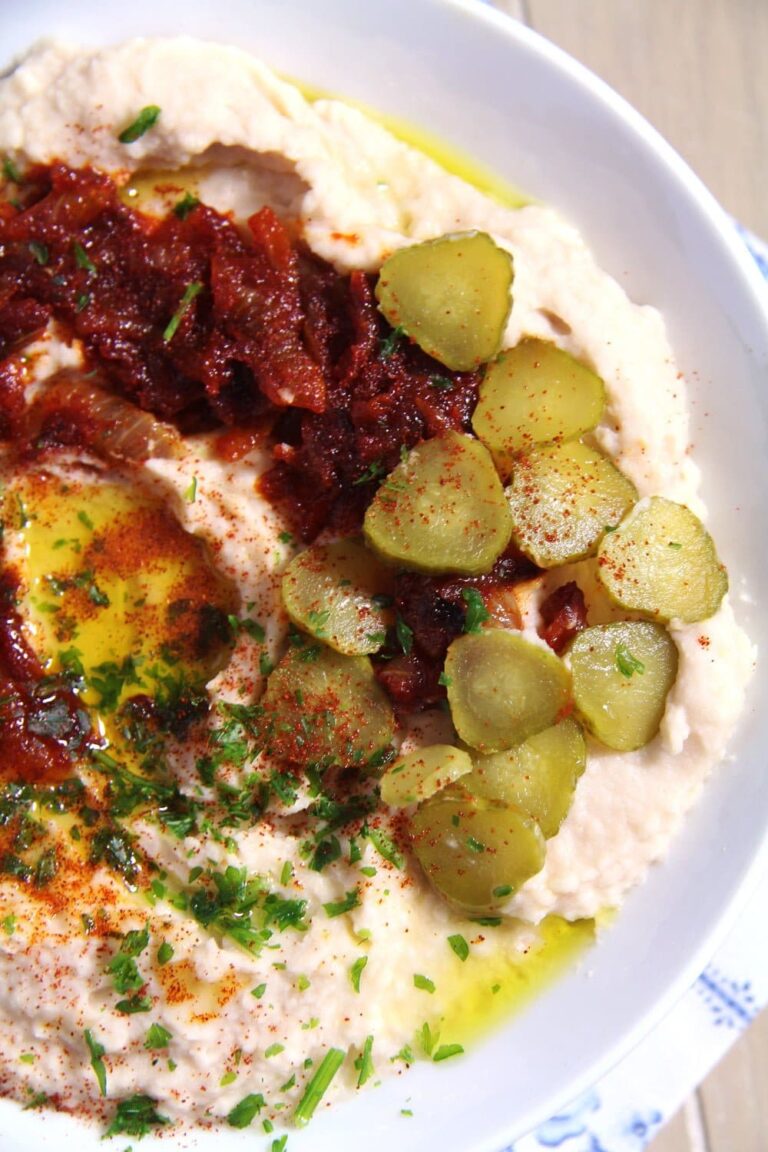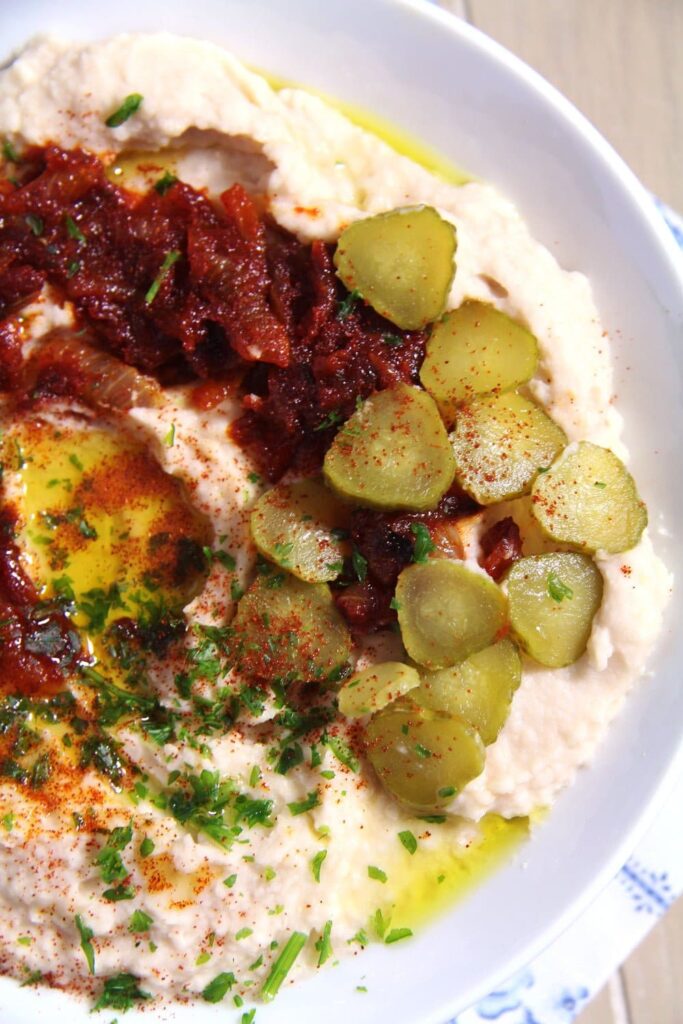 ROMANIAN COOKING
Happy New Year!!!!
And with the new year, a new series on Where Is My Spoon. And this time not only a two-week or even monthly series, but a whole year series. I decided to go for Romanian cooking in 2017, so I could call this "One Year of Romanian Cooking".
Why Romanian cooking? Well, first of all, because I am Romanian. 🙂
Secondly, I realized (quite a long time ago) that although I am thoroughly Romanian and only left my native land as an adult, I don't cook quite as much Romanian food as you might think.
I have my beloved dishes like the Chicken Soup with Dumplings or the Pea and Chicken Stew and several others, but if I really were to count them, they are really not that many.
The main reason for that is that I have only started cooking a couple of years after I left Romania and I have only had my grandmother's own cooking for inspiration. My aunt and my cousin might have had an input on my cooking from time to time, but we don't see each other that often to really deepen that input.
And talking about my grandmother's cooking: her food was really delicious and what she cooked always tasted amazing, there was only one catch to her cooking, she only made the same 20 or 30 dishes over and over again.
Her whole life! Never tried anything new! Or if she ever did (I remember her cooking an unusual kohlrabi stew once, which was never mentioned again afterward), she would only say it wasn't good and that there was a good reason she never tried that before.
So, you see, I know my grandma's dishes very well, most of them I cook myself regularly, my husband and my kids learned to love them as well. But, there is so much more to Romanian cooking than that and I really feel I would like to know more about it.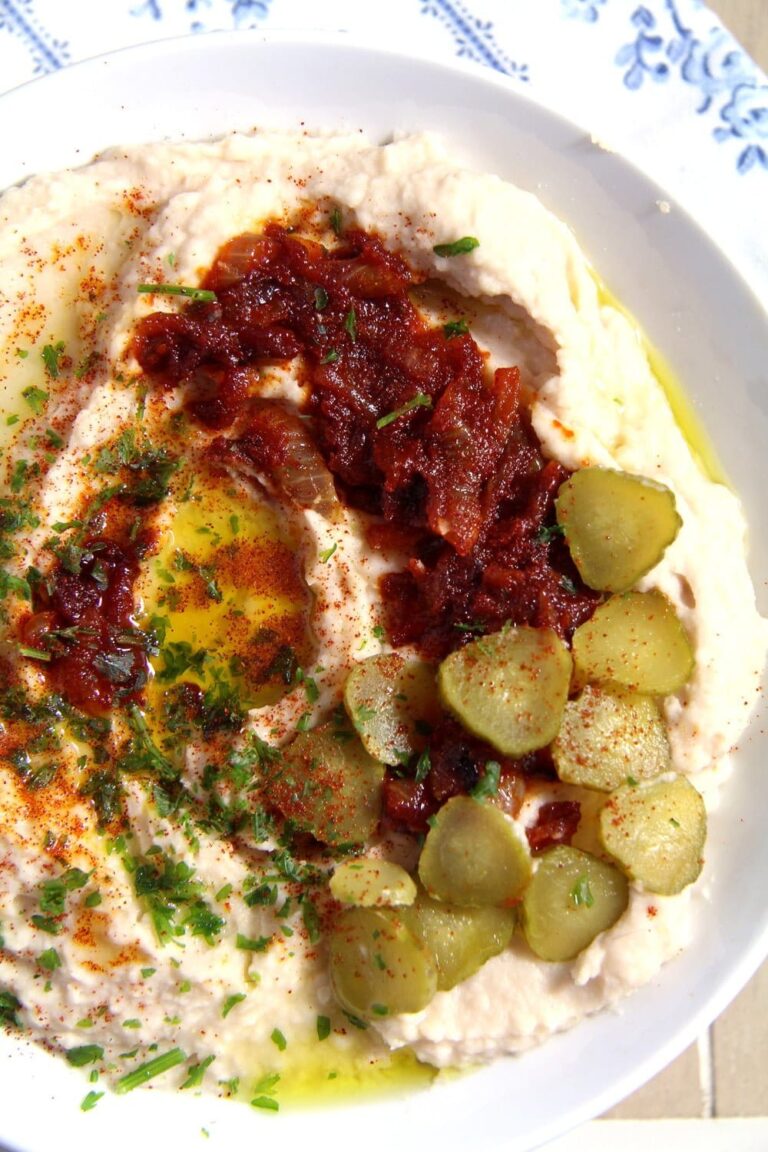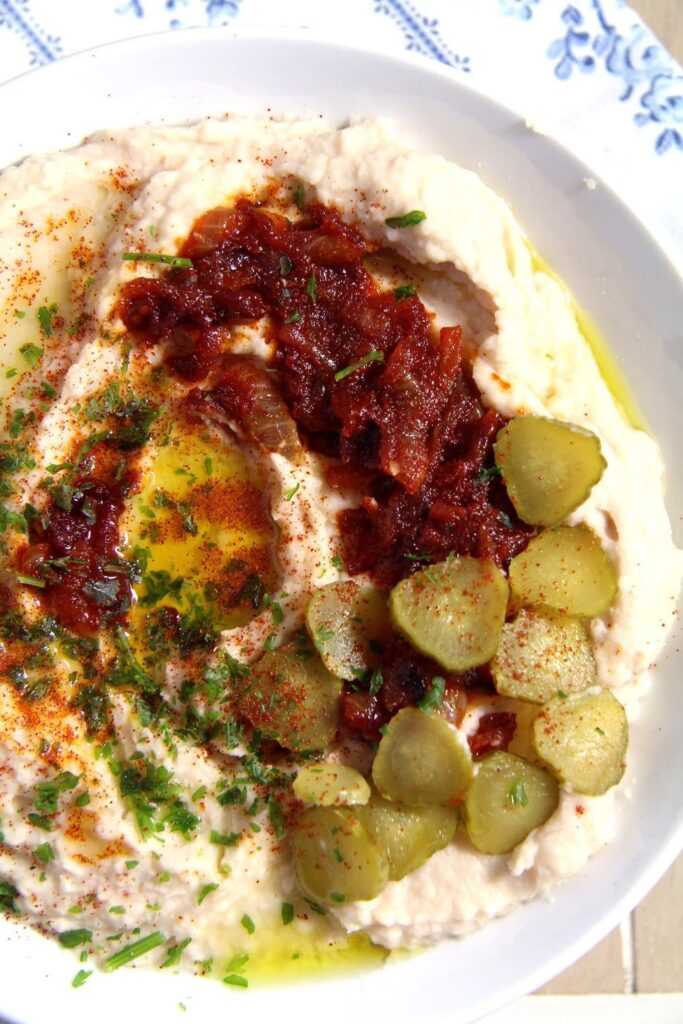 Romanian cooking is not something famous like Italian, French or Indian cooking, but it is really good, warm and comforting, no frills and no complicated methods, simple food using few ingredients most of the time, not so many spices, but still tasting so good. I really hope I can interest you in trying out some of my dishes.
What to expect? Lots of seasonal vegetables that grow in Romania like in the Garden of Eden, things like peppers, eggplants, zucchini and many more, quite a lot of pork recipes – probably more than I am used to eating these days – but pork is really eaten a lot in Romania.
Also lenten recipes – many Romanians are taking the fasting times very seriously, so there are lots of vegan Romanian recipes out there, not only savory but sweet as well.
Not to forget the glorious cakes. Like I've just said: there are no frills in the Romanian cooking, but there are lots of frills in the Romanian baking. 🙂
And also lots of trips down memory lane, you can skip those if you like, I will not mind. 🙂 🙂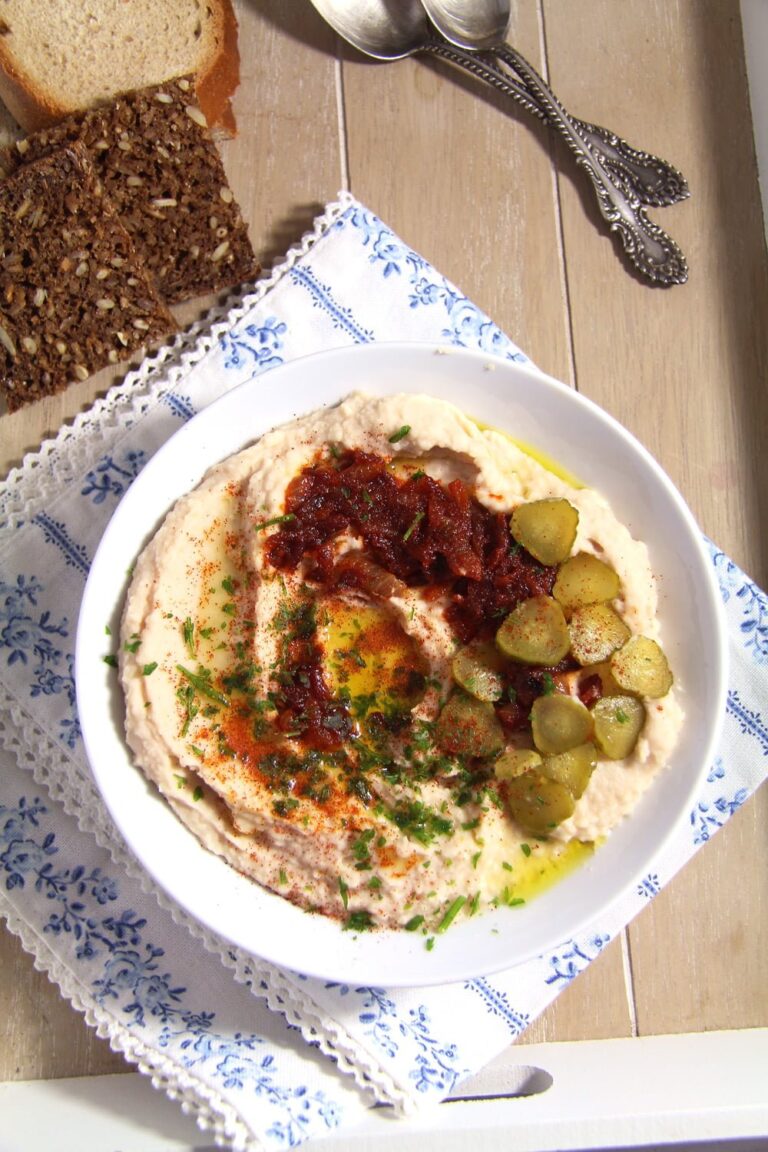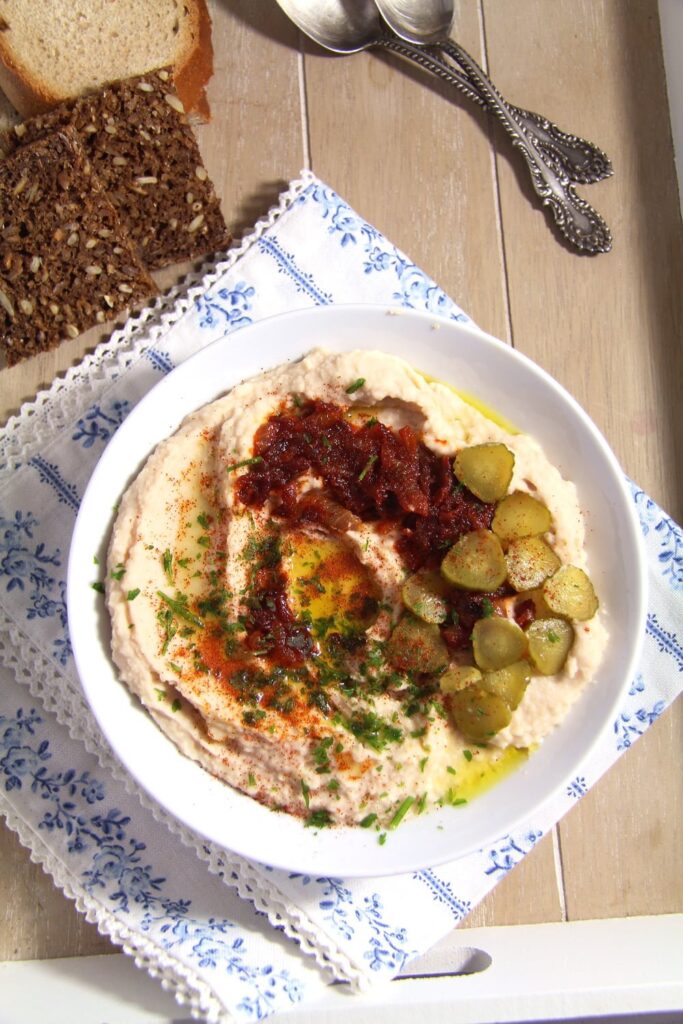 FASOLE BATUTA OR WHITE BEAN DIP
The first two weeks will be dedicated to some kind of Winter Menu, several dishes that I used to see a lot of in the winter months, starting with this delicious white bean dip, a staple in Romanian cooking, something I am sure every Romanian person out there has already eaten.
A very simple dish, easily made and quickly devoured, healthy, vegan, lenten, whatever!
I remember eating it not only at home but also in our favorite tavern during those days - Don Titi's Crama in Sibiu, a very special place to us, it was where I met my husband, who was traveling through Romania/ Europe at the time.
Don Titi used to serve these huge slices of white bread, thickly smeared with white bean dip and topped with onions. A mug of hot mulled wine to go with it and you needed nothing else. Soooo good!
HOW TO MAKE WHITE BEAN DIP?
I always make this vegan bean dip with freshly cooked white beans, I also use some of the beans' cooking liquid when making the dip, that is why cooking your own beans is so important.
My tip: cook more than the beans needed for this recipe – you can easily freeze the rest for future use (soups, stews, salads) and cooking a lot at a time saves time and energy as well.
You can even freeze the cooking liquid for making more dip or soup in the future. I use sunflower oil because that is what my grandma used all the time, but other vegetable oil would do as well. If using olive oil, make sure you use a light oil, that will not be so overpowering.
HOW TO SERVE THE VEGAN BEAN DIP?
The most common way of serving fasole batuta is as a dip or bread spread. Spread the white bean dip generously on large slices of bread and top with the caramelized onions. Serve the gherkins on the side, if you like.
Fasole frecata also makes a delicious lower-carb alternative to mashed potatoes, for instance.
Serve the mashed beans with any kind of meat you like, with meatballs or sausages and don't forget some pickled vegetables on the side.
MORE VEGAN DIPS?
PIN IT FOR LATER!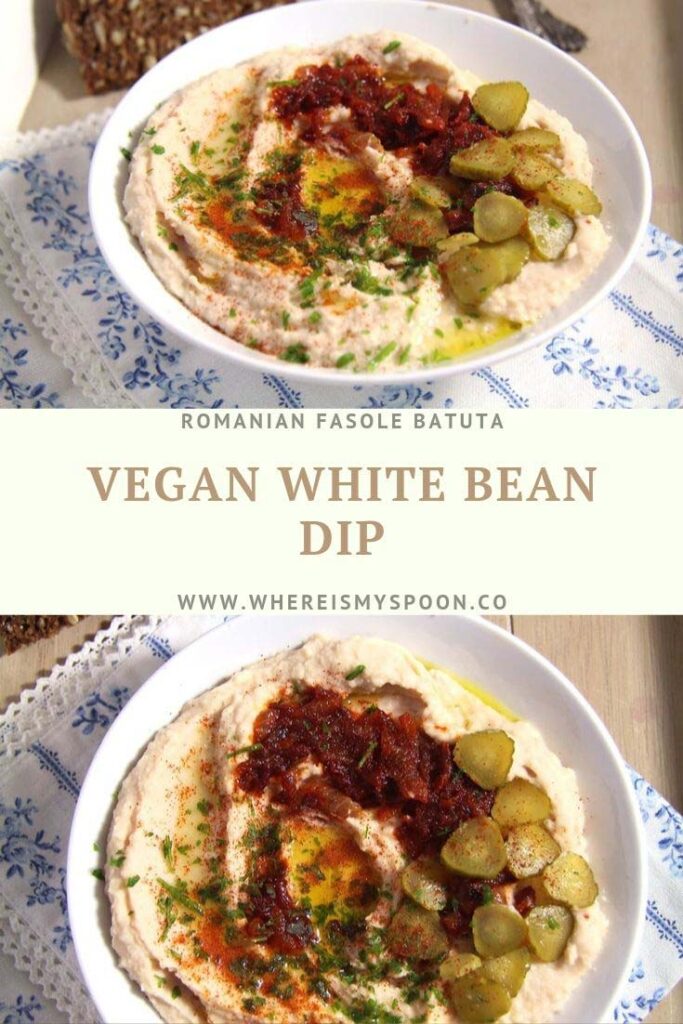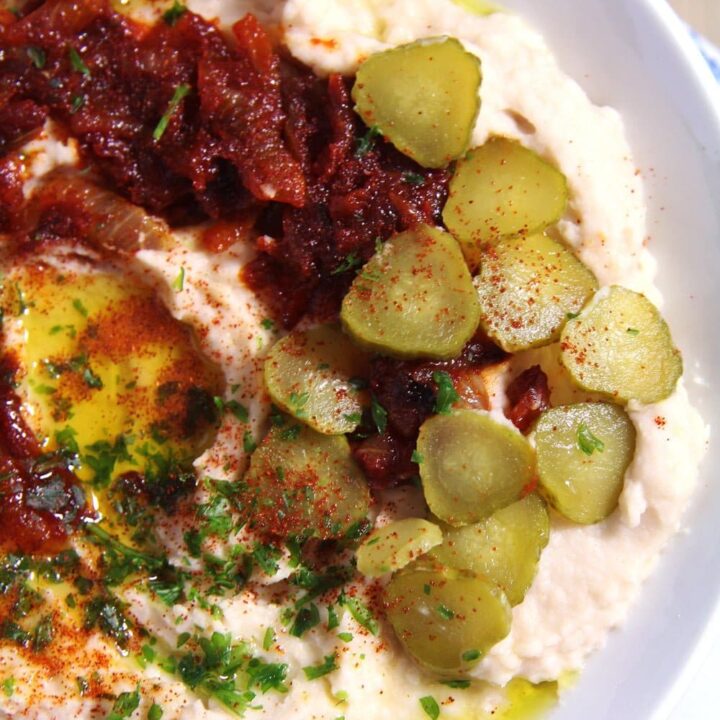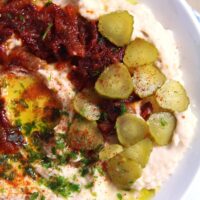 Romanian White Bean Dip – Fasole batuta
The very popular fasole batuta, a creamy, garlicky, Romanian white bean dip, topped with caramelized onions.
Print
Pin
Share
Grow
Saved!
Rate
Ingredients
White bean dip:

9

oz

dry white beans

250 g, (Note)

1

large onion

2

bay leaves

water

2

tablespoons

vegetable oil

2-3

garlic cloves

to taste

fine sea salt

Caramelized onions:

⅓

cup

vegetable oil

75 ml

2

onions

2

tablespoons

tomato paste

½-1

teaspoon

sugar

2

teaspoons

sweet paprika

fine sea salt
Instructions
White bean dip:
Soak beans: Rinse the beans and place them in a large bowl. Cover with water and leave to soak overnight.

Cook beans: Rinse again, place in a large bowl, cover with plenty of water, add the halved onion and the bay leaves and bring to a boil. Cook for about 1 hour or until the beans are soft. The cooking time will greatly depend on the size and age of the beans, so keep checking.

Drain the beans but keep the cooking water.

Combine: Discard the onion and the bay leaves. Leave the beans to cool slightly, then place them in the food processor together with about ¼ cup of the cooking liquid and two tablespoons vegetable oil. Next, add the grated garlic cloves (I prefer to grate the garlic myself before adding it to the food processor to make sure I will not bite on some larger pieces of garlic later).

Process until smooth, scraping down from the food processor walls a few times in between. Add more cooking liquid, a little at a time, to get the right consistency; it should be like a thick crème Fraiche or softer mashed potatoes.

Add salt to taste; I am generous with the salt here, but keep tasting until it is right for you.
Caramelized onions:
Slice onions: Halve the onions and slice the halves into thin half-rings.

Cook: Heat the oil in a large non-stick pan. Add the onions and ½ teaspoon salt and cook gently for 8 to 10 minutes, stirring from time to time.

Caramelize: When the onions are golden, add the tomato paste, sugar, and paprika powder and stir for 2 minutes, until well combined and slightly caramelized.

Transfer the beans to a bowl or a serving platter and top with the onions.

Serve: If served as a dip or bread spread, leave to get cold.

If served as an accompaniment to sausages, meatballs, or any meat, do it straight away while still warm.

Don't forget the pickles: cucumber, green tomatoes, red peppers, hot peppers, and so on.
Notes
About 600 g/ 1.3 lbs/ 3 ¼ cups cooked beans from a can, drained.
Nutrition
Serving:
1
/6 of the dip
|
Calories:
226
kcal
|
Carbohydrates:
18
g
|
Protein:
5
g
|
Fat:
16
g
|
Saturated Fat:
1
g
|
Polyunsaturated Fat:
14
g
|
Sodium:
105
mg
|
Fiber:
4
g
|
Sugar:
4
g