Rosol - a well-know Polish chicken soup, this is a basic recipe for a clear chicken soup with noodles and vegetables.
POLISH CHICKEN SOUP – ROSOL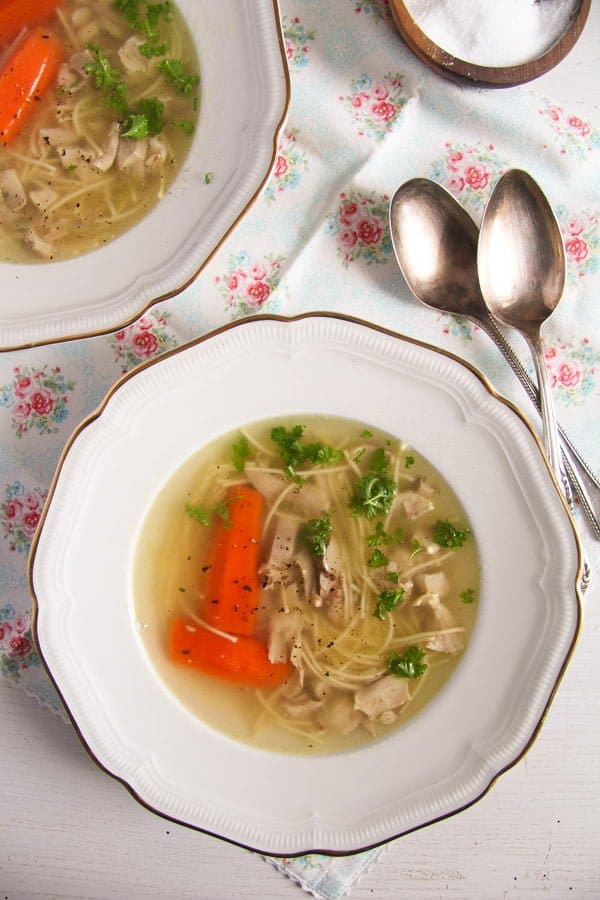 Rosol is the Polish version of a basic, healthy and flavorful chicken soup.
Like probably every other country in the world Poland has its own version of a basic, homemade chicken soup, which isn't actually very different than most of the other "national" chicken soups you might know. At least, this Polish soup is not very different from the German chicken soup that my mother-in-law makes or from the Romanian chicken soup that I make.
The main difference lies in what the finished soup actually contains.
For making the basic chicken stock we follow more or less the same procedure and use more or less the same vegetables and spices.
But the traditional Romanian chicken soup is made with semolina dumplings and normally we use the cooked chicken meat for making other dishes. My mother-in-law makes her German chicken soup with much more vegetables and sometimes with flour dumplings.
The Polish prefer to leave the cooked chicken pieces in their Rosol together with the carrots and add some noodles as well. By the way, I bought the noodles for this recipe in Poland, it seems they are exactly the kind of noodles that are traditionally used for making rosol. However, you can use whatever thin/soup noodles you like.
But no matter how the soup looks like in the end, the main point is that chicken soup is healthy, so comforting and so delicious, something I can actually eat on a weekly basis, no matter if the recipe is a Polish rosol, a Romanian supa de galusti or a German Hühnersuppe.
HOW TO MAKE ROSOL?
Or better said, how to make a basic chicken soup.
INGREDIENTS FOR ROSOL
Chicken:
You will need either a whole chicken, or some chicken parts, not only legs, but also those parts you would normally not use for something else: backbone, neck, wings and so on.
Ideally, you would have some roasted chicken bones too, leftover from roasting a whole chicken or some chicken legs.
Each time I roast a chicken or chicken thighs or whole chicken legs, I make sure to keep the bones. After we are finished eating, I clean them shortly and freeze them.
And every time I roast chicken legs, I remove the back part and keep that for soup as well. So, the next time I make chicken soup or chicken stock, I add the roasted bones and all the other scrapings to the soup pot together with some other fresh chicken parts, a leg or two for instance.
Vegetables:
I use carrots, which I always have in my fridge and onions, which are always present in my pantry.
Celeriac is a must as well, but as I generally don't use celeriac as often as I use carrots or onions, I always buy a large celeriac, clean it, cut into rather large pieces and freeze these pieces. This way, I can always remove the required quantity of celeriac from a freezer bag instead of having to buy a whole head every time and not really being able to use it up before it goes bad.
Another important vegetable when making rosol or any other chicken soup or stock is the leek. Just like in the case of the celeriac, I don't normally have leeks lying around in my fridge. So I either do the same and freeze some leeks in larger pieces or use the leaves of the green onions instead.
I buy green or spring onions all the time, but unfortunately, although I don't like it, I am always forced to remove generous amounts of the green parts, they are either to rough or too limp or too large to eat.
But as I don't like wasting, I wash these green parts thoroughly and freeze them as well. I honestly always have a large bag of spring onion greens in my freezer, so I actually use them more often for making stock than I use leek.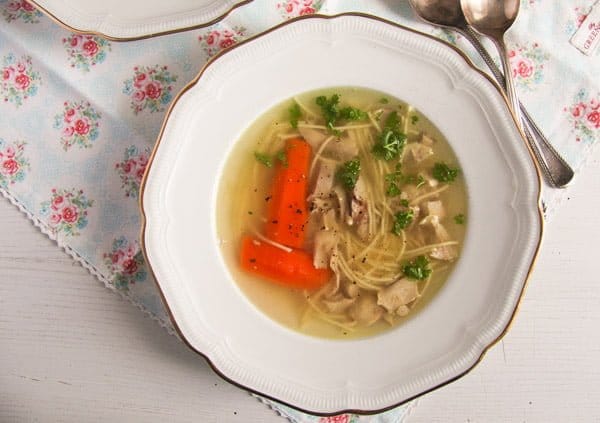 Another thing to freeze when available and to use for stocks: the parsley stems. I have parsley in my herb patch in the garden and when using the parsley leaves I keep the stems, always adding them to the freezer bag that's already in the freezer.
I do the same in winter when buying these huge parsley bunches at the Turkish store. I use about a handful of parsley stems each time I make stock.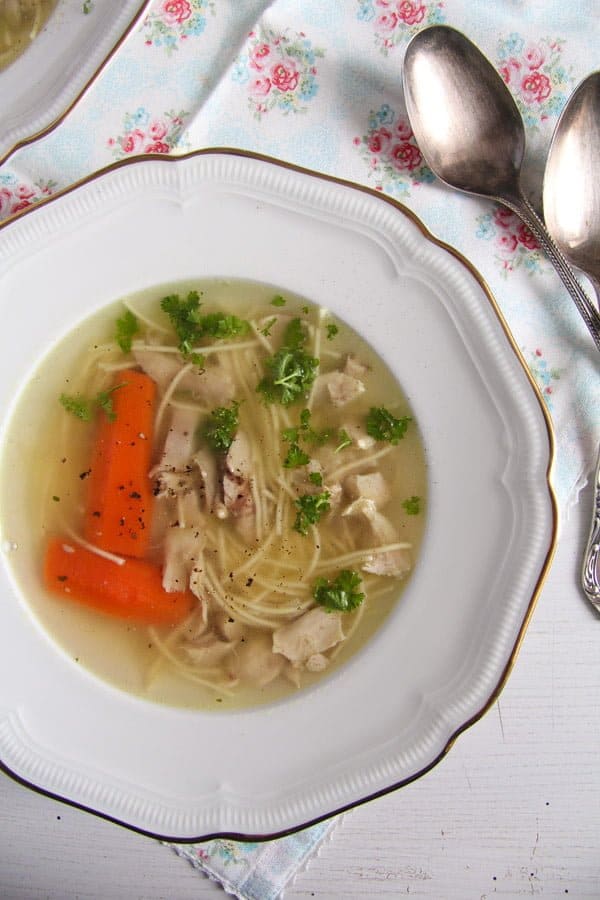 HOW LONG TO COOK CHICKEN SOUP OR ROSOL?
When it comes to the cooking times, the longer you cook the chicken and the vegetables, the more flavorful the stock. For an easy light soup like today's Polish soup or rosol I only cook the chicken for about one hour and a half.
But for a stronger chicken stock, which is my favorite kind of stock, I cook the chicken and the vegetables for hours and hours at a time.
I usually start cooking the chicken stock early in the morning and finish sometimes late in the afternoon or in the evening. The stock will not boil at any time, it will just simmer really slowly and develop that amazing deep flavor that cannot be achieved by any chicken stock cube or jar of store-bought chicken stock.
OTHER CHICKEN SOUPS?
PIN IT FOR LATER!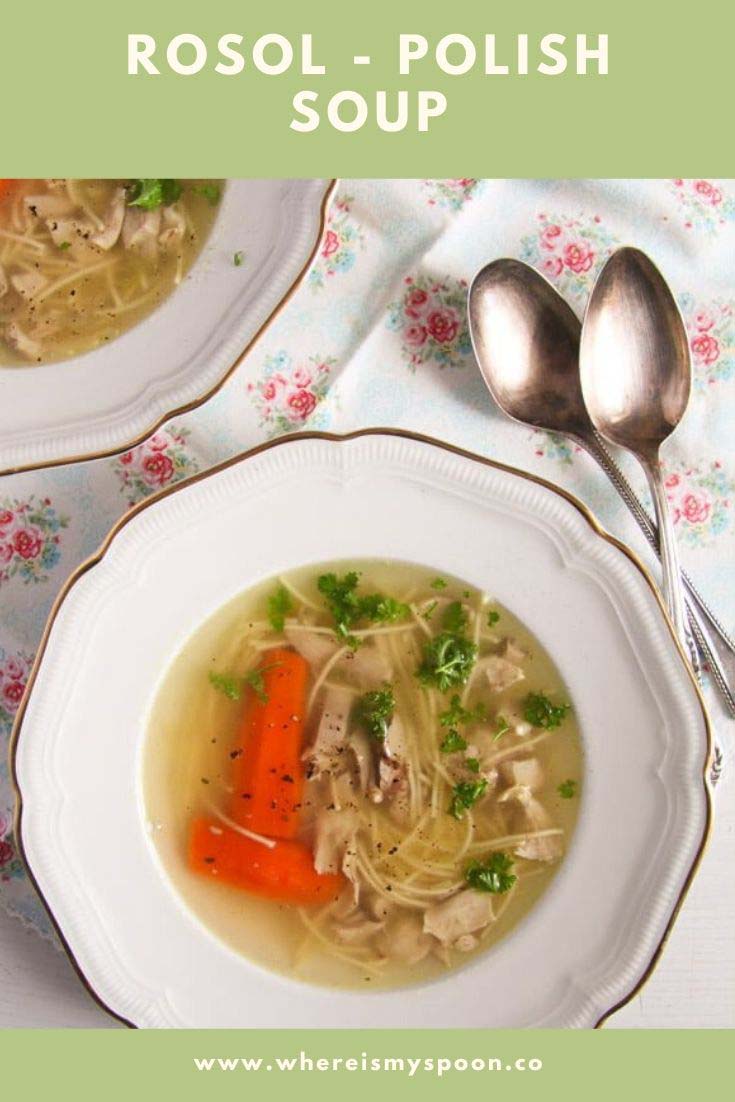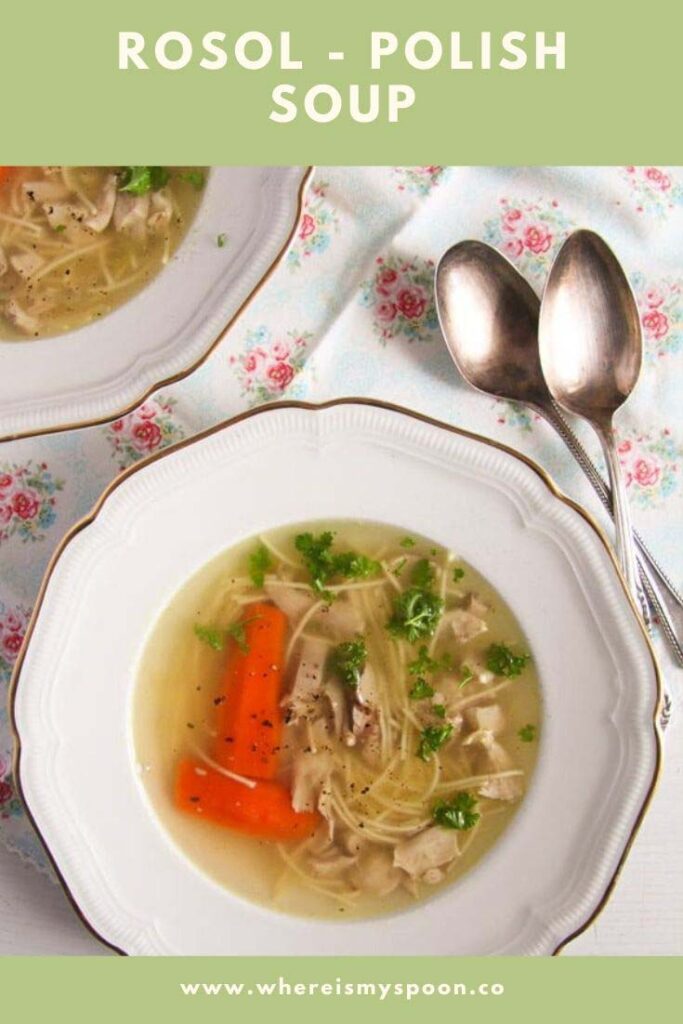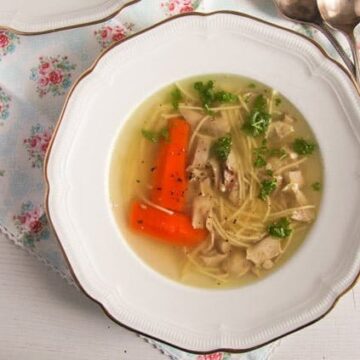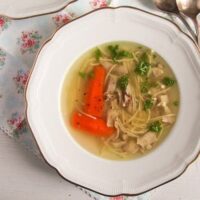 Rosol – Polish Soup
Rosol - a well-know Polish chicken soup, this is a basic recipe for a clear chicken soup with noodles and vegetables.
Print
Pin
Share
Grow
Saved!
Rate
Ingredients
3

chicken quarters

some roasted chicken bones

if available

10

black peppercorns

6

juniper corns

4

cloves

3-4

bay leaves

2 ½

liter/ 10 ½ cups water

2

large carrots

2

pieces

celeriac

about 100 g/ 3.5 oz (or 3-4 celery sticks)

1

leek

or a bunch of spring onion greens

1

onion

a handful of parsley stems or 1 smallish parsley root

150

g/ 5.3 oz thin noodles

fine sea salt

some fresh parsley to garnish
Instructions
Place the chicken quarters, bones and spices to a large pot. Cover them with plenty of water. Slowly bring to a boil, immediately turn down the heat to keep the soup from boiling and let simmer for about 45 minutes. Skim the foam.

Peel and halve the carrots. Cut the halves lengthwise as well. If the carrots are smaller, use more of them and only halve them or leave them whole. Cut the celeriac and the leek in two or three large pieces. Halve the onion.

After 45 minutes add the vegetables and some salt to the pot. Continue simmering the soup for another 30 or 40 minutes or until the carrots are cooked to your liking.

Strain the stock and keep the carrots and the chicken quarters. Remove the skin and the bones of the chicken and cut the meat into small pieces. Discard the bones and the rest of the vegetables and spices. Return the carrots and the meat back to the stock. Adjust the taste with salt and pepper.

When ready to serve bring the soup to a boil and cook the noodles in it according to the packet's instructions. Serve immediately. You could cook the noodles separately and add them to the soup just before serving.
Nutrition
Serving:
1
/8 of the soup
|
Calories:
202
kcal
|
Carbohydrates:
29
g
|
Protein:
12
g
|
Fat:
6
g
|
Saturated Fat:
1
g
|
Polyunsaturated Fat:
4
g
|
Cholesterol:
30
mg
|
Sodium:
585
mg
|
Fiber:
4
g
|
Sugar:
5
g