Easy to make healthy fried cabbage with bacon and balsamic vinegar, a perfect cabbage side dish or a delightful light meal on its own.
FRIED CABBAGE WITH BACON RECIPE
Except tomatoes, cabbage must be the one vegetable I ate the most as a child. From simple cabbage salads or stewed cabbage with or without any meat to my favorite Romanian cabbage rolls – Sarmale, any cabbage recipe my grandmother ever cooked during my childhood was sure to please me.
I even remember my sister and I munching on the sweet and somehow spicy cabbage core that my grandmother cut away before chopping the cabbage.
I still love cabbage dearly, white cabbage is my favorite sort, but nowadays we eat lots of red cabbage, savoy cabbage or napa cabbage as well.
TYPES OF CABBAGE
Cabbage or Brassica olearacea was domesticated in Europe before 1000 BC. It is the best known member of the cruciferous family of vegetables. Cruciferous also include broccoli, cauliflower, Brussels sprouts, kale, radishes, turnips and so on.
There are three major types of cabbage: green, red and Savoy.
The very common white cabbage we usually buy in Germany is a sort of green cabbage. The green cabbage has a more vivid color and is leafier, while a head of white cabbage is rather firmly packed and has a much lighter color.
I use green and white cabbage interchangeably, although I try to buy the greener salad (which is not as easy to find as the white cabbage around here) when making salads, I feel that green cabbage is just a little softer than white cabbage. If I don't find it, I use white cabbage instead, I just have to remember to "knead" the cabbage and the salt together more firmly when making the salad.
I use white cabbage for most cabbage dishes I cook, white cabbage and its firmer leaves are perfect for stir fries, sauteed cabbage or baked cabbage wedges. I made today's fried cabbage with bacon using white cabbage as well.
The red cabbage has a very vivid red purple color and a similar consistency to white cabbage. Most of the times, I saute red cabbage with wine and spices and serve it as a side dish for typical German dishes like the beef roulades or beef roast.
Not to forget the crunchy and delicious red cabbage slaw. Whenever I buy a head of red cabbage, I make sure to leave at least ¼ of the head leftover just to make a red cabbage slaw.
Apparently, Savoy cabbage was only developed sometimes during the 16th century. The leaves of the Savoy cabbage are rather ruffled and have a wonderful green color on the outside, turning to light green and then yellow on the inside.
Its flavor is milder compared to the other cabbage sorts mentioned above. I often serve Savoy cabbage in a typical German way, which is a side dish of Savoy cabbage smothered in white sauce or sauteed with bacon as well.
And there are the famous German stuffed Savoy cabbage leaves, which are a specialty of my mother-in-law. They are amazing!
HEALTH BENEFITS OF CABBAGE
Cabbage is not only a delicious vegetable, but it is also extremely healthy.
Cabbage and type 2 diabetes:
According to whfoods.com "cabbage was one of two vegetable types (the other type was root vegetables) found to be a mainstay for prevention of type 2 diabetes in a recent study of over 57,000 adults in the country of Denmark. In this very large-scale study, adults who closely followed the Healthy Nordik Food Index were found to have the lowest incidence of type 2 diabetes."
This key health benefit was linked to six food intake categories: fish, rye bread, oatmeal, apples and pears, root vegetables and cabbage.
Cabbage contains important antioxidants like sulforaphane and kaempferol that help keep inflammation in check, thus reducing the risk chronic inflammation, which can cause cancer, heart disease, arthritis and inflammatory bowel disease.
The consumption of any kind of cabbage might improve the digestion. Cabbage has a high level of insoluble fiber, which is type of fiber that cannot be broken down in the intestines, thus keeping the digestive system healthy.
Cabbage contains almost 4 grams of fiber per cup.
Cabbage is also a good source of soluble fiber and plant sterols, which have been shown to reduce bad levels of cholesterol, thus also reducing the risk of high blood pressure and heart disease.
Cabbage is a great source of potassium, which has a vital role in regulating blood pressure by counteracting the effects of sodium in the body.
The higher content of anthocyanin found in cabbage "is associated with lower arterial stiffness and central blood pressure in women." Simply put, anthocyanin-rich cabbage helps lower blood pressure levels and prevents heart diseases. (organicfacts.net)
Cabbage contains high levels of important vitamins like vitamin K1 and vitamin C.
Vitamin K1 is vital as well, without it the blood would not clot properly, which might cause excessive bleeding. The same vitamin is also important when it comes to mental function and concentration, so consuming cabbage might lower the risk of diseases like Alzheimer, Parkinson or dementia.
The human body needs vitamin C to produce collagen, which is important for the skin, bones, muscles and blood vessels.
HOW TO MAKE FRIED CABBAGE WITH BACON
This recipe for fried cabbage with bacon and balsamic vinegar is as easy as it can be. Actually, the only work involved is chopping that cabbage, after that everything can be done in no time.
The recipe for fried cabbage uses only a few and only super cheap ingredients, like cabbage (the second cheapest vegetable there is except potatoes), onions, a small amount of bacon, one tomato, a little balsamic vinegar and some spices.
I gave you the grams or ounce amount of cabbage, because a head of cabbage can come in such different sizes. I could buy a small one weighing no more than 1 kg/ about 2 lbs or I can buy huge one weighing 4 kg/ 8.8 lbs.
You will need about 1 kg/ 2.2 lbs cabbage for this fried cabbage with bacon recipe.
Step 1: Chop the cabbage and slice the onions. Cut the bacon into cubes. Finely chop the garlic cloves. Keep everything separated.
Step 2: Fry the bacon and onions in a small amount of oil. Only give some oil to the pan if using lean bacon. Regular bacon is fatty enough, so the fat will render. Drain the excess fat out of the pan before adding the rest of the ingredients, keeping only about 1-2 tablespoons bacon fat.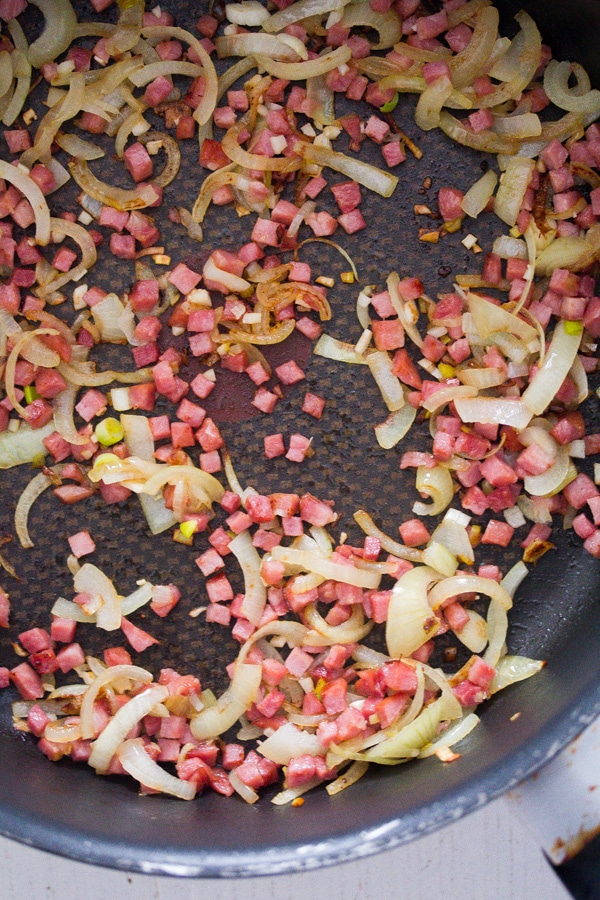 Step 3: Add the garlic and stir for 1 or 2 minutes. Give the cabbage to the pot, stir well and fry for about 6-7 minutes, stirring often, or until softer.
Step 4: Add the spices, tomato and some vegetable broth. Cover and cook for another 6-7 minutes or until the cabbage is almost done. You might want to cook the cabbage for a shorter or longer period of time, depending on your taste, the cabbage can remain crunchy or get soft.
Step 5: Add the balsamic vinegar and cook the cabbage for another 4-5 minutes without the lid. Adjust the taste with more salt, pepper and balsamic vinegar.
Serve the fried cabbage with bacon as a side dish for roast, duck or chicken. Or as a meal on its own with some crusty bread on the side.
The fried cabbage with bacon can be easily reheated and it keeps well in the fridge for 2 or 3 days.
Ingredients
100 g/ 3.5 oz bacon (See note 1)
1 tablespoon vegetable oil (See note 1 as well)
2 medium onions
3 garlic cloves
1 kg/ 2.2 lbs white cabbage
1 teaspoon sweet paprika powder
½ teaspoon granulated sugar
½ teaspoon caraway seeds (See note 2)
1 medium tomato
180 ml/ 6 fl.oz/ ¾ cup vegetable broth
1 tablespoon white or red balsamic vinegar + more to taste
fine sea salt
freshly ground black pepper
small bunch of parsley
Instructions
Chop the white cabbage and set aside. Cut the bacon into cubes and slice the onions. Finely chop the garlic cloves. Keep the garlic separated from the bacon and onions.
Heat the oil (only if using lean bacon) in a large skillet. Saute the bacon and the onions until the fat has rendered and the onion slices are golden. Pour out most of the rendered bacon fat, keeping only about 1-2 tablespoons of the fat.
Give the garlic cloves to the pan and stir for 1-2 minutes. Add the chopped cabbage. It will seem like a lot, but the cabbage will wilt down after a few minutes cooking time. Cover and cook for about 6-7, stirring well a few times in between.
Add the sweet paprika powder, sugar, caraway, some salt and pepper. Stir well and add the finely chopped tomato and the vegetable broth. Cover the pan and saute for another 6-7 minutes or until the cabbage is almost done.
You might want to cook the cabbage for a shorter or longer period of time, depending on your taste, the cabbage can remain crunchy or get even softer.
Add 1 tablespoon balsamic vinegar. Stir well and cook the cabbage for another 4-5 minutes without the lid.
Adjust the taste generously with more sea salt and pepper, balsamic vinegar and a little sugar. The cabbage should taste slightly sweet and sour. Stir in the chopped parsley.
Serve as a side or as a main dish as suggested above.
Note 1: If using lean bacon, fry it in 1 tablespoon vegetable oil. If using regular bacon, there is no need to add any oil to the pan, the bacon will render more than enough fat.
Note 2: Caraway seeds are a perfect fit when cooking white cabbage and I always use them. However, as it is not always a common cupboard spice, you can leave it out.
[nutrition-label id=11797]