Simple kid-friendly soup with potato, carrots, and sausages. This is an easy soup recipe for any fussy eater out there!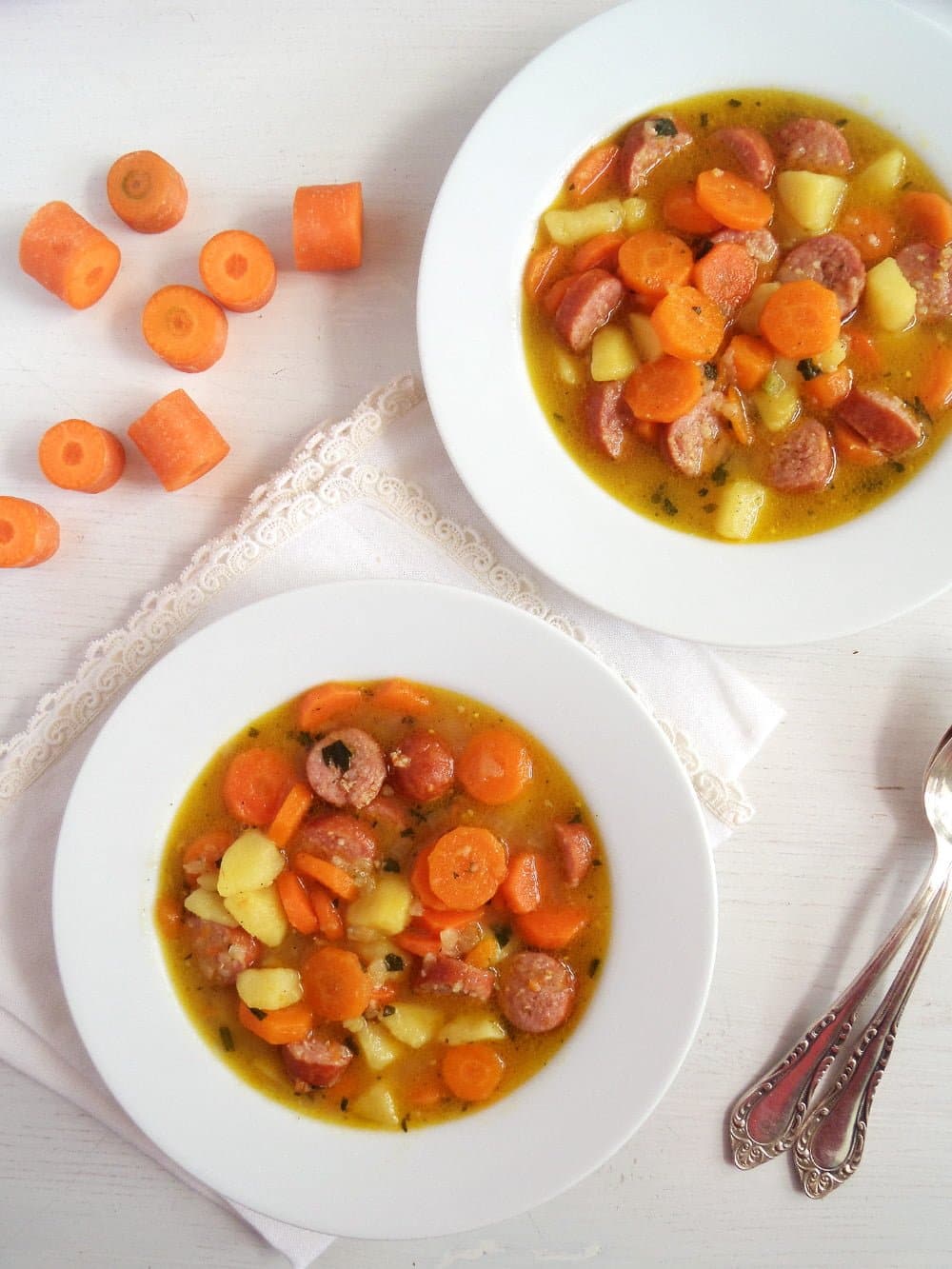 Potato Carrot Soup with Sausages (Soup for Kids)
A kid-friendly soup? Is there any soup that can deserve such a name? Yes, of course. This one. Carrots, potatoes, and sausages. Nothing more, nothing less. So little and yet so much. Somehow magical. Where is the magic?
Well, if you have kids, you will understand the magic. The magic of going through a meal completely silent, the magic of not hearing "I am not eating that or that," or "Can I leave that out?" or "Somehow I don't really like it," or the best one, "It tastes very good, but I don't like it".
There is nothing NOTHING to which they can object here. Only carrots, potatoes, and sausages. And I have yet to meet a child who doesn't like the three.
You will think this is such a simple, basic soup; one really doesn't need a recipe for it. I know, I know, I thought the same thing and actually didn't really intend to post this.
But after experiencing, again and again, the magic of this kid-friendly soup, I thought it would be quite selfish to keep this away from you. If it helps only one or two mothers out there, then I am happy. I know what it is to have fussy eaters at the table.
Fast forward 5 years later: my kids are not really fussy about food anymore. I think being perseverent and always insisting they try everything that I cooked paid off. They still have some veggies they don't like (mushrooms and Brussels sprouts, for instance), but they do eat almost anything.
They even love fish (even canned tuna) nowadays, and that is really something! 🙂
But still, this potato sausage soup, or kids' soup (as they call it), remains a favorite; I cannot even count how many times I've cooked one version of it or another.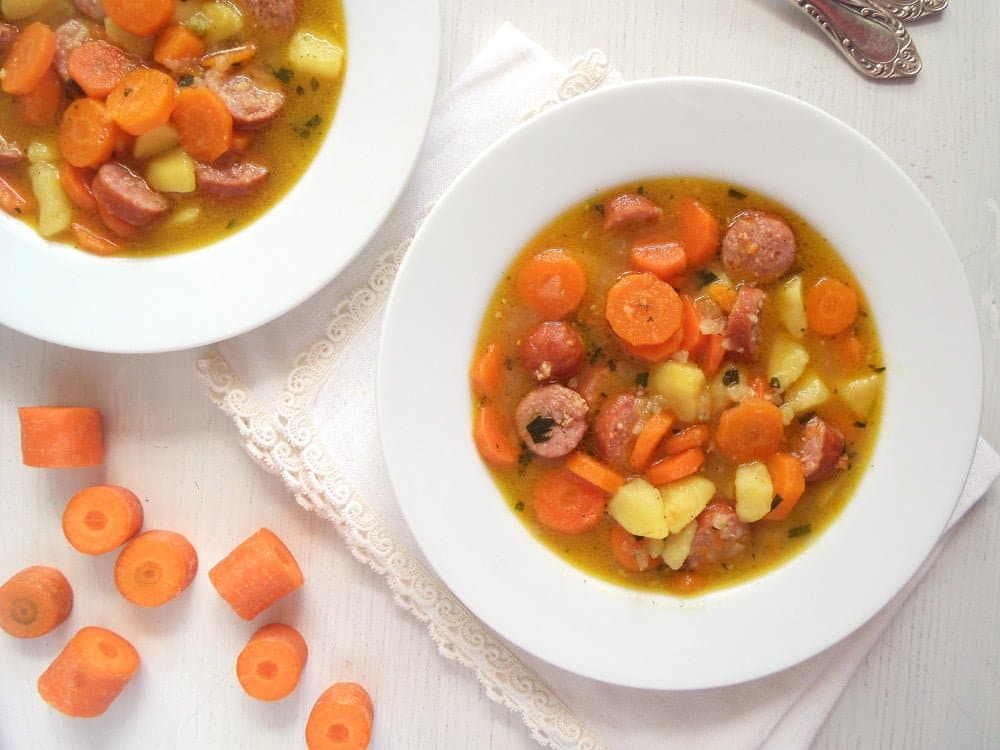 Tips
There isn't really much I can say; you only need some potatoes, onions, carrots, and sausages.
A bit of peeling, chopping, and cooking, and you're done.
It doesn't really matter what kind of sausage you use.
I bought some quite spicy, smoked, typical German pork sausages this time. I like them because they add some extra heartiness.
Otherwise, any kind of sausage is your friend here.
The only thing to keep in mind is to make sure that the sausages are cooked through in the soup, in case you are using uncooked sausages.
If you are using pre-cooked sausages like wieners, frankfurters, or sausages sold from the shelf (not refrigerator) of the supermarket, you just need to slice and heat them through in the soup.
And if you have leftover bratwurst or other grilled sausages, don't be shy; chop them and reheat them in this kids' soup.
More soup recipes for kids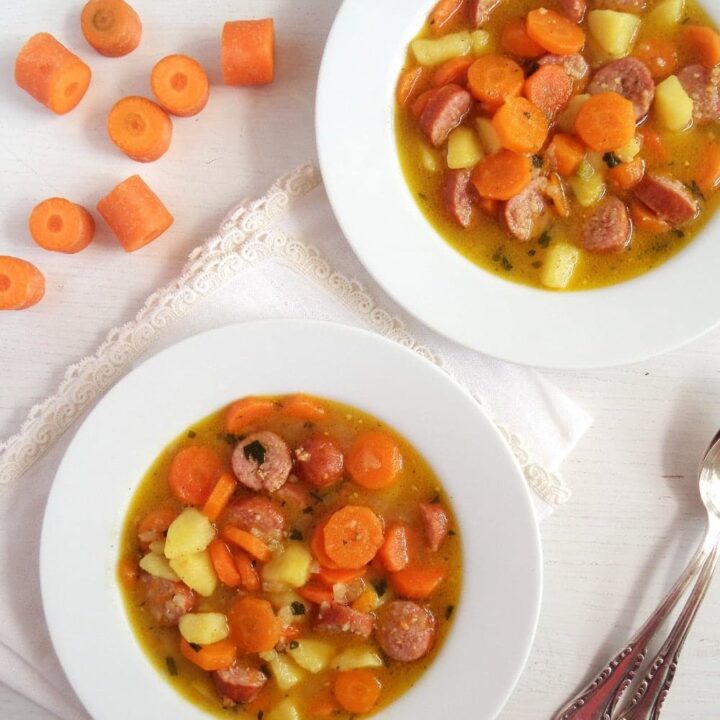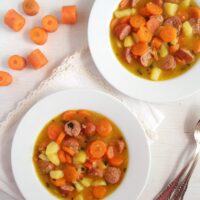 Kid-Friendly Soup with Potatoes and Sausages
Delicious and straightforward kid-friendly soup with potato, carrots, and sausages. An easy soup recipe for any fussy eater out there!
Print
Pin
Share
Grow
Saved!
Rate
Ingredients
1.5

lbs

carrots

1.5

lbs

potatoes

2

onions

1

tablespoon

butter

3

cups

vegetable stock

or chicken stock

4

sausages

See note

some parsley

fine sea salt and freshly ground black pepper
Instructions
Peel and chop the carrots and the potatoes. Finely chop the onions.

Saute: Melt the butter in a soup pan and cook the onions until translucent. Add the carrots and continue cooking for about 5 minutes. Add the potatoes and keep cooking for about 3 minutes.

Cook: Add the stock, cover the pan, bring to a boil, and cook for about 15 minutes. In the meantime, cut the sausages into slices. Lower the heat and add the sausage slices to the soup. Leave for about 5 minutes until the sausages are cooked or heated through, and the vegetables are soft.

Adjust the taste with salt and pepper and sprinkle the chopped parsley on top.
Notes
You can use almost any kind of sausages or leftover grilled bratwurst/sausages.
If using raw sausages, make sure you cook them through in the soup.
Cooked sausages or something like wiener/frankfurters only needs to be heated through.
Nutrition
Serving:
1
/4 of the soup
|
Calories:
372
kcal
|
Carbohydrates:
62
g
|
Protein:
12
g
|
Fat:
10
g
|
Saturated Fat:
4
g
|
Polyunsaturated Fat:
5
g
|
Cholesterol:
27
mg
|
Sodium:
1163
mg
|
Fiber:
11
g
|
Sugar:
12
g