Last Updated on
An easy to make, healthy chicken soup with potatoes, peas, carrots and lots of parsley.
Easy homemade chicken and potato soup with vegetables
This is a wonderful little soup, full of flavor and good ingredients: chicken breast, carrots, potatoes and peas. I made a huge pot the other day and it was gone by the evening, all of us ate it both for lunch and dinner and there was not a single potato left in the pot at the end of the day.
You just cannot go wrong with this chicken potato soup: it is easy and quick to make, versatile and I cannot imagine anyone saying that it doesn't taste good. It is just one of those dishes that taste good no matter what, comfort food, mama's cooking, warmth and love.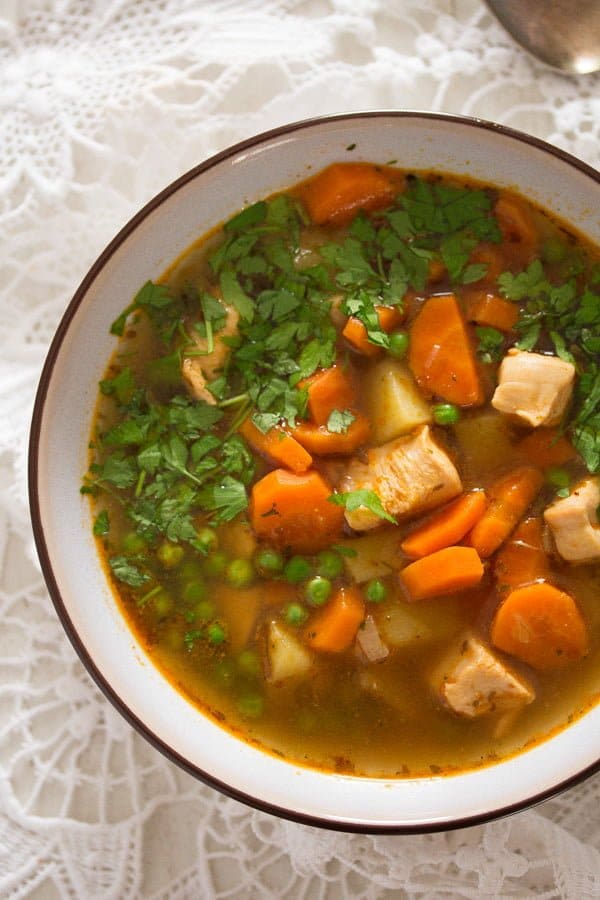 Ingredients for the healthy chicken soup
No fancy ingredients needed to cook this comforting homemade chicken soup recipe. You will only ingredients you probably already have in your pantry, cellar and freezer.
Some chicken breast and peas, which are usually a common staple in any freezer, potatoes and onions from the cellar, carrots from the fridge and herbs from the pantry or window sill. I really have all the ingredients in the house, all the time, that is why I can make this healthy chicken soup whenever I want.
Actually this chicken potato soup is one soup I make when I am stressed with time or have absolutely no idea what to cook or I can't be bothered with spending too much time in the kitchen. It always works, the children could not be happier, the soup is hot and comforting (perfect for the weather we are having right now), it is made in no time and it is super cheap as well.
Something I definitely have to mention is that you don't have to bother measure the ingredients exactly in order to make this homemade chicken soup recipe. More or less of any of the ingredients is totally OK. Use as much as you happen to have or like.
You can make the chicken potato soup thinner using more stock or thicker using less stock, you can add more carrots than peas or the other way around, you can add more or leave some of the potatoes or meat away.
I never measure the ingredients when making this healthy chicken soup, I only did it once when cooking for this particular post, otherwise I just take 1 large or 2 small chicken breasts pieces, 2-4 potatoes and carrots, depending on their size, a regular sized onion, one or two handfuls peas.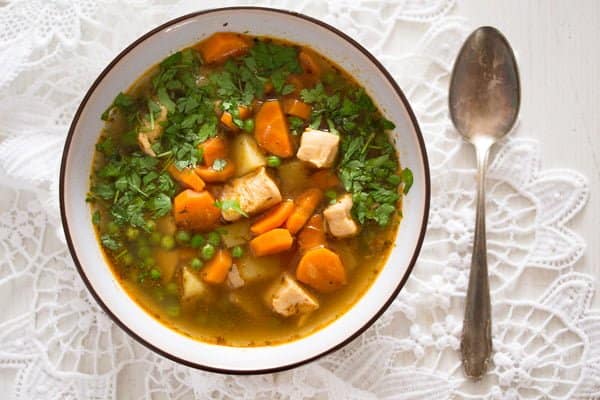 When it comes to the stock, I pour in the pot whatever quantity of stock I happen to have in the fridge or freezer. If it's not enough, I add some water. If adding water to the stock, I tend to add one or teaspoons of organic vegetable stock powder as well, so that the soup will not loose flavor through the addition of plain water.
You can play around with the vegetables using whatever you have on hand.
I usually use regular peas from the freezer, but if I happen to have some sugar peas, they are delicious as well (a bit more expensive though).
You could replace the peas altogether and add some finely chopped cauliflower or broccoli (although that is bound to make my kids very unhappy) or you can substitute small pasta for the potatoes. The choice is yours, this healthy chicken soup will taste good no matter what.
What I find very important is to use the best chicken stock you can. I have some homemade chicken stock in the freezer or fridge most of the times, so I use that, but you could make your stock from scratch or use your favorite chicken stock brand.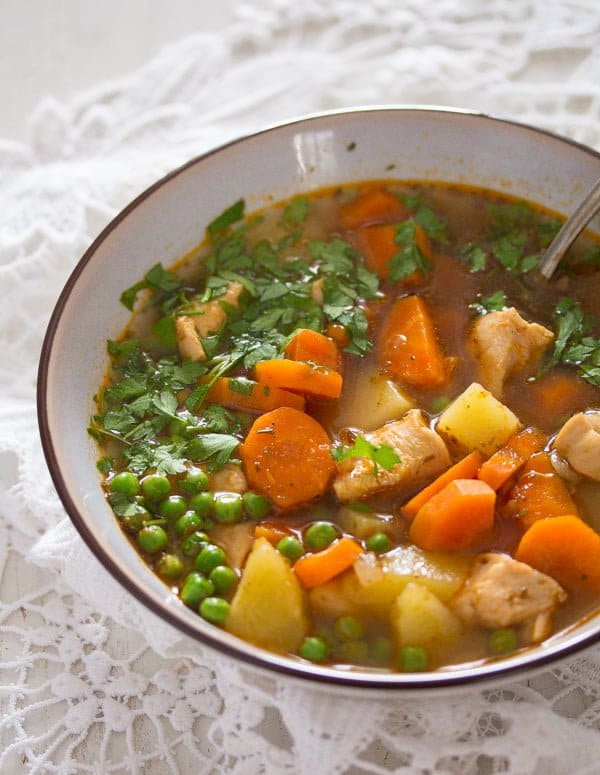 What herbs to use for the homemade chicken soup recipe
Using fresh herbs for the soup would be the best choice, I think fresh parsley is absolutely perfect in this kind of homemade chicken soup. However, if you don't happen to have fresh herbs in the house, you can use either frozen herbs (again parsley or even dill, chives or – unusual for us, but delicious as well – coriander) or use some dried herb mixtures.
If you choose dry herbs, let the parsley be, I think dry parsley is not worth using at any time, it just doesn't have any flavor at all, it is just a dust tasting green powder. I have the same feelings about dry chives, dill or coriander, so I never keep these herbs in a dry form. But, except coriander, I always have these herbs in my freezer.
In this case better choose a nice Italian dry herb mixture or French herbs de Provence. Summer savory, thyme, rosemary, oregano, marjoram are also the kind of herbs that are still wonderful when dried, so you can use any of those. They will give the soup a different flavor as it would have with fresh parsley, but it is a nice change, you will love it as well.
I would usually add some more detailed instructions on how to cook a particular recipe at this point, but this healthy chicken soup is so easy to make, there is really nothing else I can think of adding. Just enjoy it!
This is a repost from January 2015.
And here are some more delicious soups: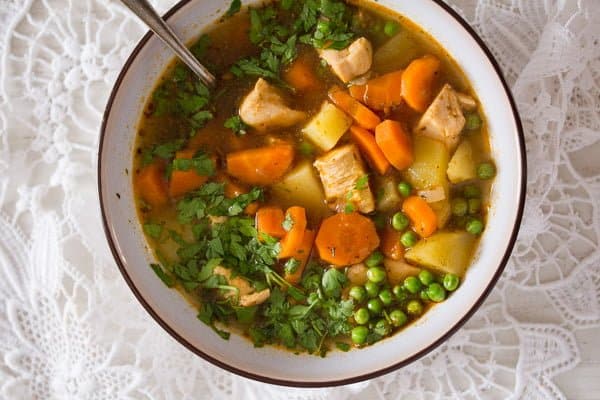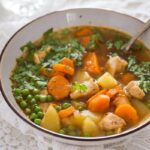 Ingredients
1 tablespoon olive oil
1 medium onion
200 g/ 7 oz/ about 2-3 medium carrots
350 g / 12 oz potatoes (See note 1)
1,5 liter/ 50.7 fl.oz/ ca 6,5 cups good quality chicken stock
350 g/ 12 oz boneless, skinless chicken breast
125 g/ 4 ½ oz/ about ¾ cup peas
1 teaspoon balsamic vinegar
salt and pepper
2-3 tablespoons chopped parsley (fresh or frozen) (See note 2)
Instructions
Finely dice the onion, peel and cut the carrots into slices and the potatoes into small cubes.
Heat the oil in a soup pot and saute the onion until glossy. Add the carrots and the potatoes and saute for another 3 or 4 minutes. Add the chicken stock and the dried herbs (if using dried herbs). Bring everything to a boil, cover, turn the heat down and simmer for about 10 minutes or until almost cooked.
In the meantime chop the potatoes into bite-sized cubes. Add the chicken pieces to the soup and cook for about 5 minutes more.
Add the peas, bring to a simmer again, and cook for another 5 minutes or until the potatoes and carrots are soft and the chicken cooked through.
Adjust the taste with the balsamic vinegar, salt and pepper. Add the fresh herbs, if using.
Serve with some crusty bread.
Note 1: The potatoes can be replaced with about 125 g/ 4.4 oz/ 1 ¼ cup small pasta shapes. If using pasta, add it only during the last minutes of the cooking process, according to the instructions on the package.
Note 2: If you don't have fresh or frozen parsley, you can replace it with about 1 teaspoon dry Italian herb mix or French herbs de Provence (or other dried herbs like thyme, rosemary, marjoram, summer savory). The dry herbs should be added to the chicken soup pot together with the stock. Fresh or frozen parsley should only be added at the end of the cooking process.
[nutrition-label id=10810]