A simple ajvar recipe, one of the most popular Balkan foods. Smoky roasted red pepper dip with eggplants.
Ajvar with roasted red peppers and eggplants, a typical Balkan side dish or bread spread, perfect to make in summer when eggplants and red peppers are abundant.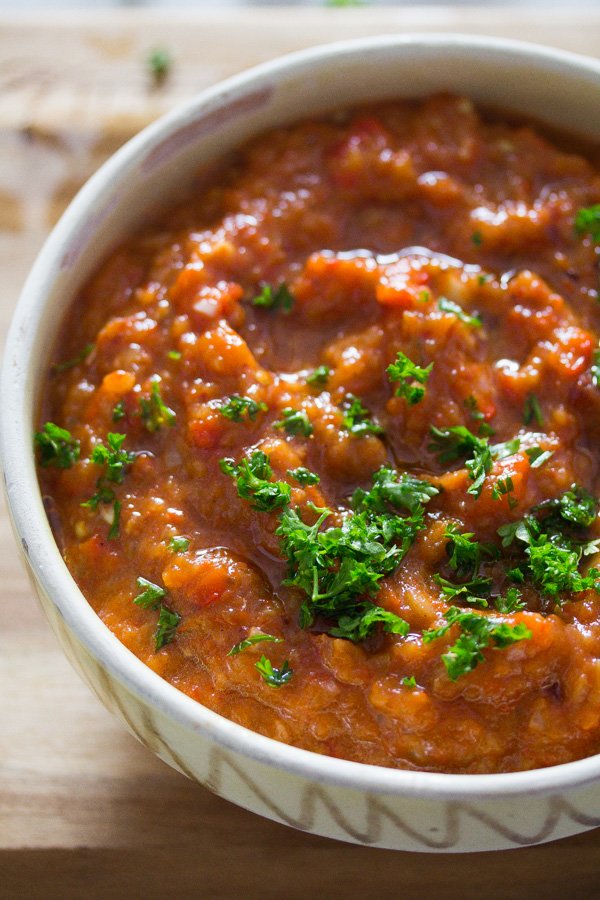 Balkan food
The Balkans or the Balkan Peninsula is a vast region in southeastern Europe stretching from Bulgaria and the Serbian-Bulgarian border to the Black Sea coast.
During the 19th century, the term was synonym for the provinces of the Ottoman Empire in this area, having more of a geopolitical rather than geographical definition. The term of Balkan acquired a negative connotation during the Yugoslavian wars and the dissolution of Yugoslavia and nowadays the term of Southeast Europe is preferred.
Which countries belong to the Balkans?
This is a question I have asked myself often, but never took the time to actually read about it until now. I was never sure about my home country Romania, but now I know that only about 5% of Romania is considered to be part of the Balkans.
Countries that are 100% in the Balkans are Albania, Bosnia and Herzegovina, Kosovo, Bulgaria, North-Macedonia and Montenegro. Large parts of Greece, Serbia, Croatia and Slovenia belong to Southeast Europe or Balkans as well and only smaller parts of Turkey, Romania and Italy.
While many of these countries don't have too much in common, one thing they do share is a similar cuisine.
Over the centuries, many nations "owned" parts of this region and left their imprint on the local way of cooking. It started with the Greek and the Romans thousands of years ago and continued with the Byzantines and the Turks.
Maybe the strongest influence on the Balkan food was the Turkish influence. The Ottoman empire ruled this area for many centuries and, if they did not manage to change the language or the religion in most of these countries, they did manage to introduce their cuisine just about everywhere.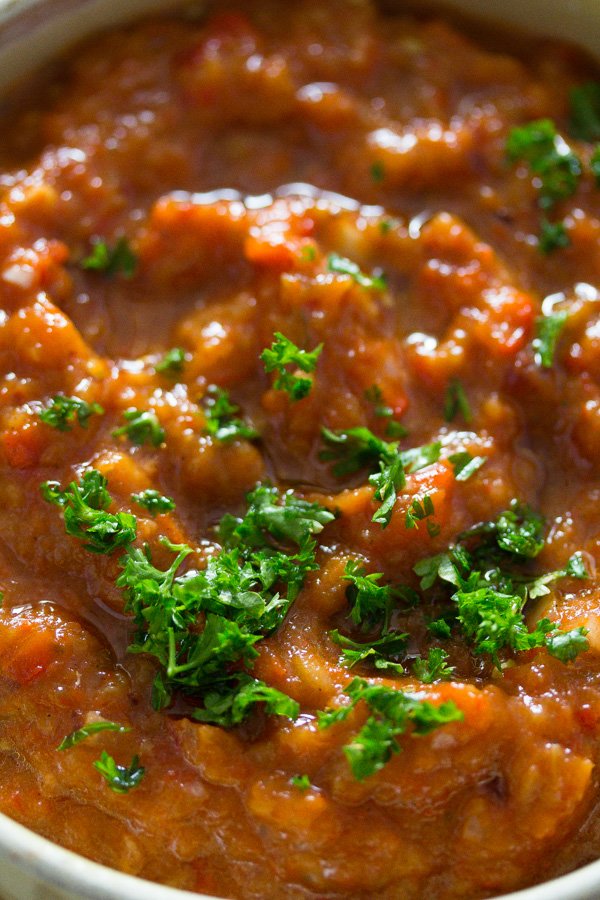 Cabbage rolls – sarma or vine leaf rolls, stuffed peppers, chorba (sour soups), borek, sausages like cevapcici and many other foods are to be found in most of the Balkan countries. Vegetables like eggplants, red peppers, onions, and garlic are more popular here than in any other parts of Europe.
Meat is an important part of the Balkan cuisine, pork being the preferred kind of meat. According to some sources this preference for pork also "originates in the confrontation with the Turkish invaders. For many of them, meat banned for Muslims became a symbol of preserving one's own identity and traditions."
The popularity of pork is also due to the Ottomans not taxing or taking pigs from farmers. Pigs were considered unclean, so the local population was free to raise them without the fear of losing them or having to pay taxes. A similar thing happened with corn, which made polenta – mamaliga such a popular dish in Romania.
Balkan food was also influenced by the Hungarian cuisine (think of goulash and walnut rolls), by the Germans or Austrians (strudels or plum dumplings, for instance) or by the Slavic nations (Paska – Easter bread).
What is ajvar?
Just like the grilled sausages and sarma, ajvar is a Balkan dish popular in most of the Balkan countries. If you are interested in the Romanian version, here is our beloved Zacusca.
Ajvar is a dip, spread or sauce made with roasted red peppers. It often includes eggplants as well. Its origins are disputed, countries like North Macedonia, Serbia and Slovenia all claim to have created the recipe. Today's version seems to be Albanian.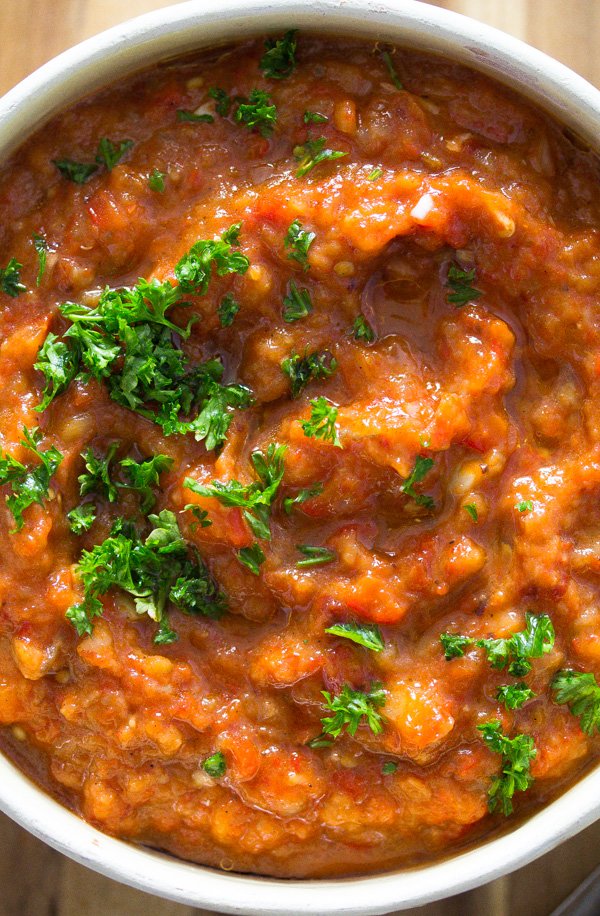 How to make?
You will need red peppers, eggplants, onions, garlic, olive oil, and some spices like hot paprika and smoked paprika powder.
How to roast red peppers and eggplants:
You can prepare the peppers and eggplants in three different ways:
Grill the red peppers and the eggplants on an outside grill until the skin darkens and blisters and the vegetables are soft.
Burn the eggplants and the red peppers on the hob, as described in this recipe for eggplant dip.
Roast the red peppers and the eggplants needed for the ajvar recipe in the oven.
Most of the times, I use the third option, because that is the simplest one. I am not much into grilling outside (that's a task for my brother-in-law) and although burning the vegetables on the stove is easy and fast, I still find it more practical to use the oven.
However, grilling and burning of the vegetables, add a smoky flavor to the ajvar or roasted red pepper dip, a flavor that you cannot achieve by roasting the red peppers and the eggplants in the oven.
To make up for that, I use a little trick: smoked paprika powder. It is not quite the same as grilling the vegetables, but still, it adds the smoky flavor you are looking for in this recipe. I use a kind of smoked paprika that is not hot, but if you wish you can also use hot smoked paprika.
Just keep in mind that the other sort of paprika powder you are using is also hot and you might want to check while preparing the ajvar, just to make sure that the roasted red pepper dip is not hotter than you would like it to be.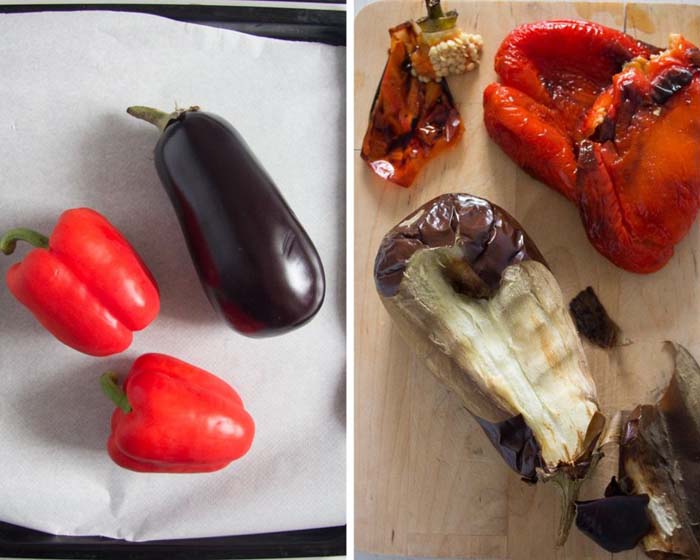 How to chop red peppers and eggplants:
To chop the eggplants I always use this special wooden tool I bought in Romania. I am not sure if that even exists outside Romania, it is only used for chopping the eggplants roasted for the famous Romanian eggplant salad – salata de vinete.
It doesn't work that well on red peppers, which are not quite as soft as the eggplants, that is why I use a large chef's knife for chopping the red peppers. You can also chop the eggplants with this knife.
Alternatively, you can chop the red peppers and the eggplants in a food processor or with an immersion blender, just make sure you don't turn the vegetables to a paste, they should retain some structure.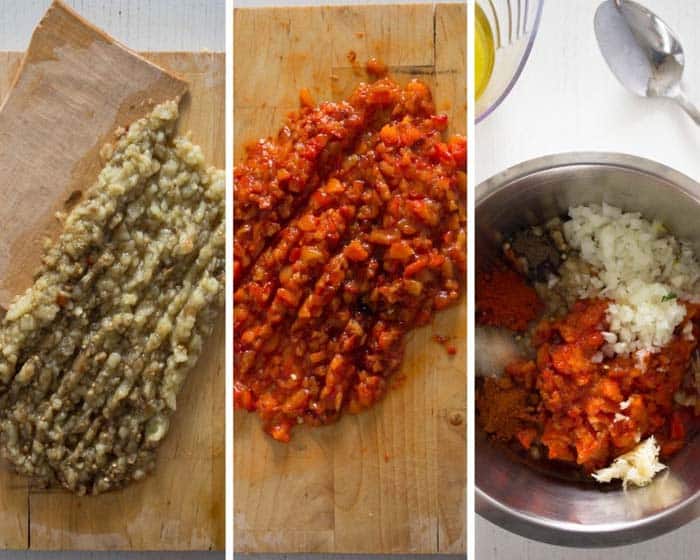 Preparing roasted red pepper dip:
Once you have roasted and chopped the eggplants and the red peppers, place them in a bowl.
Add the very finely chopped onion and the grated garlic.
Stir in the white wine vinegar, lemon juice, hot paprika and smoked paprika powder, salt and pepper to taste.
Slowly pour in the olive oil while stirring continuously.
Sprinkle with some parsley.
Olive oil:
You can use as much olive oil as you like.
You can start with 2 tablespoons and add up to 5 tablespoons/ 75 ml/ 1/3 cup.
Traditionally, people would use more rather than less, but as somebody who cooks lots of (Romanian) traditional recipes, which always contain lots of oil, I found out that I can get away with using less oil most of the time. The dishes are still thoroughly delicious!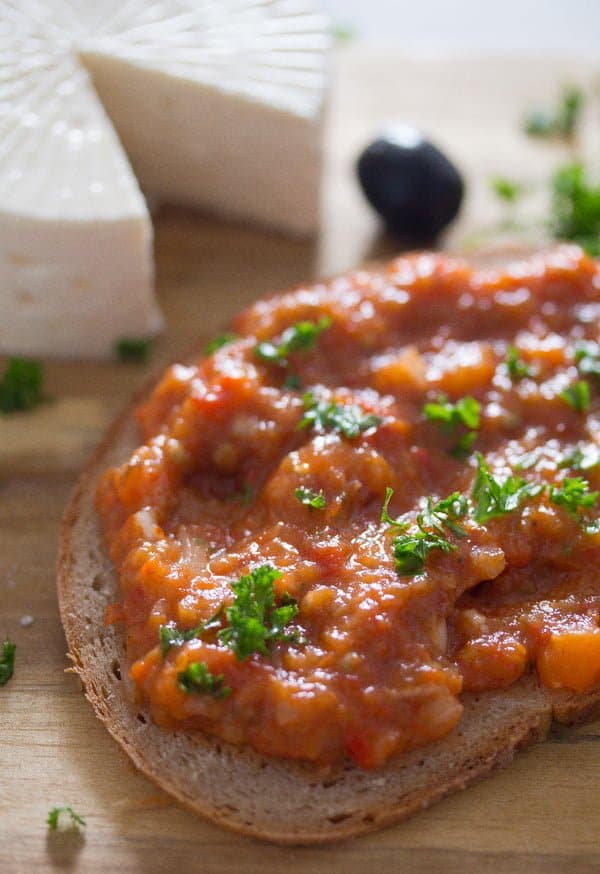 How to serve?
Spread:
The most common way (for me) of serving ajvar is as a spread on bread. With a slice of good feta cheese on the side or crumbled on top. And some olives.
Dip:
Ajvar can also be served as a dip for crackers and vegetables.
Sauce:
Ajvar pasta sauce: warm up the ajvar and mix it with some pasta. Add some feta, if you like.
Side dish:
Sauce/side dish for grilled meats. While on holiday in Croatia, we were often served a plate of cevapcici or mixed grill meats, djuvec rice, ajvar, and raw chopped onions. Delicious!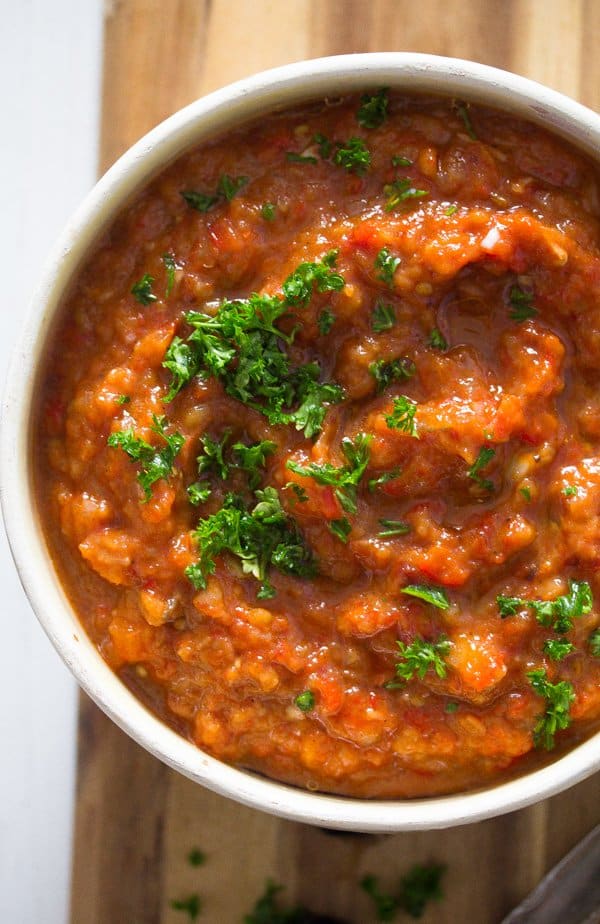 Other vegetable spreads:
Persian Eggplant Dip with Tomatoes – the Oriental version of the eggplant dip.
Muhammara Dip with Roasted Peppers and Walnuts– an Oriental version of a roasted red pepper dip, hot and so perfect, one of my favorite spreads ever.
Romanian White Bean Dip with Caramelized Onions – Irresistible bean dip or bread spread with garlic, one of the most popular Romanian spreads.
Artichoke Chickpeas Spread with Sunflower Seeds – a delicious vegan version of the spinach artichoke dip.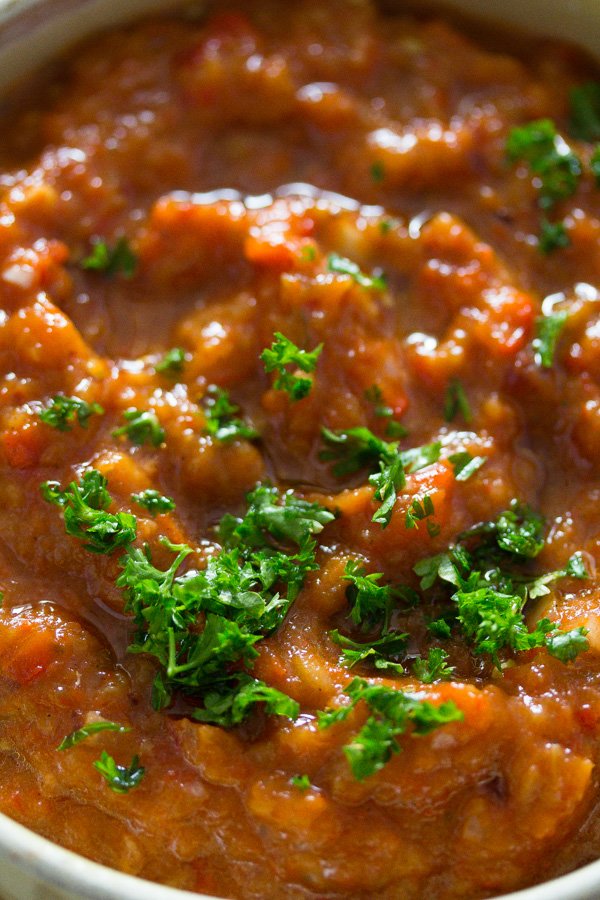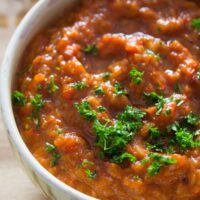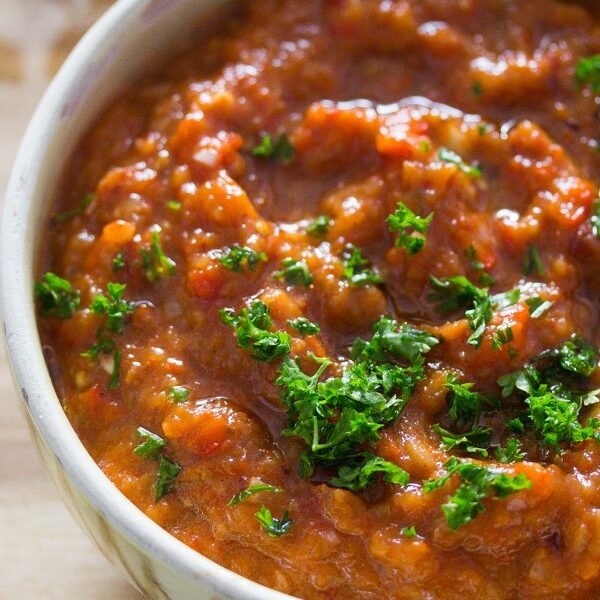 Ajvar Recipe – Balkan Food
Delicious ajvar recipe, one of the most popular Balkan foods. A great dip made with smoky roasted red pepper and eggplants.
Print
Pin
Share
Grow
Saved!
Rate
Ingredients
4

medium red bell peppers

about 600 g/ 1.3 lbs

2

eggplants

about 500 g/ 1.1 lbs

2

garlic cloves

1

small onion

about 50 g/ 1.8 oz

½

teaspoon

hot paprika powder

more to taste

¾

teaspoon

smoked paprika powder

not hot, more to taste

1

tablespoon

white wine vinegar

1

tablespoon

freshly squeezed lemon juice

1/4

cup

olive oil

½

teaspoon

fine sea salt

¼

teaspoon

black pepper
Instructions
Roast vegetables: Preheat the oven to 200 degrees Celsius/ 400 degrees Fahrenheit. Place the red bell peppers, and the eggplants on a baking tray lined with baking paper and bake for about 30 to 40 minutes, depending on size, until the skin blackens and the vegetables are really soft. Turn them halfway.

Roasting the eggplants might take a little longer than the peppers, they are usually larger. Make sure that the eggplants are perfectly soft, undercooked eggplants are terrible.

Alternatively and even better for the taste is to grill the veggies on a hot grill or burn them on the hob. See

how to roast eggplants

.

Remove skin: Cover the red peppers with plastic wrap and leave them until they cool down slightly. This will help with removing the skin. Let the eggplants cool down as well. When cool enough to handle remove the skins of the vegetables very thoroughly.

Chop the vegetables, not very finely; you should still have small chunks of the veggies here and there. Alternatively, you can use a food processor or an immersion blender, however, make sure that you don't turn the vegetables into a paste. The ajvar should remain only roughly chopped.

Spices: Add the finely chopped onion, grated garlic clove, both types of paprika powder, salt, pepper. Mix well and add the vinegar and lemon juice.

Add the olive oil in a thin stream while stirring all the time. Adjust the taste with more salt and pepper, if necessary. Serve as suggested above.
Nutrition
Serving:
2
-3 tablespoons
|
Calories:
101
kcal
|
Carbohydrates:
12
g
|
Protein:
1
g
|
Fat:
6
g
|
Saturated Fat:
1
g
|
Polyunsaturated Fat:
5
g
|
Sodium:
136
mg
|
Fiber:
3
g
|
Sugar:
6
g