A flavorsome roasted red pepper hummus recipe with tahini, chickpeas and white beans, this has become one of our favorite spreads or dips.
ROASTED RED PEPPER HUMMUS OR DIP
I love hummus with a passion and this roasted red pepper hummus version is a new favorite. So gooooood, you will not be able to stop eating it.
The roasted red pepper hummus or white bean dip is creamy, slightly sweet, slightly tangy, garlicky and absolutely delicious!!!
The ultimate snack, I would say! On crisp bread, with crackers, with vegetable sticks or just a spoon directly out of the bowl every time you happen to open the fridge...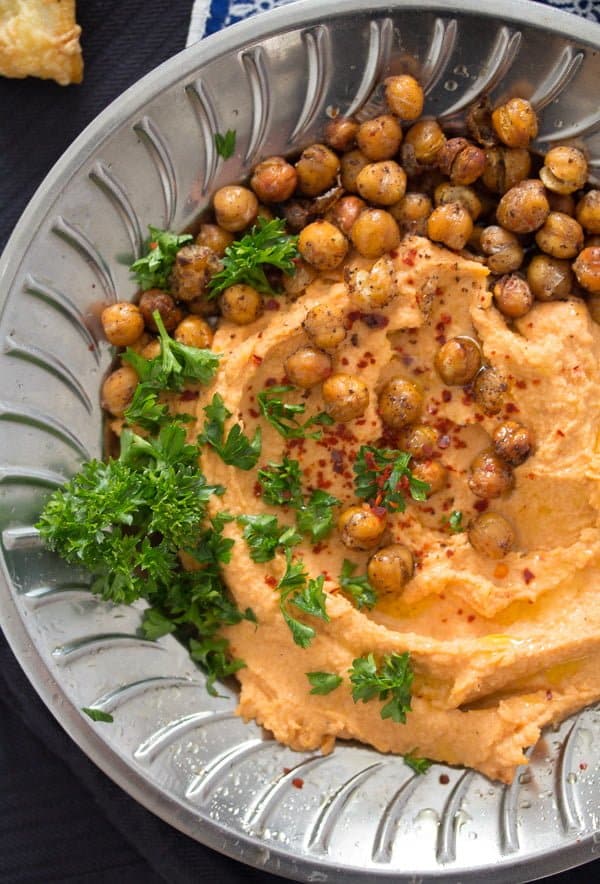 WHAT IS HUMMUS?
First of all, how do you spell it? Hummus or humous? I check every time I write a hummus recipe and I forget it again until the next time.
According to Simon Horobin, Professor of English Language in Oxford the reason for the different ways of spelling this word is that the word is borrowed into English from Arabic. Arabic uses different writing systems, so "there is no single way of transliterating the Arabic word into English".
The same with Indian words like dhal, dal, dahl and so on.
Professor Horobin states that the common spellings in English are hummus and humous, but not humus, which is an organic component of soil.
Hummus or humous is a creamy, thick spread made with chickpeas and tahini. It is one of the best-known Middle Eastern foods, which nowadays is probably available in any supermarket.
However, though I do happen to buy hummus from time to time, absolutely no bought hummus could ever compare with homemade hummus.
Apparently, hummus was already consumed in Egypt many centuries ago, the recipe was slightly different than today's hummus, yet similar. A super delicious Egyptian kind of hummus is this fava bean dip or puree with cumin.
Nowadays, hummus is widely consumed in Israel, Palestine, Jordan, Syria, Turkey and many Arabic countries. And in 2008 was reported that over 15 million Americans eat hummus on a regular basis.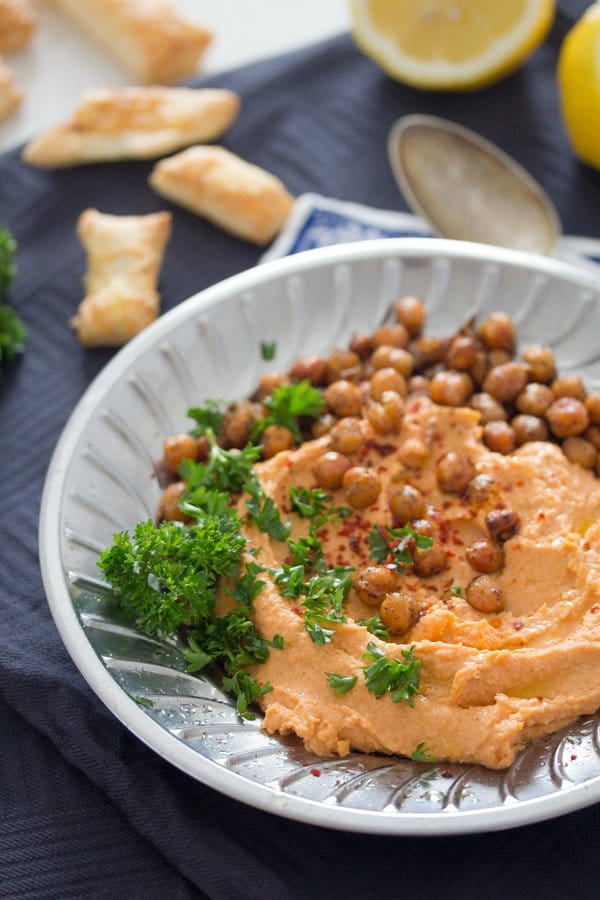 INGREDIENTS FOR THE RED PEPPER WHITE BEAN DIP
A basic hummus is a pretty simple affair: chickpeas, tahini paste, a little garlic, some olive oil, lemon juice and spices.
But don't stop there, the variations are almost endless. Today is a roasted red pepper hummus with chickpeas and white beans, but I have already made turmeric hummus, pesto hummus, roasted onion hummus, roasted carrot hummus, artichoke hummus, olive hummus and so on, I cannot even remember them all.
Chickpeas:
You can use dried chickpeas or canned chickpeas.
Dry chickpeas, about 125 g/ 4.4 oz have to be soaked overnight or up to 24 hours, drained, covered in water again and cooked in plenty of water with the addition of 1 teaspoon of bicarbonate of soda. Bring the water to a boil and simmer the chickpeas until soft. This will take at least one hour, probably more, depending on the size and age of the chickpeas.
Canned chickpeas are a fast alternative and it is what I used to make this roasted red pepper hummus.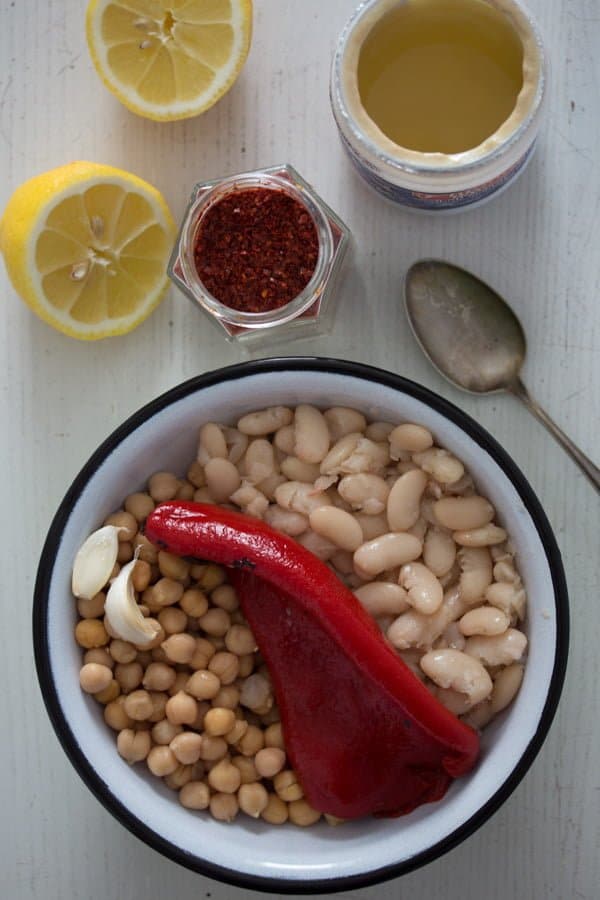 White beans:
A typical hummus is made using only chickpeas. However, using the same amount of white beans is a wonderful version, I feel that this white bean dip was even creamier and mellower than usual. An absolute hit!
You can cook your own beans as well. Soak about 125 g/ 4.4 oz white beans overnight, drain, cover with water again, add 2-3 bay leaves and bring to a boil. Boil the beans for 10 minutes, lower the heat and simmer the white beans until soft.
Or you can use a can of white beans. In this case I used home cooked beans because I happened to have them ready, leftovers from making a white bean soup.
Tahini:
Tahini is a paste made from sesame seeds, a staple in the Middle Eastern cuisine. I usually buy it at the Turkish store because is much cheaper than buying it in a regular supermarket, where is usually sold as a luxury article.
Roasted red peppers:
Again, you can roast your own peppers. Halve the red bell peppers, remove the seeds and bake them in the oven, skin side up, until the skin darkens and blisters. Take out of the oven, cover with cling film or give to a freezer bag and let stand for about 20-30 minutes. Removing the skin now will be very easy.
Or you can use a large roasted red pepper from a jar, which I did. I often have a jar of roasted red peppers in the fridge, I love eating them on bread spread with hummus or cheese or adding them to salads.
Spices:
Nothing fancy this time, just garlic, fine sea salt, black pepper and some chili.
HOW TO MAKE ROASTED RED PEPPER HUMMUS
This white bean dip or roasted red pepper hummus is super easy to make, especially if you use canned beans and chickpeas and roasted red peppers from a jar.
Basically, throw all the ingredients in a food processor, process well, adjust the taste and you're done.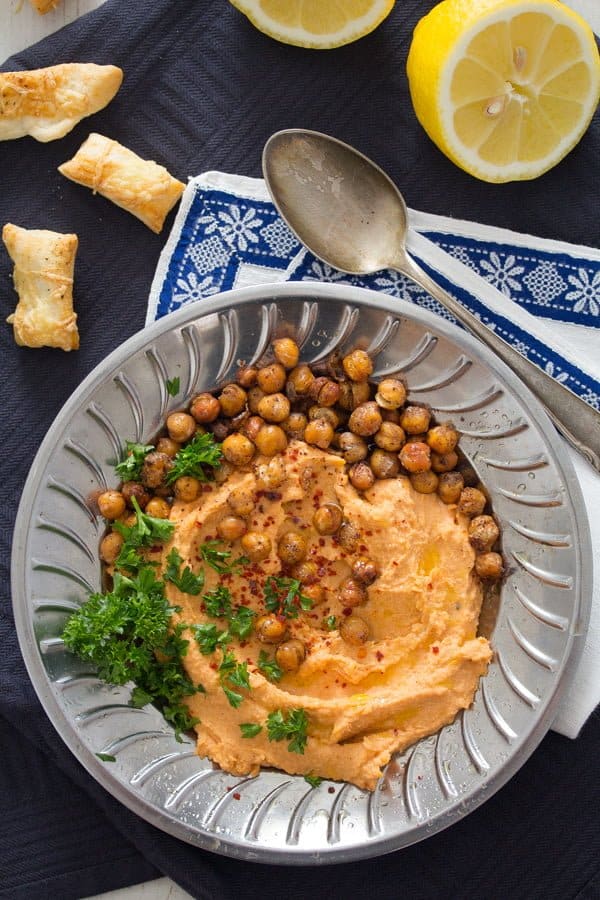 HOW TO SERVE ROASTED RED PEPPER HUMMUS
As mentioned above, you can serve roasted red pepper hummus or white bean dip as a bread spread, you can have it as a dip for crackers and vegetable sticks.
But don't stop there, the white bean dip or hummus can become a healthy low crab side dish for any kind of meat or for meatballs.
It can be enjoyed with roasted vegetables, adding the proteins you need to a vegetarian or vegan meal or try it alongside fried halloumi.
You can spread the roasted red pepper hummus in a flatbread, add thinly sliced red onions, tomatoes and peppers, sprinkle with feta cheese and roll.
Or add some salad leaves, roasted vegetables and pretty much any kind of cheese. Or use some cooked chicken strips and yogurt. So many possibilities, my mouth is watering when thinking about them all!
MORE HUMMUS AND DIPS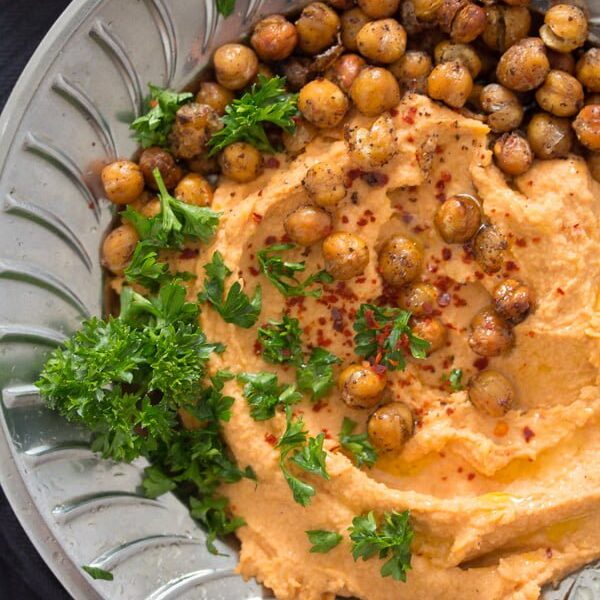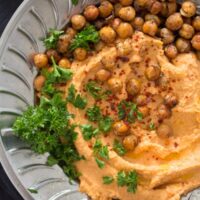 Roasted Red Pepper Hummus Recipe
A flavorsome roasted red pepper hummus recipe with tahini, chickpeas and white beans, this has become one of our favorite spreads or dips.
Print
Pin
Share
Grow
Saved!
Rate
Ingredients
1

can chickpeas

See note 1

1

can white beans

1

large roasted red pepper from a jar

See note 2

4

tablespoons

tahini paste

juice of ½ lemon

more to taste

2

small garlic cloves

¼

– ½ teaspoon red chili flakes

to taste

fine sea salt and black pepper

to taste

roasted chickpeas

optional

chopped parsley or coriander

optional
Instructions
Drain the chickpeas and the white beans. Place in a food processor. Add the rest of the ingredients and process until the hummus is smooth and creamy.

Stop the food processor once or twice in between and scrape down the sides of the bowl, until the hummus is smooth. Add 1 or 2 tablespoons of cold water if the hummus seems too thick, I usually don't have to, the roasted red pepper is pretty juicy.

Adjust the taste with salt, pepper, chili, and maybe more lemon juice.

Garnish with roasted chickpeas, parsley, or coriander, if desired.

Notes
You can cook the chickpeas and beans yourself, if you wish. See instructions in the blog post.
You can roast your own peppers as well. See instructions in the blog post.
Nutrition
Serving:
2
-3 tablespoons
|
Calories:
128
kcal
|
Carbohydrates:
17
g
|
Protein:
6
g
|
Fat:
4
g
|
Saturated Fat:
1
g
|
Polyunsaturated Fat:
3
g
|
Sodium:
421
mg
|
Fiber:
4
g
|
Sugar:
2
g