Persian eggplant dip with tomatoes and Greek yogurt, a creamy and delightful spread served with flatbread, pita or white bread.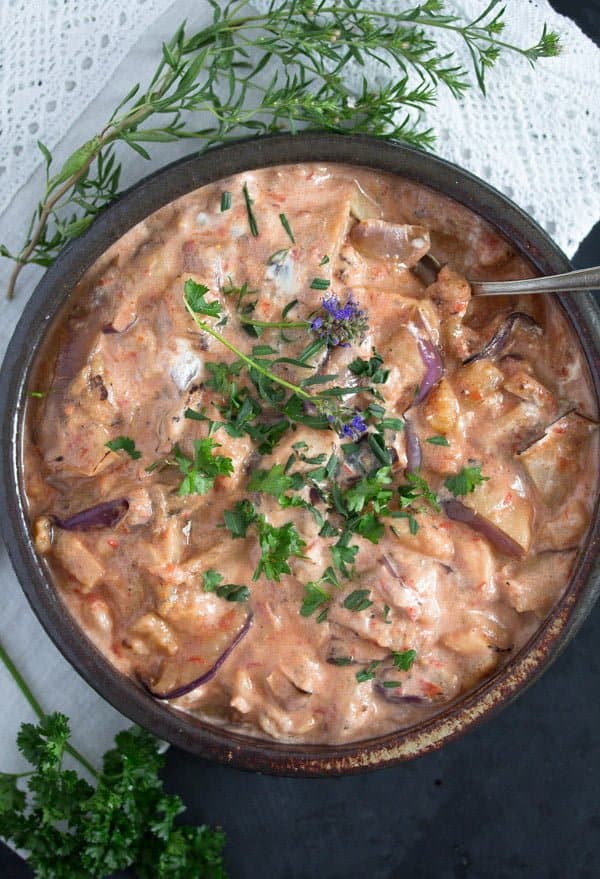 What can I say about this Persian eggplant dip? It might not look like a dish you might want to cook straight away, not like one of those photos or videos of oozing cheese or glazed meat, but the flavors and texture are amazing!
Provided that you like eggplants/aubergines, you will totally love this dip. Or should I call it a stew? I would rather call it a stew when eating it warm and a dip when eating it at room temperature. I've had this dish both ways and I liked either way.
And if you like eggplants, you could try the Romanian Roasted Aubergine/ Eggplant Salad – Vinete, the Romanian Eggplant, and Red Pepper Spread – Zacusca or the Aubergine Spaghetti.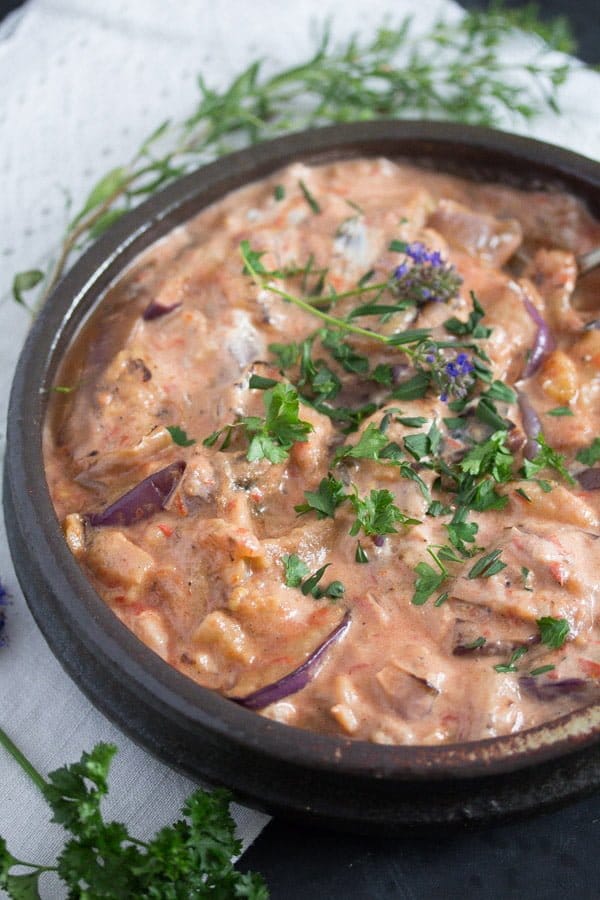 Salting or not salting the eggplants?
I have been battling with this for years… My grandmother always did it when she made her fried eggplants with garlic sauce. She said that normally the eggplants are quite bitter and the salt would help remove that bitterness. That is right, salt makes things less bitter.
However, nowadays eggplants are grown that way as to not be as bitter as they used to be in the past. So, you would think that salting would be quite unnecessary. And when it comes to taste, it probably is. Unless you get an older eggplant.
You can recognize an older eggplant by its size and especially by the state of its seeds. If the seeds are brown, the eggplant is older and you might want to salt that, let it sit for half an hour, wipe it dry and then cook it.
Another reason for salting the eggplants before cooking them concerns the amount of oil they absorb. Eggplants absorb the oil unbelievably quickly, quicker than any other vegetable I can think of.
So, in an attempt of reducing the amount of oil needed when frying eggplants, I do salt and let my eggplants sit for a while before frying them.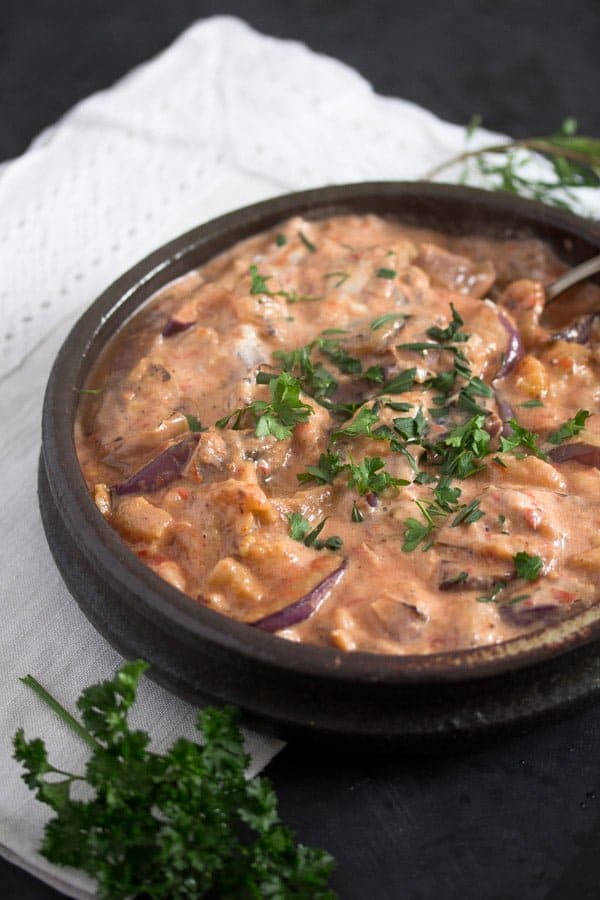 How to make?
Start with salting the eggplant slices. Let them sit for 30 minutes, wipe them dry with kitchen paper and fry them in batches preferably in a nonstick pan. Only add one tablespoon of the oil at the beginning and add the rest between the batches. Using a nonstick pan will also help you use less oil when frying the aubergines.
In the meantime deseed and puree the tomatoes together with the garlic cloves. Use ripe, sweet tomatoes. If you cannot find any, you can use the same amount of drained tomatoes from a can.
Place the fried eggplant slices into a medium, thick-bottomed pan, add the pureed tomatoes and the hot vegetable broth (made from a cube, if you don't happen to have homemade vegetable broth).
Cook the dish until the vegetables are really really soft, so soft that you will be able to break them into chunks just by stirring them with a spoon. This will take between 20 and 30 minutes.
At this point take the pot off the heat and add the Greek yogurt. Using a creamy mild yogurt is important, it makes the dish so incredibly comforting yet still somehow refreshing.
Adjust the taste with salt and freshly ground black pepper and stir again. The eggplant pieces should be broken into smaller chunks, but still, retain some texture and not be turned into a pulp.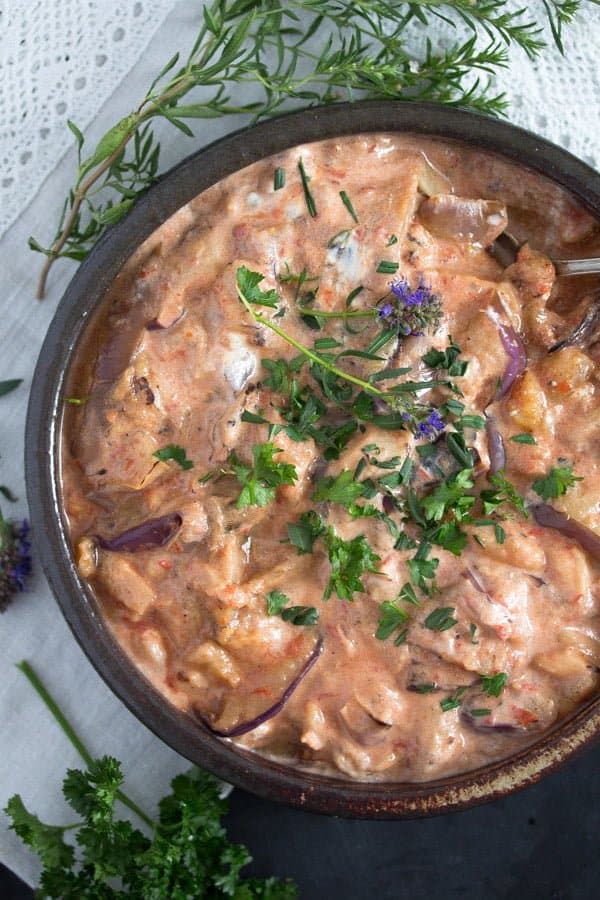 How to serve?
Serve the dip warm or at room temperature.
When warm you can have it with bread or rice. I loved it both ways.
When at room temperature we had the aubergine dip with flatbread or spread on top of regular bread. Lovely!
The Persian eggplant dip can be reheated. Heat it gently, but don't let it come to a boil again.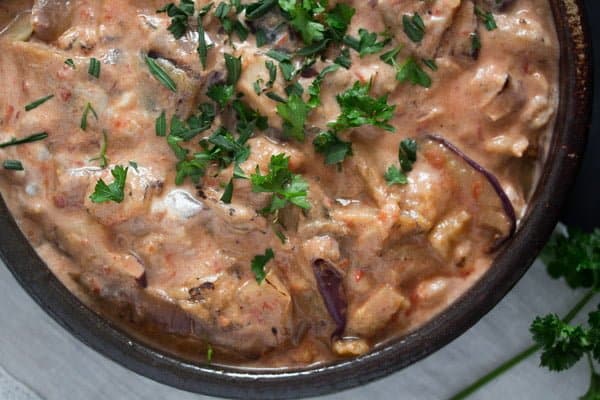 More dips
Tofu Spread (With Silken Tofu)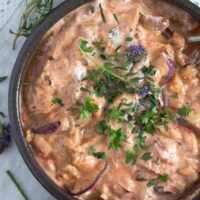 Persian Eggplant Dip
Persian eggplant dip with tomatoes and Greek yogurt, a creamy and delightful spread served with flatbread, pita or white bread.
Print
Pin
Share
Grow
Saved!
Rate
Ingredients
750

g/ 1.6 lbs eggplants

2-4

tablespoons

vegetable oil

250

g/ 8.8 oz tomatoes

ripe and sweet

2

garlic cloves

125

ml/ 4.2 fl.oz/ ½ cup vegetable broth

250

g/ 8.8 oz/ 1 cup Greek yogurt

fine sea salt and pepper
Instructions
Cut the eggplant into 1 ½ cm/ ½ inch thick slices. Spread them into a large colander, sprinkle them with salt and let sit for 30 minutes. Use kitchen paper to remove the excess salt and water.

Heat about 1 tablespoon of the oil in a large nonstick pan. Fry the eggplant slices in batches until golden on both sides, adding more of the oil between the batches. Place the slices on kitchen paper to remove the excess fat.

Deseed the tomatoes and puree them together with the garlic cloves in the food processor or with the help of an immersion blender. Add salt and pepper to taste.

Arrange the eggplant slices into a medium, thick-bottomed pot. Pour the tomato sauce over the eggplants and spread it evenly. Pour the hot vegetable broth into the pot and cook the dish, uncovered, for 20 to 30 minutes or until the liquid evaporates and the eggplants are really soft.

Add the yogurt and stir gently to break the eggplant pieces. Adjust the taste with salt and pepper. Serve warm or at room temperature as suggested above.
Nutrition
Serving:
1
/4 of the dish
|
Calories:
208
kcal
|
Carbohydrates:
22
g
|
Protein:
9
g
|
Fat:
11
g
|
Saturated Fat:
1
g
|
Polyunsaturated Fat:
9
g
|
Cholesterol:
3
mg
|
Sodium:
263
mg
|
Fiber:
6
g
|
Sugar:
10
g