Easy to make vegan apple curry with chickpeas and coconut milk, a mild curry recipe that your family will love.
Another apple recipe, you might think? Well, yes! I still have millions of apples in my cellar so we are diligently eating them in one form or another every day. 🙂
Or another curry recipe? I just love curries! Vegan, chicken, beans. I even posted amazingly delicious recipes for fish or rhubarb curry. You should try some of them.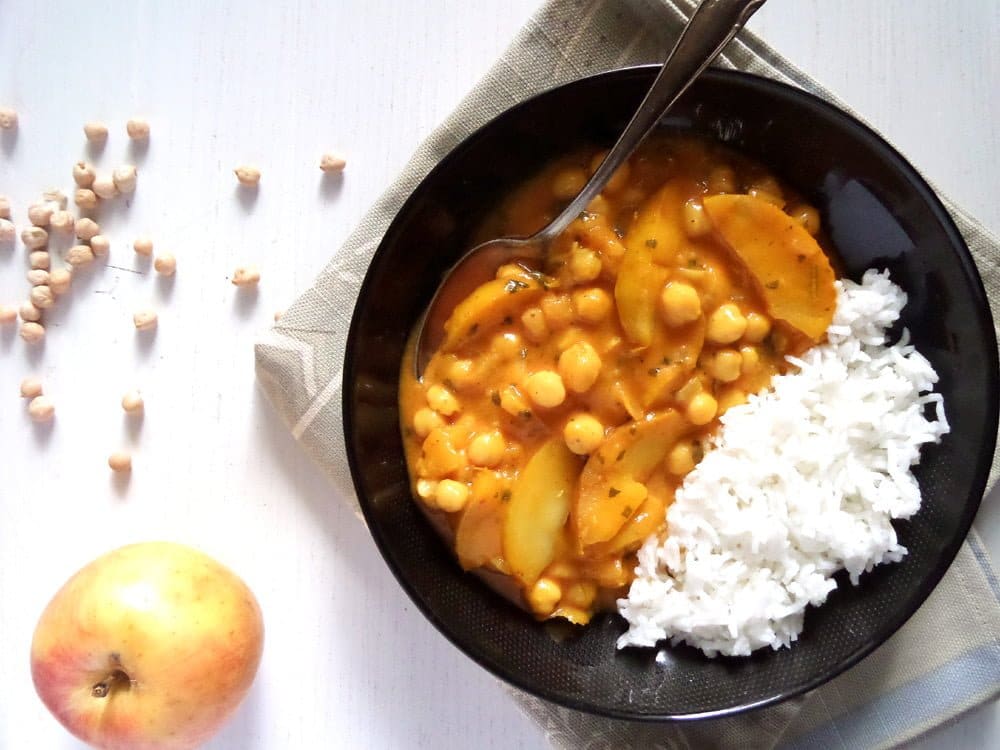 The inspiration for this apple curry comes from a butternut squash dish that I made a few times before. I thought I might just replace the butternut with apples and see how that works.
And it worked great, this dish is just lovely. Easy and quick to make (the butternut version needs to be cooked a little longer), fruity and spicy and if you like coconut milk, this is definitely something for you.
The children loved it as well, I used a yellow, pretty mild curry paste, that I knew they would eat. It was still a bit spicy but they are used to that, as long as I don't exaggerate with the chili, it's OK for them. And my daughter really really loves chickpeas, so I use them every chance I get.
What makes this curry a family pleaser?
Creamy.
Spicy and full of flavor, yet mild.
Healthy and low-calorie.
Super cheap.
Uses pantry ingredients.
Ready in 30 minutes.
Ingredients
This vegan apple curry is really a budget dish. It uses few ingredients, everything is cheap and easily available. And it can be made with pantry ingredients.
I know I always have one opened jar of curry paste in the fridge and I am not always particular about which sort I use. When it comes to coconut milk, chickpeas, apples and onions I cannot even remember one occasion when I needed them and did not have them.
Apples:
Tangy, crisp apples, medium size.
A total of about 400 – 450 g/ 1 pound.
Curry paste:
I used yellow paste, it is rather mild and we enjoy the flavor.
The Green one is fine as well.
The red paste is a matter of taste, I find it too hot, so I rarely use it.
Use the paste according to how hot it is and how hot you like your food.
The yellow paste I used was not very hot, so 2 tablespoons were enough for a mild curry.
If your paste is hotter, take less. If you like your curry to be hotter, use a spicier paste or add some cayenne pepper or red chili flakes. It is all a matter of preference.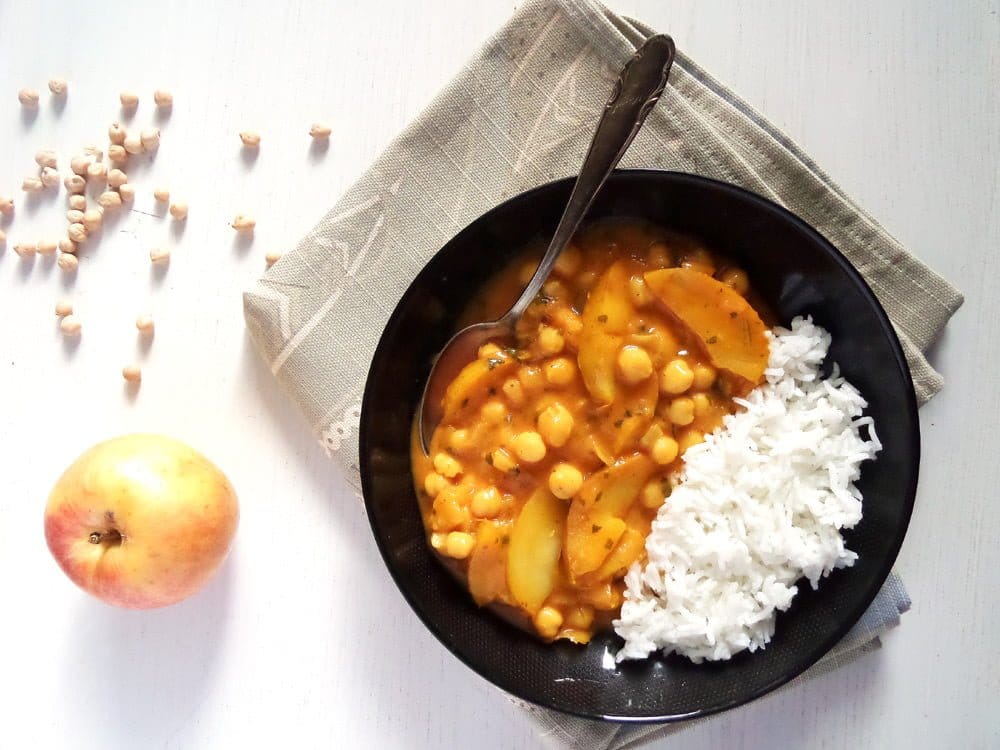 Tips
Use crisp apples, which hold their shape better when cooked.
Don't overcook them, they should not be mushy. Just barely cooked and still holding their shape.
Buy a good quality curry paste.
Stir very well when adding the curry paste and don't let it burn.
The sauce will thicken slightly during the cooking time. But if you want a thicker, creamier sauce, do use the cornstarch.
More curries:
CHICKPEA CURRY WITH ZUCCHINI – An easy chickpea dish with coconut milk and zucchini, topped with crunchy, roasted cashews.
VEGAN POTATO CURRY WITH APPLES – Simple ingredients simmered in a flavorful sauce – this recipe makes a really satisfying and healthy lunch or dinner.
CAULIFLOWER WITH POTATOES – Easy to make, healthy vegan cauliflower and potatoes with coconut milk. A dish that is full of comfort and flavor.
PANEER TIKKA MASALA RECIPE – Tender paneer tikka in a spicy masala sauce, a super delicious vegetarian Indian paneer dish.
PUMPKIN TURKEY CURRY – An easy-to-make, healthy recipe with Hokkaido pumpkin or butternut squash, turkey, and a creamy and spicy coconut milk sauce.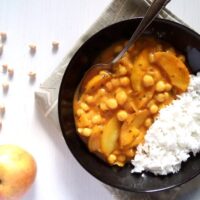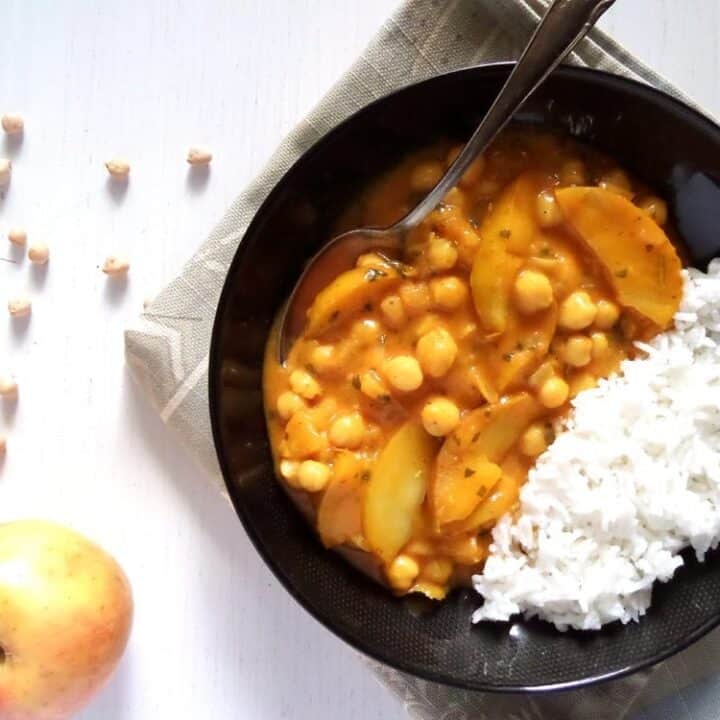 Apple Curry (with Chickpeas)
Easy to make vegan apple curry with chickpeas and coconut milk, a mild curry recipe that your family will love.
Print
Pin
Rate
Ingredients
1

medium onion

3

medium

tangy apples (more or less 450 g/ 1 lb)

1

tablespoon

coconut oil

2

tablespoons

yellow curry paste

1

cup

ml/ 8.5 fl.oz/ 1 cup vegetable stock

1

cup

ml/ 8.5 fl.oz/ 1 cup coconut milk

1

can

400 g/ 14 oz chickpeas

1

tablespoon

cornstarch

optional

fine sea salt and pepper

coriander leaves
Instructions
Chop: Finely chop the onion. Core the apples and cut them into slices, not too thinly.

Saute: Heat the coconut oil. Cook the onions until translucent. Add the apples and curry paste and stir carefully to distribute the paste all over the pan. Cook for about 3-4 minutes while stirring often and taking care not to burn the curry paste.

Simmer: Add the vegetable stock and coconut milk to the pan. Stir very well, add the drained chickpeas and bring to a boil. Let simmer, uncovered for 5 to 10 minutes until the chickpeas are heated through, and the apples are softer but not mushy.

Thicken: If your sauce is not thick enough, stir the cornstarch with a bit of water until you obtain a thick yet pourable paste. Whisk the paste into the sauce and let cook for another minute. Adjust the taste with salt and pepper and sprinkle with chopped coriander leaves.

Serve with rice.
Nutrition
Serving:
1
g
|
Calories:
338
kcal
|
Carbohydrates:
41
g
|
Protein:
7
g
|
Fat:
18
g
|
Saturated Fat:
15
g
|
Polyunsaturated Fat:
2
g
|
Sodium:
1049
mg
|
Fiber:
8
g
|
Sugar:
18
g