Another apple recipe, you might think. Well, yes! I still have like millions of apples in my cellar so we are diligently eating apples in one form or another every day. 🙂 And pears too, I got another huge bag of the most delicious pears just yesterday.
I am perusing my cookbooks every evening while my husband watches TV, I look on the internet and I am bookmarking or pinning any apple recipe I find. And I really cook or bake many of them, or better said, I really cook own interpretations of many of them. And I am still looking for ways of preserving apples, I have made apple compote and apple sauce. I don't like apple jam and I have never managed to make a chutney that I really liked, so I am not so keen on those, but otherwise, if there is anything you find really good, I would be glad to hear about it.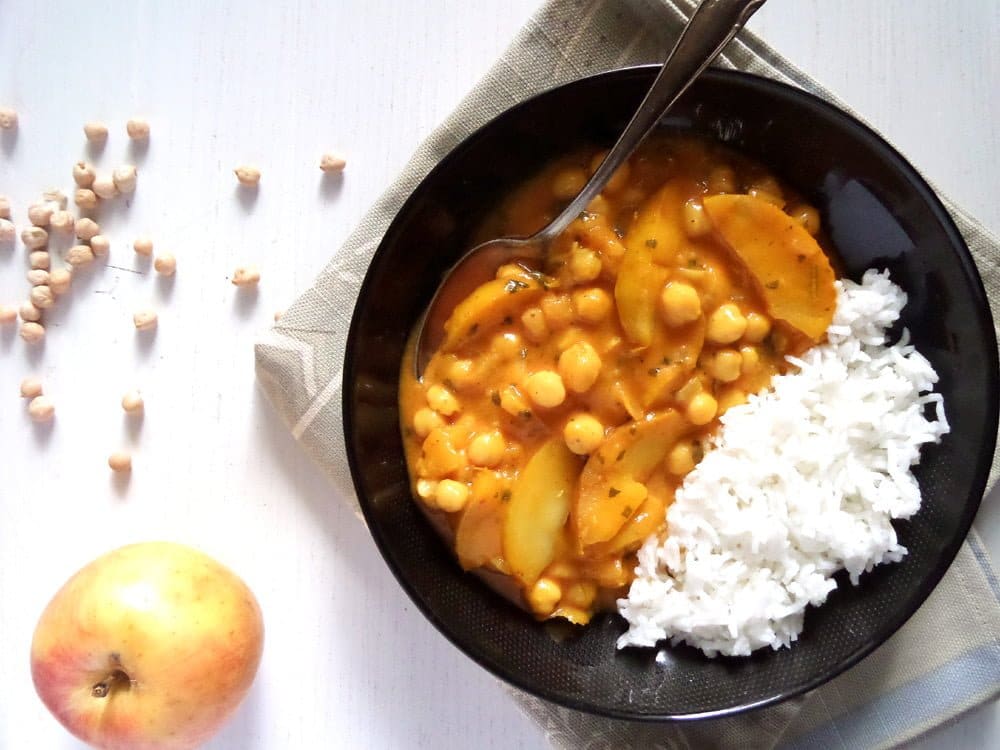 The inspiration for this apple curry comes from a butternut squash curry that I made a few times before. I thought I might just replace the butternut with apples and see how that works. And it worked great, this apple curry is just lovely. Easy and quicker to make (the butternut version needs to be cooked a little longer), fruity and spicy and if you like coconut milk, than this is definitely something for you.
The children loved it as well, I used a yellow, pretty mild curry paste, that I knew they will eat. It was still a bit spicy but they are used to that, as long as I don't exaggerate with the chili, is OK for them. And my daughter really really loves chickpeas, so I use them every chance I get.