Cevapcici or cevapi, delicious grilled Croatian sausages with lots of garlic and paprika.
Cevapi/Cevapcici/Croatian Sausages
This cevapcici recipe is probably the best homemade sausage recipe I know. Easy to make, incredibly hearty and flavorful, a success with anyone who ever tasted them.
You definitely have to try them this summer. They are really summer food for me, I always associate grilled sausages with hot Romanian summers, cold drinks, and garlic sauce.
The Croatian cevapi or cevapcici are also very similar to the Romanian "mici" or "mititei", which are THE BEST grilled sausages if you ask me. 🙂 But I might be biased here... 🙂
What are cevapcici or cevapi?
Cevapi or cevapcici are grilled sausages made of a mixture of ground beef and pork, seasoned with lots of garlic and paprika. Originally this kind of sausages were made with ground lamb, but nowadays beef or pork are more common.
They are very common not only in Croatia but pretty much in all the other former Yugoslavian countries. Also common in countries around former Yugoslavia, like Romania - mici, Bulgaria – kebaptscheta or Albania – kebape.
This cevapcici recipe is very similar to Turkish meat rolls or beef kofta. They originated in the Balkan area during the rule of the Ottoman empire, who had a century-long influence all through these Balkan and South European countries.
Here are another few Ottoman inspired recipes, that you will probably find variations of in the Balkan area and all through the South European region: Savory Cheese Pie with Quark Feta and Yogurt, Zacusca – Eggplant and Red Pepper Spread, Sarmale – Cabbage Rolls with Pork and Rice or Stuffed Vine Leaves with Ground Meat and Rice.
How to make Croatian sausages?
Well, the cevapcici recipe is simple, with just one thing that makes it very different from another kind of homemade sausage. The sausages are made with baking soda, which helps tenderize the ground meat, making the cevapi less dense, lighter, softer. So good! You should definitely not leave the baking soda out. You could make the cevapi without it, but you will definitely miss on something.
Spices:
Spice the sausage thoroughly with sweet paprika, hot paprika, sweet smoked paprika, Vegeta, salt, and pepper. (Amazon affiliate links)
The quantities of needed spices might seem like a lot and I am talking here from a German cook's point of view, my experience is that regular German home cooks are easily startled when confronted with too many spices.
Still, if they do overcome their fear and do follow the "spicy" recipe, they are most of the time delighted with the results. So, be generous with the garlic and the paprika.
Vegeta:
Another "spice" I use when making the cevapi is Vegeta. (Amazon affiliate link)
It is not something I usually have in the house, I don't think I have bought it more than once or twice in my life, but my grandmother used to take it all the time. And she did spice her sausages with Vegeta as well, so for the sake of originality, I did buy it. Many cevapi recipes I found online used Vegeta as well.
Vegeta is an apparently Croatian (never knew that before, it could have been Romanian for as far as I'm concerned, everybody in Romania seems to use it) all-purpose seasoning, which is used to flavor more or less any kind of meal. You can put it into soups, sauces, stews, rice dishes, you can sprinkle it on meat, salad or bread spreads, and so on.
If you cannot find or don't want to buy it to make just this particular recipe, you could easily replace it with vegetable stock powder.
Onions:
Make sure you chop the onions as finely as possible.
There are quite a few of them in the sausages and it is not so nice if the pieces are to roughly cut.
How to form the cevapcici?
When you form the cevapi, try to make them as regular as possible, not only they will look nicer when served, but they will cook more regularly as well.
I weighed the meat mixture used to make one sausage, they were all between 50 and 55 g/ 1.7-1.9 oz/ ¼ cup.
I had 18 cevapi or cevapcici in the end, but the recipe can be easily doubled.
How to serve?
Well, there are lots of possibilities. One possibility would be to serve them with Djuvec rice.
You could also serve the cevapi or cevapcici with ajvar, chopped onions, sour cream, feta and flatbread.
In Romania, we would serve our version of cevapcici – mici with mustard or garlic sauce made with only grated garlic, salt, and water, and white bread.
And you should definitely make a Shopska Salad on the side. This is the way we had them most of the time when on holiday in Croatia: Cevapi with rice, raw onions, and ajvar on a large plate and shopska or white cabbage salad on the side! Delicious!
More sausages?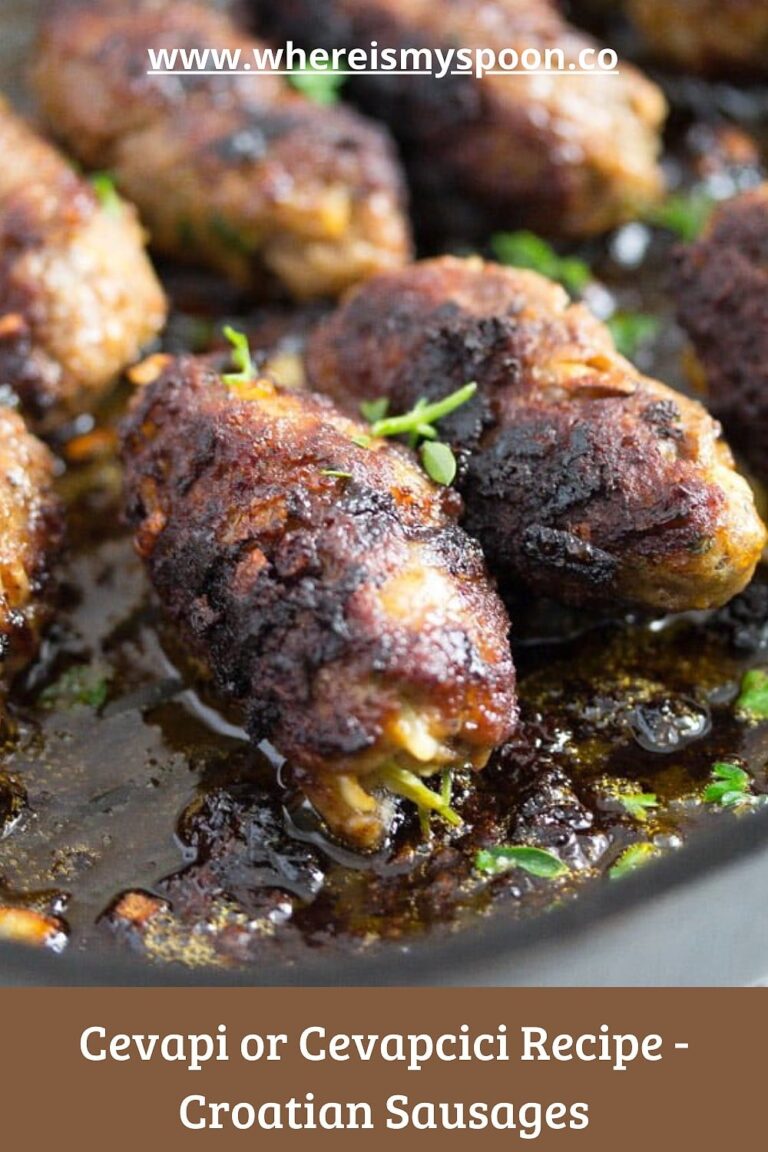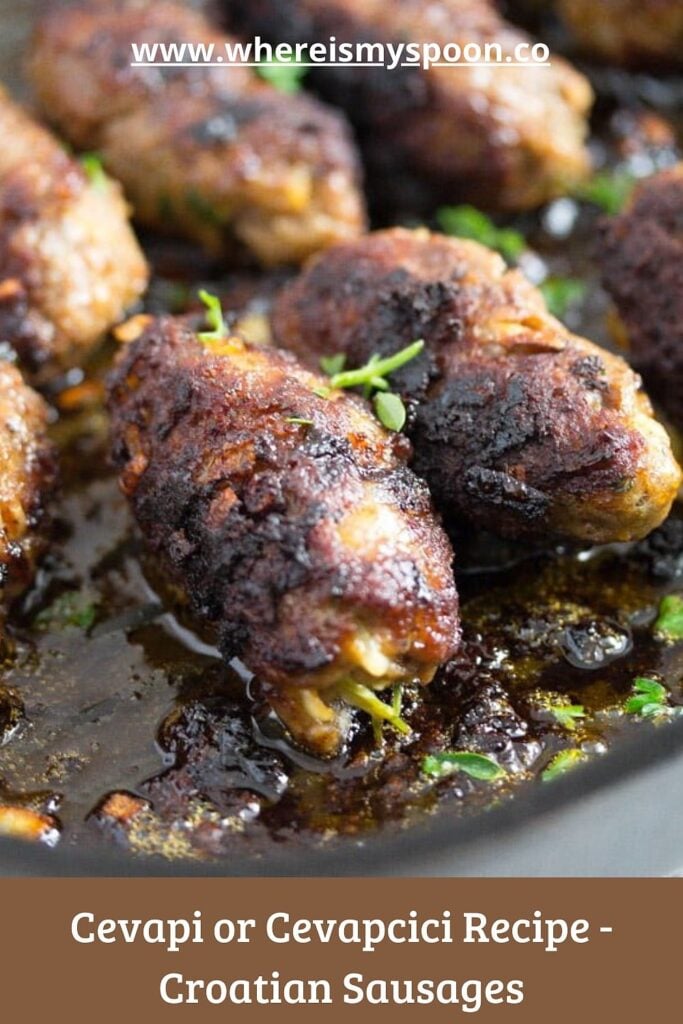 Cevapi or Cevapcici Recipe – Croatian Food
Cevapcici or cevapi, delicious grilled Croatian sausages with lots of garlic and paprika.
Print
Pin
Share
Grow
Saved!
Rate
Ingredients
1.1

lbs

ground beef

8.8

oz

ground pork

1

larger onion

about 150 g/ 5.3 oz

4

large garlic cloves

3

tablespoons

chopped parsley

¾

teaspoon

baking soda

2

tablespoons

dried breadcrumbs

2-3

tablespoons

water

1

teaspoon

salt

1

teaspoon

ground black pepper
Instructions
Combine: Place the ground meat in a bowl. Chop the onion very finely and grate the garlic cloves. Add to the bowl. Add the chopped parsley, all sorts of paprika, baking soda, dried breadcrumbs, water, Vegeta, salt, and pepper. Mix well with the hand mixer fitted with the dough hooks.

Refrigerate: Cover the bowl with cling film/ plastic foil and leave to rest for 1 or 2 hours in the refrigerator.

Shape sausages: Take portions of the meat mixture, about 50-55 g/ 1.7-1.9 oz/ ¼ cup portions, and form the cevapi. The rolls should be about as thick as your thumb and about 7-10 cm/ 3-4 inches long. I had 18 sausages. You can easily double the recipe.

Grill the cevapcici on the hot grill pan or the barbecue for about 12-14 minutes, turning them several times in between, or until brown and cooked through. I checked by cutting one in the middle and then grilling the subsequent batches for the same time.

Serve hot as suggested above. The cevapcici can be reheated in the oven at 180 degrees Celsius/ 350 degrees Fahrenheit for about 10 minutes or until heated through. Check one; if it is not hot enough, give the sausages a few more minutes.
Nutrition
Serving:
1
g
|
Calories:
571
kcal
|
Carbohydrates:
9
g
|
Protein:
52
g
|
Fat:
35
g
|
Saturated Fat:
13
g
|
Polyunsaturated Fat:
18
g
|
Trans Fat:
1
g
|
Cholesterol:
170
mg
|
Sodium:
964
mg
|
Fiber:
2
g
|
Sugar:
2
g