A delicious sweet and tangy lemon jelly made with fresh lemon juice.
HOW TO MAKE LEMON JELLY
With very few exceptions, I always make my own jams, marmalades or jellies. I have a few recipes on the blog already, for instance the Simple Apricot Jam or the Tangy and Aromatic Rhubarb Strawberry Jam , but most of the jams I make are not even mentioned here.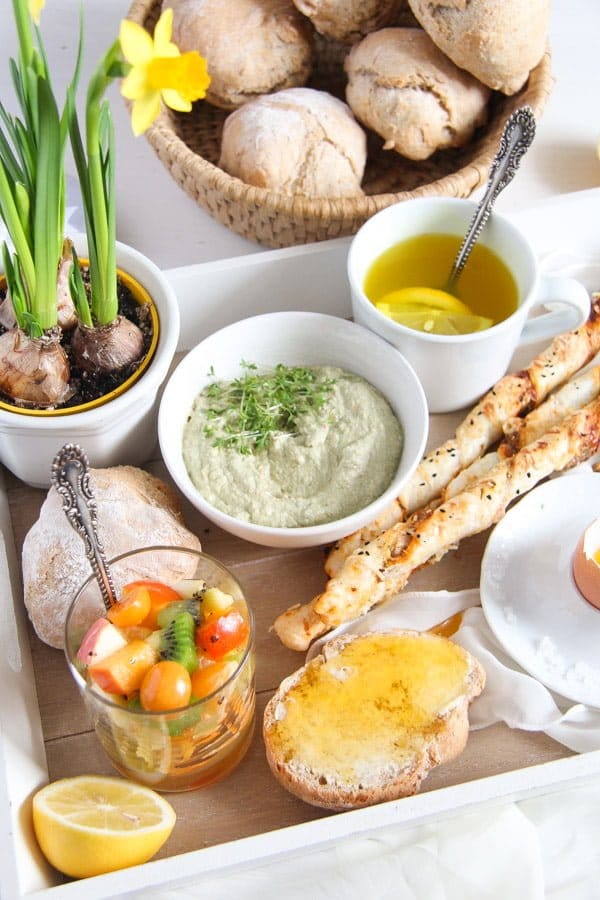 There are just too many of them, they are all so simple to make and I make many of them with the German special sugar for jams, which is not easily available outside Germany. That kind of sugar is very convenient, you can make lower sugar jams with it and most of all, it makes jam making so easy and fast. Mix the ingredients, bring to a boil and boil for four minutes. That's it!
No need to worry about the pectin content of various types of fruit or berries, no need to check if the jam is ready for what it feels like a 100 times, no long cooking times... That is why I would rather use that when making jam, it is just so easy.
JELLY WITHOUT PECTIN
But from time to time I make a regular jam as well, the way my grandmother used to make it in Romania, just fruit and regular sugar. Like this lemon jam. Well, this is not exactly a jam, it is not made with fruit, just with the juice of citrus fruit. I love it!
It is sweet yet totally tangy, sticky and utterly delicious! If you are into citrus fruit and sweet spreads, you should definitely try it, you will love it!
Even if I would have had the special jam sugar in the house when I decided to make this jelly, I would not have used it. Lemons have naturally so much pectin, they really do not need any additional help to form a nice jelly.
INGREDIENTS FOR LEMON JELLY
Lemons: freshly squeezed lemon juice.
Clementines: freshly squeezed clementine juice. Clementine juice is optional, but recommandable, it makes the lemon jelly mellower.
Sugar: regular, granulated sugar.
HOW LONG TO BOIL LEMON JELLY?
The cooking time was much shorter than I had pictured it to be. I had made jellies with regular sugar before and I remember having to boil the jelly for quite a while until it was sufficiently set.
But not this time, I started checking after about 10 minutes and I stopped cooking the jelly after 15 minutes.
The cooking time might be different depending on the pot you use. My pot was large and wide and that sped up the process, if your pot is higher and less wide, it might take a bit longer.
HOW TO CHECK IF THE JELLY IS DONE?
To check if the jelly is done, set a saucer in the freezer before you start cooking the jelly.
After about 10 minutes cooking time, pour a few drops of the jelly on the cold saucer. If the jelly sets on the saucer and you are able to trace a line through the jelly, then the jelly is ready.
If not, return the pot to the burner and continue boiling the lemon jelly for a couple of minutes more. Check again and continue in this manner until the jelly is set.
Careful not to overdo it, if you cook the jelly for too long, it will get so hard you will not be able to get it out of the jar once set. And I am speaking out of experience here... I managed that a couple of times at the beginning of my jelly/jam cooking times.
Other recipes with lemons:
PIN IT FOR LATER!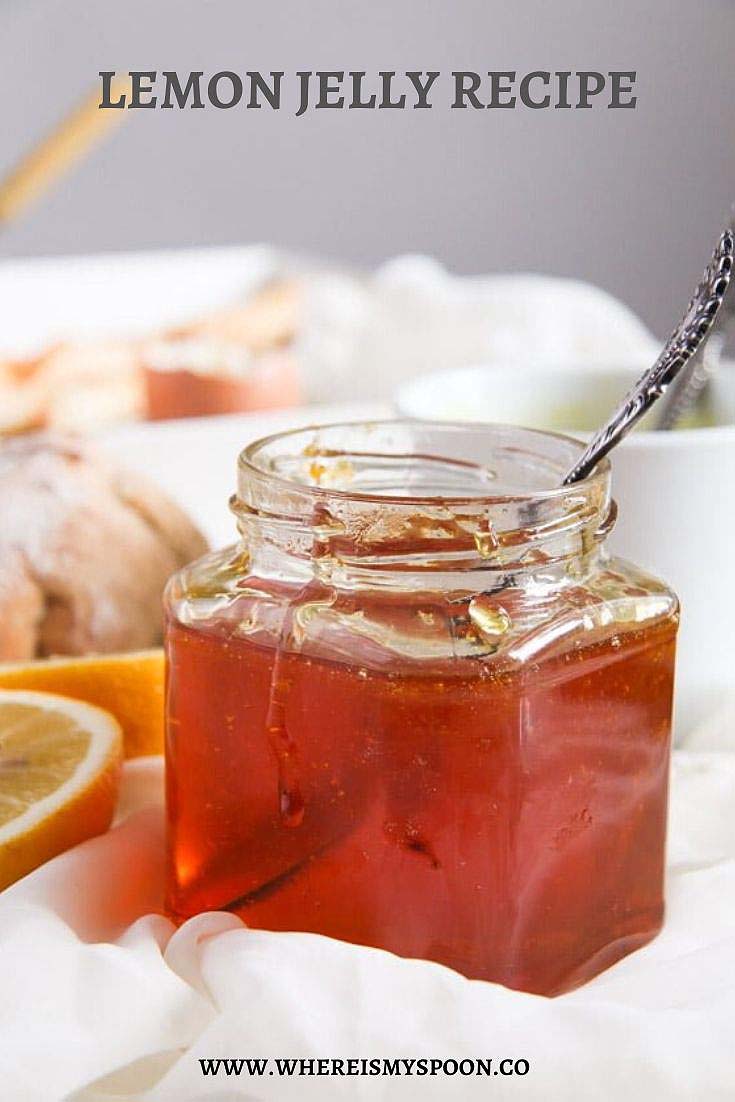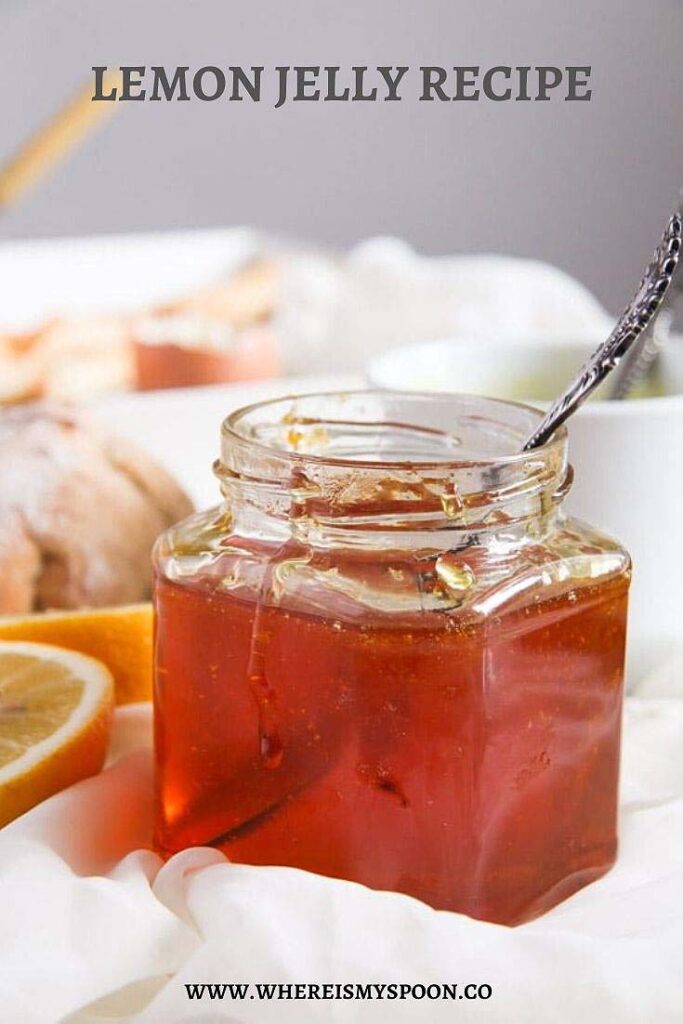 Ingredients
500

ml/ 17 fl.oz/ 2 cups freshly squeezed lemon juice

250

ml/ 8.5 fl.oz/ 1 cup freshly squeezed clementine juice

750

g/ 1.6 lbs/ 3 ¾ cups sugar
Instructions
Place a saucer in the freezer.

Sterilize the jars. For more information regarding sterilizing jars, have a look at

this post

.

Squeeze the lemons to obtain 500 ml/ 2 cups juice and the clementines to obtain 250 ml/ 1 cup juice. Strain the juice to remove the pulp.

Pour the juice into a large wide pot. Add the sugar and stir well.

Bring to a boil, stirring well to dissolve the sugar. Once the mixture is boiling set the timer to 10 minutes. Stir often while the jelly is cooking.

After 10 minutes of cooking time start checking the jelly. Place a small amount of jelly on the freezer saucer and wait for about 30 seconds. If you are able to trace a line through the jelly, a line that stays that way, then the jelly is done. If not, return the pot to the burner and continue boiling for a few minutes more.

Try the consistency of the jelly again and continue in this manner until the consistency is right. The time the jelly needs to get the right consistency depends on the pot you are using. Mine was large and wide and that sped up the process, my jelly only needed 15 minutes.

Pour the jelly into the sterilized jars and close well.
Nutrition
Serving:
1
jar
|
Calories:
805
kcal
|
Carbohydrates:
209
g
|
Protein:
1
g
|
Sodium:
68
mg
|
Fiber:
2
g
|
Sugar:
201
g