Easy chocolate tray bake, covered with luscious, glossy frosting. This amazing cake keeps well for at least one week.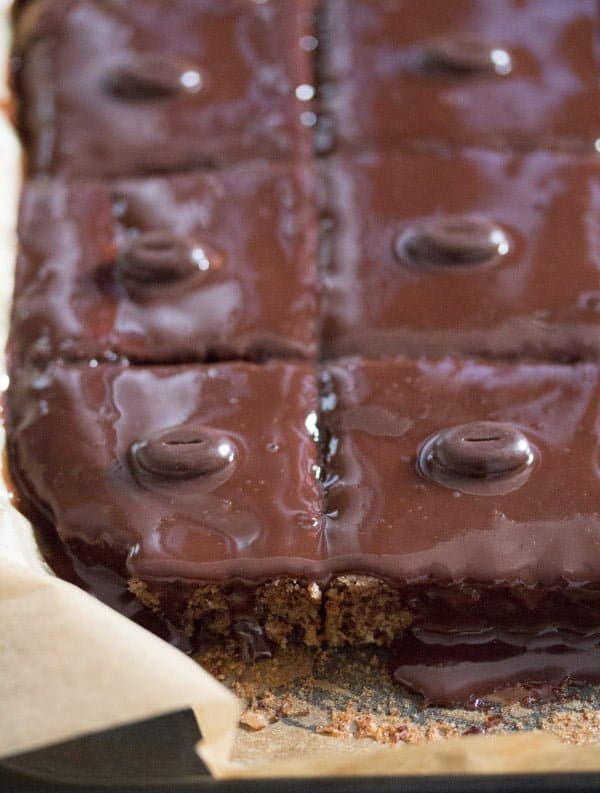 Although so easy to make, this chocolate tray bake with frosting is really a treat! I mean, think about it! Double chocolate: in the cake itself and on top of it as well! You will just love it!
This recipe makes quite a large batch, but trust me; there was not a piece left by the end of the day. We had some guests, and I had actually baked two cakes for the occasion... I could not believe that all of this tray bake was gone so fast.
But then, it is chocolate... And hazelnuts! And an amazing frosting to make things complete!
I love cake tray bakes. Wonderful cakes like this Hazelnut Banana Cake, our favorite Apple and Cinnamon Tray Bake, or this Stewed Apple Desert.
Jump to recipe
What do you need?
Chocolate for the cake and the frosting:
First of all, as always, when using chocolate in such large quantities, make sure you buy good quality. In this case, you will need the dark sort with about 70% cocoa; a bit more or less is OK
Don't use milk chocolate or anything less than 60% cocoa to make the cake.
For the frosting, you will need semi-sweet chocolate.
Spices:
I use a little ground cardamom to flavor the batter. I love it, but if you don't like it or don't have it, you can leave it out or replace it with cinnamon.
Other ingredients: ground hazelnuts, unsalted butter, eggs, flour, heavy/double cream.
 How to chocolate tray bake?
Making this decadent chocolate tray bake with hazelnuts is really a simple affair.
Before you start stirring the batter, you will have to grate the chocolate. You can easily do that in the food processor. In this case, chop it into small pieces and grind them in the food processor. This will happen quickly, so don't overdo it, or it will start to melt.
If you don't want to use the food processor, you can easily grate it on a regular grater.
To make the batter, mix together the dried ingredients: flour, hazelnuts, grated chocolate, cardamom (if using), and salt. Set aside.
In another large bowl, beat the eggs, sugar, and soft butter together until nice and fluffy.
Add the dried ingredients and incorporate them.
Pour this mixture onto a baking tray lined with baking paper and bake in a preheated oven for 25 minutes.
Leave to rest for about 15 minutes; cut it into squares but leave the squares on the tray. Let the cake cool completely on the tray.
Make the glaze: bring the cream to a light simmer. Remove and stir in the chopped semi-sweet chocolate, sugar, and cubed butter. Stir well until melted and glossy.
Carefully pour the glaze all over the cake and let it set for about an hour or longer. The glaze will not become completely solid, it will set, but it will remain soft.
Decorate each square with the decoration of choice.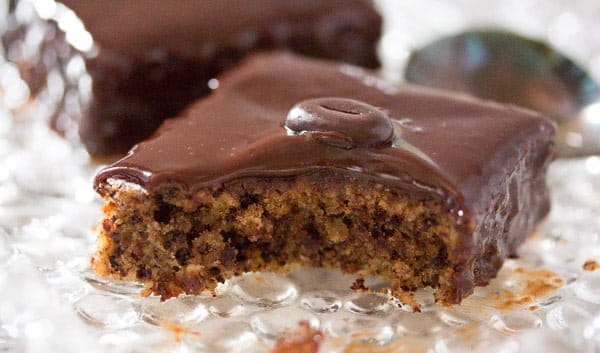 How to store?
Keep the chocolate tray bake squares in an airtight container in a cool place (not necessarily refrigerated, a cold cellar would do).
They will keep for at least one week.
The glaze keeps well for 3 -4 days in the fridge, and it can be frozen for a while as well.
If you have some leftover glaze, you can pour that on top of ice cream or waffles, for instance, as a kind of sauce.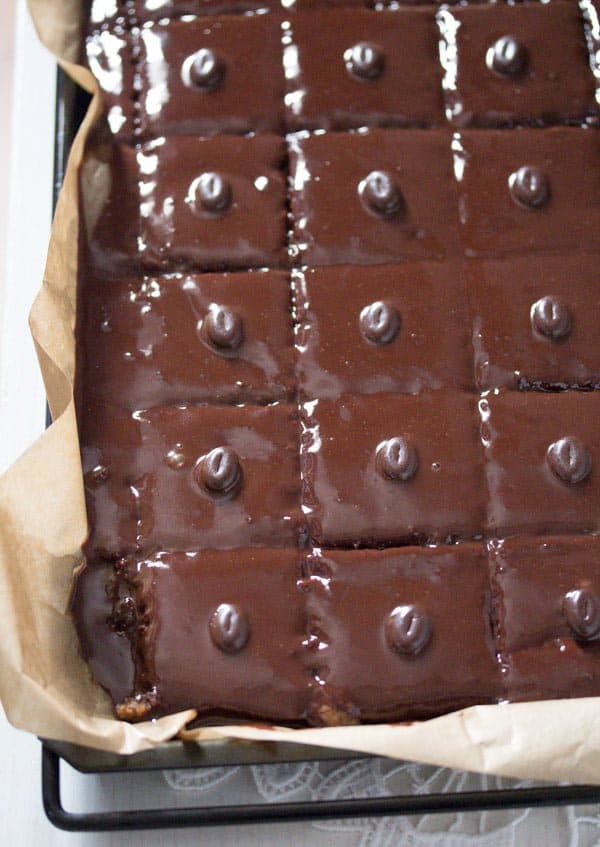 More frosted chocolate cakes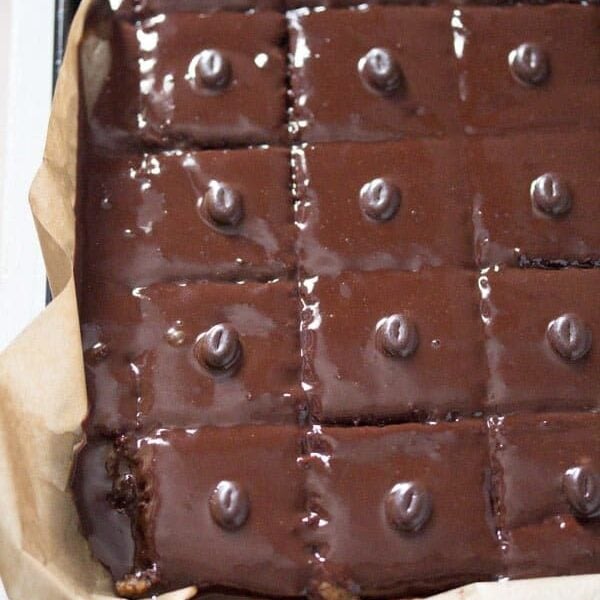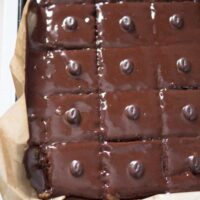 Chocolate Tray Bake
Easy chocolate tray bake, covered with a luscious, glossy chocolate frosting. This amazing chocolate cake keeps well for at least two weeks.
Print
Pin
Share
Grow
Saved!
Rate
Ingredients
Chocolate tray bake (Note 1):
250

g

good quality dark chocolate

9 oz, 70% cocoa

6

eggs

medium Germany, large US

250

g

unsalted butter

room temperature, 9 oz/ 1 cup

250

g

granulated sugar

9 oz/ 1 ¼ cups

100

g

all-purpose flour

3.5 oz/ ¾ cup + 1 tablespoon

250

g

ground hazelnuts

9 oz/ 2 cups

¼

teaspoon

ground cardamom

optional, Note 2

a

pinch

of salt
Frosting:
175

g

semi-sweet chocolate

chopped, 6 oz/ 1 cup

125

ml

heavy cream

4.2 fl.oz/ ½ cup

1

tablespoon

granulated sugar

75

g

unsalted butter

2.5 oz/ ¼ cup + 1 tablespoon
Decoration:
chocolate decoration of choice
Instructions
Chocolate traybake:
Preheat the oven to 350°F/ 180°C. Line a baking tray with parchment paper.

Chocolate: Chop and place the pieces into a food processor and grind finely. Don't overdo it, or the chocolate will start to melt. Alternatively, you can grate the chocolate on a regular grater.

Wet ingredients: Place the eggs, soft butter, and sugar into a bowl. Mix until fluffy.

Dry ingredients: In another bowl, mix together the flour, hazelnuts, grated dark chocolate, ground cardamom (if using), and a pinch of salt. Add the mixture to the egg and butter mixture and incorporate.

Bake cake: Pour the batter onto the prepared baking tray and level the surface. Bake for 25 minutes.

Cool cake: Rest for about 15 minutes, then cut it into pieces. Leave to cool completely on the baking tray.
Chocolate glaze:
Chop the semi-sweet chocolate finely. Set aside.

Combine glaze: Pour the cream into a small saucepan. Bring to a light simmer. Remove from the heat and stir in the chocolate, sugar, and cubed butter. Stir well until the chocolate is completely melted.

Slowly pour the frosting over the cake. Leave to set, but keep in mind that it will not become solid, it remains slightly soft and glossy.

Decorate with the chocolate decoration of your choice.
Notes
Always use a kitchen scale in baking; it guarantees the best results. This recipe is not tested using cup measurements (the Amazon affiliate link opens in a new tab).
The cardamom can be left out or replaced with cinnamon.
Nutrition
Serving:
1
square
|
Calories:
474
kcal
|
Carbohydrates:
34
g
|
Protein:
7
g
|
Fat:
36
g
|
Saturated Fat:
17
g
|
Polyunsaturated Fat:
17
g
|
Cholesterol:
109
mg
|
Sodium:
39
mg
|
Fiber:
4
g
|
Sugar:
24
g