Last Updated on
A delicious vegan apple cake, which will make your children happy.
This vegan apple cake – no bake cake is one of the easiest cakes I've ever made. Three layers of biscuits, two layers of cooked apples and a few hours waiting for the apples in the cake to set. That's it! Apples, sugar, apple juice, biscuits and 1 packet of vanilla pudding powder.
This vegan apple cake couldn't be cheaper either. And on top of that: if you make sure you buy the right vegan biscuits this cake is vegan or fasting time suitable as well.
I've made this no bake cake about a month ago to take with us when visiting some friends. My son saw me making vegan apple cake, cooking the apples and then all the biscuits laying around and could hardly wait for us to get there, so that he could have a piece of this cake.
He does love his apple cake dearly. No matter what kind of apple cake and I do have quite a few in my repertoire (check here and you will find them all), he gets impatient only when hearing the words apple cake.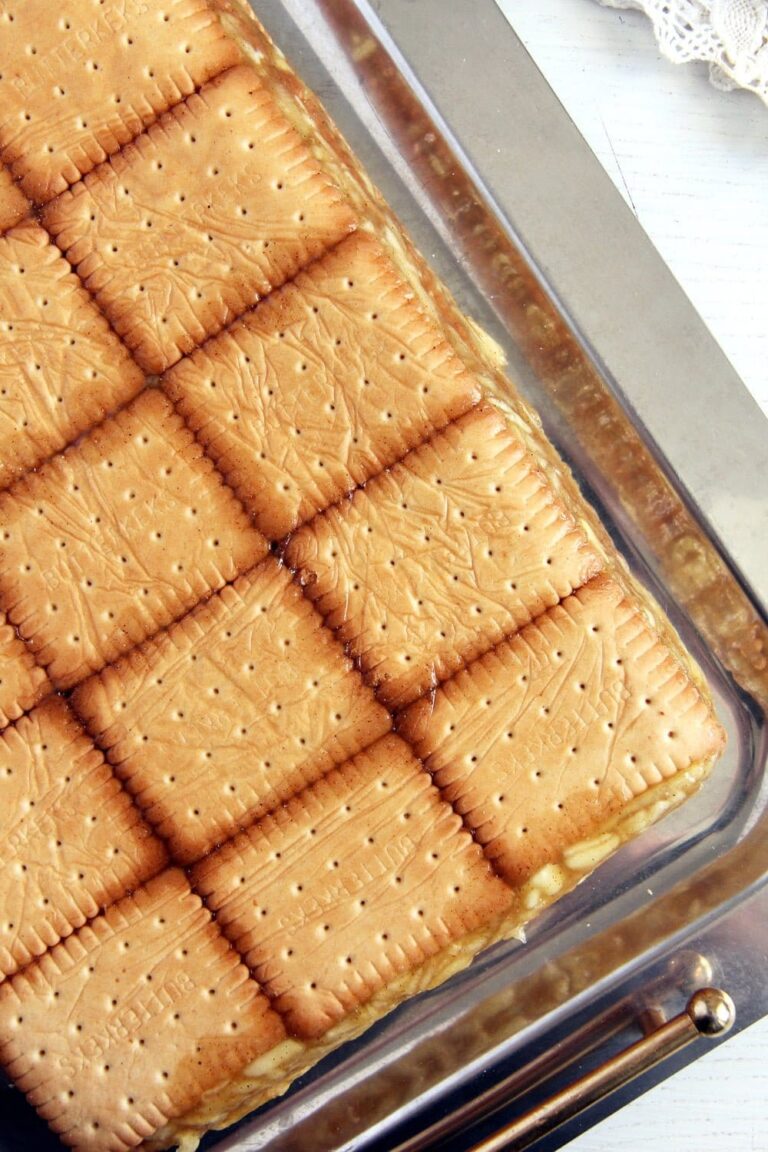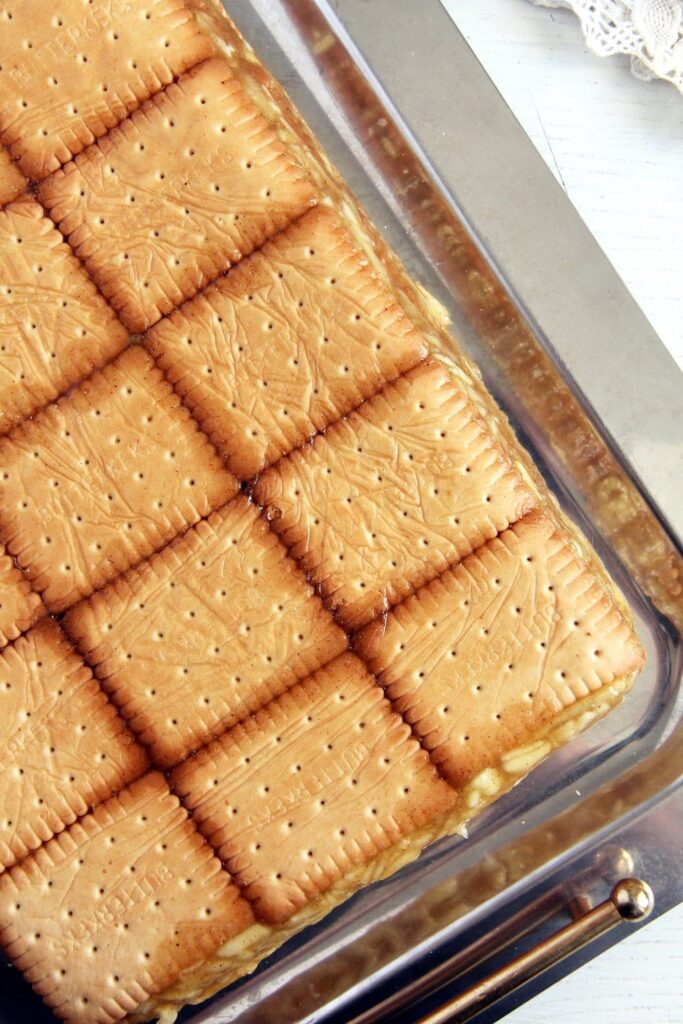 So coming back to this particular cake and that particular occasion, needless to say that as soon as we reached our friends' house and sat down, he immediately asked if the coffee for us adults is ready because he would like to start eating the apple cake at that very moment.
Everybody laughed, but he remain serious not seeing where the joke was, he really meant what he was saying. My friend hurried up with the coffee, so that dear Bruno could finally have his cake. And he did have his cake, like most of the times when it comes to apple cake I had to stop him after his 3rd or 4th piece…
Otherwise I hope you are having a nice weekend and that the weather is treating you better than us. After a couple of wonderful sunny days, it has been raining incessantly for the past 24 hours here. Not quite the weather to go out and play for the kids, so maybe we will make this no bake cake or vegan apple cake again today. I am sure none of them would mind. 🙂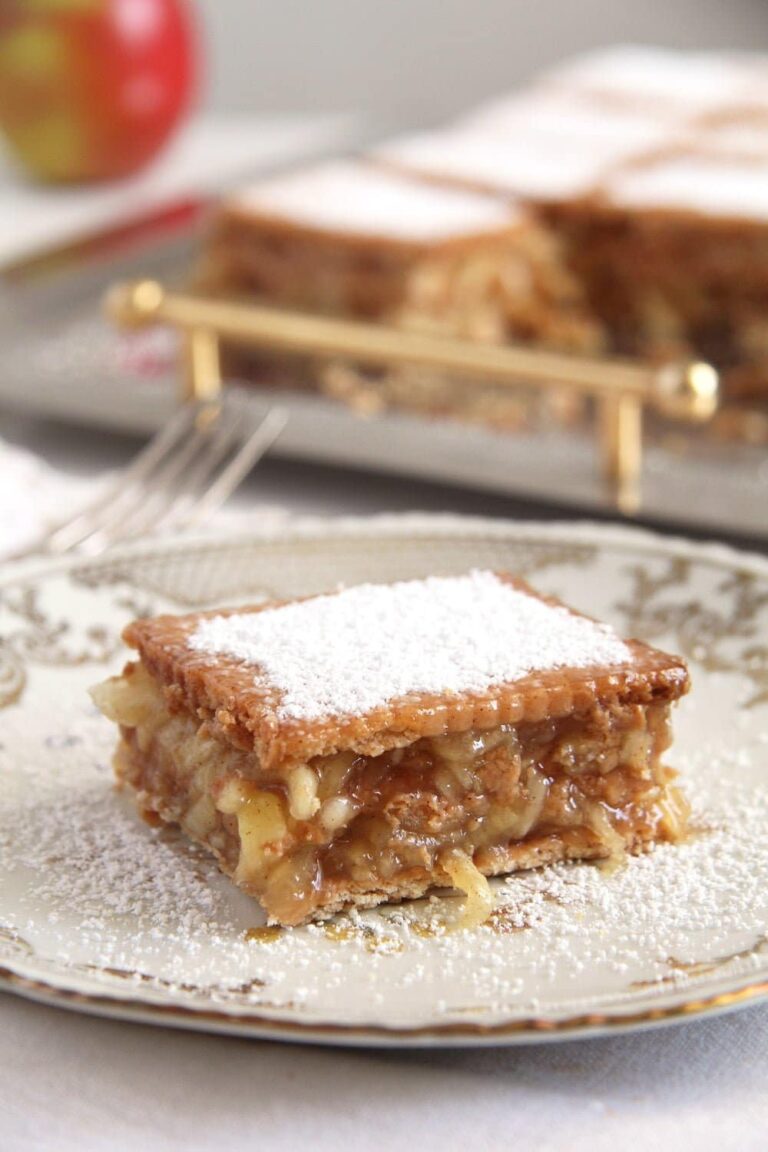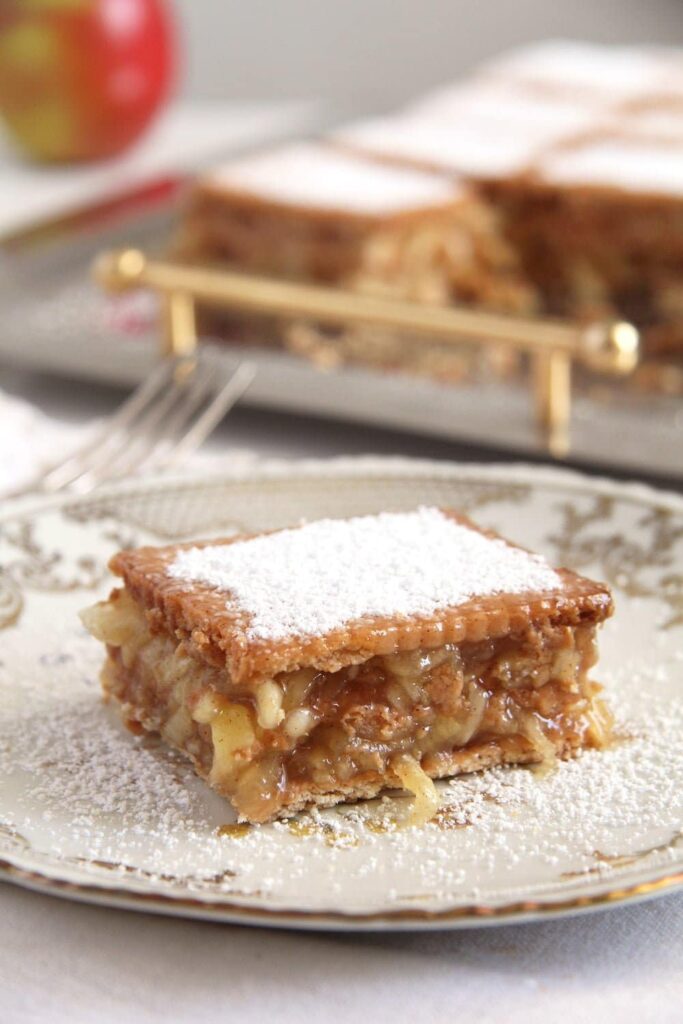 Ingredients
1 kg/ 2.2 lbs apples

150 g/ 5.3 oz/ ¾ cup granulated sugar

1 teaspoon cinnamon

300 ml/ 10.1 fl.oz/ 1 ¼ cups apple juice

1 packet Dr. Oetker vanilla pudding powder

200 g/ 7 oz (vegan) biscuits (or as much as you need to get 3 layers)

icing sugar
Instructions
Peel and roughly grate the apples. Place in a pot, add the sugar, cinnamon and apple juice and let stand for about 20-30 minutes or until you notice that the apples have released more juices. Stir in the pudding powder, mix well, place on the hob and bring to a boil stirring often. Let bubble a couple of times until the mixture thickens like a pudding.
Line a baking tray or a rectangular dish (20x30 cm/ 8x11 inches) with plastic wrap. Place one layer of biscuits in the dish. Pour over half of the apple mixture and cover with another layer of biscuits. Pour the rest of the apples on top, level and add the third layer of biscuits. Cover with plastic wrap, let cool slightly, then place in the fridge for about 3 hours or until the apple mixture is cold and set.
When ready to serve remove the plastic wrap from the top of the cake. Place a suitable serving dish on top of the cake, grab both dishes and turn them simultaneously, so that the cake falls on the serving platter. Remove the second plastic wrap. Sprinkle the cake with icing sugar and cut into squares the size of the biscuits.
Others apple cakes you might like: