Amazingly aromatic rhubarb crisp with apples, topped with a crunchy oatmeal and brown sugar topping, this is one of the best rhubarb desserts ever. Make the most of the short rhubarb season with this tangy rhubarb apple crisp, which can be served either warm or at room temperature, as it is or with a nice vanilla custard or vanilla ice cream.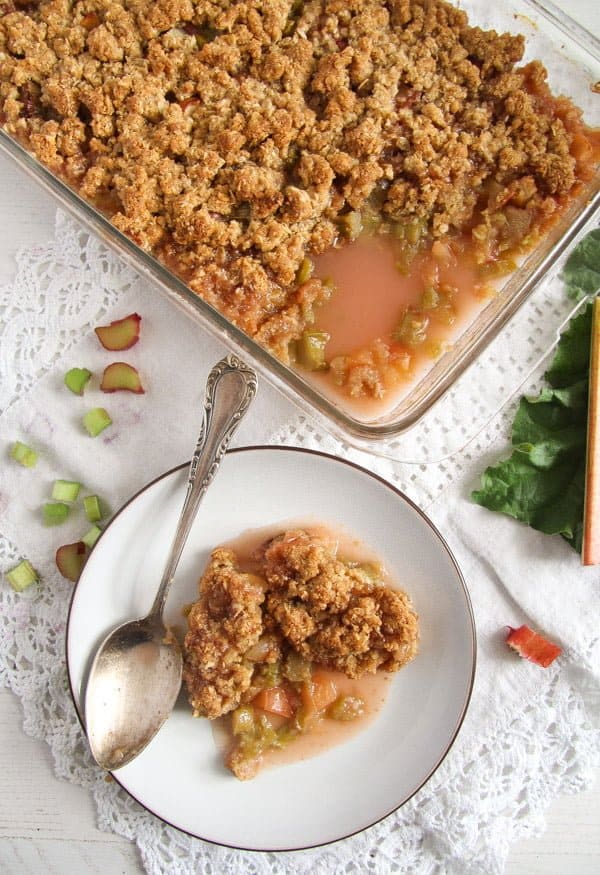 Rhubarb Crisp with Apples and Crunchy Oatmeal Topping
I do have a soft spot for this kind of dessert, either a crisp like this Rhubarb Crisp with Apples and Crunchy Oatmeal Topping or a crumble like my favorite Apple Crumble, a pudding with custard, like this Baked Rhubarb Custard or a fruit casserole like this Kirschmichel – Cherry Casserole.
Over the years I have made so many fruit crumbles or fruit crisps, I have really lost track of all of them. The one I make the most is apple crumble, apples are always so reliable and available, but when the season allows it, I make rhubarb crisp or rhubarb crumble. Or I use berries, for instance red currants or blueberries, sometimes I take peaches or nectarines, pears or plums and I have even made a mango and coconut crisp once.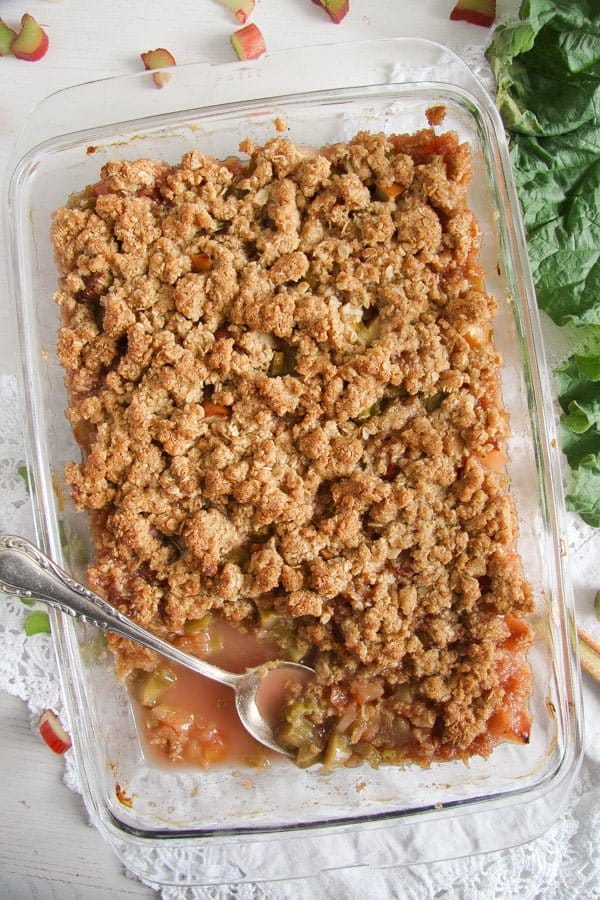 What is the difference between a crisp and a crumble?
Actually a crisp and a crumble are very similar, crumble being a name used mostly in the UK.
However, there is a small difference between the two: a crisp is usually made with oatmeal/ rolled oats, while a crumble is a streusel-like topping, made with flour (all-purpose or whole-wheat), sugar (white or brown) and butter.
The crumble topping I use to make a fruit crumble is generally the same one I use when making a crumble cake or crumble pie. I sometimes add almonds flakes to it as well.
Another difference would be that, as the name already says it, a crisp would be crispier, due to the rolled oats that crisp up during the baking process.
Another similar dessert is a cobbler. The cobblers are fresh fruit in a casserole dish, topped with a biscuit topping. Other versions of cobblers are made with cake batter (like this Easy Red Currant Cobbler with Almonds) or with cookie dough.
Rhubarb crisp with frozen rhubarb:
Can you make the rhubarb crisp with frozen rhubarb? You can definitely do so. The recipe will instruct you to sprinkle the rhubarb pieces with sugar and leave the fruit to release its juices. These juices will be discarded before making the crisp, otherwise the crisp will not be crispy, but rather soggy.
Frozen fruit usually releases more water than fresh fruit, but this will not be an issue in the case of this rhubarb and apple crisp, as you will drain the rhubarb anyway.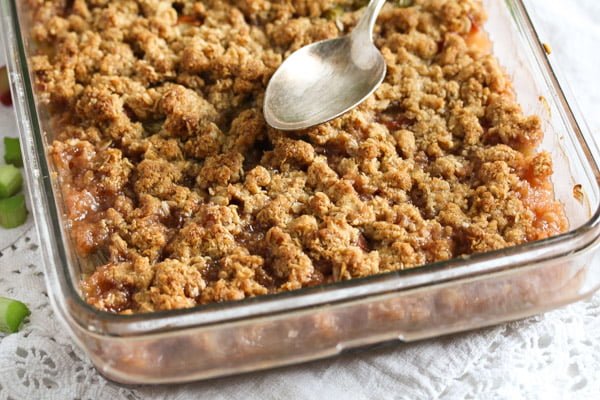 How to freeze rhubarb?
Every spring I get to pick lots of rhubarb in my friend's garden. She has two rhubarb plants growing in her garden, a large one and a gigantic one. My mission every spring is to keep her garden stairs free of rhubarb, if it wasn't for me, they would not be able to use it as long as the rhubarb is in season. 🙂
So, there is a lot of rhubarb I get to pick. Rhubarb that I use for delicious rhubarb crisps or crumbles, amazing rhubarb pies, comforting rhubarb cakes, savory rhubarb dishes with chicken or fish and so on.
And I also freeze a lot of rhubarb, at least 2 or 3 large bags every spring. And I use this rhubarb to make all the above mentioned recipes as well.
Freezing rhubarb is very easy. Chop the rhubarb into small pieces, like you would normally chop it for a cake or something, give the rhubarb pieces to a freezer bag, flatten the bag a little and freeze.
Martha Stewart would advice you to lay the chopped rhubarb on baking trays lined with baking paper, freeze the rhubarb in this manner for several hours and then transfer the frozen rhubarb to freezer bags. A very good approach, definitely, this way the rhubarb slices will not stick together when frozen.
But, to tell you the truth, I don't have either the patience for this extra work, nor enough space in my freezer for a large baking tray. So, I don't do it!
My frozen rhubarb slices do stick together, so whenever I need rhubarb I either defrost a whole bag or, if I need less rhubarb, I smash the rhubarb bag once or twice or my kitchen marble counter. It works like a charm! 🙂 I do that not only with frozen rhubarb, but with frozen berries, chickpeas or beans as well.
The rhubarb slices/berries/beans will separate and I will be able to take out as much as I need. And I really don't care if a few slices will get squashed in the process, the majority will remain intact.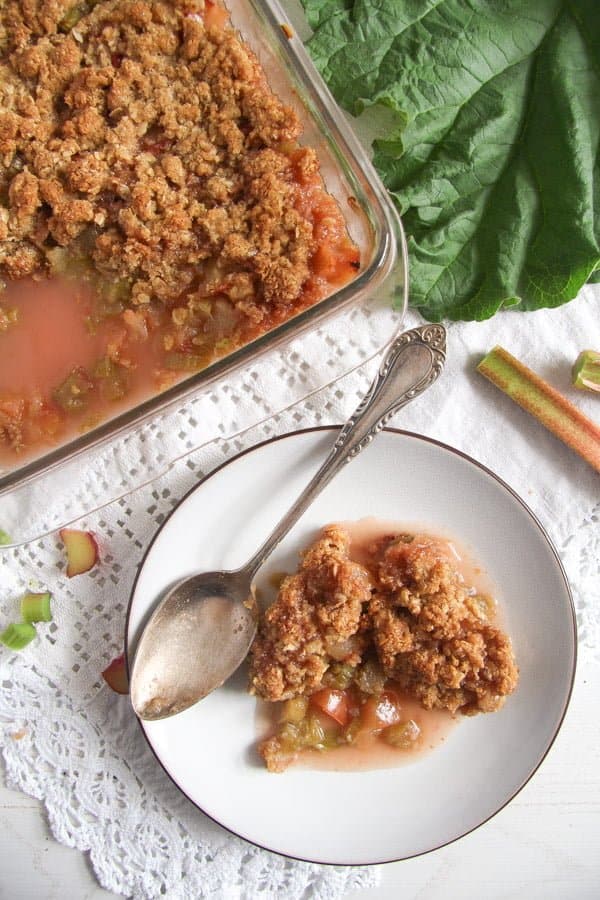 How to make Rhubarb Crisp with Apples and Crunchy Oatmeal Topping
This recipe for rhubarb crisp is very easy, like all crisp, crumble or cobbler recipes.
The only thing you have to make sure of is that you drain the sugared rhubarb slices well, before you add them to the baking dish. Too much juice will make the crisp soggy.
The addition of some cornstarch will also help against the sogginess, the rhubarb slices should be coated in a thin layer of cornstarch.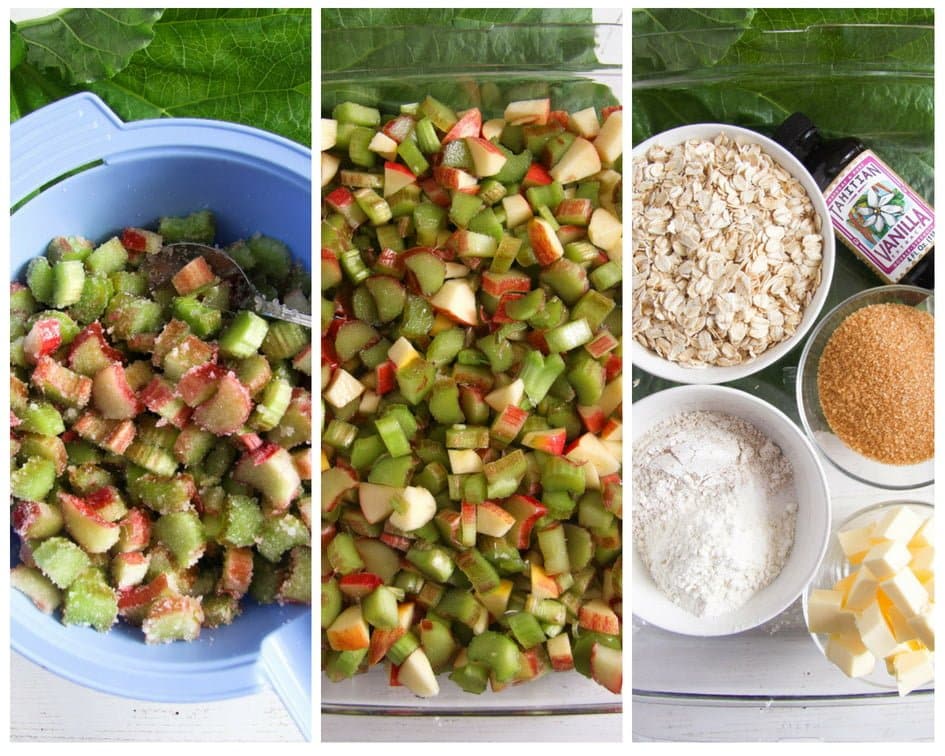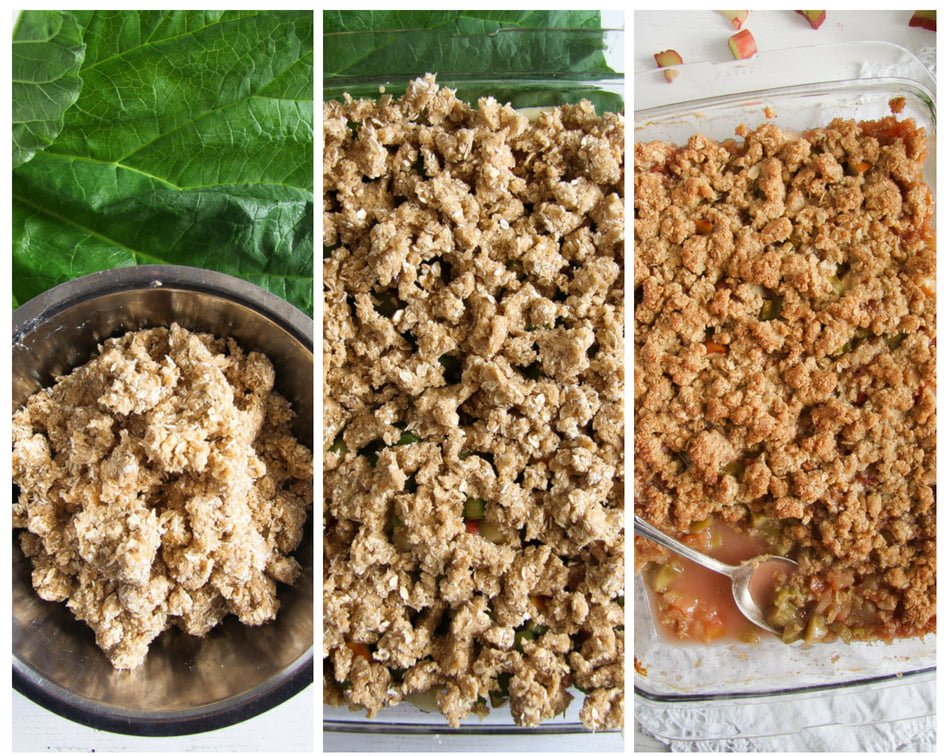 I've seen many recipes using tapioca instead of cornstarch, but tapioca is not easily available around here and even if I find it and buy a bag of it, I will then have the rest of the tapioca expiring in my cupboard, because I don't really know what to use it for…
To make the crisp I used a mixture of brown sugar and white sugar, I thought the brown sugar adds a little bit of extra flavor, gives the crisp a light caramel touch. However, that is not a must, if white sugar is all you have, replace the brown sugar with it.
What to serve with the Rhubarb Crisp with Apples and Crunchy Oatmeal Topping
You can have the rhubarb crisp just as it is, either warm or at room temperature.
Or you can have it warm with a dollop of vanilla ice cream that will melt slowly on top of the rhubarb crisp and bring it to a whole new level.
You can also top this rhubarb dessert with whipped cream, runny cream, vanilla sauce or vanilla custard. Or a personal favorite of mine: mix some crème fraiche with a little brown sugar, let the mixture stand for a short while until the brown sugar dissolves in the crème fraiche. A divine combination!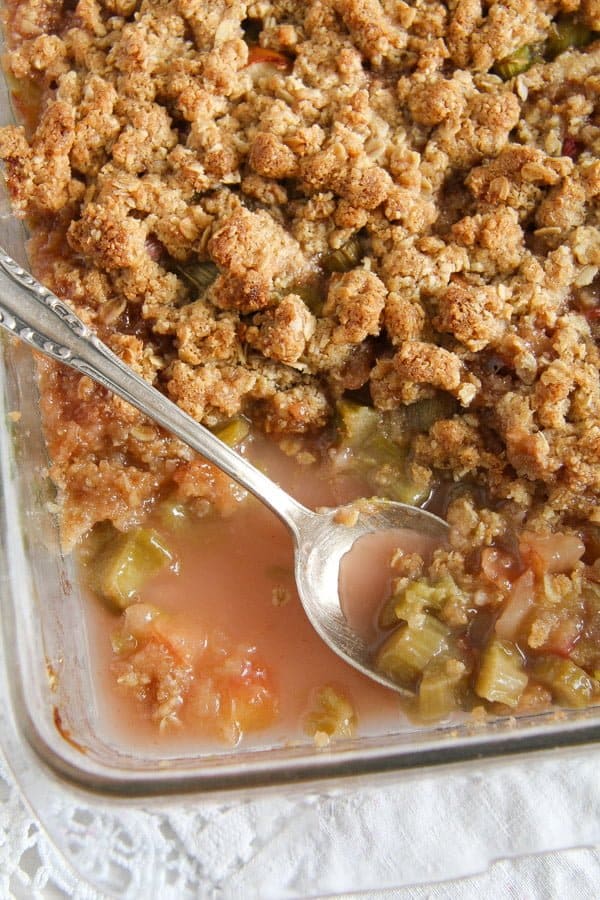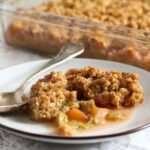 Ingredients
Rhubarb apple mixture:

2 kg/ 2.2 lbs rhubarb

100 g/ 3.5 oz/ ½ cup white sugar

2 medium apples (about 300 g/ 10.6 oz)

1 teaspoon vanilla extract

3 tablespoons cornstarch

Crisp:

100 g/ 3.5 oz/ 1 cup rolled oats

60 g/ 2.1 oz/ ½ cup all-purpose flour

90 g/ 3.2 oz/ ½ cup brown sugar (See note)

100 g/ 3.5 oz/ ½ cup white sugar

a pinch of salt

120 g/ 4.2 oz/ ½ cup unsalted butter, cold
Instructions
Clean the rhubarb and chop it into 2 cm/ ¾ inch pieces. Give them to a bowl and sprinkle with the sugar. Mix well and let the rhubarb release its juices for about 15-20 minutes.
In the meantime preheat the oven to 180 degrees Celsius/ 360 degrees Fahrenheit, chop the apples into small cubes and make the crisp.
Drain the rhubarb well, add the chopped apples and the vanilla extract to it and give the fruit to a casserole dish of about 20x32 cm/ 8x12 inches.
To make the crisp give the oats, flour, both types of sugar and salt to a bowl. Mix well. Cube the cold butter and add it to the mixture. Stir to coat the butter cubes in the flour and oat mixture, then cut in the butter using two knives or rub the butter into the mixture using your fingertips. Give the crisp mixture on top of the rhubarb in the casserole dish.
Bake the rhubarb crisp for 15 minutes in the preheated oven, then lower the heat to 160 degrees Celsius/ 320 degrees Fahrenheit and continue baking it for 15 more minutes or until golden brown.
Serve warm or at room temperature with one of the above mentioned toppings.
[nutrition-label id=9634]
Notes
You can use only white sugar instead of a mixture of brown and white sugar. Just replace the brown sugar with the same amount of white sugar.