Last Updated on
Juicy and tangy red currant cobbler, served with vanilla ice cream or whipped cream, a refreshing yet comforting summer berry dessert.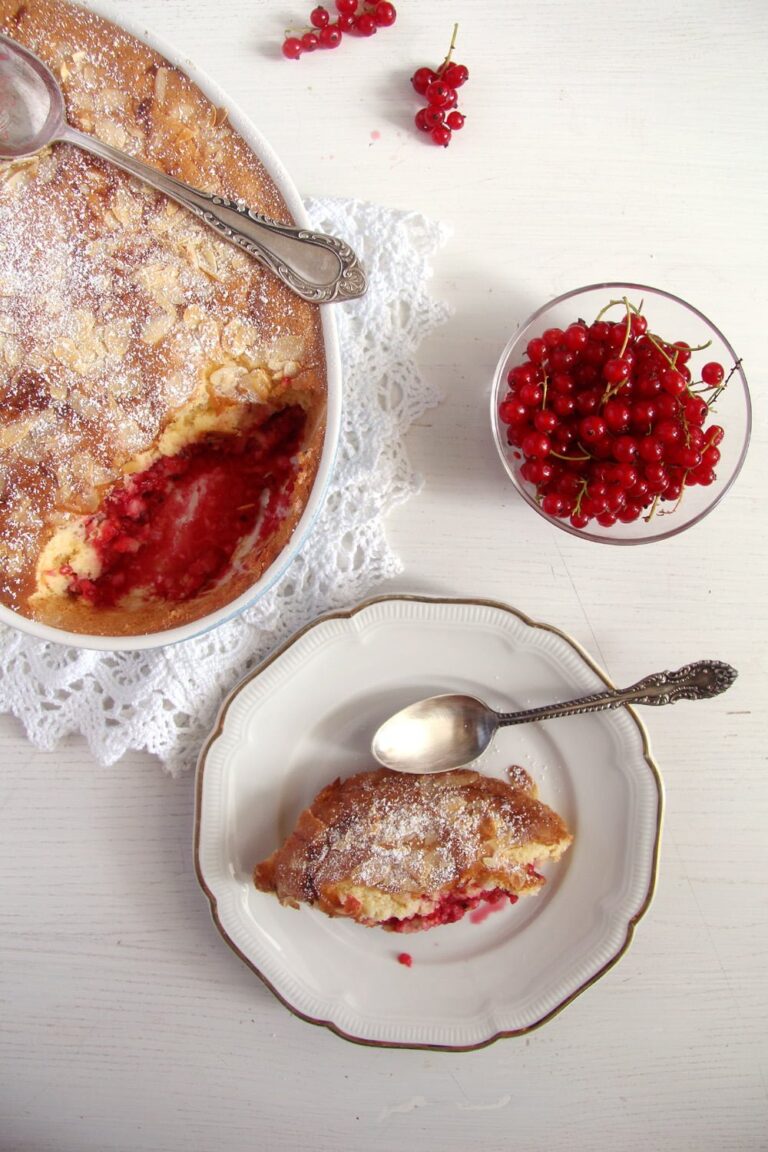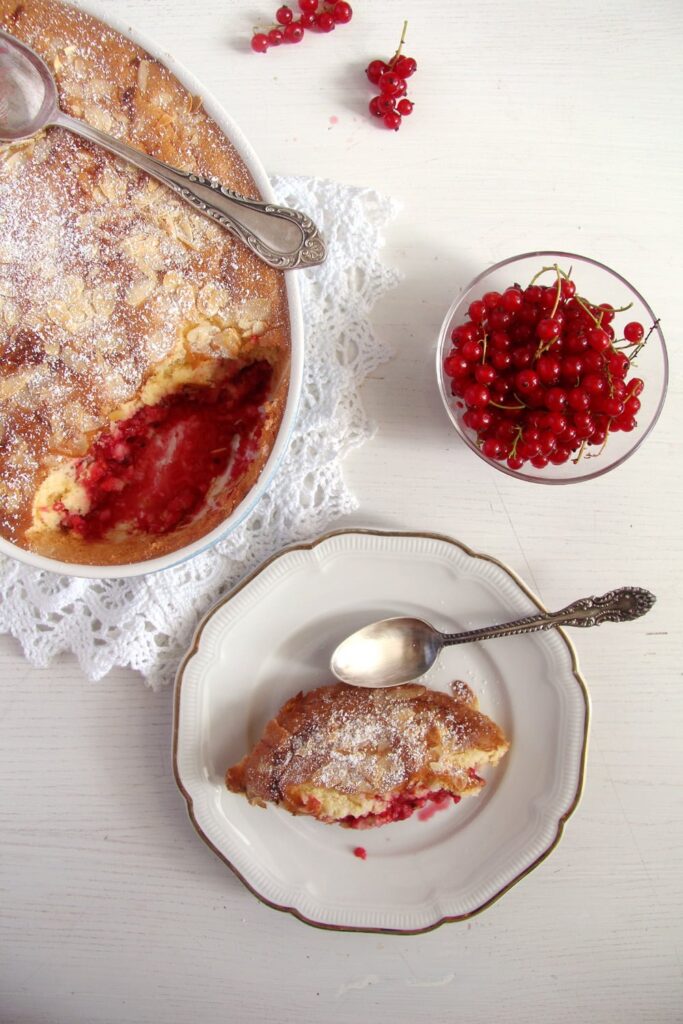 Easy Red Currant Cobbler with Almonds
A simple and quick recipe today, something to make when the guests are already knocking on your door without having previously announced their visit. It happens to us all the time, especially on a lazy Sunday afternoon, when you cannot go shopping for stuff you might need and when you don't feel like spending too much time in the kitchen either.
I know many people still hold on to the Sunday lunch and so on, but in our house, we decided that as I spend enough time cooking in the week anyway, Sunday should be a day of relaxing, of spending time with the family, doing something with the kids, going out … So I mostly let it be when it comes to Sunday cooking, we either eat out, or we order something or we just have a simple soup or spaghetti with a very quick to make sauce.
I sometimes bake on Sundays, especially when I know people are coming, but this Easy Red Currant Cobbler with Almonds has proved to be a life saver on those occasions when people are not announcing their coming or only do so about half an hour before they come.
The Easy Red Currant Cobbler with Almonds is a great thing to eat not only in summer when the red currants are plentiful, but throughout the year as well, as you can definitely use frozen red currants to make this. Just mix a few ingredients together, place everything in a casserole form and serve warm with some ice cream (which most people have in their freezer at all times, anyway), homemade vanilla sauce or freshly whipped cream.
Or, what I also like to serve with a cobbler, a crisp or a crumble : some crème fraiche mixed with a little brown sugar. Leave it until the sugar dissolves and serve. Delicious!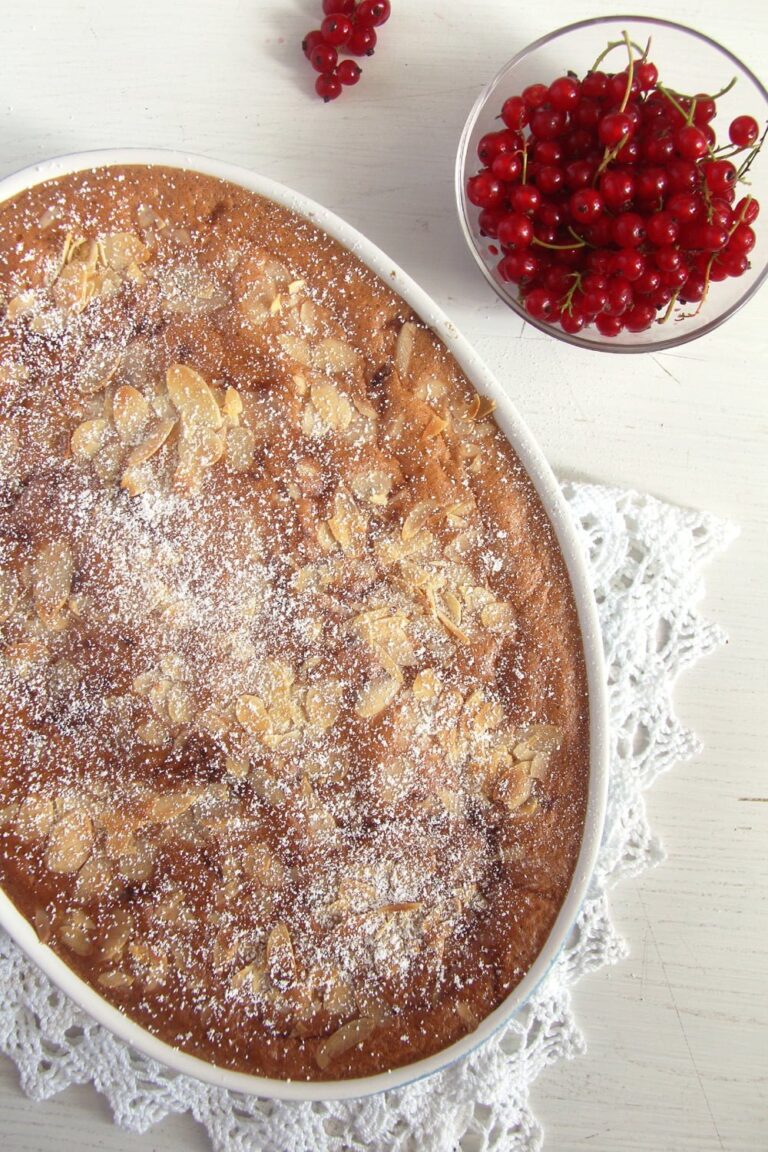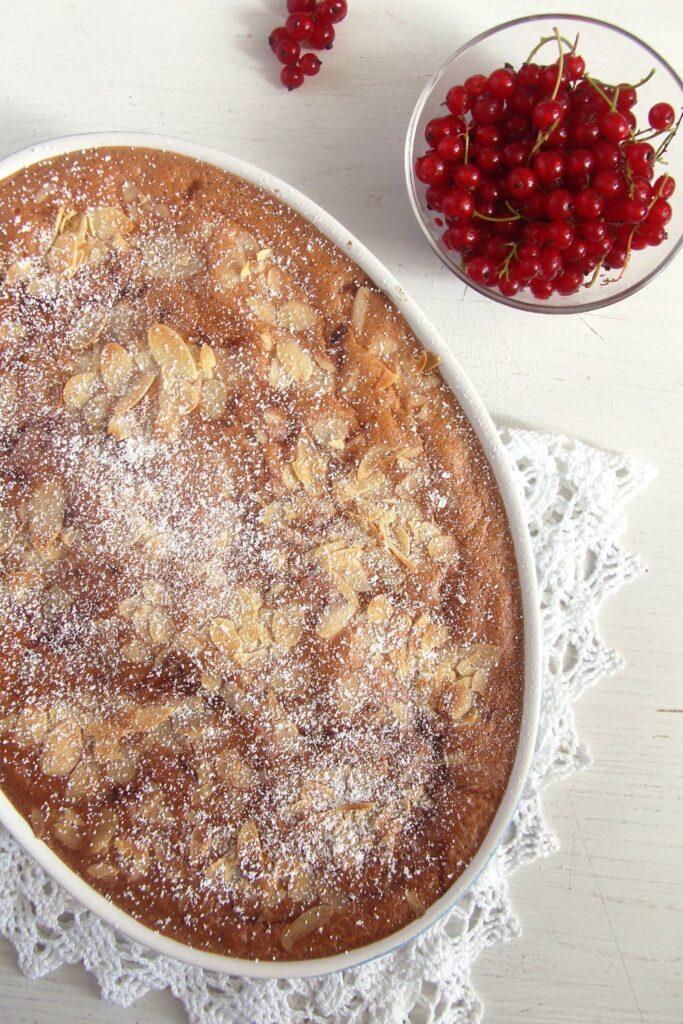 I definitely recommend one of these toppings: despite the juicy red currant layer, the sponge cake is rather on the dry side and the ice cream or cream help keeping the balance between the dry and the wet components.
So, enjoy what is left of this summer and make the most of your red currants. 🙂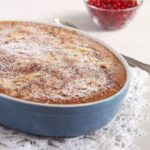 Ingredients
200 g/ 7 oz red currants

3 eggs (medium Germany, large US)

6 tablespoons icing sugar

1 teaspoon vanilla extract

4 tablespoons all-purpose flour

2-3 tablespoons flaked almonds

a small knob of soft butter
Instructions
Preheat the oven to 200 degrees Celsius/ 390 degrees Fahrenheit. Butter a medium casserole form.
Clean the red currants and place them on the bottom of the prepared form.
Whisk the eggs, sugar and vanilla extract until thick and pale, about 5 minutes. Sieve the flour over this mixture and fold in carefully. Sprinkle the flaked almonds on top and bake in the middle of the hot oven for about 20-25 minutes until golden.
Serve warm with vanilla ice cream or whipped cream or crème fraiche mixed with brown sugar.
[nutrition-label id=9636]
Others you might like: