Tender black currant muffins bursting with tart and juicy berries, you really won't be able to resist them.
There are hardly any other cakes as delightful and satisfying as a simple muffin. Soft, comforting crumb spiked with pieces of this or that, whatever you happened to put into your muffin at one particular moment. This time black currants.
These black currant muffins make not only a perfect dessert; you can have them for a quick breakfast, you can take them on a picnic or to a potluck party. Make them for your kid's next birthday, and you can be sure there will be no leftovers.
You could also try these Strawberry and White Chocolate Muffins or the Banana Oat Muffins.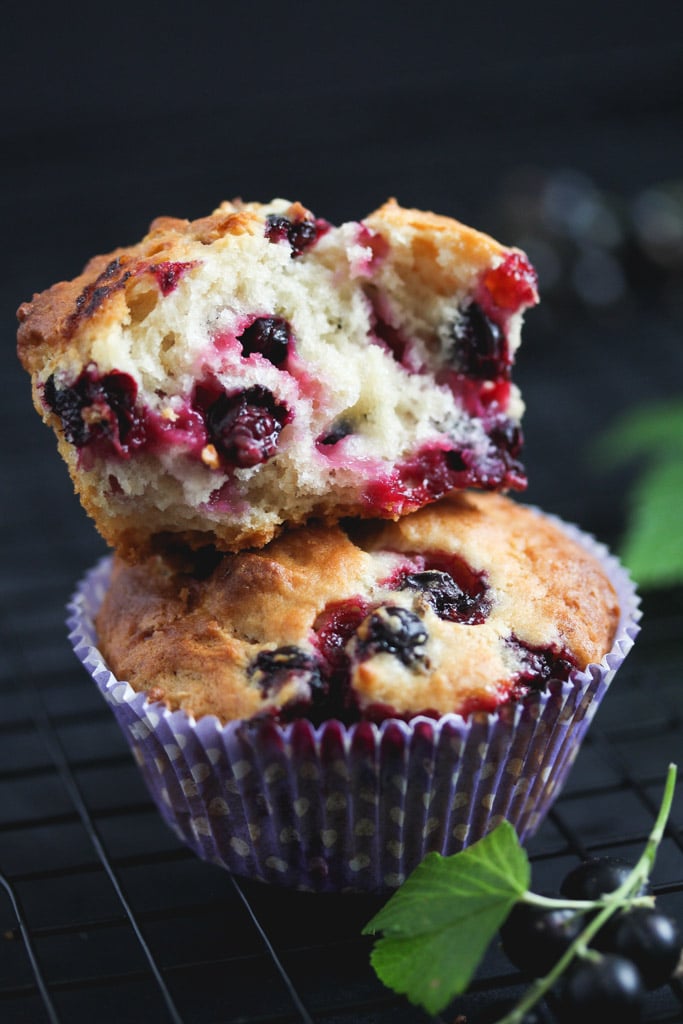 What do you need for the muffins?
Black currants:
I usually weigh the amount after removing the stems but weighing them before won't make a lot of difference. You can be flexible about the amount: something between 150 g/ 5.3 oz/1 cup and 200 g/ 7 oz/ 1 ½ cups is fine.
You can use either fresh or frozen berries. When using frozen, don't defrost them; add them to the batter directly from the freezer. Fold them very gently and briefly into the batter. If you stir too much, your muffins will be dense, and the frozen berries will start releasing color, making the muffins blueish.
Will the berries sink into the batter?
This might be a problem with other recipes, but not this one. Not that I have something against sunken berries generally. But if they don't sink is even better.
It all depends on the consistency of the batter. If the batter is relatively thin, the berries will sink. However, this batter recipe is sturdy, so you will not have that problem.
Can I use other berries?
Absolutely, you can bake this recipe with any other berries you like, either fresh or frozen. Or with a mix of berries. I've already baked them with red currants and with raspberries.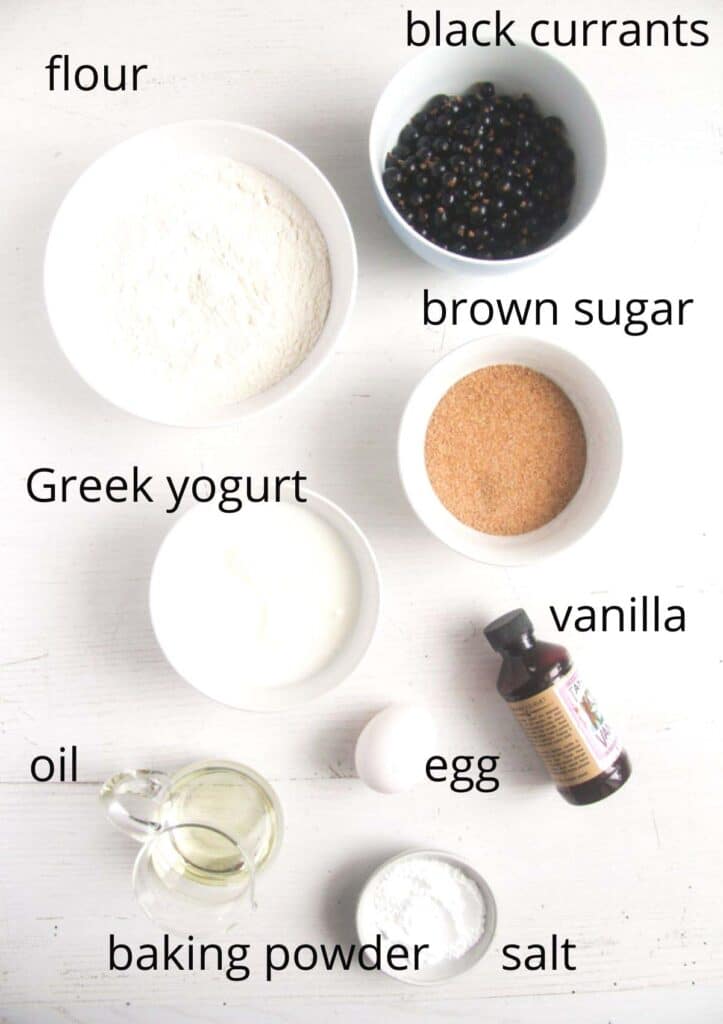 Greek yogurt:
I often use sour cream when baking muffins, but Greek yogurt works perfectly fine as well. It makes the dessert slightly tangier and healthier as it has fewer calories than sour cream.
Oil:
Using oil in baking is a great idea; it makes the baked goods moist and keeps them fresh and juicy for longer. Another advantage is that you don't have to remember to bring the butter to room temperature or to melt it.
Other ingredients: all-purpose flour, eggs, brown sugar, vanilla extract, baking powder, salt.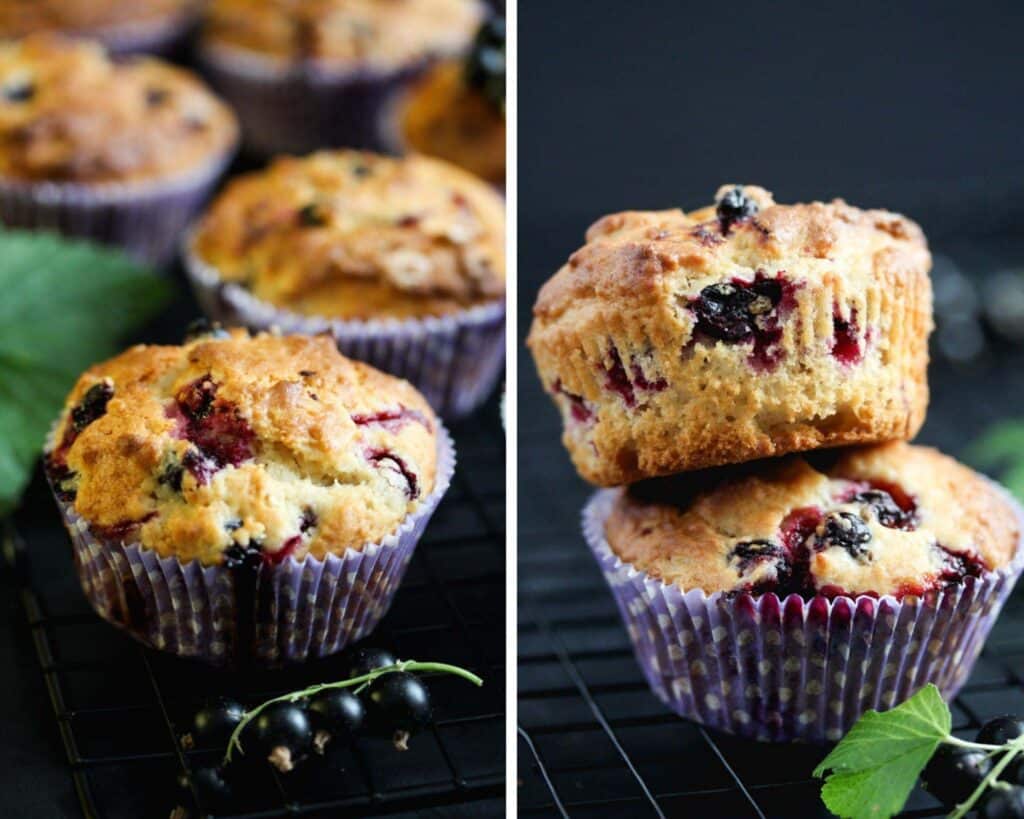 How to bake muffins with black currants?
Preheat the oven and line a muffin tin with paper liners.
Beat the sugar and eggs. (1)
Mix wet ingredients (yogurt, vanilla extract, and oil) and fold in. (2)
Sift mixed flour, baking powder, and salt over the egg mixture. Fold in until just combined. (3)
Gently fold in the black currants as well. (4)
Divide into the cupcake tin and bake for 20-22 minutes.
Let rest for 5 minutes. Then, transfer to a wire rack to cool completely.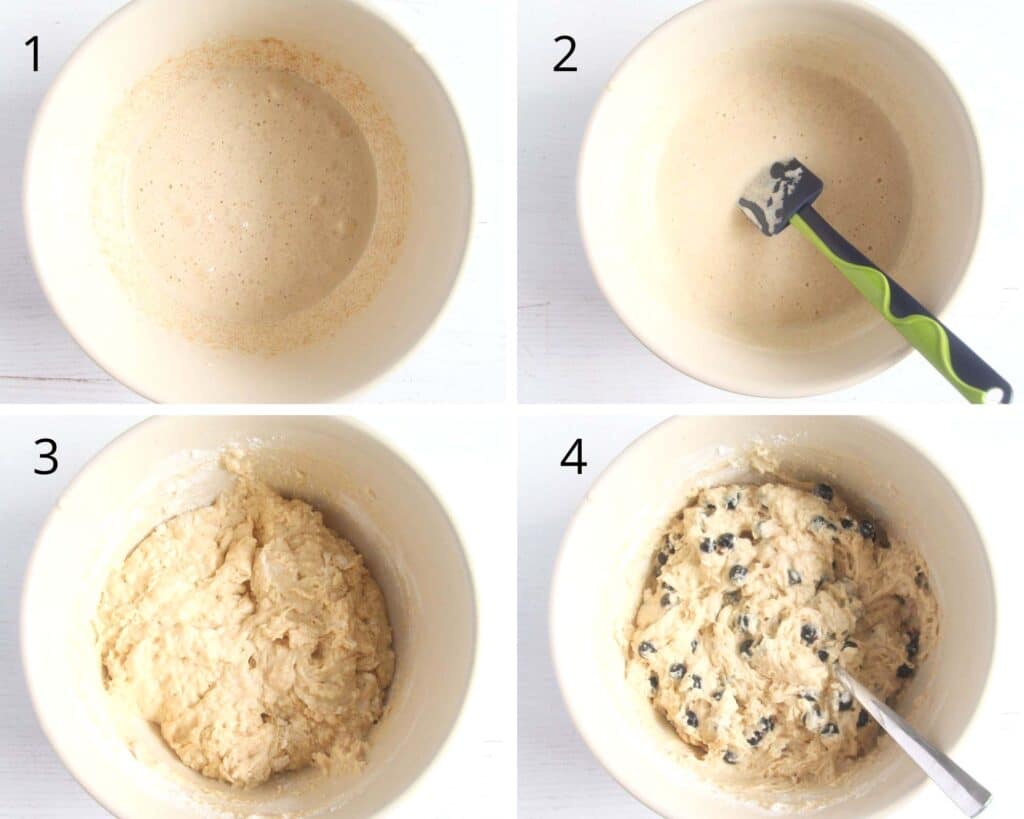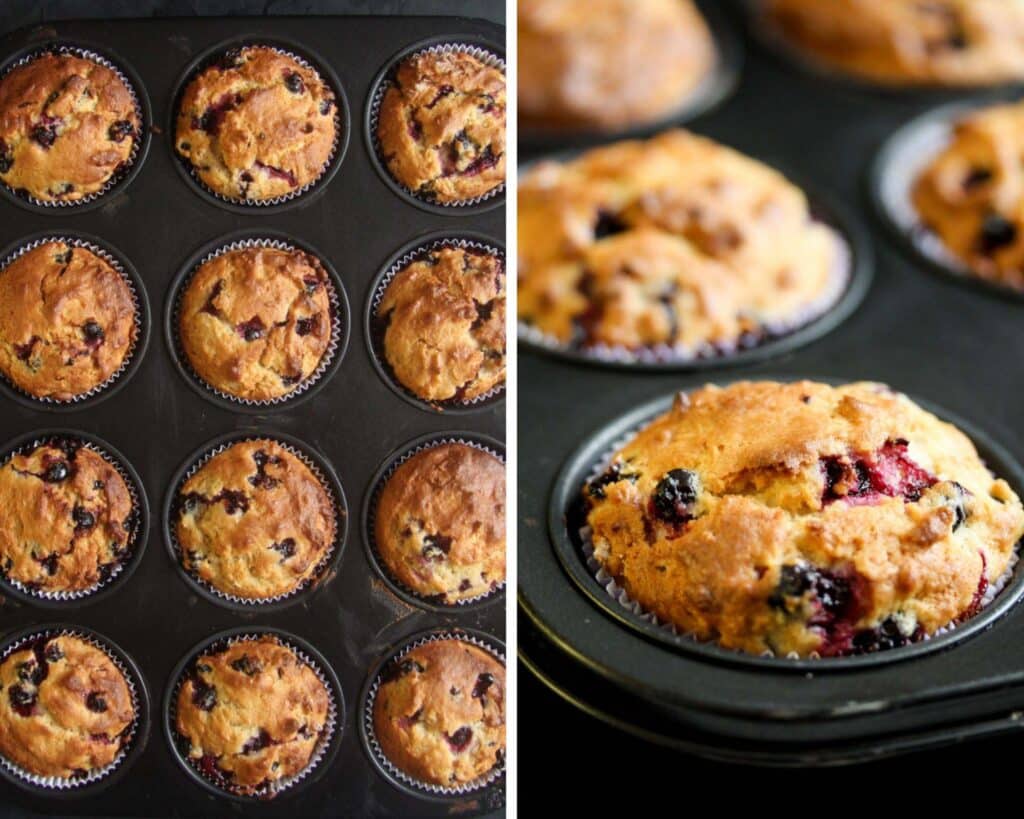 How to store?
The black currant muffins keep well in an airtight container at room temperature for about 3 days. They might be less fluffy after a while, but they will still taste delicious. Storing them in the refrigerator helps keep them for longer, but it tends to make them stodgier.
Can I freeze them?
Yes, let cool completely after baking and freeze in freezer bags. Thaw at room temperature; it will not take very long. You can also reheat them in the microwave for about 30 seconds or in the oven. To reheat them in the oven, wrap them in aluminum foil, place them on a baking tray, and reheat at about 150 degrees Celsius/ 300 degrees Fahrenheit for 10-15 minutes or until heated through.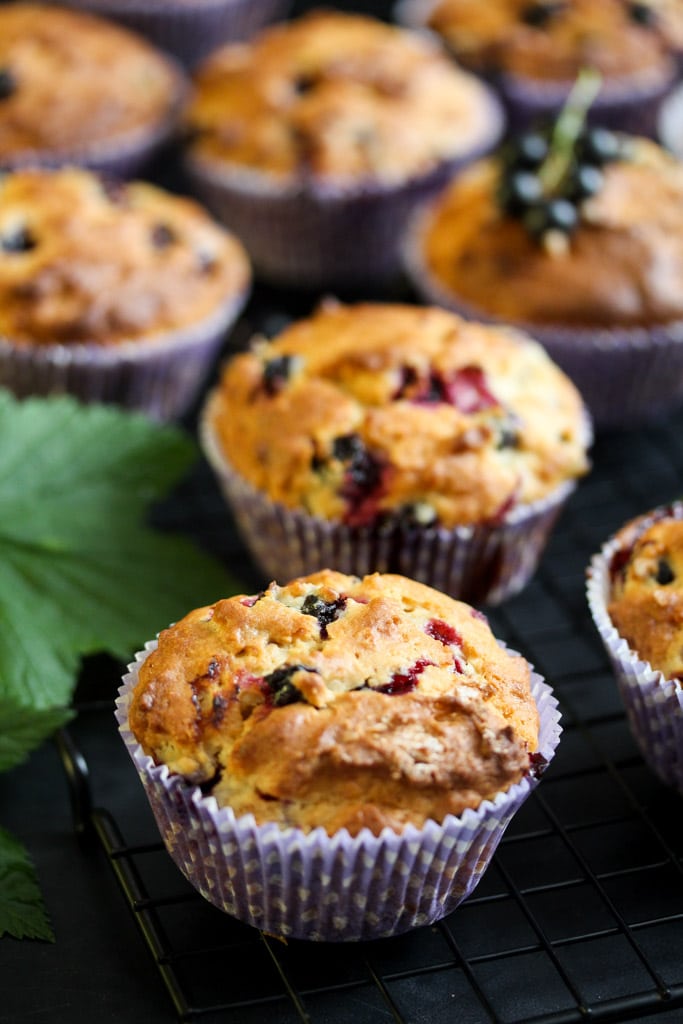 Tips
Use a digital kitchen scale when baking; it guarantees for best results. Otherwise, make sure you measure the flour correctly in a cup. Spoon the flour into a measuring cup and scrape off the top, don't dunk the cup into the bag of flour.
Don't overmix the batter, or the muffins will be dense. Mix in the dried ingredients and the black currants until just combined.
Don't overfill the muffin cups; they should only be about ¾ full.
Let the muffins rest in the pan for 5 minutes, this will help them set, and they will not break when you try to remove them. However, don't leave them in the pan for much longer than that, as they could go soggy. Then, transfer to a wire rack and let them cool completely.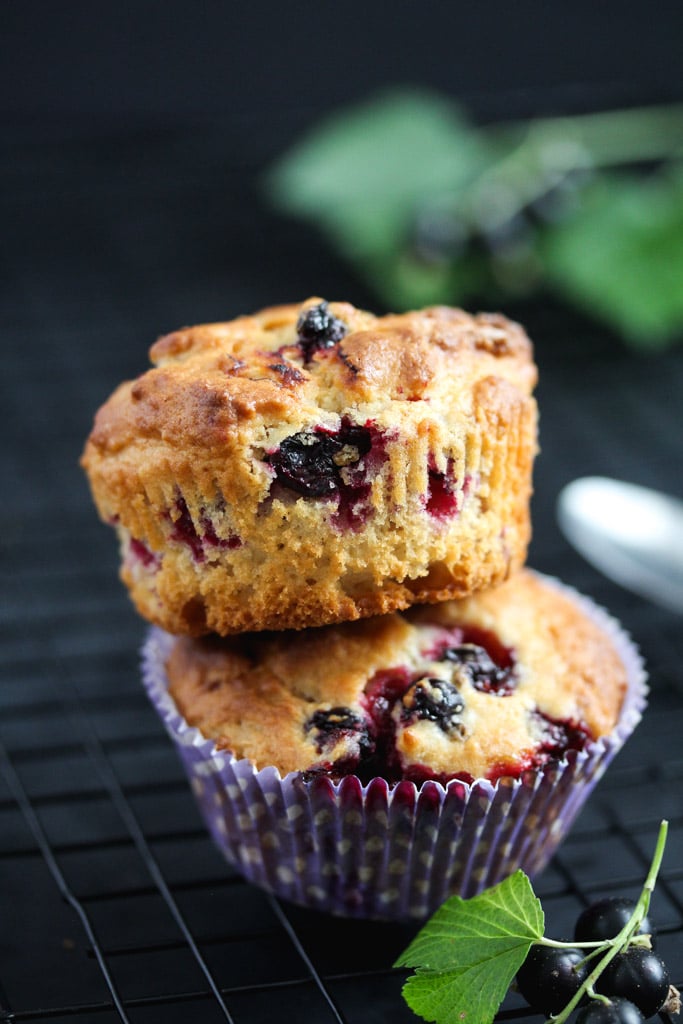 Do you have a glut of black currants? Try some of these recipes: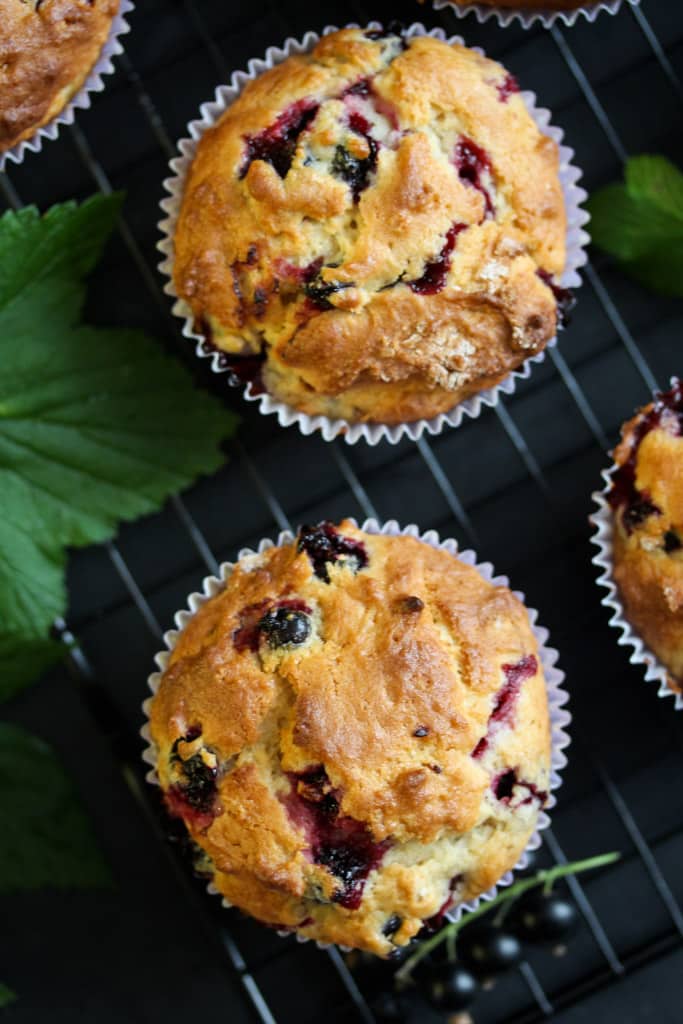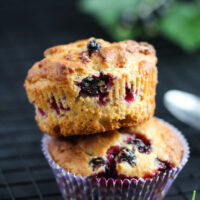 Black Currant Muffins
Tart and sweet black currant muffins, easy to make and perfect in summer. You can make the muffins with other berries as well.
Print
Pin
Share
Grow
Saved!
Rate
Ingredients
175

g

brown sugar

6.2 oz/ 1 cup

2

eggs

room temperature

200

g

Greek yogurt

7 oz/ 1 cup

1

teaspoon

vanilla extract

100

ml

neutral-tasting oil

like canola, 3.4 fl.oz/ ½ cup

250

g

all-purpose flour

8.8 oz/ 2 cups

2

teaspoons

baking powder

1/8

teaspoon

fine sea salt

200

g

black currants

7 oz, about 1 1/2 cups
Instructions
Preparations: Preheat the oven to 200 degrees Celsius/ 400 degrees Fahrenheit. Line a muffin tin with paper liners.

Make batter: Beat the sugar and eggs with a hand-held mixer until light and fluffy, about 3-4 minutes. Add yogurt, vanilla extract, and oil and mix in with a spatula. In another bowl, mix flour, baking powder, and salt. Sift over the egg mixture. Fold in carefully until just combined. Don't overmix, or the muffins will be dense and chewy. Gently fold in the black currants as well.

Bake: Spoon the batter into the muffin pan. Bake in the middle of the preheated oven for 20-22 minutes until a toothpick inserted in the center of a muffin comes out clean.

Cool: Let rest in the pan for 5 minutes. Transfer to a wire rack to cool completely.
Nutrition
Serving:
1
muffin
|
Calories:
235
kcal
|
Carbohydrates:
34
g
|
Protein:
5
g
|
Fat:
9
g
|
Saturated Fat:
1
g
|
Polyunsaturated Fat:
8
g
|
Cholesterol:
32
mg
|
Sodium:
125
mg
|
Fiber:
1
g
|
Sugar:
15
g