Last Updated on
A poppy seed cake base covered with a luscious vanilla buttercream layer, coffee dipped biscuits and topped with a decadent dark chocolate glaze.
What would you want more when it comes to cakes? This Vanilla Poppy Seed Cake with Chocolate Glaze or Romanian Tosca Cake has it all! An aromatic base made with egg whites and lots of crunchy poppy seeds, vanilla buttercream, a bit of coffee and a thick layer of chocolate on top of everything. It is sooooo good!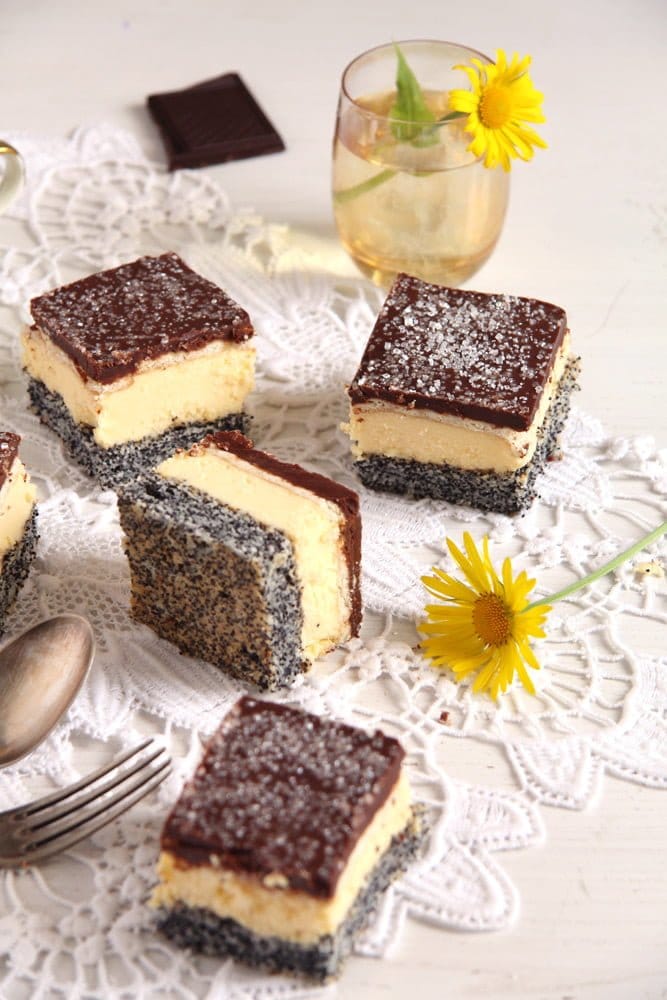 I don't know about you, but when it comes to baking I do like have a little bit of something more to do sometimes. I do love the simplest, easiest cake recipes like this Easy Apricot Cake or this Biscuit Apple Cake as well, they are always the first choice actually and they come in very handy many times when the time is short and the ingredients I have in the house scarce, but from time to time I like taking the time to try a new cake recipe and make a more elaborate layer cake like this Vanilla Poppy Seed Cake with Chocolate Glaze or this Egyptian Hazelnut Cake or a fondant decorated cake.
I do love scribbling down the recipe, taking all the necessary ingredients out of the pantry or the fridge, arranging them on the working surface, weighing the ingredients, mixing, heating, coating, kneading and so on, everything that comes along with baking and decorating a cake. I am not a particularly tidy person; except on cleaning days, you will always find thing lying around the house, in places where they shouldn't actually be, garden work is annoying so I have lots of weeds and the flowers don't survive long in my garden or in the flower pots, but when it comes to baking I become really pedantic.
As long as I have my peace and quiet baking is more than baking, is like a therapy against stress, a time when I can concentrate on something that I can do well, something that doesn't leave me exhausted but satisfied. Well, at least when things go smoothly and the cake tastes and looks amazing at the end of the process. 🙂
And so it was with this Vanilla Poppy Seed Cake, the baking process went exactly the way I liked it: smoothly despite the many baking steps involved and completely satisfying – the cake looked great and it tasted even better. The recipe for this cake is slightly adapted from a Romanian blog – Barbat la cratita, a funny name, translated Man at the pot. 🙂 🙂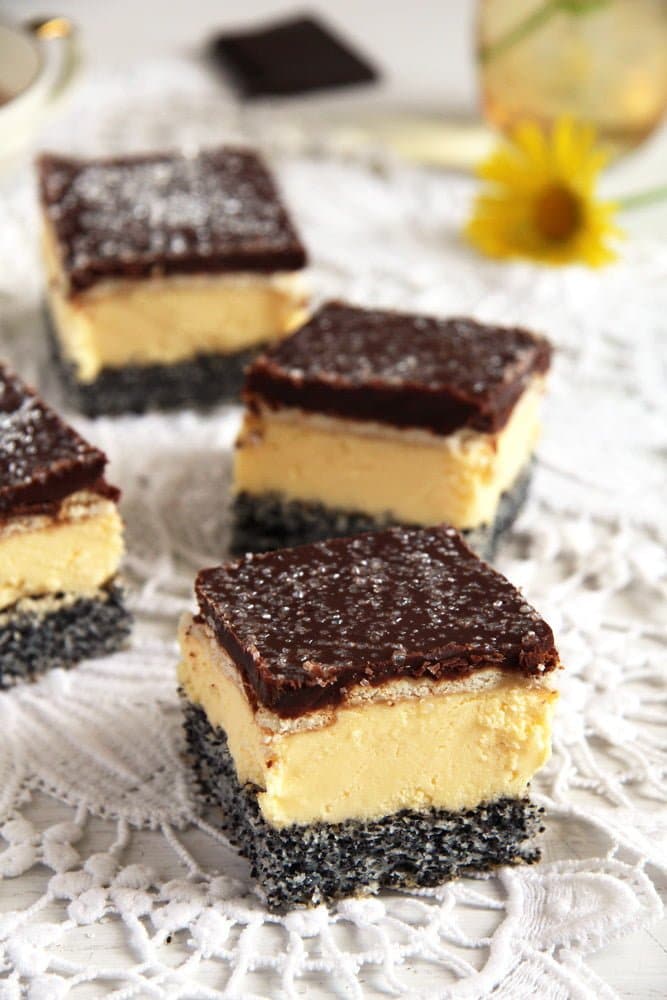 I've actually meant to post this cake in May during the Famous Romanian Cakes series, but when transferring the pictures from my camera to my computer, I must have clicked the wrong thing and I could not find the pictures anymore. I looked everywhere but nothing, so I thought I have deleted them by mistake. I wanted to make the cake again, because I had liked it so much and I wanted to post it, but then things came in between and I didn't get to bake it anymore. And then recently while searching for something in an old folder which I rarely open, I found my pictures again. So happy!!!
And here you have: the famous Romanian Tosca Cake or Vanilla Poppy Seed Cake with Chocolate Glaze. And in case you want to check the other Romanian cakes from the May series, here they are: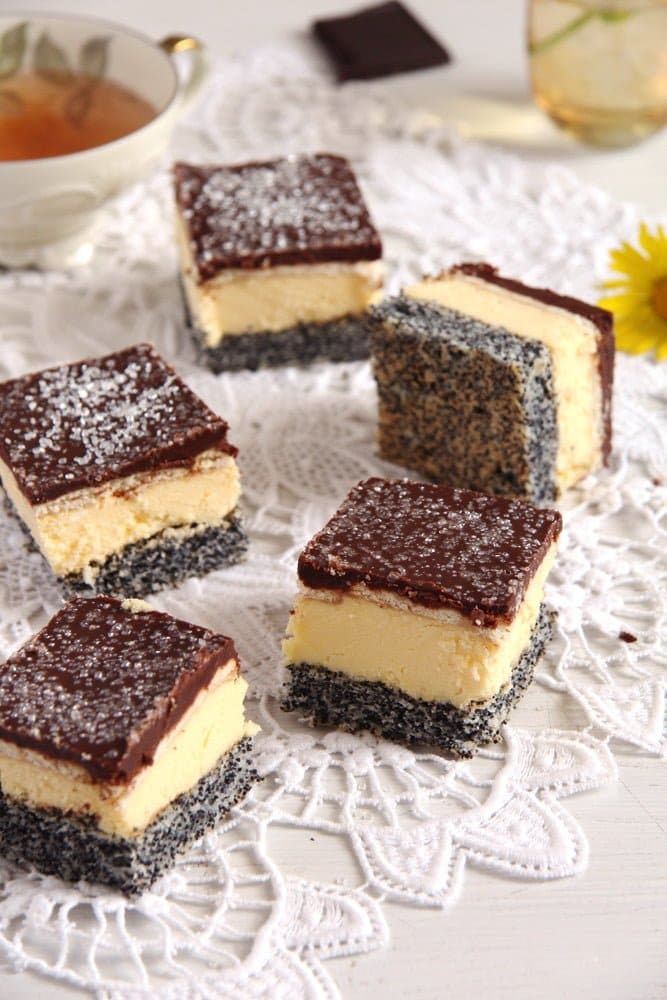 Ingredients
For the base:

8 medium egg whites (large US)

a pinch of salt

200 g/ 7 oz/ 1 cup sugar

150 g/ 5.3 oz/ 1 ¼ cups poppy seeds

50 g/ 1.7 oz/ 1/3 + 1 tablespoon all-purpose flour

1 packet Dr. Oetker baking powder

For the vanilla buttercream layer:

8 medium egg yolks (large US)

150 g/ 5.3 oz/ ¾ cup sugar

300 ml/ 10.1 fl.oz/ 1 cup + 2 tablespoons milk

1 packet Dr. Oetker vanilla pudding powder

300 g/ 10.5 oz butter

200 ml/ 6.7 fl.oz/ ¾ cup + 2 tablespoons strong coffee

about 24-26 simple butter biscuits (for instance Leibniz)

For the chocolate glaze:

200 g/ 7 oz dark chocolate

100 g/ 3.5 oz butter

100 ml/ 3.4 fl.oz/ 1/3 cup + 2 tablespoons heavy cream
Instructions
Base:
Preheat the oven to 180 degrees Celsius/ 360 degrees Fahrenheit. Line a baking dish of approximately 21x32 cm/ 9x13 inch with baking paper.
Separate the eggs. Set the yolks aside for the buttercream. Beat the egg whites with a pinch of salt until stiff. Slowly add the sugar and continue beating until the egg whites are stiff and glossy.
Fold in the poppy seeds.
Mix together the flour and the baking powder in a small bowl. Fold them into the egg white-poppy mixture.
Bake the cake base for about 30-35 or until a toothpick inserted in the middle comes out clean. Leave to cool completely. In the meantime make the vanilla buttercream.
Vanilla buttercream:
Place the egg yolks and the sugar in a saucepan and mix well. Add the milk and the vanilla pudding powder and whisk very well to prevent getting clumps.
Heat the mixture gently while whisking all the time until the mixture begins to thicken. It will take about 10 minutes, but please whisk continuously or it will clump. Let the vanilla pudding reach room temperature. Take the butter out of the fridge and let it reach room temperature as well.
Cut the soft butter into small cubes. Gradually give the butter cubes to the vanilla pudding and mix well to incorporate. I prefer to do this in the kitchen machine.
Spread the buttercream evenly over the cooled base.
Make a cup of strong coffee. Dip the biscuits one by one into the coffee, but don't let them get soaked, they should be just barely wet. Arrange the biscuits on top of the vanilla buttercream.
Chocolate glaze:
Chop the chocolate very finely. Give it to a small heat proof bowl. Add the chopped butter and the heavy cream.
Melt the chocolate on bain-marie, stirring often until everything is melted and mixed.
Let the chocolate glaze cool for a few minutes and pour it over the biscuits while still warm. Spread it evenly on the cake and place the cake in the fridge for at least half an hour until the glaze sets.
Cut into small squares and serve.
This post contains affiliate links. The price you pay as a consumer does not change, but if you make a purchase we will receive a commission which helps support the blog.