Chocolate poppy seed cake with a luscious vanilla buttercream layer, coffee dipped biscuits and a decadent dark chocolate glaze.
What would you want more when it comes to cakes? This chocolate poppy seed cake or Romanian Tosca cake has it all!
An aromatic base made with egg whites and lots of crunchy poppy seeds, a vanilla buttercream layer, a bit of coffee, and a thick layer of chocolate on top of everything. It is sooooo good!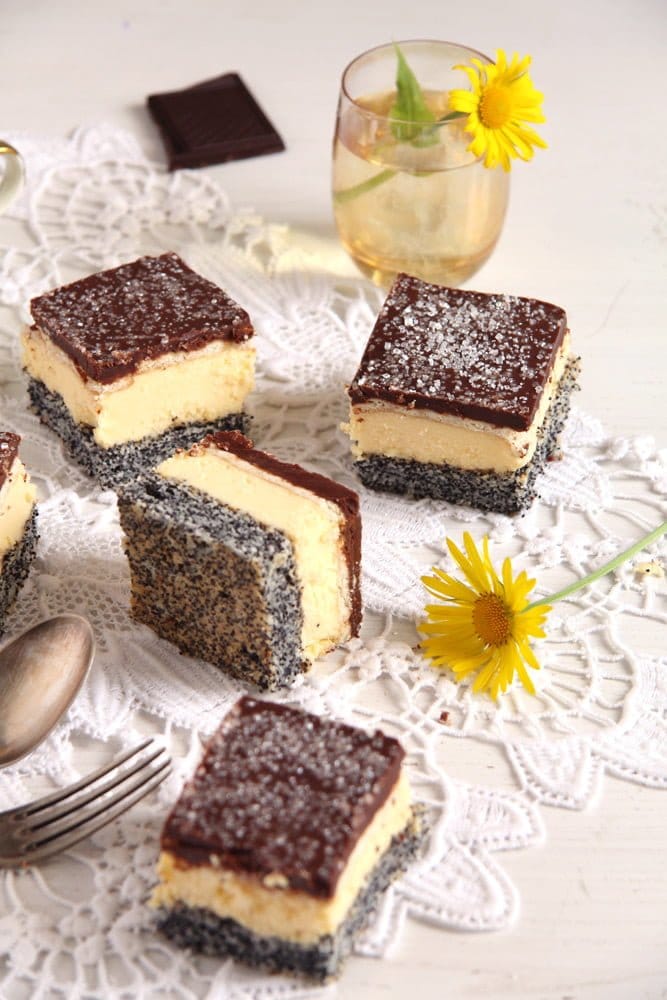 As long as I have my peace and quiet, baking is more than baking, is like a therapy against stress, a time when I can concentrate on something that I can do well, something that doesn't leave me exhausted but satisfied. Well, at least when things go smoothly and the cake tastes and looks amazing at the end of the process. 🙂
I don't know about you, but when it comes to baking I do like have a little bit of something more to do sometimes. I do love the simplest, easiest cake recipes like this Easy Apricot Cake or this Biscuit Apple Cake as well, they are always the first choice.
But from time to time I like taking the time to try a new cake recipe, make something more elaborate like this poppy seed chocolate cake, this Egyptian Hazelnut Cake or a fondant decorated cake.
And so it was with this Vanilla Poppy Seed Cake, the baking process went exactly the way I liked it: smoothly despite the many baking steps involved and completely satisfying – the cake looked great and it tasted even better. The recipe for this cake is slightly adapted from a Romanian blog – Barbat la cratita (in Romanian), a funny name, translated Man at the pot. 🙂 🙂
Tips for making Romanian Tosca
The most important tip: use a digital kitchen scale (Amazon affiliate link). I would not even attempt making the Tosca without a scale, precission is important and cup measuring is just not good enough in this case.
Both the base of the cake and the vanilla pudding need to cool completely before you can assemble the chocolate poppy seed cake.
I make them one day in advance most of the time so that I am not getting stressed with the time.
Let the poppy seed base cool completely in the baking tin. If you leave it on the counter overnight, cover it with plastic or aluminum foil, so that it doesn't get dry.
To make the pudding for the vanilla buttercream, I used a pudding powder mix that needs to be cooked, so not instant pudding powder. This is basically just corn starch mixed with vanilla aroma, so you can definitely replace it with corn starch and pure vanilla extract. You will need 40 g/ 1.4 oz/ 1/3 cup and 1 teaspoon pure vanilla extract.
Leave the pudding to cool completely as well. Don't place it in the fridge as it will need to have room temperature.
Once the pudding is cooked, take the butter out of the fridge as well, as it needs to have exactly the same (room) temperature as the pudding in order to get a good buttercream.
If the pudding and the butter have different temperatures the buttercream will probably curdle.
Cover the cooked pudding with plastic foil directly over the surface (while still hot) to prevent it from getting a skin.
Assemble the chocolate poppy seed cake directly in the tin you used for baking the cake.
Once it is set, cut it in the tin and carefully lift the pieces out of the tin.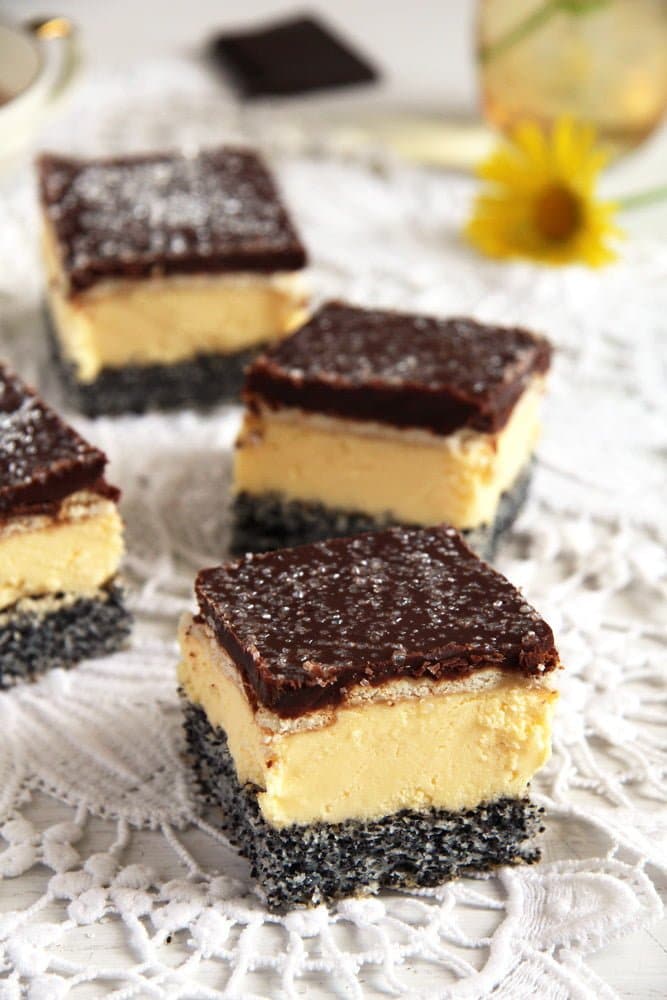 More traditional Romanian cakes:
Romanian Lemon Cake – Lamaita or Alba ca Zapada
Greta Garbo Cake – Prajitura Greta Garbo
Walnut Chocolate Buttercream Cake – Prajitura Regina Maria
Romanian Biscuit Salami – Salam de biscuiti
Vanilla Chocolate Layer Cake – Prajitura Televizor
Romanian Chocolate Cake Boema – Prajitura Boema
Meringue Brownies – Negrese cu bezea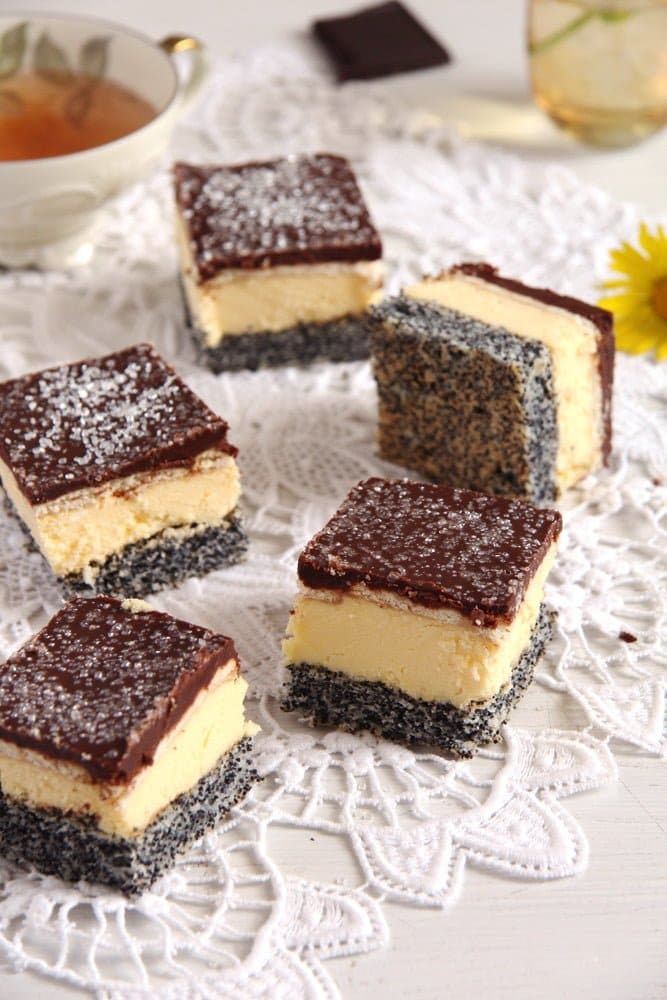 Chocolate Poppy Seed Cake – Romanian Tosca Cake
Chocolate poppy seed cake with a luscious vanilla buttercream layer, coffee dipped biscuits and a decadent dark chocolate glaze.
Print
Pin
Share
Grow
Saved!
Rate
Ingredients
Poppy seed layer

Note 1:

8

medium egg whites

large US

a pinch of salt

200

g/ 7 oz/ 1 cup sugar

150

g/ 5.3 oz/ 1 ¼ cups poppy seeds

50

g/ 1.7 oz/ 1/3 + 1 tablespoon flour

1

packet baking powder

Vanilla buttercream layer:

8

medium egg yolks

large US

150

g/ 5.3 oz/ ¾ cup sugar

300

ml/ 10.1 fl.oz/ 1 cup + 2 tablespoons milk

1

packet vanilla pudding powder

Note 2

300

g/ 10.5 oz/ 1 ¼ cup unsalted butter

200

ml/ 6.7 fl.oz/ ¾ cup strong coffee

about 24-26 simple butter biscuits

for instance Leibniz

Chocolate glaze:

200

g/ 7 oz dark chocolate

100

g/ 3.5 oz/ 1/3 cup + 1 tablespoon unsalted butter

100

ml/ 3.4 fl.oz/ 1/3 cup + 2 tablespoons heavy cream
Instructions
Poppyseed layer:
Preheat the oven to 180 degrees Celsius/ 350 degrees Fahrenheit. Line a baking dish of approximately 21×32 cm/ 9×13 inch with baking paper.

Separate the eggs. Set the yolks aside for the buttercream.

Beat the egg whites with a pinch of salt until stiff. Slowly add the sugar and continue beating until the egg whites are stiff and glossy.

Fold in the poppy seeds.

Mix together the flour and the baking powder in a small bowl. Fold them into the egg white-poppy mixture.

Bake for about 30-35 or until a toothpick inserted in the middle comes out clean. Leave to cool completely in the tin. In the meantime make the vanilla buttercream.
Vanilla buttercream:
Place the egg yolks and the sugar in a saucepan and mix well. Add the milk and the vanilla pudding powder (or corn starch and vanilla extract) and whisk very well to prevent getting clumps.

Heat the mixture gently while whisking all the time until the mixture begins to thicken. It will take about 10 minutes, but please whisk continuously or it will clump. Cover the pudding with plastic foil directly over the surface, this way it will not form a "skin".

Let the vanilla pudding reach room temperature. Take the butter out of the fridge and let it reach room temperature as well.

Cut the soft butter into small cubes. Gradually add the butter cubes to the vanilla pudding and mix well to incorporate.

Spread the buttercream evenly over the cooled base in the tin.
Biscuit layer:
Brew a cup of strong coffee. Dip the biscuits one by one into the coffee, but don't let them get soaked, they should be just barely wet.

Arrange the biscuits on top of the vanilla buttercream.
Chocolate glaze:
Chop the chocolate very finely and place it into a small heatproof bowl. Add the chopped butter and the heavy cream. Melt the chocolate on bain-marie, stirring often until everything is melted and mixed.

Let the chocolate glaze cool for a few minutes and pour it over the biscuits while still warm. Spread it evenly on the cake and place the cake in the fridge for at least half an hour until the glaze sets.

Cut into small squares while still in the tin. Carefully lift the squares out of the tin and serve.


Notes
I would not even attempt baking this cake without a digital kitchen scale (Amazon affiliate link). Precision is vital for each of the baking steps, and cup measuring would just not do here.
Pudding powder that needs to be cooked. It can be replaced with the same amount of corn starch (40 g/ 1.4 oz/ 1/3 cup) and 1 teaspoon pure vanilla extract.
Nutrition
Serving:
1
square from 15
|
Calories:
449
kcal
|
Carbohydrates:
38
g
|
Protein:
6
g
|
Fat:
31
g
|
Saturated Fat:
19
g
|
Polyunsaturated Fat:
11
g
|
Cholesterol:
167
mg
|
Sodium:
155
mg
|
Fiber:
1
g
|
Sugar:
30
g