One of the most popular Romanian desserts – Biscuit Chocolate Salami – Salam de biscuiti, a no bake cake with biscuits and cocoa that makes children happy.
BISCUIT SALAMI – ROMANIAN DESSERTS
Childhood memories…
The biscuit salami with chocolate was the first cake I have ever made on my own. I was 11, in the fifth grade and we learned to make this cake during the "Manual Labour Classes", that is really how they were called. During these classes all the girls went to a special classroom equipped with a stove, a fridge and a sink, a sewing machine and lots of sewing supplies, wool and knitting stuff and so on.
The boys would go to another classroom or better said a workshop where they would work with wood and stuff like that.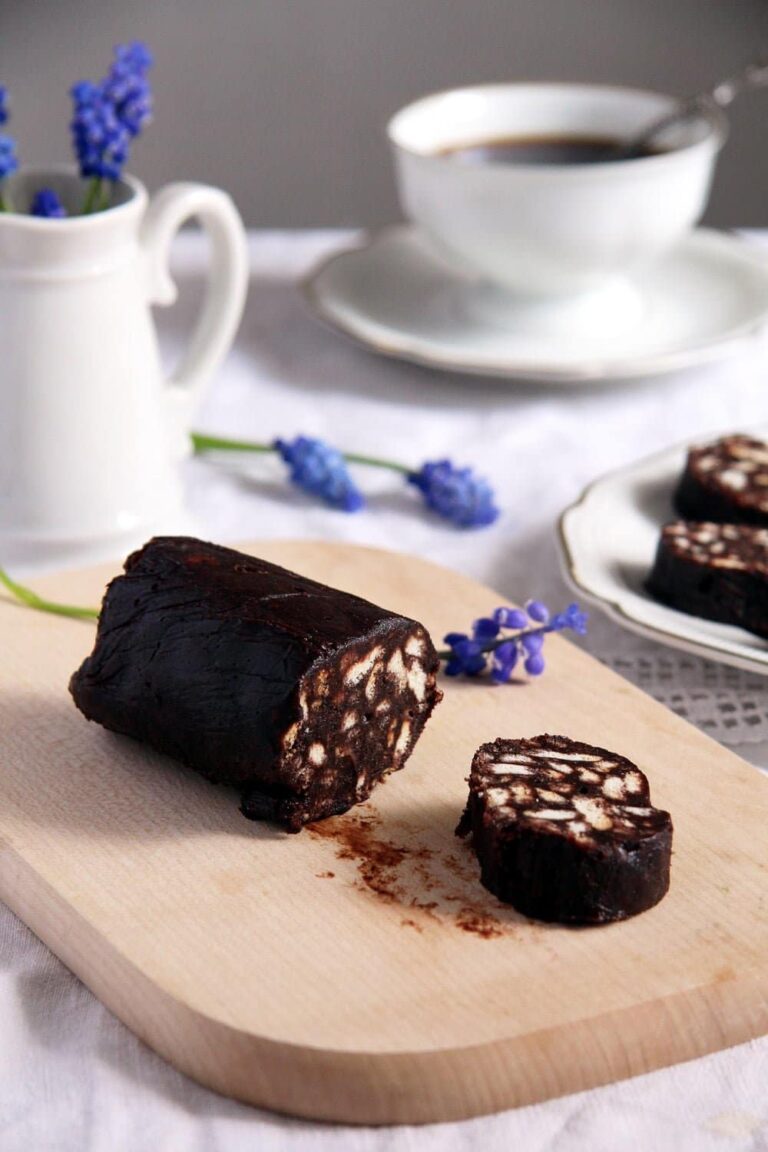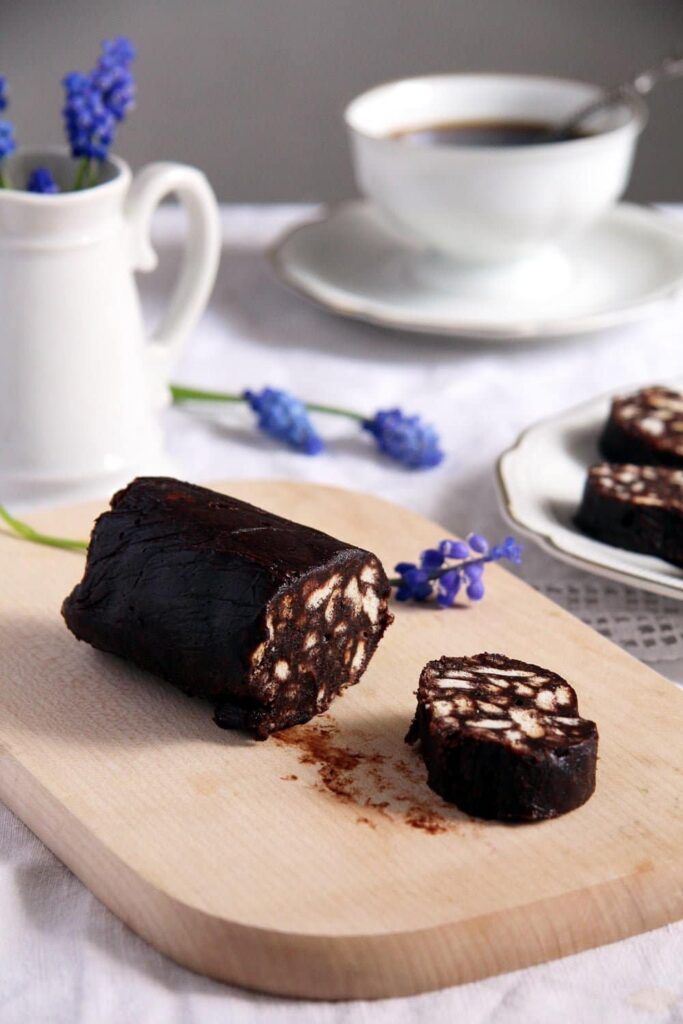 While I never got the hang of sewing, I did enjoy the cooking classes and I have also learned how to knit and crochet pretty decently for an eleven year old girl. Another bonus of these classes was that we were only girls there, boys were a plague during those days… 🙂
And I remember vividly the first time the teacher showed us how to make one of the most popular Romanian desserts, the Biscuit Salami or Salam de biscuiti.
I was not much into sweets then, I rarely ate anything sweet and had no interest in cakes or anything containing chocolate, but this Romanian dessert was something different. It might have been the fact that we had made it ourselves or the child-appropriate ingredients it contained, things like biscuits and cocoa, I don't know, but I loved it.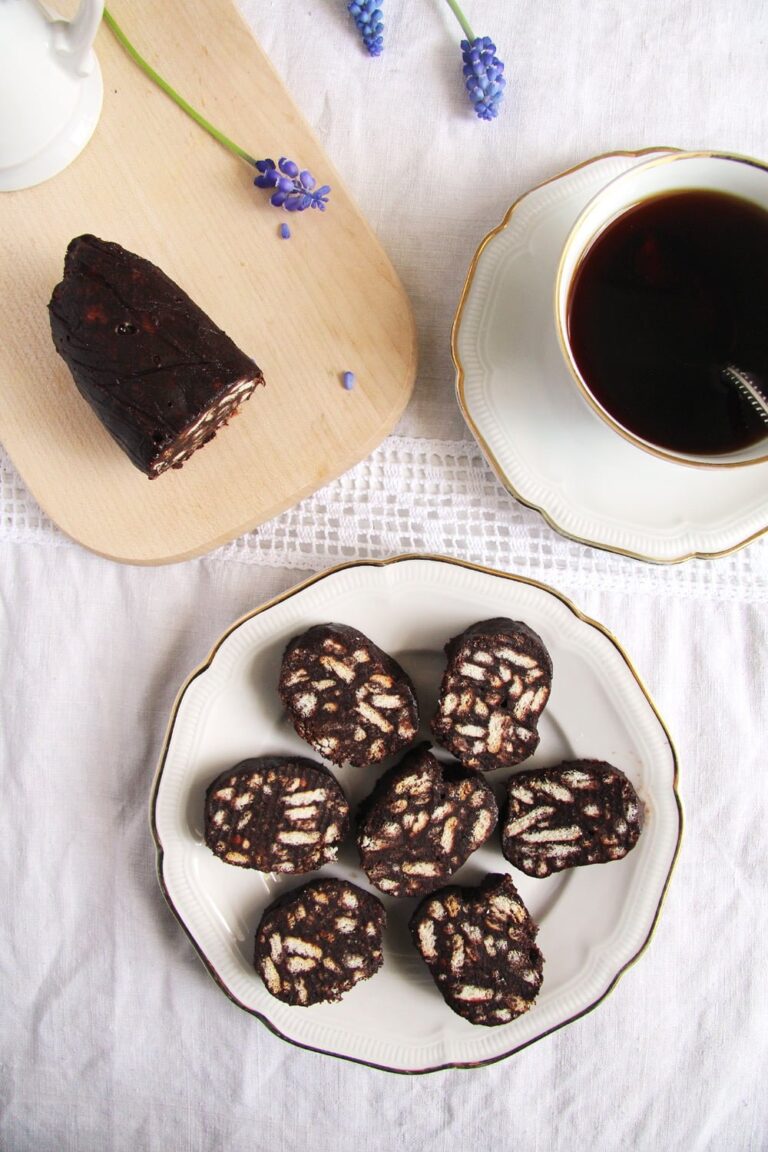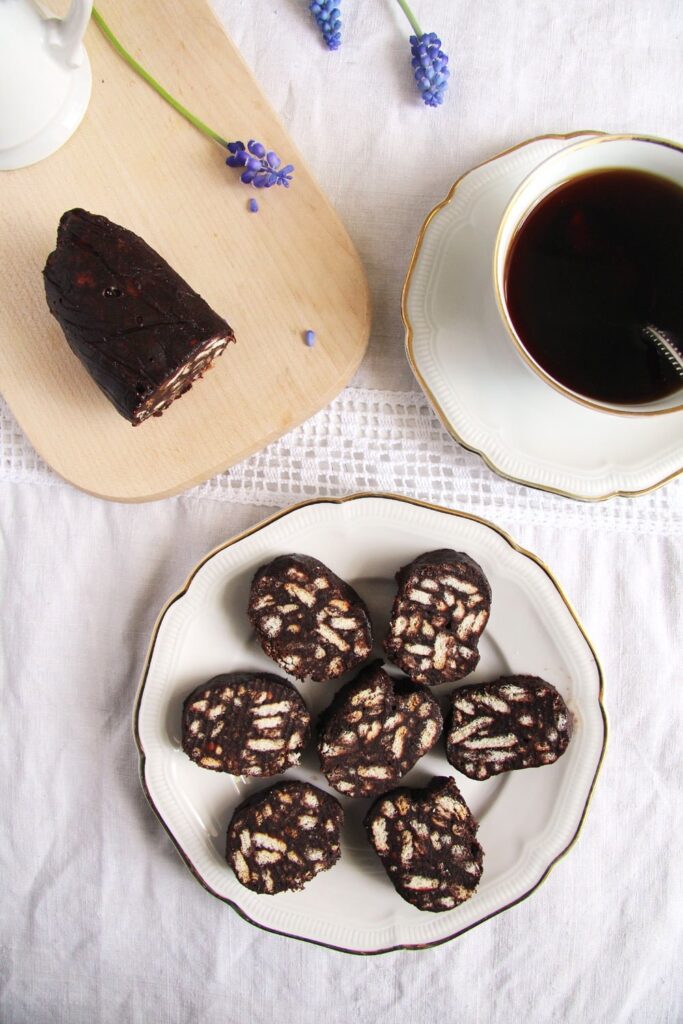 BISCUIT CHOCOLATE SALAMI RECIPE
The recipe for the biscuit salami with chocolate (actually cocoa) was the first recipe I've ever scribbled down and I remember pleading with my grandmother to buy some real butter (she would only use margarine) so I can make this Romanian dessert myself at home.
She gave in and bought the butter but refused to help me (she didn't like this cake or any cake at all, so she would not have anything to do with it), so I made the biscuit salami one afternoon while she was at work. It worked wonderfully, it is really so easy that an eleven year old can make it without any help. And I was so proud!!!
I have made it several times again afterward but then forgot about it. When my son was about 2 or 3 I've made it again, but he didn't like it (he was too young, I suppose), so then I forgot it again.
Recently I've remembered it again and decided it was time to give it another try. And I so loved it! Really, every bite was full of sweet memories, I could see that classroom again and remember some of the girls I haven't seen or thought about in more than 25 years, I could remember my grandmother's kitchen and the way the butter was melting in the pot.
And this time Bruno loved the biscuit and chocolate salami as well and insisted that I make it again soon. 🙂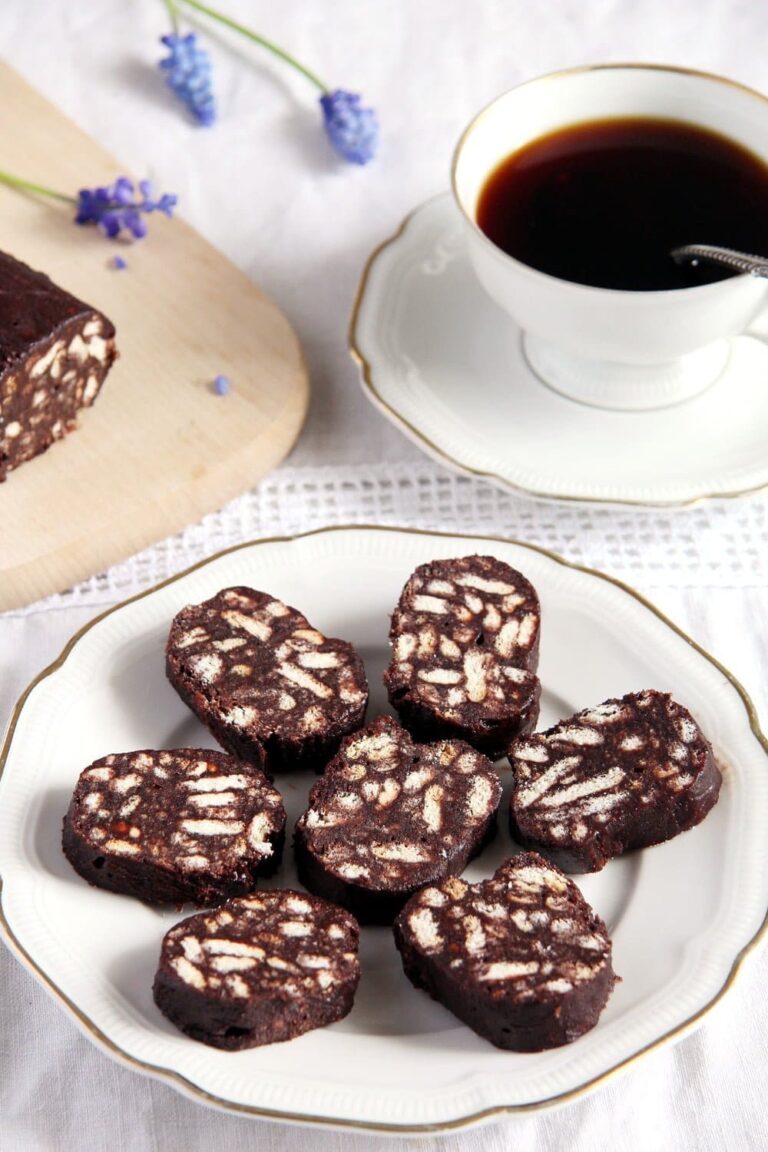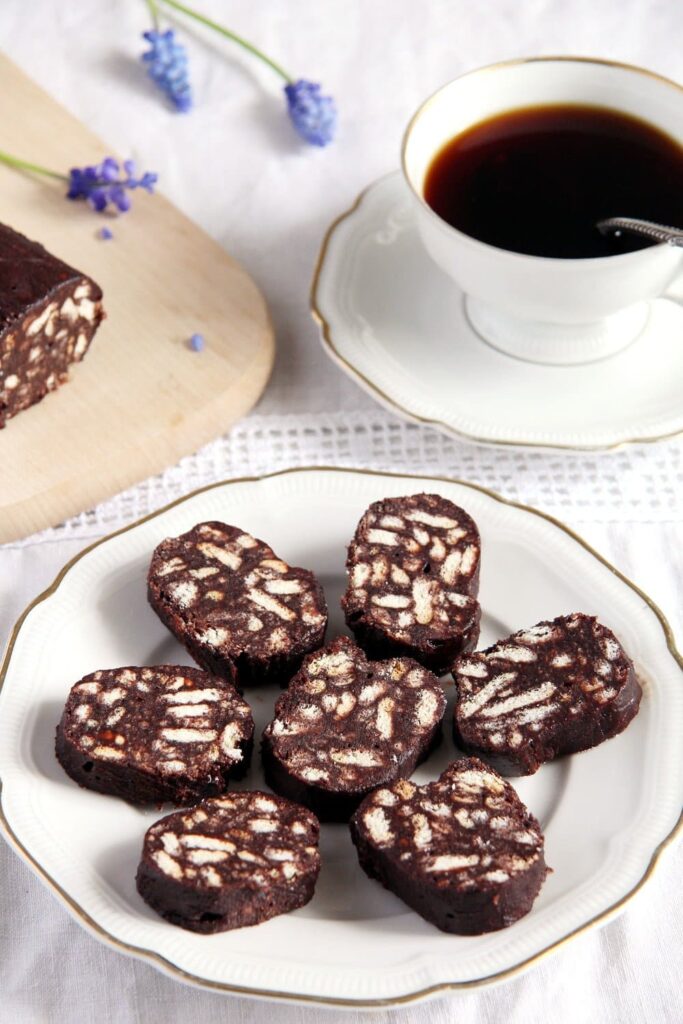 INGREDIENTS FOR THE BISCUIT CHOCOLATE SALAMI
Unfortunately this recipe is not the one I got when in school, that got lost at some point. But it is very similar, at least the taste is exactly the way I remember it. I only know that the old recipe was somehow different because I remember melting a whole pack of butter as a first step when making the Romanian chocolate salami. This recipe uses a lot less butter though, which is fine with me, if I can get the same taste and consistency with only haft the amount of fat is wonderful.
Biscuits or cookies:
I use butter biscuits or butter cookies, like the Leibniz butter cookies
or Petit Beurre . Any other similar (and cheaper) brand is fine.
Cocoa powder:
Definitely unsweetened cocoa powder
, the sweetened one would make this Romanian dessert way too sweet, and I am not even sure if that would work at all, sweetened cocoa powder has a completely different consistency.
Rum aroma:
I didn't like the taste of rum aroma or essence
as a child, but I love it now and I never leave it out of this biscuit chocolate salami anymore. However, it is optional, use it if you like it, leave it out if you don't.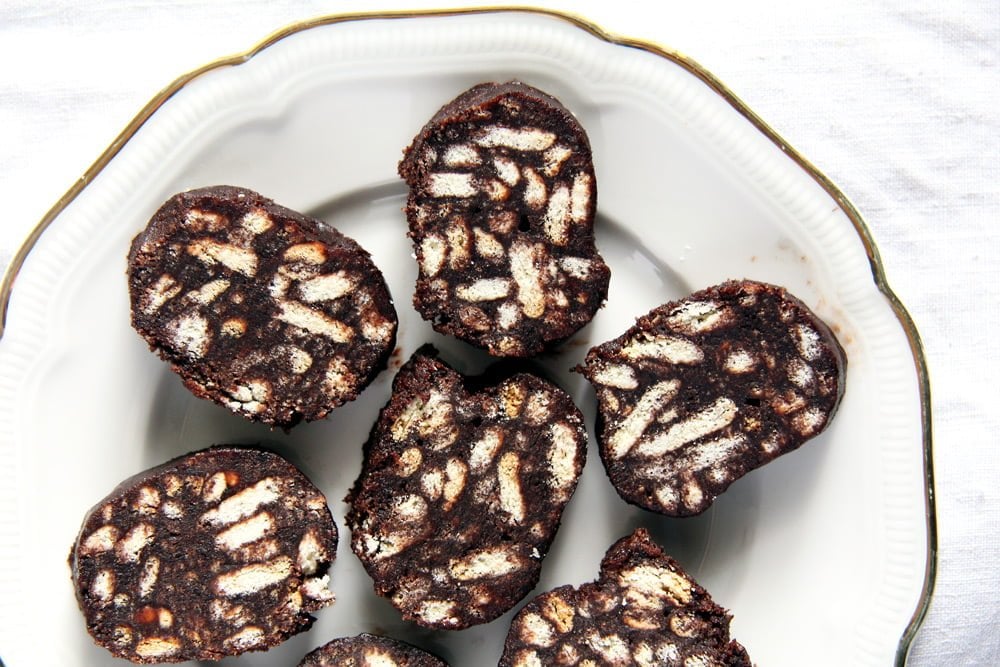 The no bake Romanian biscuit salami or Salam de biscuiti opens a new series on Where Is My Spoon as well, the next two weeks will be dedicated to some of the most popular cakes in Romania, cakes that most Romanian people know and love.
Cakes like this Romanian Biscuit Salami, Romanian Meringue Brownies – Negresa, Romanian Lemon Cake – Lamaita or Alba ca Zapada, the Walnut Chocolate Buttercream Cake or Queen Marie – Regina Maria and so on. I still have a few spots open so in case you want me to try a particular Romanian cake for you, you could let me know.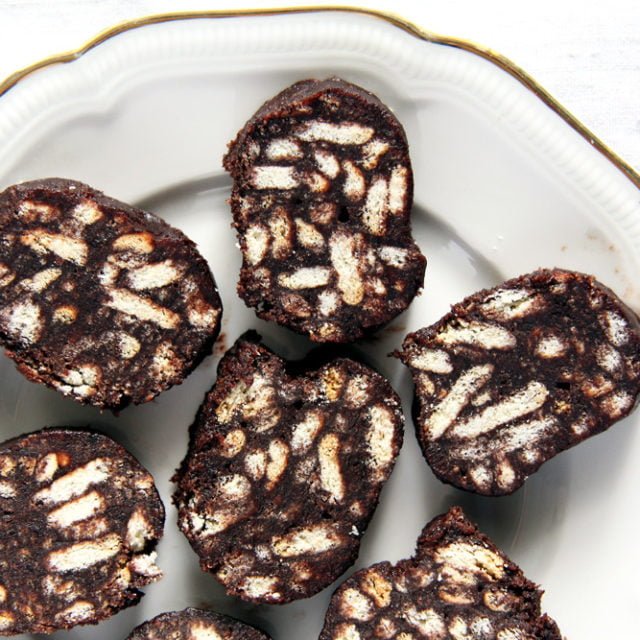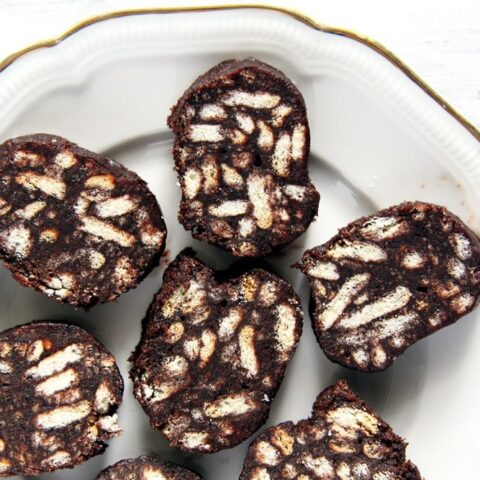 Biscuit Chocolate Salami - Romanian Desserts - Salam de biscuiti
One of the most popular Romanian desserts - Biscuit Chocolate Salami – Salam de biscuiti, a no bake cake with biscuits and cocoa that makes children happy.
Ingredients
300 g/ 10.6 oz butter biscuits, like Leibniz Keks or Petit-Beurre
120 ml/ 4 oz/ ½ cup milk
200 g/ 7 oz/ 1 cup granulated sugar
100 g/ 3.5 oz/ ½ cup unsalted butter
50 g/ 1.8 oz/ ½ cup unsweetened cocoa powder
1 teaspoon rum aroma (See note)
Instructions
Break the butter biscuits with your hands into smallish pieces. Place into a bowl.
Place the milk and sugar into a small pot and bring to a boil, while stirring from time to time. Boil for about 1 minute. Add the butter and stir until melted.
Take off the heat, add the cocoa and the rum aroma and stir well.
Pour this mixture over the biscuit pieces and stir well until all the biscuit pieces are coated with the cocoa mixture.
Cut two pieces of plastic wrap/cling film. Divide the mixture in two and place each batch on one of the cling film pieces. Form a rough sausage (as thick as you like it) and wrap it carefully into the cling film to form a "salami". Repeat with the second batch.
Places the rolls in the fridge until they are firm, for several hours or overnight. Slice before serving.
Notes
You can use real rum if not serving the Romanian Biscuit Salami to children. Or you could leave this out altogether, it is optional, but most people like it.
Nutrition Information:
Yield:

20
Serving Size:

1 slice
Amount Per Serving:
Calories:

182
Total Fat:

8g
Saturated Fat:

3g
Trans Fat:

0g
Unsaturated Fat:

3g
Cholesterol:

12mg
Sodium:

122mg
Carbohydrates:

25g
Fiber:

3g
Sugar:

10g
Protein:

4g
Nutritional information is not always accurate.
You might also like: