Ron Weasley's chocolate gateau mentioned in Harry Potter and the Half-Blood Prince, a sinfully delicious chocolate cake layered with a chocolate-double cream filling.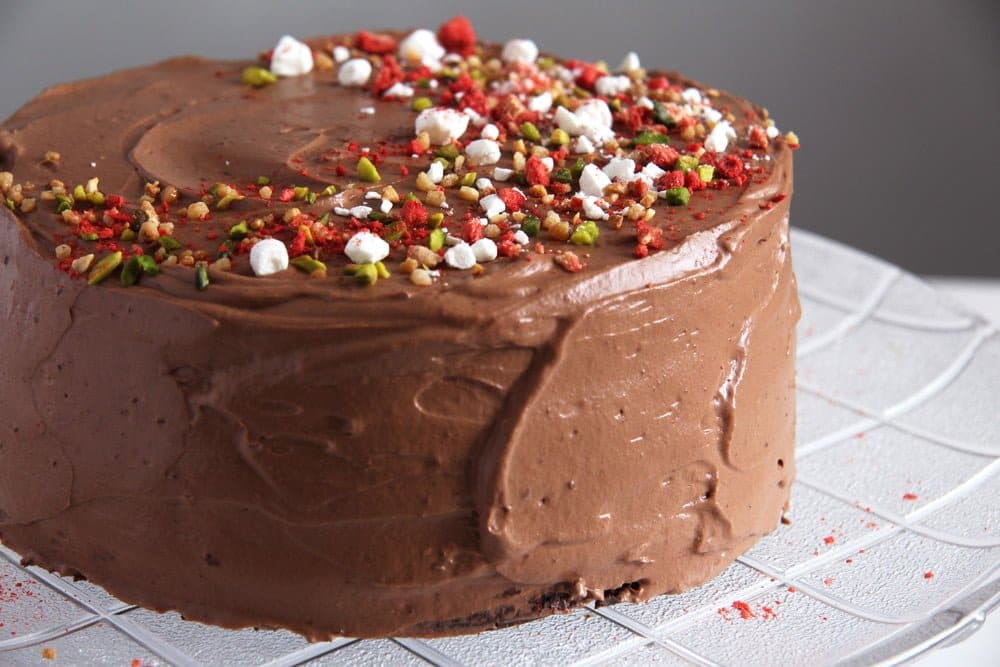 A really magical day yesterday. My husband and I had our 11th wedding anniversary and to celebrate that we decided to go out eating and then to the cinema with the kids to see Fantastic Beasts and Where to Find Them. We got home just in time to see Harry Potter and the Half-Blood Prince on TV and I spent the night dreaming about Harry Potter and Newt Scamander. No kidding, it was the first time I've ever dreamt about Harry Potter and I loved it, I woke up remembering so much of the dream…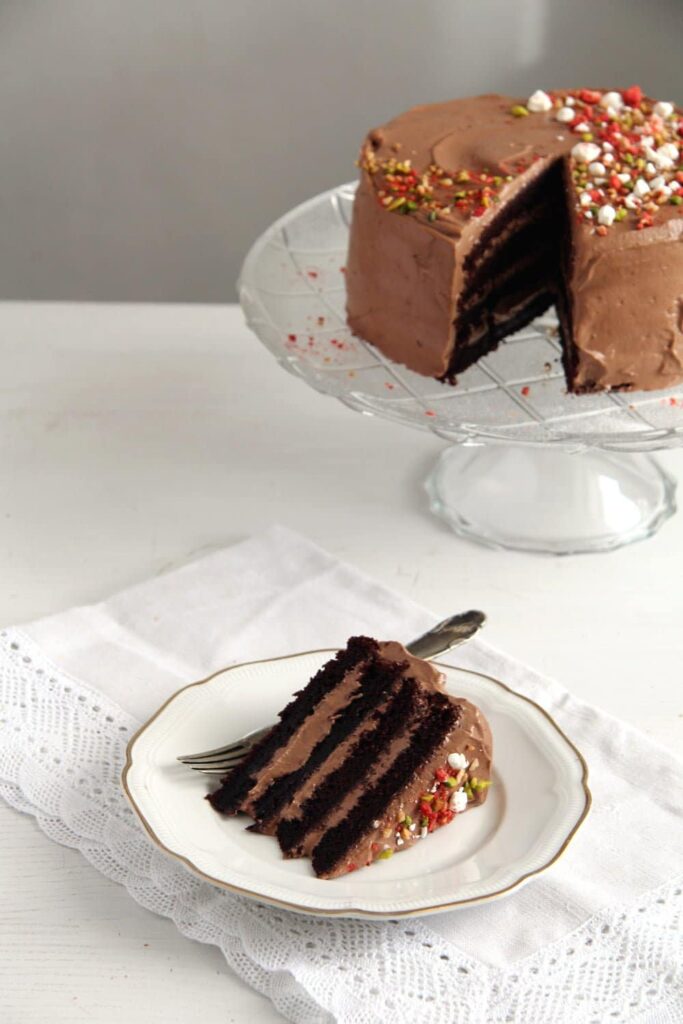 If you are a Potterhead like I am then you just have to see the new film. It has nothing to do with Harry but it is still so great to be able to sink into this magical world again after such a long time. I loved every minute of the film, my children were delighted, all they were talking about on the way home was about buying the DVD the minute it's available so that they can watch the film again. I actually wouldn't mind going to the cinema again, so that I can see the film in 3D again, it was amazing.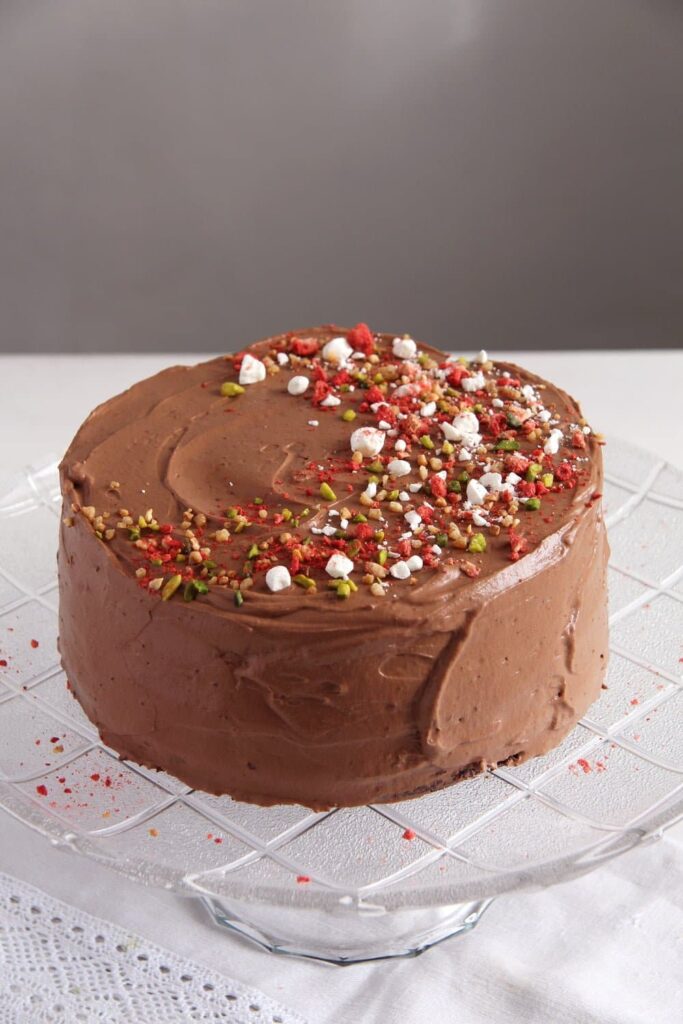 What can I tell you about this chocolate cake? It is my favorite chocolate cake. I have been making this for at least 5 years now, not only for us, but most of the time for other people. I have two families, who have been ordering this cake for every family celebration they have for the past 4 or 5 years now, so I am making this cake about 7 or 8 times every year, there is no other cake that I get to bake so often. I don't even have to check the recipe anymore, it is the only cake recipe I know by heart.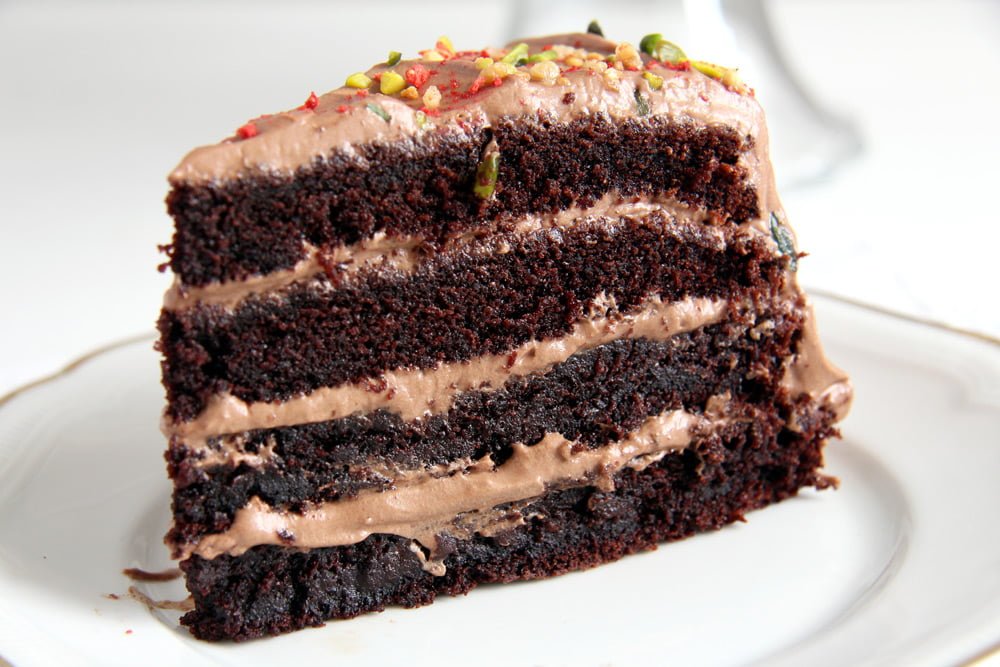 I found the recipe for the cake somewhere on the Internet, but it is such a long time ago, I really don't remember where, I would be happy to give a source if I knew one. The chocolate filling recipe was given to me by my mother-in-law, she used to make this filling for the chocolate cakes they used to sell in the bakery/confectionery they used to have when my husband's father was still alive.
The cake looks really impressive, one would think you'd have to spend a lot of time in the kitchen and use some fancy ingredients to make it, but don't worry, making this particular cake is a "piece of cake", everything is stirred in no time and the filling must be one of the easiest I know. And the taste is just amazing: chocolate, chocolate, chocolate, a dense moist cake sandwiched with this wonderful, luscious chocolate cream. My interpretation of the chocolate gateau Ron Weasley stuffs his face with at the start-of-term feast in the 6th book of the series.
And if you would like to have a look at other Harry Potter inspired recipes, here they are:
Hagrid's Rockcakes with Mixed Dried Fruits 
Fruit Mince Pies with Homemade Mince Pie Filling
Moist Chocolate Gateau or Cake with Chocolate Cream Filling
Harry Potter's Pumpkin Pasties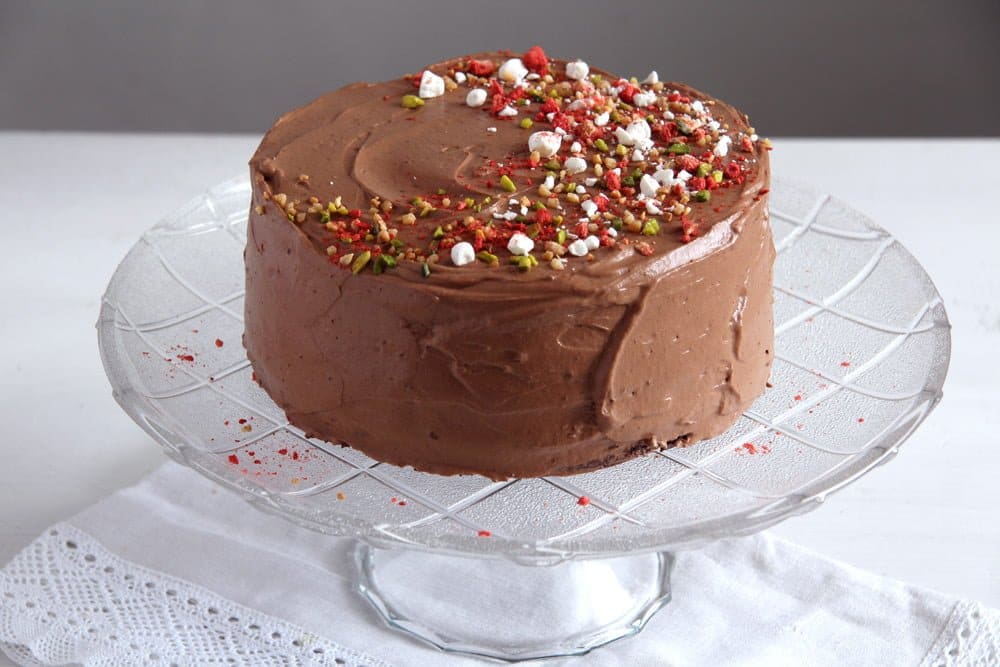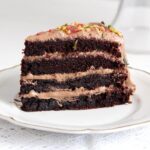 Ingredients
For the filling:

500 ml/ 17 fl.oz/ 2 cups double cream

100 g/ 3.5 oz milk chocolate*

100 g/ 3.5 oz dark chocolate*

2 packets Dr. Oetker cream stabilizer

For the cake:

210 g/ 7.4 oz/ 1 ¾ cups all-purpose flour

400 g/ 14 oz/ 2 cups sugar

85 g/ 3 oz/ ¾ cups unsweetened cocoa powder

2 teaspoons baking soda

1 teaspoons baking powder

½ teaspoon salt

250 ml/ 8.4 fl.oz/ 1 cup buttermilk

120 ml/ 4 fl.oz/ ½ cup vegetable oil

2 eggs (large Germany, extra-large US)

1 teaspoon vanilla extract

250 ml/ 8.4 fl.oz/ 1 cup hot coffee
Instructions
Filling:
Start one day in advance by making the filling. Chop the chocolate very finely. Pour the double cream into a small pot, carefully bring to a boil, take off the heat and give the chocolate to the cream. Stir slowly until the chocolate has melted. Place a piece of plastic foil directly over the chocolate cream (so that it doesn't form a "skin"), let the mixture get cold, then place it in the fridge until the next day.
You could bake the cakes one day in advance as well. Let them get cold and then wrap them in cling film to prevent them from drying out.
Cakes:
To make the cake start by preheating the oven to 180 degrees Celsius/ 360 degrees Fahrenheit. Ligthly butter and flour 2 springforms or cake pans of 20 cm/ 8 inch diameter. Brew one cup of strong coffee.
In a large bowl mix and sift the flour, sugar, cocoa powder, baking soda, baking powder and salt.
Combine the buttermilk, oil, eggs and vanilla extract preferably in a jug or in another bowl. Pour this mixture, slowly, over the dry ingredients whisking with an electric mixer at very low speed.
Add the hot coffee and stir with a spatula very shortly until the ingredients are just combined. Make sure to scrape the bottom of the bowl as well in the process. Divide the mixture into two equal parts (I use the scale to make sure I divide the mixture evenly) and pour into the two prepared forms.
Bake for about 40-45 minutes until a toothpick inserted in the middle of the cake comes out rather clean, it can still be a bit wet, but it should not be covered in chocolate. Let cool in the pan for a while, than transfer the cakes to wire racks to cool completely.
When the cakes are cold, cut each one into two equal slices. Beat the chocolate-double cream mixture while slowly adding the cream stabilizer until stiff.
Place one cake layer on a cake platter. Evenly spread 2-3 tablespoons of the chocolate cream on top of it, place the second cake layer on top and continue in this manner. Cover the cake with the remaining chocolate cream.
Notes
Note: For a genuine taste I recommend using German/European style chocolate (Milka, Cadbury, Belgian or Swiss chocolate), I have heard that the American chocolate tastes very differently.
Others you might like: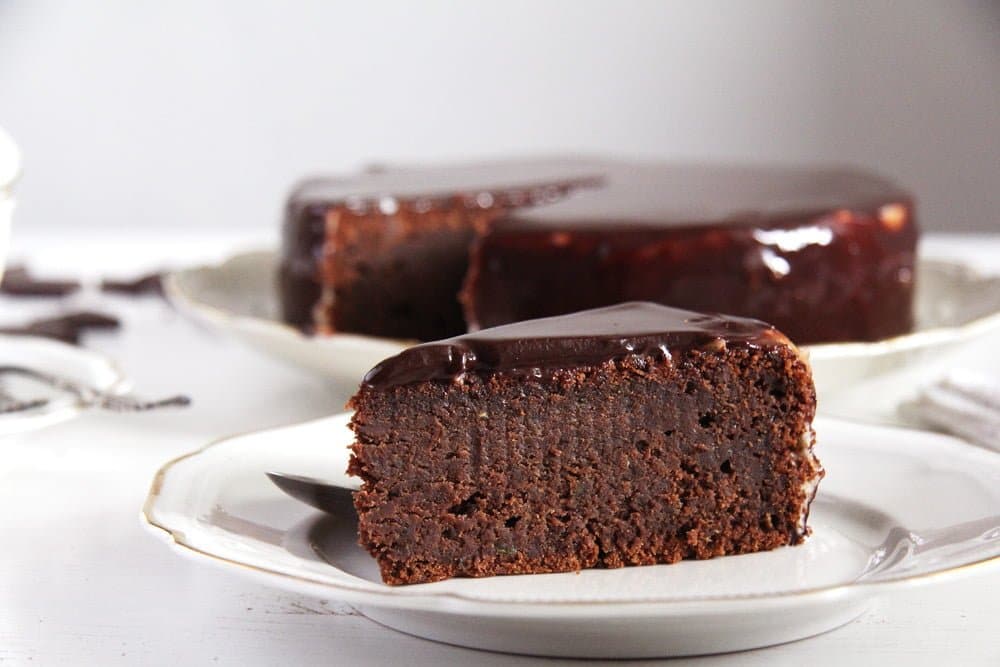 Mirror Glaze Chocolate Zucchini Cake