Last Updated on 12/10/2019 by Adina
Homemade chocolate bars or chocolate fudge made with cocoa and powdered milk, a retro Romanian dessert.
Only a few ingredients, about 15 minutes work and you will have a delicious, super sweet and decadent Romanian dessert, something you will not be able to keep your fingers off as long as you know it's there, within reach. You will probably have to grab a piece of it every time you open the fridge, every time you remember it's there…
This Romanian Homemade Chocolate Bars with Cocoa is, so to say, a retro recipe, something that used to be very popular in the 80's during the worst time of the communist period, a time when regular food was very scarce and sweets were a seldom luxury. Finding real chocolate was kind of a mission impossible, so people found another way to satisfy their longing for chocolate. Chocolate made with plain cocoa and cheap powdered milk, which for some reason was widely available.
However, the end product is so chocolatey and delicious, you will be just as happy eating this homemade chocolate as if you were eating real chocolate. Ask my husband, the chocolate junkie, he was so much into these chocolate bars, he could not stop telling everyone about them, and he is really not the foodie kind of person, he rarely talks about food.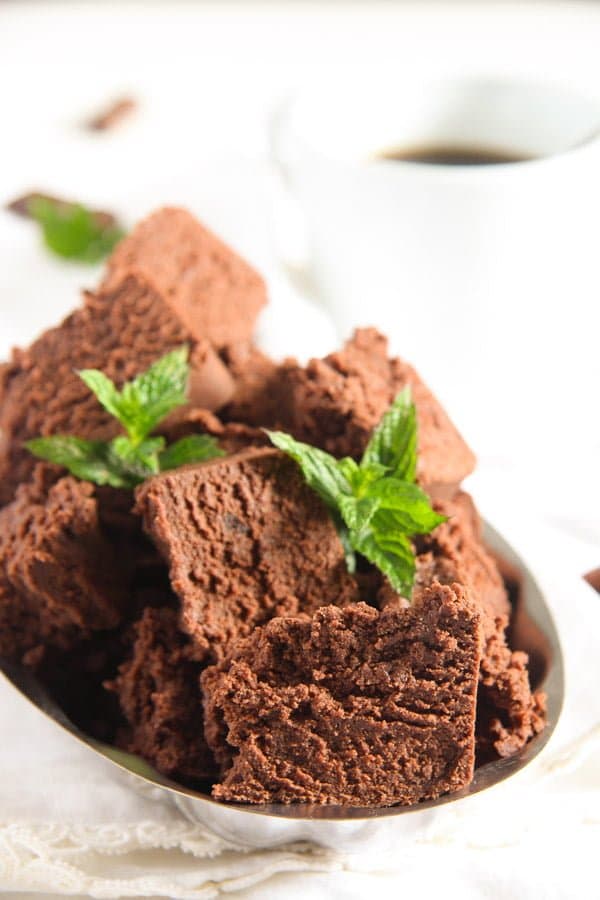 My grandmother never made homemade chocolate, eating or making any sweets were not her thing, so this is one of the very few recipes I can link to my mother, I remember her making this chocolate sometimes during the 90's actually, so after the fall of communism, when chocolate was available everywhere, but still too expensive for regular consumption.
However,this is not my mother's recipe, I got this one from my favorite cousin Georgiana, who made this chocolate for us when she last came to visit us. She made it for my son's birthday and everybody went crazy for it, it was something that they never even remotely had before and they all went gaga for it.
Georgi made the double amount of today's recipe and I was already worrying seeing the casserole dish full of homemade chocolate, I thought we would never be able to finish it, but it was gone before we knew it, I think my husband ate the half of it alone. And then came my mother-in-law and finished off what was left… Did I mentioned that both of them are as skinny as sticks? Life's not fair, isn't it?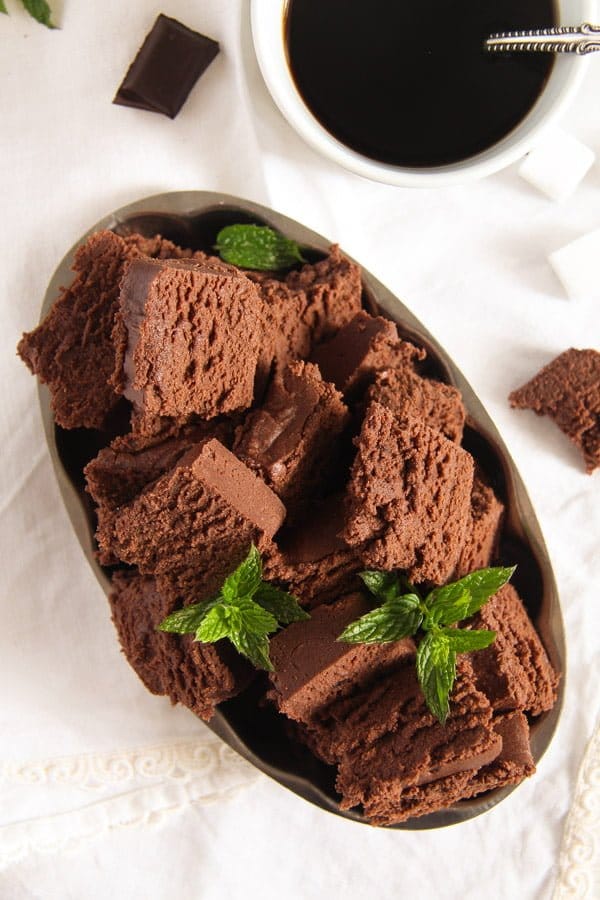 Notes on the recipe:
Make sure you have all the ingredients ready before starting. After adding the syrup to the rest of the ingredients, you will have to stir fast to mix everything properly together, otherwise the mixture will toughen and you will have a hard time stirring it.
The size of the casserole dish where you will spread the chocolate is not really important, if it's rather small the bars will be thicker (like mine), if it's larger they will be thinner. You will still eat too much of them anyway, so size doesn't matter. 🙂
Georgi's original recipe calls for 500 g/17.6 oz/ 2 ½ cups sugar. I only take 400 g/14.1 oz/ 2 cups sugar and still find the chocolate super sweet.
This homemade chocolate is plain, but if you wish you can add any kind of roasted nuts, my favorite are hazelnuts in this combination.
And before I forget to mention it: wrapped nicely these Romanian Homemade Chocolate Bars with Cocoa would make a wonderful Christmas present.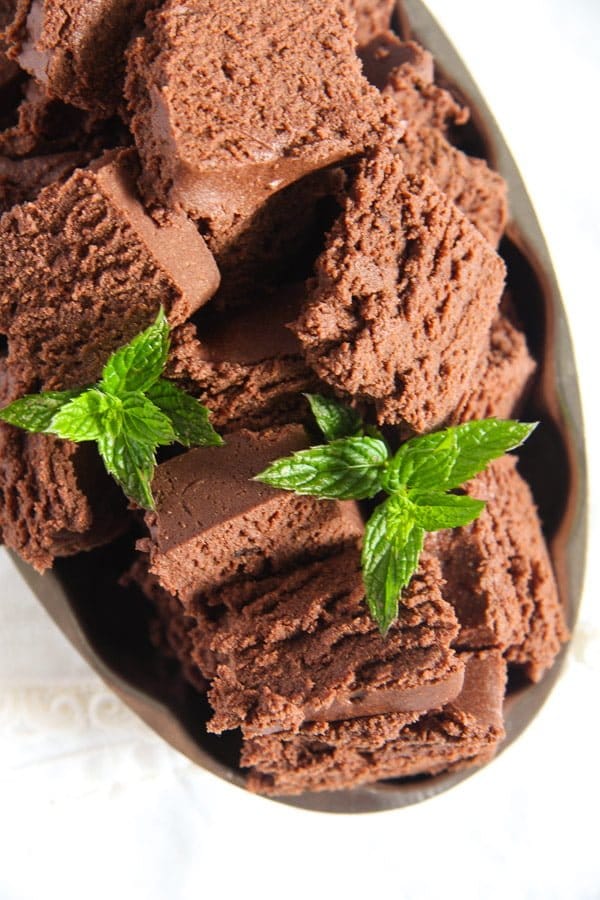 More of Georgiana's recipes:
Ingredients
100 g/ 3.5 oz/ ½ cup butter, room temperature

80 g/ 2.8 oz/ ¾ cups + 1 teaspoon unsweetened cocoa powder

500 g/17.6 oz/ 2 ½ cups powdered milk

100 ml/ 3.4 fl.oz/ scant ½ cup water

400 g/ 14.1 oz/ 2 cups sugar

roasted nuts, optional
Instructions
Prepare everything before making the syrup.
Line a medium casserole dish with cling film.
Let the butter come to room temperature and chop into small cubes. Weigh the cocoa into a small bowl and set aside. Place the powdered milk in a large bowl. Roast the nuts, if using, in a pan without fat while shaking often and let cool.
To make the syrup give the water and the sugar to a medium pot. Bring to a boil and simmer stirring until the sugar dissolves and a light syrup is formed.
Take the syrup off the heat, add the cocoa powder, place the pot back on the stove and let it bubble just one more time. Take off the heat and add the cubed butter, stirring well to incorporate.
Immediately pour the syrup over the powdered milk and stir vigorously. Give the mixture to the prepared casserole dish and level nicely.
If using nuts, you could either mix them into the chocolate before giving the mixture to the dish or stick them into the chocolate after you put that into the casserole dish.
Cover the chocolate with more cling film, let it cool completely on the counter and then place in the fridge until set. It will take about 2 hours.
Cut into squares or rectangles before serving.
This post contains affiliate links. The price you pay as a consumer does not change, but if you make a purchase we will receive a commission which helps support the blog.