A festive Romanian buttercream cake with caramelized walnuts.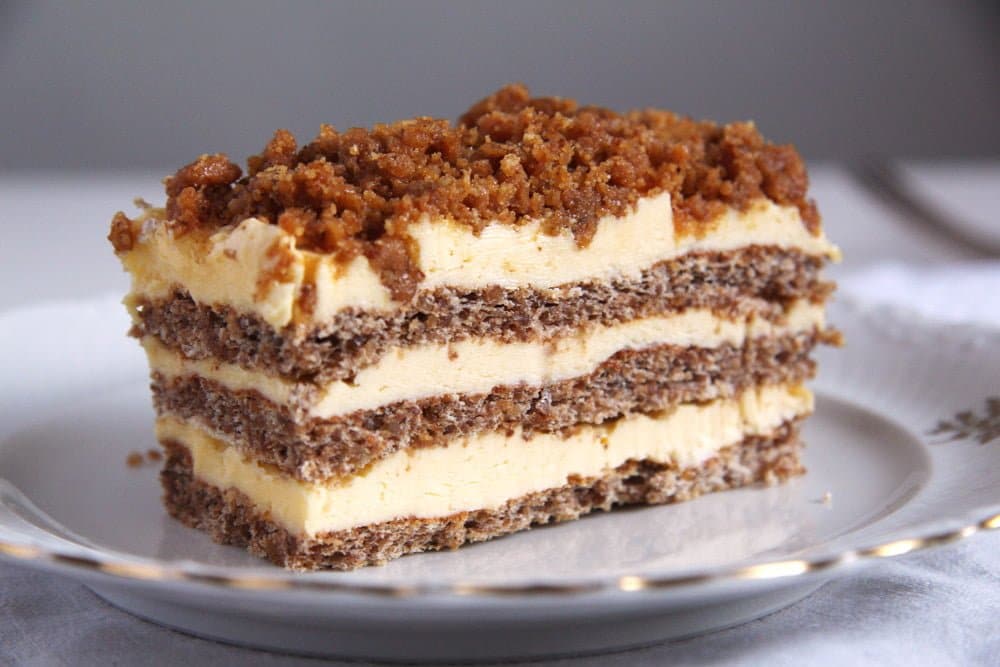 What can I say about this Caramelized Walnuts and Buttercream Cake? It might not be your everyday cake but, if you like a bit of a challenge, you should make it. It is indescribably good, so luscious and sweet and flavorful. It might contain 1000 calories per crumb but they are all so worth it! 🙂 Each and every one of them! It is not something I would make on a regular basis, but when I make it, it is a real treat! It was our Christmas cake last year, but I decided to post it only now because it is a Romanian recipe and that fits in my blogging plan for this year.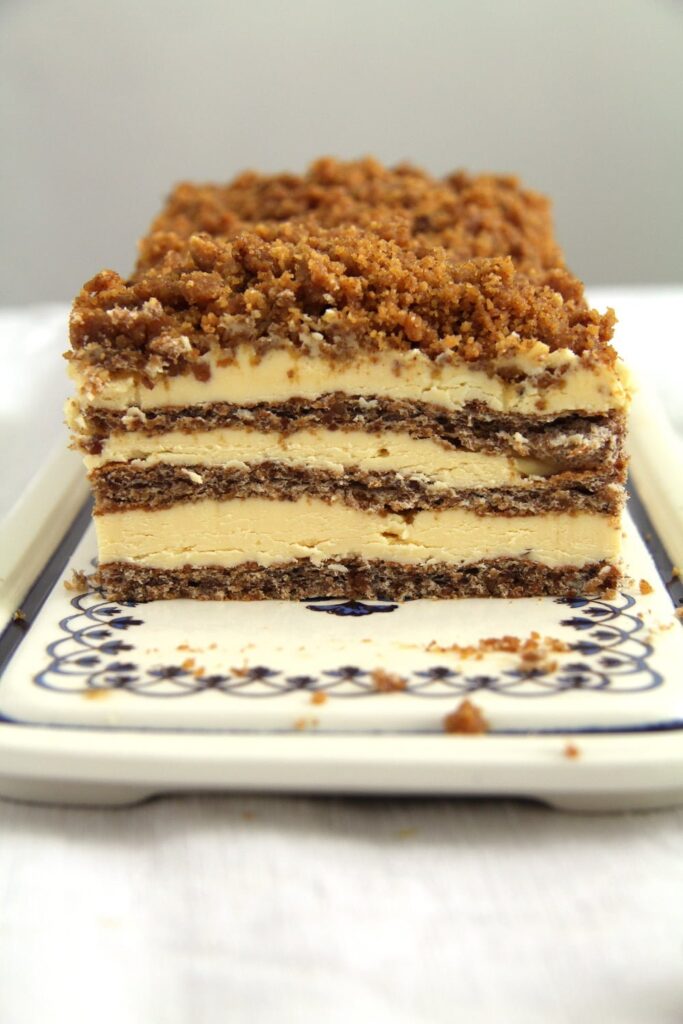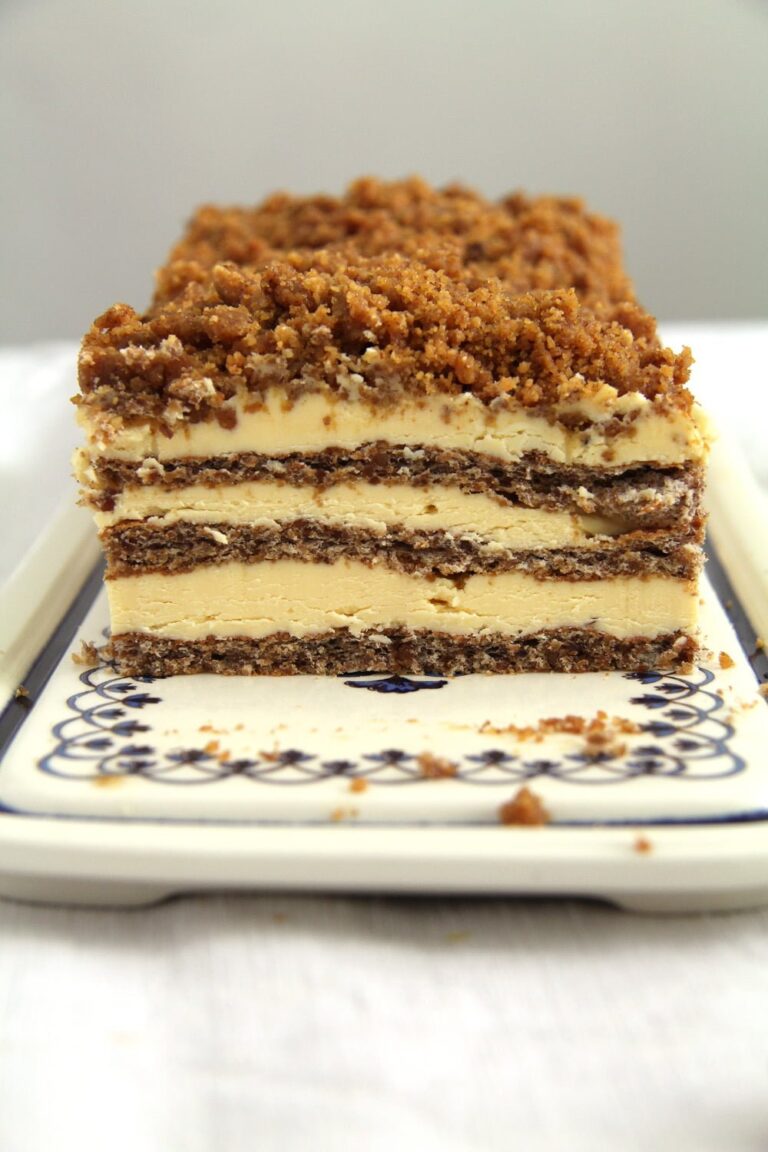 So again: Caramelized Walnuts Buttercream Cake! Each and every word of the title shouts: "deliciousness", "calories" and "I want a piece of it right now!"
This is, in my opinion, quite a typical Romanian cake, the type of cake I would not touch while I still lived there, but the kind of cake I love nowadays. Many Romanian cakes (especially those served in Cafes) come in this square form, a form untypical for Germany for instance, where most cakes you get come as round cakes. And again something typical Romanian is the use of buttercream made with egg yolks and milk and the use of lots of nuts. I can assure you that over the course of this year of Romanian cooking, you will find lots of recipes for cakes using nuts, mostly walnuts and hazelnuts I would say.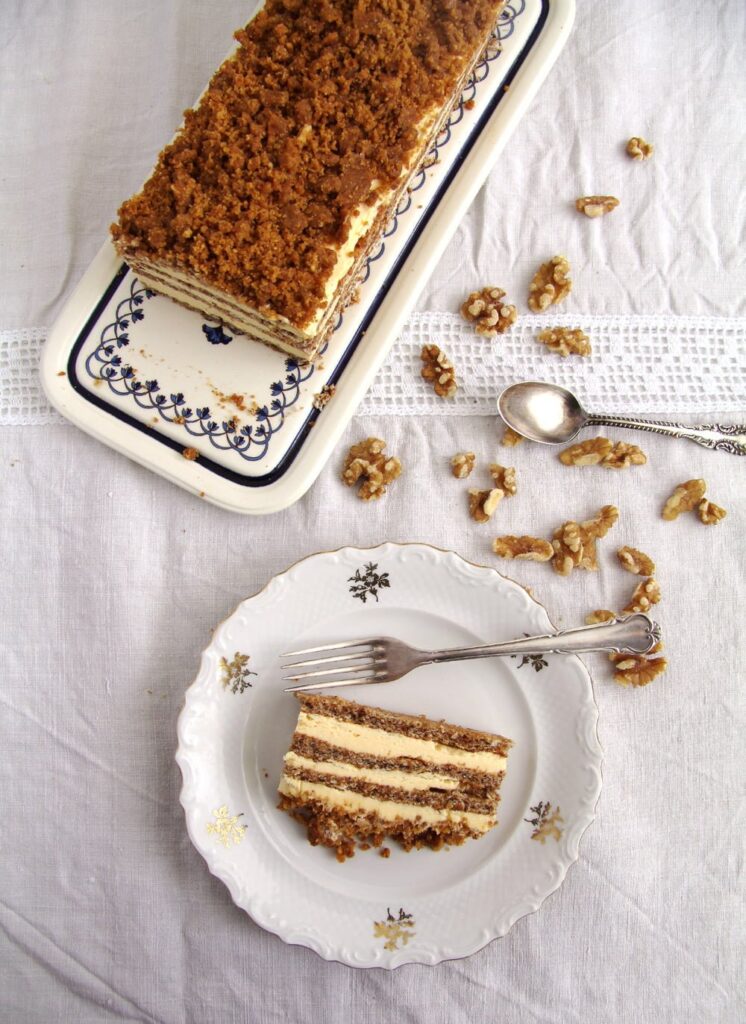 And why am I calling this cake a challenge? Well, is not the typical easy stir and pour cake, you do need a few bowls and pans to get it done and most importantly a bit of patience and organization. Make it for a special occasion, when you really want to offer something special. The good news is that it has to be prepared one day in advance, so at least you will not have to stress yourself on the day of the feast. And I guess after you got to taste this once, you will like it so much that you will not care about the work the next time you decide to bake it.
And a few more details before I give you the recipe. I used whole walnuts, which I shelled myself and I weighed them after I shelled them. I find that whole walnuts taste better, but you be the judge of that, if you don't feel like shelling nuts, feel free to buy the already shelled ones.
The cake base is not very sweet, so if you taste it before assembling the whole cake, you might think that's not right. It was my first thought anyway, I thought I had ruined the cake. However, the buttercream filling and the caramel are so sweet, that will be enough sweetness for the whole cake.
Making the egg yolk cream requires a bit of patience, stir the mixture continuously on a very low flame to prevent it from curdling. I did leave it unattended for just one moment the first time I made this cake and it curdled in about 2 seconds. Stand by and keep stirring – the effort is well worth it!
The source of this recipe is to be found here, however I find the source to be very vague when describing the method, so I really had to tweak this a lot to make it work. I hope I was able to make this recipe more understandable.
Otherwise, I hope the winter is treating you well. We have winter wonderland at the moment here, it has been snowing for the past two days and everything is white and beautiful. The kids are delighted, the sun is shining, I cannot imagine a more beautiful winter day. 🙂 My Bruno could not even get to school yesterday morning (the school bus just didn't manage to get through), so you can imagine his happiness over this prolonged, snowy weekend.

Prep time:
Cook time:
Total time:
A festive buttercream cake with caramelized walnuts.
Ingredients
350 g/ 12.3 oz shelled walnuts
5 + 3 + 8 tablespoons granulated sugar
8 eggs
1 pinch of salt
1 tablespoon rum, optional
2 tablespoons lemon juice
200 ml/ 6.7 fl.oz/ ¾ cup + 2 tablespoons milk
2 tablespoons vanilla sugar
300 g/ 10.5 oz good quality butter (European style is best, it has less water)
1-2 teaspoons vanilla extract
Instructions
Preheat the oven to 220 degrees Celsius/ 430 degrees Fahrenheit. Line a baking tray with baking paper. Spread the walnuts on the baking tray in an even layer and roast for about 3 or 4 minutes until slightly golden and beginning to be fragrant. Keep an eye on them, they should not get too dark or they will taste bitter. Take out of the oven and let get cold. When cold, ground them pretty finely either in the food processor or place them in a large freezer bag and crush them with the rolling pin. Set aside.
To make the caramel, start by weighing 100 g/ 3.5 oz/ 1 cup of the ground and roasted walnuts and set them aside. Place a sheet of aluminum foil on a large plate. Place 5 tablespoons of the sugar in a non-stick pan. Let it caramelize taking care that it doesn't get too dark. Take off the heat and stir in the 100 g/ 1 cup walnuts you have just weighed. Spread this mixture on the aluminum foil and let get completely cold.
Preheat the oven to 180 degrees Celsius/ 360 degrees Fahrenheit. Line the baking tray with baking paper.
To make the cake base start by separating the eggs. Beat the egg whites with the pinch of salt until stiff. Add 3 tablespoons sugar, the rum (optional) and the lemon juice and continue beating until stiff and glossy. Carefully fold in the rest of the ground and roasted walnuts. Pour this mixture onto the prepared baking tray and bake the cake base for about 20-25 minutes or until done. Let get completely cold then slice it into 3 equal rectangular parts.
To make the cream beat the egg yolks with 8 tablespoons sugar and the vanilla sugar until pale and creamy. Slowly add the milk and incorporate. Pour the mixture into a sauce pan and place on a very low flame. Stir continuously with a wooden spoon until the mixture thickens, it took me 15 minutes on a very low flame. Set aside, place a piece of plastic foil on top to prevent it from getting a skin and let get cold.
In the meantime take the butter out of the fridge and let it get soft.
Beat the soft butter until light and fluffy. Start adding the cold egg yolk cream, one tablespoon at a time, while beating continuously. Beat in the vanilla extract, to taste, as well.
Place one slice of the cake base on a rectangular serving platter. Cover with one third of the buttercream, place another slice of cake on top, cover with another third buttercream as well. Place the third cake slice on top and cover with the rest of the buttercream. Roughly crush the caramelized walnuts and top the cake with them. Let rest in the fridge overnight and take out of the fridge about 30 minutes prior to serving.
These are some of the products I used to make this recipe:
This post contains affiliate links. The price you pay as a consumer does not change, but if you make a purchase we will receive a commission which helps support the blog.
Others you might like: