A festive Romanian walnut buttercream cake with caramelized walnuts, this is one of the most decadent, best walnut cakes you could possibly make.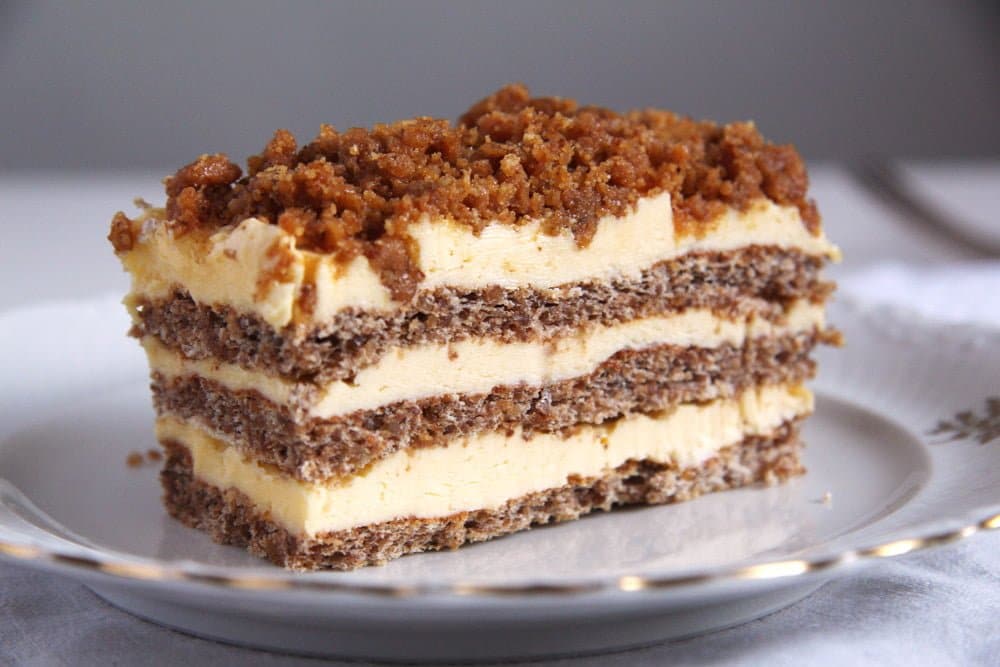 What can I say about this Romanian walnut cake with buttercream? It is indescribably good, so luscious and sweet and flavorful. It might not be your everyday cake but, if you like a bit of a challenge, you should make it.
It might contain over 500 calories per piece, but they are all so worth it! 🙂 Each and every one of them! It is not something I would make on a regular basis, but when I make it, it is a real treat!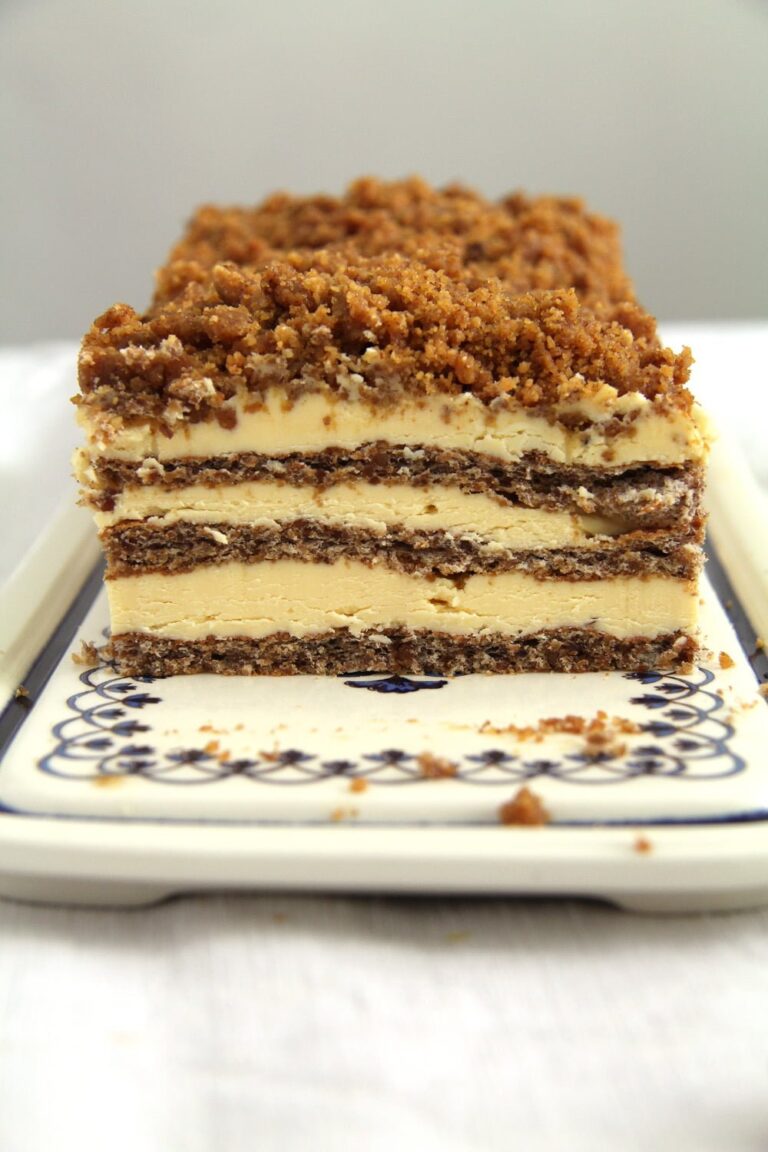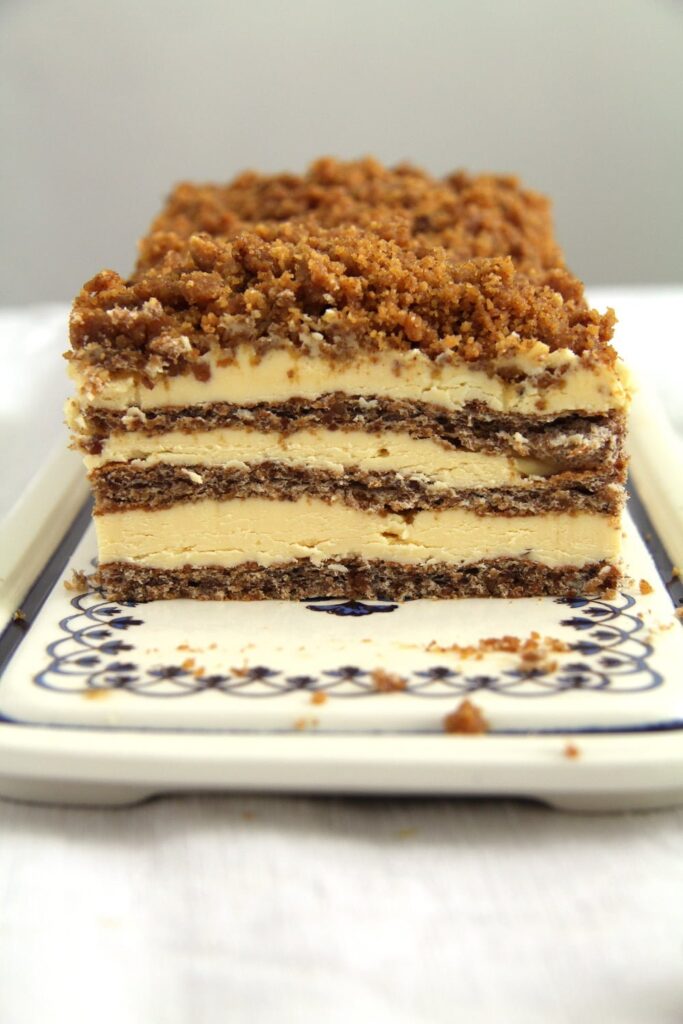 This is, in my opinion, quite a typical Romanian cake, the type of cake I would not touch while I still lived there, but the kind of cake I love nowadays. Many Romanian cakes (especially those served in Cafes) come in this square form.
And again something typical Romanian is the use of buttercream made with egg yolks and milk and the use of lots of nuts. If you like walnut cakes or any other kind of nut cake have a look at this German Walnut Cake or this Egyptian Hazelnut Cake.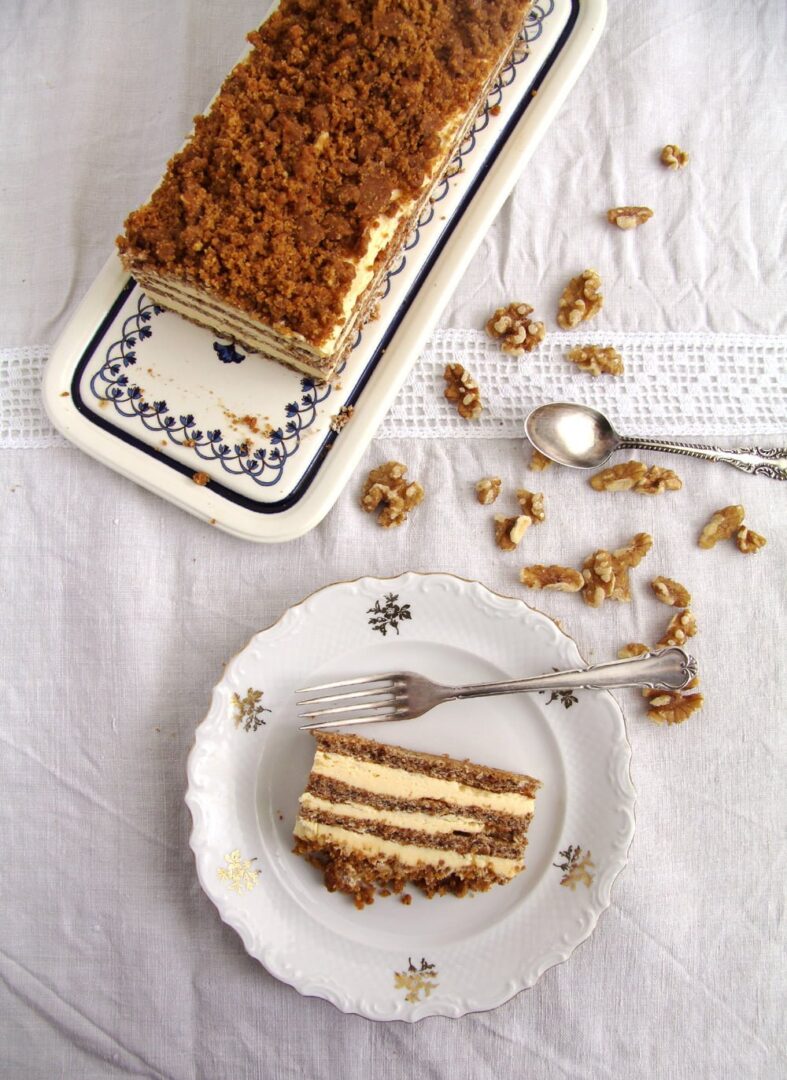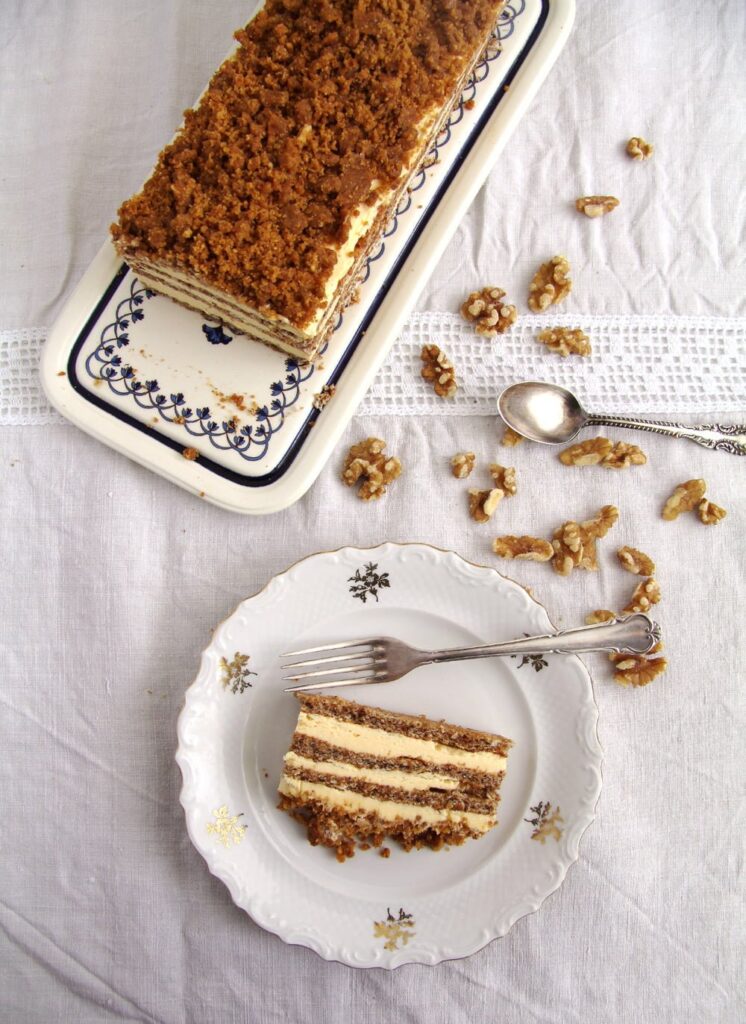 Tips
I recommend using a kitchen scale to measure all the ingredients. Including the walnuts, measuring walnuts halves in cups is very unprecise, as it all depends on their size.
Be organized when baking the walnut buttercream cake. I called this cake a challenge, because this is not the typical easy stir and pour cake, you do need a few bowls and pans to get it done and most importantly a bit of patience and organization. Make it for a special occasion, when you really want to offer something special.
The good news is that it has to be prepared one day in advance, so at least you will not have to stress yourself on the day of the feast. And I guess after you got to taste this once, you will like it so much that you will not care about the work the next time you decide to bake it.
The cake base is not very sweet, so if you taste it before assembling the whole cake, you might think that's not right. It was my first thought anyway, I thought I had ruined the cake. However, the buttercream filling and the caramel are so sweet, that will be enough sweetness for the whole cake.
Making the egg yolk cream requires a bit of patience, stir the mixture continuously on a very low flame to prevent it from curdling.
I did leave it unattended for just one moment the first time I made this cake and it curdled in about 2 seconds. Stand by and keep stirring – the effort is well worth it!
More walnut cakes:
Romanian Walnut Chocolate Cake - Prajitura Regina Maria
Apple Caramel Cake - Upside Down Apple Cake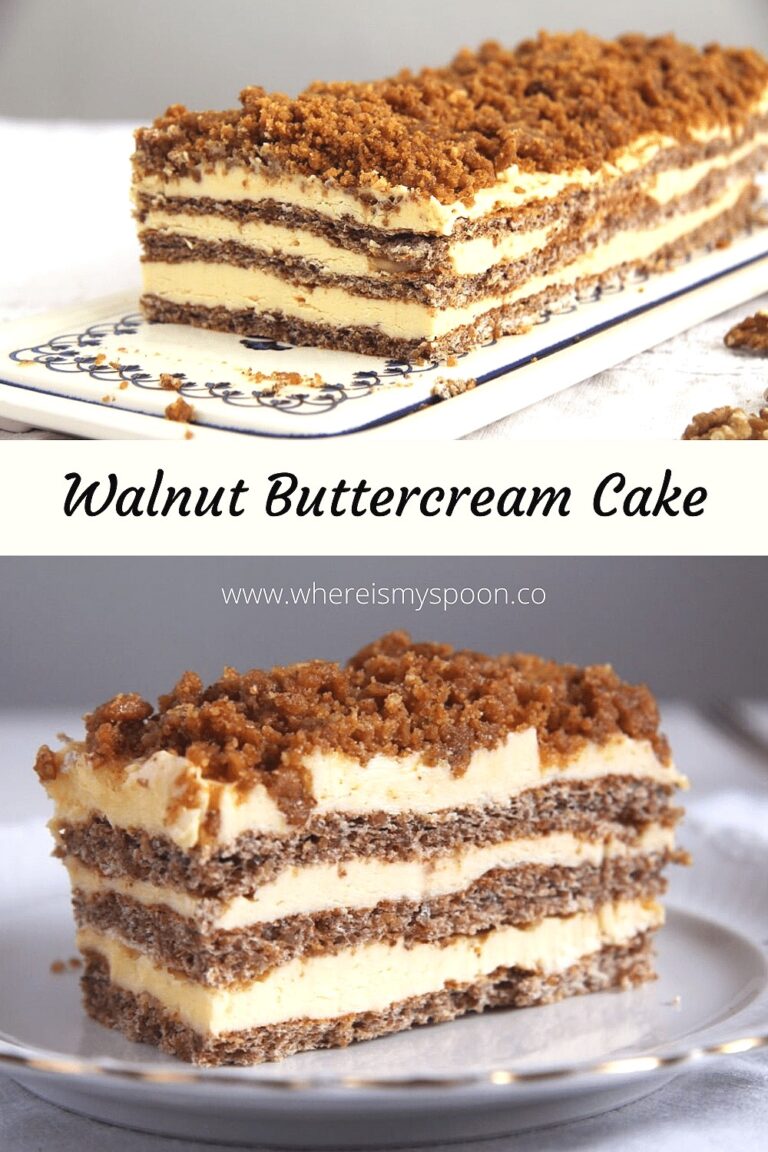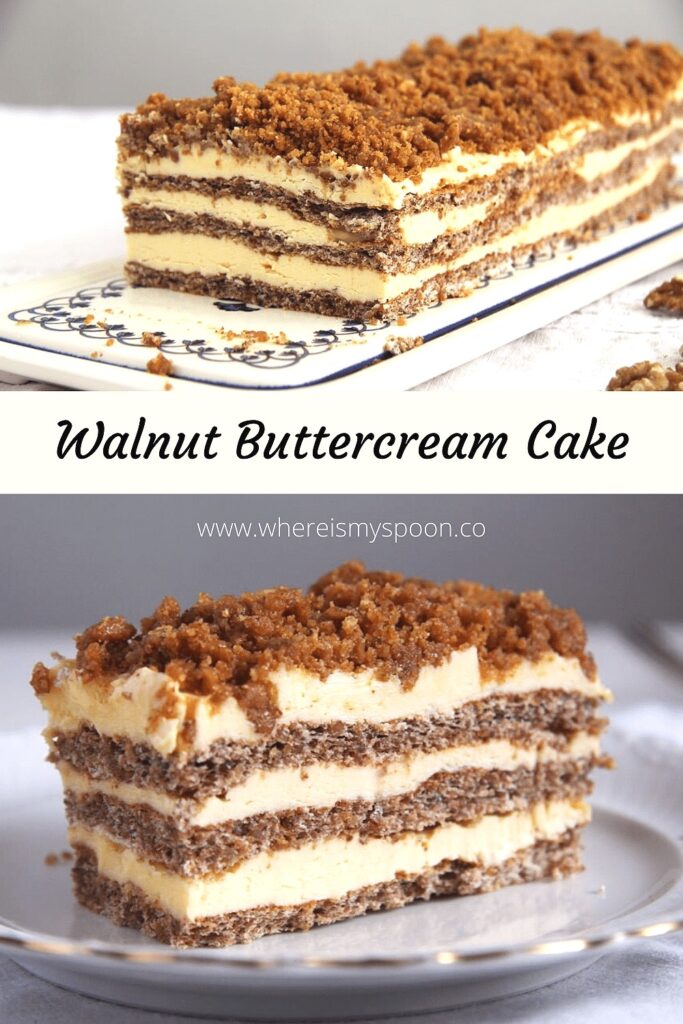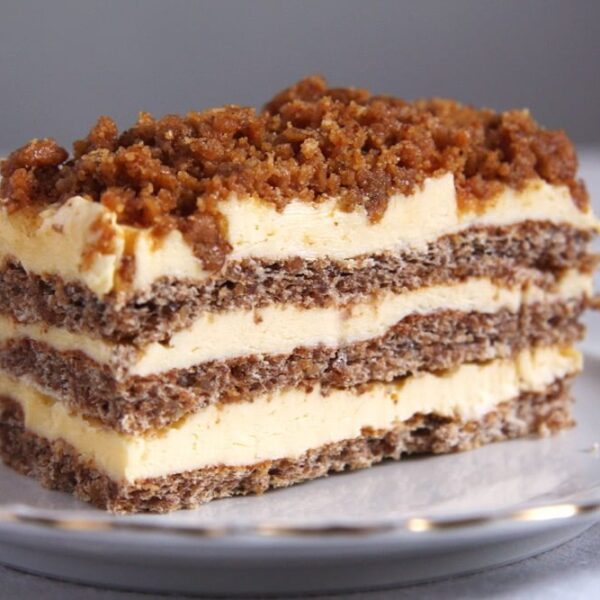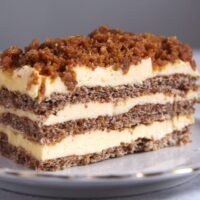 Romanian Walnut Buttercream Cake
A festive Romanian walnut buttercream cake with caramelized walnuts, this is one of the most decadent, best walnut cakes you could possibly make.
Print
Pin
Share
Grow
Saved!
Rate
Ingredients
Walnuts:

350

g

shelled walnut halves

12.3 oz, See note

Caramel:

5

tablespoons

granulated sugar

Cake:

8

eggs

only the egg whites, the egg yolks are for the buttercream

3

tablespoons

granulated sugar

1

pinch

of salt

1

tablespoon

rum

optional

2

tablespoons

lemon juice

Walnut buttercream:

9

tablespoons

granulated sugar

200

ml

milk

6.7 fl.oz/ ¾ cup + 2 tablespoons

300

g

good quality unsalted butter, fat content at least 82%

10.5 oz/ 1 ¼ cups + 1 tablespoon

1-2

teaspoons

vanilla extract

to taste
Instructions
Walnuts:
Roast walnuts: Preheat the oven to 220 degrees Celsius/ 430 degrees Fahrenheit. Line a baking tray with baking paper. Spread the walnuts on the baking tray in an even layer and roast for about 3 or 4 minutes until slightly golden and beginning to be fragrant. Keep an eye on them, they should not get too dark or they will taste bitter. Take out of the oven and let get cold.

Grind: When cold, grind them finely either in the food processor or place them in a large freezer bag and crush them with the rolling pin. Set aside.
Caramel:
Weigh 100 g/ 3.5 oz/ 1 cup of the roasted and ground walnuts and set them aside.

Place a sheet of aluminum foil on a large plate.

Make the caramel: Place 5 tablespoons of the sugar in a non-stick pan. Let it caramelize, taking care that it doesn't get too dark. Next, take off the heat and stir in the walnuts you have just weighed.

Cool: Spread this mixture on the aluminum foil and let it set completely.
Cake base:
Preheat the oven to 180 degrees Celsius/ 350 degrees Fahrenheit. Line the baking tray (about 30x40 cm/ 12x15 inches) with baking paper.

Make the batter: Separate the eggs. Set the yolks aside; you will only need them for the buttercream. Beat the egg whites with a pinch of salt until stiff. Add 3 tablespoons sugar, rum (optional), and lemon juice and continue beating until stiff and glossy. Carefully fold in the rest of the ground and roasted walnuts.

Bake: Pour this mixture onto the prepared baking tray and bake the cake base for about 20-25 minutes. Let it cool completely, then slice it into 3 equal rectangular parts.
Buttercream:
Mixture: Beat the egg yolks with 9 tablespoons of sugar until pale and creamy. Slowly add the milk and incorporate it. Pour the mixture into a saucepan and place it on a very low flame. Stir continuously with a wooden spoon until the mixture thickens, it took me 15 minutes on a very low flame. Set aside, place a piece of plastic foil on top to prevent it from getting skin, and let get cold.

Make the buttercream: In the meantime take the butter out of the fridge and let it get soft. Beat the soft butter with the hand-held mixer until light and fluffy. Start adding the cold egg yolk cream, one tablespoon at a time, while beating continuously. Beat in the vanilla extract to taste, as well.
Assemble:
Fill cake: Place one slice of the cake base on a rectangular serving platter. Cover with one-third of the buttercream, place another piece of cake on top, cover with another third of the buttercream. Finally, place the third cake slice on top and cover with the rest of the buttercream.

Top: Roughly crush the caramelized walnuts and top the cake with them. Let rest in the fridge overnight.
Notes
Always use a

digital kitchen scale

in baking; it ensures the best results (Amazon affiliate link).

Weigh the nuts, measuring walnuts halves in cups is very unprecise, as it all depends on their size.
Nutrition
Serving:
1
slice
|
Calories:
516
kcal
|
Carbohydrates:
27
g
|
Protein:
9
g
|
Fat:
43
g
|
Saturated Fat:
16
g
|
Polyunsaturated Fat:
24
g
|
Trans Fat:
1
g
|
Cholesterol:
179
mg
|
Sodium:
230
mg
|
Fiber:
2
g
|
Sugar:
23
g