A delicious, easy to make walnut cake filled with a quark honey filling and topped with caramelized walnuts.
A perfect cake for Christmas this year. It has a winter taste due to the walnuts, a winter look thanks to those creamy white quark-honey layers, it is better when made a day in advance, so no hassle on Christmas day and it tastes absolutely wonderful.
This is another one of those cakes I have been making for several years now and just like in the case of this Chocolate Gateau, I have been making this over and over again not only for our family but for other people as well, people who keep coming back wishing me to bake this walnut cake for them again. So I guess that this is really something that speaks for this cake, if so many people want to eat it again and again it must be good!
I made the cake in a 20 cm/ 8 inch springform this time, because I wanted to have a higher cake. You can either follow the instructions and make it like that yourself or you could halve the ingredients and bake a smaller cake. Normally, I would bake the cake in a 26 cm/ 10.2 inch springform and use half of the ingredients as well. The cake would only be split in two then. It is not so tall, but it still looks great and tastes equally delicious.
I adapted a recipe found on Chefkoch.de again. What I find important is to keep the lower baking temperature. The first couple of times I made this cake, I baked it at a higher temperature and I always had the problem of the cake not being really done in the middle while being completely dry around the edges and also not rising properly in the middle. Lowering the baking temperature and slightly increasing the baking time worked like a charmed. You can see it in the pictures: the cakes are even and evenly baked through.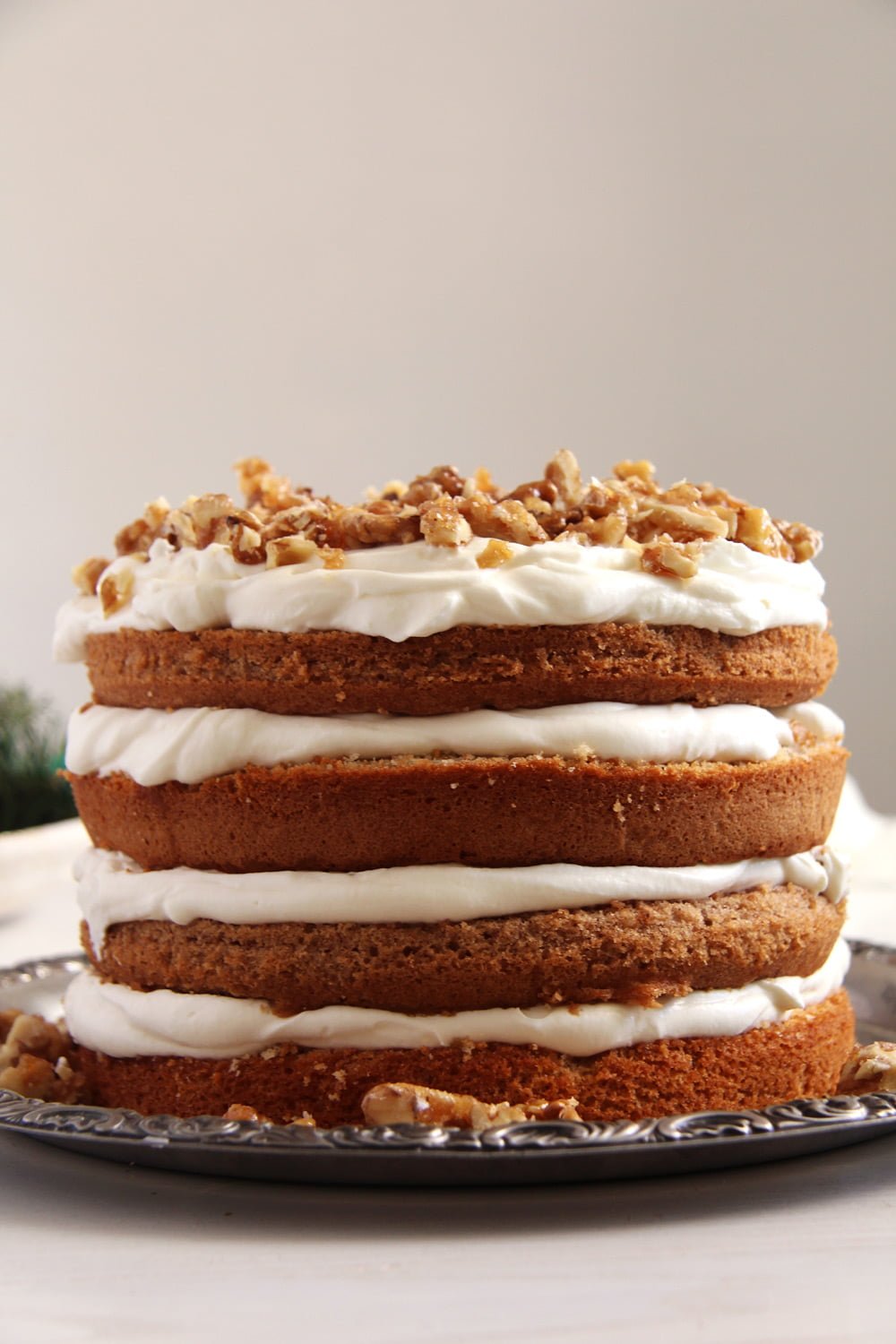 Otherwise I really hope you are having a great pre-Christmas time, I thoroughly enjoy this time of the year. The kids tell me every day they wish that Christmas Eve was already there (they cannot wait for the presents, of course), but I like this time just as much as Christmas itself. Lights and candles everywhere, a crackling fireplace every day, lots of baking, searching for the right presents, good books in the evening, Christmas movies and music…. love it! The weather is not what is supposed to be, but that never is, so I try to ignore it…
I do hope you found all your presents already and that you are having a cozy, stress-free winter time!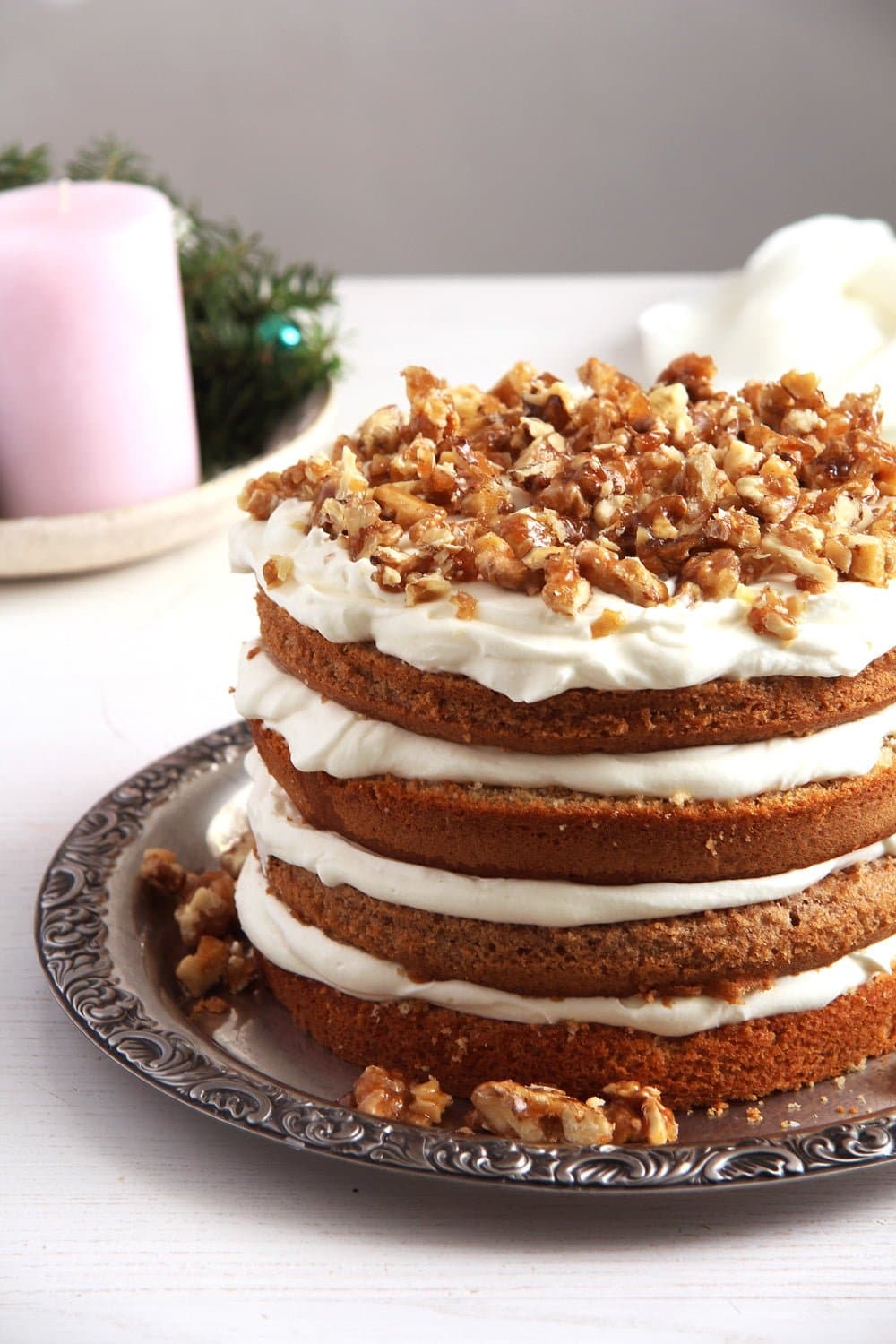 Rating 5.0 from 2 reviews
Prep time:
Cook time:
Total time:
Ingredients
For the cake:
8 eggs (medium Germany, large US)
250 g/ 8.8 oz/ 1 ¼ cups granulated sugar
200 g/ 7 oz/ 1⅔ cups ground walnuts
200 g/ 7 oz/ ¾ cup + 1 tablespoon all-purpose flour
2 teaspoons Dr Oetker baking powder
1 teaspoon cinnamon
200 g/ 7 oz butter
For the filling:
500 g/ 17.6 oz low-fat quark
200 g/ 7 oz sour cream (a stiffer kind)
4 tablespoons runny clear honey or more to taste
400 g/ 14 oz double cream
2 sachets whipped cream stabilizer/ stiffener
For the caramelized walnuts:
75 g/ 2.6 oz/ ⅓ cup + 1 tablespoon granulated sugar
1 tablespoon runny clear honey
100 g/ 3.5 oz/ ⅔ cup chopped walnuts
a pinch of cinnamon
Instructions
Preheat the oven at 150 degrees Celsius/ 300 degrees Fahrenheit. Butter two 20 cm/ 8 inch springforms or cake pans and place them in the fridge while you prepare the rest.
Beat the eggs and the sugar together until pale and fluffy. Melt the butter and let cool slightly while you mix the rest of the ingredients.
Mix together the ground walnuts, flour, baking powder and cinnamon and fold in the egg mixture. Fold the melted butter in the mixture as well.
Divide the mixture evenly between the two prepared springforms or cake pans and bake for 30-35 minutes or until a toothpick inserted in the middle comes out clean. Leave to cool in the pan for about 10 minutes, then remove carefully and let cool completely on wire racks.
To make the filling mix the quark, sour cream and honey to taste with a spoon, do not use a mixer or kitchen machine or the filling will get too runny.
Whisk the double cream and the whipped cream stabilizer until stiff and carefully fold in the quark mixture.
Slice each cake once, so that you have 4 cakes. Layer the cakes and the filling. Place in the fridge for at least 2-3 hours before serving or overnight.
To make the caramelized walnuts: let the sugar and the honey caramelize in a non-stick pan. Stir in the chopped walnuts and the cinnamon and stir to coat all over. Transfer the walnuts on a tray lined with baking paper and leave to cool completely.
Sprinkle the caramelized walnuts on top just before serving.
Other Christmas cake ideas:
Romanian Sweet Bread with Walnuts – Cozonac