How to make the Greta Garbo cake - an old cake recipe made with layers of yeast dough, jam and ground walnuts.
This is an easy to make yeast and jam cake also known under the name of Zserbo (Hungarian) or Gerbeaud after the famous Cafe Gerbeaud in Budapest. I have never visited this Cafe but this cake is apparently one of its most appreciated cakes alongside Dobos Torte and the Esterhazy cake.
Vintage cake recipes, which all found their way into the Romanian kitchen as well, Romania has a large community of people of Hungarian origin living in Transylvania, who greatly influenced the Transylvanian way of cooking and baking.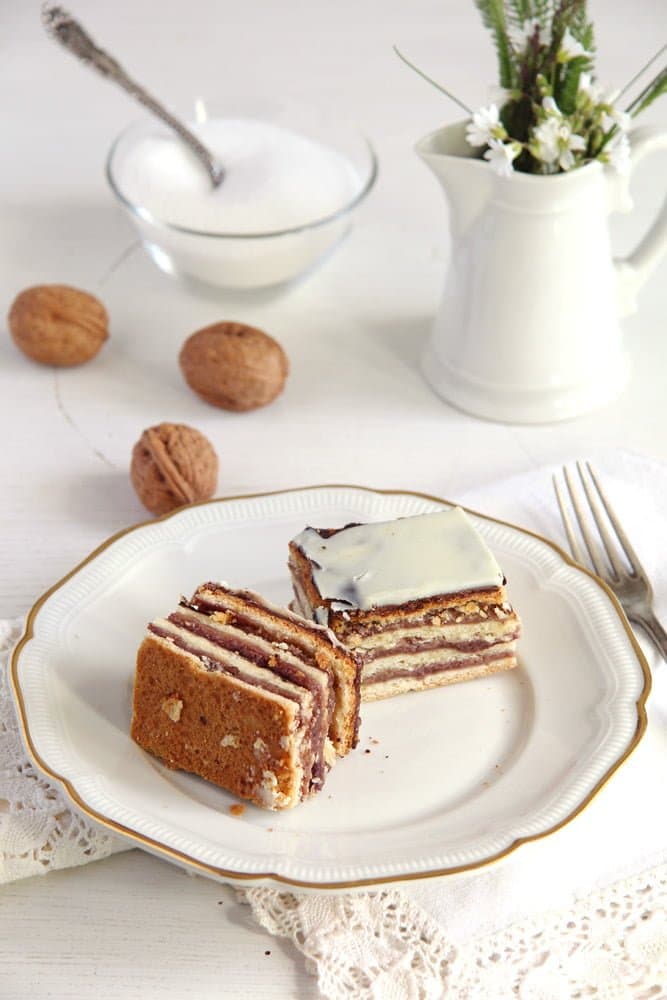 The story of its "new" name Greta Garbo has apparently something to do with communism. The person who gave this cake its new name and made it doable for the housewives was a woman called Silvia Jurcovan. She was born in 1913 and spent her adult life in my hometown Sibiu, in Transylvania.
Her son started studying in Bucharest in the 1970s and wrote to his mother asking for some easy recipes which he could cook for himself. After her first letters containing some of the required recipes, he complained to his mother about the vague quantities she was mentioning and the unclear instructions.
I know his pain exactly. What I hate most about typical Romanian recipes inherited from my grandmother or given to me by my aunt are the words "faina cat cuprinde", which means take as much flour as the dough allows!!!!!!!!!!!!!!!! Or "bake/cook until is done".
How on Earth should I know how much dough the dough allows, every dough is different, they have different textures and consistencies depending on the cake you are making, and we all know how much difference 100 g flour less or more can make in a cake. (By the way – that is one of the reasons I hate cup measuring as well).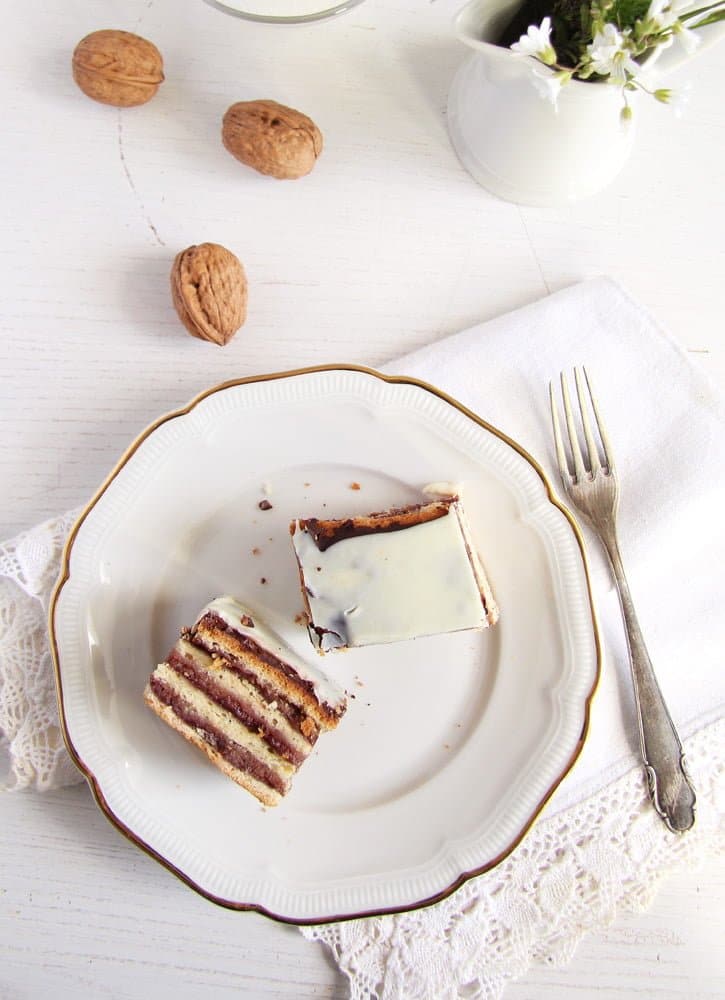 So, in an attempt to help her son, Silvia Jurcovan started to organize her recipes and this culminated into the publication of her book called "Cookbook for the Young Housewives", which I think is the number 1 bestseller Romanian cookbook.
And coming back to the name of this cake, apparently she called it Greta Garbo, because she was worried about being accused of imperialism and sympathy with the West if she would keep the original name of Gerbeaud. Or maybe she just wanted a more understandable name for the cake, Greta Garbo was famous in Romania as well and everybody knew her name :).
I baked this cake out of Silvia Jurcovan's cookbook and I mostly followed the recipe's instructions as they were. The major change was to replace the 500 g/ 1.1 lbs sugar she wanted me to sprinkle the cake layers with, with only 150 g/ 5.3 oz.
The cake is very sweet as it is, so I thought that to be a print mistake, I cannot imagine why somebody would dump so much sugar on a cake.
And I topped the cake with a chocolate ganache instead of the original cocoa glaze (I had tried that particular cocoa glaze on another occasion and didn't like it, that is why I preferred to use the white chocolate ganache).
I used homemade sweet cherry butter for this Greta Garbo cake, but you can use any other kind of jam you like, I generally prefer using a less sweet variety. I think this Rhubarb Raspberry Jam or this Rhubarb Strawberry Jam would be a perfect fit for this time of the year. Plum jam or apricot jam would be great as well.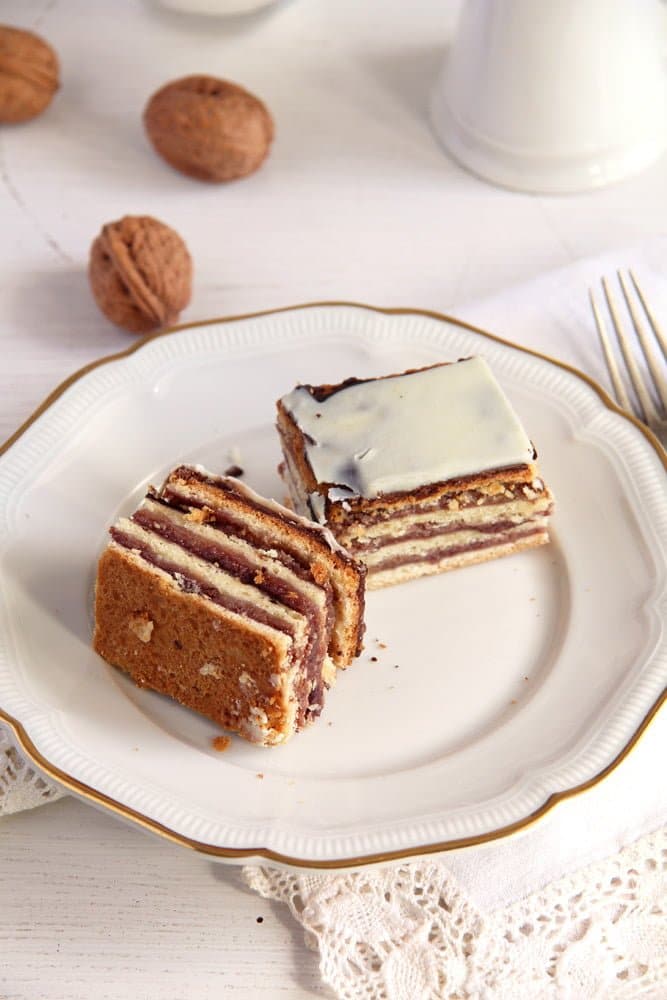 Otherwise for those Romanian speaking people reading this blog, I can only recommend Silvia Jurcovan's cookbook, it really is a must-have for any Romanian person who enjoys cooking.
I have a few more recipes on Where Is My Spoon cooked out or inspired by Silvia Jurcovan, for example these Soft Chicken Meatballs in Cream Sauce, the Cauliflower in Tomato Sauce or the Romanian Sweet Bread with Walnuts – Cozonac. You might want to check those out, they are all delicious. 🙂
More Romanian vintage cakes: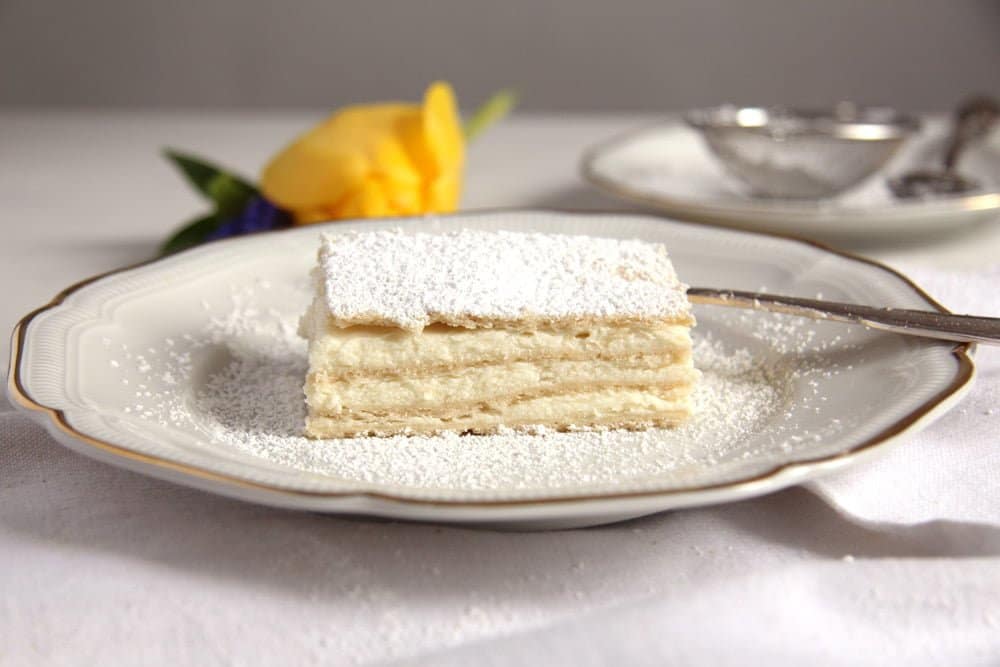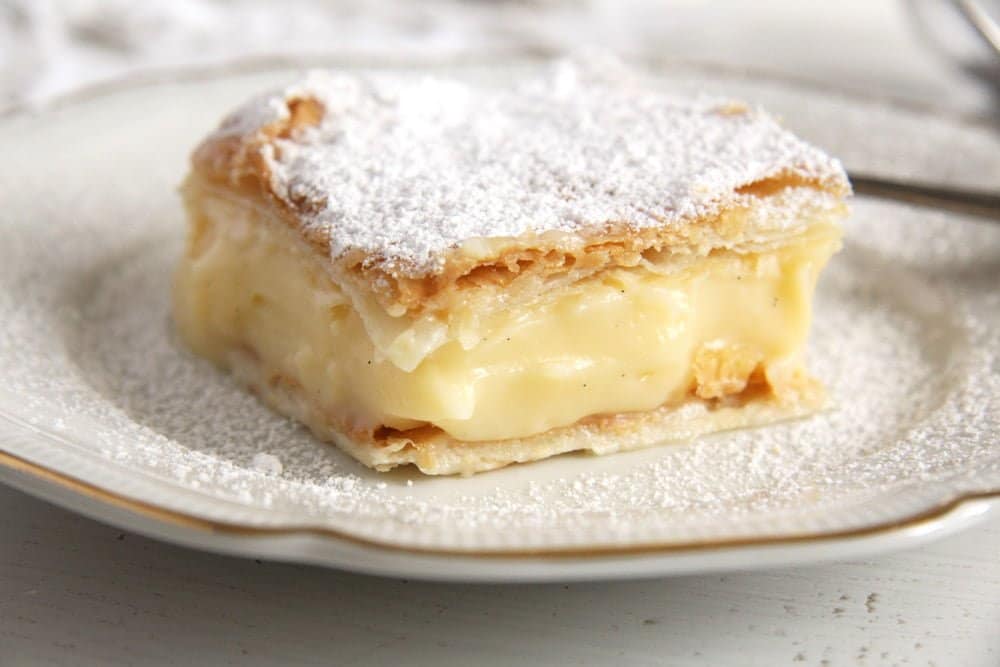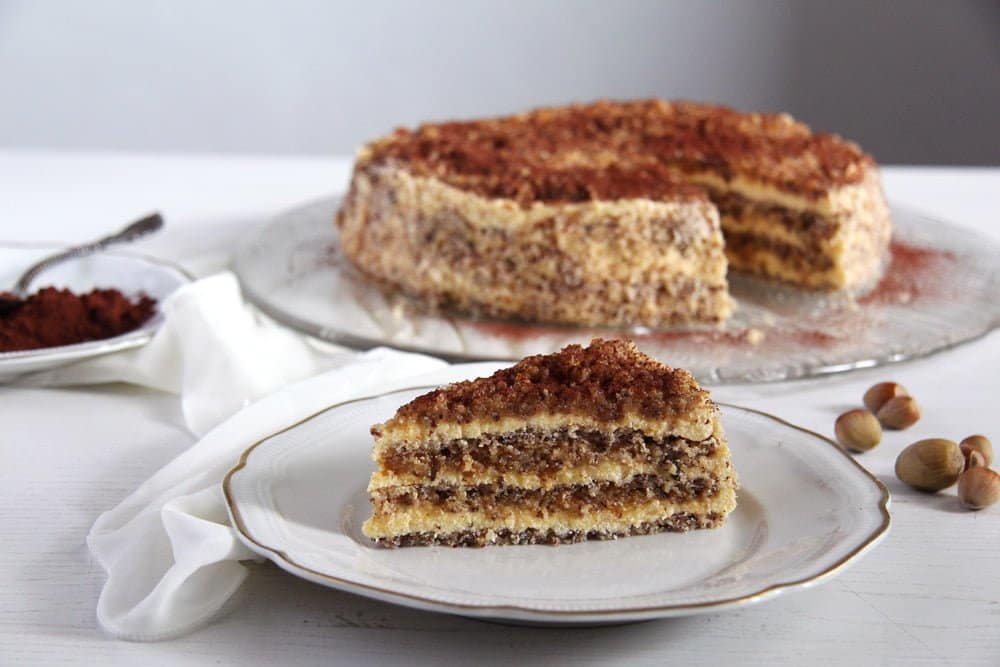 Greta Garbo Cake (Yeast Cake with Jam)
How to make the Greta Garbo cake – a vintage cake recipe made with layers of yeast dough, jam, and ground walnuts.
Print
Pin
Share
Grow
Saved!
Rate
Ingredients
Yeast dough:

30

g/ 1 oz fresh yeast or 1 sachet instant yeast

100

g/ 3.5 oz/ ½ cup sugar

200

g/ 7 oz/ ¾ cup + 1 tablespoon unsalted butter

very soft

2

eggs

medium Germany, large US

200

g/ 7 oz/ 1 ⅔ cup smetana or crème fraiche

½

teaspoon

fine sea salt

zest of 1 organic lemon

550

g/ 1.2 lb/ 4 ⅔ cups flour

Filling:

450

g/ 1 lb jam of your choice

250

g/ 8.8 oz/ 2 cups ground walnuts

150

g/ 5.3 oz/ ¾ cup sugar

Ganache:

80

ml/ 2.7 fl.oz/ ⅓ cup heavy cream

170

g/ 6 oz white chocolate
Instructions
Yeast dough:
Place the fresh yeast and the sugar in the kitchen machine. Stir well and leave to stand for about 5 minutes or until the yeast is liquid.

Add the soft butter and stir well. Add the eggs, one by one, mixing well after each addition. Add the smetana, salt, and lemon zest and mix well.

Add almost all the flour, setting about 2 tablespoons aside. Knead shortly, until the mixture is smooth but don't overdo it, this dough is not supposed to be kneaded too long.

Sprinkle the working surface with a little bit of the flour you set aside and turn the dough onto it. Knead shortly and form a ball of dough. If the dough sticks too much to your hands add another tablespoon or so of flour, but not too much. It depends on the size of the eggs if you have to add more flour or not.

Place the dough in a bowl, cover with a cloth and let rise in a warm place for about 15-20 minutes.

If using instant yeast, mix it with the flour and combine all ingredients for the dough. Proceed with the recipe as instructed above.
Assemble:
Sprinkle the working surface with some more of the flour. Divide the dough into four equal parts. Take one part and shape it into a rectangle with your hands. Roll it to fit into your rectangular baking dish of approximately 23x33 cm/ 9x13 inches. Place it in the dish (you don't have to butter the dish).

Spread ⅓ of the jam on top of the first dough layer. Sprinkle it evenly with ⅓ of the ground walnuts and ⅓ of the sugar.

Repeat with the remaining dough balls, jam, and sugar, closing with a last layer of dough.

Cover the dish with a kitchen cloth and let rise in a warm place for 30 minutes.
Bake:
In the meantime preheat the oven to 200 degrees Celsius/ 400 degrees Fahrenheit.

Place the cake in the oven and bake for about 1 hour or until cooked through.

Turn the heat down to 180 degrees Celsius/ 360 degrees Fahrenheit after the first 10 minutes.

Check the cake after 30 minutes or so and cover the cake loosely with aluminum foil if the top is too deeply colored already.

Remove from the oven and let cool completely in the baking dish. When cool prepare the ganache.
Ganache:
Chop the white chocolate very finely or process it to fine crumbs in the food processor. It is important that the chocolate is finely chopped, this way it will melt quicker and better when mixed with the hot heavy cream. Place it in a small bowl.

Heat the heavy cream in a small pan until it comes to a boil. Immediately pour the cream over the chocolate in the bowl and let stand for 2 minutes. Stir well with a spoon until the mixture is smooth. Pour and spread over the cake. Let set well.

Cut the cake into small rectangles and serve.







Nutrition
Serving:
1
square
|
Calories:
477
kcal
|
Carbohydrates:
57
g
|
Protein:
7
g
|
Fat:
26
g
|
Saturated Fat:
11
g
|
Polyunsaturated Fat:
13
g
|
Cholesterol:
59
mg
|
Sodium:
95
mg
|
Fiber:
2
g
|
Sugar:
29
g