The creamiest, sweetest, comforting cake you can imagine. Hazelnuts, butter cream made with pudding and a caramel cream filling, can it get any better?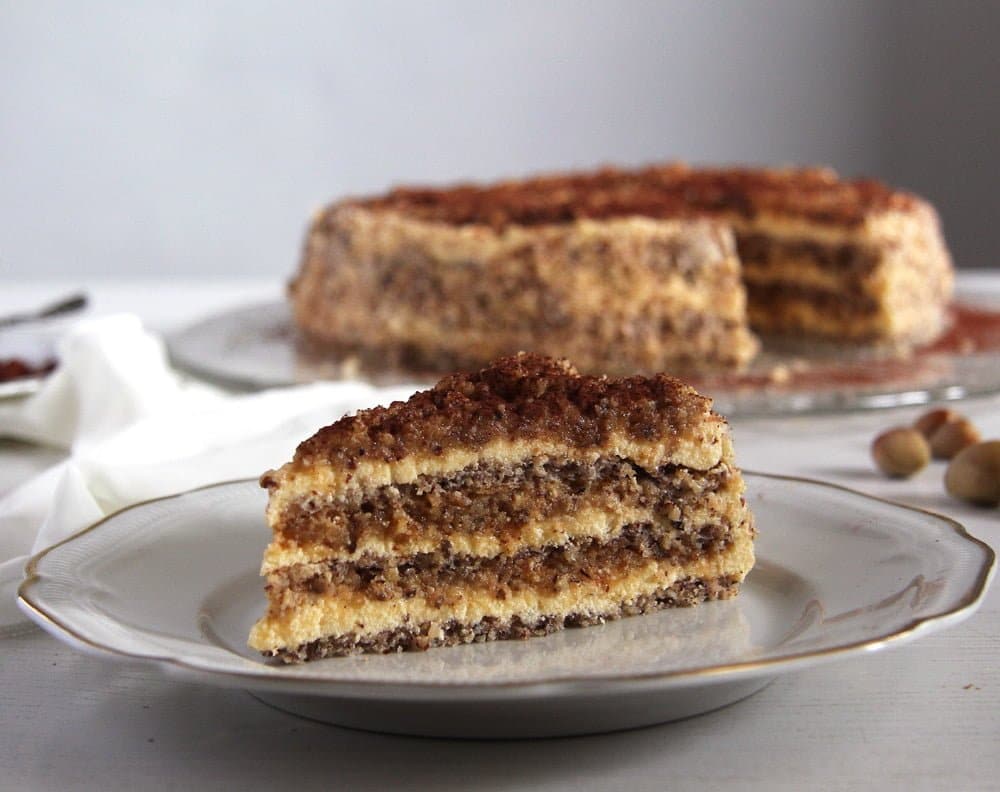 I think I did not mention it yet, but the theme for the last two weeks of the year are hazelnuts. I love them dearly, I always did and there are so many things I put them into, I decided I might do a series about it. I did not even have to particularly look for many recipes including hazelnuts, I really use them so often, I just had the difficulty of choosing among all those recipes that I make often and like so much. Especially now, at Christmas time, with all the cookies and cakes I'm baking, there are really hazelnuts to be found just about anywhere. Thank God, none of us has a nut allergy or any allergies whatsoever. 🙂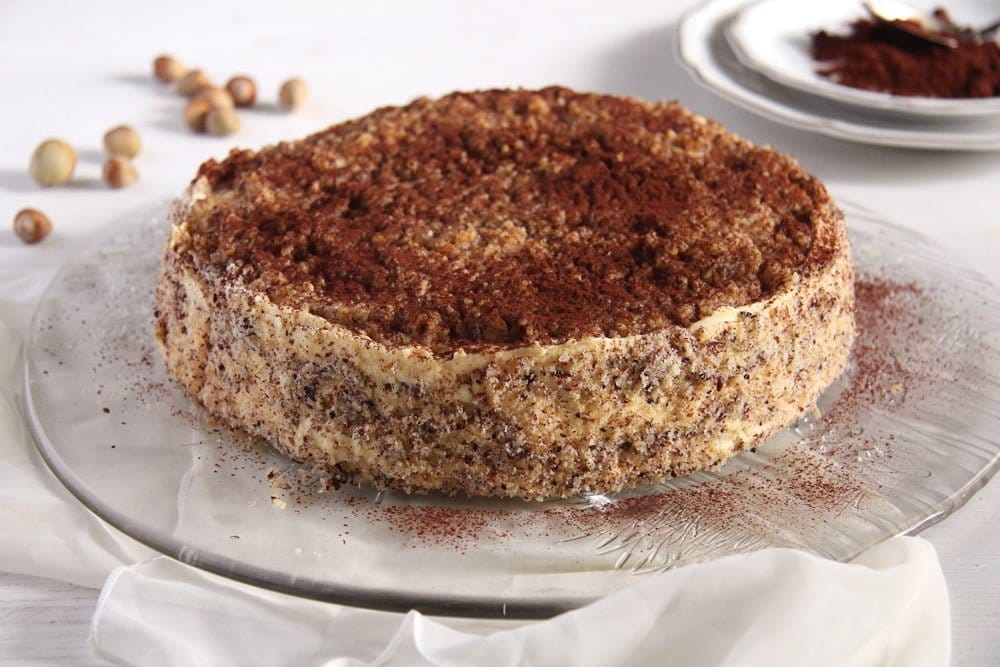 Although this cake is called Egyptian, I really cannot say if it truly is an Egyptian recipe. But it became famous in Romania under this name and so I decided to keep it. If you are Romanian and read at least a few Romanian food blogs, you might have found this recipe already. I have seen it on so many Romanian blogs, I find it difficult to give you a clear source. I wrote down the recipe I found on Laura Sava's blog, but she gives another source as well.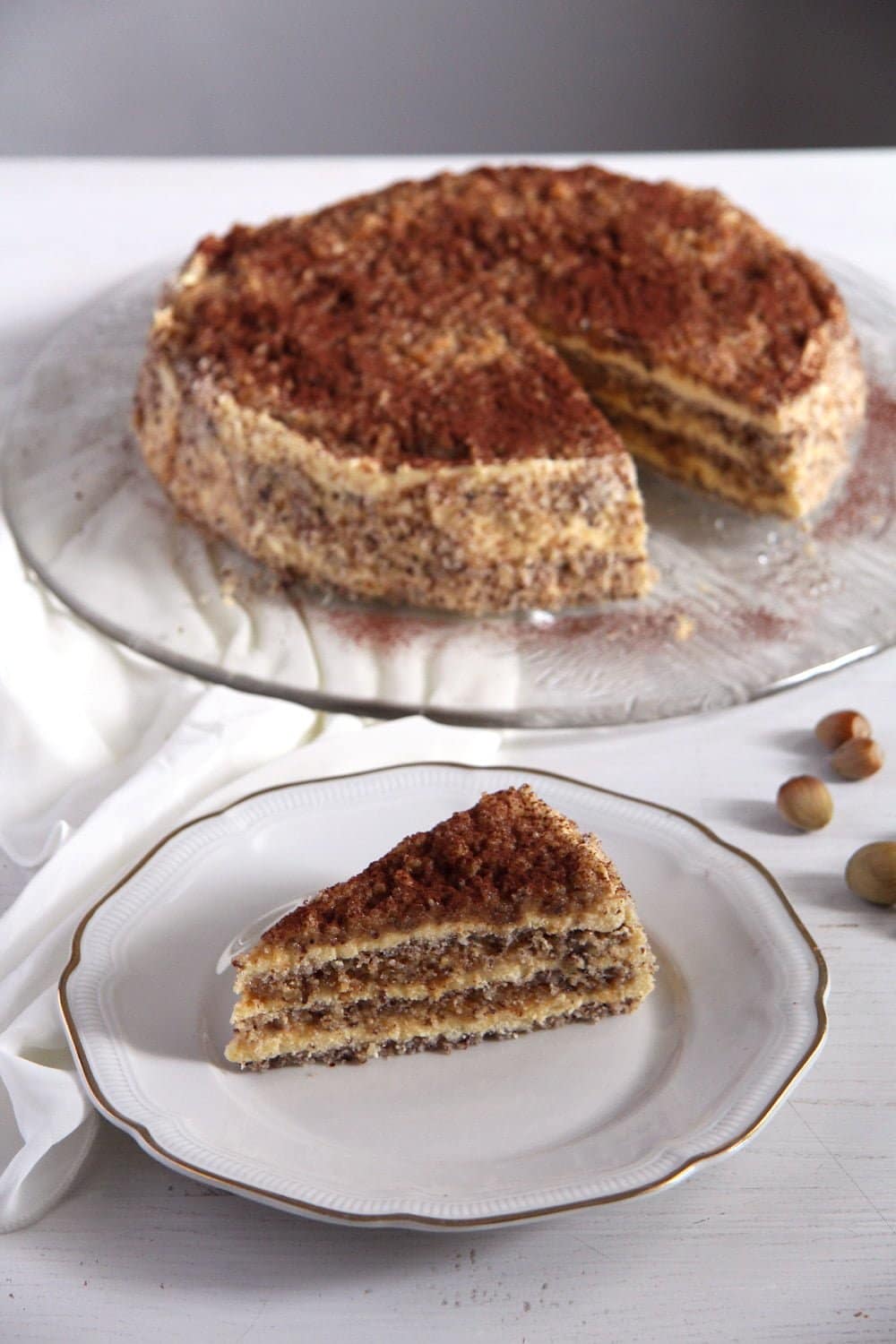 So if you are looking for a decadent, truly amazing tasting cake for Christmas, I can really recommend this Egyptian cake. I have made it twice already and it was a hit with everybody who tasted it. My neighbor shoveled down 3 slices in one sitting, while complaining about getting too fat all the time… His father ate almost a whole piece before remembering that he actually has a slight hazelnut allergy and should not be eating any at all… He got red in the face and started sweating, but it was not so bad in the end… 🙂 So, stay away from this blog for the next two weeks, if you have a hazelnut allergy, I don't want to cause you any distress.
What more can I say about the cake? It is sooo creamy and moist and although quite sweet due to all that caramel, you will still be able to taste those wonderful hazelnuts. You will love any morsel of it!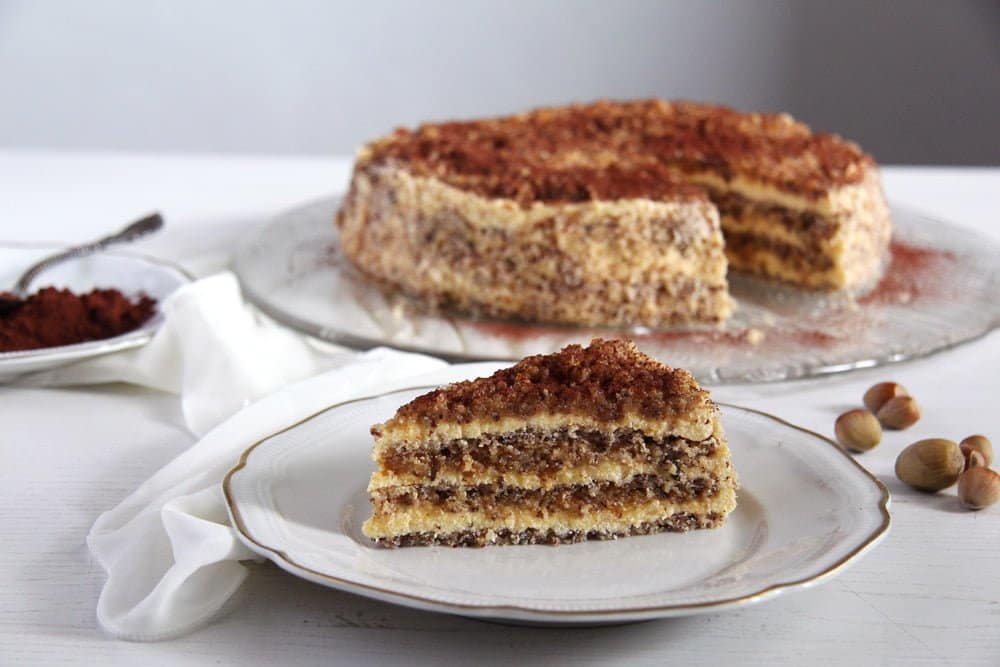 Rating 5.0 from 5 reviews
Prep time:
Cook time:
Total time: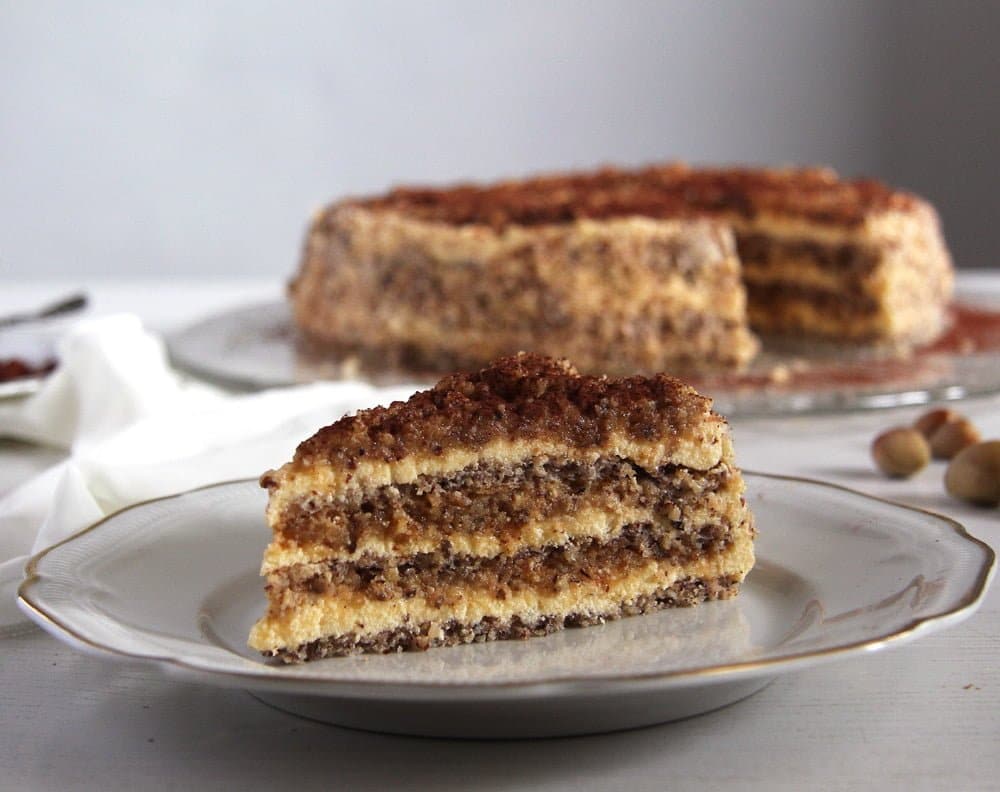 The creamiest, sweetest, comforting cake you can imagine. Hazelnuts, butter cream made with pudding and a caramel cream filling, can it get any better?
Ingredients
For the cake – you will bake 3 cakes, so divide the ingredients to three from the beginning:
6 egg whites (the yolks are needed for the filling) (medium Germany, large US)
6 tablespoons fine sugar
1 ½ tablespoons all-purpose flour
150 g/ 5.3 oz/ 1 cup ground hazelnuts
For the butter cream filling:
6 egg yolks
3 level tablespoons corn starch
6 tablespoons granulated sugar
340 ml/ 12 fl.oz/ scant 1 ½ cups milk
1 teaspoon vanilla extract
170 g/ 6 oz/ 1 ½ sticks butter, soft
For the caramel filling:
200 g/ 7 oz/ 1 cup granulated sugar
220 ml/ scant 1 cup heavy/ double cream
130 g/ 4.6 oz/ ⅞ cups ground hazelnuts
For the garnish:
2-3 tablespoons ground hazelnuts for garnish
unsweetened cocoa powder for garnish
Instructions
To make the cake:
Preheat the oven to 170 degrees Celsius/ 340 degrees Fahrenheit. Lightly butter the bottom of a 24 cm/ 9 inch springform and line it with baking paper. You will only use the bottom of the springform. Cut two more baking paper circles of the same size while you are at it.
You will need three cakes that will be made and baked separately, one after another. For each cake you will need 2 egg whites, 2 tablespoons sugar, ½ tablespoon flour and 50 g/ ⅓ cup ground hazelnuts.
Whisk the 2 egg whites until stiff. Slowly add 2 tablespoons of the sugar and continue beating until you cannot feel the sugar anymore. Sprinkle ½ tablespoon of the flour and 50 g/ ⅓ cup of the hazelnuts on top and fold in carefully using a rubber spatula.
Spread this mixture evenly on the prepared springform base and bake for about 20 to 25 minutes or until golden.
In the meantime prepare the mixture for the second cake, bake it and while that is in the oven, prepare the mixture for the third cake and then bake it as well. Leave all three cakes to cool on wire racks.
To make the butter cream filling:
In a small pot mix together the egg yolks and the corn starch. Little by little add the sugar and the milk while whisking all the time. Bring to a boil and let simmer on a low flame for about 6 minutes, stirring very often to prevent it from catching. Whisk continuously during the last 2 minutes. Set aside and stir in the vanilla extract. Place a piece of plastic foil on top to prevent it from forming a skin and let cool completely.
Take the butter out of the fridge to allow it to get soft. You can make the caramel during this waiting time, it also needs to get cold.
When the pudding is cold and the butter soft, beat the butter until fluffy. Add the pudding one tablespoon at a time, while whisking well in between. Set aside.
To make the caramel and the cream filling:
Place the sugar in a non-stick pan on a low flame. Let caramelize slowly, taking care it doesn't get too dark. Line a baking tray with baking paper, brush the paper with a little oil and pour the sugar on the oiled paper in a thin layer. Caution: it is very hot!
Let get cold, then break it into smaller pieces and process the pieces in a food processor until you have a fine powder. Alternatively you can crush the pieces to powder using a rolling pin.
Whisk the heavy cream until stiff. Fold in the caramel powder and the ground hazelnuts.
Take 5 or 6 tablespoons of the butter cream and set them aside for later.
Place one cake on a platter. Divide the rest of the butter cream into 3 parts and spread one part evenly on the first cake. Divide the caramel filling into 3 parts and spread one part evenly on top of the butter cream filling. Place the second cake on top and repeat the procedure. Do the same with the third cake.
To finish the cake, frost it around the edges with the butter cream you set aside at the beginning.
Place in the fridge overnight to allow to set nicely and get really moist.
Just before serving: sprinkle the edges and the top with the extra ground hazelnuts and only the top with the unsweetened cocoa powder.
Others you might like: