Another quite healthy dish, perfect for a January lunch or dinner, very easy and quick to make: broccoli florets and tofu cubes in a sweet and sour sauce, a very tasty vegan dish, which you can make as hot as you want by adding more chilies or chili flakes.
I have a soft spot for dishes made with pantry/freezer ingredients. I like shopping for food but it is often the case that although I only need a few fresh ingredients or one or two missing things, I end up spending way too much on things I don't immediately need and which usually find their way directly to the pantry/cellar/freezer. All of these places are overcrowded most of the time, so I am always happy to find recipes which allow me to use several of these stacked goods in one go.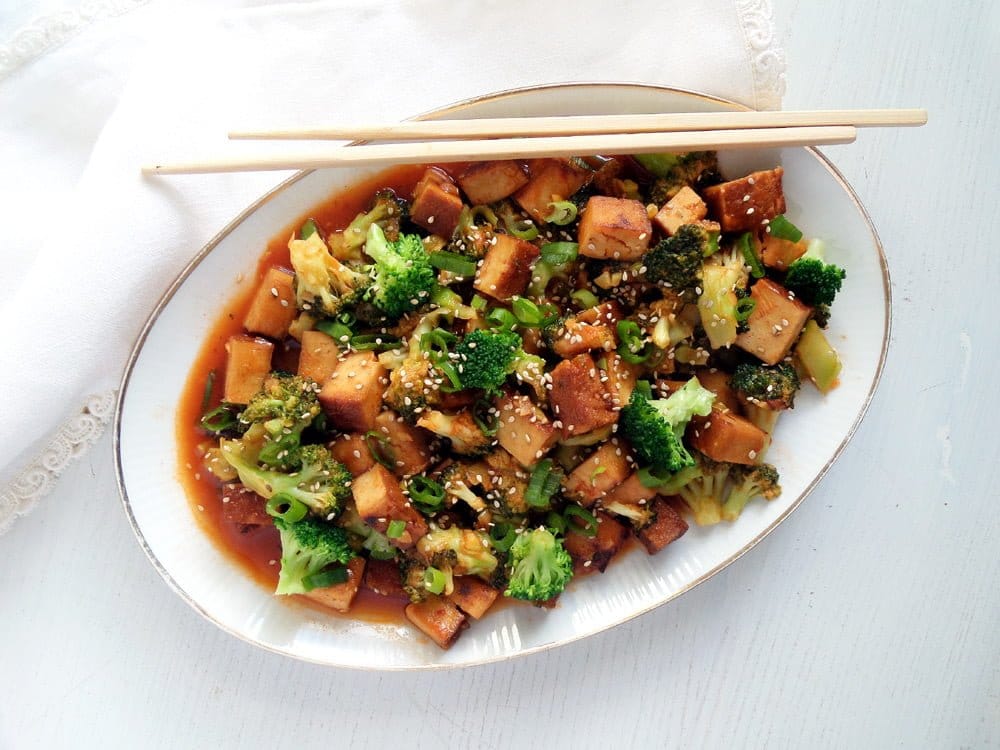 This recipe was the result of a search after tofu, I had a package which needed to be used in the next couple of days. I found it here – General Tso's Tofu – Appetite for China – and was glad to, I had everything I needed at home and the meal was absolutely delicious. The list of ingredients might seem long, but they are mostly things that people who enjoy cooking Chinese food from time to time already have at home. In case you have to buy something new, be reassured, all of these things have quite a long shelf life, so you will be able to use them up before they go bad.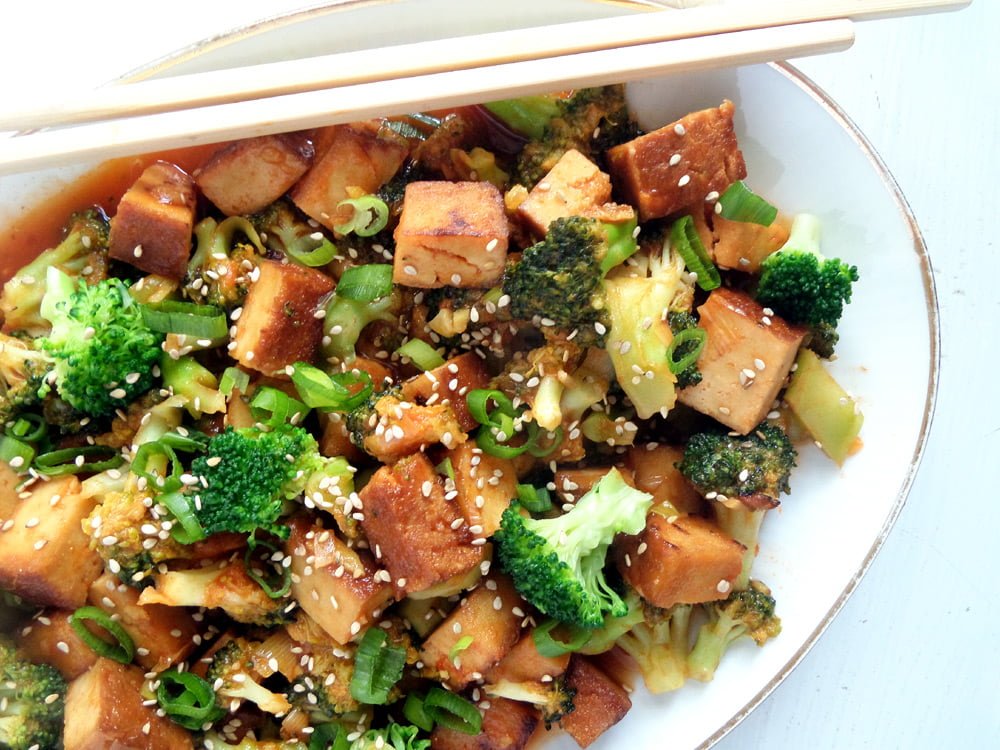 Rating 5.0 from 4 reviews
Prep time:
Cook time:
Total time:
Ingredients
450 g/ 1 pound extra-firm tofu
2 cups broccoli florets
2 tablespoons tomato paste
1 tablespoon ketchup
2 tablespoons light soy sauce
2 tablespoons rice vinegar
2 teaspoons hoisin sauce
2 teaspoons chili sauce
2 teaspoons sesame oil
2 tablespoons sugar
3 tablespoons peanut oil, divided
dried chilies or dried chili flakes, to taste
2 garlic cloves
1 small piece of ginger
2 scallions
1 teaspoon sesame seeds
salt
rice to serve
Instructions
Rinse and dry the tofu. Put the tofu blocks between two layers of kitchen paper and press down with the hand to absorb as much liquid as possible. Repeat the procedure a couple of times with fresh kitchen paper. Cut the tofu in 2.5 cm/ 1 inch cubes and set aside.
Bring a pot of water to a boil and blanch the broccoli florets for 2 minutes. Drain in a colander and rinse with cold water. Let drain very well.
To make the sauce whisk together the tomato paste, ketchup, soy sauce, rice vinegar, hoisin sauce, chili sauce, sesame oil and sugar.
Heat 2 tablespoons of the peanut oil in a wok or a large, deeper pan. Add the tofu and cook for about 5 minutes, stirring until golden brown all over. Transfer to a plate.
Finely mince the dried chilies, the garlic cloves and the ginger. Slice the scallions into thin rings, keeping the white and the green parts separated.
Heat the remaining tablespoon of peanut oil. Give the chilies, garlic, ginger and the white scallion parts to the wok and stir fry for half a minute. Add the sauce and stir until thickened, about 1 minute. Add the tofu and stir to coat. Add some salt to taste.
Dry the broccoli very well using kitchen paper again. This step is not entirely necessary but it is better to do it if you intend to give the broccoli to the wok as well. Too much water would thin down the sauce. Otherwise you can serve the broccoli on the side.
Sprinkle the dish with the sesame seeds and the scallion greens and serve with rice.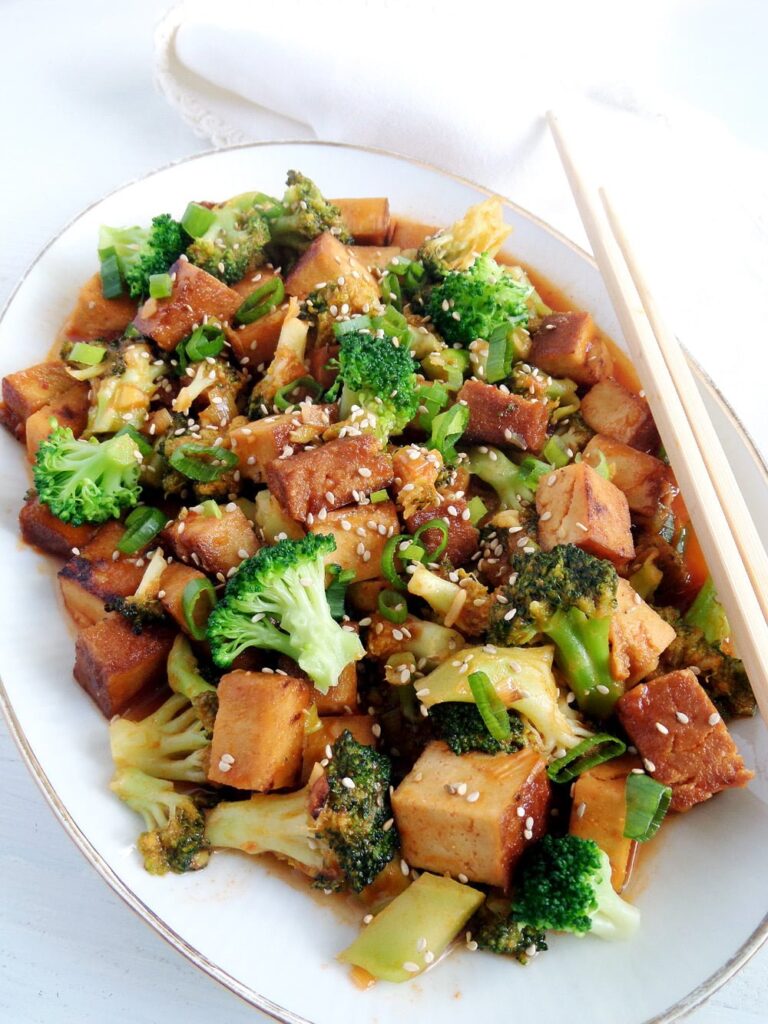 Rate this recipe!
Click on a star to rate it!
Average rating / 5. Vote count:
We are sorry that this post was not useful for you!
Let us improve this post!
Thanks for your feedback!