Spicy mushroom noodle soup with egg noodles, garlic, and ginger. Quick, healthy, and delicious Asian-style soup.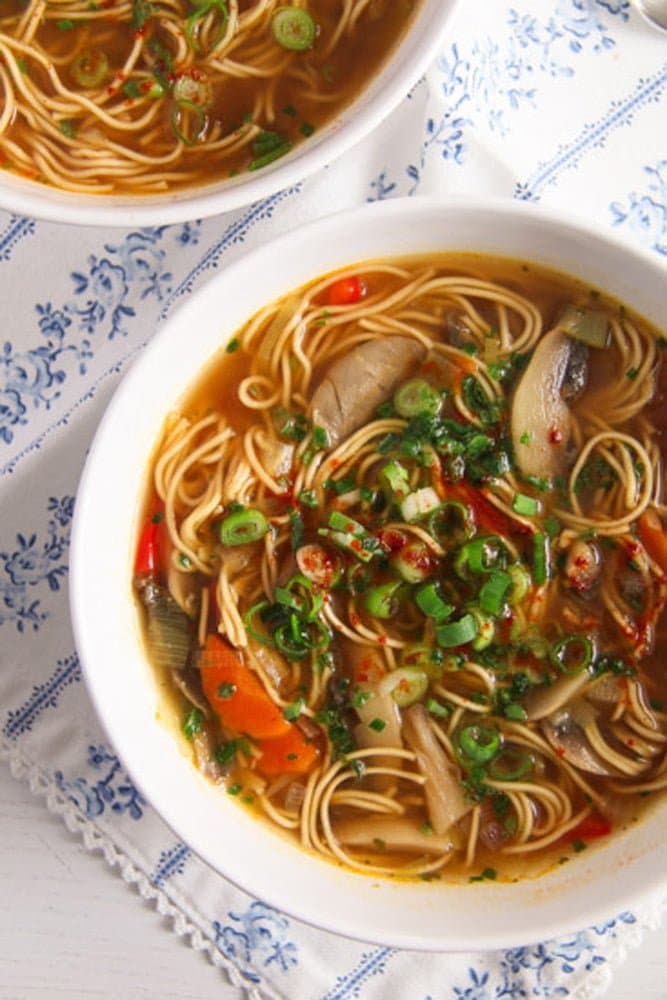 Today's mushroom noodle soup is a very easy to make, delicious, and totally satisfying little dish with a Chinese touch. It is not an original Chinese recipe, it is something I came up with, but I used some ingredients that could justify calling this soup Chinese.
So, in case you are in the mood for a spicy, healthy, and filling soup, do give this noodle soup with mushrooms and herbs a try.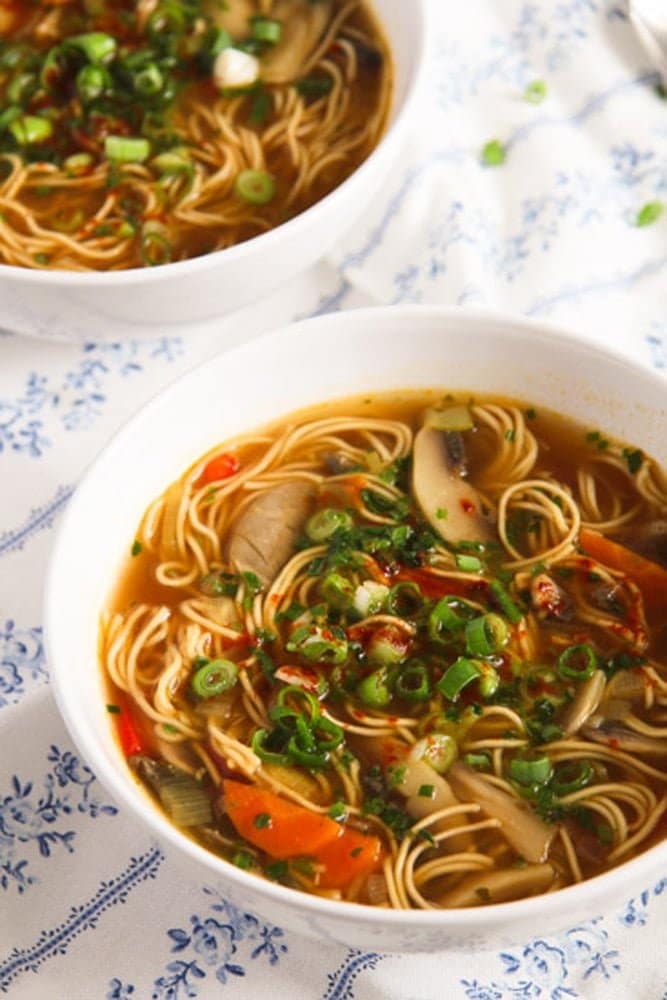 Ingredients
Vegetables:
Mushrooms, onions, carrot, leek, peppers, scallions.
Some herbs like chives and parsley.
You can add or use other vegetables, like green beans, peas, snow peas.
Spices:
Garlic-ginger paste, sambal oelek, hoisin sauce, fish sauce.
You can replace the garlic-ginger paste with each 1 teaspoon grated garlic and ginger.
Noodles:
Asian-style egg noodles to keep it exotic.
But if you don't have them, any kind of noodles would be fine.
How to make?
This is super simple recipe!
Chop the onion and set aside.
Chop the vegetables, but keep the mushrooms separated from the rest.
Heat the oil in a pot. Cook the onions until translucent.
Add the veggies, except the mushrooms, and cook for about 3 minutes, stirring a few times.
Add the mushrooms, ginger-garlic paste, sambal oelek, and vegetable broth. Stir well.
Simmer for about 7 minutes.
Add all the sauces and the noodles. Cook the noodles as required by the packet's instructions, mine needed 4 minutes.
Scatter the chopped scallions and herbs on top and serve immediately.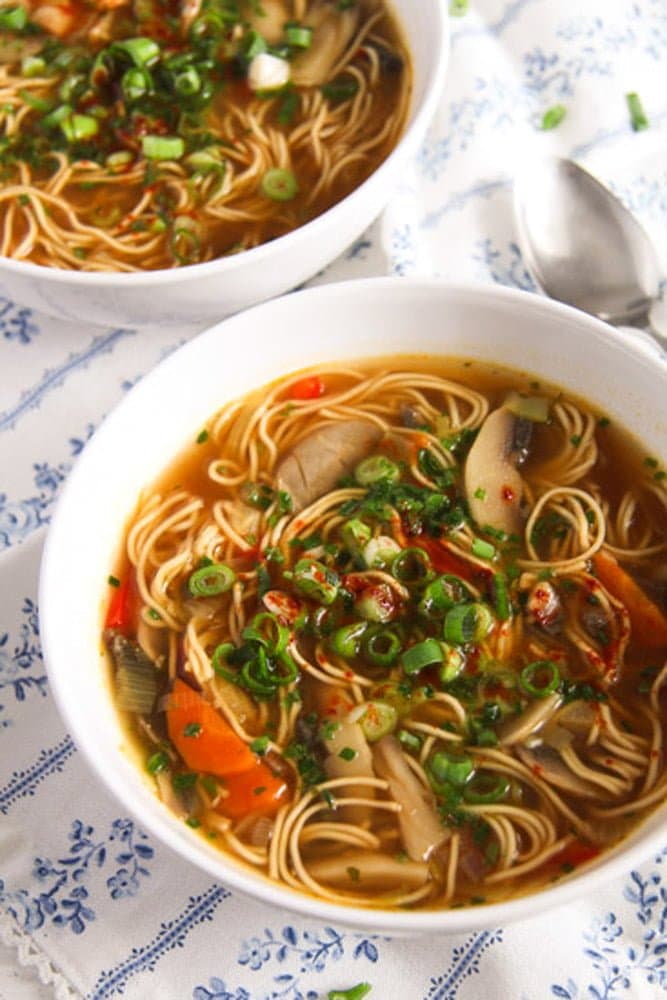 Can you reheat it?
Of course, but the noodles might absorb much of the liquid if the dish is not served immediately. The mushroom noodle soup will still taste good though, so don't discard the leftovers.
Other easy soups:
Mushroom Soup with Cream Cheese
Turkey Meatball and Vegetable Soup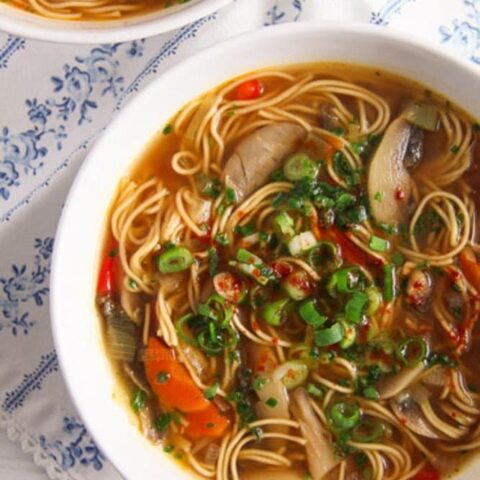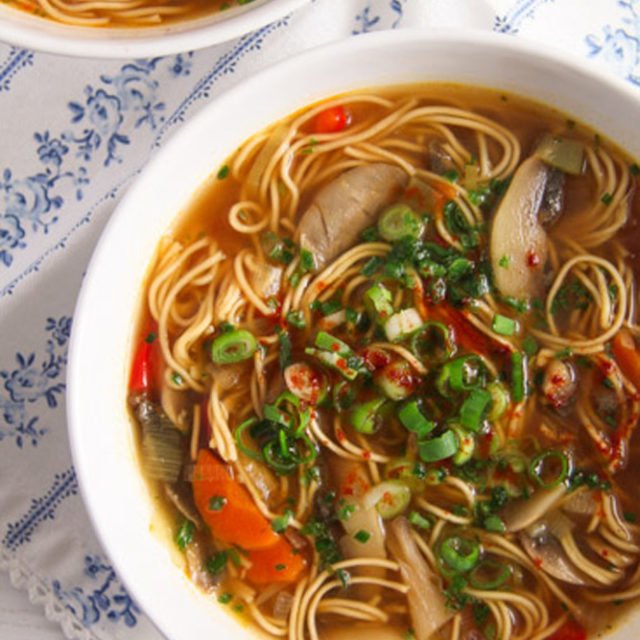 Mushroom Noodle Soup
Spicy mushroom noodle soup with egg noodles, garlic, and ginger. Quick, healthy, and delicious Asian-style soup.
Ingredients
1 red onion
1 carrot
1 small leek
1 small red bell pepper
1 tablespoon oil
250 g/ 8.8 oz mushrooms
2 teaspoons garlic-ginger paste
1,5 l/ 6 ½ cups vegetable broth
½ – 1 teaspoon sambal oelek, to taste
1 tablespoon hoisin sauce
2 tablespoons fish sauce
1 tablespoon soy sauce
100 g/ 3.5 oz egg noodles
1 or 2 thin scallions
2 tablespoons chopped chives
2 tablespoons chopped parsley
Instructions
Chop the onion finely and set aside.
Slice the carrot, cut the leek into thin rings and the red bell pepper into small strips.
Heat the oil in a soup pot and fry the onion until translucent. Add the chopped vegetables and cook, stirring for about 3 minutes.
In the meantime slice the mushrooms.
Add the garlic-ginger paste to the soup, stir well, then add the vegetable broth, sliced mushrooms, and sambal oelek. Simmer for about 7 minutes.
Add the hoisin, fish, and soy sauce, and noodles to the pot. Cook the noodles in the soup according to the packet's instructions or until done to your liking. In my case, the noodles had to be cooked for 4 minutes.
Slice the scallions thinly and add them to the soup together with the chopped chives and parsley. Serve immediately.
Nutrition Information:
Yield:

4
Serving Size:

1/4 of the soup
Amount Per Serving:
Calories:

168
Total Fat:

6g
Saturated Fat:

1g
Trans Fat:

0g
Unsaturated Fat:

4g
Cholesterol:

0mg
Sodium:

2073mg
Carbohydrates:

26g
Fiber:

4g
Sugar:

9g
Protein:

6g
Nutritional information is not always accurate.