Last Updated on
A delicious recipe for egg noodle soup with mushrooms, hoisin sauce and sambal oelek.
Happy New Year!
A new year is starting today and I don't know about you, but any new year's beginning makes me giddy somehow. So many possibilities, so many things that can happen, hopefully mostly good things, the year ahead is like a huge blank canvas that awaits to be painted with new things, new experiences, life…
It is exciting, yet a bit scary in the same time. I am happy for what lies ahead, but I am a bit afraid as well, because I realize that bad things can happen too. But that is life, I suppose, and we just have to hope for the best and try not to worry about the problems that are not there yet. Time enough to worry about them when they are there…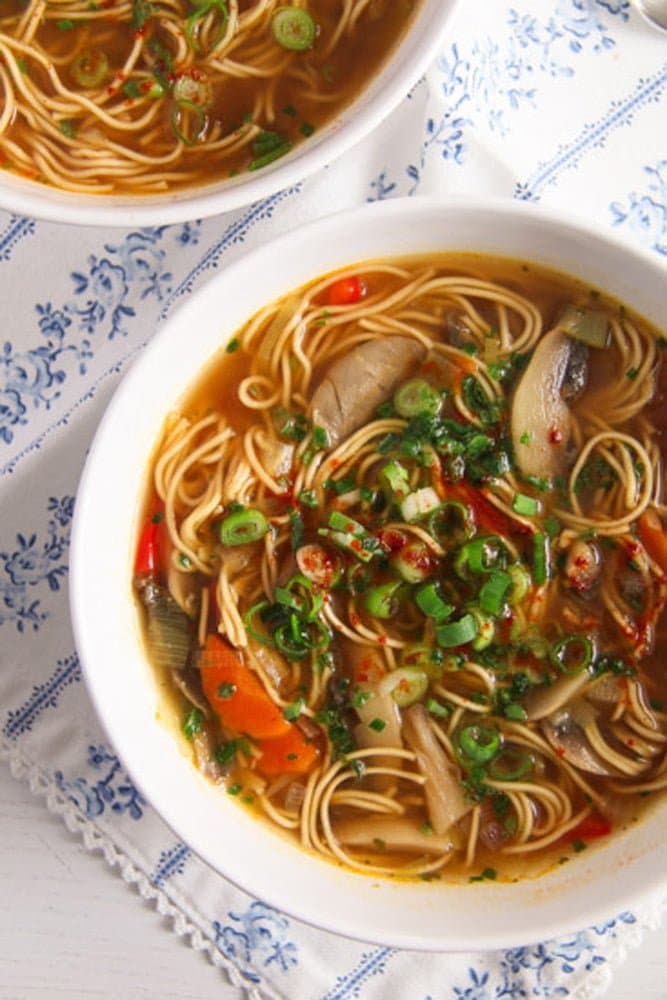 I am starting the year with a Soup Series on Where Is My Spoon. Many people make New Year's resolutions and many of those resolutions have to do with eating healthier, maybe loosing some weight, getting fitter and so on. I am not much into making resolutions myself, because I realized long ago that I am not disciplined enough to keep them on the long run, so I just take things as they are and know for sure that what food and fitness are concerned, this year will be same as the years before.
I will have times when I will be more into it, makes lots of sport and pay attention to what I eat and there will be times, especially during the holidays and birthdays and so on, when I will not pay any attention at all. So a roller coaster of healthy soups and salads, spiked with decadent cakes and pork roast… 🙂
But no matter how much I enjoy a cake full of whipped cream, I dearly love soups as well. We eat soup at least twice a week, very often this Romanian Chicken Soup with Semolina Dumplings, but lots and lots of other soups as well. We all love soups in our family and if I make any, any kind actually, I am sure that everybody will be happy.
Today's soup – the Quick and Spicy Mushroom Noodle Soup – is a very easy to make, delicious and totally satisfying little soup with a Chinese touch. It is not an original Chinese recipe, it is something I came up with, but I used some ingredients that could justify calling this soup Chinese. So, in case you are in the mood for a spicy, healthy and filling soup, do give this Quick and Spicy Mushroom Noodle Soup a try.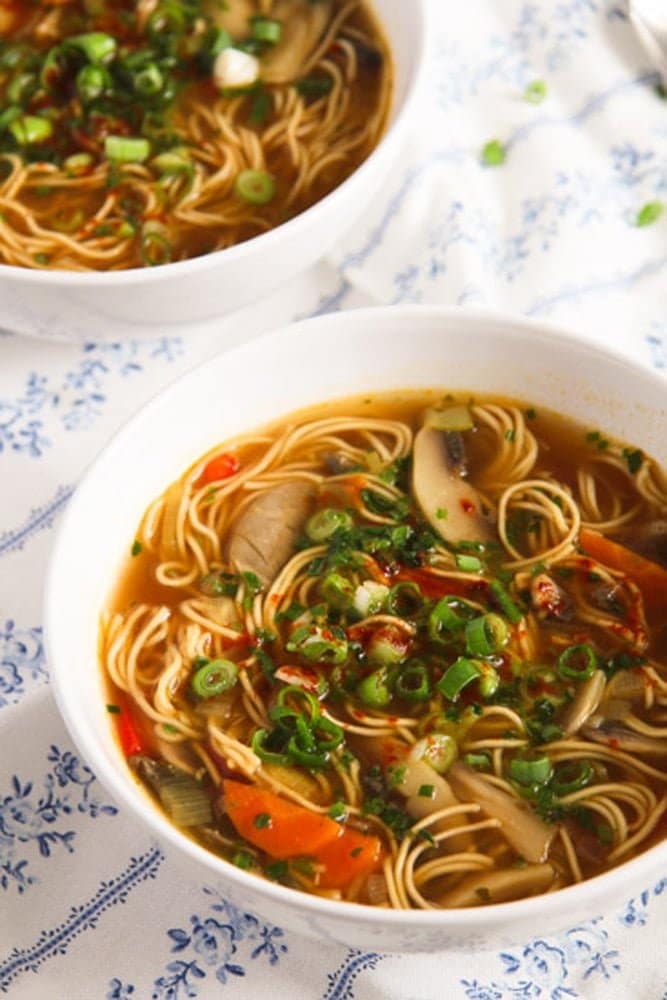 Other easy soups: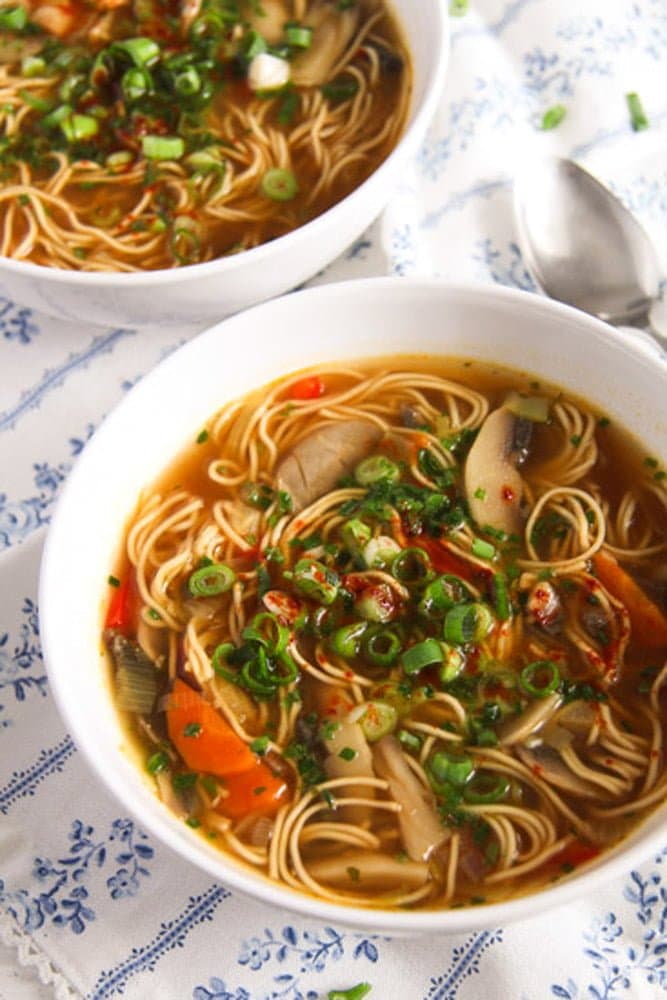 Ingredients
1 red onion

1 carrot

1 small leek

1 small red bell pepper

1 tablespoon oil

250 g/ 8.8 oz mushrooms

2 teaspoons garlic-ginger paste

1,5 l/ 6 ½ cups vegetable broth

½ – 1 teaspoon sambal oelek, to taste

3 teaspoons hoisin sauce

2 tablespoons fish sauce

1 tablespoon soy sauce

100 g/ 3.5 oz egg noodles

1 or 2 thin scallions
Instructions
Chop the onion finely. Slice the carrot, cut the leek into thin rings and the red bell pepper into small stripes.
Heat the oil in a soup pot and fry the onion until translucent. Add the chopped vegetables and cook, stirring for about 3 minutes.
In the meantime slice the mushrooms.
Add the garlic-ginger paste to the soup, stir well, then add the vegetable broth, sliced mushrooms and sambal oelek. Simmer for about 7 minutes.
Give the hoisin sauce, fish sauce, soy sauce and noodles to the pot. Cook the noodles in the soup according to the packet's instructions or until done to your liking. In my case, the noodles had to be cooked for 4 minutes.
Slice the scallions thinly and give them to the soup. Serve immediately.
This post contains affiliate links. The price you pay as a consumer does not change, but if you make a purchase we will receive a commission which helps support the blog.