Last Updated on
A delightful, light and healthy soup with lots of vegetables, chickpeas and noodles.
Soups are my most cooked dishes. We have soup at least twice a week, but probably often, sometimes even 3 or 4 times a week.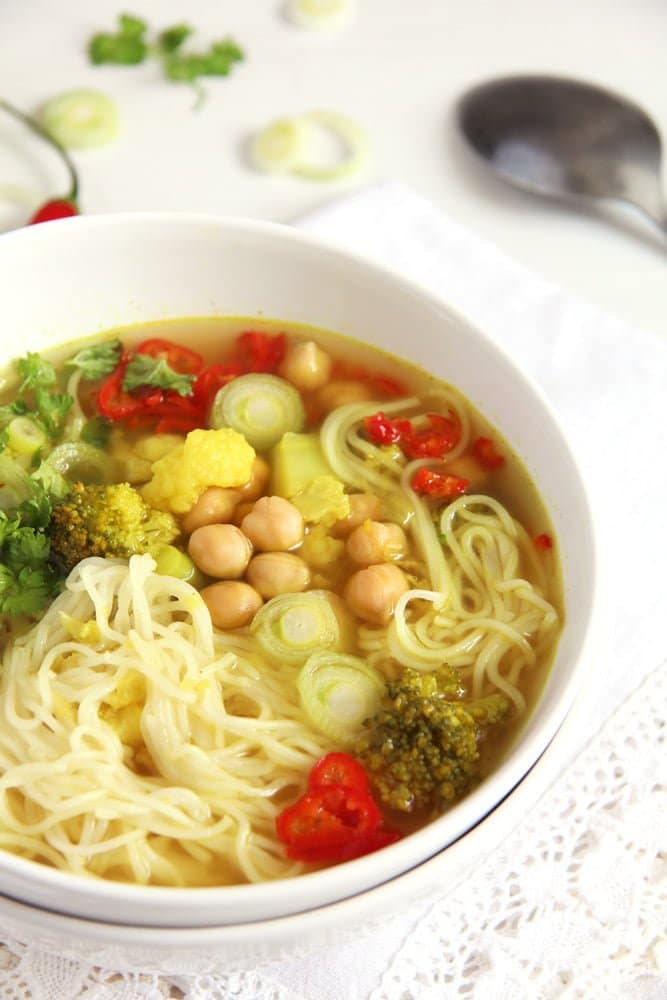 So when it comes to soup, I have to get creative. We have our beloved Romanian Chicken Stock and Semolina Dumplings Soup more often than you could probably imagine, but it would still get boring if it would only be that soup all the time (although keep in mind that the Romanian Chicken and Dumpling Soup is the best soup in the world 🙂 🙂 ).
Vegetable soups are my second most cooked soup variety. The principle is simple: take whatever veggies you happen to find in your fridge and cook them in a good broth. A good broth is the key to making a good soup, if you ask me. No matter what fancy ingredients you put in your soup, if the broth is cheap and tasteless nothing will help.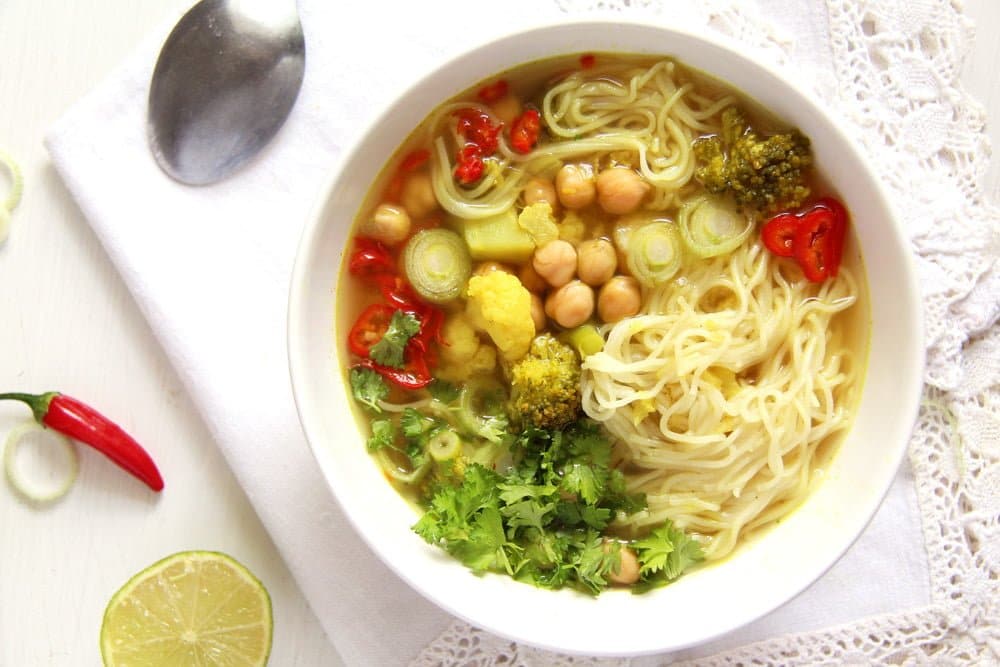 So do make sure that you either always make your own broth (homemade is always the best) or buy the best organic broth you can afford. You might have to try a few different brands before you get there, but it is all worth it. And if you would like to make your own broth, which I strongly recommend, you could try this delicious Roasted Vegetable Broth as well.
My inspiration for this Turmeric Paste Soup with Noodles and Vegetables came from other soups I've made over the years, Indian or Thai soups using different curry pastes. When using my homemade Turmeric Paste for Golden Milk for cooking, I tend to use it the way I would use a curry paste. Why not? It is some kind of curry paste after all.
The result was this delicious, spicy, super healthy, vegan soup, which I really hope you will try.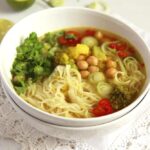 Ingredients
For the turmeric vegetable broth:

1,5 l/ 6 1/3 cups water

3 garlic cloves

1 thin leek

2 carrots

3-4 celery stalks

4 cloves

5 bay leaves

10 peppercorns

1 tablespoon coconut oil

salt to taste

For the noodle soup:

1 tablespoon coconut oil

1 onion

2 garlic cloves

1 tablespoon freshly grated ginger

1 organic lime

½ teaspoon cumin

½ teaspoon coriander

2 heaped teaspoon turmeric paste for golden milk

½ teaspoon brown mustard seeds

the strained vegetable broth

200 g/ 7 oz cauliflower florets

200 g/ 7 oz broccoli florets

200 g/ 7 oz cooked chickpeas

1 teaspoon maple or agave syrup or honey, if not vegan

200 g/ 7 oz somen noodles or other noodles of choice

chili

scallions

parsley

salt and freshly ground black pepper
Instructions
Start with the vegetable broth. Give the water, roughly chopped vegetables and the spices used for the broth to a large pot and bring to a boil. Turn the heat down and simmer gently for 30 minutes. Strain and reserve the broth and the carrots.
To make the soup start by chopping the onion and the garlic. Grate the ginger and the lime zest. Juice the lime. Set aside.
Melt the coconut oil in a soup pot. Cook the onion until translucent. Add the garlic, ginger and lime zest and stir for 1 or 2 minutes. Add the cumin, coriander, mustard seeds and turmeric paste and stir continuously for 1 or 2 minutes.
Add the vegetable broth and 2 teaspoons of the lime juice. Bring to a boil.
Add the cauliflower florets, bring to a boil again and cook for 5 minutes. Add the broccoli and cooked chickpeas, bring to a boil again and cook for another 3 minutes or until the cauliflower and broccoli are cooked to your liking. Give the reserved cooked and sliced carrots to the soup.
Add salt and pepper to taste and adjust the taste with maple syrup/ agave syrup/ honey and more lime juice.
Separately cook the noodles. Drain well and give them to the soup just before serving. Top the soup with finely sliced red chili, scallions and chopped parsley. Ground some more black pepper on top.
This post contains affiliate links. The price you pay as a consumer does not change, but if you make a purchase we will receive a commission which helps support the blog.