Last Updated on 18/03/2020 by Adina
A super healthy, vegan, hot and delicious soup with broccoli, chickpeas and sweet potatoes.
This is an updated post from October 2014, it was one of my first posts. I have updated the pictures, but the text remains the same.
This Broccoli Chickpea Soup with Sweet Potatoes and Turmeric is a really cold day soup. It will warm you up from inside out, you'll get red cheeks while eating it and if you overdo it with the chili and hot sauce (like I did) you will probably get a runny nose as well. But the soup is gooood, so good that you will probably have no problems eating it 3 days in a row (like I did). I really did exaggerate with the chilies so the children couldn't eat it at all, that's why there was so much of it. I only used 1 scant teaspoon chili flakes but they are really really hot.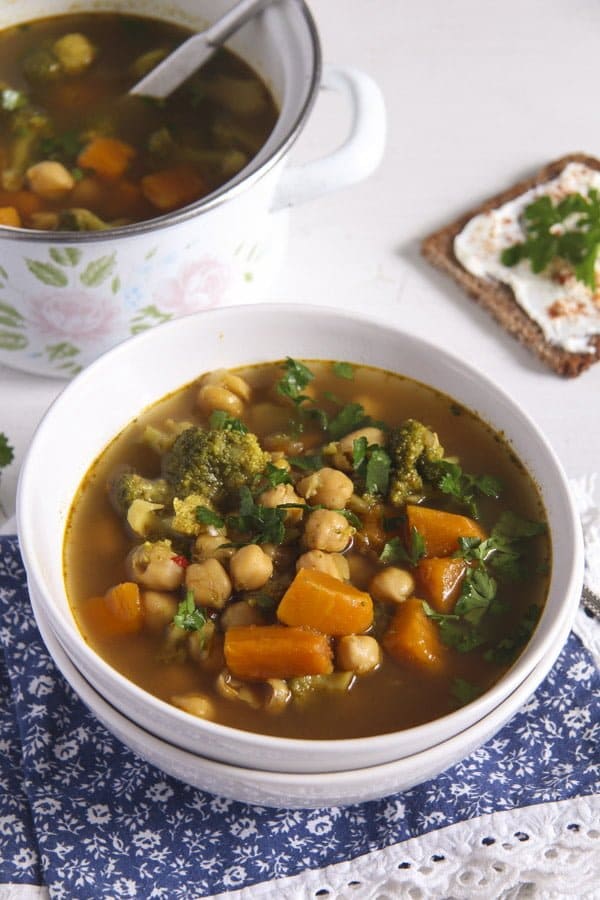 I make the flakes myself from pepperonis that my aunt sends in autumn from Romania. She did it twice already, these that I have now are from last autumn. I get about 2-3 kilograms of them, I use about the half to make a really really hot chili paste that you can use to pep up sauces or just eat on bread with some cheese on top. The other half I hang around the kitchen and let dry, then I grind in the food processor (not too fine). I don't get too much out of it, just one not very big jar, but this quantity lasts for about a year. It's so hot you really cannot use too much of it at once.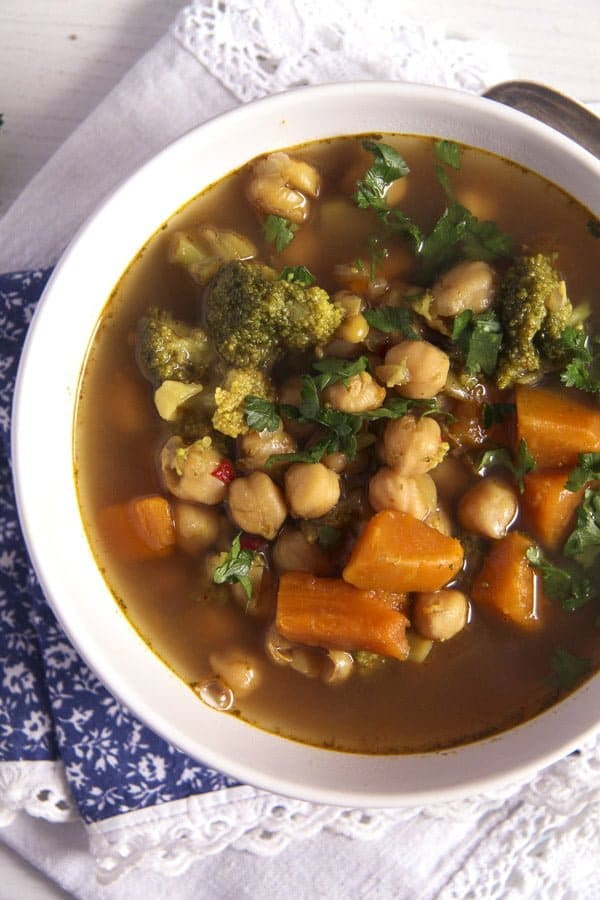 And here are some more ideas for some really warming soups: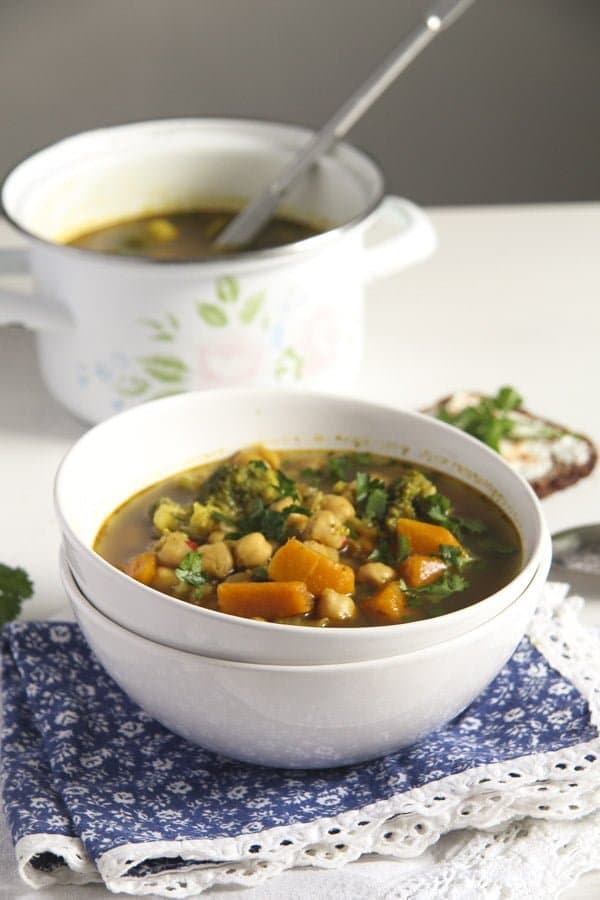 Ingredients
1 tablespoon olive oil

1 big onion

2 garlic cloves

½ teaspoon cumin

½ teaspoon coriander

½ turmeric

½ -1 teaspoon chili flakes

1 sweet potato

1,5 liter vegetable broth

½ head broccoli

2 cans chickpeas

3-4 tablespoons soy sauce

1 teaspoon vinegar

1 tablespoon sriracha or 1 teaspoon sambal oelek and 1/2 teaspoon sugar

salt

pepper
Instructions
Chop the onions and the garlic cloves finely. Cut the sweet potato and the broccoli stalk into cubes. Divide the rest of the broccoli into small florets. Drain and wash the chickpeas.
Heat the oil in a big soup pan. Cook the onions until golden, add the garlic and the spices and let cook for another minute or so until fragrant. Add the sweet potato and the broccoli stalk and stir to coat with the spices. Let fry for about 1-2 minutes taking care not too burn the garlic and the spices.
Add the vegetable broth and bring everything to a boil. Let cook for about 5 minutes than add the broccoli florets and the chickpeas. Let cook until the sweet potato is soft (it won't take too long).
Add the soy sauce, vinegar, sriracha, stir well and adjust the taste with salt and pepper.
This post contains affiliate links. The price you pay as a consumer does not change, but if you make a purchase we will receive a commission which helps support the blog.