How about some crispy sweet and sour chicken thighs? Add some roasted potatoes and salsa and you will have an incredibly delicious meal that will impress just anyone.

Crispy Sweet and Sour Chicken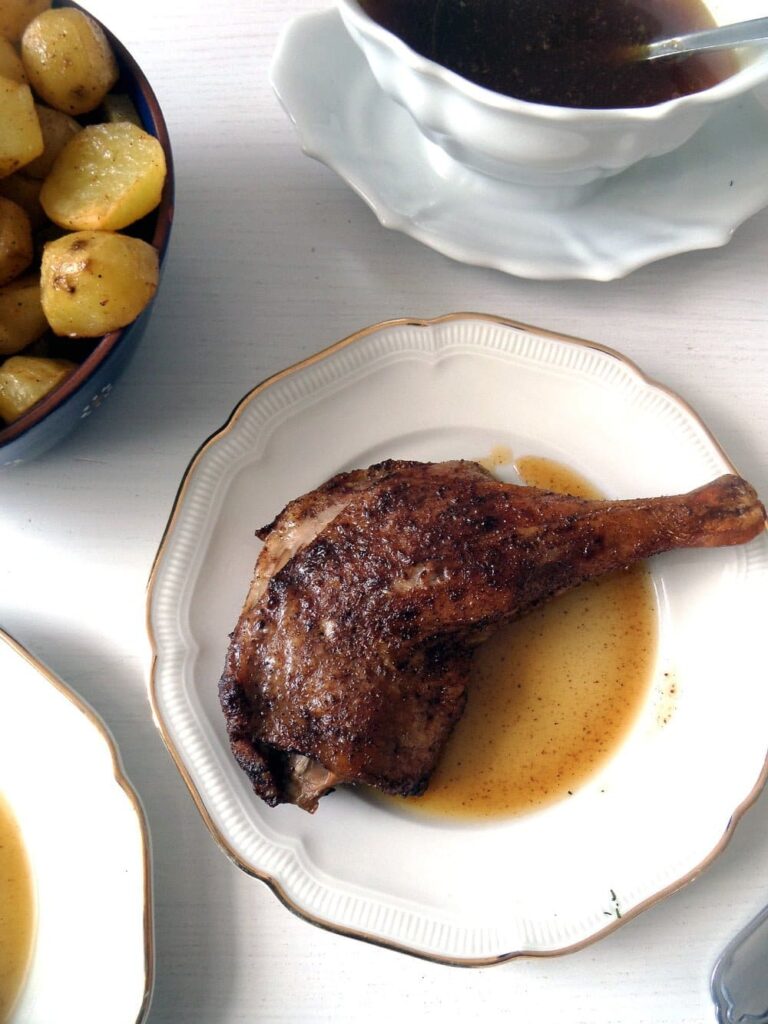 Incredibly crispy sweet and sour chicken thighs with tender, flavorful meat and spicy skin, served in a deliciously aromatic sauce.
We love chicken in our family, the children particularly love chicken legs, that is why I am always looking for new ways to cook, or better-said bake chicken. Either a whole roasted chicken, baked chicken drumsticks, cast iron chicken breast or chicken in sauce like this coq au riesling, we eat chicken at least once a week.
I am not very fond of cooking something repeatedly (with exceptions, of course), I think it is quite boring to eat the same 20 dishes over and over again like my grandmother used to do.
She really was a good cook, she always cooked fresh and using the best ingredients she could afford, but she was afraid of food, I used to think. She would never ever, under no circumstance, try anything new, when we visited somebody together she never ever ate anything she didn't know and when she did eat anything known but cooked by somebody else, she never liked it.
Ingredients
Chicken:
The inspiration was a recipe from Gordon Ramsay's book "Secrets" (Amazon affiliate link). He cooked duck legs this way but I preferred the chicken.
I've made this sweet and sour chicken quite a few times and I used those chicken parts I just happened to have, either whole chicken legs or chicken quarters, chicken thighs, chicken drumsticks or a mixture of already separated chicken thighs and chicken drumsticks.
We even had chicken breast with this sweet and sour sauce a couple of times, really delicious, but I have to admit that I prefer the leg or thigh version, I just love that crispy, spicy skin.
Sherry vinegar:
Sherry vinegar is wine vinegar, which has a milder flavor than a regular red or white wine vinegar.
As this particular vinegar is not always available, you can substitute it with rice vinegar, which comes the closest in flavor and acidity.
You might also use red or white wine vinegar, but as they are slightly stronger, you might want to use a mild sort or add a little more sugar to the sauce, definitely to taste. Don't just add more sugar, taste the sauce and decide if it is really needed.
Other ingredients:
To make the marinade for the chicken quarters, you will need ground coriander, ginger and cumin (Amazon affiliate links).
For the sweet and sour sauce, you will need granulated sugar, runny honey, lemons, oranges, the above-mentioned vinegar, and a little butter.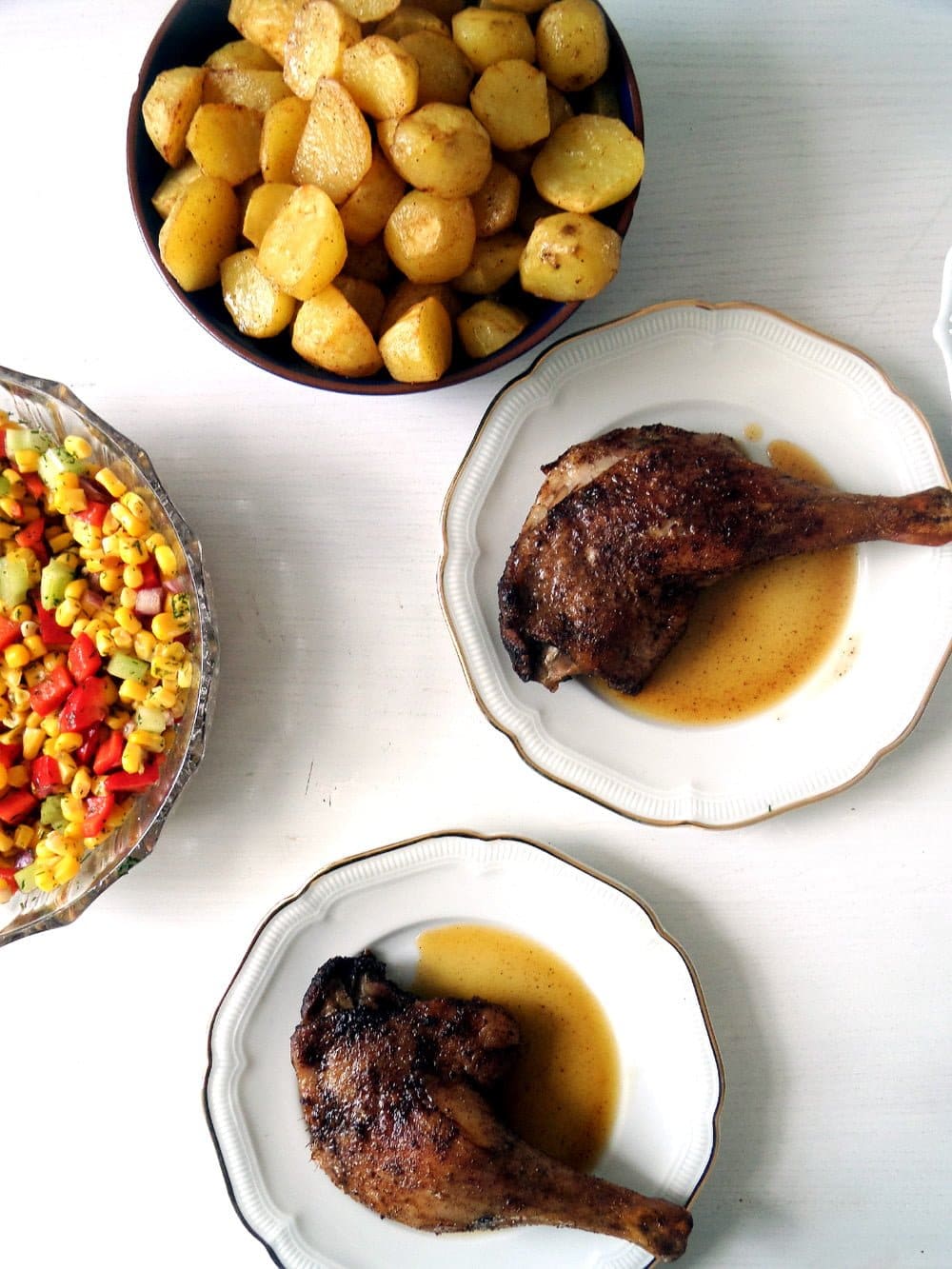 How to roast the chicken thighs?
Very carefully pierce the skin of the chicken, so that the rub can flavor the meat as well.
Mix the ground coriander, cumin, and ginger and rub the chicken thighs, quarters or drumsticks very well with the mixture.
Place in a dish and refrigerate for about 1 1/2 hours.
Remove from the fridge and let sit on the counter for 1/2 hour more to reach room temperature.
In the meantime, preheat the oven.
Bake the chicken for about 30 -35 minutes, turning twice in between, starting and ending skin side up.
Check if the legs are done by inserting a skewer in the thickest part of the legs. The meat juices should run clear if they are still pink allow some more cooking time.
Sweet sour sauce
The sauce for the chicken will be made separately.
Once the chicken is done, remove it from the baking tin and keep it warm while you make the sauce.
Place the roasting tin on the hob and add the sugar and the honey.
Let caramelize gently, and don't let it get too dark or it will turn bitter.
Slowly start adding the vinegar and let bubble until reduced by half.
In the meantime, juice the lemons and the oranges. Add the juice to the pan and reduce by half again.
Strain the sauce into a bowl to remove the citrus pulp and to get a really nice smooth sauce.
Beat in the cold butter and adjust the taste with salt and pepper.
Serve:
Serve the sweet and sour chicken thighs immediately.
I love this dish with roasted potatoes and a green salad.
Other very suitable side dishes would be rice, corn salsa or sauteed Asian greens (like bok choi or similar).
To make the roasted potatoes you can see in the pictures:
Clean and cut the potatoes into bite-sized pieces (you can leave the skin on if you wish, just make sure you clean the potatoes very well).
Place in a large bowl, add 1-2 tablespoons olive oil, some sweet paprika powder, salt, and pepper and rub very well.
Place on a baking tray laid with baking paper and roast at 200 degrees Celsius/ 400 degrees Fahrenheit for about 30 minutes or until tender.
Last updated: March 18, 2020.
More chicken legs recipes?
Roasted Chicken Leg Quarters – How to bake chicken leg quarters in the oven. Tender and crispy roasted chicken leg quarters, a budget-friendly and delicious family meal.
Chicken Legs in Honey Mustard Sauce – Tender chicken in an aromatic sweet sauce.
Sticky Chicken Legs with Mango Chutney – Incredibly delicious sweet and sticky chicken legs glazed with mango chutney and roasted with potatoes and green onions.
Peri Peri Chicken – Spicy piri piri chicken, peri peri chicken or homemade Nando's chicken, Portuguese chicken baked in the oven, soft tender meat and crispy spicy skin.
Mexican Salsa Verde Chicken – A simple Mexican recipe for salsa verde chicken or Pollo en salsa verde, only 3 ingredients but so much flavor.
Pin it for later!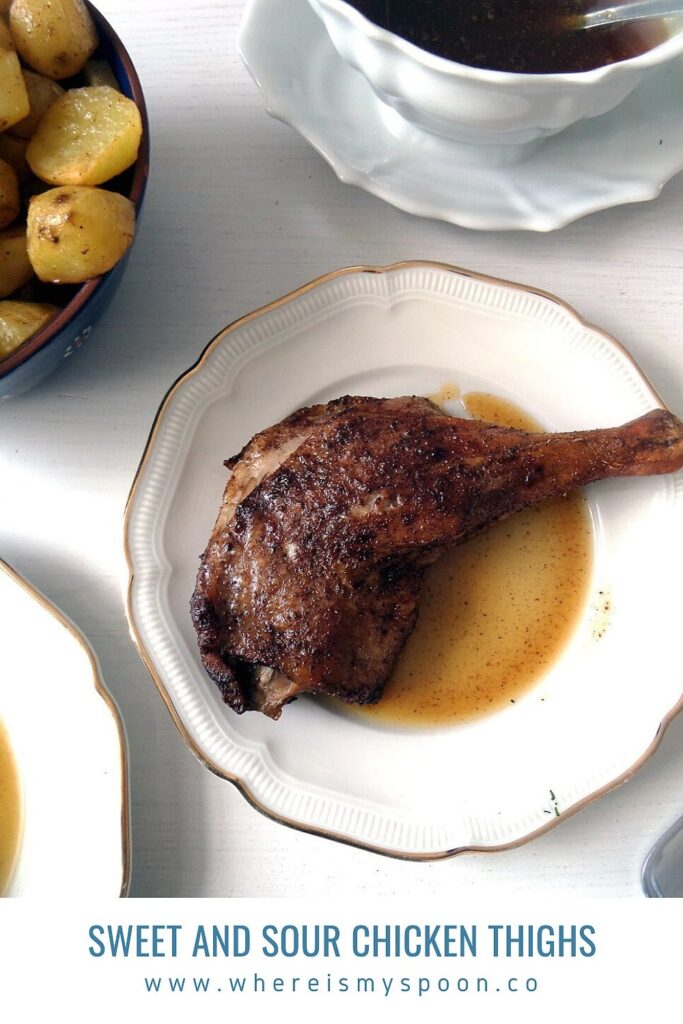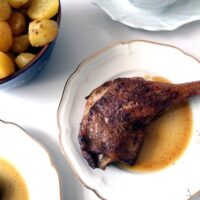 Sweet and Sour Chicken Thighs
How about some crispy sweet and sour chicken thighs? Serve with roasted potatoes and salsa, a delicious family dinner.
Print
Pin
Share
Grow
Saved!
Rate
Ingredients
Rub:

4

whole chicken legs

See note

1

teaspoon

ground coriander

1

teaspoon

ground ginger

½

teaspoon

cumin

Sauce:

6

teaspoons

granulated sugar

2

tablespoons

clear honey

2/3

cup

sherry vinegar

juice of 2 oranges

juice of 2 lemons

1

heaped teaspoon butter

1/4

teaspoon

fine sea salt

or Kosher, to taste

1

pinch

black pepper
Instructions
Marinate chicken: Stab the skin of the chicken legs a few times with a wooden skewer. Mix the ground coriander, ginger and cumin, and rub the thighs with this mixture. Place them in a large dish and leave to marinate for 2 hours.

Preheat the oven to 180 degrees Celsius/ 350 degrees Fahrenheit.

Roast: Place the chicken, skin-side up, in a roasting pan, and roast for about 30-35 minutes. Turn twice in between; during the last third of the baking time, the skin side should be up as well. Check if the legs are done by inserting a skewer in the thickest part of the legs. The meat juices should run clear. If they are still pink, allow some more cooking time.

Transfer the cooked chicken legs onto a plate and keep warm while making the sauce.

Make sauce: Sprinkle the sugar into the meat juices in the tin. Add the honey and cook, stirring, until caramelized. Add the vinegar and let bubble until reduced by half. Add the orange and lemon juice as well and reduce it by half again. Strain the sauce into a bowl and beat in the butter. Adjust the taste with salt and pepper.
Notes
Thighs, drumsticks can be used instead.
Nutrition
Serving:
1
chicken leg
|
Calories:
605
kcal
|
Carbohydrates:
28
g
|
Protein:
63
g
|
Fat:
26
g
|
Saturated Fat:
8
g
|
Polyunsaturated Fat:
15
g
|
Cholesterol:
333
mg
|
Sodium:
419
mg
|
Fiber:
3
g
|
Sugar:
22
g