This is the best baked tortellini casserole ever! Delicious tortellini baked in a bell pepper and tomato sauce with lots of cheese and herbs, comfort food or children food at its best.
If you want to make sure that your children will eat their dinner without complaints tonight, this cheesy tortellini bake is the thing for you. Not only they will eat it, you will probably even get lots and lots of compliments and at least this time, it won't be for making pizza. No, you will have the satisfaction of knowing that you fed your kids lots and lots of veggies and they didn't even complain once. 🙂
And another delicious tortellini bake your children will love is this Easy Baked Tortellini with Tomatoes, Mozzarella and Basil.
Baked tortellini casserole with cheese and vegetables
I use to hate the taste and consistency of cooked peppers and tomatoes as a child. I wasn't particularly picky (not compared to my own son not very long ago) but cooked peppers and tomatoes were things invented by the devil in my eyes. I know where that came from.
I was a skinny child, not particularly interested in food (Haaa!!!) during my kindergarten times and something I didn't enjoy eating (like probably lots and lots of other kids) was vegetable soup.
And when the lady in the kindergarten makes you eat that darn vegetable soup by taking a tablespoonful of the cold veggies left on your plate, forcing your mouth open with her fingers and shoving everything inside, making you choke on the way, well, it is hard to like those particular veggies for a long time after that.
I started eating cooked tomatoes again when I was a teenager and only touched cooked peppers again when I was 24, I remember that very well.
I am glad I got over my trauma, I love cooked tomatoes and peppers now, I use them constantly, but I have to admit I was quite surprised that my children never had anything against the two. Somehow I had just assumed that every child hates cooked tomatoes and peppers and was very happy to discover that that is definitely not the case.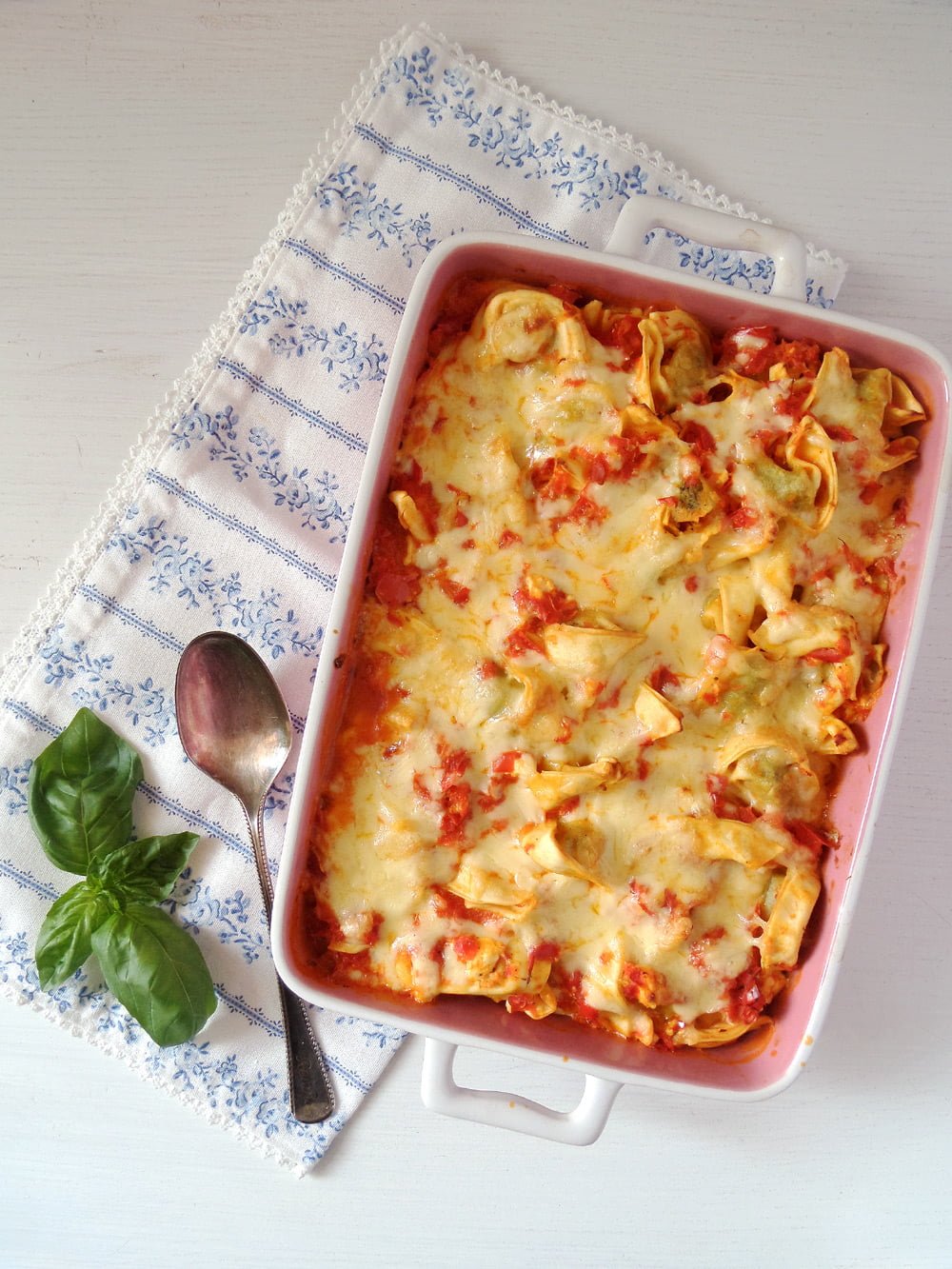 Ingredients for the cheesy and easy tortellini bake
I love the list of ingredients for this baked tortellini casserole. I mean what's not to like: pasta, lots of sweet red bell peppers, tomatoes and CHEESE! Cheese does make anything better, doesn't it?
Tortellini
You can use two types of tortellini to make this easy tortellini casserole, I have made the casserole dish countless times and used both kinds of tortellini.
At the beginning, I used to take the dried tortellini you can find on the dry pasta shelf in the supermarket. They were cheaper and they were actually very good.
However, during the past few years I switched to using fresh tortellini from the fresh pasta shelf in the supermarket. They are even better.
So, use what you like. If you happen to have a bag of dried tortellini in your pantry, do use that, if not, you can buy fresh.
The only things you have to remember is the cooking time that the two sorts of tortellini need and the fact that the quantities you need are different.
250 g/ 8.8 oz dried tortellini need a longer cooking time (check the packet) and will weigh more or less the double once cooked.
If you use fresh tortellini, you will need about 450 g – 500 g/ 1 lb of fresh tortellini, which will only need to cook for a couple of minutes prior to using them to make the cheesy tortellini bake.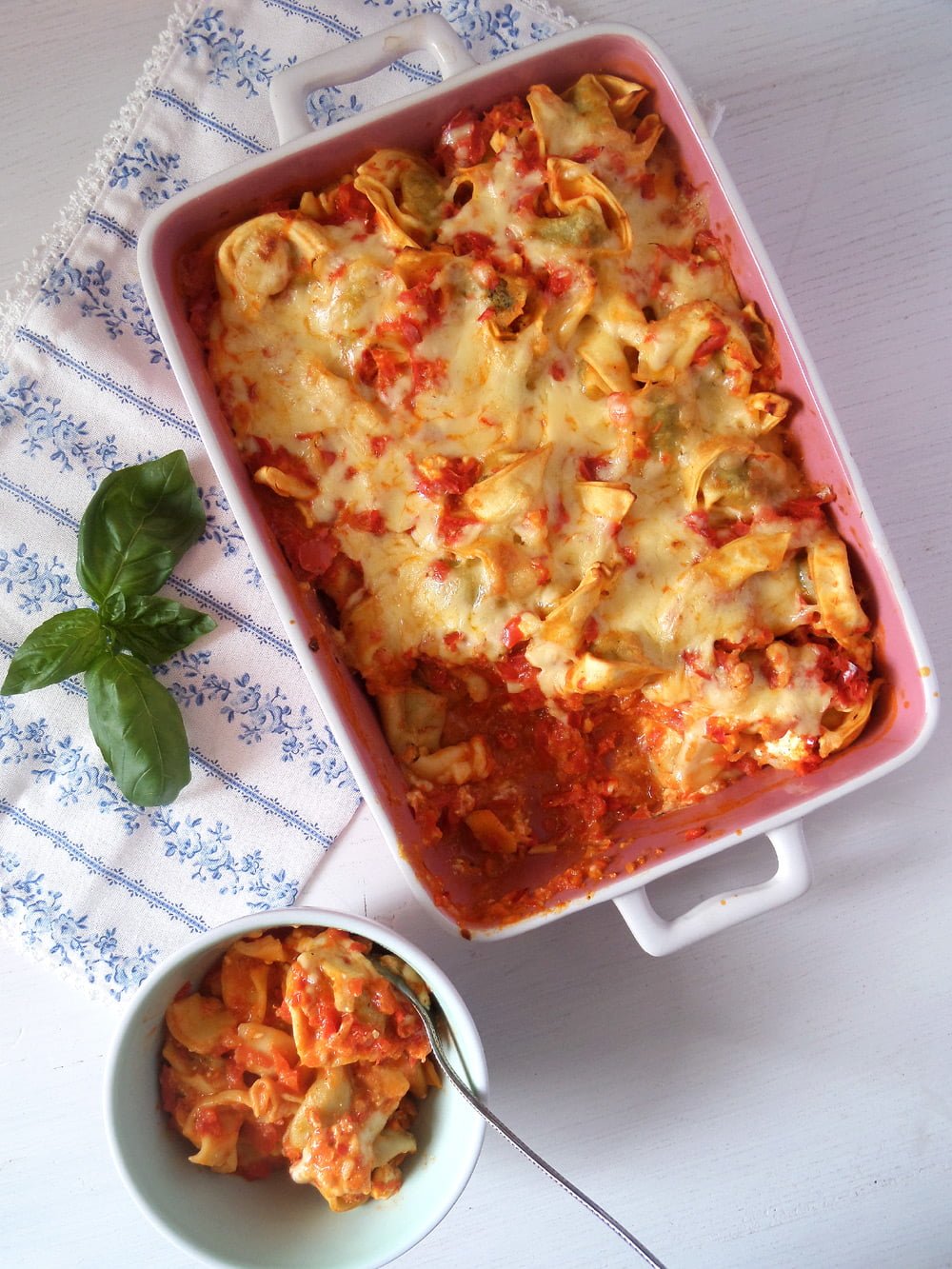 What cheese to use for the tortellini bake
We are using cheese quite liberally in this cheesy tortellini bake, not one, but two types of cheese: feta and Gouda, 125 g or 1 cup of each. This makes this easy tortellini casserole really really cheesy and so good!
I use Gouda because Gouda is probably the most common kind of cheese you can buy in Germany, but feel free to substitute that with a similar cheese available in your area, something like Cheddar for instance. You could even use a stronger kind of cheese, I do like that a lot, but my children prefer Gouda.
Vegetables for the tortellini casserole
Lots of red bell peppers, four of them. They make this baked tortellini casserole incredibly delicious, giving it a sweet and comforting flavor you will love.
Add some tomatoes, if cherry tomatoes or regular ones is really not important, what is important is that they are ripe and sweet and maybe don't have so many seeds. If you use regular, seedier tomatoes, do remove the seeds before chopping the tomatoes.
Otherwise lots of garlic and some dried oregano to enhance the Italian flair of this cheesy tortellini bake. If you top the baked tortellini casserole with some fresh basil just before you serve it, that would make things just perfect!
The easy tortellini casserole with vegetables and cheese is best served immediately. However, you can still reheat the leftovers in the oven and be happy with the result.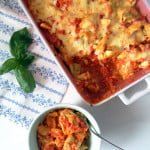 Ingredients
450 g/ 1 lbs fresh tortellini or 250 g/ 8.8 oz dried ones (see note)
1 medium onion
3 garlic cloves
4 red bell peppers
1-2 tablespoons olive oil
1 teaspoon dried oregano
200 g/ 7 oz cherry tomatoes
125 ml/ 4.2 fl.oz/ ½ cup vegetable stock
125 g/ 4.2 oz/ 1 cup crumbled feta
125 g/ 4.2 oz/ 1 cup grated cheese (Gouda, Cheddar)
salt and pepper
basil, optional
Instructions
Preheat the oven to 180 degrees Celsius/ 360 degrees Fahrenheit.
Cook the pasta according to the packet's instructions. Fresh pasta only needs 1 or 2 minutes, dry pasta a lot longer. Drain well and give the pasta back to the pan.
In the meantime chop the onion, the garlic cloves and the bell peppers very finely. Heat the oil in a large pan, add the onion cubes and cook until translucent. Add the garlic and the peppers and cook about 5 minutes until the vegetables are soft. Add the salt, pepper and oregano.
Chop the tomatoes and give them to the pan together with the vegetable stock. Let cook for further 5 minutes.
Give the cooked sauce to the pasta in the pan, add the crumbled feta and mix well. Adjust the taste with more salt and pepper if necessary.
Brush a casserole form with a little bit of olive oil. Give the pasta mixture to the form and sprinkle everything with the grated cheese.
Bake for about 20 minutes or until golden brown and heated through. Garnish with some fresh basil  and serve with a green salad.
Note: I used fresh tortellini (not homemade) filled with spinach and ricotta, but you can choose any filling you like. If you only have dry tortellini than cook about 250 g/ 8.8 oz according to the packet's instructions, you will have roughly the same amount of cooked tortellini in the end.
[nutrition-label id=10478]