A cheesy baked tortellini recipe, caprese style, with tomatoes, mozzarella, basil and green olives, this is one of the most delicious tortellini bakes you could possibly make.
BAKED TORTELLINI
This baked tortellini dish is one of our favorite pasta bake recipes. Together with the Easy Cheesy Baked Tortellini Recipe with Vegetables, they are the two baked tortellini recipes I have been making on repeat for exactly ten years now.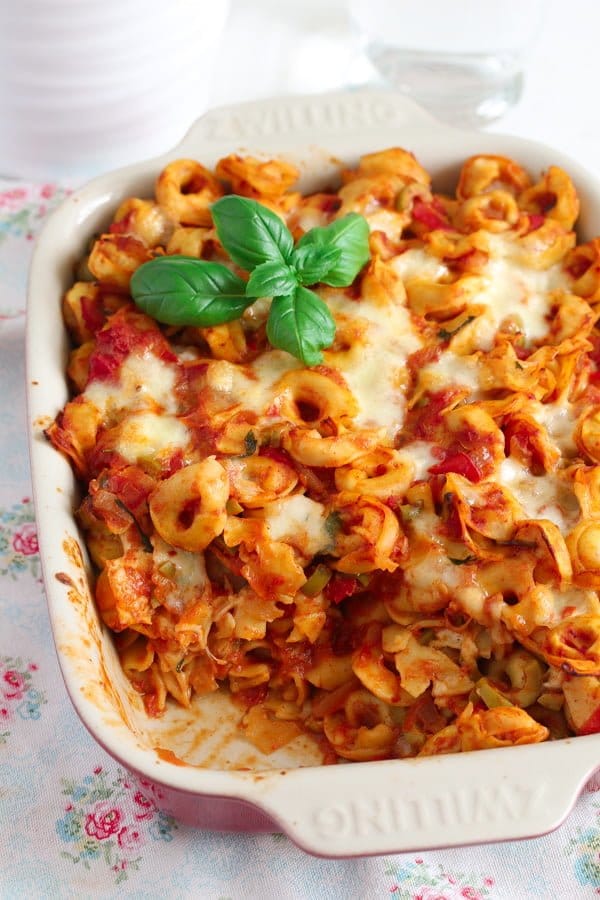 I know that for a fact – ten years – because I cooked these two tortellini casseroles for the first time when my son was just born. First, these baked tortellini with tomatoes and mozzarella and, because my husband and I liked it so much, I searched for a similar recipe and found the other baked tortellini recipe.
Both recipes I found on chefkoch.de, I was addicted to this German recipe website ten years ago and I still regularly search for recipes there. And we really love these two baked tortellini dishes so much, I have never tried any other recipes in all these years. When it comes to tortellini bakes, these are the only ones I cook.
But I do cook other delicious pasta bakes like this chicken and bacon pasta bake, this cheesy tuna noodle casserole or this chicken or turkey noodle casserole (using leftover turkey or chicken). All pasta bakes that my children adore!
CHEESY TORTELLINI BAKE
Ingredients for the easy tortellini bake:
Tortellini:
You can use either dried or fresh tortellini to make these baked tortellini.
I use dried tortellini when I happen to have them in the pantry and they are delicious, but most of the times I prefer to buy the fresh tortellini filled with ricotta cheese. They are to be found in the refrigerator section of your supermarket.
I prefer ricotta filled tortellini for this easy tortellini bake, because they are mild and my children like them.
However, spinach or meat filled tortellini are just as good.
When using dried tortellini, you will need a 250 g/ 8.8 oz packet. Dried tortellini require a longer cooking time, usually between 12 and 15 minutes, so make sure you check the packet's instructions.
When using fresh tortellini, you will need a 450 -500 g/ 1 lb packet. This kind of tortellini have a much shorter cooking time, about 2-3 minutes, but check the packet's instructions.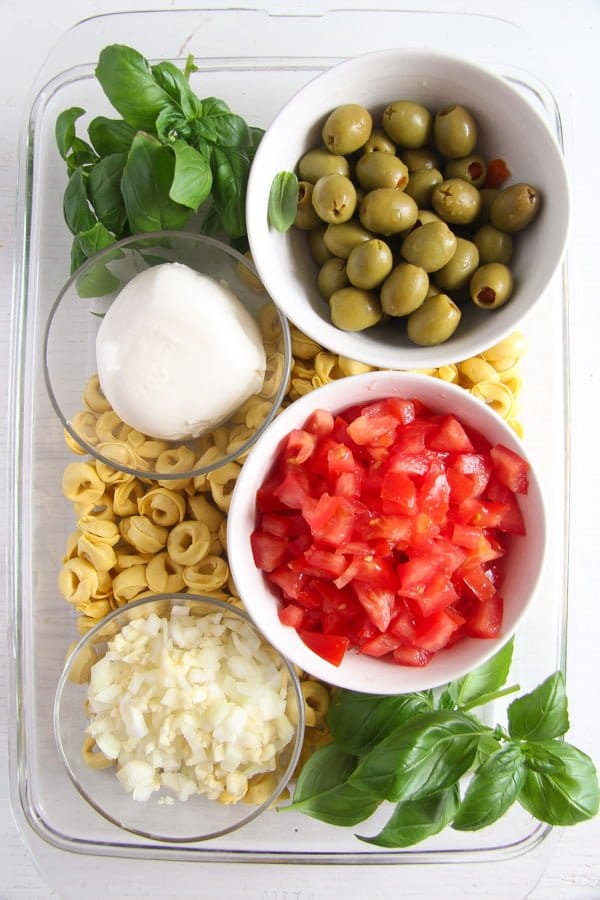 Tomatoes:
Make sure you use tasty, ripe tomatoes. You will have to remove the seeds of the tomatoes before chopping them to make sure that the tortellini bake won't be too watery.
Some people would recommend removing the skin of the tomatoes as well, but I rarely do that, and never when cooking this particular cheesy baked tortellini recipe.
I find peeling tomatoes a waste of time mostly. It is not a difficult process, but just having to boil that extra water and using an extra bowl for soaking the tomatoes, not to mention spending a couple of minutes with the actual peeling work annoys me.
And in addition of that, the tomato skin is super healthy, especially when cooked, it is full with lycopene, a pigment that is responsible for the red color of tomatoes. Lycopene is a natural antioxidant and seems "to provide protection against a broad range of epithelial cancers" (NCBI).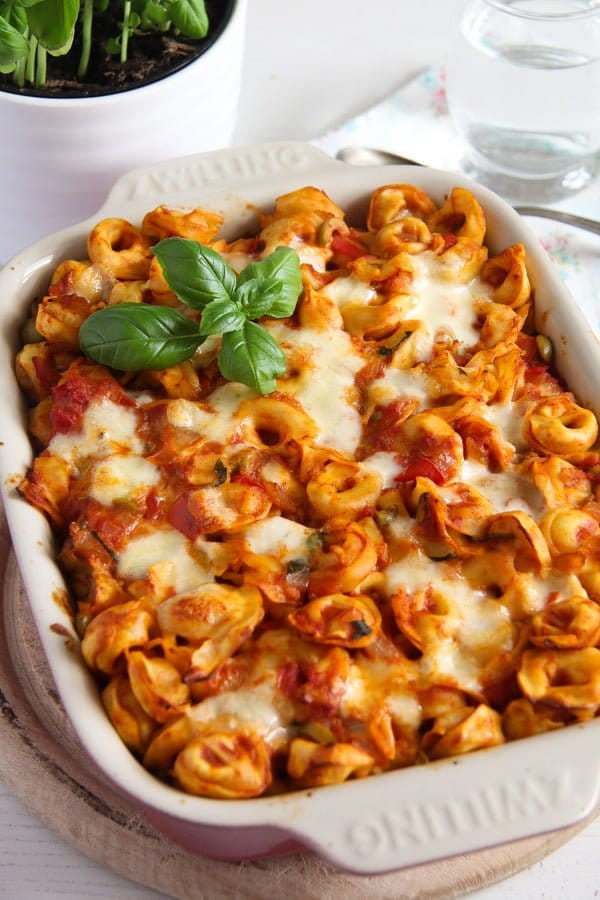 Olives:
You could use either green or black olives. I prefer really bitter wrinkly olives most of the times, but for these baked tortellini I usually buy a jar of green olives, pitted ones for a change.
I think pitted green olives to be more suitable for this cheesy baked tortellini recipe because they have a milder taste, which suits better the rest of the ingredients. But you can experiment with the olives and see which sort you prefer in this case.
HOW TO MAKE BAKED TORTELLINI
Start by cooking the tortellini. As mentioned above, if you use dried tortellini you will have to cook them for a longer time. Fresh tortellini will only need a few minutes cooking time, so do check the packet's instructions in both cases. Drain the cooked tortellini very well.
While the water and the tortellini are cooking, chop the rest of the vegetables. Saute the onions and the garlic in a little olive oil, add some tomato paste and the chopped tomatoes.
Cook for about 15 minutes on low heat, then add the olives and the chopped basil. Adjust the taste of the sauce with salt, pepper and chili flakes and mix it with the cooked tortellini.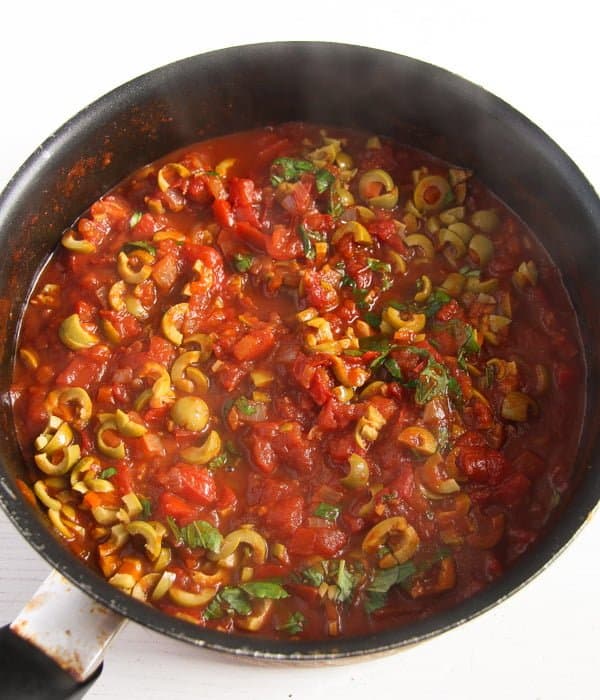 You can either add mozzarella slices on top of the tortellini casserole or you can chop the cheese and mix the cubes into the casserole. I prefer that actually, this way you will have cheese everywhere in the tortellini bake and not only on top.
If you feel you must have some melted cheese on top as well, you might add some extra mozzarella, grated Parmesan, Cheddar or Gouda on top, but I never do that, the cheese inside the tortellini casserole is enough for us.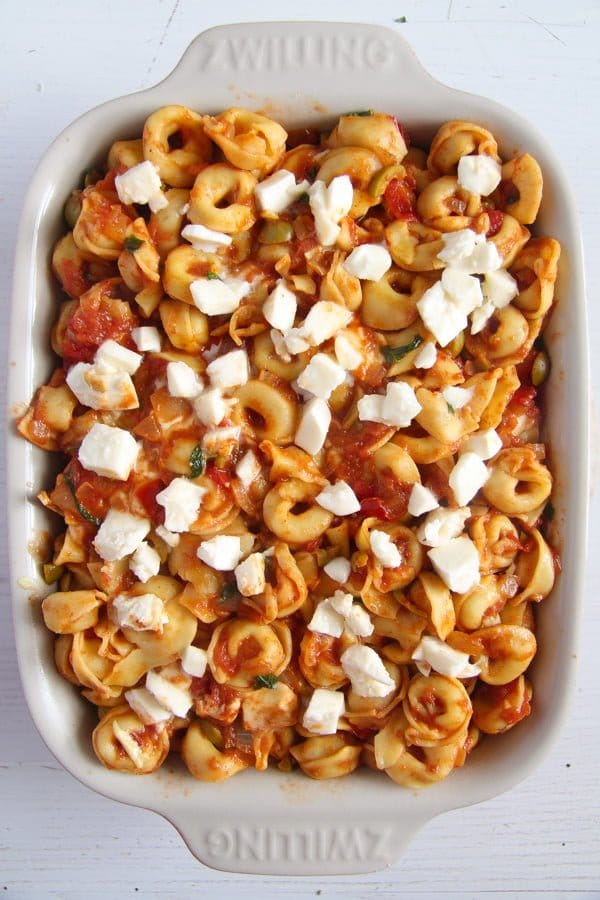 CAN YOU REHEAT LEFTOVER BAKED TORTELLINI?
The cheesy baked tortellini recipe is best served immediately, but leftovers can be reheated in the oven. If you reheat the casserole either give the leftovers to a smaller, clean casserole dish or spread the leftovers all over the bottom of the casserole dish that's already in use.
Otherwise, the part of the casserole dish which is not covered with tortellini, but still dirty from the tortellini you previously ate, will tend to get crusted from the leftover sauce and tortellini bits and it will get difficult to clean the dish once you have eaten.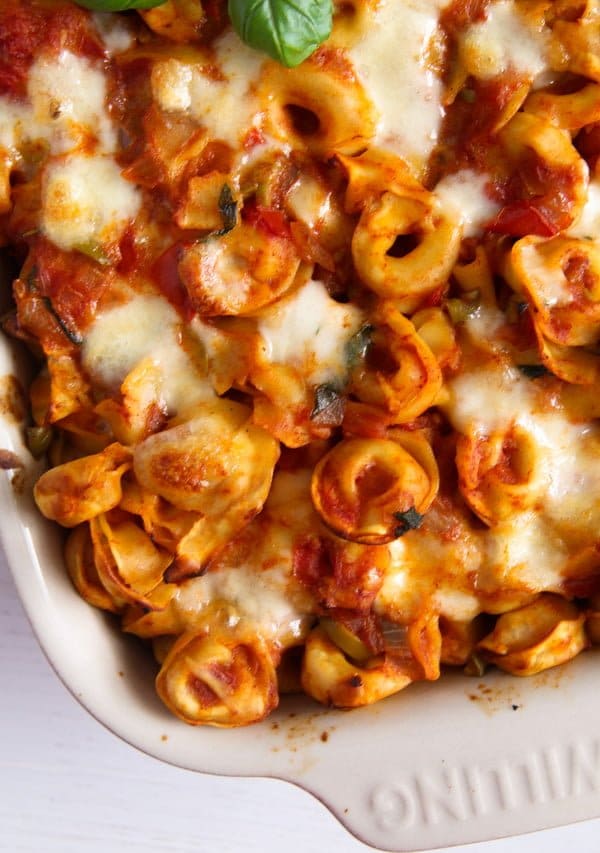 WHAT TO SERVE WITH BAKED TORTELLINI?
The easiest side dish for this easy baked tortellini is green salad with vinaigrette or with yogurt dressing. Otherwise, how about a cucumber salad with dill, shopska salad without the feta cheese or broccoli and pea salad?
PIN IT FOR LATER!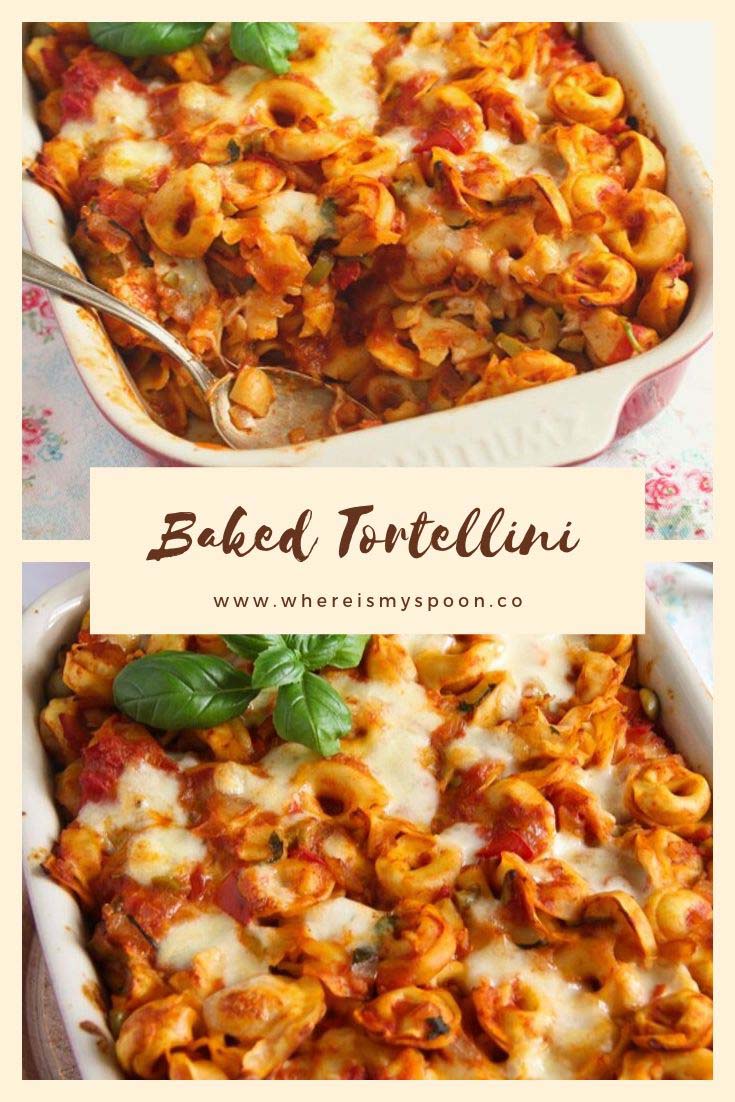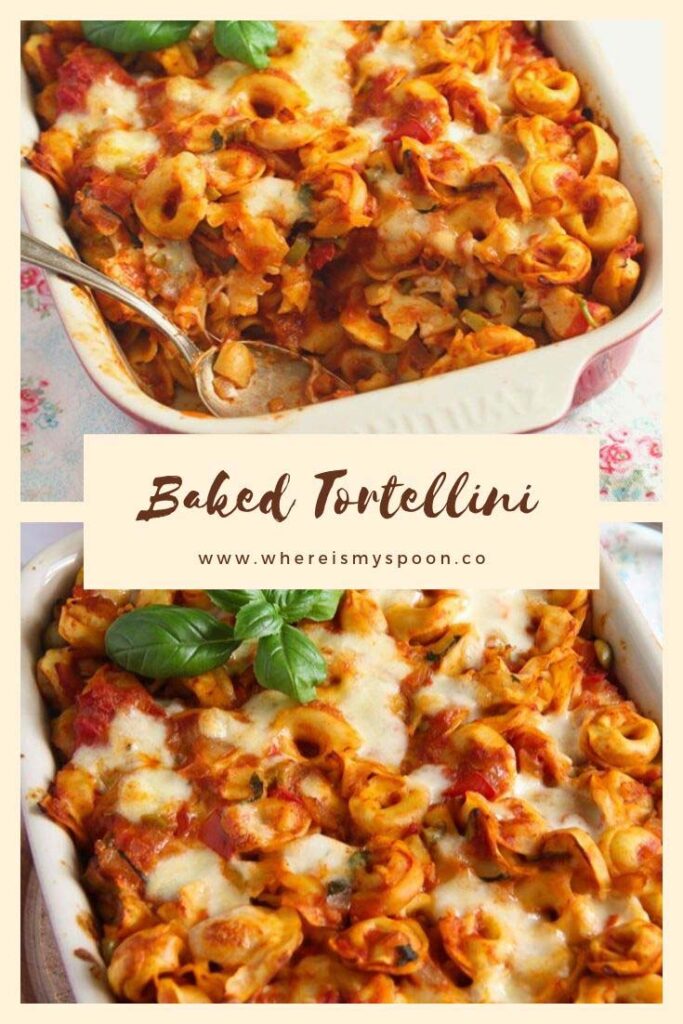 Baked Tortellini with Tomatoes and Mozzarella
A cheesy baked tortellini recipe, caprese style, with tomatoes, mozzarella, basil and green olives, this is one of the most delicious tortellini bakes you could possibly make.
Print
Pin
Share
Grow
Saved!
Rate
Ingredients
250

g/ 8.8 oz dried tortellini or 450 g/ 1 lb fresh tortellini

4 to

matoes

1

onion

2

garlic cloves

1

tablespoon

olive oil

2

tablespoons

tomato paste

See note 1

100

ml/ 3.4 fl.oz/ scant ½ cup vegetable broth

See note 2

75

g/ 2.6 oz/ scant ½ cup chopped green olives

3

tablespoons

chopped basil

fresh

½

teaspoon

chili flakes

more or less to taste

125

g/ 4.4 oz/ 1 ball mozzarella

fine sea salt and pepper
Instructions
Cook the tortellini according to the packet's instructions. Dried tortellini will need a longer cooking time, depending on the brand between 12 and 15 minutes. Fresh tortellini will only need 2-3 minutes of cooking time. Drain very well.

Preheat the oven to 200 degrees Celsius/ 400 degrees Fahrenheit.

While the water for the pasta and the tortellini are cooking, halve and deseed the tomatoes. Chop them into small cubes.

Chop the onion and the garlic as well.

Heat the oil in a pan and saute the onion for about 3-4 minutes. Add the garlic and stir for about 1 minute. Add the tomato paste and stir well.

Pour in the vegetable broth and add the chopped tomatoes to the pan as well.
Add some salt and pepper and cook the mixture on low heat for about 15 minutes. Add a little more water or vegetable broth if the sauce becomes too dry.

Take off the heat, add the chopped green olives, basil, and chili flakes. Adjust the taste with salt and pepper.

Mix the tomato sauce with the cooked tortellini. Add the chopped mozzarella and stir well.

Place the tortellini mixture into a casserole dish of about 19x23 cm/ 7.5-9 inches.

Bake for about 15 minutes or until the tortellini casserole is heated through and nicely colored on top.

Notes
Thick concentrated tomato paste and not tomato sauce or puree.
Made from ¼ cube or ½ teaspoon vegetable broth paste or powder.
Nutrition
Serving:
1
/4 of the dish
|
Calories:
540
kcal
|
Carbohydrates:
64
g
|
Protein:
24
g
|
Fat:
22
g
|
Saturated Fat:
9
g
|
Polyunsaturated Fat:
11
g
|
Cholesterol:
72
mg
|
Sodium:
1175
mg
|
Fiber:
5
g
|
Sugar:
7
g