Crispy, spicy, low-fat, gluten-free and utterly delicious homemade polenta chips.
BAKED POLENTA CHIPS
If you make polenta regularly you might have noticed the crust that remains on the bottom and the walls of your pot after you have eaten the polenta. If you don't clean your pot immediately, the crust will dry out and you will get what my kids like to call polenta chips.
They both like to eat the polenta, especially my son, who could eat polenta with cheese at least once a week, but, when the meal is over, they are really fighting over these so called polenta chips, that keep on hanging at the bottom of the pot.
I remember myself as a child eating those dry polenta leftovers, it was my grandfather who gave me those pieces for the first time and I suppose that we always ate those rests together.
It is one of those memories that will stay with me forever, a moment in time, just an image of my grandfather and me sitting at the table, looking into the pot and breaking out those crunchy, rounded polenta chips. No idea what happened before or after this moment, it is only this image that stayed with me for all these years, must be over thirty years now, I was still in kindergarten at the time.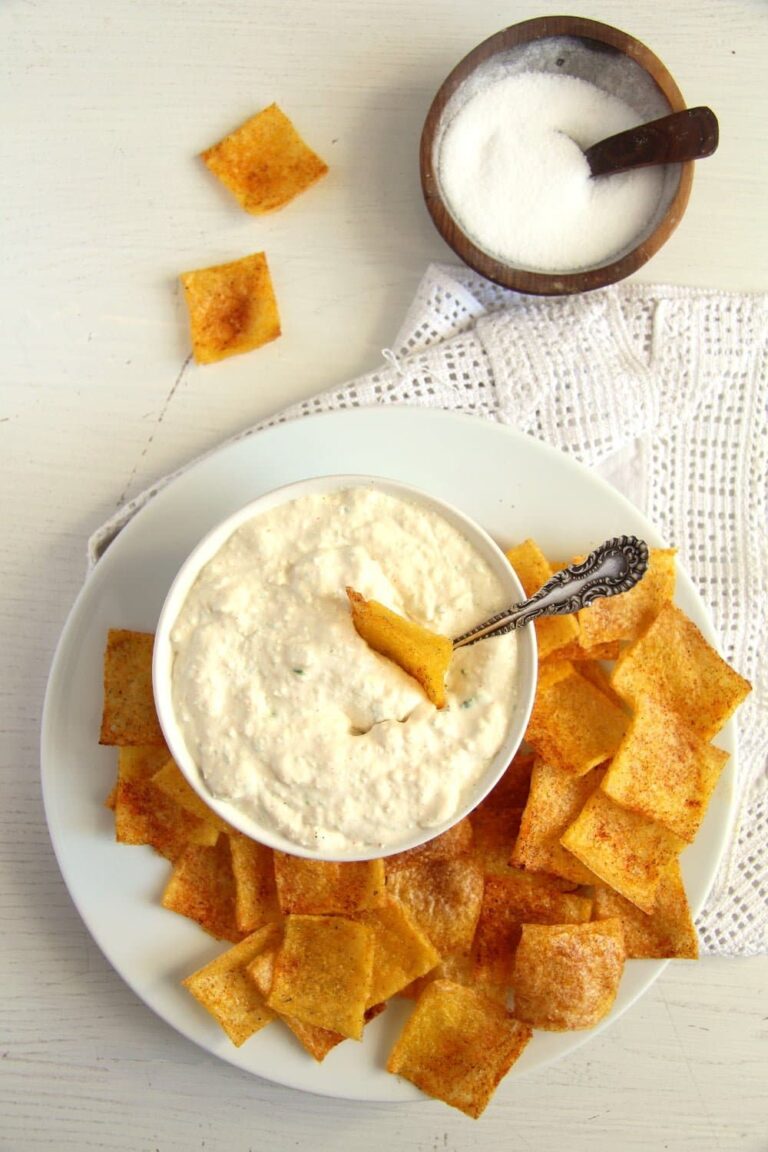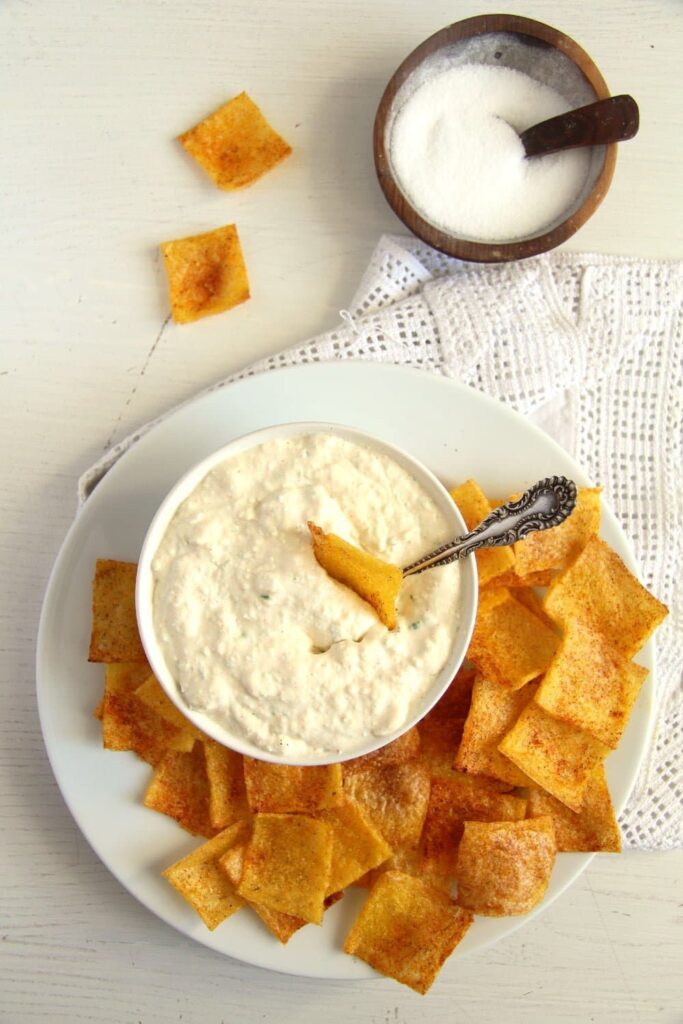 VEGAN POLENTA CHIPS
So, that gave me the idea of making real polenta chips, better tasting and in a larger quantity, to satisfy both my children and to stop them from fighting over those dried out polenta rests.
I googled polenta chips (in Romanian) and it wasn't actually very hard to find something. After reading several recipes, I mixed a few and came out with my own version and let me tell you – it was a total success!
The first try was already great and the second and third time I've made these polenta chips was only to make sure that they really are so easily made and fool-proof, if I can say so.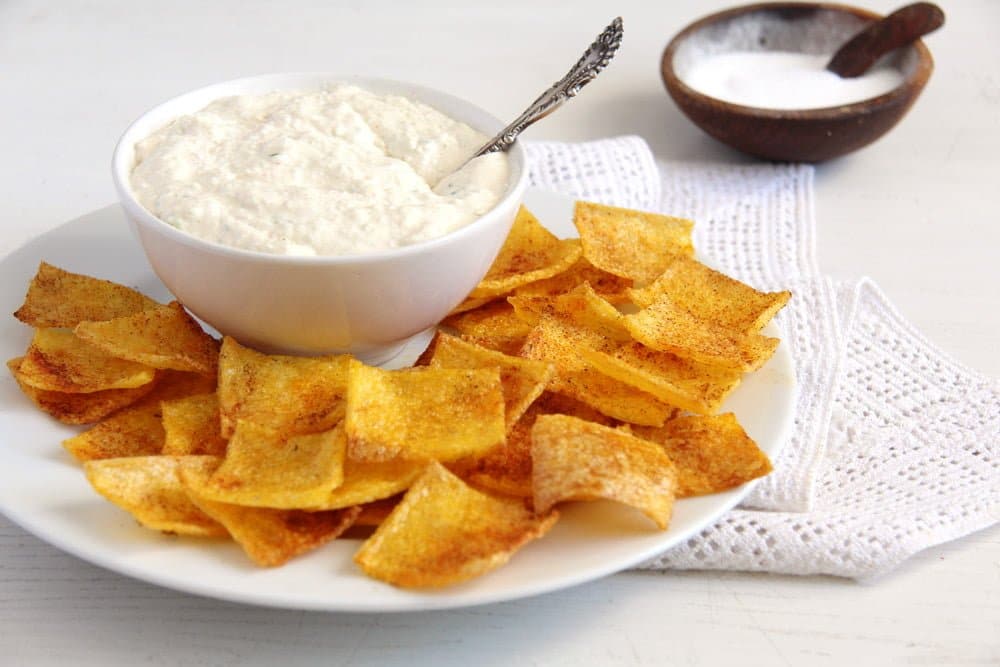 HOW TO MAKE POLENTA CHIPS?
I spiced the polenta chips differently every time: once with salt and smoked pepper, once with salt and garlic powder and once with salt and sweet paprika. I liked all three version, but the paprika one was our favorite.
The only thing you have to pay special attention to is to spread the polenta as thinly and evenly as possible. The chips have to be really thin to become nice and crispy and they all have to have the same thickness in order to cook simultaneously. Otherwise the thinner ones will become too dark, before the thicker ones are ready.
Just to make sure, check them before the cooking time is over and remove those that are ready before the cooking time is over. I had to do that with some of my chips.
HOW TO SERVE POLENTA CHIPS?
I love these polenta chips just as they are, the little oil and spices make them absolutely delicious, but you can serve them with a dip if you like, just like real tortilla chips.
We also had them with a feta spread or with cream cheese dip. Any tomato salsa or sour cream dip would be perfect as well.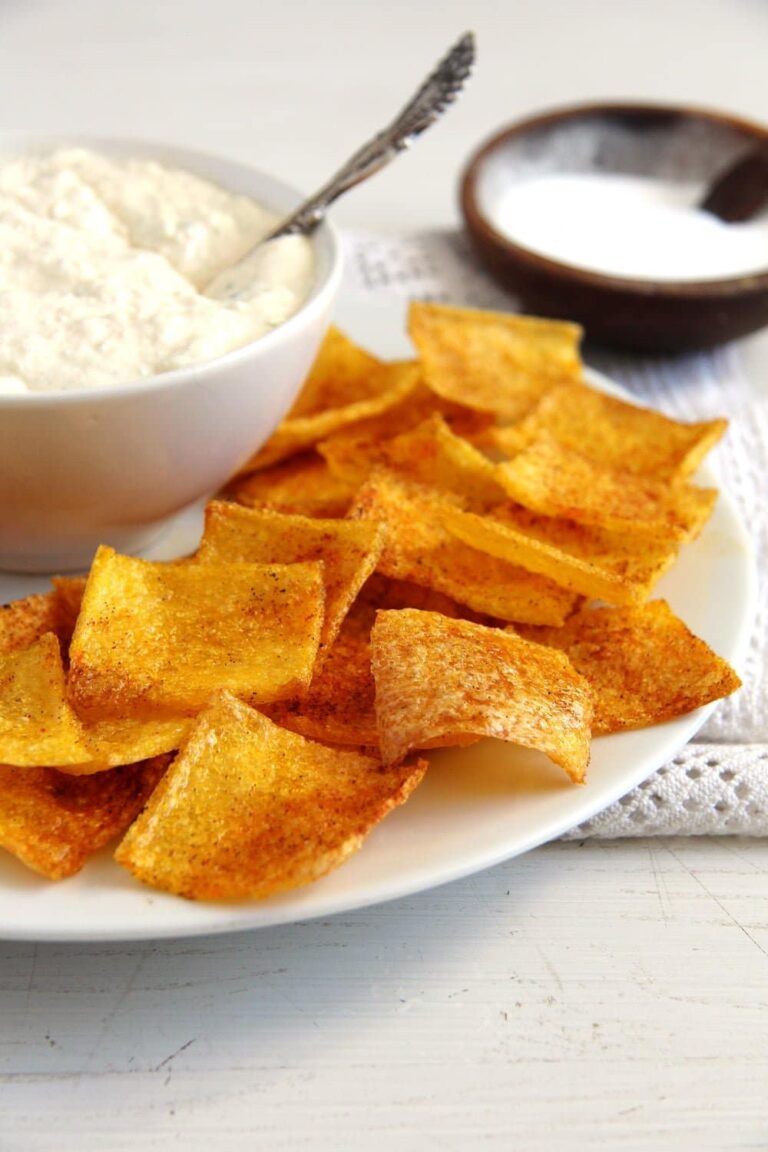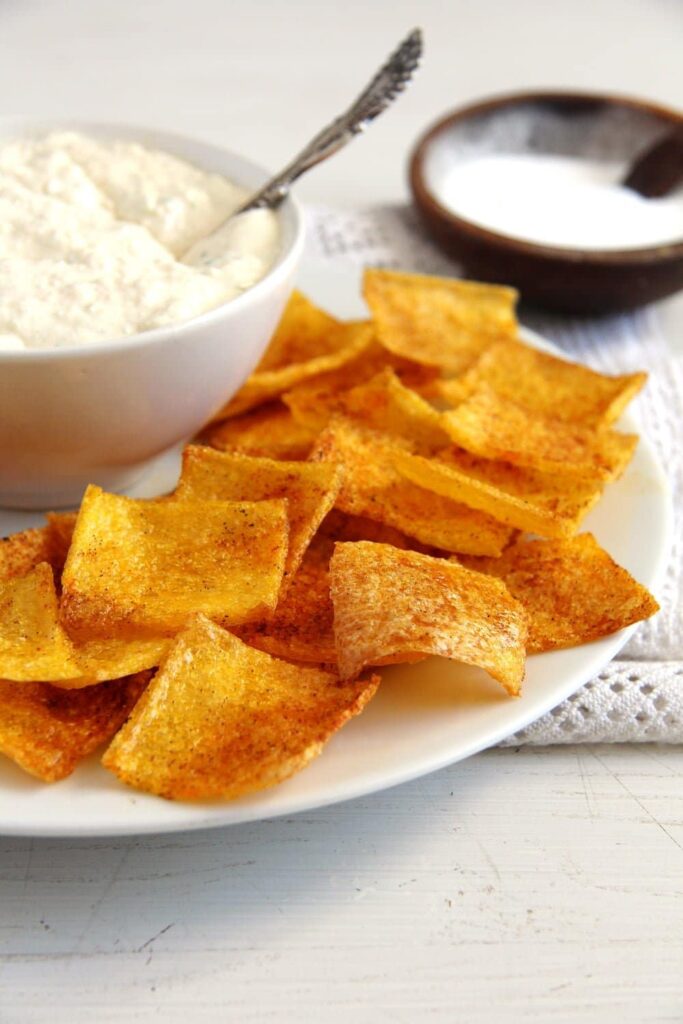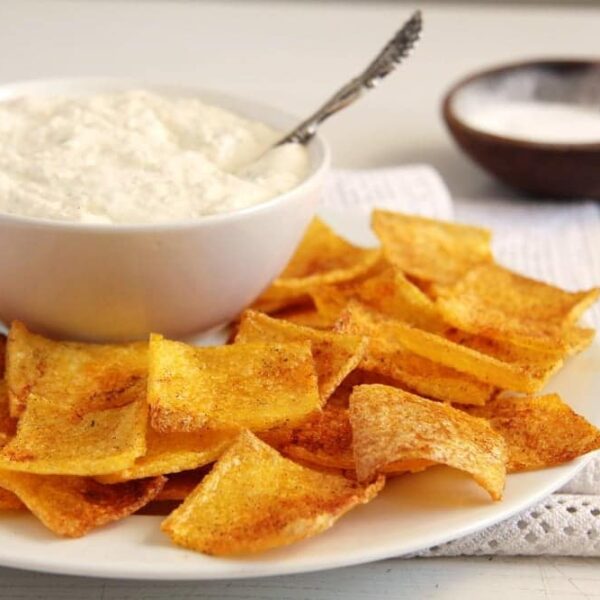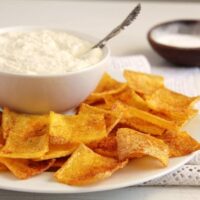 Ingredients
1

cup

medium cornmeal

150 g

2 ¾

cups

water

650 ml

1

teaspoon

salt

1-2

tablespoon

olive oil

some salt

some sweet paprika

OR garlic powder OR smoked pepper OR hot paprika
Instructions
Polenta: Pour the water into a large pot. Heat the water but don't let it come to a boil (it helps against the formation of lumps). Add the salt.

Slowly add the cornmeal while stirring or whisking (with an egg beater, not a mixer) all the time. A word of caution - be careful when the polenta starts to bubble; if the bubbles are too big, you might get burned – so turn the heat down if that happens.

When all the cornmeal is incorporated, continue stirring or whisking shortly to ensure no lumps. Turn the heat down, place a lid on top but leave a crack open.

Stir every 3 minutes or so, but there is no need to stir all the time. Cook the polenta for only 10 minutes in this case.

Baking paper: Place a large piece of baking paper (42 x38 cm/ 16.5x15 inch) on the working surface. Cut another piece of baking paper that is just as large as the first one.

Spread polenta: Pour the hot polenta in the middle of the first sheet of baking paper, spread it roughly around with a spoon, and cover it with the second sheet of baking paper. Roll out the polenta very thinly and evenly using a rolling pin. Make sure that the polenta layer is just as thin in the middle as at the edges.

Cool: Leave the polenta to get completely cold.

Preheat the oven to 200 degrees Celsius/ 400 degrees Fahrenheit. Line two baking sheets with new baking paper.

Cut polenta: When it is cold, brush it with olive oil and sprinkle it with salt and the chosen spices. Cut the polenta into small squares and place the squares on the baking sheets.

Bake the chips, one tray at a time, for about 50 minutes or until the chips are golden, crispy, and completely dry. Start checking after 30-35 minutes already and remove those thinner chips that are already done before they get burned. If you were very careful when rolling out the polenta, this step is unnecessary, but keep checking to make sure.

Serve plain or with your favorite dip.
Nutrition
Serving:
1
/4 of the chips
|
Calories:
195
kcal
|
Carbohydrates:
29
g
|
Protein:
3
g
|
Fat:
8
g
|
Saturated Fat:
1
g
|
Polyunsaturated Fat:
7
g
|
Sodium:
548
mg
|
Fiber:
3
g
Others you might like: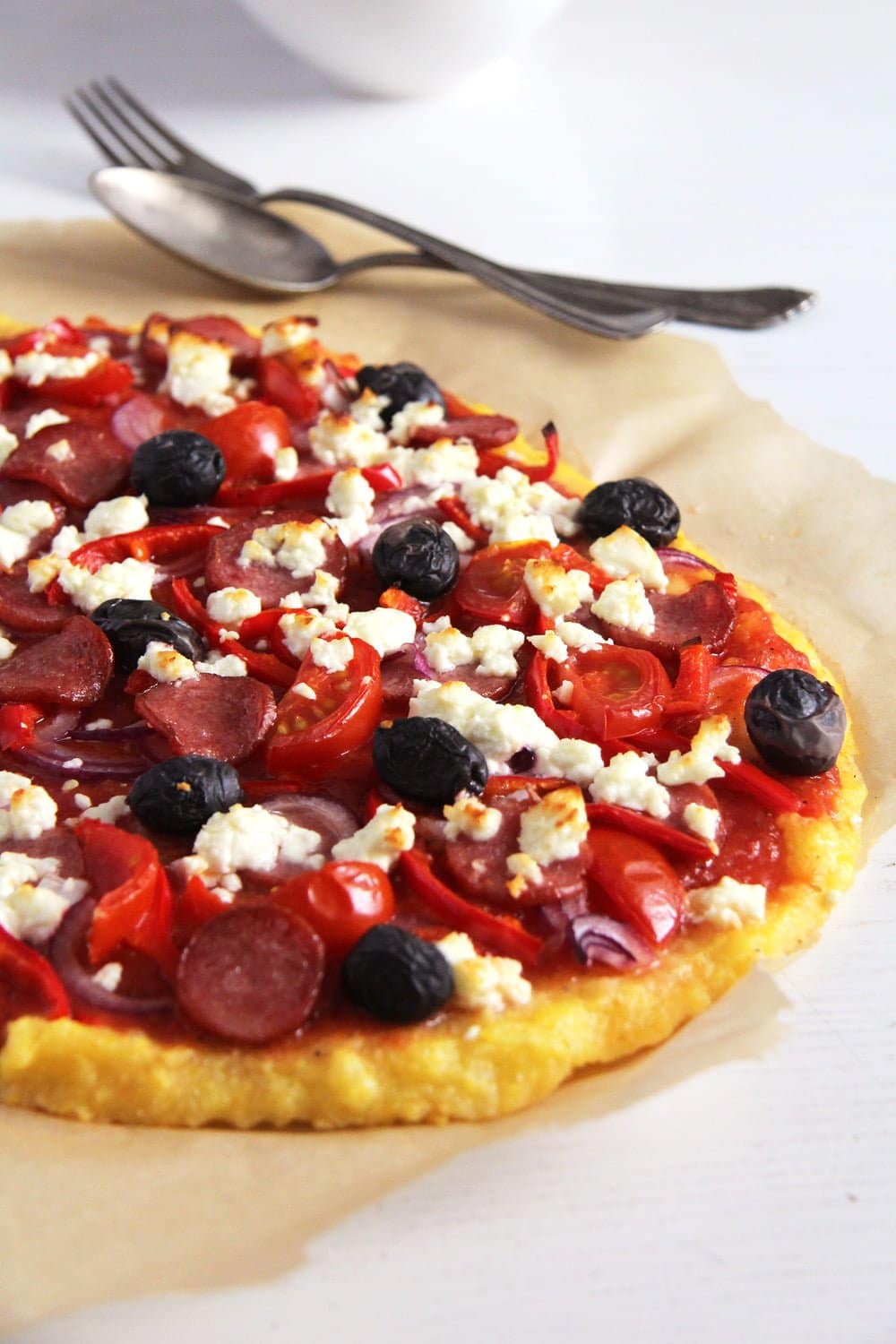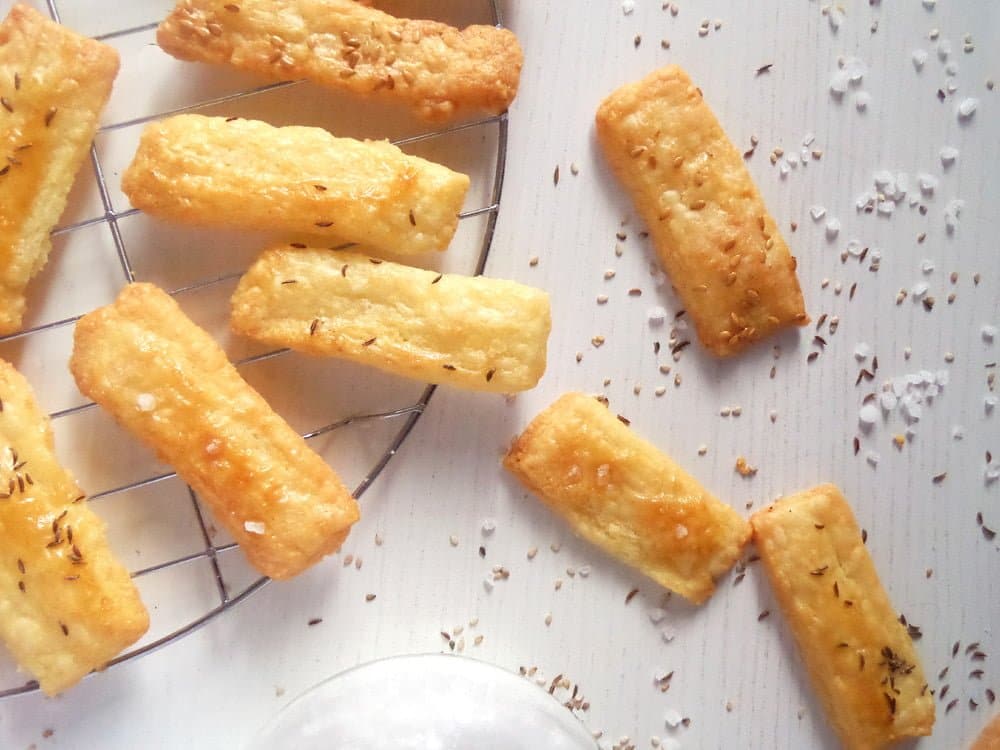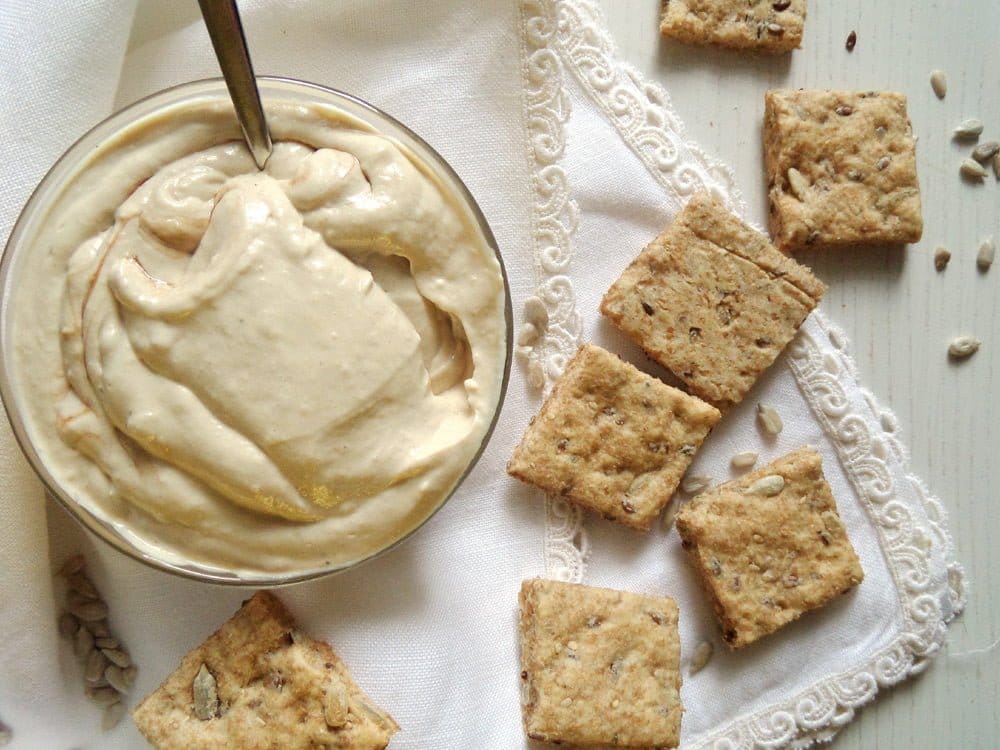 Silken Tofu Spread with Spelt Crackers