A delicate, fluffy bundt cake or Gugelhupf made with leftover egg whites, raisins, almonds and candied lemon peel.
As promised yesterday this is the second recipe for the Saxon Bischopfskuchen, the egg white version with raisins, candied lemon peel and almonds. The Orange Bundt Cake with Chocolate, Raisins and Almonds uses whole eggs, while today's version only uses egg whites.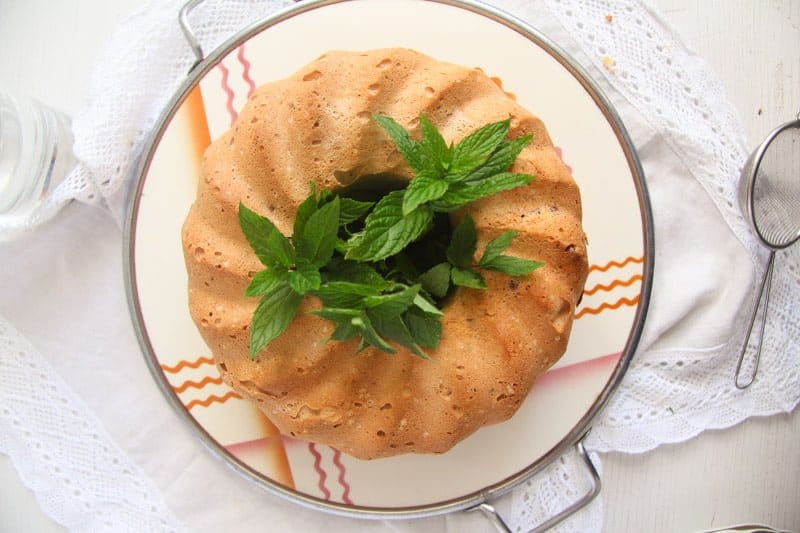 A great recipe for using up some of those many egg whites I always seem to have in my freezer, especially this time of the year when I often bake cookies using only egg yolks or make homemade egg liquor for which I need eight egg yolks… As I feel sorry to throw away so many egg whites and I am not a fan of egg white omelet, there is only the meringue left for me to use up some of those many egg whites.
And from time to time such an egg white cake, similar to the American Angel Food Cake, but a bit richer and interesting due to the addition of nuts, candied citrus peel and dried fruit. So, if you like Angel Food Cake, I think you would like this cake as well.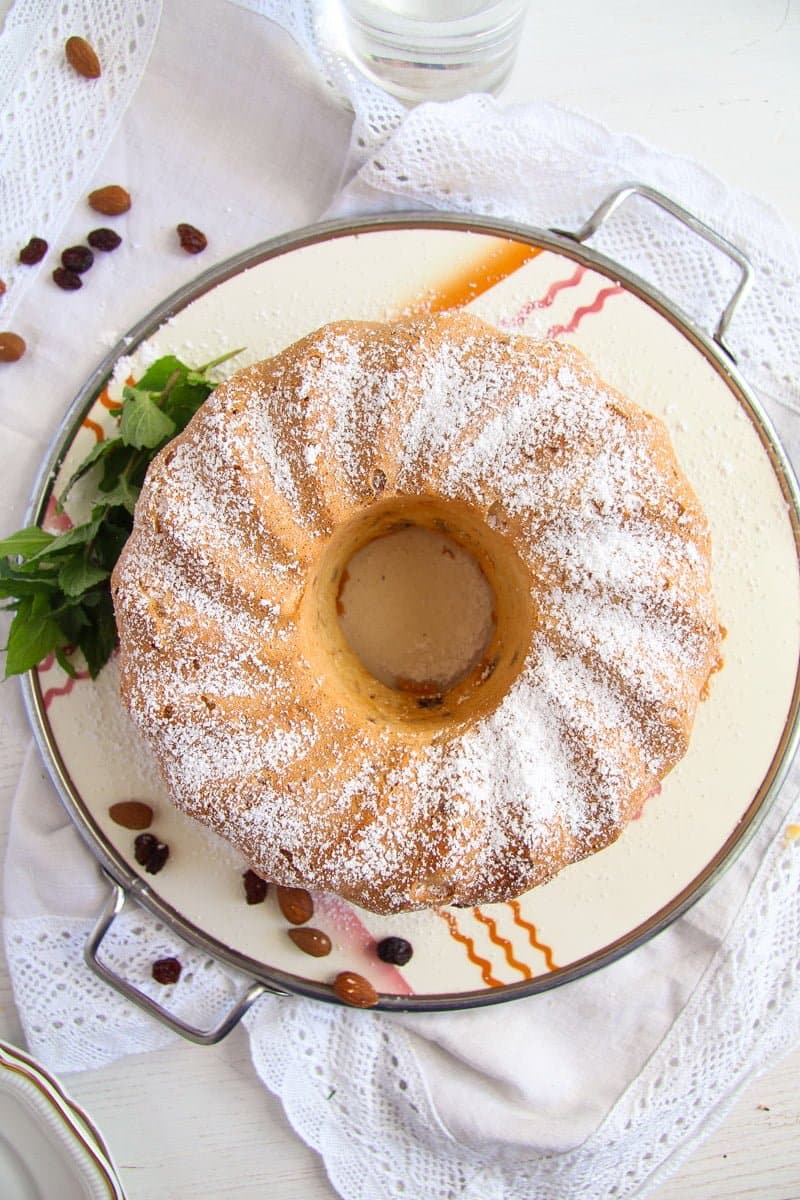 Notes on making the Bundt Cake with Leftover Egg Whites, Raisins and Almonds
Just like the Orange Bundt Cake from yesterday, this Bundt Cake with Leftover Egg Whites, Raisins and Almonds is super easy to make.
Make sure to separate the egg whites from the egg yolks carefully, so that absolutely no egg yolk will get into the egg whites. That will ruin your egg whites, if they contain any trace of fat you will not be able to beat them properly. The safest way to do that is to break each egg separately in a small cup, let the egg white slide there first and give it to the already separated egg whites only when you are sure that it is egg yolk free. I ruined quite a few meringues, because I was too lazy to use an extra bowl…
Using a very clean bowl and clean beaters to beat the egg whites is important for the same reason. I usually wash them with soap and hot water and dry them again before using just to be sure.
For preparing the bundt cake pan properly for baking, have a look at the post for the Orange Bundt Cake with Chocolate, Raisins and Almonds, you will find detailed information on that there.
You will also find instructions for preparing the glaze in that post, just in case you would like to glaze the Bundt Cake with Leftover Egg Whites, Raisins and Almonds instead of only dusting it with icing sugar. If you would like to make the glaze, replace the orange zest and juice with fresh lemon zest and juice.
And just in case you have never baked a cake using only egg whites instead of whole eggs before, be aware that the egg whites do give the cake a very special egg whitey taste, if I can say so. If you are familiar with Angel Food Cake for instance, you will know what I mean, otherwise be warned, the taste is quite different from your usual bundt cake.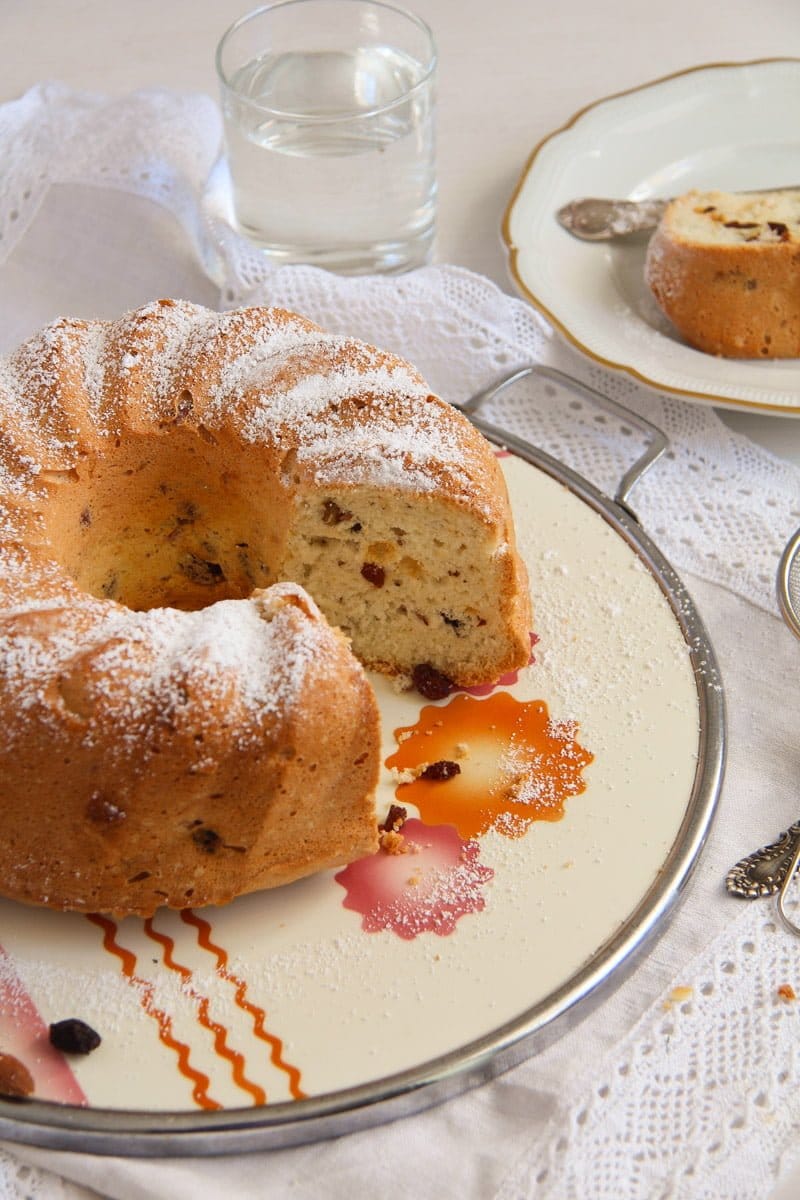 More citrus cakes ideas: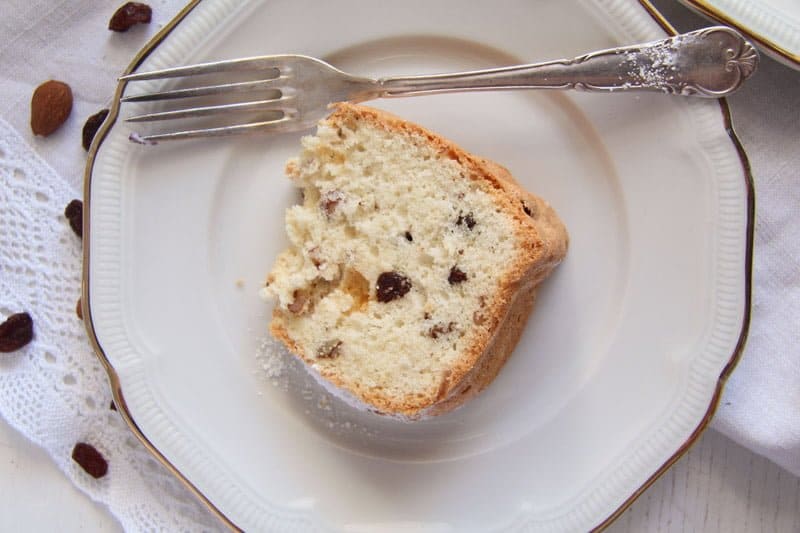 This post contains affiliate links. The price you pay as a consumer does not change, but if you make a purchase we will receive a commission which helps support the blog.