Moist, flavorful limoncello bundt cake drizzled with a limoncello and lemon zest glaze.
Glazed Limoncello Pound Cake
A beautiful, moist and delicious limoncello bundt cake, a great cake to make in spring or for Mother's Day this year. A very boozy cake, something for the grown-ups, your mother would love it! 🙂
A cake born out of the need of using up a large bottle of Crema di Limoncello. Some friends had that lying around, nobody would really drink it and they thought that such a creamy drink might not last that long, even if kept in the fridge.
It was quite an expensive present, an original Crema di Limoncello bought in Venice, so we all thought it would be really a shame if it would just "die" in the bottle. So, I took the bottle and thought about ways of using it.
I had been making a delicious egg liquor cake several times before, so I thought why not replace the egg liquor with the limoncello and see how that turns out. And I am telling you: it turned out beautifully, this limoncello pound cake is of the best, booziest bundt cakes I have ever made. Loved it!
I didn't allow my kids to eat it, I baked an extra alcohol-free bundt cake for them – this Strawberry Rhubarb Cake with Greek Yogurt, but the grown-ups, we were all crazy about this cake.
250 ml/ 1 cup Limoncello is really something, so even if I know that alcohol evaporates, I still don't feel comfortable serving that to kids or pregnant women. Not to forget the limoncello glaze on top, there is some extra booze there as well.
How to make a boozy cake?
This limoncello cake recipe, something you will put together in a matter of minutes, a cake recipe that is very suitable for beginners in baking as well.
Bundt cakes, especially pound bundt cakes, are usually very easy and quick to make and this particular limoncello cake makes no exception.
It is made with oil instead of butter and I actually prefer that when making this sort of cake.
Cakes made with butter are fine as well, but I think that using oil makes them moister, there is no chance of them being too dry like it can sometimes happen with cakes made with butter. See this Orange Bundt Cake, another favorite bundt cake made with oil.
You can see in the photographs how moist this Limoncello bundt cake is, a real treat. It might look a bit too wet in the pictures, my first thought was that that might actually be too much moisture, but that is just the way it looks.
The cake is not wet, but perfectly well-baked. Yet it is moist and so delicious and, more importantly, you can actually taste the booze.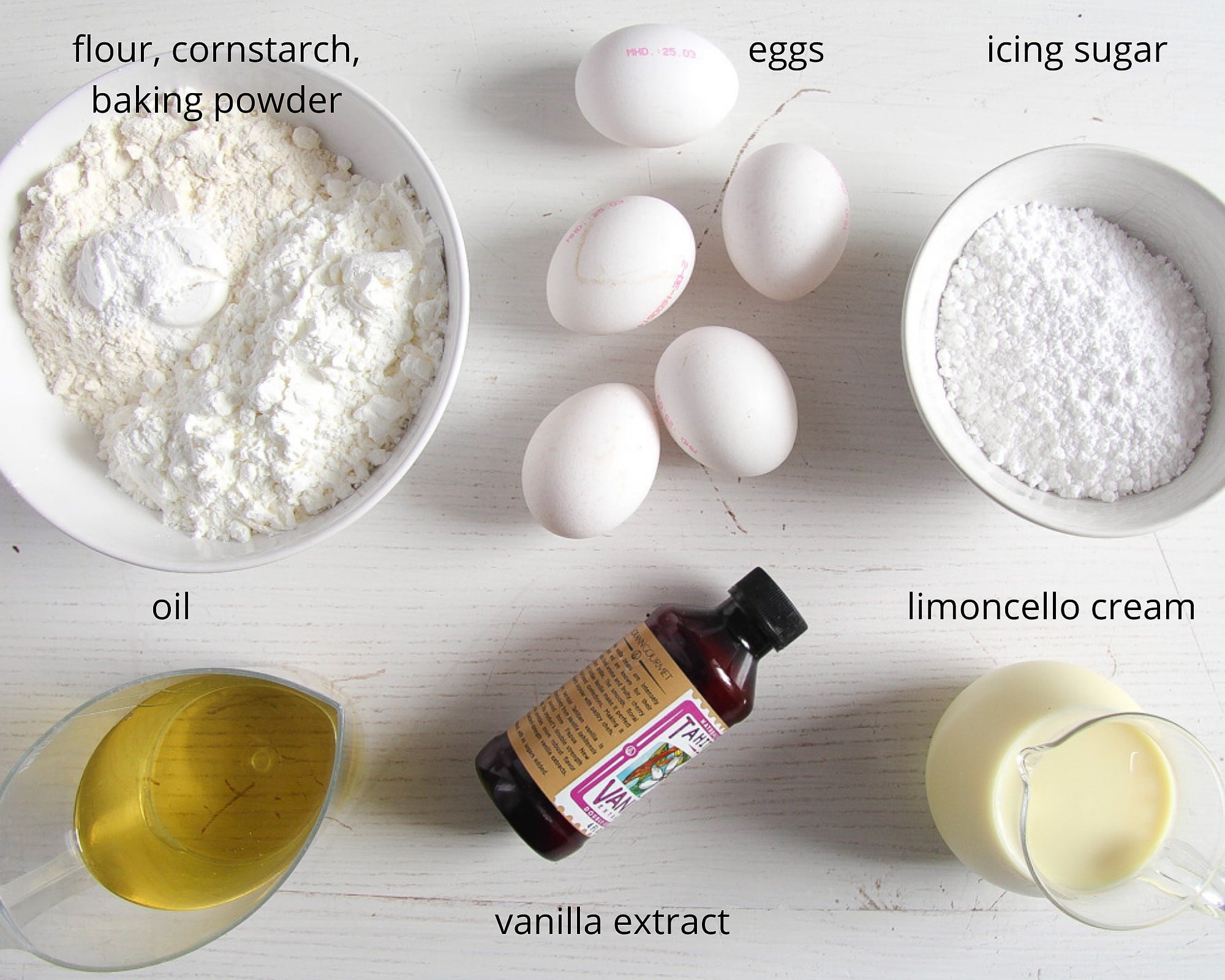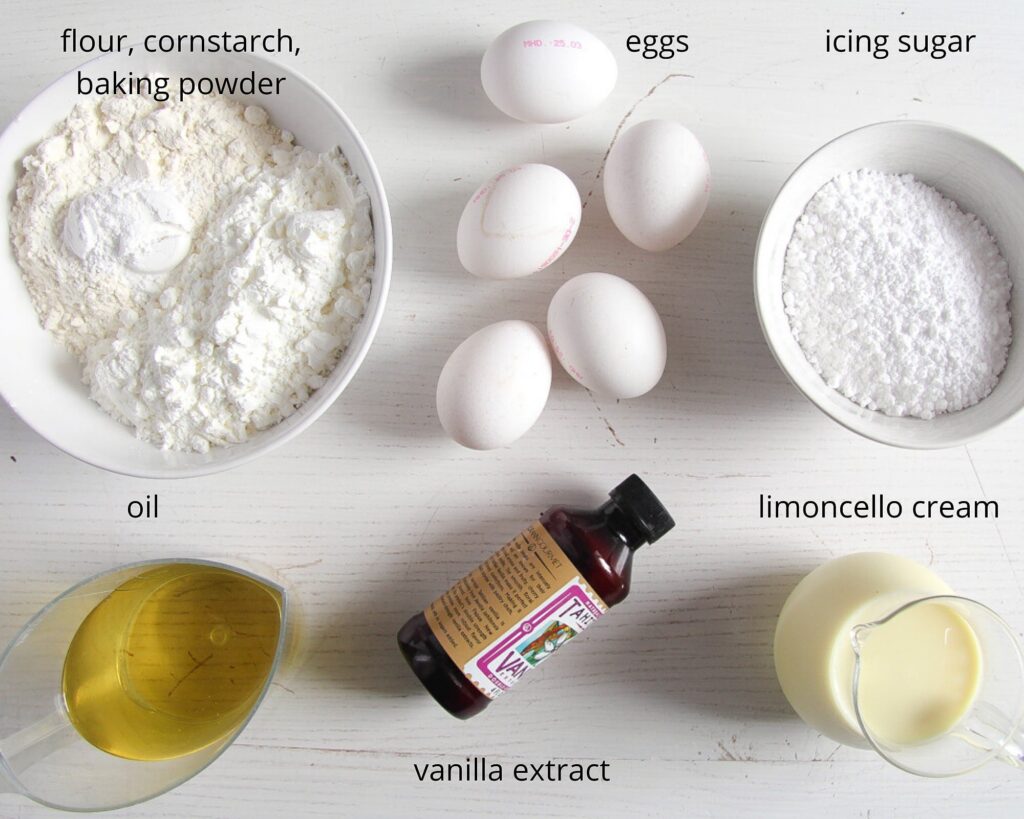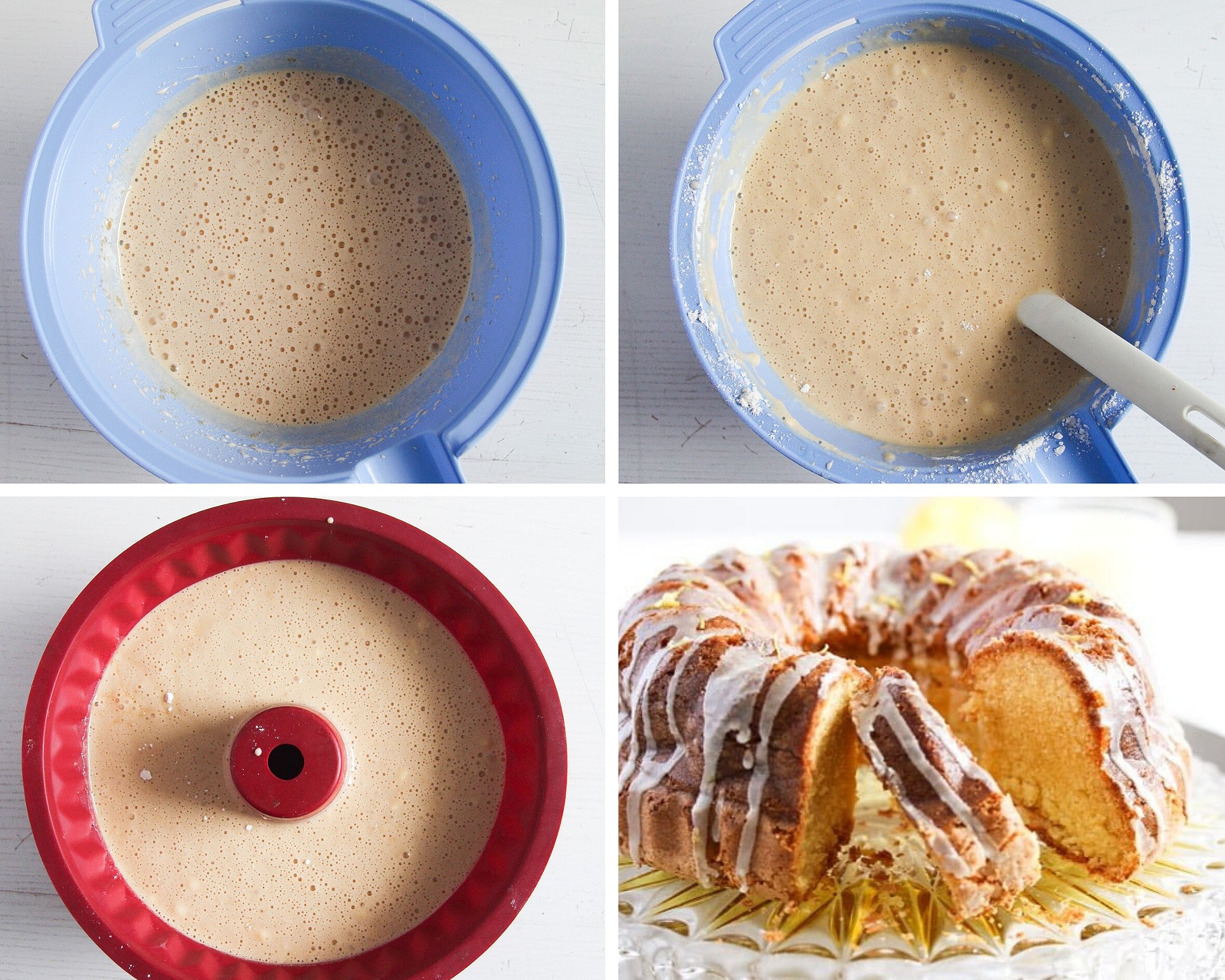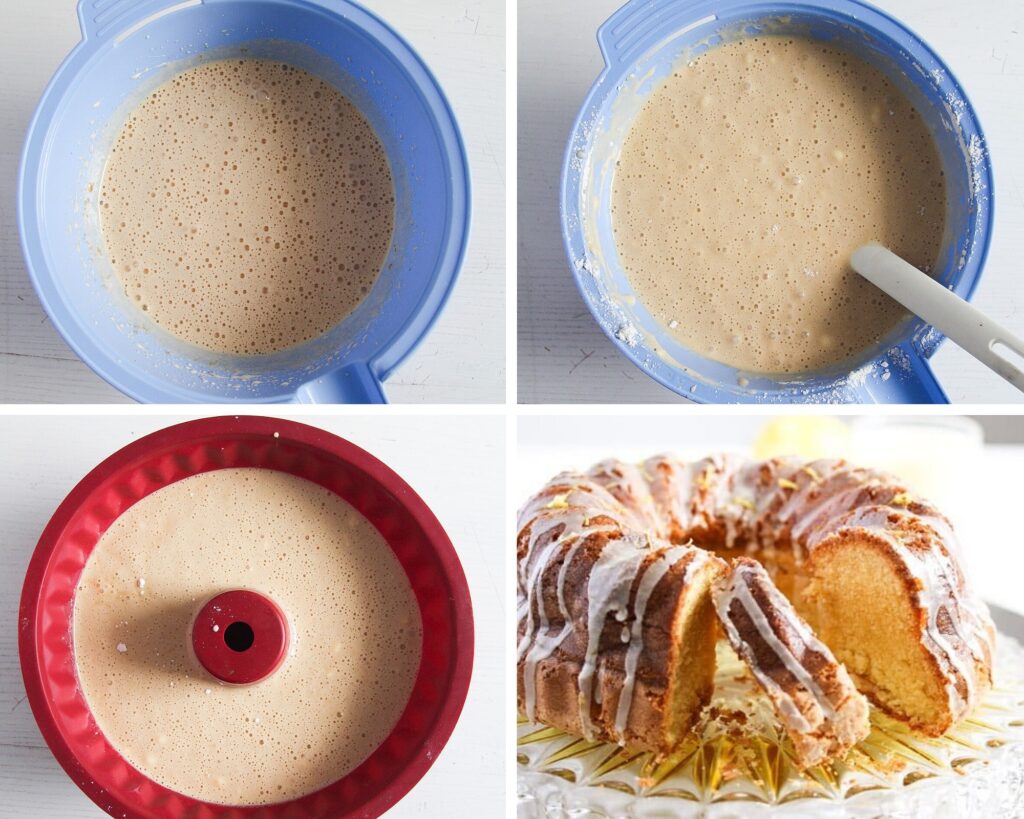 Glaze:
The limoncello lemon glaze is very easy to make as well.
Stir a few ingredients, just make sure you have the right consistency and drizzle the glaze over the cake.
Sprinkle the Limoncello pound cake with some freshly grated lemon zest and you're done.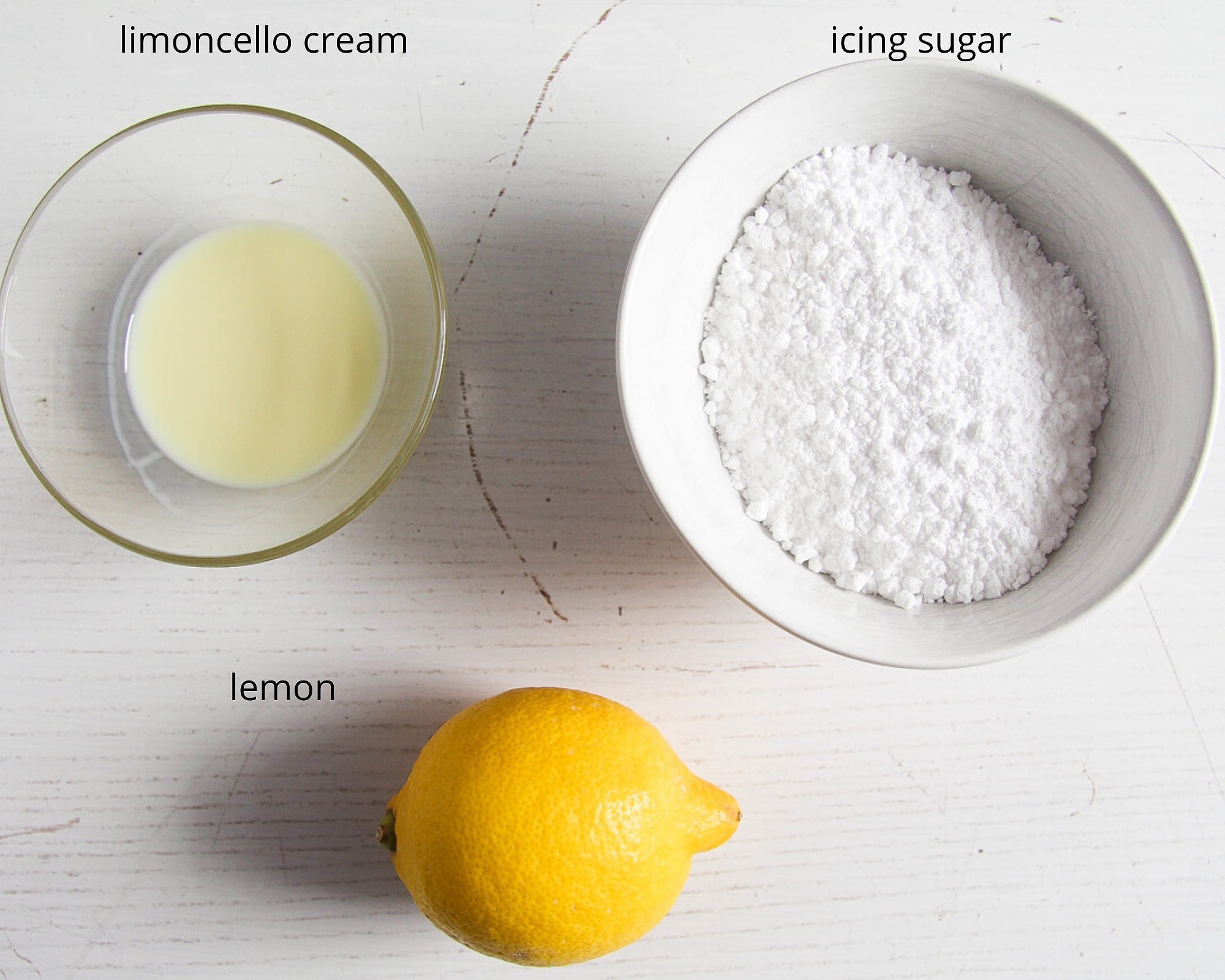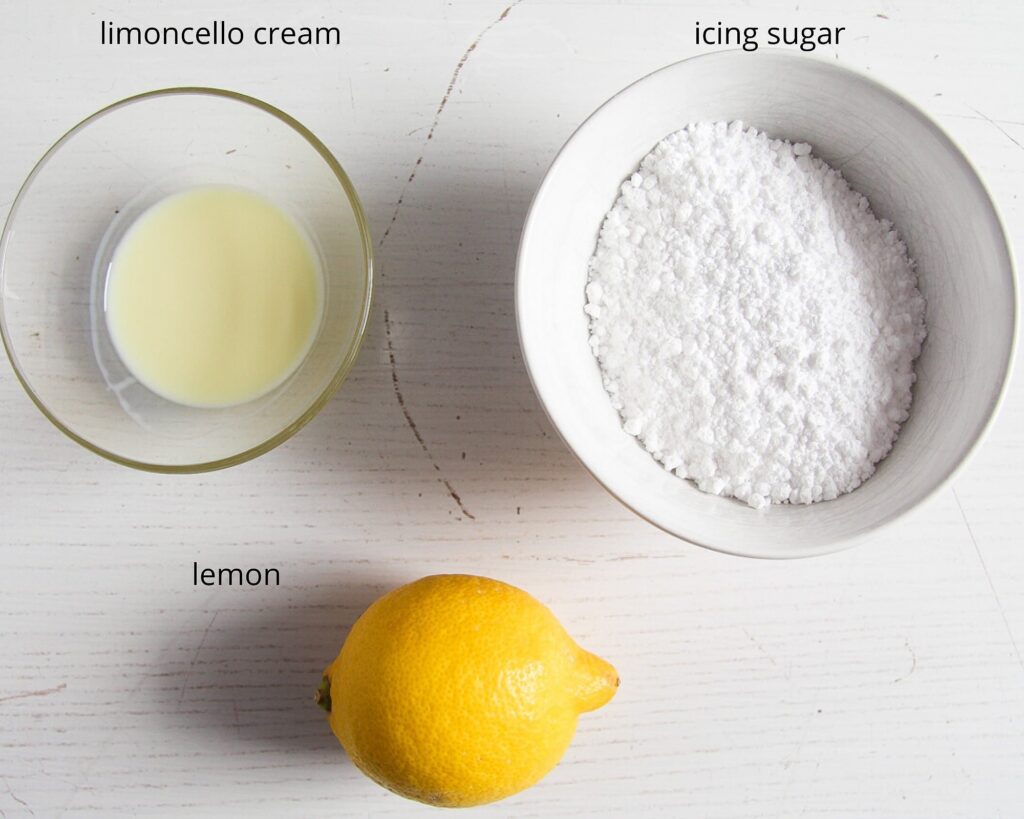 How to prepare a bundt pan for baking:
We talked about the way of preparing a bundt pan for baking in several other posts featuring a bundt cake, for instance, this post for the Orange Bundt Cake with Chocolate, Raisins, and Almonds. But I will write it again here because I think it is an important matter, something that can make or break your cake.
I usually use a silicone bundt pan for baking pound cakes. That requires absolutely no preparation at all, pour the batter into the pan, bake the cake, get it out of the pan, no sticking, no problems.
However, I have several traditional non-stick bundt pans in several sizes, which I use quite often as well.
They are not that difficult to work with either but keep in mind that although they are called non-stick, if you don't prepare them carefully, everything will stick to them anyway, and you can then scrape your cake pieces out of it instead of having a nice looking, whole cake.
There is a simple method to avoid this kind of a mess.
Take a generous amount of soft butter and use your hands to very thoroughly grease the bundt pan including all the nooks and crannies of the pan.
Make sure every inch of the pan is well greased. If the butter is very soft you could use a brush to grease the bundt pan, but I prefer to use my hands.
After you have greased the pan, you have to coat it with flour. Take about ¼ cup or so of flour, tip it into the pan and start shaking and turning the bundt pan, so that the flour coats the insides of the pan, including all the nooks and crannies as well.
Do that over the kitchen sink, otherwise, you will make a mess in the kitchen. When the pan is properly coated with flour, turn it around and start shaking and patting it gently on the bottom and on the sides to remove the excess flour. Again, do this over the kitchen sink.
Other bundt cakes:
Moist Orange Bundt Cake- Tender orange bundt cake or orange Gugelhupf made with fresh orange juice and orange zest.
Egg White Cake - A delicate egg white bundt cake or Gugelhupf with raisins, almonds, and candied lemon peel.
Orange Peel Cake with Raisins - Tender and sweet orange bundt cake or Gugelhupf with candied orange peel, raisins, chocolate chips, and almonds.
Pin it for later!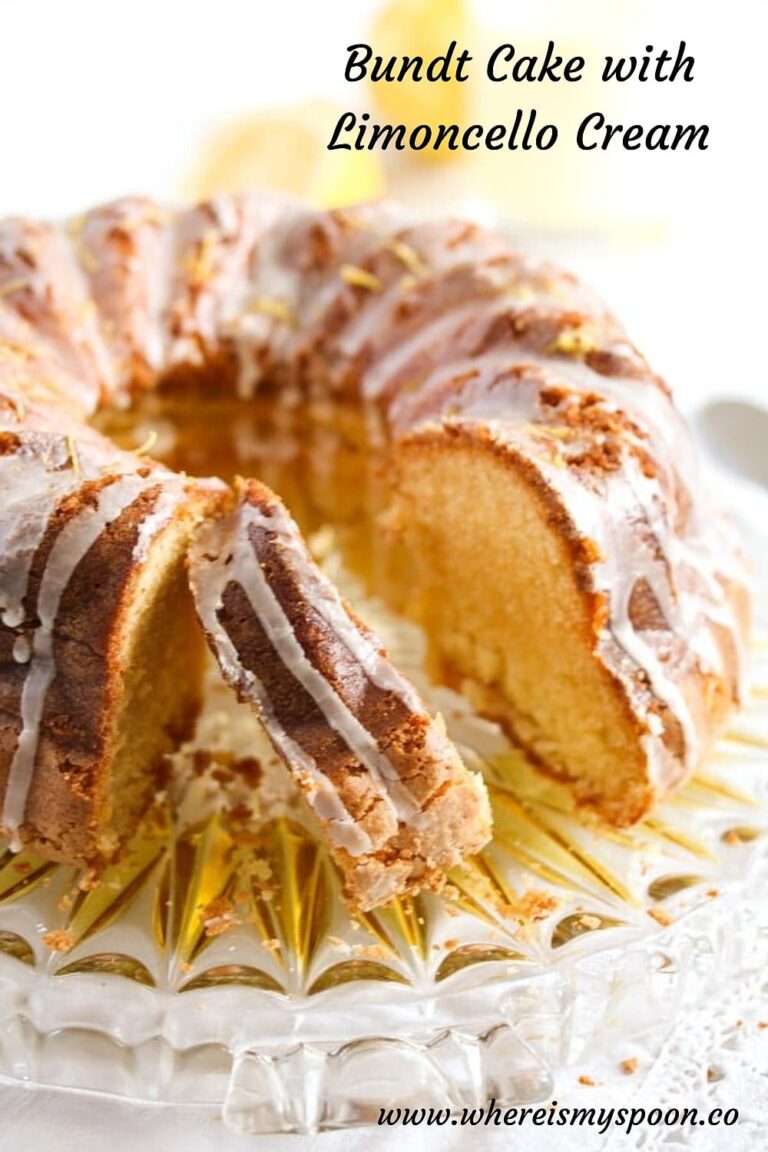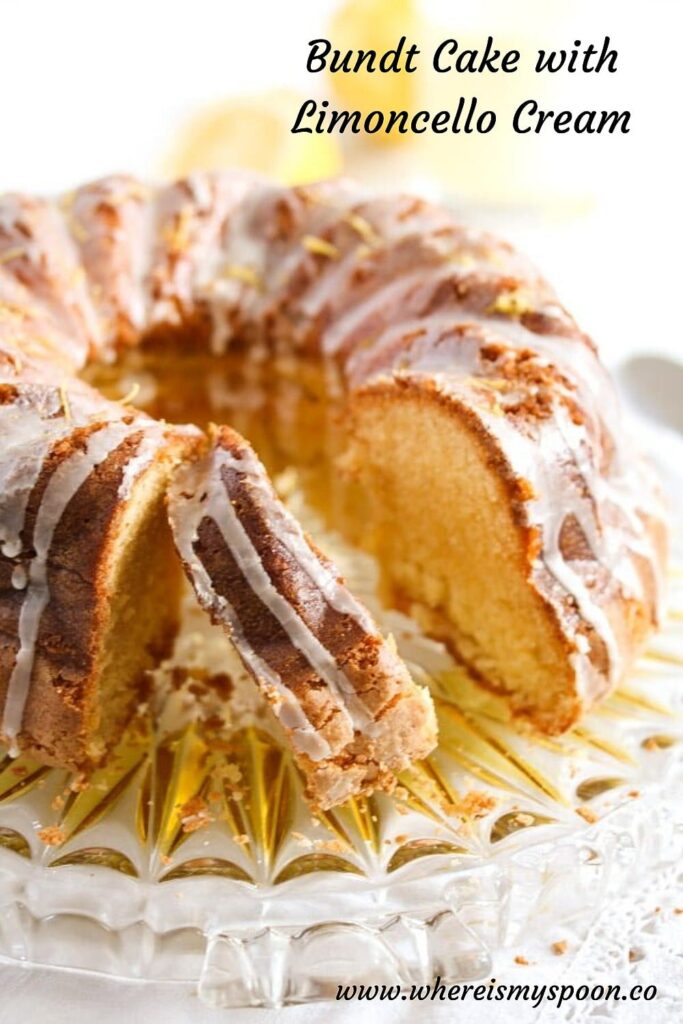 First published: May 11, 2018.
Last updated: March 21, 2020.
Ingredients
Limoncello cake:

5

eggs

medium Germany, large US

250

g/ 8.8 oz/ 2 ½ cups icing/powdered sugar

1

teaspoon

vanilla extract

250

ml/ 8.5 fl.oz/ 1 cup vegetable oil

neutral tasting

250

ml/ 8.5 fl.oz/ 1 cup Crema di limoncello

125

g/ 4.4 oz/ 1 cup all-purpose flour

125

g/ 4.4 oz/ 1 cup corn starch

3

teaspoons

baking powder

Limoncello glaze:

100

g/ 3.5 oz/ 1 cup powdered/icing sugar

a little more if necessary

3

tablespoons

Crema di limoncello

1

tablespoon

freshly squeezed lemon juice

zest of 1 organic

unwaxed lemon
Instructions
Preheat the oven to 180 degrees Celsius/ 360 degrees Fahrenheit.

Prepare the bundt cake. If using a silicone bundt pan, there is no preparation necessary. If using a regular non-stick bundt pan, butter it generously, including all the nooks and crannies of the pan. Make sure every inch of the pan is well greased. Coat the pan with flour. Take about ¼ cup or so of flour, tip it into the pan and start shaking and turning the bundt pan, so that the flour coats the insides of the pan, including all the nooks and crannies as well. Do this over the kitchen sink to avoid a mess.

Place the eggs and powdered sugar in a bowl. Beat well until light and creamy. Add the vanilla extract and mix in as well.

Alternatively and slowly start adding the oil and the limoncello, beating well after each addition.

Mix the flour, corn starch, and baking powder in another bowl. Sieve the flour mixture over the eggs and incorporate them carefully. Pour the batter into the pan and bake for about 1 hour or until a skewer inserted in the middle of the cake comes out clean.

Leave the cake in the pan for about 10 minutes. Transfer to a wire rack and leave to cool completely.

To make the glaze place the powdered sugar, limoncello, and fresh lemon juice in a small bowl. Stir well until the mixture is smooth. Adjust the consistency with either more powdered sugar (if too runny) or more limoncello/ lemon juice (if too thick). The glaze should be pourable, but still, stay mostly put on your cake when you pour it.

Place the wire rack with the limoncello cake onto a baking tray, so that the excess glaze can ooze onto the tray. Drizzle the glaze over the cake and garnish it with lemon zest.
Nutrition
Serving:
1
slice
|
Calories:
473
kcal
|
Carbohydrates:
58
g
|
Protein:
4
g
|
Fat:
21
g
|
Saturated Fat:
2
g
|
Polyunsaturated Fat:
18
g
|
Trans Fat:
1
g
|
Cholesterol:
78
mg
|
Sodium:
154
mg
|
Sugar:
39
g