Last Updated on 12/12/2019 by Adina
An easy recipe for soft snickerdoodle cookies without cream of tartar.
EASY SNICKERDOODLE COOKIES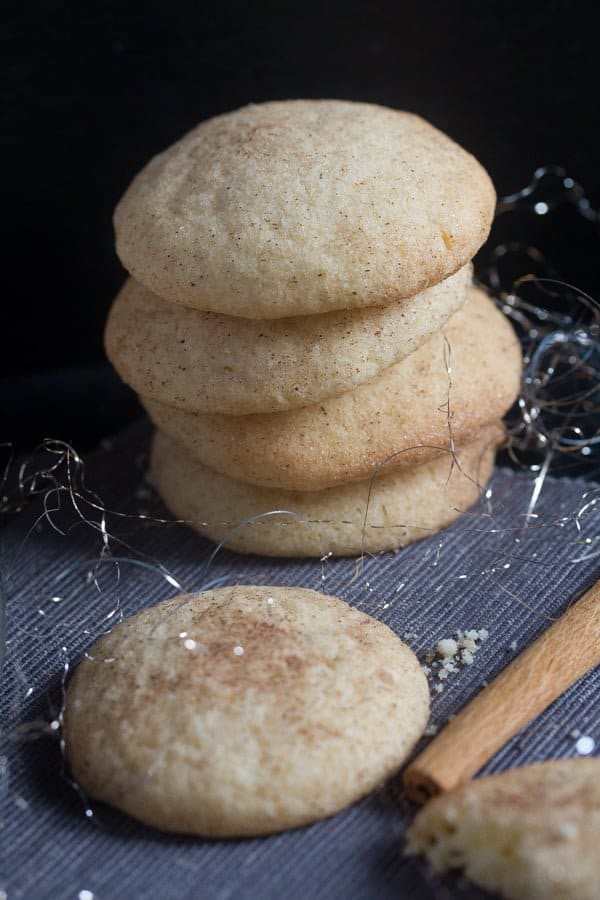 Melt-in-your-mouth snickerdoodle recipe without cream of tartar made from scratch, these popular American cookies are sure to please.
What is not to like about these snickerdoodles? They are soft and so comforting, they taste of cinnamon and are just perfect to dunk into your milk on a cold evening spent in front of the TV.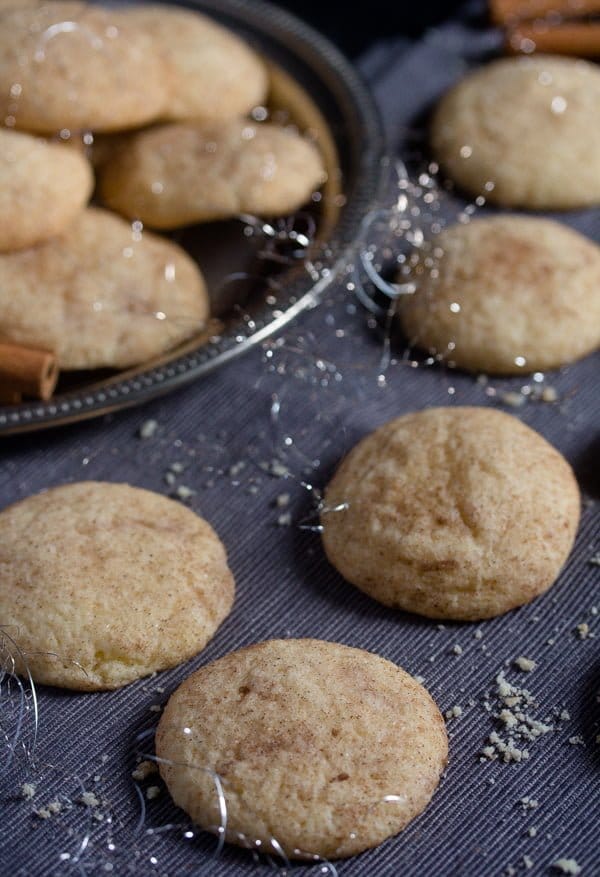 SNICKERDOODLES WITHOUT CREAM OF TARTAR
Snickerdoodle cookies are something new for me and my family here in Germany, these easy cookies are a typical American treat, which is not particularly popular around here. Too bad, I would say, anybody who got to taste them, loved them.
WHAT ARE SNICKERDOODLE COOKIES
Although I did read on Wikipedia that the snickerdoodles may have German origins, I really cannot think of any German cookie I know (and I have baked loads of different German cookies over the years) that is anything like these snickerdoodles.
Some even claim that the name snickerdoodle is coming from the German word Schneckennudel but, if you ask me, I can see no similarity there at all. So, as far as I am concerned these easy snickerdoodle cookies are as American as they can be.
Basically, the snickerdoodle cookies are a type of sugar cookies. But unlike typical sugar cookies, which are thin and crunchy, snickerdoodle cookies are soft and pillowy.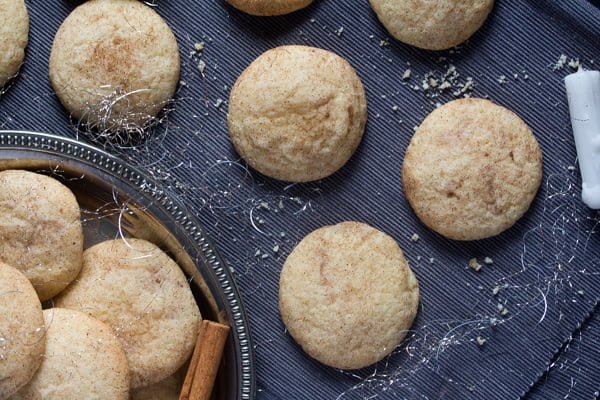 SNICKERDOODLE RECIPE
Classically, snickerdoodle cookies are made using cream of tartar. According to what I have read, it is the cream of tartar that makes them soft and so very, unlike typical sugar cookies.
However, as the cream of tartar is not an ingredient I usually have lying around the kitchen, I searched for an easier way to make these cookies. And I found out that a good substitution for the cream of tartar (usually used in combination with baking soda when making snickerdoodles) was baking powder.
So, I replaced the cream of tartar and baking soda required by the recipe with 2 teaspoons baking powder.
I could not have been happier with the result: soft, pillowy, melt-in-your-mouth snickerdoodle cookies, perfectly spiced with cinnamon.
Although I must admit that I was very surprised by the texture of these cookies at first, I don't usually make soft cookies and as my daughter put it – the snickerdoodles are more like little cakes than like cookies. But perfectly delicious!
HOW TO MAKE SNICKERDOODLES WITHOUT CREAM OF TARTAR
These are super easy to make cookies, you can whip them up in a matter of minutes, roll them in a cinnamon and sugar mixture and bake them for about 8 minutes.
Make sure the butter is soft, take it out of the fridge a few hours before baking, so that it can reach room temperature. Beat the soft butter and the sugar together until creamy.
Add the eggs and continue beating until incorporated.
Mix together the flour, salt, and baking powder. Add them to the butter mixture and incorporate it shortly. You should not overmix the batter, that could cause the snickerdoodles to become tough and that is the last thing you want, these cookies should be nice and soft.
Many recipes ask for the dough to be chilled before baking, but there was absolutely no need for that in this easy snickerdoodle cookie recipe.
However, if your kitchen is very warm, and you are worried about the cookies spreading too much during baking, you might want to chill the formed and coated snickerdoodles for about 30 minutes before baking. I did not do that and I still thought my cookies came out perfectly, so it is up to you.
Form balls about the size of a larger walnut, about 1 tablespoon of dough. Roll them in the sugar cinnamon mixture, flatten them slightly and place them on baking trays, leaving some space in between. You will probably need to bake the snickerdoodles in 3 or 4 batches, depending on the size of your trays.
Bake for about 8 minutes, depending on your oven, or until just set around the edges. The middle should still look undercooked. Leave to rest on the baking trays for about 10 minutes, this will give them time to set properly. Transfer to wire racks to cool completely:
Keep the snickerdoodle cookies airtight, otherwise, they will become crispier.
MORE CHRISTMAS COOKIES?
CLASSIC THUMBPRINT COOKIES – the easiest and best recipe I know for thumbprint cookies with jam. A classic thumbprint cookie recipe that everybody should make.
CHOCOLATE CRACKLE COOKIES – easy to make chocolate crackle cookies, sweet and chewy and with lots of chocolate, these are some of our family's favorite Christmas cookies.
CORNFLAKE CAKES – super easy to make cornflake cakes or chocolate cornflakes, a no-bake cookie recipe for crunchy Christmas cookies.
COCONUT MACAROONS – tender coconut macaroons or coconut cookies made with only three ingredients.
GINGER SNAPS RECIPE – the best ginger snap cookie recipe I have ever made: crispy, aromatic and loaded with spicy pieces of crystallized or candied ginger.
PIN IT FOR LATER!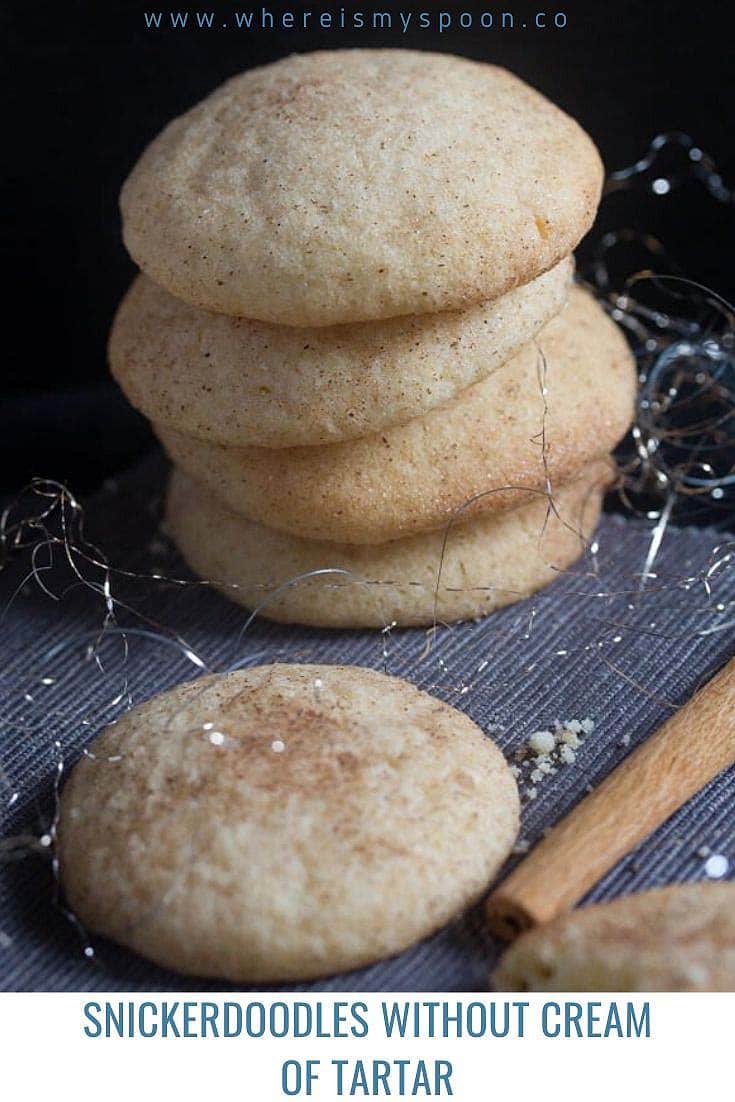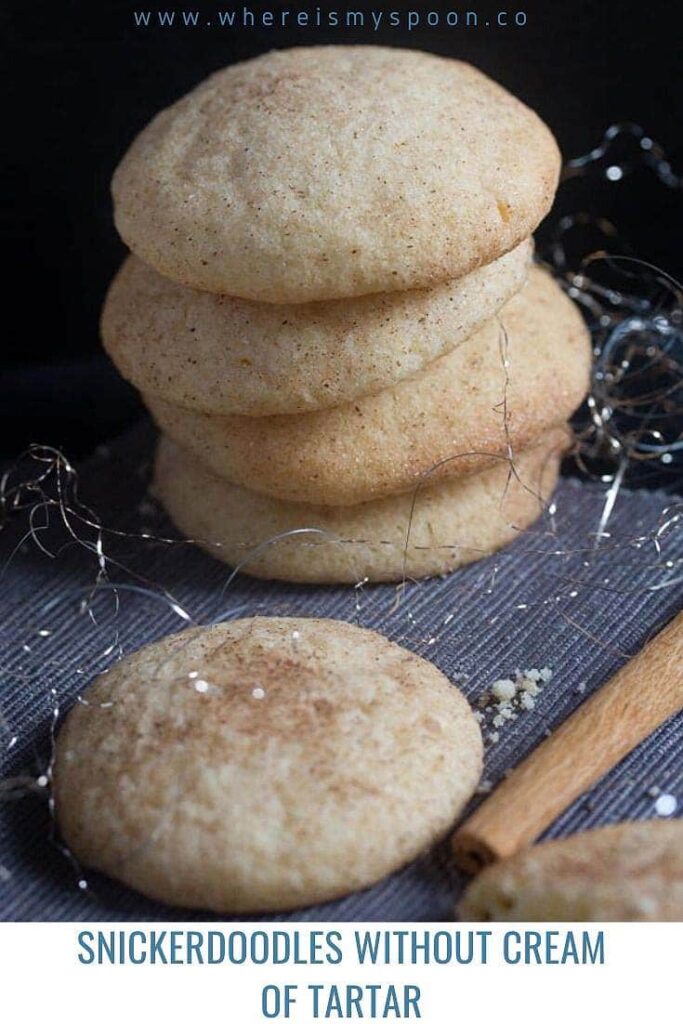 Snickerdoodle Recipe Without Cream of Tartar
Soft and easy snickerdoodle cookies made without cream of tartar.
Ingredients
Snickerdoodles:
160 g/ 5.6 oz/ 2/3 cup unsalted butter, soft
180 g/ 6.3 oz/ ¾ cup + 2 tablespoons granulated sugar
½ teaspoon pure vanilla extract
2 eggs (medium Germany, large US)
330 g/ 11.6 oz/ 2 ¾ cup all-purpose flour
pinch of salt
2 teaspoons baking powder
Cinnamon-sugar coating:
50 g/ 1.7 oz/ ¼ cup granulated sugar
1 tablespoon cinnamon
Instructions
Snickerdoodles:
Preheat the oven to 180 degrees Celsius/ 350 degrees Fahrenheit. Line at least two baking trays with baking paper. You might need to bake the cookies in several batches, having to use the baking trays more than once.
Cream the soft butter and the sugar. Add the vanilla extract and the eggs and continue beating until fully incorporated.
In another bowl, mix together the flour, salt and baking powder. Add the dry mixture to the butter mixture and incorporate shortly. Do not overmix the batter or the cookies might become tough.
Cinnamon-sugar coating:
Mix together the cinnamon and the sugar on a plate.
Take about 1 tablespoon of the dough and form balls about the size of a larger walnut. Roll the balls in the sugar cinnamon coating and place them on the prepared trays leaving some space in between. Flatten the balls slightly with your hand.
Bake the snickerdoodles for about 8 minutes (depending on your oven) or until the cookies are set around the edges, but still look slightly undercooked in the middle. Leave to rest on the trays for about 10 minutes, during this time they will set nicely.
Transfer to wire racks to cool completely and bake the next batch.
Keep in an airtight container.
Nutrition Information:
Yield:

35
Serving Size:

1
Amount Per Serving:
Calories:

97
Total Fat:

4g
Saturated Fat:

2g
Trans Fat:

0g
Unsaturated Fat:

1g
Cholesterol:

20mg
Sodium:

36mg
Carbohydrates:

14g
Fiber:

0g
Sugar:

7g
Protein:

1g
Nutrition information isn't always accurate.