Last Updated on 23/03/2020 by Adina
Super spicy and vegan moong dal tadka or Indian dal recipe. This economical and flavorsome yellow moong dal curry is just as delicious as the best restaurant version.
MOONG DAL RECIPE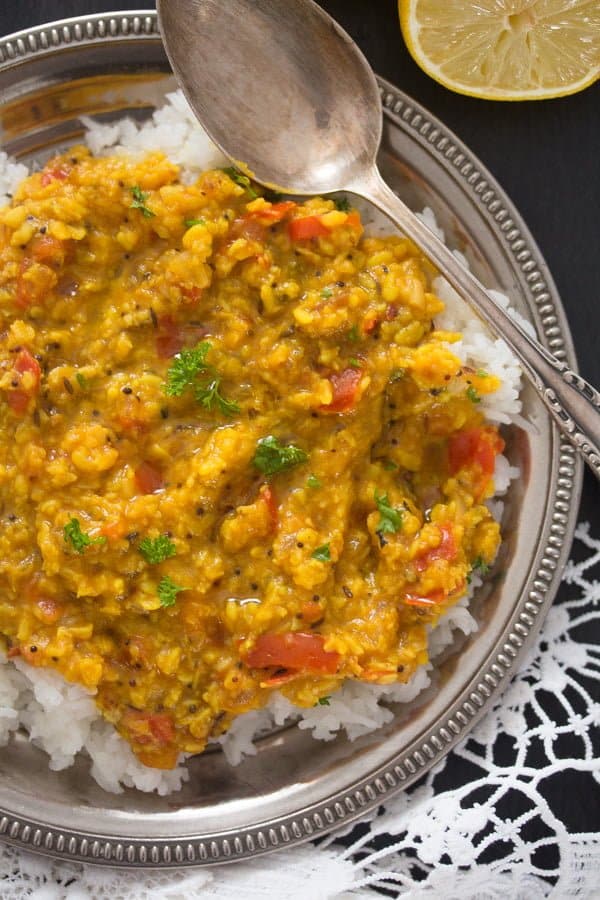 Dal, Dahl, Dhal or Daal? Moong dal, mung dal, mung dhal or moong dhal?
There is no general agreement about the right way of spelling dal… Dahl? Or dhal? Or daal? Moong or mung? So, as I have no idea what's best, I chose the form I see more often moong dal.
The best explanation for these different ways of spelling I found is that "Hindi is a phonetic language, meaning it's spoken the way it's written and when you translate it to English, that could be left to a tiny bit of interpretation." (Indian as Apple Pie)
Dal, for instance, is the Indian term for dried, split pulses, like lentils, peas or beans. But not only. Dal is also the term used when speaking about a dish made with lentils, a super spicy and comforting Indian curry.
Dal Types
There are countless ways of cooking a good dal tadka recipe, this recipe using yellow moong dal lentils
is just one of them.
You can make dal using regular chickpeas, split chickpeas (chana dal), brown chickpeas (kala chana), black eyed peas, whole mung beans, yellow moong lentils (moong dal), split pigeon pea (toor dal), black lentils (urad dal), red lentils (masoor dal) and kidney beans (rajma).
Most of the time when cooking a dal recipe, I make masoor dal using red lentils. I can only make moong dal tadka when I happen to find an Asian store and buy a bag of moong lentils.
I absolutely love the moong dal and this recipe is the only one I've ever cooked with the moong lentils. And I must have gone through 3 or 4 bags already.
Actually, when researching for this blog post, I read that people think moong dal to be a bit bland. I really can't get it, as I have never had this feeling about this lentil dal recipe. I find it just as spicy, tasteful and satisfying as a more regular red lentil dal…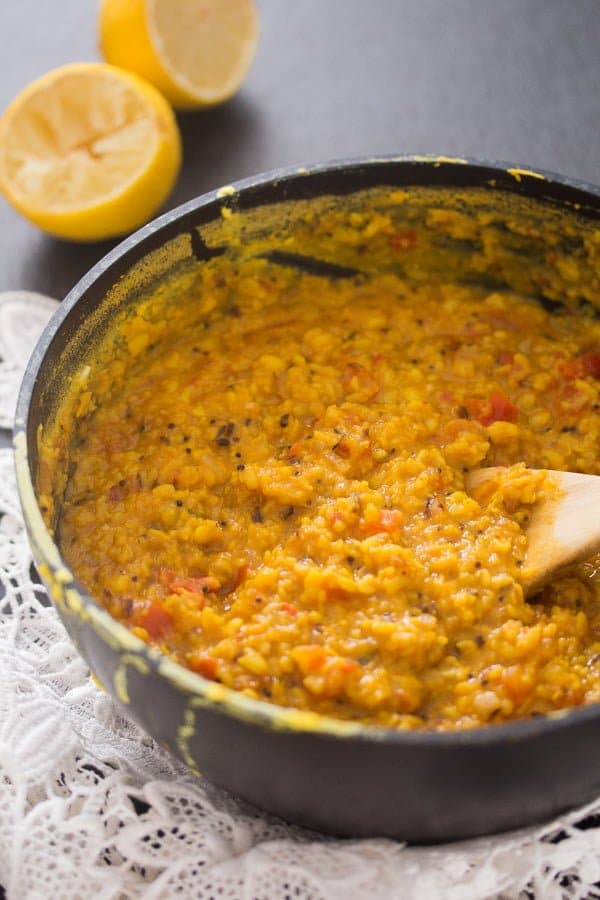 What is dal tadka?
Tadka is the Hindi word meaning tempering. Tempering is used not only in Indian cuisine but also in the cuisines of Pakistan, Sri Lanka and Bangladesh.
Herbs and whole spices are fried in oil, thus releasing their essential oils and changing or enhancing their taste. Both these roasted spices and the oil are then poured into the dish. Or the whole tempering process takes place at the beginning, roasting the spices in oil before adding the remaining ingredients.
For this Indian dal, I do the tempering at the end of the cooking process. I cook the yellow split lentils first, mash them lightly and add the spices and the oil.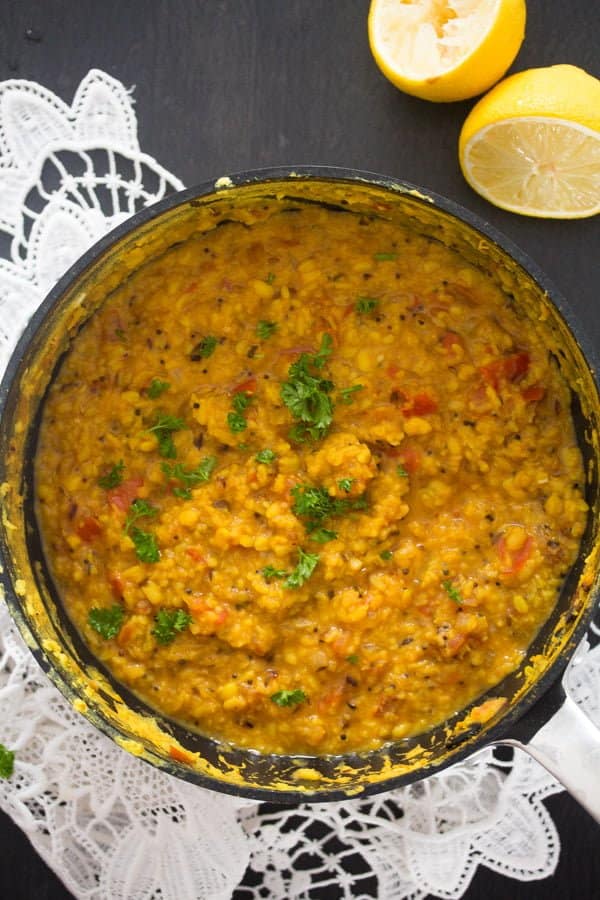 How to make moong dal?
Cook the yellow lentils with turmeric according to the packet's instructions, about 30 minutes, but check the package. The lentils should be really soft so that you can mash them lightly.
Make the tadka or tempering by roasting the spices in oil. Make sure to stand by and stir continuously for about ½ minute.
Add the chopped onions and cook for about 4 minutes until they are softer.
Add the lime leaves, chili, garlic and cook for another 2-3 minutes. Add tomatoes and sugar and cook for about 2-3 minutes until the tomatoes are softer.
Mix the yellow lentils and the tadka together.
Adjust the taste with salt and lemon juice.
How to serve moong dal tadka?
Most of the time I serve this yellow moong dal over rice with some plain yogurt or raita on the side. If I don't feel like having rice, I might bake these easy and fluffy naan bread.
But I often serve the moong dal tadka or a more regular and very spicy red lentil dal as part of a larger Indian curry meal.
I cook Indian food for guests very often. There are many reasons for that. First of all, Indian food is amazing! Then, curries or dals are so good to prepare in advance and just reheat when the guests are there. That reduces stress significantly.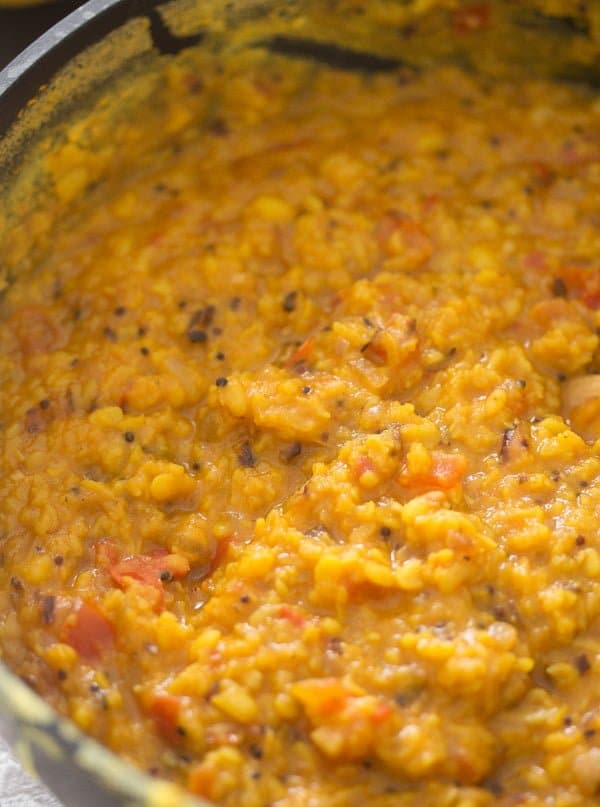 And most importantly, most of the people I know are not familiar with Indian food and I just like to surprise them, to be the one to introduce them to such amazing flavors.
I have never failed until now, everybody I have ever served Indian food to was impressed and some of them even ask, when invited to dinner, if I could cook something Indian again.
A good, spicy dal is always part of the menu. Usually, I would cook chicken curry, vegetable curry, moong dal or red lentil dal, raita, some Indian style chopped salad, rice or naan bread. Followed by dessert, which is most of the times shrikhand.
And just in case I put you in the mood for some delicious Indian food, have a look at this Easy Beef Potato Curry, these Turkey Meatballs in a Spicy Turmeric Sauce or this Vegan Potato Curry with Tofu, I am sure you will like them.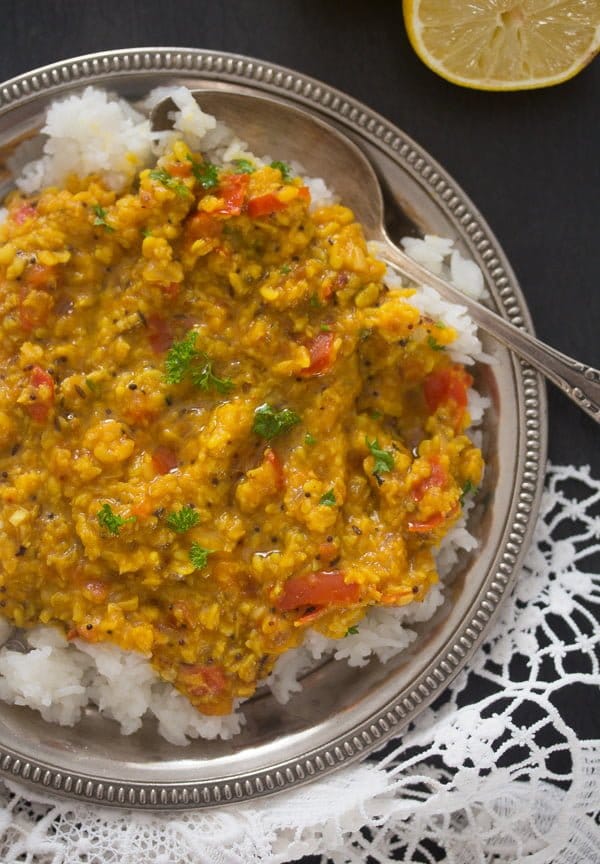 The nutrition information is calculated for 2 servings when serving the lentil curry as a main meal. If the moong dal is part of a larger meal, the quantities would be enough for 4 to 6 people.
PIN IT FOR LATER!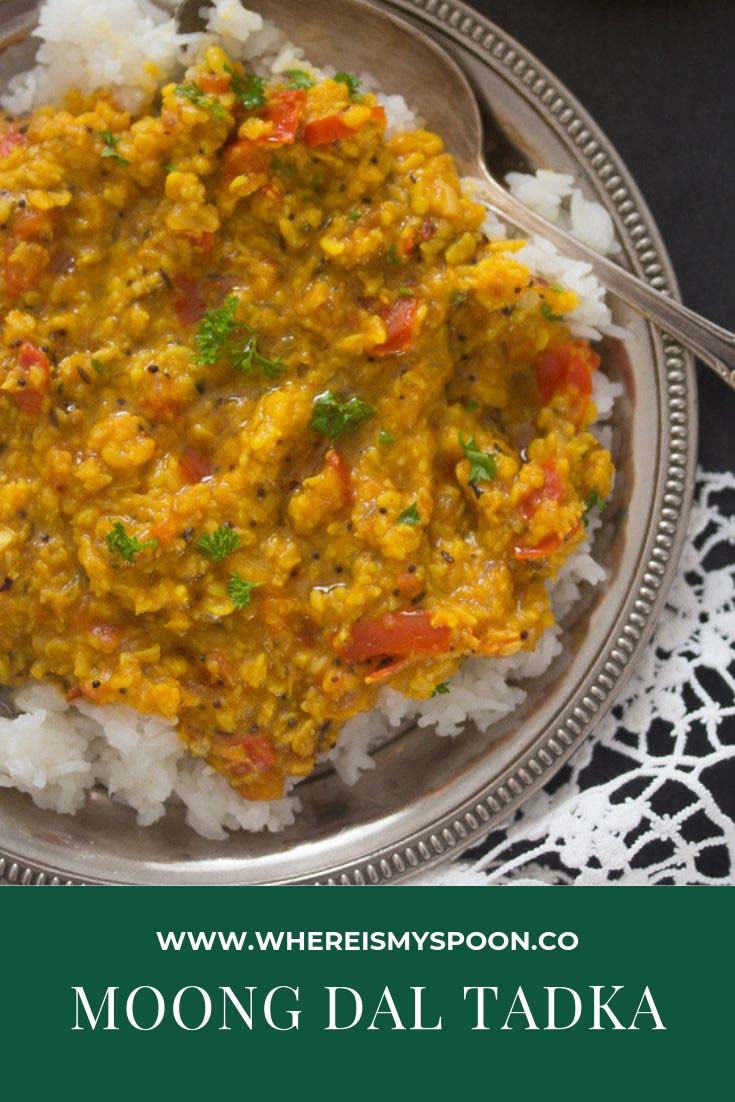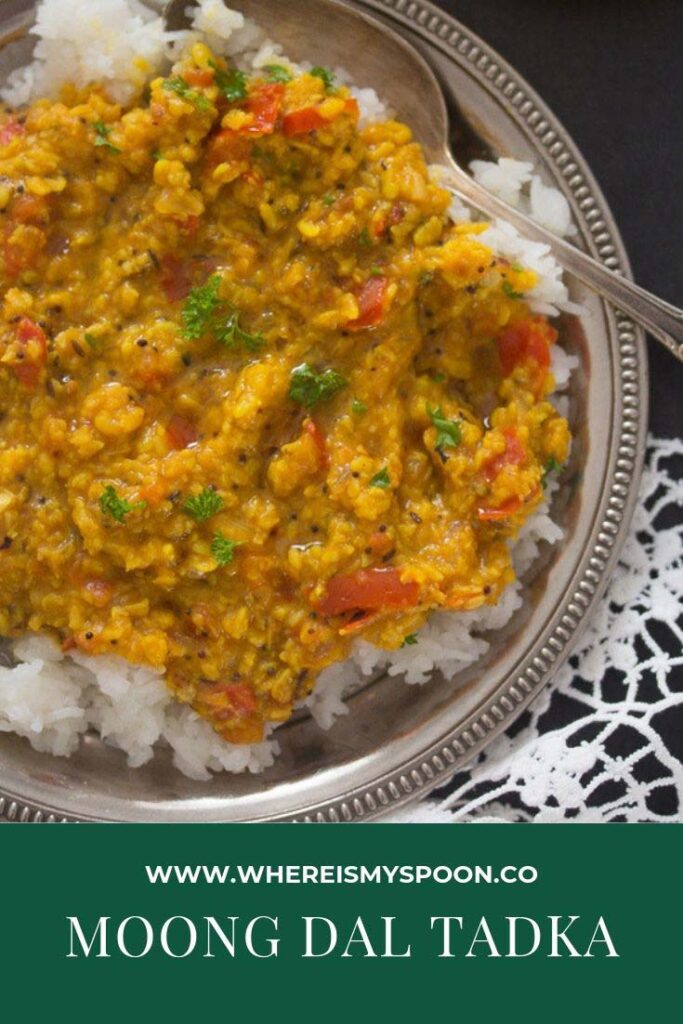 Moong Dal Tadka Recipe – Yellow Dal
Super spicy and vegan yellow moong dal tadka or dal recipe. Perfect as a main meal with rice or as a side dish for other Indian dishes.
Ingredients
Lentils:
850 ml/ 28.7 fl.oz/ 3 ½ cups water
½ teaspoon turmeric
Tadka:
2 tablespoons vegetable oil
1 teaspoon cumin seeds
1 ½ teaspoon brown mustard seeds
1 onion, about 150 g/ 5.3 oz/ about ¾ cup chopped
3 lime leaves (See note)
½ - 1 teaspoon chili flakes, to taste
3 large garlic cloves
2 tomatoes, about 150 g/ 5.3 oz
½ teaspoon sugar
1 tablespoon lemon juice, more to taste
fine sea salt
Instructions
Place the moong lentils in a saucepan. Add the water and the turmeric. Bring to a boil, lower the heat and simmer for about 30 minutes or according to the packet's instructions. The lentils should be soft. Mash lightly.
Finely chop the onions, garlic and tomatoes. Keep them separated.
Heat the oil in a pan. Add the cumin and the brown mustard seeds. Stir for about 30 seconds. Add the onions and cook, stirring often, for about 4 minutes.
Add the lime leaves, chili flakes, chopped garlic and stir for 2-3 minutes. Add the chopped tomatoes and the sugar and stir for 2-3 minutes until the tomatoes are slightly softened.
Add this mixture to the cooked lentils and mix well. Add sea salt to taste. Add the lemon juice, stir again and only add more if you feel it is necessary, to taste.
Serve the moong dal tadka with rice/ naan bread and yogurt/raita or as suggested above.
Notes
You can use curry leaves instead.
Nutrition Information:
Yield:

2
Serving Size:

1/2 of the dal
Amount Per Serving:
Calories:

298
Total Fat:

15g
Saturated Fat:

1g
Trans Fat:

0g
Unsaturated Fat:

13g
Cholesterol:

0mg
Sodium:

1338mg
Carbohydrates:

33g
Fiber:

10g
Sugar:

10g
Protein:

10g
Nutritional information is not always accurate.