Last Updated on
Soft and aromatic pumpkin cubes braised with lots and spices and served with a refreshing mint garlic yogurt sauce.
This is an updated post from October 2014. The pictures are new but the recipe and the text remain the same.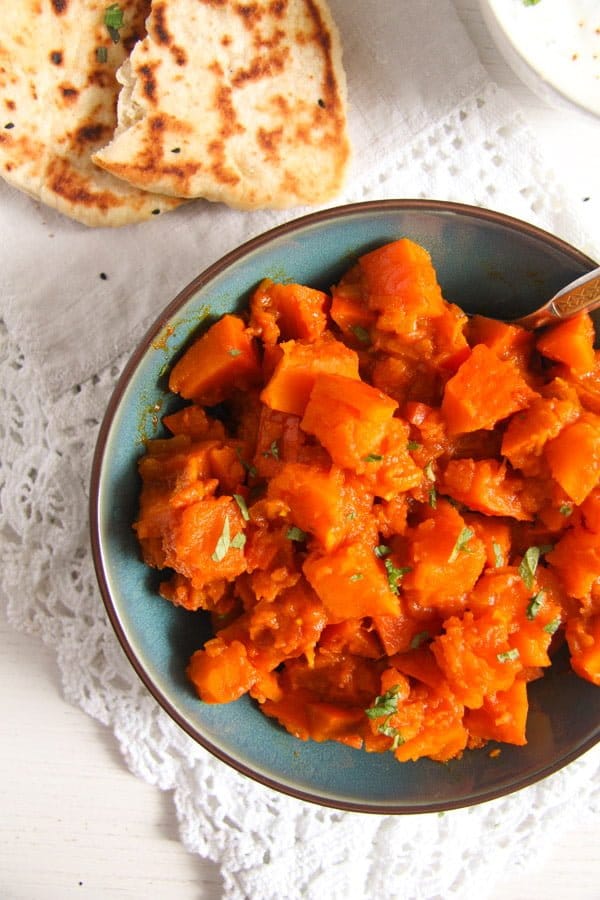 This is my second Afghan recipe, a simple dish served with the Soft Afghan Naan Bread with Yogurt and Nigella Seeds I've already posted. I found the recipe on Veggie Belly. I did not change much, I just used Hokkaido pumpkin instead of butternut squash (again I prefer it because you just don't have to bother peeling it) and used less sugar and oil.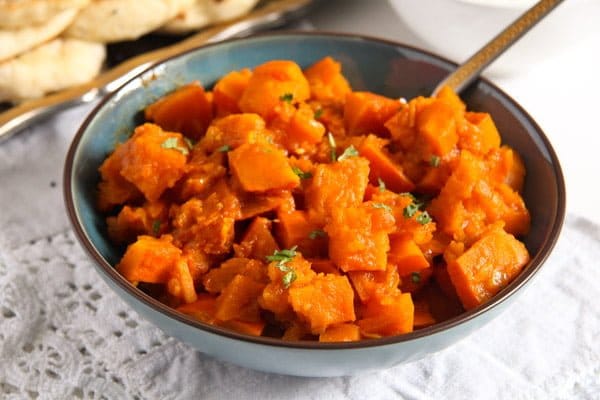 Some more delicious pumpkin ideas: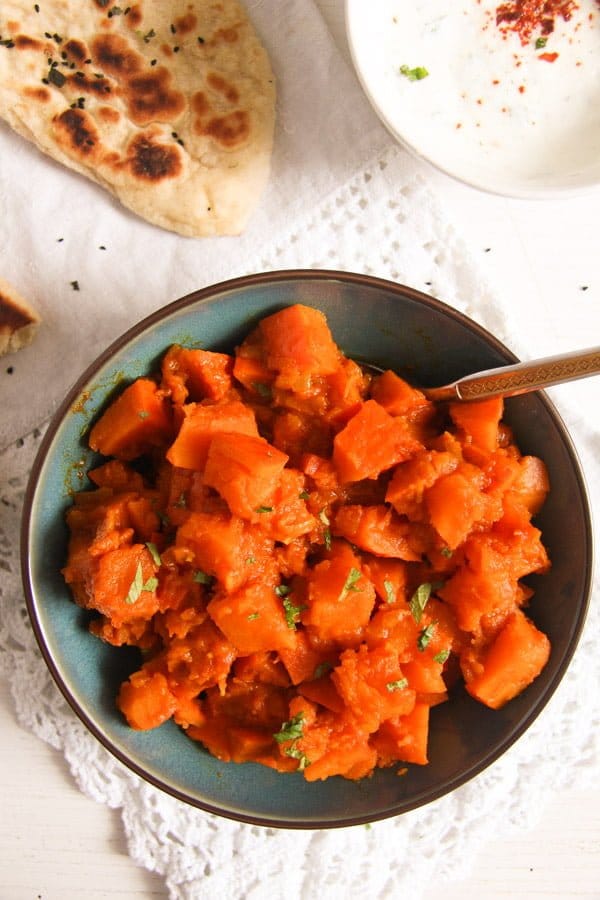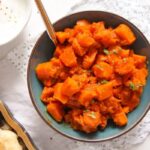 Ingredients
500 g/1 pound Hokkaido pumpkin

2 tablespoons oil

1 onion

1 inch ginger

2 garlic cloves

½ teaspoon turmeric

1 teaspoon coriander

½ teaspoon chili powder

1 tablespoon tomato paste

230 g/1 cup water

1 ½ tablespoons sugar

salt to taste

250 g/1 cup yogurt

2-3 garlic cloves

small bunch of mint

small bunch of coriander or parsley
Instructions
Cut the pumpkin into cubes.
Chop the onion very finely and cook it in the heated oil until golden, that will take about 10 minutes. Stir often and don't let it get too brown. Add the ginger, garlic, turmeric, coriander and chili and fry for about 1 minute or until fragrant.
Add the tomato paste, water, sugar and salt and bring everything to a boil. Stir in the pumpkin, lower the heat and simmer for about 20 to 30 minutes, depending on how big the pumpkin cubes are. You might need to add extra water if it gets too dry.
Sprinkle with some of the mint and serve with the herbed yogurt and naan bread.
For the yogurt:
Mix the yogurt with the chopped herbs and the grated garlic. adjust the taste with salt and pepper.
This post contains affiliate links. The price you pay as a consumer does not change, but if you make a purchase we will receive a commission which helps support the blog.