This creamy and flavorful chicken and pumpkin risotto is a light yet comforting fall or winter favorite meal.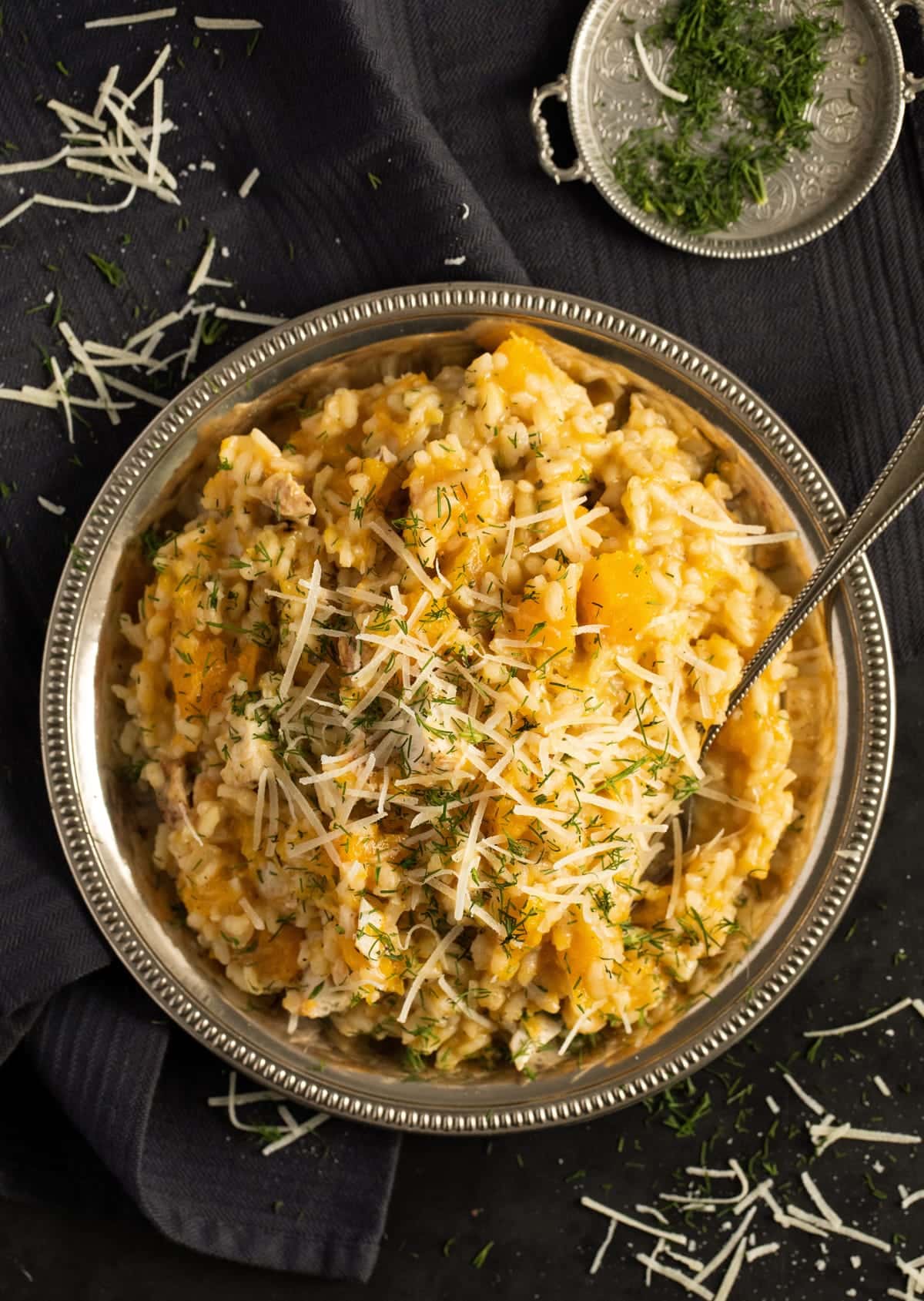 This chicken and pumpkin risotto has it all: it's rich without being heavy, it's creamy and comforting, it's packed with tender chicken pieces, and it's full of flavor. It's made with roasted pumpkin, and roasting it increases its flavor and makes it even creamier and smoother.
This recipe is also great for meal prep or using leftover ingredients like cooked chicken, rotisserie chicken, and pumpkin puree. For example, you could roast the pumpkin or squash and cook the chicken in advance, and make a quick risotto on any busy weeknight.
Try other delicious recipes like the Pumpkin Risotto or the Pumpkin and Gorgonzola Risotto.
Recipe ingredients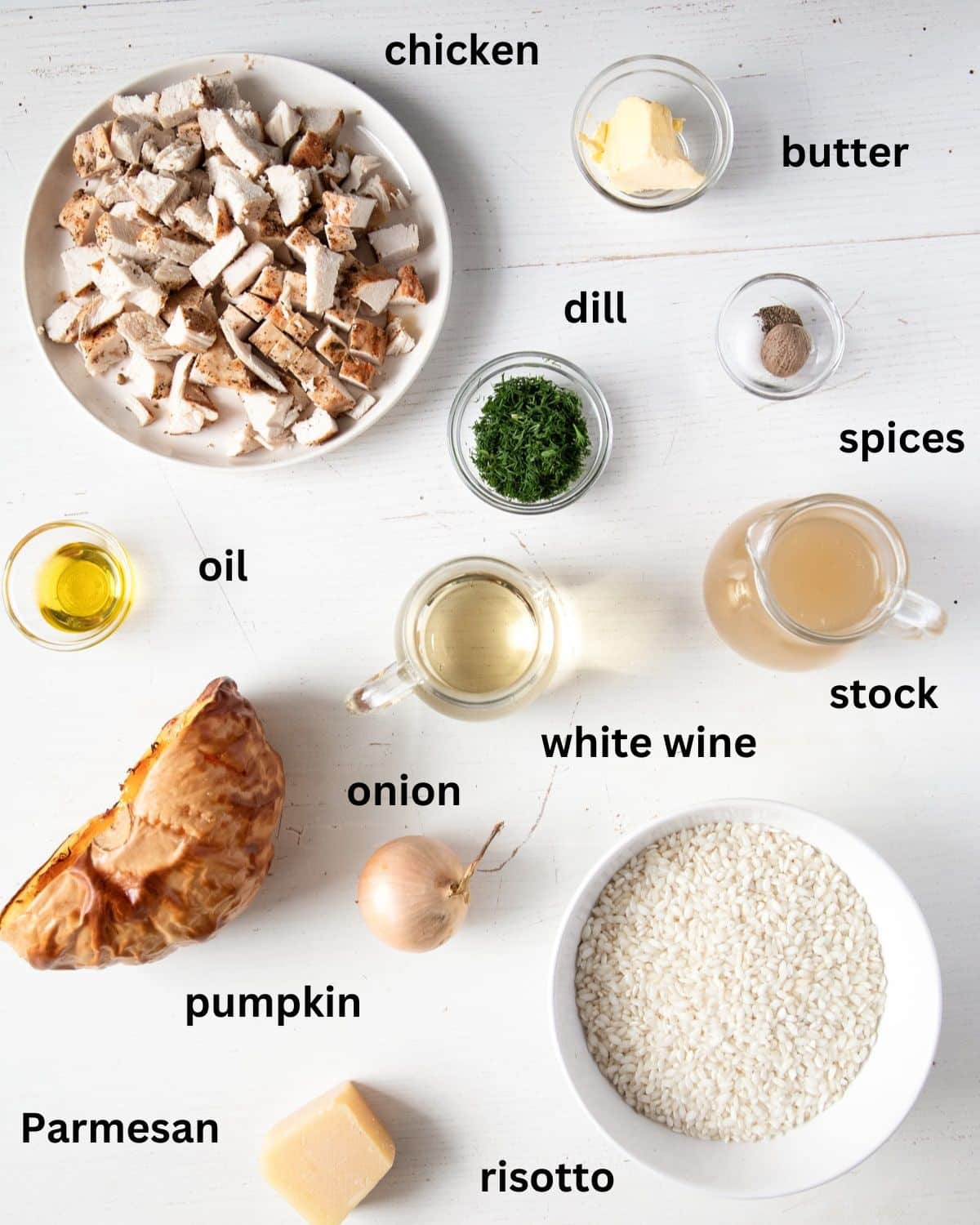 Risotto rice: Arborio, Vialone nano or Carnaroli are all great. Arborio is the most readily available sort; that's why I tend to use it for most of the risotto recipes I make.
Chicken: I used breast cubes leftover from making roast chicken. But you can use any leftover pieces you have. Pan-fried, baked, or poached chicken breast, thighs, or leftover rotisserie chicken. Turkey leftovers from your Thanksgiving or Christmas dinner are just as great.
Pumpkin: A flavorful sort like Hokkaido (red Kuri squash), butternut squash, or sugar pumpkin. Don't use Halloween pumpkins (Jack-o'-lantern); it's tasteless.

If using Hokkaido pumpkin, there is no need to remove the peel after roasting. Remove the peel of butternut squash or any other pumpkin.
Parmesan: Freshly grated cheese from a wedge.
Other ingredients: Vegetable broth (or chicken broth or stock), onion, dry white wine, butter, olive oil, dill, and spices - fine sea salt, ground black pepper, and nutmeg.
How to make pumpkin and chicken risotto?
Roast pumpkin:
Cut it in two halves, remove the seeds and bake it on a lined baking sheet in the preheated oven for 40-50 minutes or until fork-tender (1).
Let it cool shortly, and remove the peel unless it's a Hokkaido. You will only need 1 lb/500 g to make this chicken and pumpkin risotto. Use the leftovers for another recipe, for instance: Roasted Pumpkin Salad, Vegan Roasted Pumpkin Soup, or Pumpkin Frittata.
Puree half of the needed pumpkin and cut the other half into cubes (2).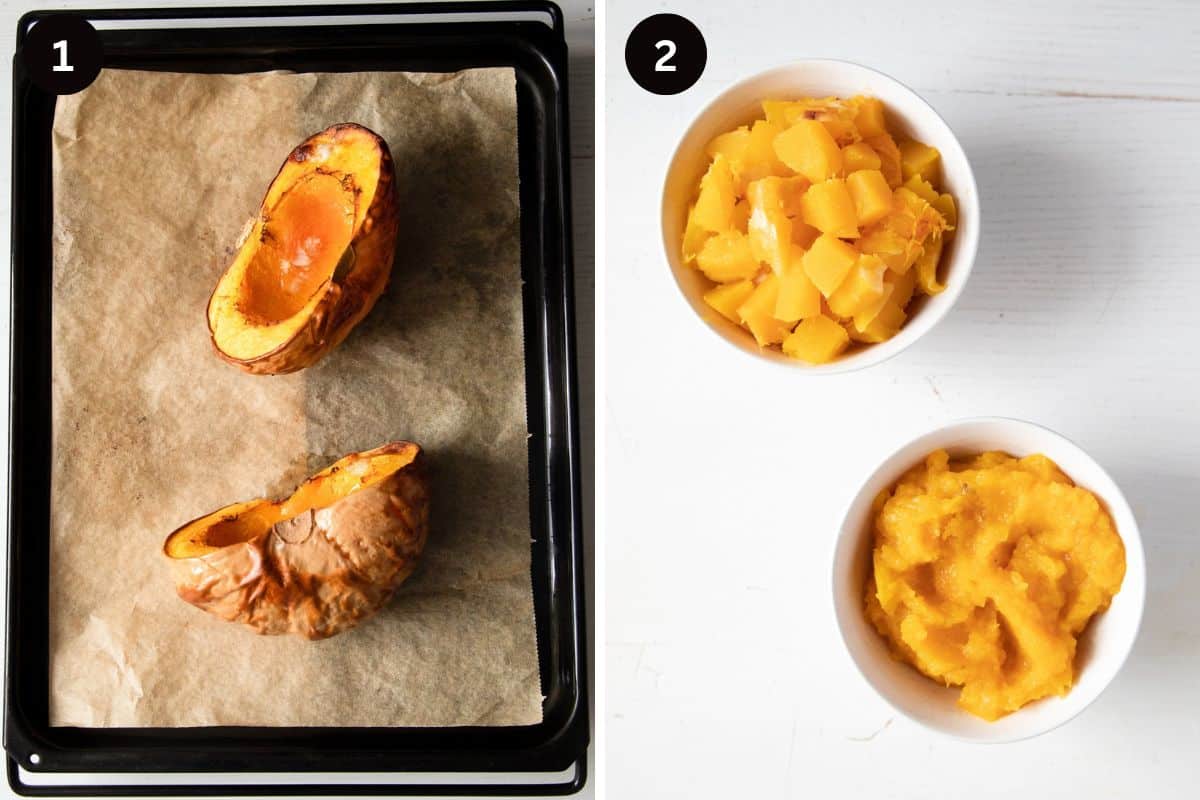 Cook risotto:
Pour the stock into a small pan and keep it on the stovetop on very low heat; the stock added to the rice must always be hot.
Sauté: Heat the oil in a large skillet, Dutch oven, or saucepan. Cook the finely chopped onion until translucent (3). Add the grains (unwashed) and stir with a wooden spoon until they are coated with the oil. Toast the rice lightly, add the wine, stir, and let the wine bubble away (4).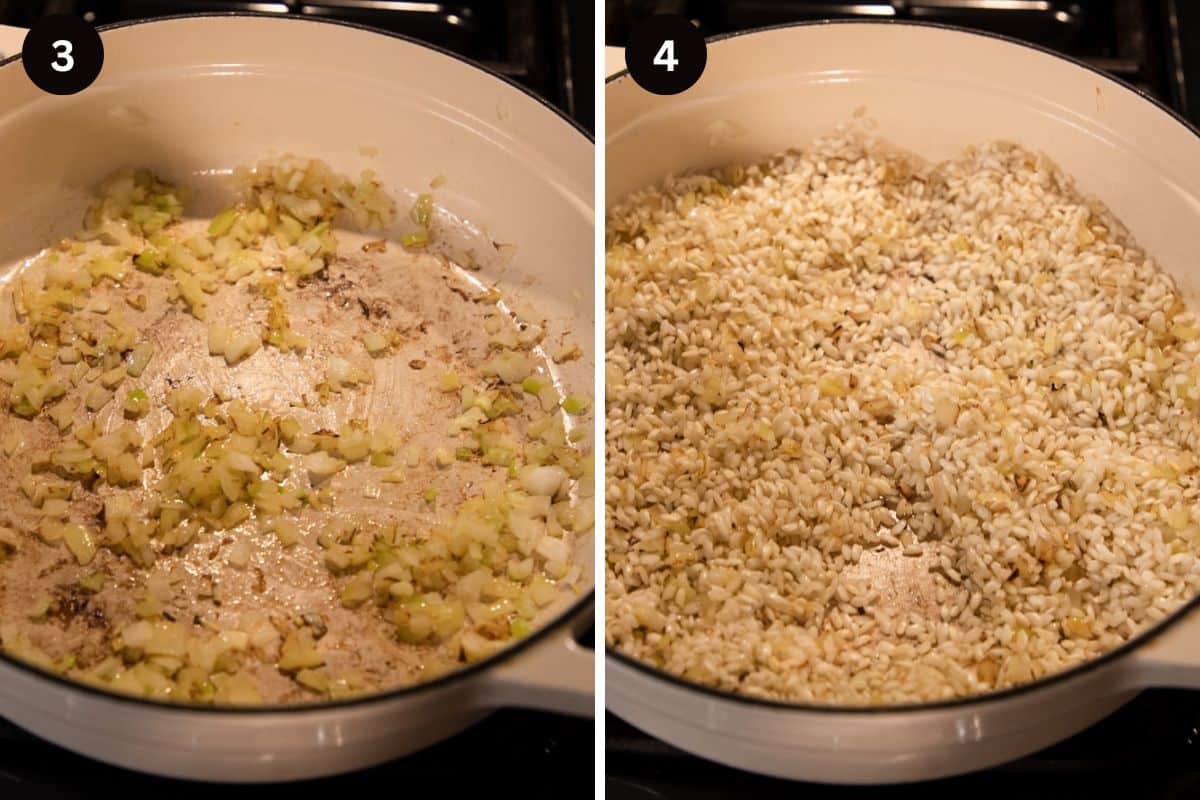 Simmer: Start adding the stock little by little (5), only adding the next cup when the previous one has been absorbed. Stir often, scraping the bottom of the pan (6). After 15-20 minutes, the grains should be tender but check; they should be soft but not mushy, overcooked.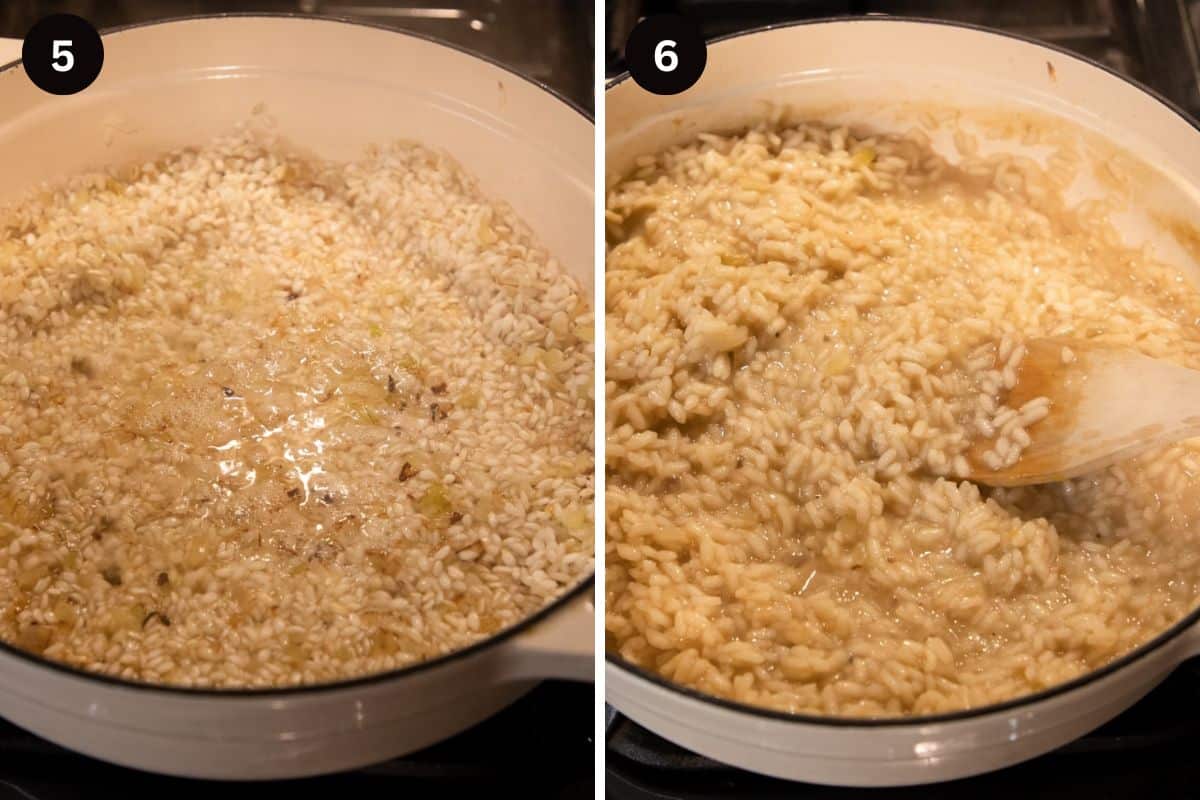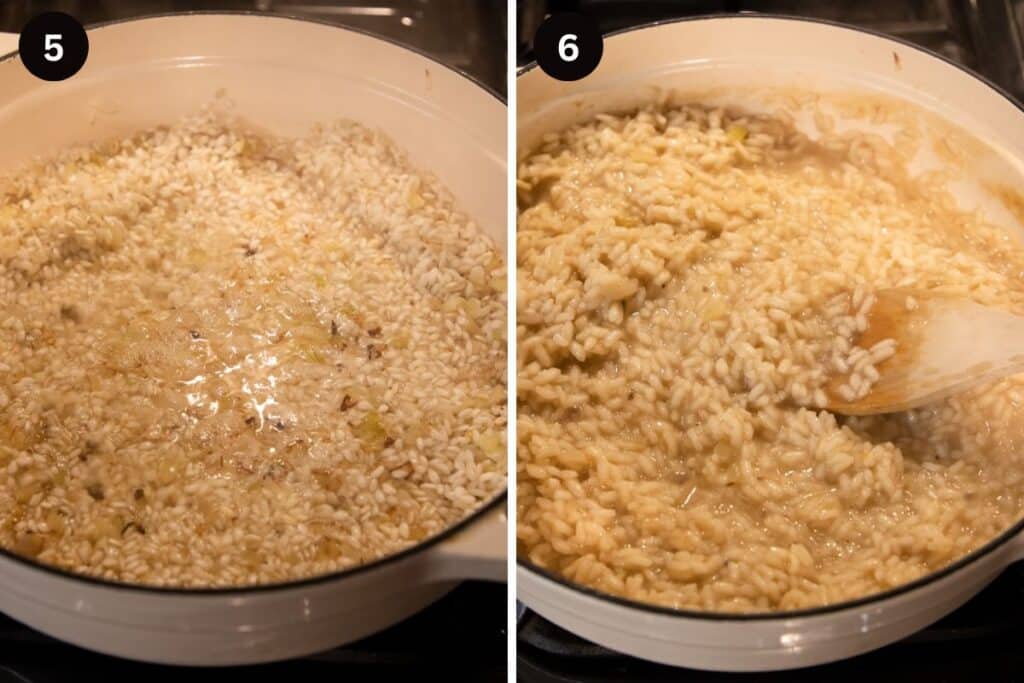 Stir in the pumpkin puree, cubes, butter, grated Parmesan cheese, nutmeg, salt, and black pepper to taste. Finally, fold in the chopped chicken and dill (7,8).
Let stand for about 5 minutes and serve.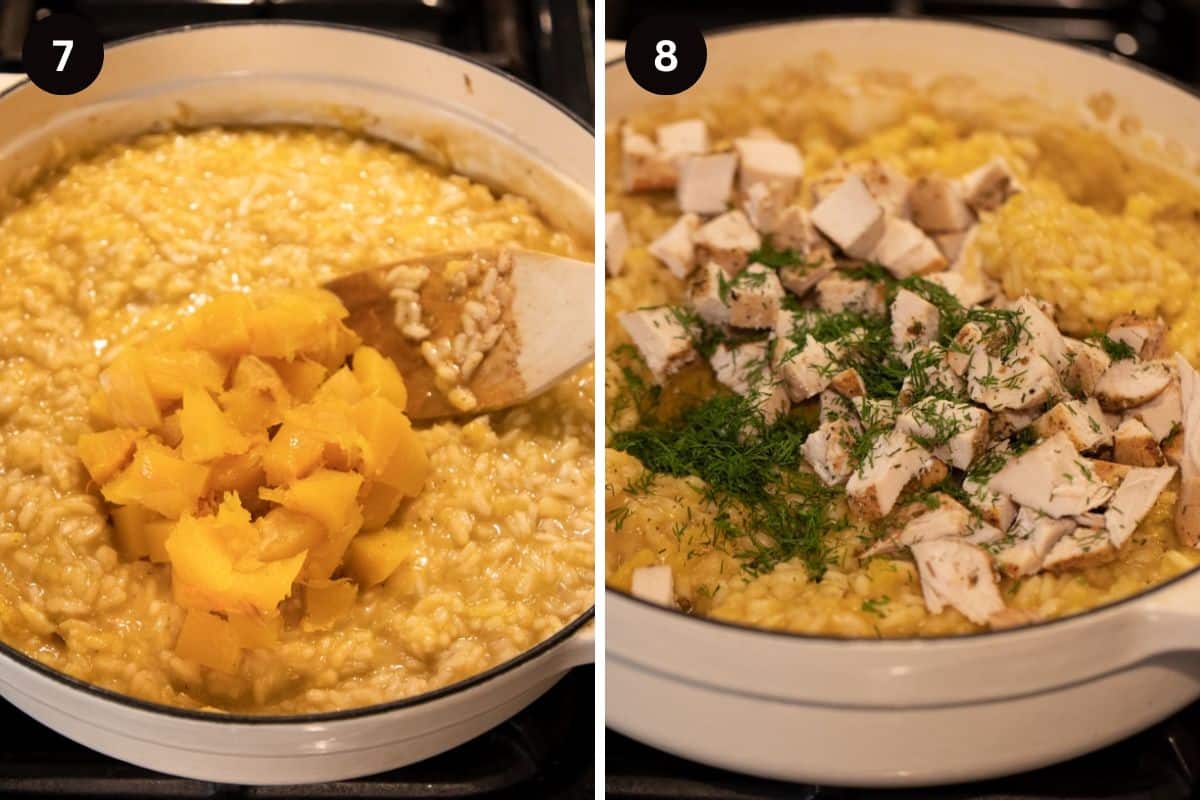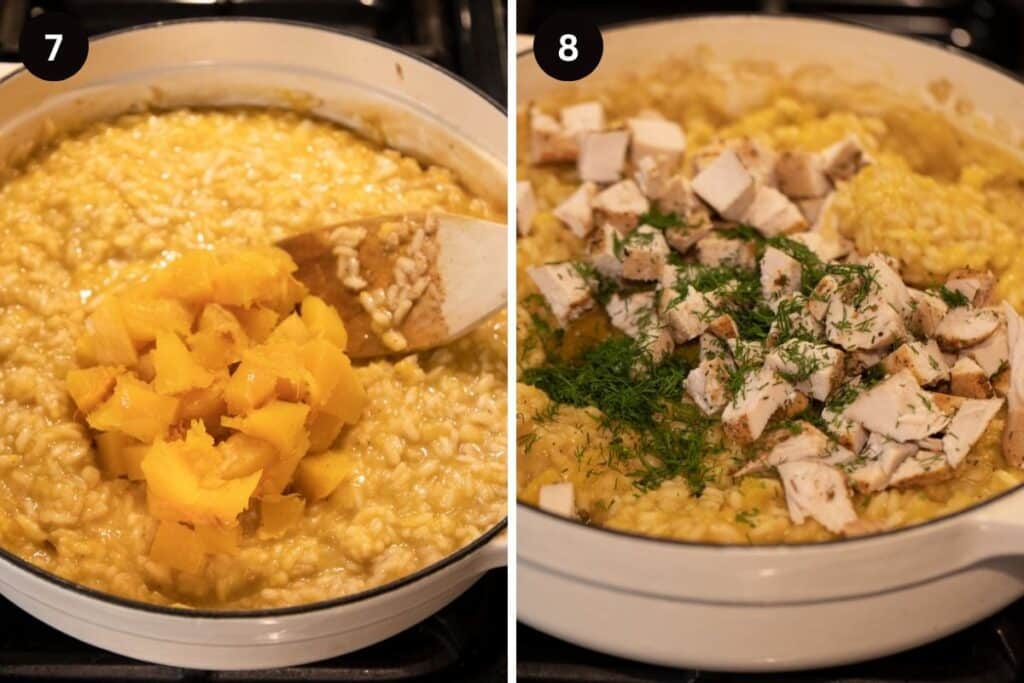 Expert Tips
Don't wash risotto rice; the starch it contains will be washed away. It's the starch that makes the dish creamy.
Toast the grains for a couple of minutes before adding the wine; it helps against overcooking.
Stirring risotto continuously for the entire cooking process is not my thing. I did it a few times and never noticed any difference, so I stopped. Stand by and stir it often, but don't stress about doing it continuously.
Parmesan: I always recommend using freshly grated cheese. However, if using pre-grated cheese and measuring in cups, use only about ½ - ¾ cup. Freshly grated hard cheese has more volume than the already grated one. You can replace the Parmesan with pecorino romano.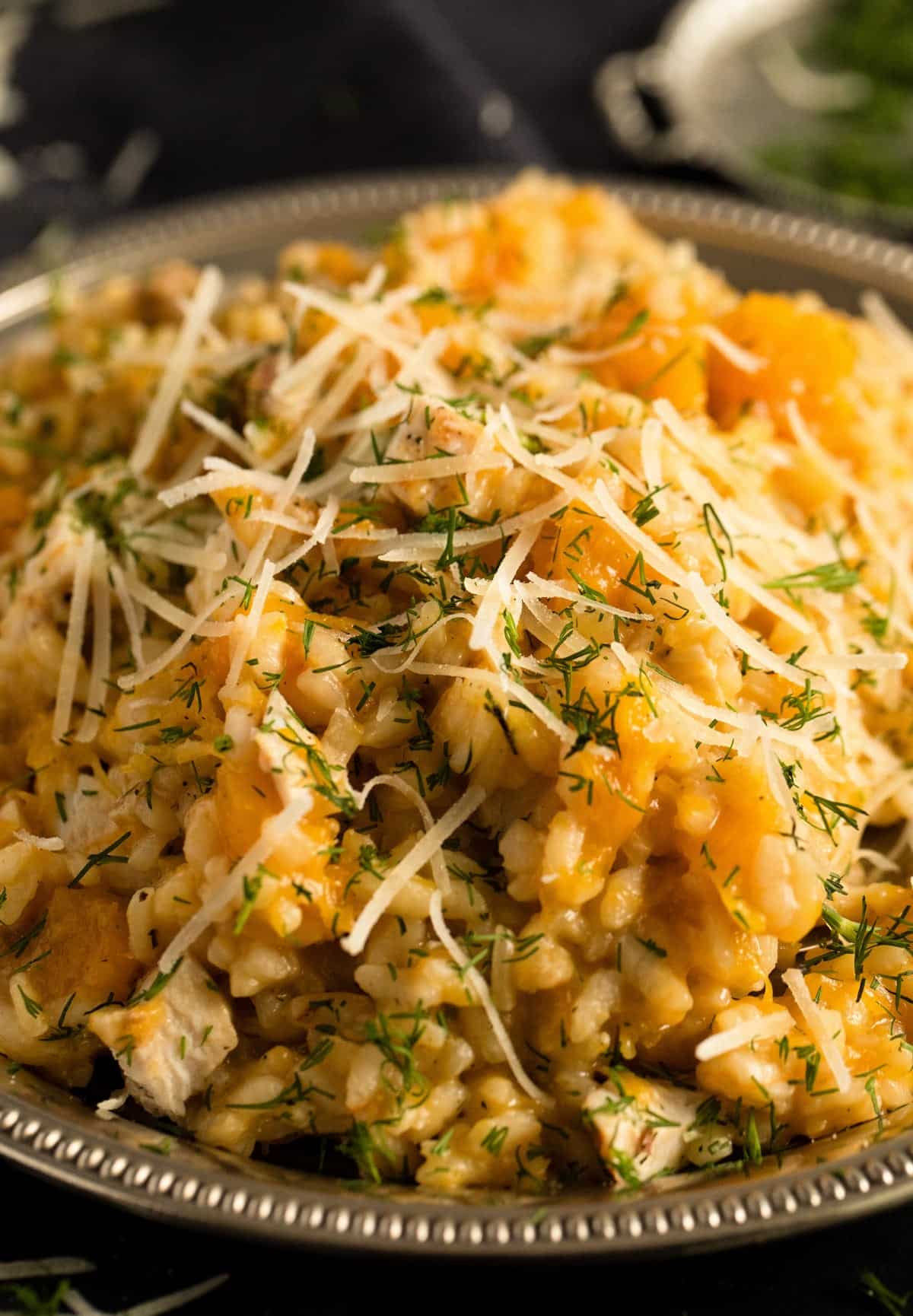 Recipe FAQ
What is the best rice for risotto?
Risotto rice is a type of short-grain rice. The best-known ones are Arborio (readily available), Carnaroli (probably the best one, but not easy to get), or Vialone nano (makes a super creamy dish, and it cooks a bit quicker than the other two).
Can I use long-grain rice for risotto?
No, regular white rice is unsuitable; the dish's texture would be completely different. Instead, check this Chicken and Rice in White Sauce or the Pumpkin Rice if you want to use long-grain rice.
Is this dish vegetarian?
No, Parmesan is made with animal rennet. Use vegetarian hard cheese instead.
How to store and reheat?
The chicken and pumpkin risotto is best served immediately.
Cool the leftovers quickly and refrigerate them in an airtight container for 2-3 days.
Reheat on the stovetop or the microwave. Add a splash of stock or water to loosen the dish and stir often.
Risotto is not suitable for freezing. It is possible but will not be very good once thawed.
How to serve?
The recipe serves four people very generously; you might even be able to feed five or six.
Serve with a leafy salad with Yogurt Dressing or vinaigrette. Try the pumpkin and chicken risotto recipe with roasted, steamed, or boiled vegetables, like Steamed Swiss Chard, spinach, or kale, Buttered Peas, Roasted Carrots, The Best Caramelized Brussels Sprouts, or Roasted Leeks.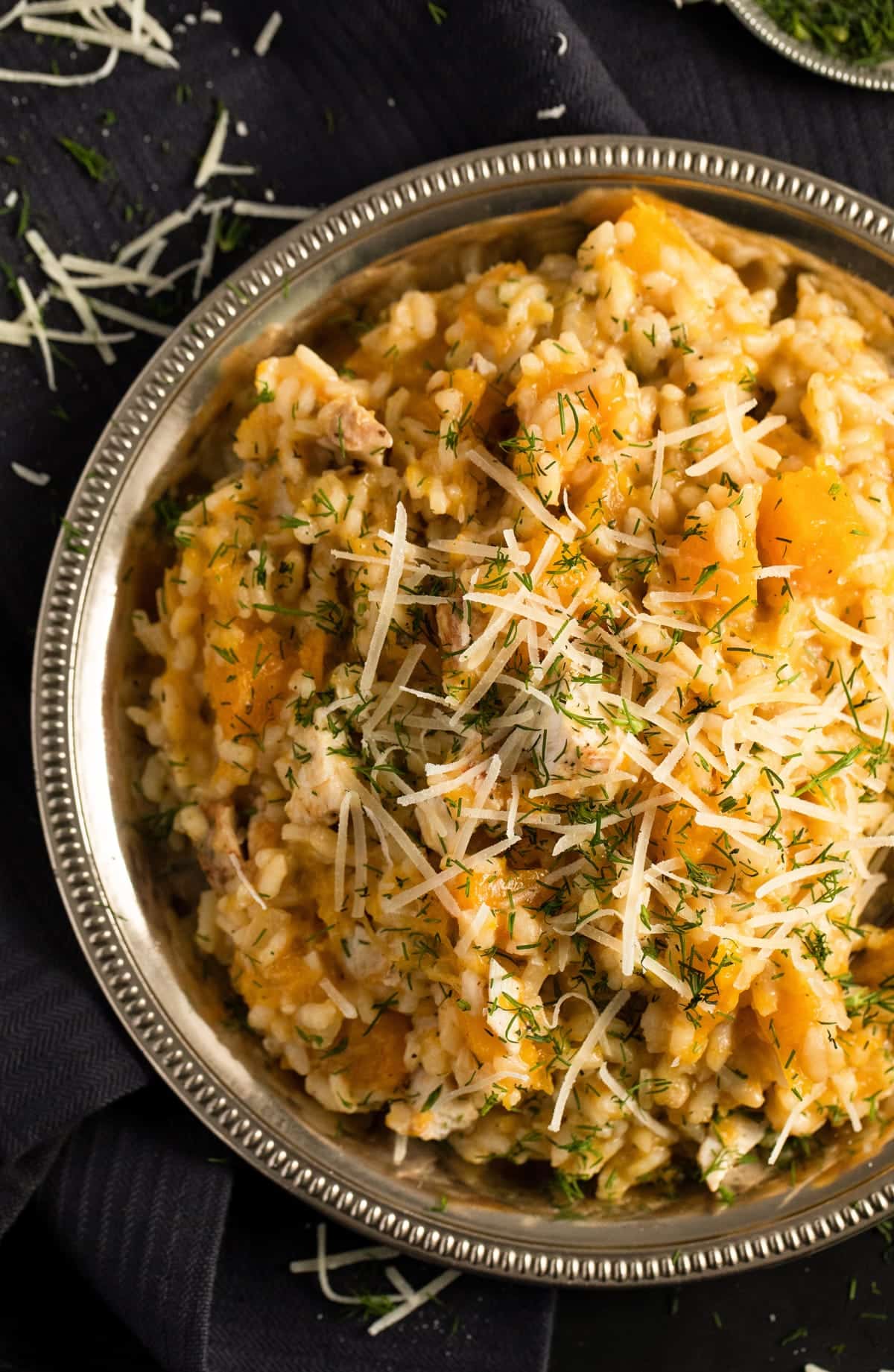 More risotto recipes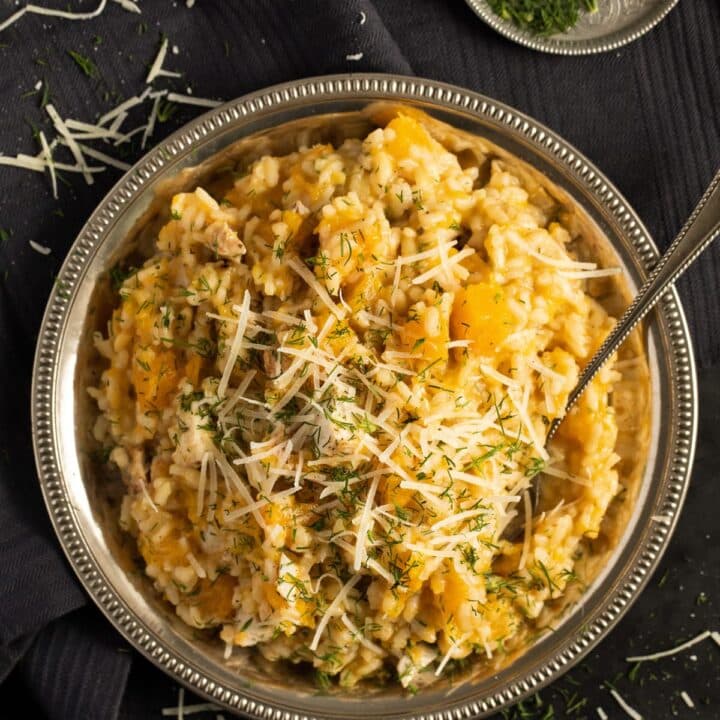 Chicken and Pumpkin Risotto
This creamy and flavorful chicken and pumpkin risotto is a light yet comforting fall or winter favorite meal.
Print
Pin
Share
Grow
Saved!
Rate
Ingredients
1

lb

pumpkin

450 g Note 1

¾

lb

cooked chicken

350 g/ 12 oz, Notes 2,3

5

cups

chicken stock

1.2 liter

2

tablespoons

olive oil

1

small onion

finely chopped

1 ¾

cup

risotto

350 g, Arborio, Carnaroli, Vialone nano

½

cup

white wine

125 ml

2

tablespoons

butter

1

cup

Parmesan

freshly grated, 60 g/ 2 oz, Note 4

a few gratings of nutmeg

fine sea salt and ground black pepper

2

tablespoons

dill

fresh or frozen, chopped
Instructions
Pumpkin:
Preheat the oven to 400°F/200°C. Line a baking sheet with parchment paper.

Roast pumpkin: Halve the pumpkin and remove the seeds. Place the pumpkin halves on the prepared tray (cut side down). Bake the for 40-50 minutes until fork tender. Remove and let stand until cool enough to handle.

Prepare pumpkin for risotto: Remove the peel. Weigh the amount you need 1 lb/450 g (use the leftovers for another recipe). Puree half of the required amount and cut the rest into cubes. Set aside.
Risotto:
Heat 5 cups/ 1.2 liters of chicken stock in a small pan and keep it on the stovetop on very low heat while you cook the risotto; it needs to be hot when you add it to the rice.

Sauté: Heat the oil and cook 1 small finely chopped onion until translucent. Add the unwashed rice, and stir well to coat it with the oil. Add ½ cup white wine (125 ml), stir, and let the wine bubble away.

Cook risotto: Start adding the chicken stock, about ½ to 1 cup at a time, stirring often. Only add the next cup of liquid when the previous one has been absorbed; it will take about 15-20, and the rice should be tender but not mushy. I stir often but not continuously.

Add chicken pieces, pumpkin puree, 2 tablespoons butter, and 1 cup/ 60 g freshly grated Parmesan. Stir well and adjust the taste with salt, pepper, and nutmeg. Fold in the dill and the chopped pumpkin, ensuring that the cubes don't break too much when you stir them in.

Let stand for about 5 minutes and serve.
Notes
Pumpkin: A flavorful sort like Hokkaido, sugar pumpkin, or butternut squash.
1 lb was ½ a pumpkin in my case. Bake a whole pumpkin and use the other half for another recipe.
Cooked chicken breast or thighs (shredded or chopped). Rotisserie chicken is also great. Or substitute with turkey.
Cook fresh chicken: Cut ¾ lb (350 g) chicken breast into cubes or stripes. Toss them with salt and pepper. Heat 1 tablespoon of olive oil in the pan and cook the chicken until golden and cooked through. Remove from the pan, cook the risotto and add the cooked chicken at the end. 
Cheese: 1 cup freshly grated Parmesan (lightly packed) weighs 60 g/ 2 oz. If using already grated Parmesan (which I don't recommend), use only ½ to ¾ as it has less volume than freshly grated Parmesan.
Nutrition
Serving:
1
portion from 5
|
Calories:
678
kcal
|
Carbohydrates:
74
g
|
Protein:
36
g
|
Fat:
23
g
|
Saturated Fat:
9
g
|
Polyunsaturated Fat:
3
g
|
Monounsaturated Fat:
10
g
|
Trans Fat:
0.2
g
|
Cholesterol:
84
mg
|
Sodium:
1236
mg
|
Potassium:
845
mg
|
Fiber:
3
g
|
Sugar:
8
g
|
Vitamin A:
8071
IU
|
Vitamin C:
10
mg
|
Calcium:
286
mg
|
Iron:
5
mg