Chicken and rice in white sauce or poached chicken served over rice with a delicious white sauce.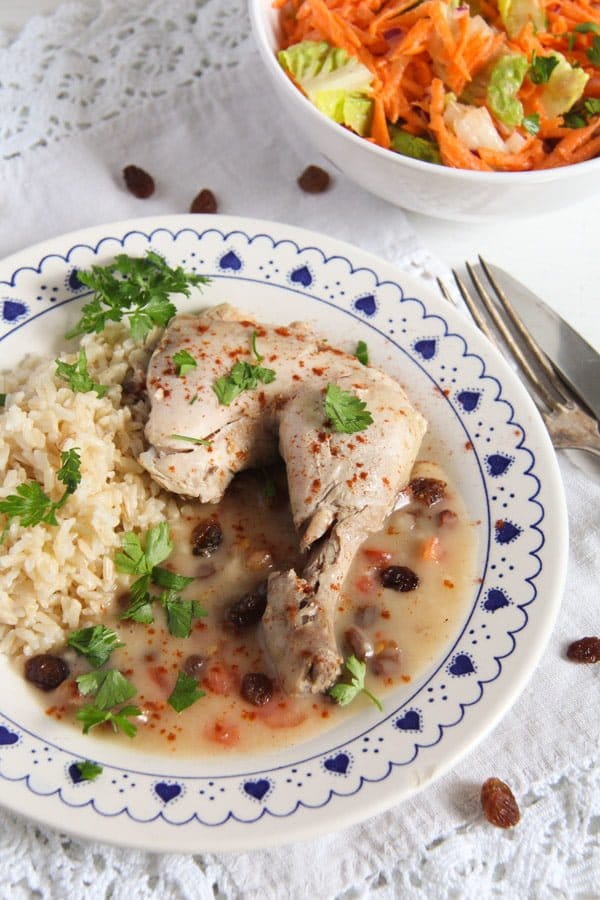 Tender poached chicken served with rice and a velvety white sauce, an easy-to-make and delicious family recipe.
This chicken and rice with white sauce recipe is a typical Saxon recipe of the Saxons living in Romania. An easy, straightforward recipe requiring only a few cheap and easy-to-come-by ingredients.
Yet, not one of all the Saxon people I know was able to give me a recipe, they all make it, but apparently, they are all shy to spread it because they find it too simple (oh, it's really nothing much, just boil some chicken and make a white sauce with raisins) or because not one of them actually has a written recipe, they all make it "dupa ochi" - "by eye", so actually not following any specific instructions.
And another thing they all found important to tell me was that everything should be put separately on the plate: the meat directly from the soup, the rice which is cooked separately, and the sauce aside.
So, I recreated the recipe, which after all, was not that difficult; the recipe is really easy. This is my interpretation of the Saxon wedding rice dish. It is called wedding chicken because it is a dish that you will apparently get to eat at any Saxon wedding in Romania.
And if you would like to try more Saxon recipes, have a look at this Rhubarb Soup, these Roasted Potatoes with Pumpkin and Sausages, or these Potato Pancakes.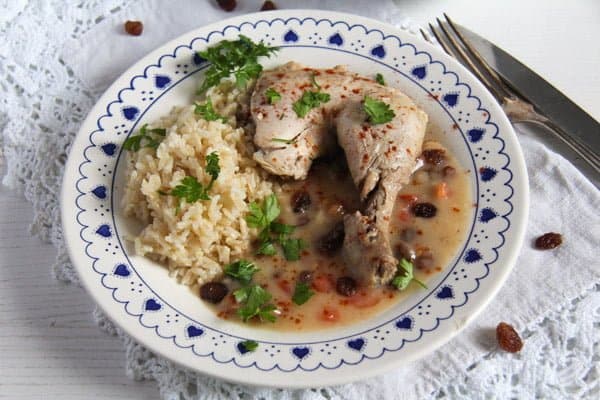 Ingredients
Chicken: Either one whole medium chicken or only leg quarters. If using quarters, you will need 4-5, depending on size.
Ingredients for poaching: Carrots, onion, leek, celeriac or celery sticks, cloves, juniper, and allspice berries, peppercorns, and salt.

You can leave out some of the spices if you don't have them, but I never do; I think I buy whole cloves, allspice, and juniper berries just for making stock.
Rice: Plain long-grain rice.

Basmati is great as well; very aromatic and extremely quick to cook.
I also often serve the chicken over brown rice; I love its heartiness and nutty flavor. Just keep in mind that it needs a longer cooking time, about 30 minutes.
White sauce: Some of the poaching liquid, which you can enrich with a chicken stock cube.

Butter and flour.
Raisins and tomatoes. Raisins might seem unusual for making a sauce, but they really do taste great in this combination; they make this dish special.
If you don't like raisins at all, you can leave them out, though.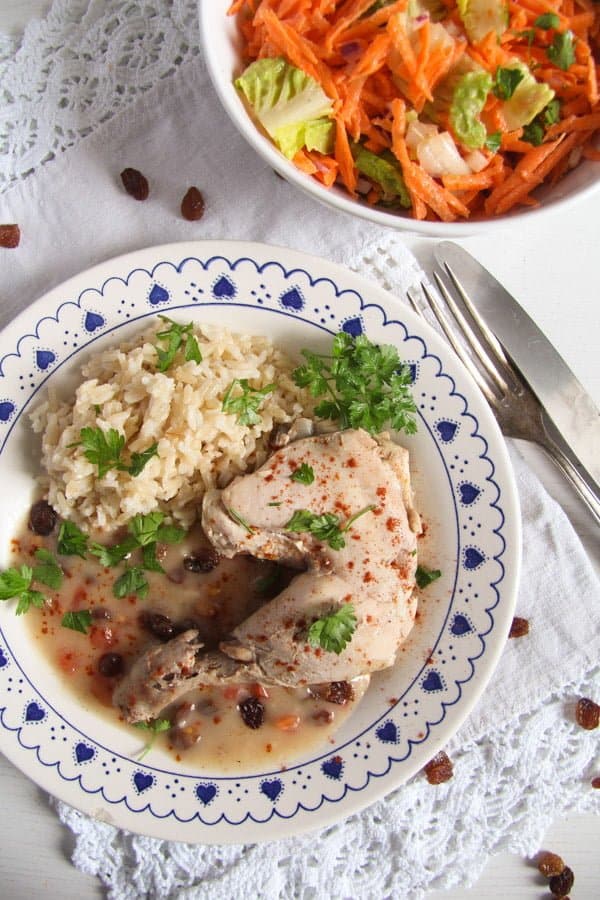 How to poach a chicken?
Fill pot: Place the bird in a large pot. Add all the vegetables and spices. Cover with water, about 2 liter/ 5 cups or more, to cover completely. It is important that the water is cold, otherwise, the stock will be cloudy. It will taste the same, though.
Slowly bring it to a simmer, but don't let it boil, as that will make the stock cloudy as well. Simmer gently on low heat for about 1 ½ hours until the meat is cooked through and tender.
Strain: Carefully lift the bird from the poaching liquid. Strain the stock and discard the solids.
Cut chicken: Once cool enough to handle, cut it into 8 pieces: 2 thighs, 2 drumsticks, 2 breasts, 2 wings. Pick the remaining flesh hanging on the bones as well and add it to the sauce as well.
Here are more detailed instructions on How to Boil a Whole Chicken.
What to do with leftover poaching liquid?
You will not need all the stock for making the white sauce.
Let the stock cool completely and refrigerate it for up to 3-4 days.
Or freeze in airtight containers for about 6 months. It will actually keep indefinitely, but it will lose some of its flavors.
You can use it for making more white sauce or other sauces, for making soup (Chicken Potato Soup, for instance), for Turkey Fricassee, and so on.
How to serve?
As mentioned above, the traditional way of serving the chicken and rice with white sauce is to keep all the ingredients separated and assemble them on the plate.
Place the meat pieces on a large serving platter, the rice in a bowl, and the sauce in another bowl, and place them all on the table.
Serve with a simple green salad, carrot salad, white cabbage salad, or cucumber salad.
Cook a typical Saxon festive meal
More chicken with sauce ideas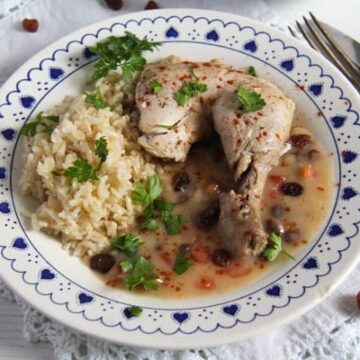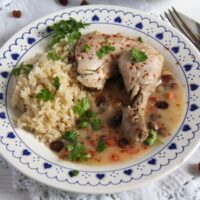 Chicken and Rice in White Sauce
Chicken and rice in white sauce or poached chicken thighs served over rice with a delicious white sauce.
Print
Pin
Share
Grow
Saved!
Rate
Ingredients
For poaching the chicken:

1

whole chicken

about 1,5 kg/ 3.3 lbs

2

carrots

1

onion

1

small leek

1

piece

of celeriac

about 200 g/ 7 oz or 3-4 celery stalks

4

cloves

5

juniper berries

5

allspice berries

10

black peppercorns

1

tablespoon

coarse sea salt

For the sauce:

30

g/ 1 oz/ 2 tablespoons butter

50

g/ 1.7 oz/ ⅓ cup flour

650

ml/ 22 fl.oz/ 2 ¾ cups chicken poaching liquid

Note 1

1

chicken stock cube

optional

100

g/ 3.5 oz/ ½ cup raisins

1

large tomato

1-2

tablespoons

fresh lemon juice

nutmeg

fine sea salt and pepper

some parsley

250

g/ 8.8 oz/ 1 ¼ cup plain long-grain rice

Note 2
Instructions
Poached chicken:
Place the chicken into a large soup pot. Add the halved carrots, halved onion, leek cut into 3-4 pieces, celeriac piece or celery stick, all the spices and salt.

Cover everything with water (about 2 liter/ 4-5 cups) and bring to a simmer. Let the chicken simmer (it should never boil) for about 1 ½ hour until perfectly tender and cooked through. Lift the chicken out of the liquid and set aside until cool enough to handle.

When being able to touch it, cut it into pieces, and keep warm until the rest of the meal is cooked.

Strain the poaching liquid and measure the amount you need. Save the rest for other uses.

If the poaching liquid you will use for making the raisin sauce is not strong enough in taste you could add about 1 chicken stock cube to it.
White sauce:
Start cooking the rice, it will need between 10 and 30 minutes, depending on the sort.

Melt the butter in a thick-bottomed saucepan. Add the flour and stir for about two minutes until the flour turns golden, it should not get too dark.

Slowly and gradually start adding the measured poaching liquid while whisking all the time. Only pour the next gulp of liquid when the previous one has been incorporated in a clump-free manner.

Let the sauce simmer for about 5 minutes.

In the meantime deseed and chop the tomato very finely. Add the tomato and the raisins to the sauce and let simmer for another 5-7 minutes. Adjust the taste with nutmeg, salt, and pepper.

Serve the sauce with the poached chicken pieces and rice. Sprinkle everything with chopped parsley.

Notes
Use the remaining poaching liquid for other dishes like soups, stews, or sauces.
Basmati is great as well and it will only need about 10 minutes of cooking time. Or brown rice, which is hearty and nutty, but will need about 30 minutes of cooking time.
Nutrition
Serving:
1
/6 of the dish
|
Calories:
542
kcal
|
Carbohydrates:
61
g
|
Protein:
34
g
|
Fat:
20
g
|
Saturated Fat:
7
g
|
Polyunsaturated Fat:
11
g
|
Cholesterol:
100
mg
|
Sodium:
1437
mg
|
Fiber:
10
g
|
Sugar:
22
g