Indian-style cheesy corn rice made with basmati rice and turmeric, a super quick and delicious dish for the entire family.
Cheesy Basmati Corn Rice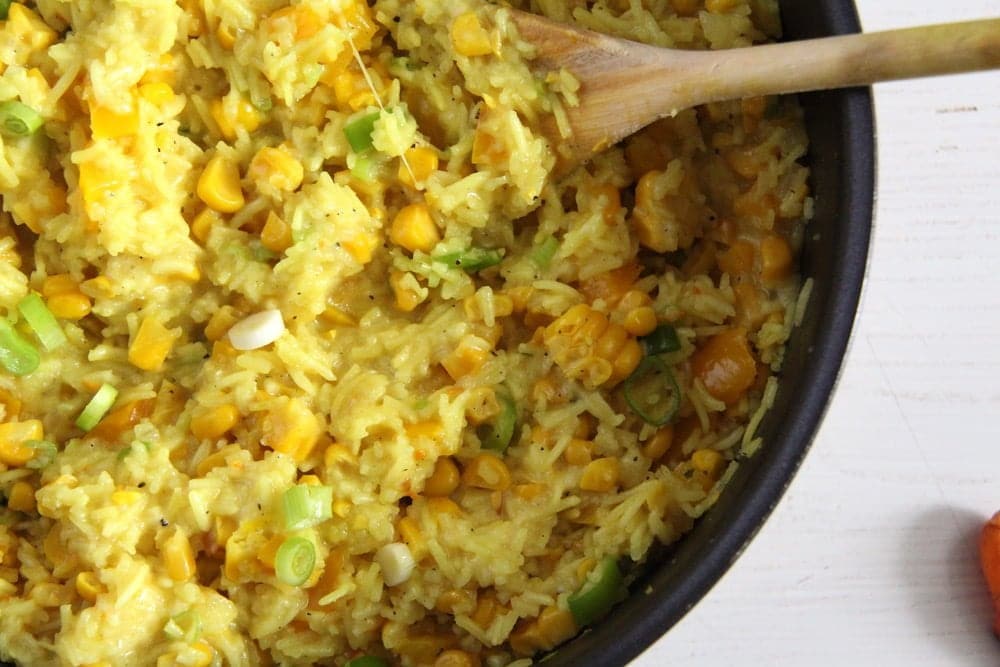 This corn rice with turmeric and cheese is one of those recipes born out of sheer desperation. I was away all morning doing this and that had no time for buying food and got home 10 minutes before the children came home from school and kindergarten.
Usually, the first thing my son asks when he comes home from school, is: "What did you cook?" followed by a "Yippee!" or a "Ah! Can I leave out the broccoli/mushrooms/any other offensive vegetable?"
But on that day, I had nothing planned, no leftovers from the previous day, not even enough bread to make a few sandwiches. What I had were some corn, one bell pepper, and rice and potatoes. So I went for rice, as it doesn't need any peeling and, in the case of the basmati, it also doesn't need a long cooking time.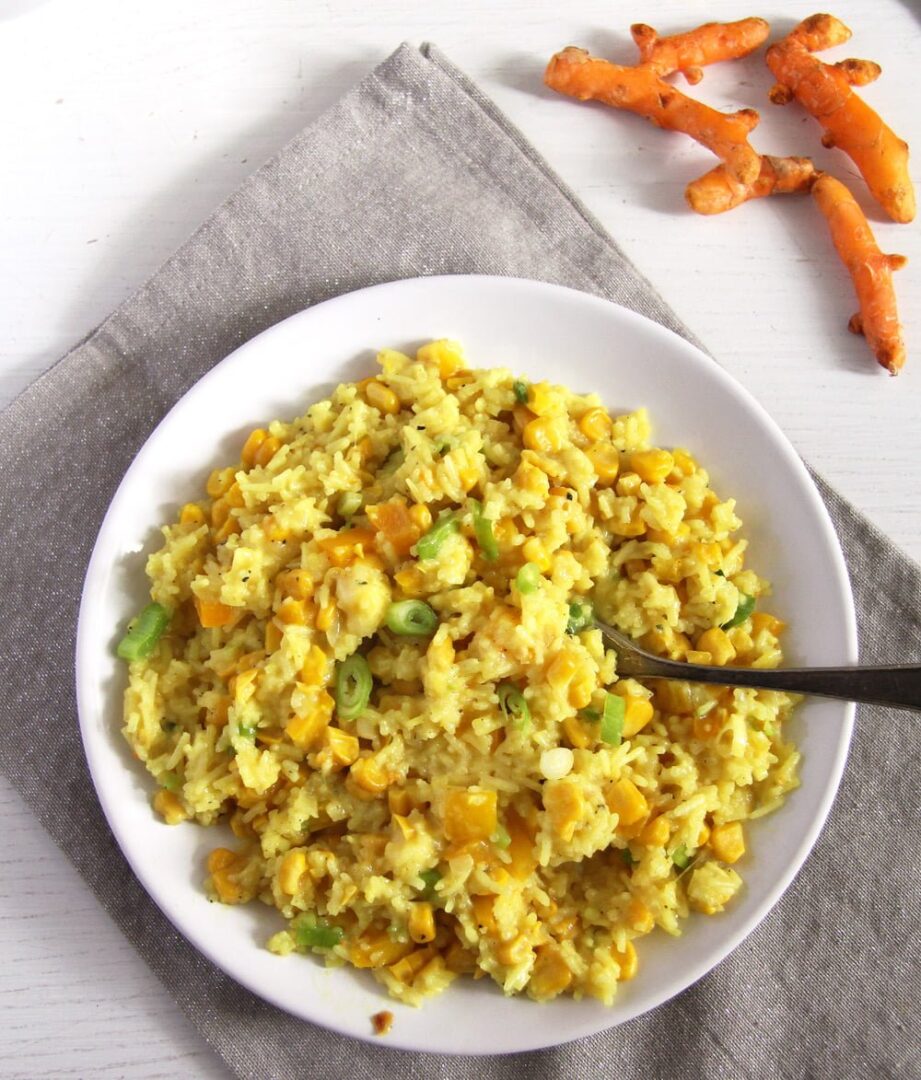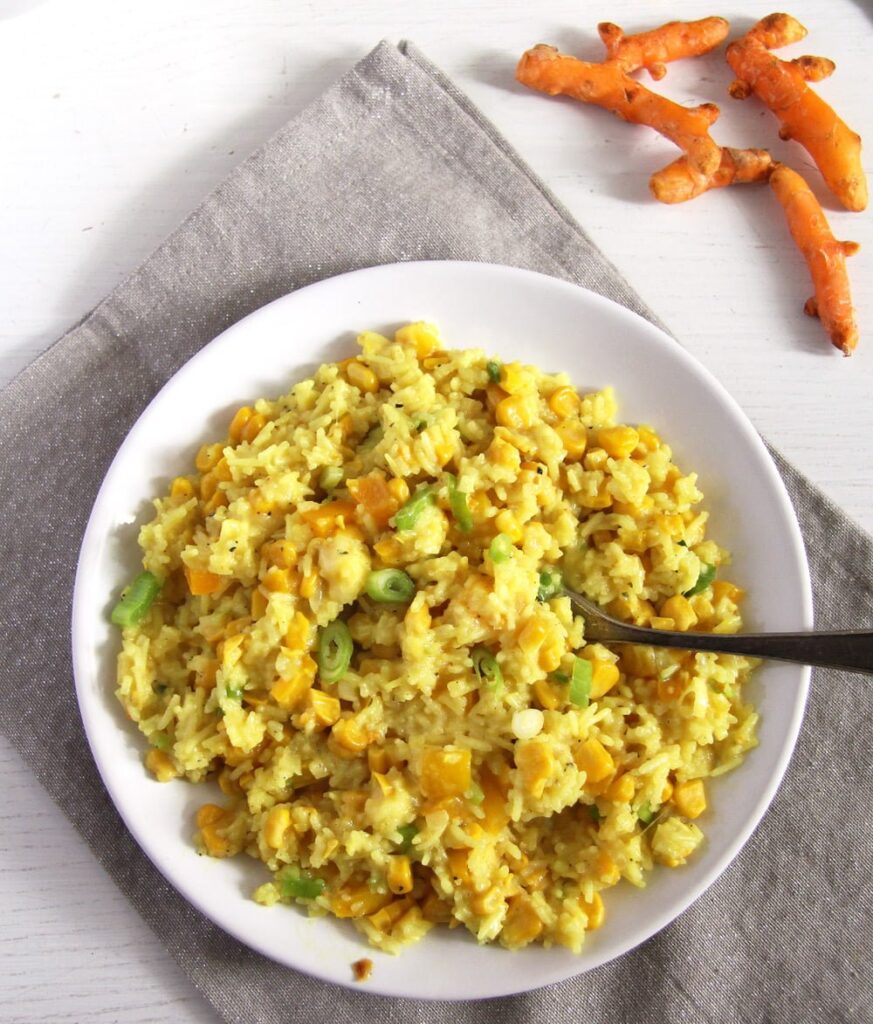 What do you need?
Vegetables:
This is a "whatever you have in your fridge" recipe for Indian-inspired basmati rice with cheese. So, open up the fridge and see what veggies and cheese you can find, they will probably be fine.
I've made this corn rice several times, using either yellow or red peppers, sometimes using fresh, sometimes ground turmeric, trying it with different kind of stocks and sometimes using peas or cauliflower instead of corn.
However, this is my favorite version, not only because of its beautiful bright yellow color but also because of the fresh corn, I suppose, I love its tenderness and sweetness. And the kids definitely prefer to have corn in their food instead of cauliflower...
So, to sum it up, you can use:
Bell peppers of any color
Corn, pre-cooked, frozen or from a can
Carrots
Cauliflower florets
Broccoli florets
Frozen peas
Sugar peas
Green onions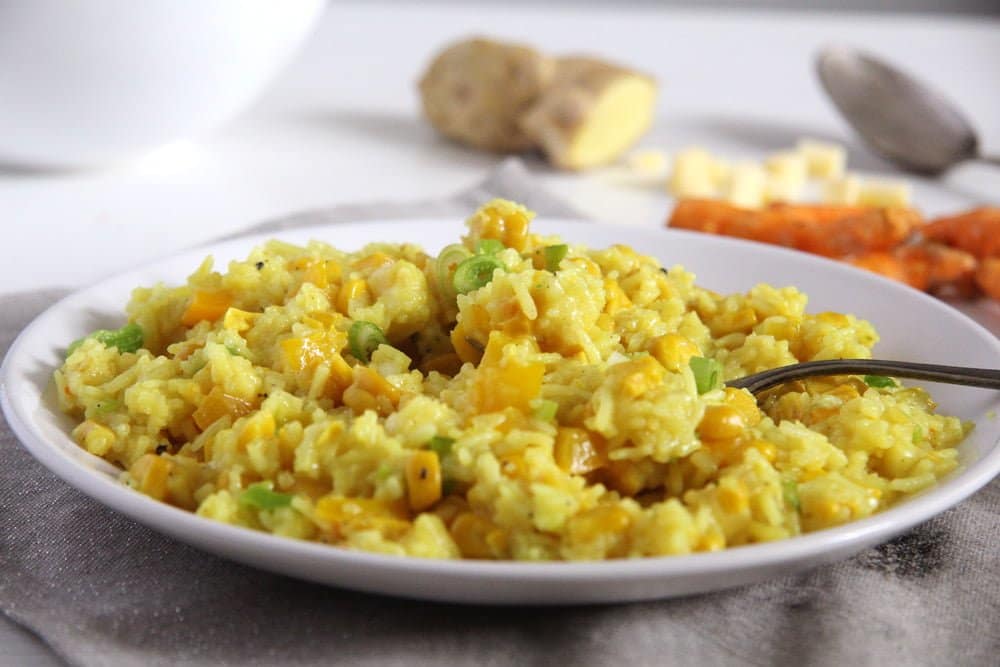 Turmeric, ginger, and pepper:
I used fresh turmeric to make this yellow rice, in case you cannot find it, you could replace it with turmeric powder.
In this case, add 1 teaspoon ground turmeric to the corn rice dish.
The ginger should be fresh though, powdered ginger is just not the same.
Spice the cheesy basmati rice generously with freshly ground black pepper, more than you would use for a regular recipe.
Stock:
Vegetable stock to keep the recipe vegetarian.
Otherwise, chicken stock is perfectly fine as well.
You can use homemade stock or stock from a jar or a cube.
Cheese:
I have Gouda most of the time.
However, Cheddar or any other nice melting cheese should be fine.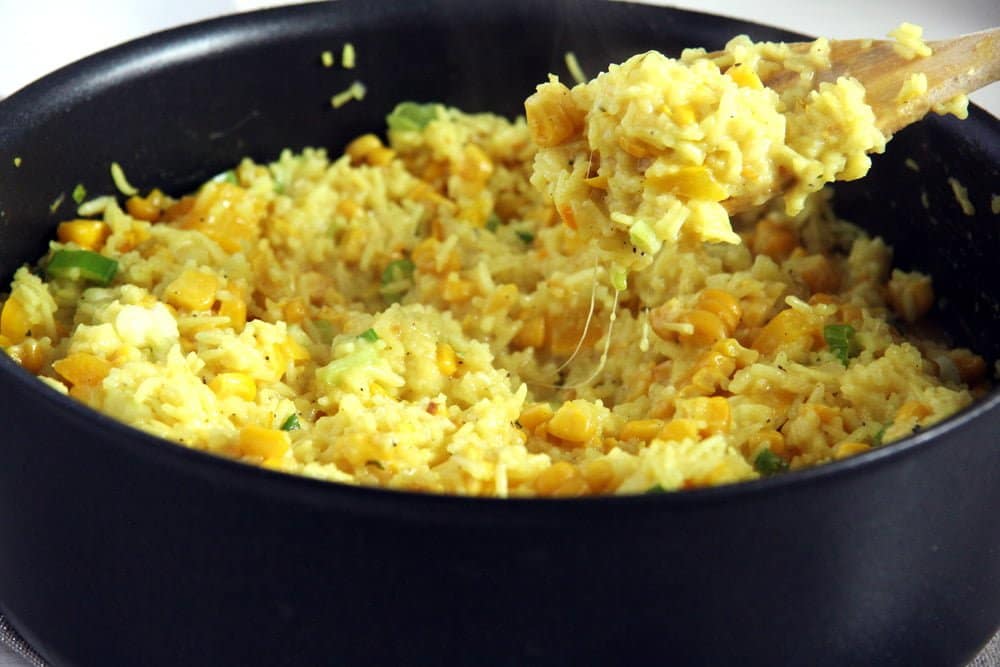 More easy rice dishes?
Spicy Nigerian Jollof Rice - A vibrant and very spicy dish, which will become a family favorite in no time.
BBQ Rice (Spicy Rice) - A healthy side dish for your next barbecue or a BBQ flavored rice main meal.
Puerto Rican Chicken and Rice - A delicious skillet recipe for arroz con pollo, easy to make and so full of flavor.
Jamaican Rice and Peas - The well-know Jamaican rice and peas or beans made with coconut milk.
Gallo Pinto - The national dish of Costa Rica, a savory breakfast dish consisting of black beans and rice, topped with fried eggs.
Pin it for later!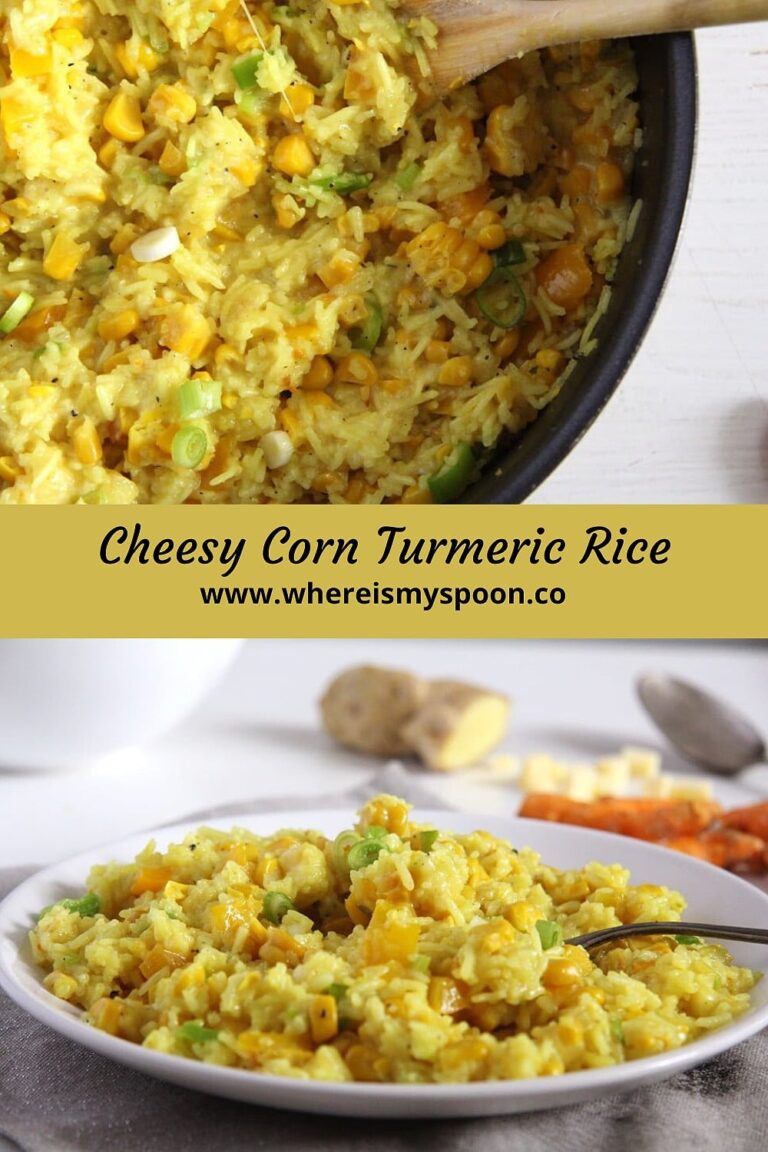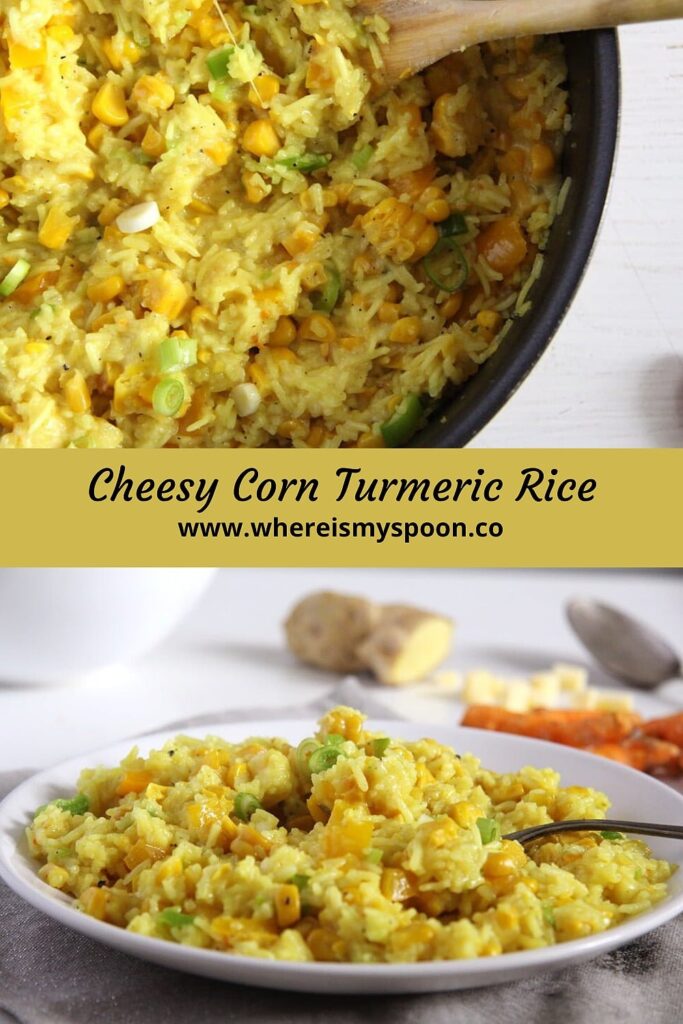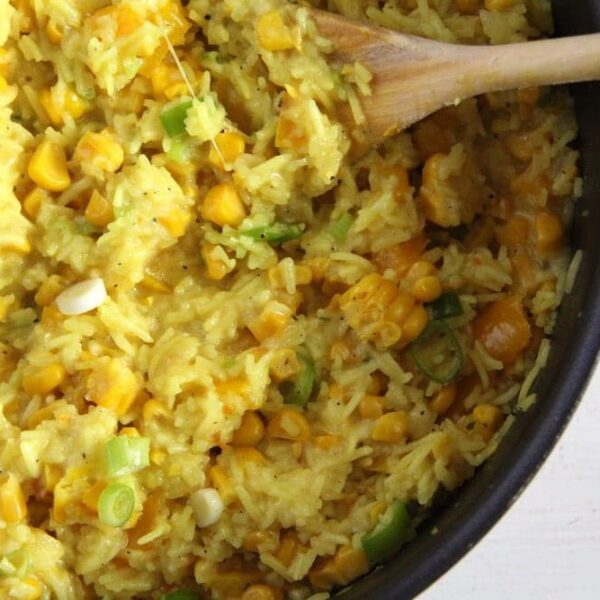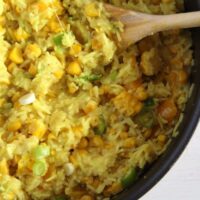 Cheesy Corn Rice (with Turmeric)
Indian-style cheesy corn rice made with basmati rice and turmeric, a super quick and delicious dish for the entire family.
Print
Pin
Share
Grow
Saved!
Rate
Ingredients
1

small onion

1

large garlic clove

2

pieces

fresh turmeric

the size of your little finger (See note 1)

1

piece

fresh ginger, thumb-sized

1

large yellow bell pepper

2

pre-cooked corns on the cob

1

teaspoon

coconut oil or olive oil

9

oz

basmati rice

2 ½

cups

vegetable stock + some more as required

See note 2

3

scallions

4

oz

Gouda or cheddar

fine sea salt

lots of freshly ground black pepper

smoked if available
Instructions
Finely chop the onion and the garlic.

Prepare vegetables: Peel and grate the turmeric and the ginger. Chop the bell pepper into small cubes. Cut the corn kernels off the cob. You should have roughly 150 g/ 5.3 oz kernels; a bit more or less is not essential.

Saute: Heat the oil in a non-stick pan and cook the onion and garlic until translucent. Add the turmeric, ginger, bell pepper, and corn kernels and cook for about 5 minutes stirring from time to time.

Simmer rice: Add the washed and drained basmati rice and stir to mix with the veggies and coat with oil for 1 or 2 minutes. Next, add the stock and some salt (Note 3). Bring to a boil, cover, turn the heat to low, and simmer for about 10 minutes.

Add: Check and add more broth if necessary, the rice should not be too dry. I added about 150 ml/ ½ cup more. Add the finely sliced scallions, stir, cover, and continue cooking for about another 5-6 minutes or until the rice is tender.

Add cheese: In the meantime, cube the cheese finely. Turn off the heat, add the cheese to the pot, stir well, add more salt if necessary and lots of freshly ground black pepper, cover and let stand for a few minutes until the cheese is melted.

Serve immediately with a green salad.
Notes
1 teaspoon turmeric powder can be used instead.
Or chicken stock. The stock can be homemade, from a jar, or made with stock cubes.

I usually add some stock powder when I use vegetable stock, but never in the case of homemade chicken stock, which has enough flavor on its own. Taste the cooking liquid; it should be slightly salty.
Nutrition
Serving:
1
/4 of the dish
|
Calories:
307
kcal
|
Carbohydrates:
40
g
|
Protein:
14
g
|
Fat:
11
g
|
Saturated Fat:
7
g
|
Polyunsaturated Fat:
4
g
|
Cholesterol:
36
mg
|
Sodium:
1253
mg
|
Fiber:
3
g
|
Sugar:
6
g