Golden turmeric rice with corn, peppers and cheese, a super quick and delicious dish for the entire family.
This is one of those recipe born out of sheer desperation. I was away all morning doing this and that, had no time for buying food and got home 10 minutes before the children came home from school and kindergarten. Usually, the first thing my son asks at lunch, when he comes home, is: "What did you cook?" followed by a "Yippee!" or a "Ah! Can I leave out the broccoli/mushrooms/any other offensive vegetable?"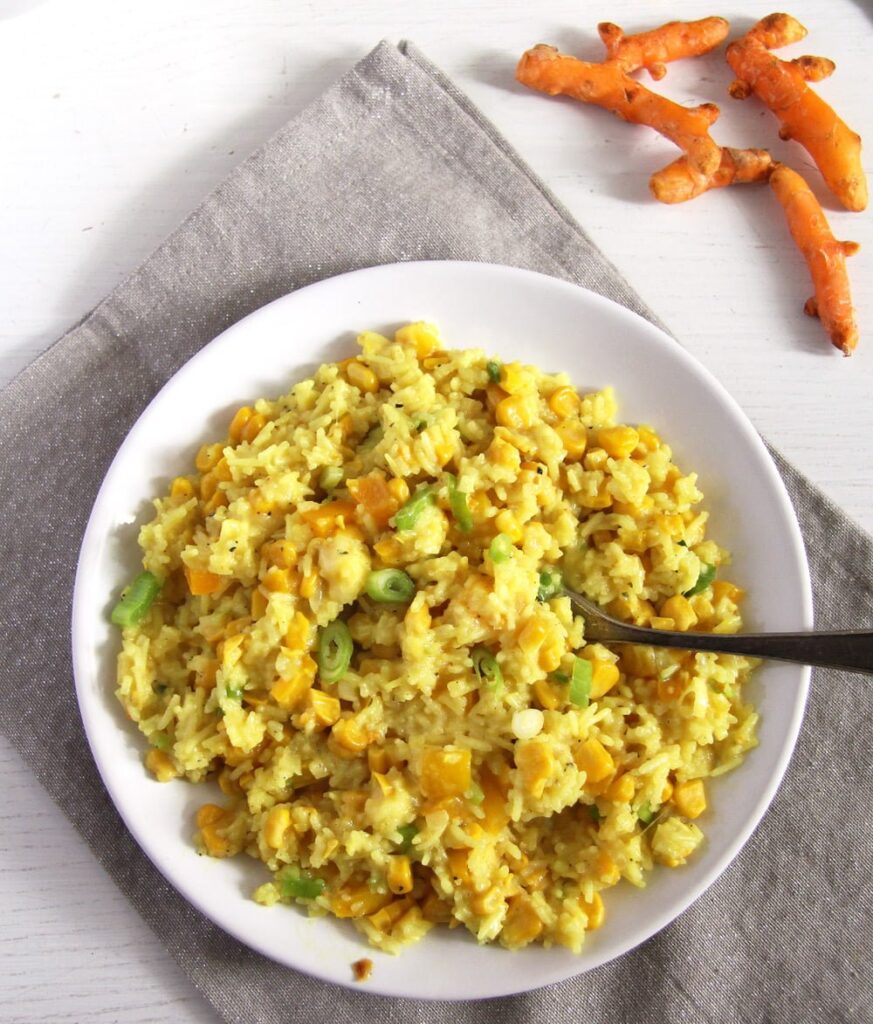 But on that day, I had nothing planned, no leftovers from the previous day, not even enough bread to make a few sandwiches. What I had was some corn, one bell pepper and rice and potatoes. So I went for rice, as it doesn't need any peeling and in the case of the basmati, it also doesn't need a long cooking time. I quickly chopped all I found in the fridge, threw some rice and some stock in the pot and finished off with a piece of Gouda. The meal was ready before the kids had the time to change their clothes and wash their hands and it was so good, that I immediately wrote down the ingredients, just to make sure that I won't forget about it.
Ever since, I've made this several times, using either yellow or red peppers, sometimes using fresh, sometimes ground turmeric, trying it with different kind of stocks and sometimes using peas or cauliflower instead of corn. However, this is my favorite version, not only because of its beautiful bright yellow color, but also because of the fresh corn, I suppose, I love its tenderness and sweetness. And the kids definitely prefer to have corn in their food instead of cauliflower…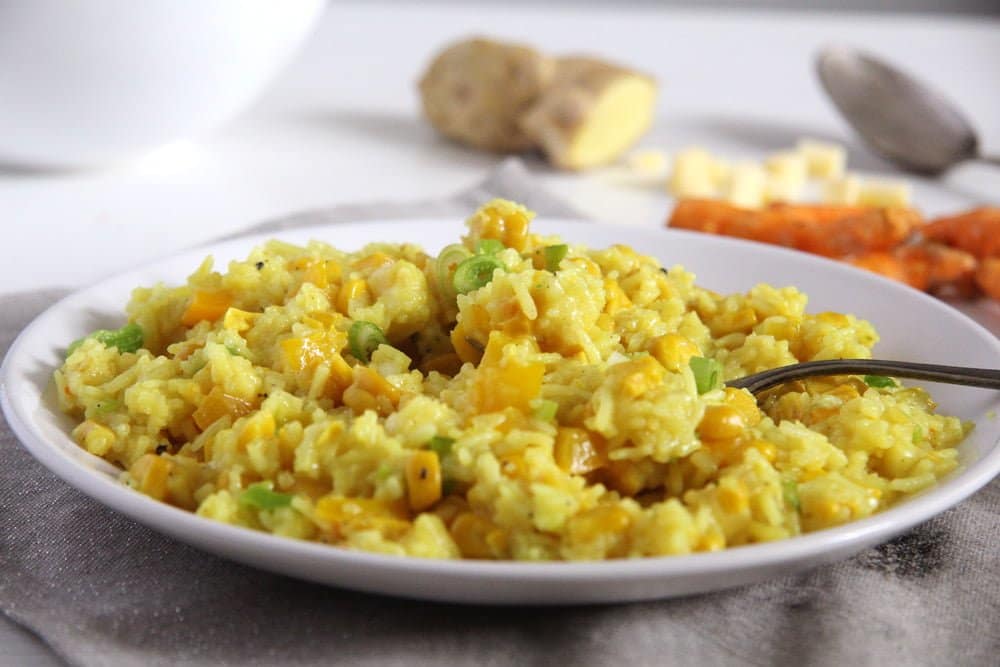 I used fresh turmeric to make this dish, in case you cannot find it, you could replace it with turmeric powder. The ginger should be fresh though, powdered ginger is just not the same… The fresh corn could be replaced with canned or frozen corn. And once I used leftover fish stock instead of vegetable or chicken stock to make this dish. I loved it!!! However I can only speak about my own homemade fish stock, I've never bought ready-made one, I have no idea how that tastes. Freshly ground black pepper is a must, use lots of it, the rice should be quite peppery, it is part of its charm. 🙂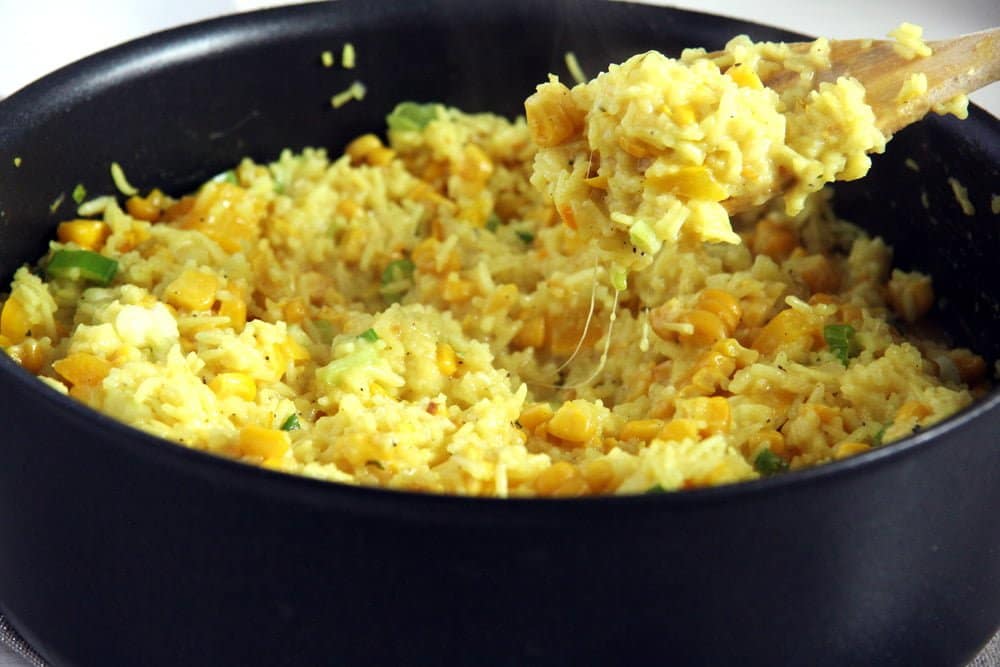 Others you might like: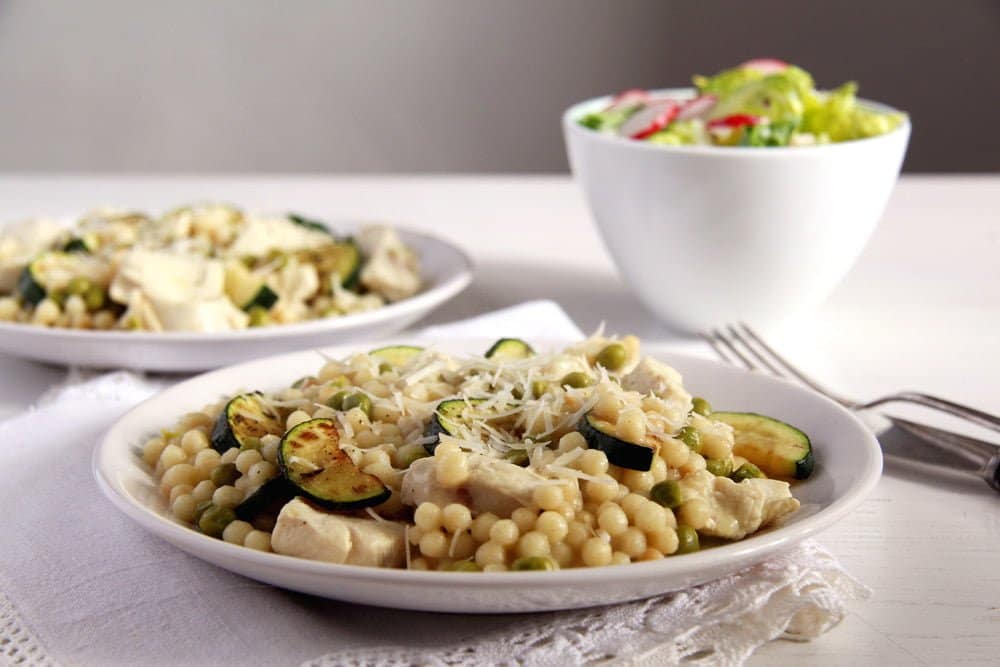 Israeli Couscous with Zucchini and Chicken