Sweet pointed peppers filled with feta cheese and lots of fresh herbs, a Mediterranean dish, light and full of flavor.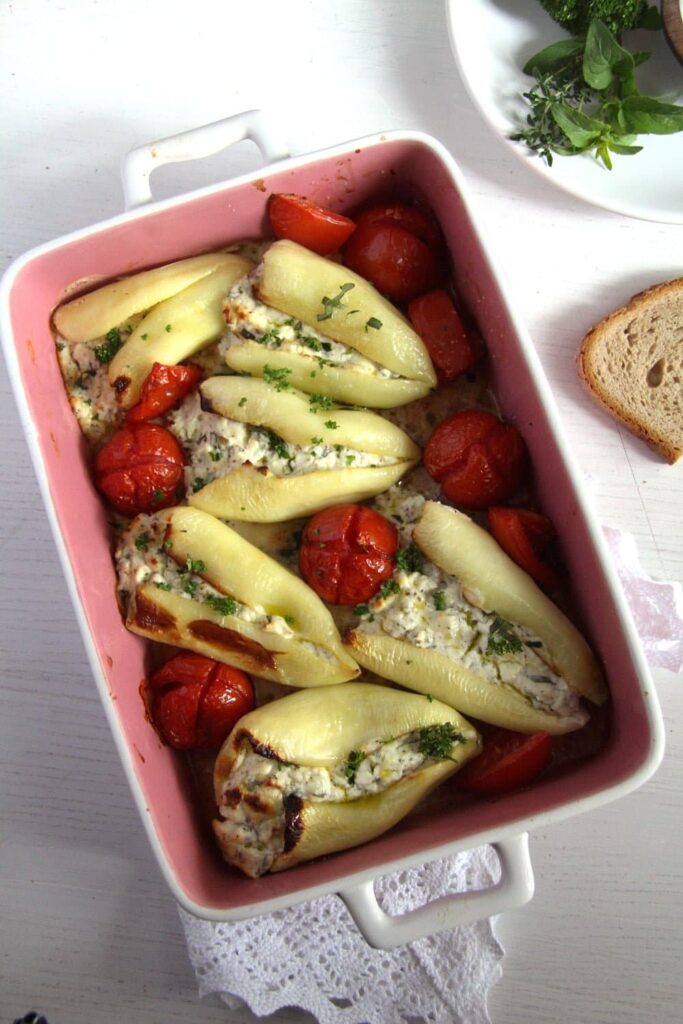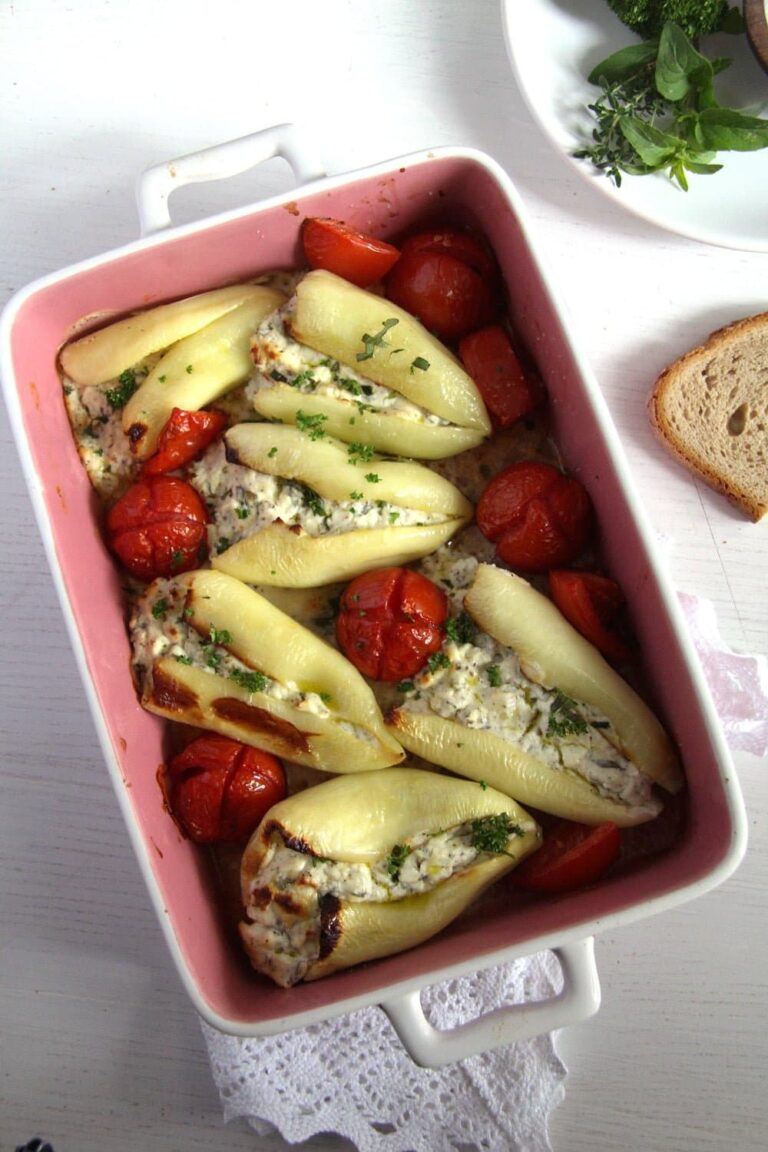 September is already upon us, I feel I did not even get to enjoy summer properly this year and the autumn is already there. If it wasn't for the last two weeks which have been really nice and hot (and still going at least until the weekend), I would be really annoyed right now… 🙂
But a new month begins and with it a new series on Where Is My Spoon, this time dedicated to Stuffed Veggies. I love stuffing vegetables, all kinds of vegetables, stuffed with all kinds of delicious things. I inherited this love from my grandmother, who would serve stuffed vegetables quite often in our house, mostly stuffed cabbage leaves (sarmale) or stuffed vine leaves. Very often though she would also serve stuffed peppers or tomatoes. I even remember her stuffing an aubergine once, which was quite amazing, considering how little experiments she would allow in her kitchen.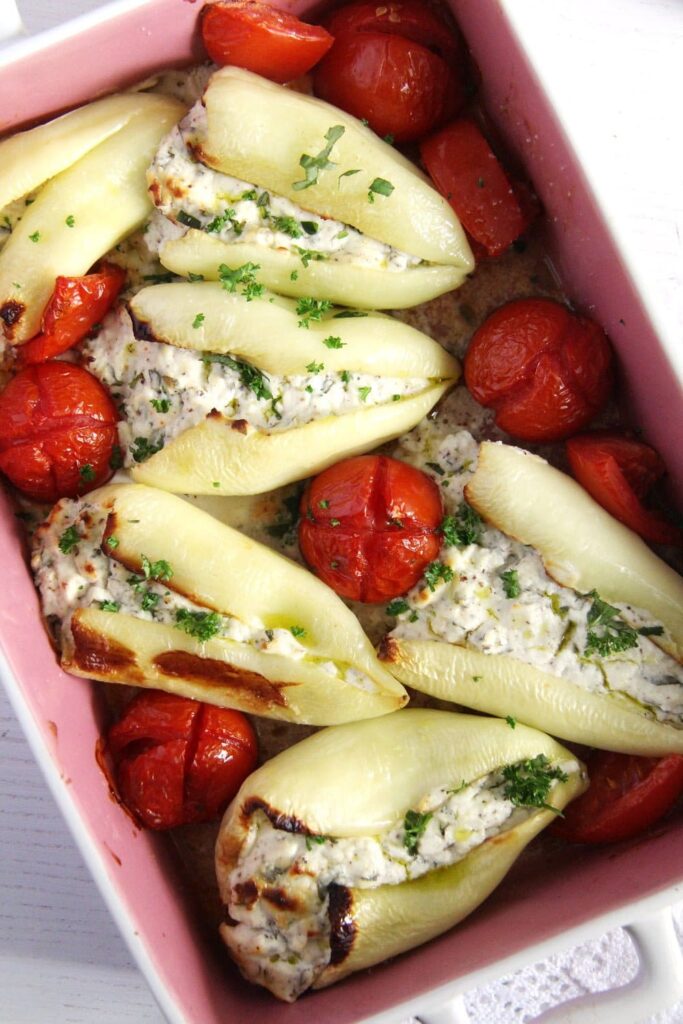 I take the vegetable stuffing thing a bit further than my grandma though. Not only I stuffed aubergines more often than I can remember, but I also do it with zucchini, kohlrabi, mushrooms, potatoes… you name it!
I will start this series with these sweet pointed peppers filled with a creamy and delicious sheep's feta-herb filling. I found the recipe on Chefkoch.de and I knew I had to make this immediately. I adapted it a little to suit us and it was really worth it! Easy to make and extremely delicious, something not only for the grown-ups but definitely for the children as well. Who doesn't like a "boat" full of salty, melting cheese anyway… And please don't leave out the cherry tomatoes placed between the peppers, they fit the dish perfectly adding some desired sweetness to the saltiness and heartiness given by the feta cheese. Serve this dish with baguette and green salad.
Prep time:
Cook time:
Total time: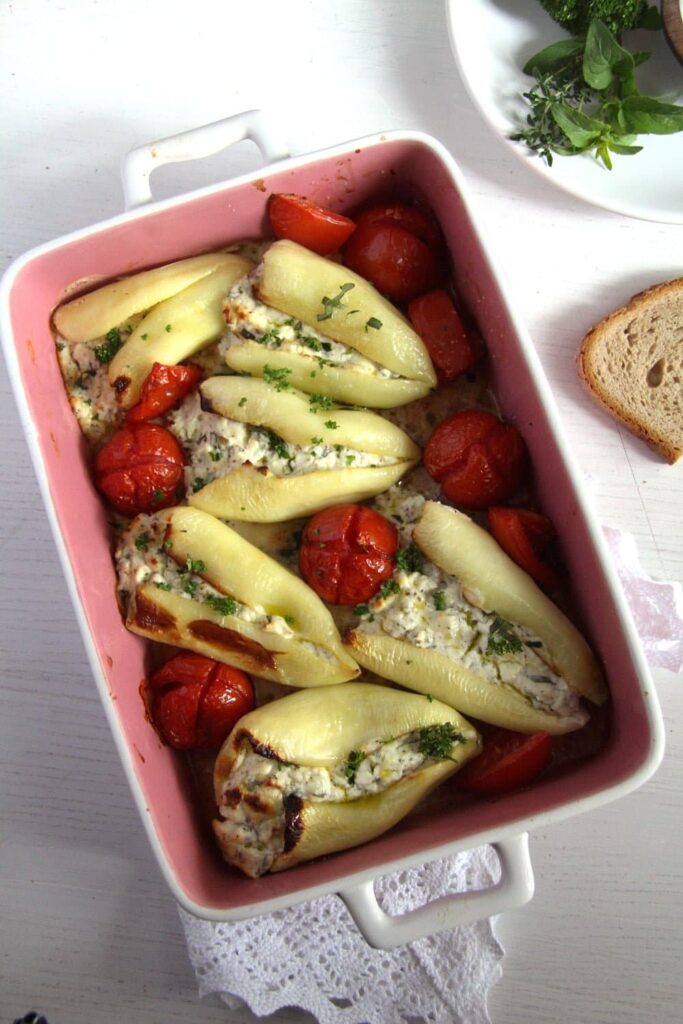 Ingredients
500 g/ 1.1 lbs sweet pointed peppers, red or yellow or a mixture
200 g/ 7 oz sheep's feta (cow will work too)
2 very heaped tablespoons cream cheese
some milk
2 + 1 tablespoons olive oil
2 garlic cloves
1 tablespoon fresh thyme
1 tablespoon fresh oregano
1 tablespoon fresh parsley
6 small tomatoes
salt and pepper
baguette and green salad to serve
Instructions
Preheat the oven to 200 degrees Celsius/ 390 degrees Fahrenheit.
Top the peppers and remove the seeds. Cut the peppers from top to bottom only on one side.
Crush the feta with a fork, add the cream cheese and enough milk to form a creamy paste. Add 2 tablespoons of the olive oil, grated garlic, chopped herbs and salt and pepper to taste. Fill the peppers with the paste and place them in a lightly oiled casserole dish.
Remove the core of the tomatoes and score them lightly crosswise on the opposite side. Place them between the peppers and sprinkle them lightly with salt. Pour the remaining tablespoon olive oil over the vegetables and bake for about 40 minutes.
Serve with baguette and green salad.
Others you might like:
Stuffed Cabbage Casserole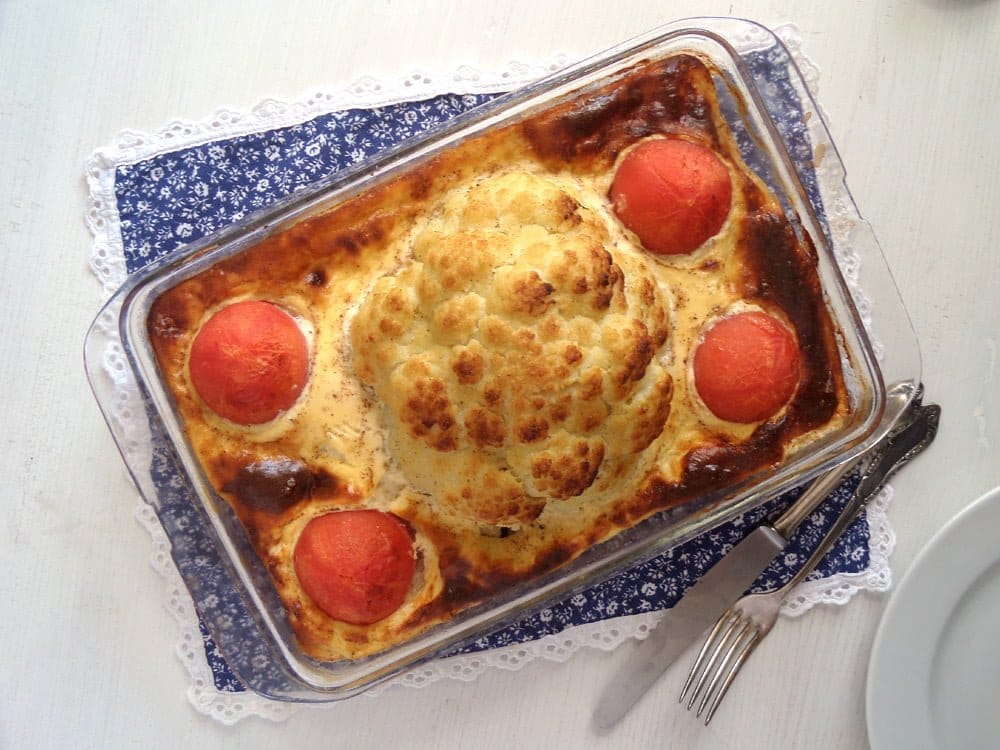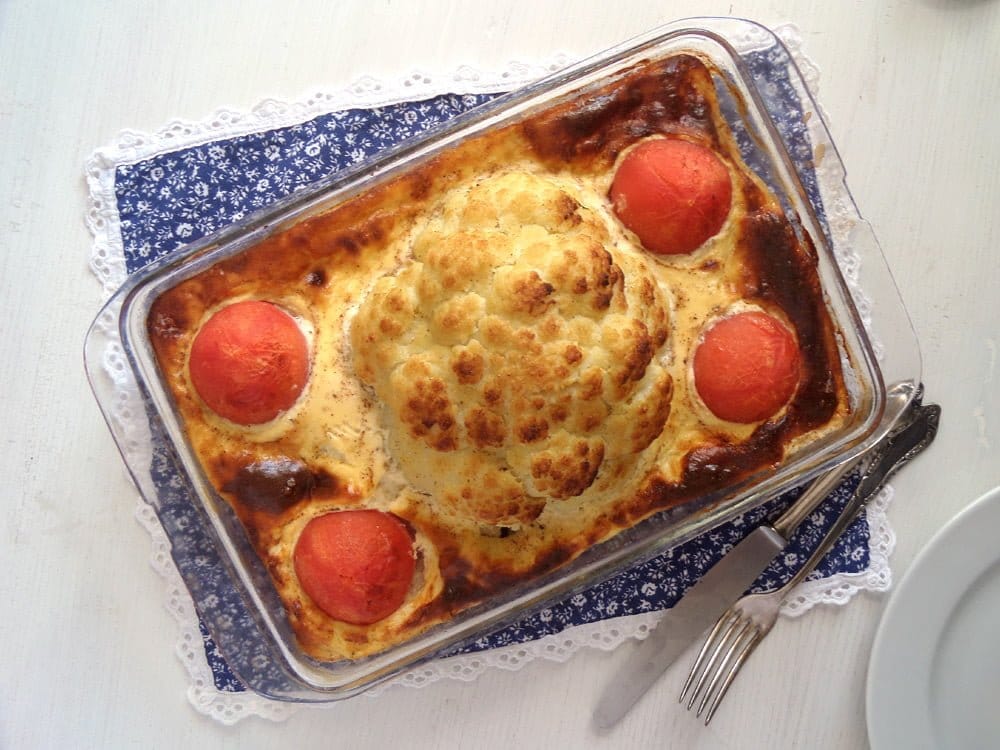 Cauliflower Beef Casserole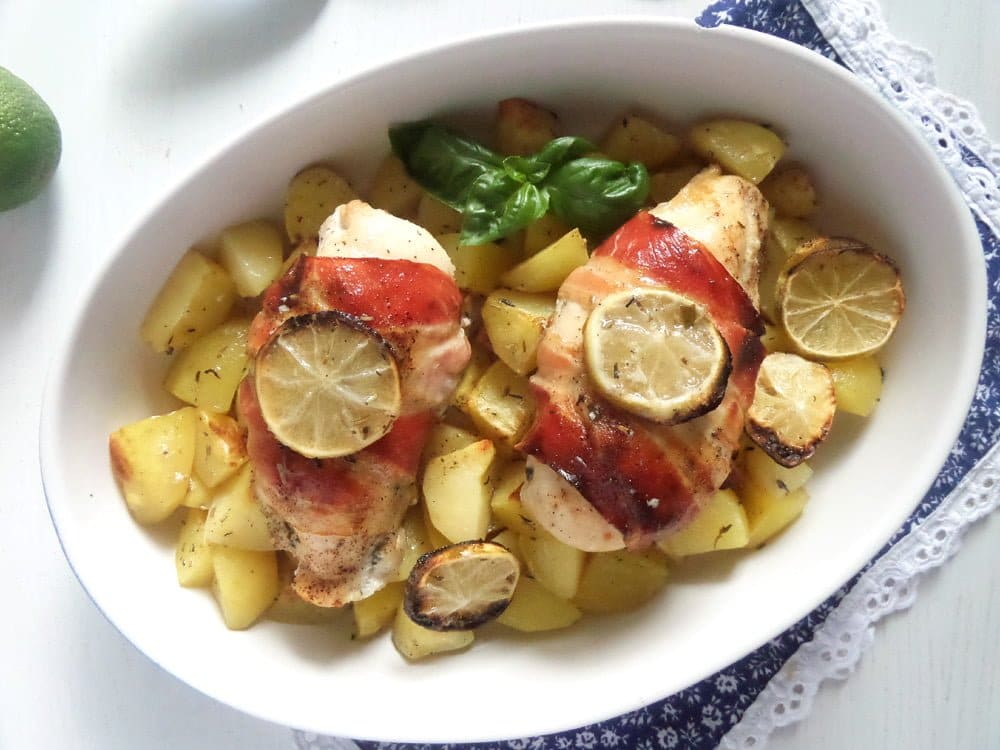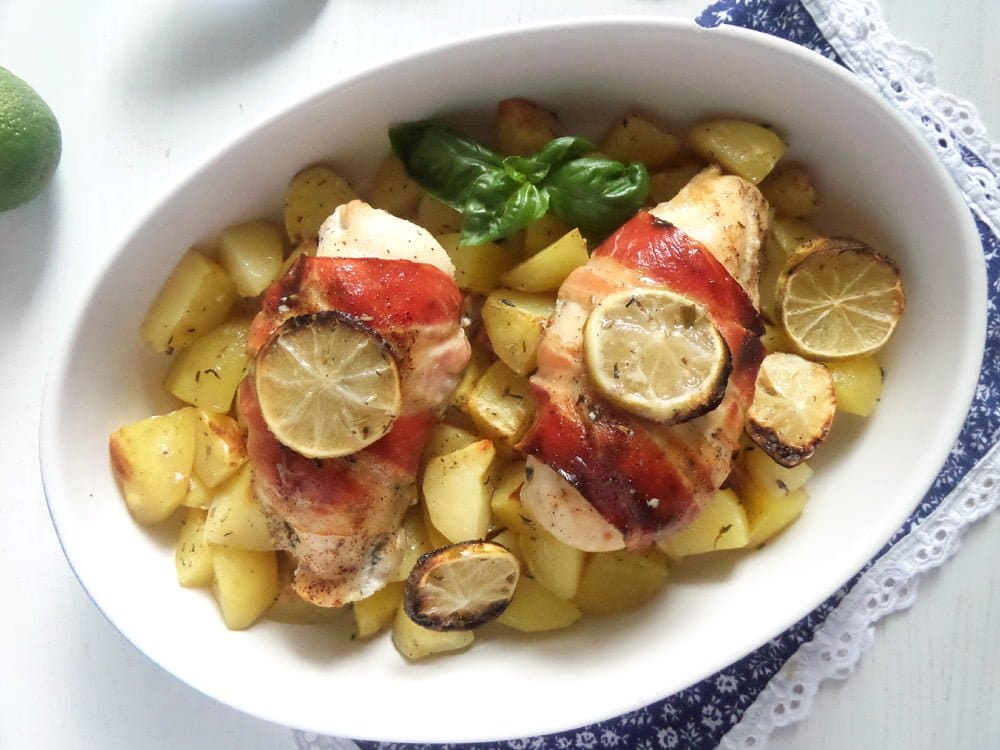 Chicken with Bacon and Herbs