How to make mint syrup with fresh mint and lemon.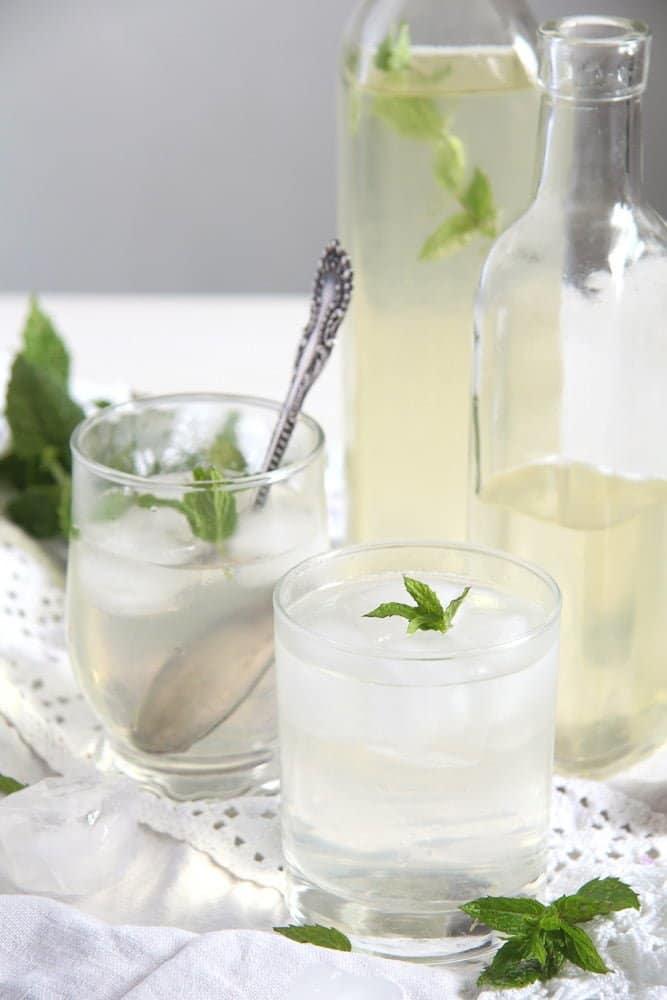 An easy recipe for mint syrup, a delicious way of using some of the mint growing in my garden. Use the same recipe for making lemon balm syrup as well.
I do like making syrup from time to time and not only mint syrup. Proof are these wonderful Homemade Elderflower Syrup or this Rhubarb Peel Syrup. We use it not only for drinking it plain with water and ice cubes, but also for moistening and flavoring cake bases, for adding to cake fillings or for making cocktails or long drinks.
And OK, I had to google to find out the difference between a cocktail and a long drink and in case you are interested a cocktail is a mix made out of at least two alcoholic drinks + something else, while a long drink is an alcoholic drink (can be a large cocktail too), which has to contain at least 140 ml and up to 250 ml liquid. Very important to know!!! 🙂 🙂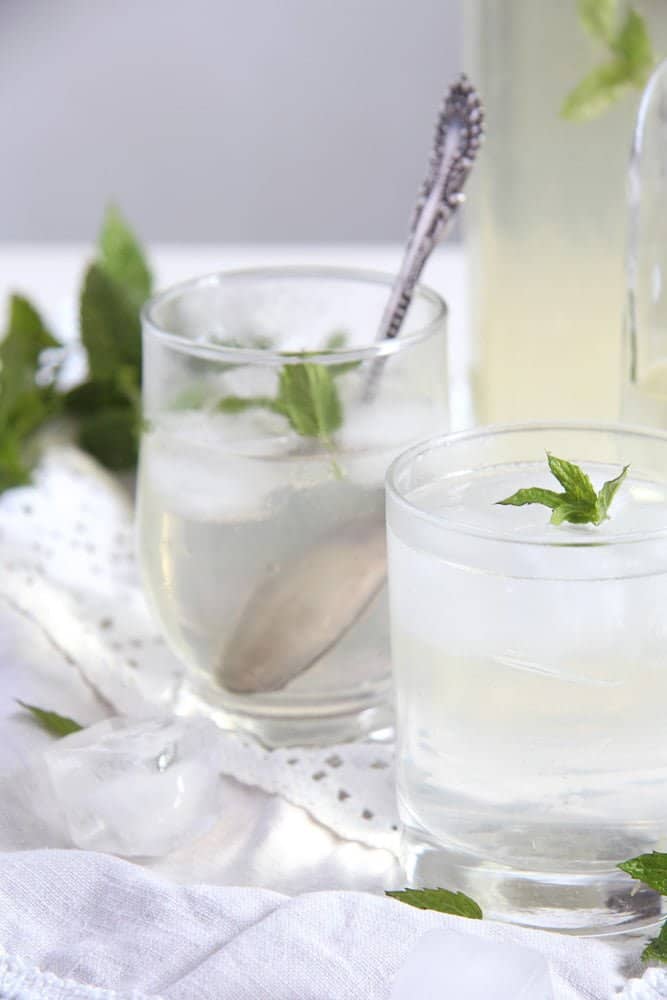 So back to our mint syrup. I love making it! It is so easy and the result is soooo good and it is somehow so satisfying being able to do something so delicious with so few ingredients. Just fresh mint that seems to be growing like weed in my garden, sugar and quite a few lemons.
Wash the herbs
Squeeze the lemons
Pour some boiling water over the mixture and let stand for about 2 days.
Add the sugar, let it dissolve, pour the syrup into clean bottles using a funnel.
How to use it?
Enjoy the homemade mint syrup with cold sparkling or tap water and some ice cubes on a hot summer day.
Pour a bit into a glass of sparkling wine or white wine.
Mix some with gin and sparkling water.
Mix some into your (mint) tea.
Pour over ice cream or waffles or pancakes.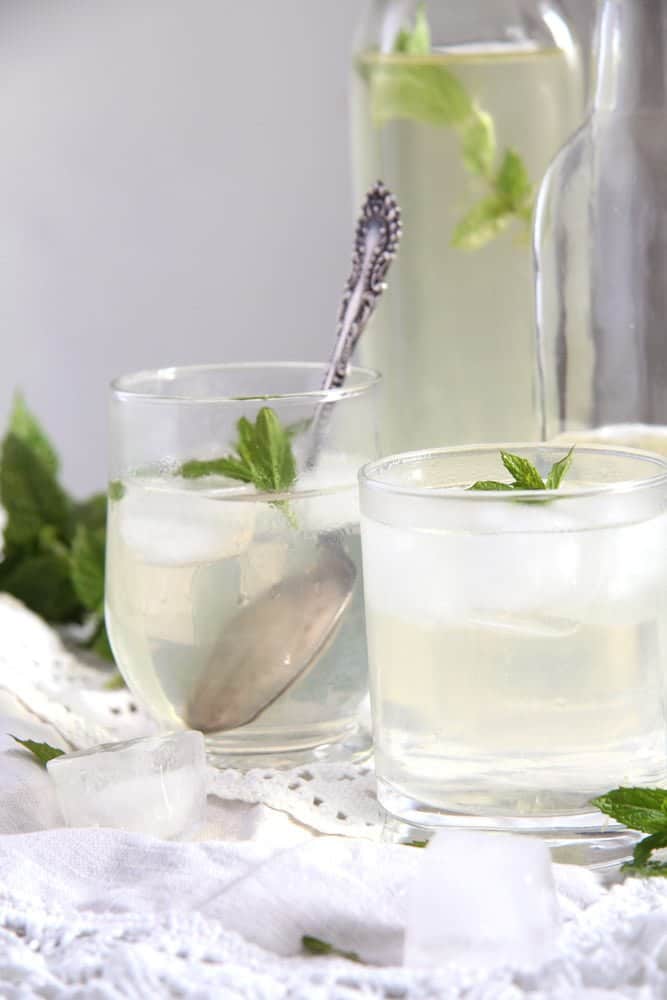 The homemade syrup is great for soaking cake bases used making fondant covered cakes or any other kind of stapled cakes actually.
Although most cakes work just as they are and you don't necessarily need any extra moisture, I do prefer a cake base which is slightly moist and more so when making fondant covered cakes, I feel that a cake covered in fondant tends to be drier than the same cake left naked, so to say.
So, I started pouring homemade syrup on most of the cakes I make nowadays, either mint, lemon balm, elderflower or rhubarb sirup, these are the syrups I tend to have in the cellar most of the times.
I usually go for lemon balm or mint syrup when making chocolate cakes, I turn to elderflower when needing a lighter aromatic flavor for cakes filled with buttercream or whipped cream and use rhubarb for most cakes containing fruit. But there are no rules here, actually, use whatever suits your taste.
And talking about lemon balm. You can use this exact recipe to make lemon balm syrup, it is soooo goood!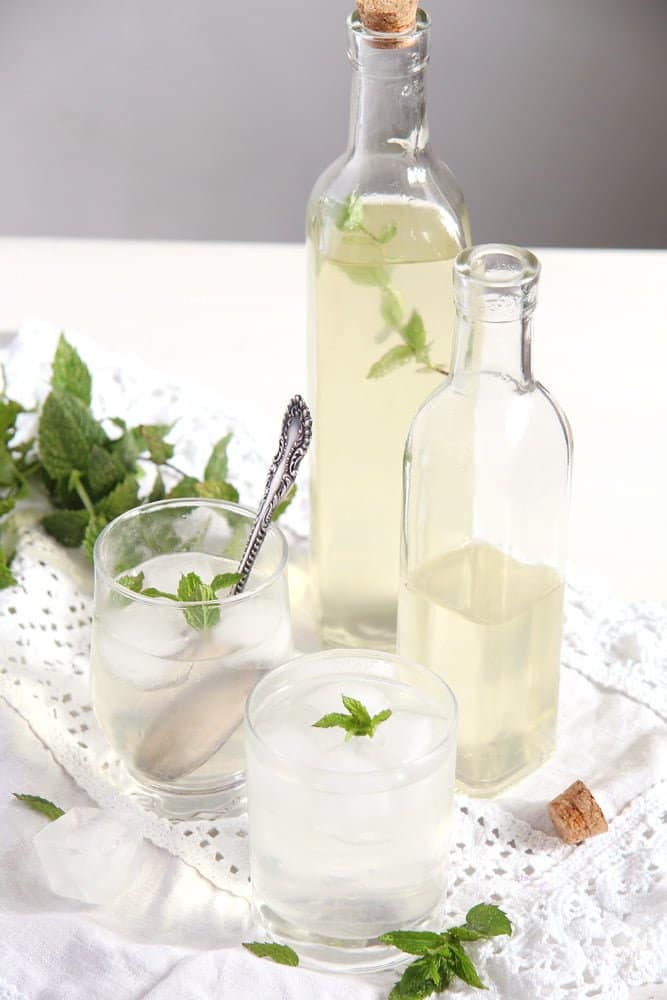 More syrup recipes: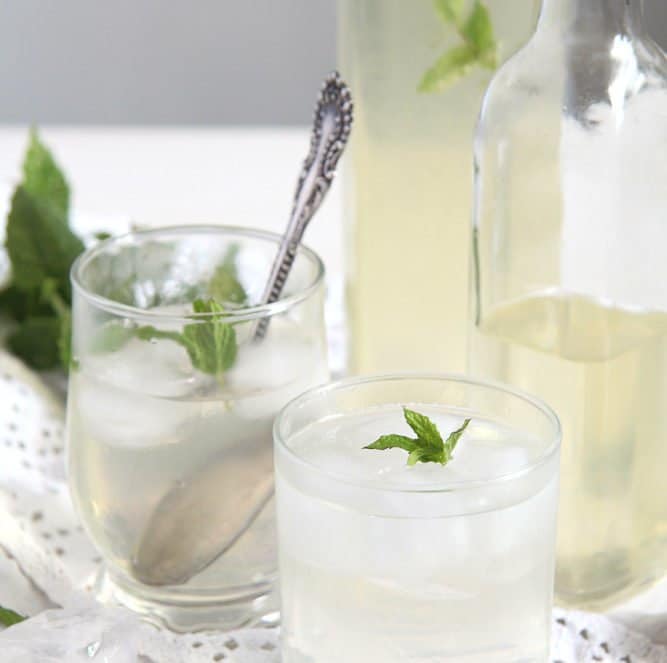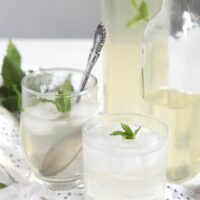 Ingredients
2

large handfuls fresh mint leaves

after removing the stalks (Note 1)

5

large lemons

or 6-7 smaller ones

1

liter/ 4 ¼ cups water

1 liter

6 ¼

cups

granulated sugar

1250 g/ 2.7 lbs
Instructions
Prepare ingredients: Remove the stalks of the mint and measure two large handfuls of mint leaves. Place the clean mint leaves in a large heatproof glass bowl. Squeeze the lemons, remove the seeds, and add the lemon juice to the bowl.

Bring the water to a boil (in an electric kettle) and pour the boiling water over the leaves. Cover the bowl with a cloth and let it stand for 48 hours.

Strain the infused liquid through a fine sieve and discard the mint leaves. Pour the liquid into a pot and add the sugar. Mix well and let the sugar dissolve slowly. I leave it for a few more hours and stir it from time to time; eventually, the sugar will dissolve.

Bring to a boil and pour into the sterilized and still hot bottles. Seal well.

Store: It keeps for a few months in the cellar or another dark cool place. Enjoy topped with water over ice cubes or in any of the variations mentioned above.
Notes
Lemon balm syrup is great as well.
The recipe makes about 1500 ml/ 50 fl.oz/ 6 ½ cups syrup. To make a refreshing drink, mix about 50 ml/ scant ¼ cup with about 250 ml/ 1 cup tab or sparkling water, about 1 part syrup and 5 parts water, to taste.
Nutrition
Serving:
50
ml/scant ¼ cup
|
Calories:
165
kcal
|
Carbohydrates:
43
g
|
Sodium:
2
mg
|
Sugar:
42
g