Homemade rhubarb and ginger gin, tart and refreshing, perfect on ice, with tonic or in a cocktail.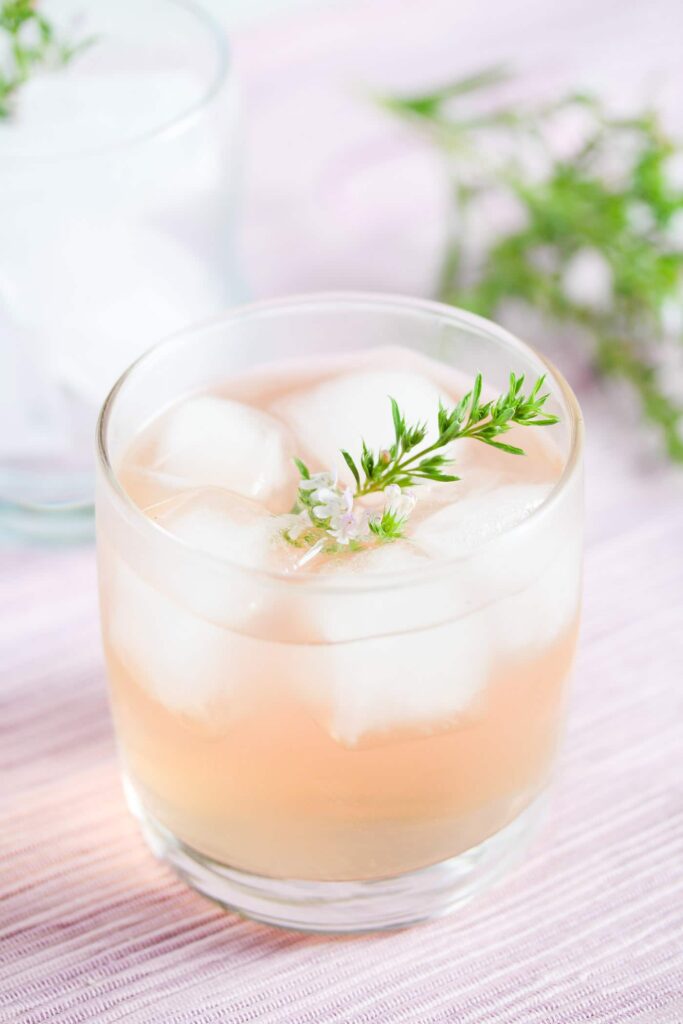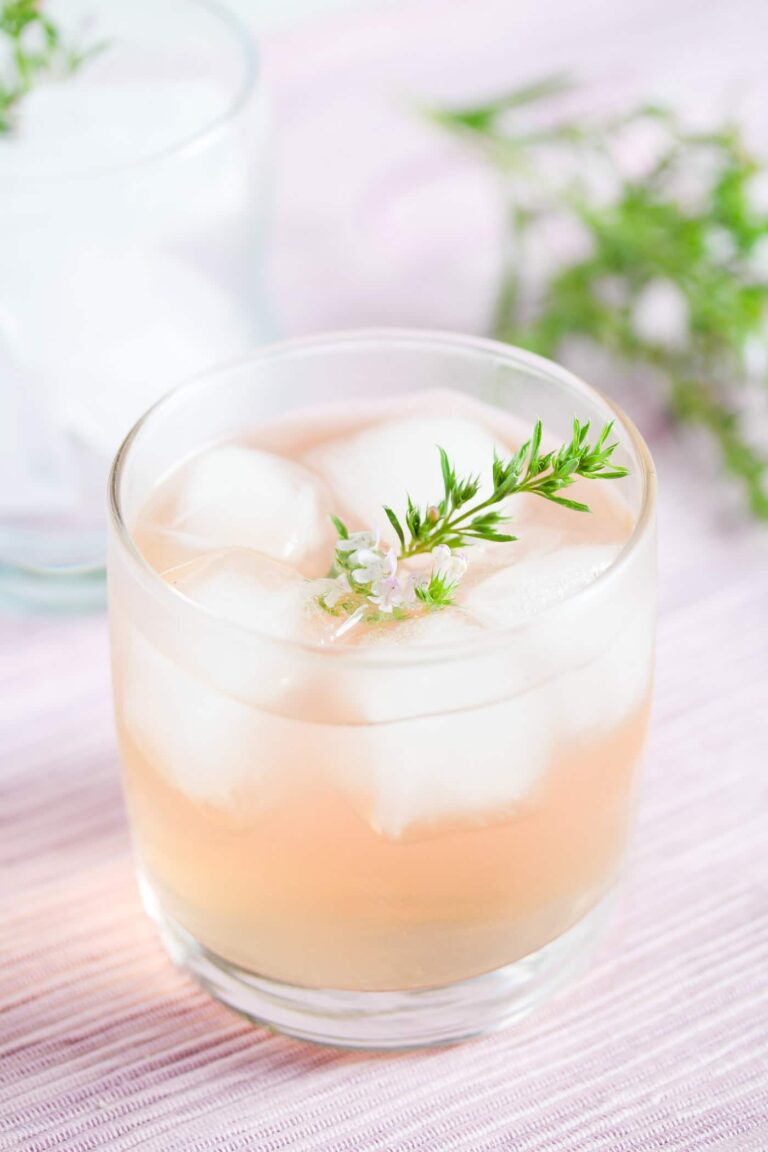 Rhubarb and ginger gin: a pinkish summer drink easy to make, pretty to look at and probably better than any gin mixture you could buy. I just love it! The combination of rhubarb, ginger and lemon zest makes it slightly spicy, and imparts it a wonderful flavor.
And if you like it, you could also try this delicious elderflower gin next spring.
Ingredients
Gin:
Don't buy an expensive sort of gin for this recipe. You will add other ingredients, including sugar, so what you need is a reliable mid-range bottle of gin, no need to go overboard with expenses.
You could use vodka as well, another flavor but still delicious!
Rhubarb:
I use regular green rhubarb that grows in pretty much any garden around here. The resulting gin is still slightly pink.
However, if you have access to really pink rhubarb, the color of the rhubarb ginger gin will be even prettier.
Frozen rhubarb is also fine.
Lemon:
Preferably an organic, unwaxed lemon, as you will need its zest.
Ginger:
A few thick slices, the more you add, the more intensive the ginger flavor.
Sugar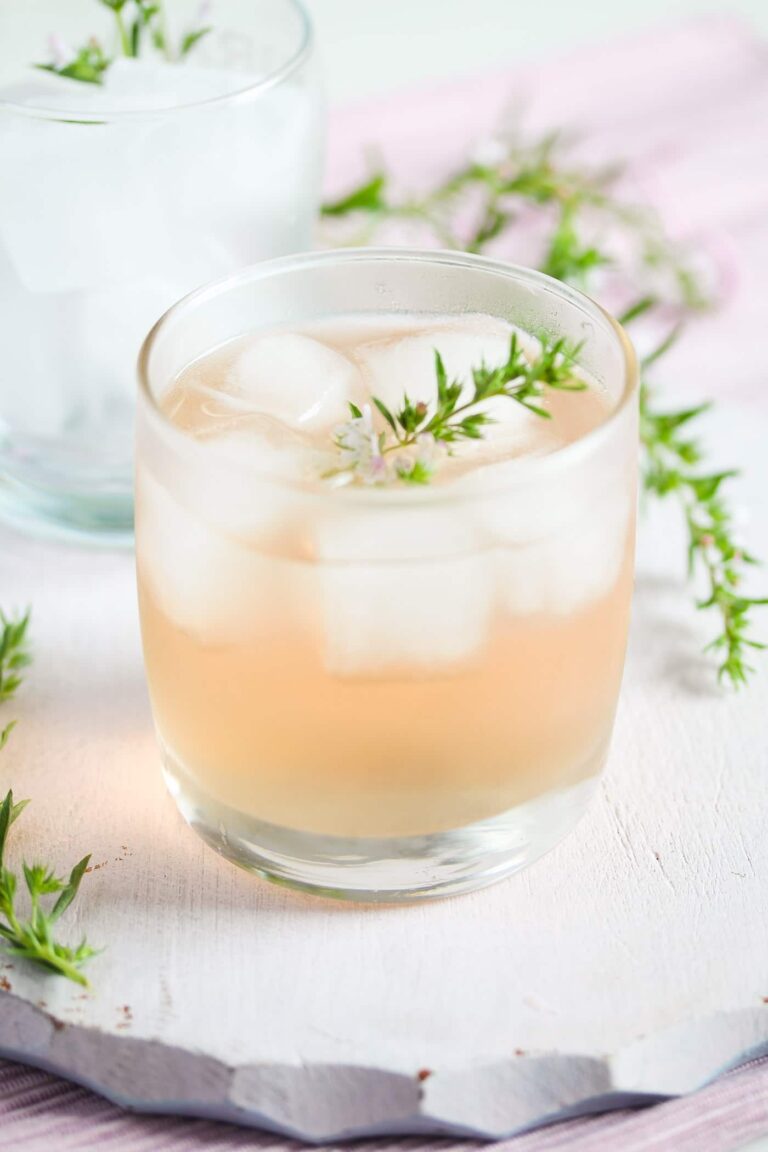 How to make?
All these ingredients have to steep in the liquor for 3-4 weeks to extract the color and the flavor.
Wash and chop the rhubarb stalks. Place them in a large jar.
Add the sugar, lemon zest, and ginger. (1,2)
Pour the gin into the jar. (3)
Stir gently to combine using a long wooden spoon, for instance. (4)
Let steep for 3-4 weeks, I found it great after just 3. (5)
Stir the rhubarb gin every day during the first week and every 3-4 days after that.
Taste after about 3 weeks, it should already be rather pink and really flavorful. Don't leave it steep for longer than 4 weeks.
Line a fine-mesh sieve with a cheesecloth/muslin cloth. Strain the rhubarb and ginger gin into a jug first. This way it will be easier to pour it into a bottle.
You can use the original gin bottle for the drink or choose another pretty bottle. (6)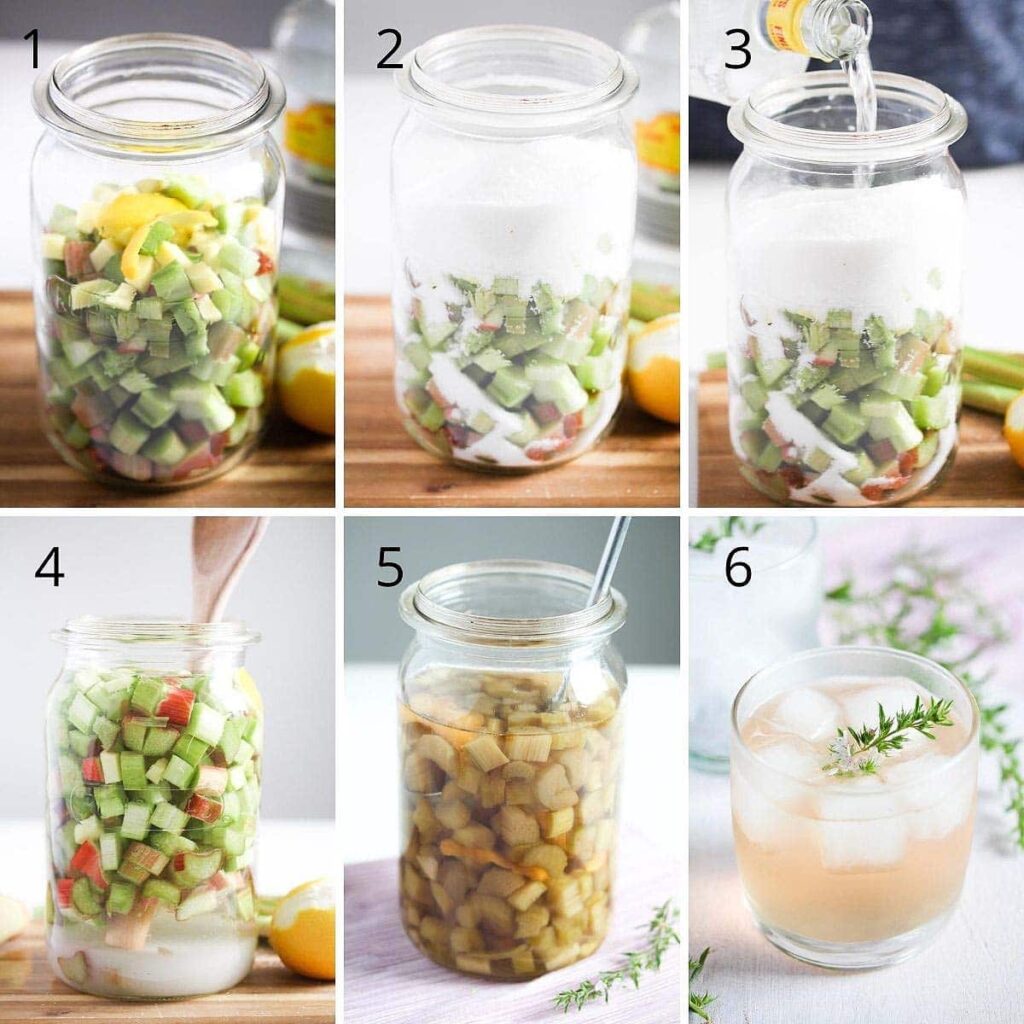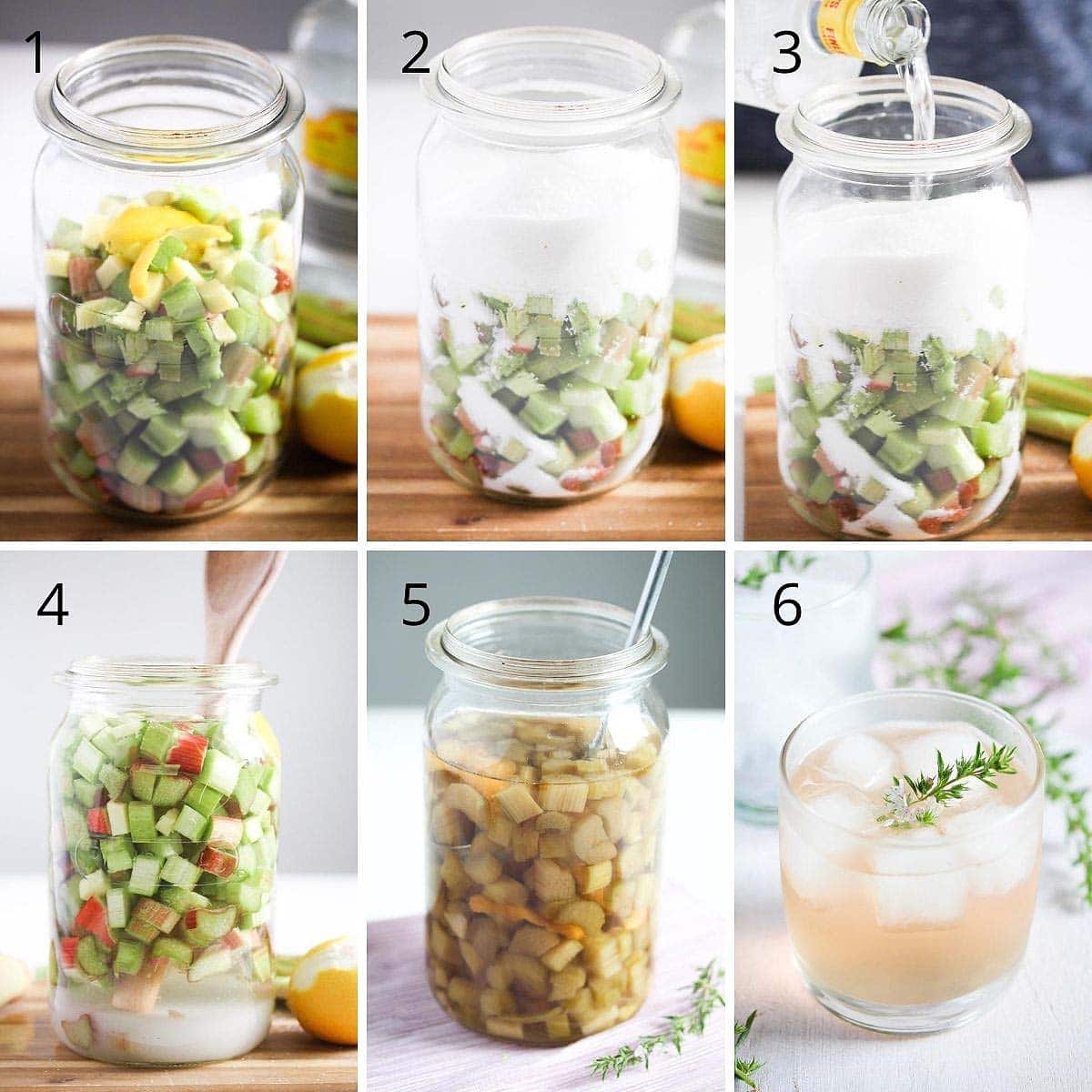 How to use?
I love it just as it is, poured in a nice glass over some ice cubes.
Make a long drink by adding soda or tonic water.
Add a splash to prosecco, for instance.
Use to make cocktails.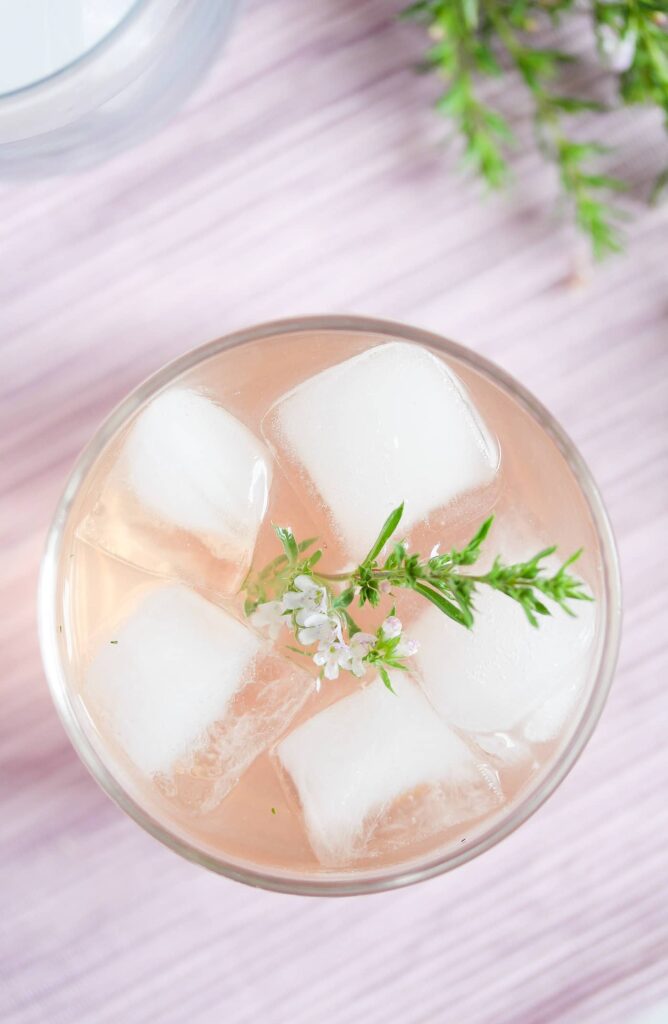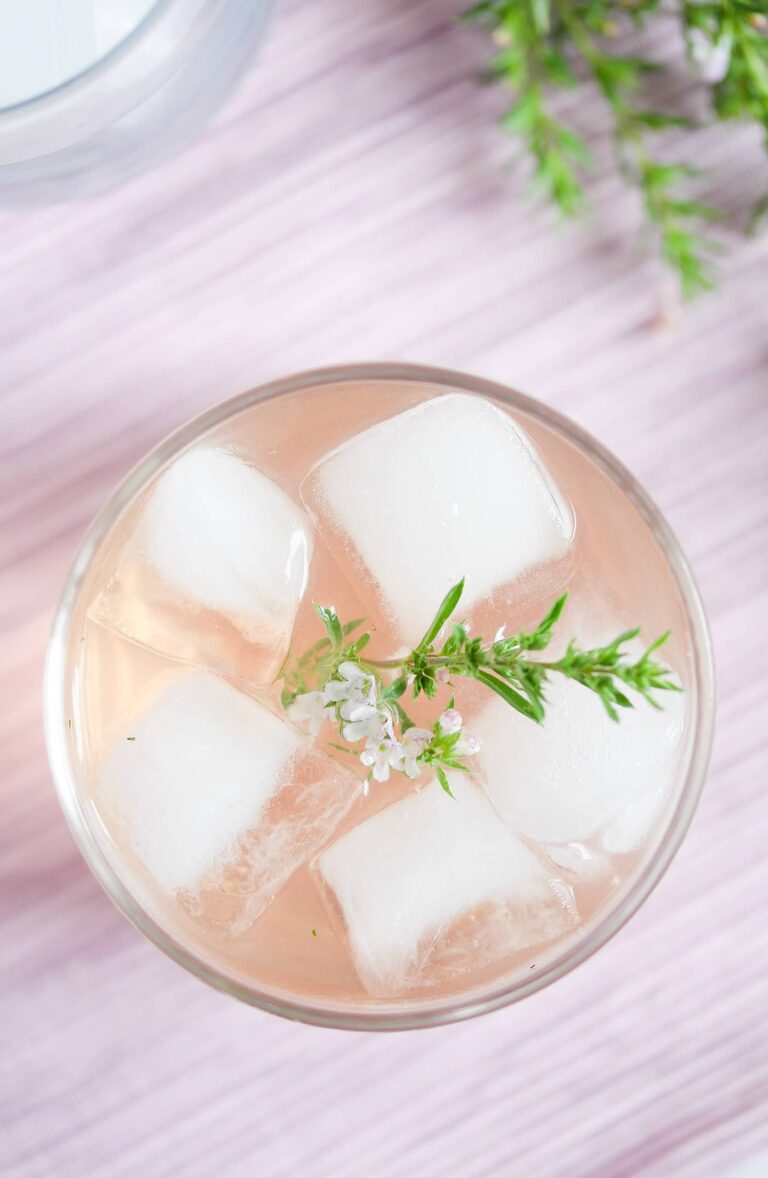 More drinks?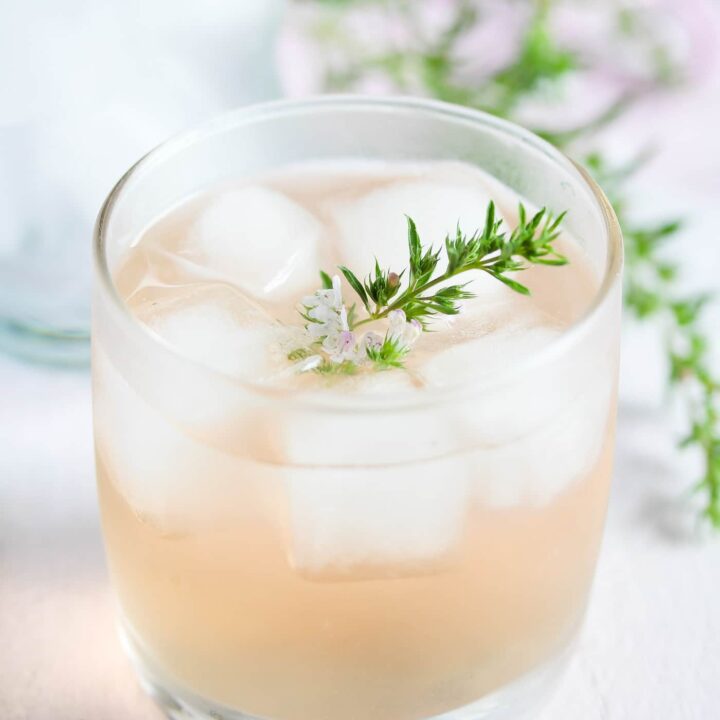 Rhubarb and Ginger Gin
Total Time:
21 days
15 minutes
Homemade rhubarb and ginger gin, tart and refreshing, perfect on ice, with tonic or in a cocktail.
Ingredients
450 g/ 1 lb rhubarb
250 g/ 8.8 oz/ 1 ¼ cup granulated sugar
2 long strips lemon peel (Note 1)
3 thick slices ginger
1 bottle gin (700ml/23 fl.oz) (Note 2)
Instructions
Wash, dry, and chop the rhubarb. Place into a large jar. Add the lemon peel and the ginger. Pour in the gin. Stir gently with a long wooden spoon.
Cover and let steep in a dark place (cupboard, pantry, cellar) for 3 to 4 weeks. Stir every day during the first week and every 3-4 days for the rest of the time.
Taste after 3 weeks, the gin should be already slightly pink and very flavorful. Strain through a fine-mesh sieve lined with a cheesecloth/ muslin cloth into a jug. Carefully pour into a bottle (you can use the original gin bottle).
Keep refrigerated and consume within 4-5 weeks. The gin will not go bad if kept for longer, but it will slightly lose the rhubarb flavor.
Notes
Preferably from an organic, unwaxed lemon
Not an expensive sort, mid-range is fine.

Nutrition Information:
Yield:

30
Serving Size:

30 ml
Amount Per Serving:
Calories:

43
Total Fat:

0g
Saturated Fat:

0g
Trans Fat:

0g
Unsaturated Fat:

0g
Cholesterol:

0mg
Sodium:

1mg
Carbohydrates:

10g
Fiber:

0g
Sugar:

9g
Protein:

0g
Nutrition information isn't always accurate.