How to make elderflower gin? It couldn't be easier, actually. If you like gin, you will so love this recipe. Homemade elderflower liquor that captures the summer flavors.
And if you would like a non-alcoholic recipe for elderflower, you could make elderflower syrup, elderflower champagne without alcohol, or just a simple elderflower tea.
What do you need?
Only four ingredients!
Elderflowers: about 8 large flowers, maybe 10-12 if they are not that large.
Gin: 1 bottle. The brand of your choice. Not the most expensive one, but not the cheapest one either. Mine cost about 12 Euros, so a middle-priced brand.
Lemons: preferably organic and unwaxed as they will come in the liquor and soak there for 1 week.
Granulated sugar: 2 tablespoons.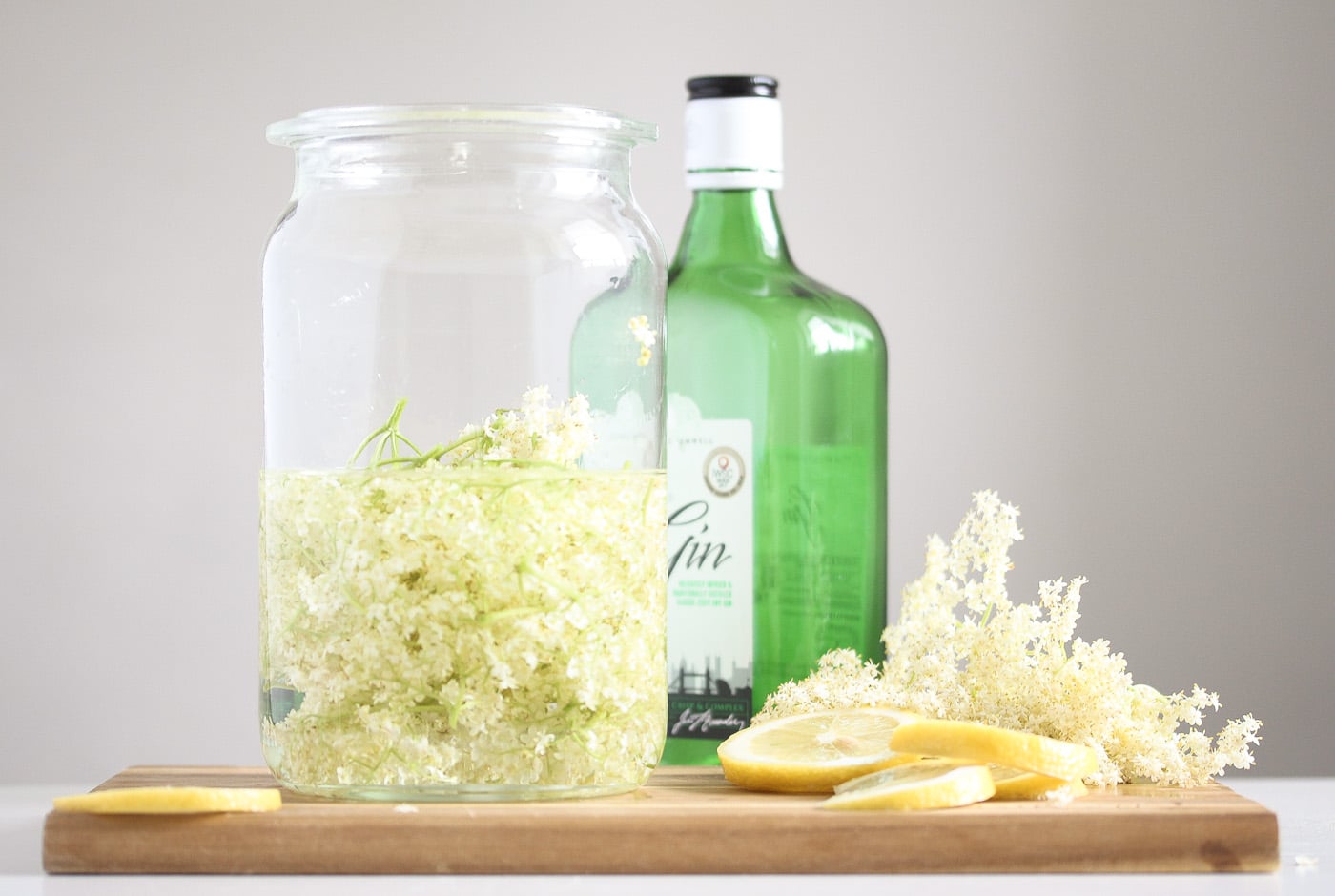 How to pick elderflowers?
Elderflowers are the flowers of the elder trees, which are small hedgerow trees. The flowers are cream-colored and have an amazing scent.
You can pick them up in June until early July, depending on where you live. (I might be a bit late with this elderflower gin if you live in a warmer place, but you can keep it in mind for next year).
Pick large, fully opened, and very fragrant when ready to pick.
It is preferable to pick the flowers on a sunny day at midday; that's when their scent is strongest.
Snap the elderflowers underneath the head of the flower where all the small stems meet the large stem.
Pick only a few flowers from each tree; the berries that develop from the elderflowers can also be used later in autumn and are also important for insects and birds.
Try to find elder trees growing away from the road so that the flowers are as clean as they can be.
Shake the elderflowers well, once in the field where you pick them (so that the insects can stay home) and once before you use the flowers in the sink to make sure you are rid of all the insects.
It is preferable not to wash the flowers; they will lose some of their flavor if you do.
If you have to do it, then give them just a very short rinse under cold running water and shake them well.
Prepare the elderflower gin (or anything else) immediately; the flowers will go limp and lose their scent very quickly.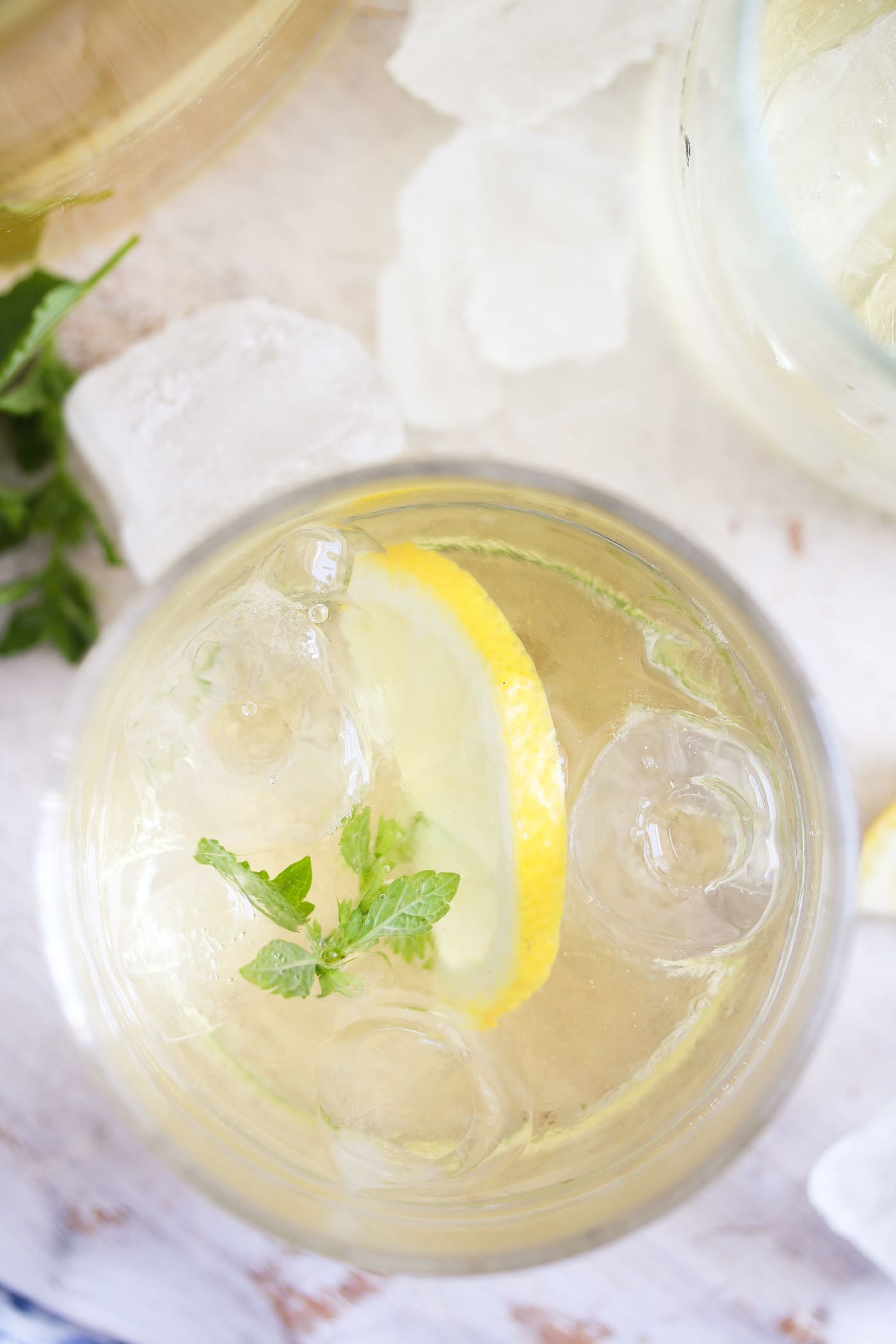 How to elderflower gin?
Pick the elderflowers as instructed above.
Shake them well over the sink to remove any insects that might still be in there.
Remove the green stems of the flowers; only the very thin ones to which the flowers are attached can stay.
Pour the gin into a large jar or bowl.
Add 2-3 tablespoons granulated sugar and stir well until the sugar dissolves completely.
Add the elderflowers.
Wash and rub the lemon very well to remove any wax (in case they are waxed).
Slice thinly and add to the jar.
Stir with a long wooden spoon.
Cover.
Let sit at room temperature for 1 week.
Stir gently every 2 days or so.
After one week, it should have taken on a yellow color.
Strain through a fine mesh sieve. Discard the flowers and lemon slices.
Strain again through a fine mesh sieve lined with a muslin cloth so that you can leave all the impurities behind.
Pour the gin into a clean bottle. You can use the original gin bottle, for instance.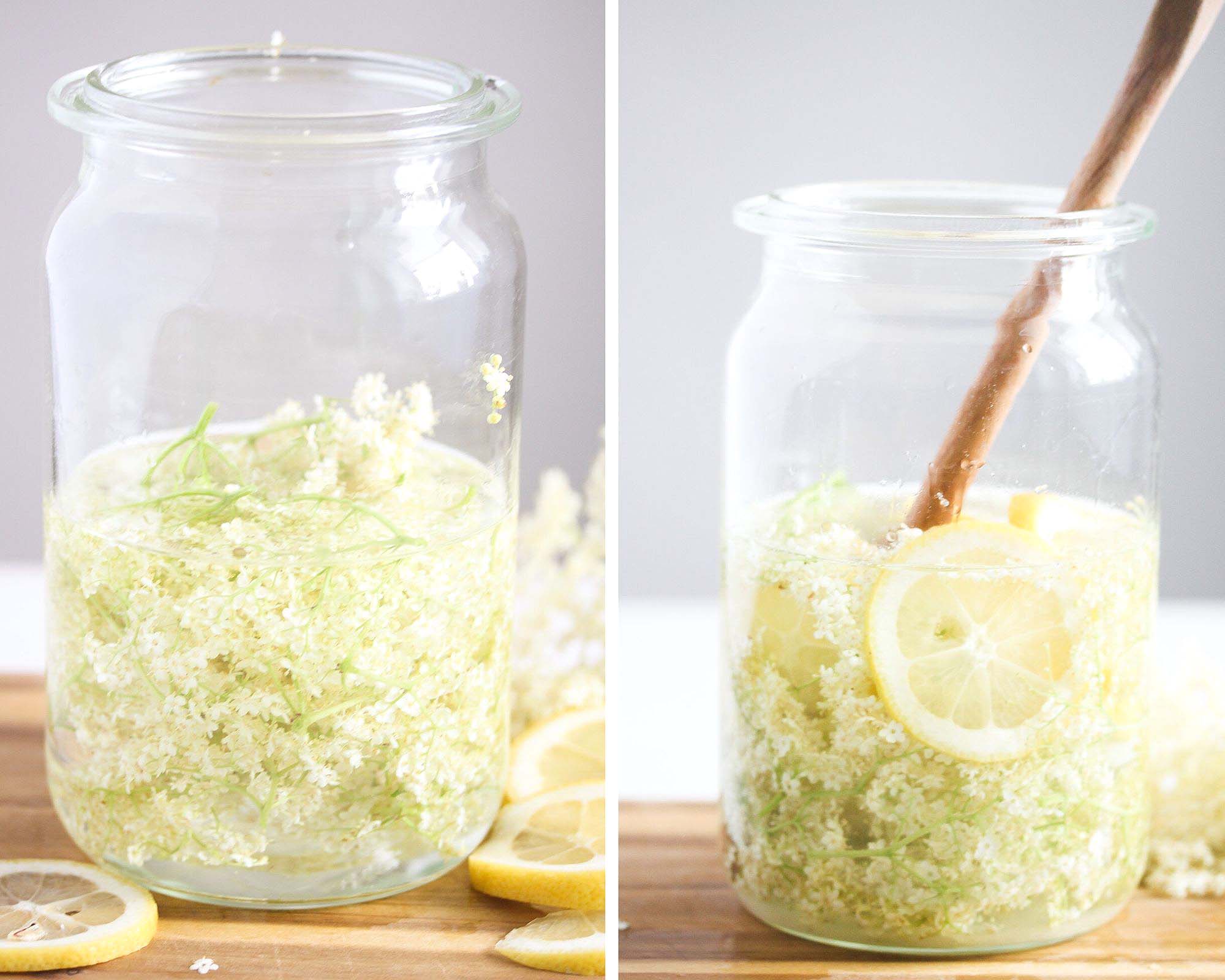 How to use it?
Drink on the rocks; it is amazing! You can add a lemon slice and mint or balm leaves before serving.
Make cocktails.
For instance, you can add tonic water and lemon slices.
You can add lime juice and cucumber slices.
Or you can add Prosseco and lemon slices.
You can also try this Elderflower Gin Cocktail. Or make Elderflower Jelly if you have more flowers.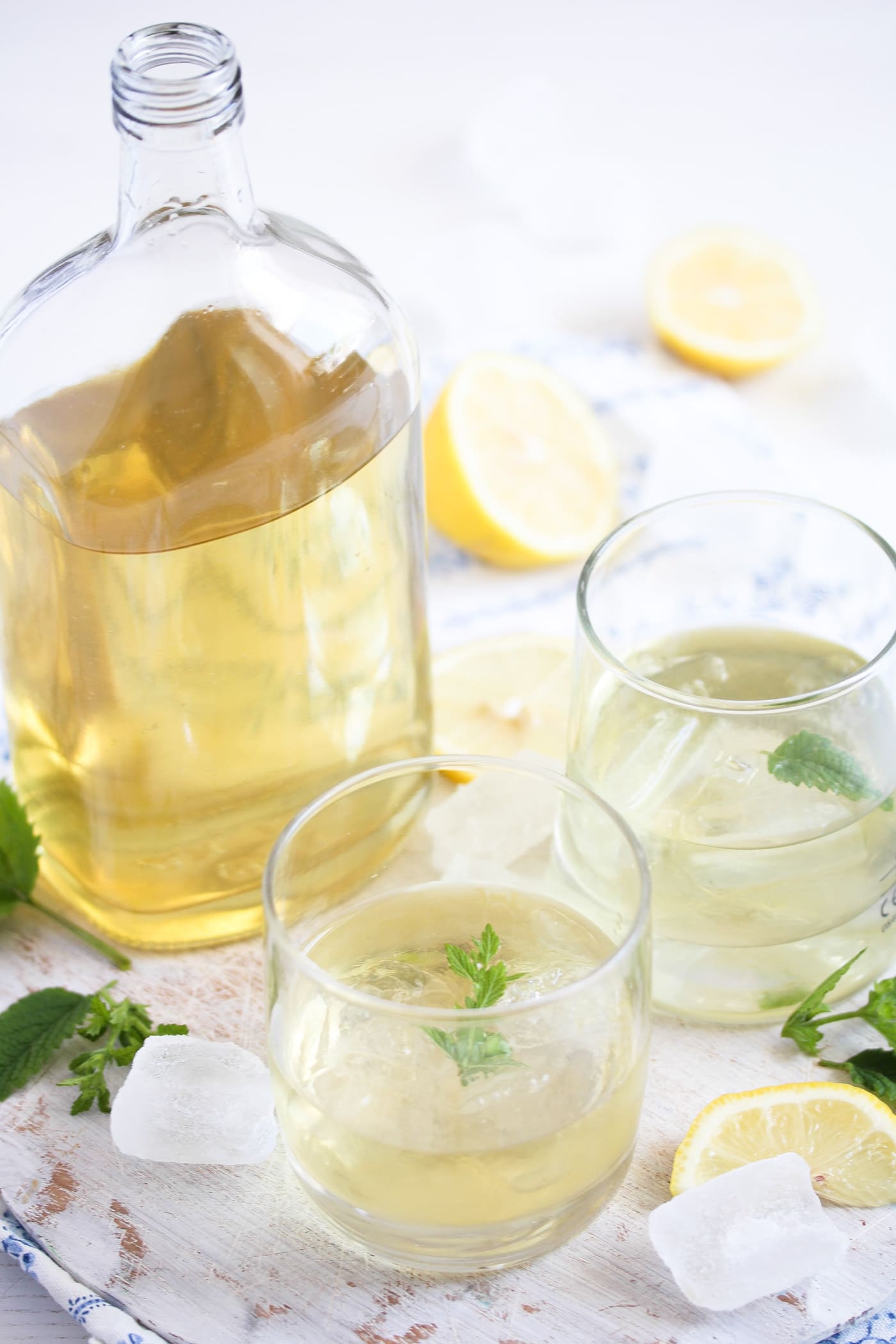 More preserved drinks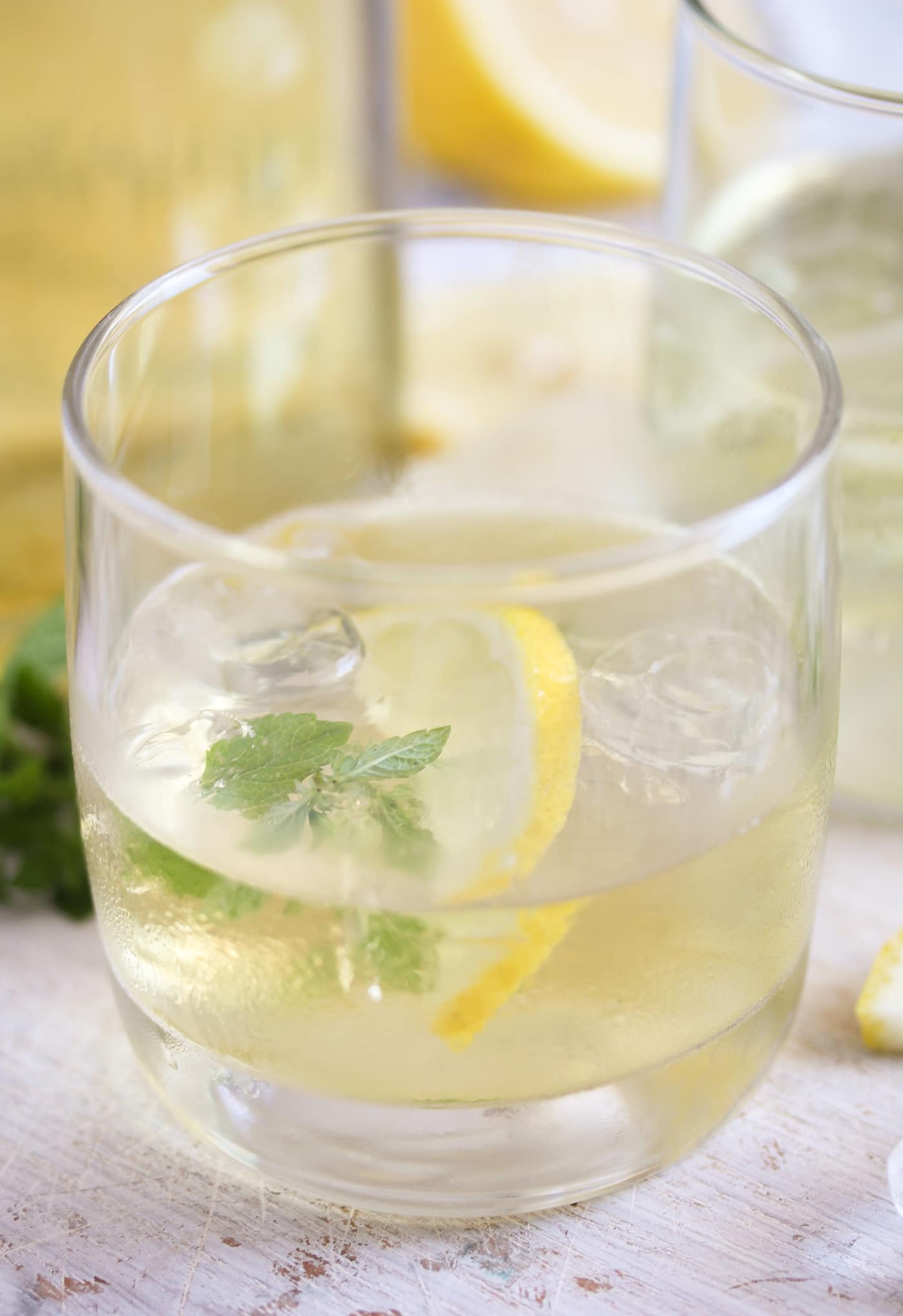 Ingredients
12

elderflowers

depending on size (Note 1)

1

bottle gin

700-750 ml/ 23.6-25.3 fl.oz

3

tablespoons

granulated sugar

1

organic lemon

unwaxed
Instructions
Shake the elderflowers over the sink to get rid of lingering insects. Set aside.

Pour the gin into a large jar or a bowl. Add the sugar and stir well to dissolve.

Combine: Wash and rub the lemon thoroughly. Slice thinly and add the slices to the gin. Add the flowers as well. Stir gently with a long spoon. Cover.

Let the mixture sit at room temperature for one week. Stir gently every two days or so.

Strain gin: After one week, the gin should be fully flavored and pale yellow. Strain through a fine-meshed sieve into another bowl. Discard the flowers and the lemon slices. Line the sieve with a clean muslin cloth and sieve the gin again to remove any impurities.

Pour the gin into a clean bottle; you can use the original gin bottle.
Notes
Read the blog post for instructions on how to pick elderflowers.
Good quality gin, middle-priced. It should not be very expensive, but not the cheapest one either.
Nutrition
Serving:
1
g
|
Calories:
120
kcal
|
Carbohydrates:
4
g
|
Sodium:
1
mg
|
Sugar:
3
g