Tochitura – a traditional Romanian pork stew recipe with cheese and eggs.
Although this is a traditional Romanian recipe, which has different versions in different parts of the country, I must admit that this was the first time I have ever had it. I did hear about it before and I have always found the name Tochitura very strange, it was a weird word, which didn't not tell me much about the dish itself, I always imagined this to be made with ground meat…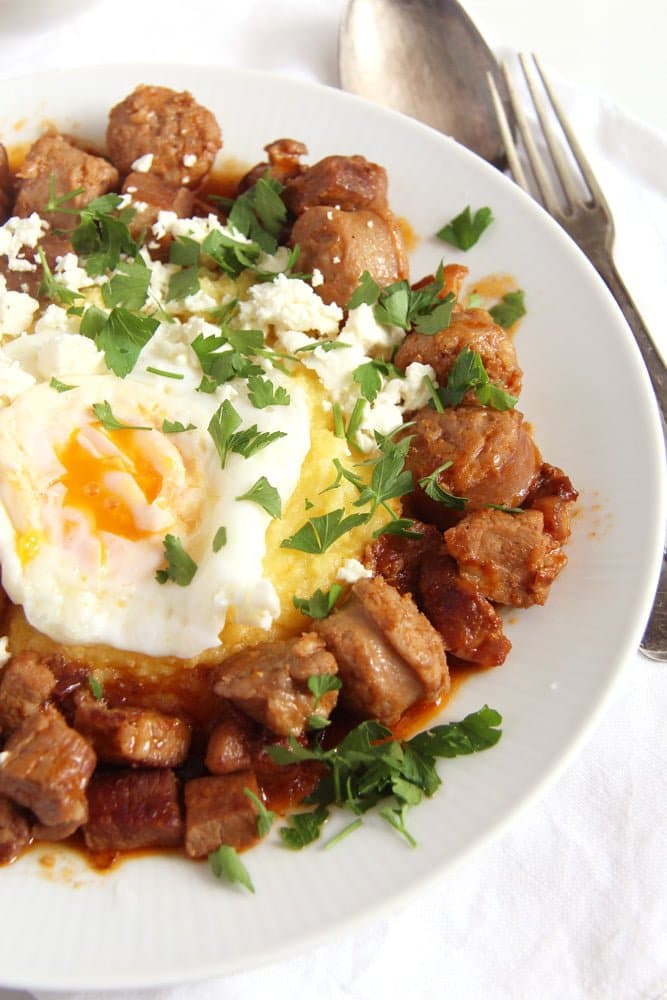 But it isn't! No ground meat in this recipe, only cubed meat and chopped pork sausages in a tomato sauce, everything topped with a fried egg and plenty of cheese. The calories and the fat amount in this dish, you ask? Better not ask… I have no idea and I don't really want to know…
However, despite the calorie issue, this was a dish I just had to make. It is something so utterly Romanian when it comes to food, I could not leave it out. You might think that I exaggerate, if it was such a must-try Romanian recipe, why haven't I had that before?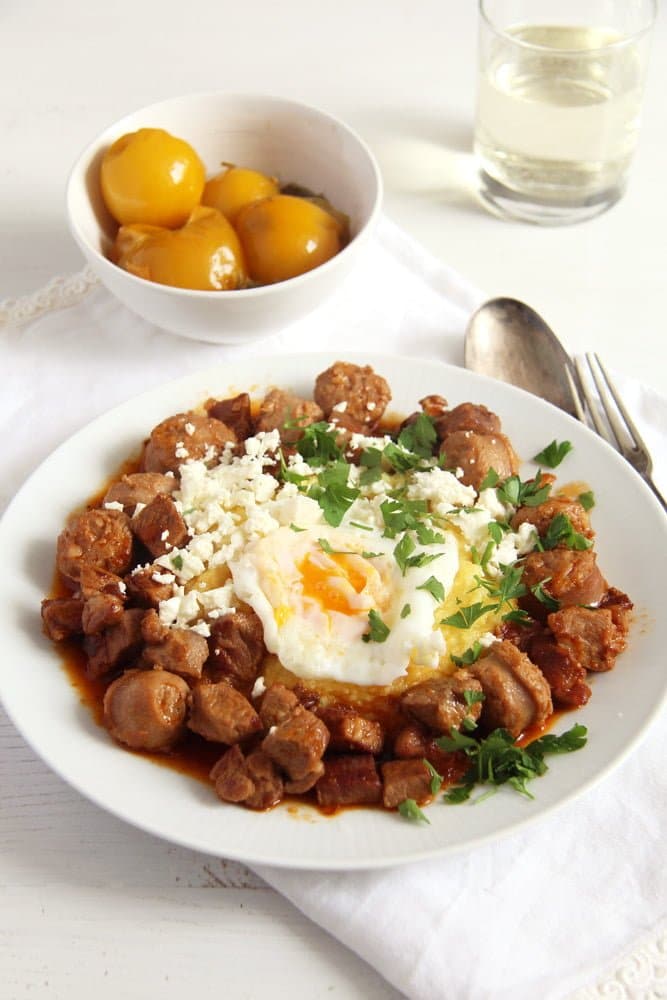 Well, there are lots and lots of typical Romanian recipes I have never had in my grandmother's house, she was just like that. She would only cook her handful of recipes, completely ignoring anything that did not suit her taste or ideas about food. I am sure that in this case, it was the name of the dish that put her off ever trying to make this, I told you tochitura is a weird word.
Other famous recipes that any Romanian person who didn't grow up in my grandma's house has probably tried at least a few times before are these Romanian Cheese Dumplings – Papanasi fierti or these Romanian Cheese Doughnuts – Papanasi.
But despite the calories and the fat content of this dish, I am glad I have tried it. It is a hearty, solid dish and really so delicious. Eating it will give you the feeling of being a Romanian peasant about 100 years ago having dinner after a long day of hay-making. 🙂
This dish has to be served with polenta, nothing else would do, in my opinion. Here is How to Cook Basic Polenta – Mamaliga. Ideally you would top this dish with Romanian sheep's cheese – branza de burduf. However, you will not find that cheese outside Romania, unless you make it yourself I suppose, so feta cheese is a good substitute.
Other Moldavian recipes:
Moldavian Yeast Pastries – Mucenici
Romanian Cabbage Pies – Placinte cu varza
This post contains affiliate links. The price you pay as a consumer does not change, but if you make a purchase we will receive a commission which helps support the blog.