Tochitura – a traditional Romanian pork and sausage stew with cheese and eggs and served with polenta.

PORK AND SAUSAGE STEW
Although this sausage stew served with eggs, cheese and polenta is a traditional Romanian recipe, which has different versions in different parts of the country, I must admit that this was the first time I have ever had it.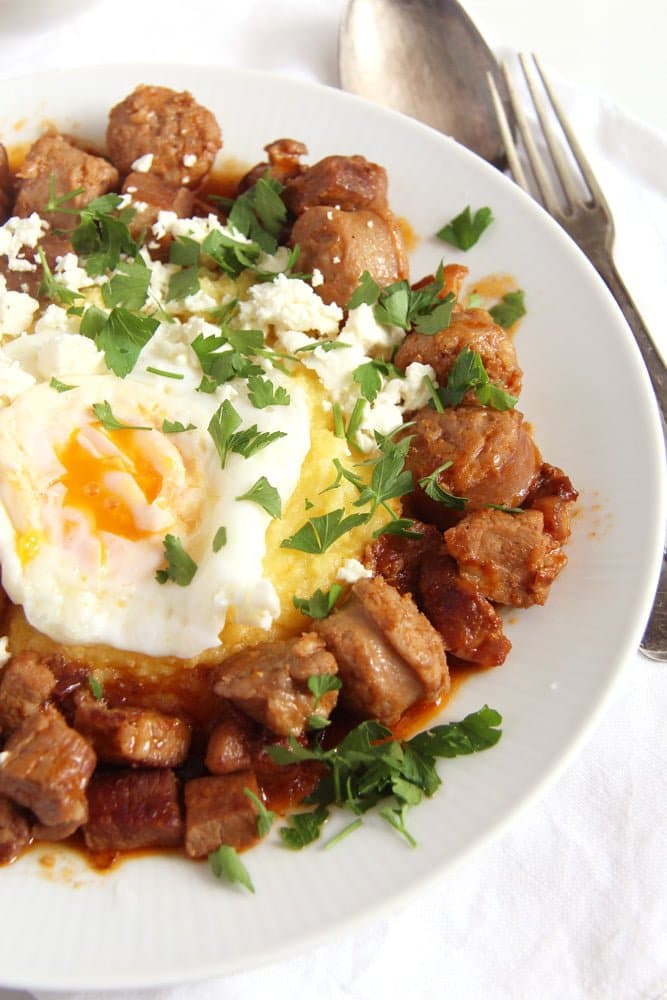 I did hear about it before and I have always found the name Tochitura very strange, it was a weird word, which didn't tell me much about the dish itself, I always imagined this to be made with ground meat...
But it isn't!
No ground meat in this recipe, only cubed pork and chopped pork sausages in a tomato sauce, everything topped with a fried egg and plenty of cheese.
The calories and the fat amount in this dish, you ask? Better not ask... I have no idea and I don't really want to know...
Fast forward to 2019 when updating this sausage stew recipe: you can see how many calories tochitura has in the recipe card section below.
However, despite the calorie issue, this was a dish I just had to make. It is something so utterly Romanian when it comes to food, I could not leave it out.
You might think that I exaggerate, if it was such a must-try Romanian recipe, why haven't I had that before?
Well, there are lots and lots of typical Romanian recipes I have never had in my grandmother's house, she was just like that. She would only cook her handful of recipes, completely ignoring anything that did not suit her taste or ideas about food.
I am sure that in this case, it was the name of the dish that put her off ever trying to make this, I told you, tochitura is a weird word.
Other famous recipes that any Romanian person, who didn't grow up in my grandma's house has probably tried at least a few times before, are these Romanian Cheese Dumplings or these Romanian Cheese Doughnuts.
But despite the calories and the fat content of this dish, I am glad I have tried this sausage stew with polenta. It is a hearty, solid dish and really so delicious.
Eating it will give you the feeling of being a Romanian peasant about 100 years ago having dinner after a long day of hay-making. 🙂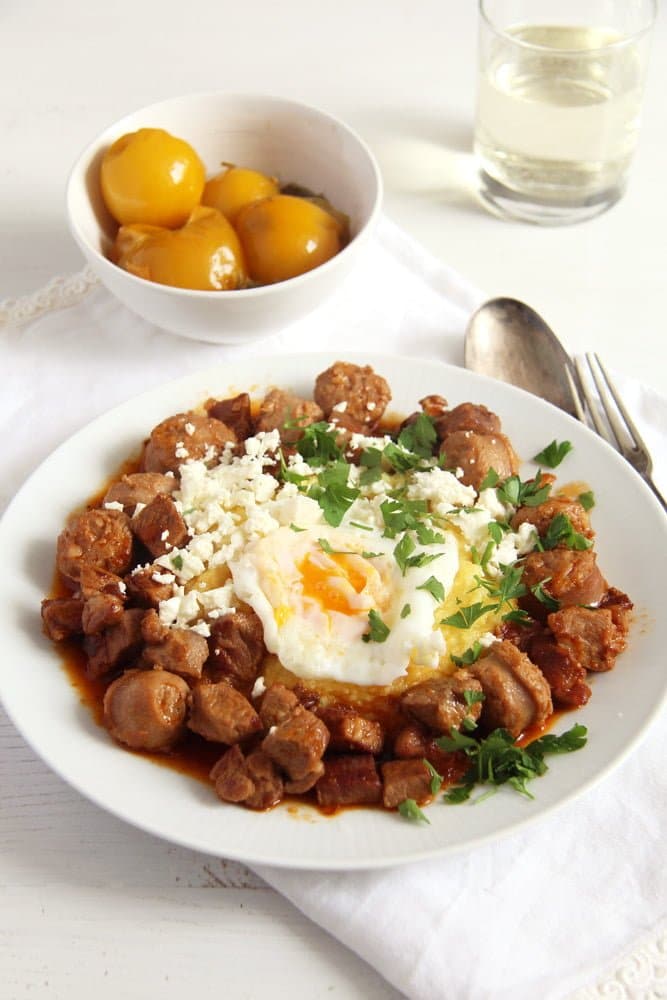 INGREDIENTS FOR SAUSAGE STEW
Pork:
I used pork neck, but other cuts of pork should be fine as well. Don't choose something very lean, fattier parts are better.
Sausages:
Tochitura is usually made with traditional Romanian sausages. Use coarsely ground sausages, preferably smoked.
Fat:
Traditionally you would always use lard to make this Romanian sausage stew or tochitura. If you don't want to buy lard just to make one dish, use vegetable oil (like sunflower) instead. No olive oil, it just doesn't fit when cooking traditional Romanian food.
And here are some more dishes using lard, if you decide to buy a pack of lard:
Cheese:
Traditionally branza de burduf, which is a sharp and delicious cheese made of sheep's milk. As you will hardly find that outside Romania, feta cheese (preferably sheep) would make a good substitute.
WHAT TO SERVE WITH SAUSAGE STEW?
This dish has to be served with polenta, nothing else would do, in my opinion. Here is How to Cook Basic Polenta – Mamaliga.
Ideally you would top this dish with Romanian sheep's cheese – branza de burduf. However, you will not find that cheese outside Romania, unless you make it yourself I suppose, so feta cheese is a good substitute.
And don't forget gogonele – pickled tomatoes or other kinds of pickled vegetables, if green tomato pickles are not available.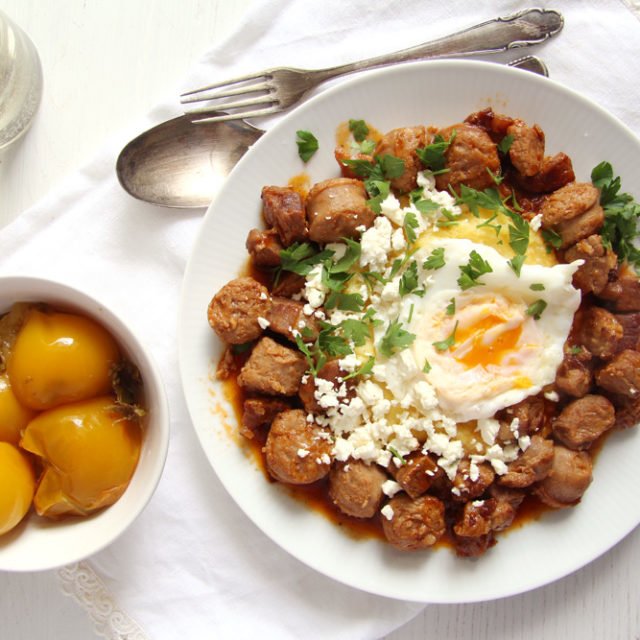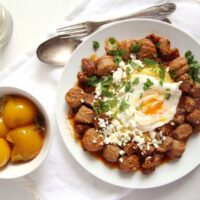 Romanian Sausage Stew - Tochitura
Tochitura – a traditional Romanian pork and sausage stew with cheese and eggs and served with polenta.
Print
Pin
Share
Grow
Saved!
Rate
Ingredients
500

g/ 1.1 lbs pork neck

1

tablespoon

lard or 2 tablespoons vegetable oil

1

large onion

4

small coarsely-ground smoked sausages

3

garlic cloves

2

tablespoons

tomato paste

2

bay leaves

240

ml/ 8.1 fl.oz/ 1 cup dry white wine

4

eggs

2-3

tablespoons

vegetable oil

about 100 g/ 3.5 oz feta cheese

sheep's cheese is better

some parsley

polenta and pickled vegetables to serve
Instructions
Chop the meat into rather small cubes. Pat them dry with some kitchen paper.

Melt the lard or heat the oil in a cast iron pan. Fry the meat cubes until nicely browned all over. Do this in two batches if your pan is not large enough, the pan should not be overcrowded.

Return all the meat cubes to the pan and add the finely chopped onion and about ½ teaspoon salt.

Add ¼ cup water, cover and cook gently for about 20 minutes or until the meat is quite tender. Add a splash of water or so if necessary, if you notice that the dish becomes too dry.

Cut the sausages into slices, about 1 cm/ 0.4 inch thick. Chop the garlic finely.

Add the sausages, garlic, tomato paste and bay leaves to the pan.

Pour the white wine, cover again and continue cooking for 10 minutes or so until the meat is very tender and the sausages are cooked through.

Adjust the taste with salt and pepper.

In the meantime heat the vegetable oil and fry the eggs in a large pan.

Divide the stew between four serving dishes, give a fried egg on top of each dish and crumble some of the feta on top of each plate.

Sprinkle some parsley over the dish and serve hot with polenta and pickled vegetables.

Nutrition
Serving:
1
/4 of the dish
|
Calories:
808
kcal
|
Carbohydrates:
9
g
|
Protein:
52
g
|
Fat:
57
g
|
Saturated Fat:
20
g
|
Polyunsaturated Fat:
31
g
|
Cholesterol:
363
mg
|
Sodium:
944
mg
|
Fiber:
1
g
|
Sugar:
5
g