Delicious, hearty pork slices roasted in a fruity garlic and tomato sauce and served with mashed potatoes and pickles.
This sort of pork roast was an important part of our traditional Christmas dinner. There were always the Chicken Soup with Dumplings – Supa de galusti, the Romanian Boeuf Salad with Potatoes, Gherkins and Mayonnaise, the Sarmale – Traditional Romanian Cabbage Rolls with Pork and Rice, the Romanian Sweet Bread with Walnuts – Cozonac and a pork roast.
My grandmother, like my aunt nowadays, would start cooking all these things one or two days before Christmas Eve and we would keep eating the same things for lunch and dinner until they were all gone, which considering the quantities and the fact that there was only two of us, it might have taken almost a week or so…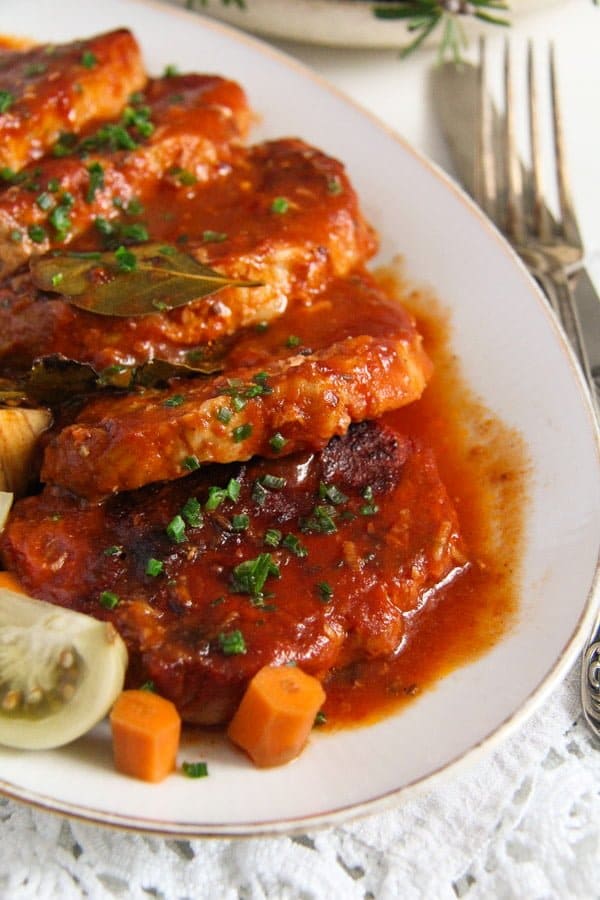 Her usual pork roast for Christmas was even more basic than today's recipe, actually I could not even call that a roast, as she would only fry slices of pork in a frying pan, which she will then serve with mashed potatoes (or sometimes only bread) and pickles, mostly Green (Unripe) Tomato Pickles. I loved those steaks fried in the pan and sometimes I think I can never manage to make my fried pork taste like the one my grandmother cooked. Probably the main reason for that is that she usually made those steaks around Christmas with meat from freshly slaughtered Christmas pigs.
We had a big tradition of Christmas pig slaughtering in Romania during the communist times and later on in the 90's. People probably still do that nowadays (especially in the villages), but not the way it used to be done during those times when meat was so scarce and people were depending on raising their own pigs if they wanted to have any meat for Christmas at all…
It was not a very enjoyable thing for me as a kid. I mean, I loved the meat but the slaughtering process always caused me nightmares. We lived in a flat in a neighborhood where everybody lived in a flat, so hundreds of families would slaughter their pigs in December. And because not all of them had relatives who lived in the country or in a house with a yard and a garden, they had no choice but to slaughter the pigs in front of the apartment buildings in the vicinity of a drain, where the blood could seep in.
So, December was a month were I often woke up in the morning hearing the screams of the pigs and when I was going or coming back from school I always afraid that I would see a dead pig when I turn the next corner or some bloody snow… Not nice, but normal! It would have never occurred to me to refuse eating meat because of that, that was the way things were and I had never known it any other way.
And the things my grandmother (and my aunt) used to do with that pig! They used every single part of it, nothing ever went to waste. We ate the ears, tails and some parts of the burned skin as a special treat during the slaughtering day, they made sausages, liverwurst and lard, preserved meat in lard, used the organs to make some kind of terrines, the blood to make blood pudding/ sausages and the feet to make aspics. And except the blood pudding, which I could never be persuaded to try, I loved all those things. I must laugh now imagining offering my own kids some pig tail to eat… they would thing I am nuts, but for us kids back them they were really a delicacy!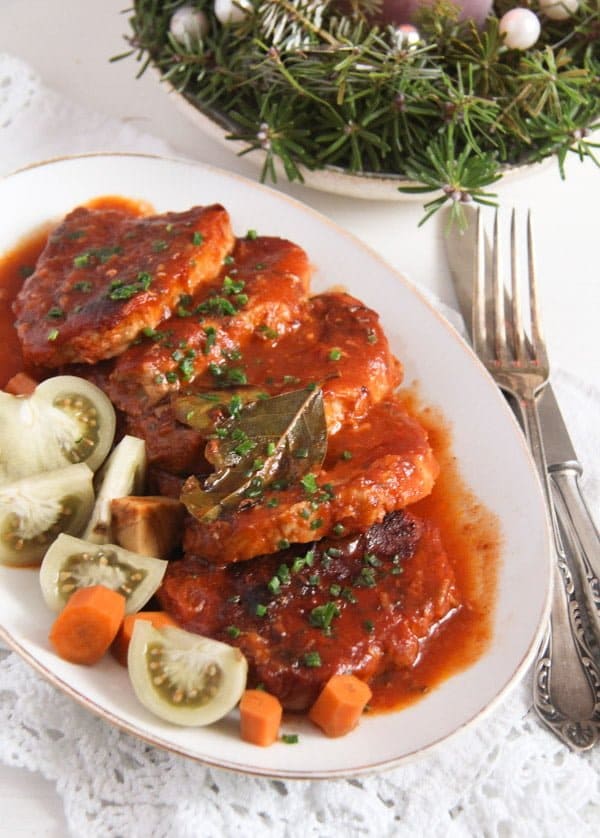 Notes on the Easy Roasted Pork in Garlic, Tomato and Paprika Sauce:
So, after this insight in Romanian food history, let's get back to the pork roast. This is indeed a very Easy Roasted Pork in Garlic, Tomato and Paprika Sauce recipe. It needs a bit of oven time, but that is really not that bad, I mean once you get it in the oven you don't really have any actual work to do anymore.
I had a whole pork roast (Rückenbraten in German) which I sliced in finger-thick slices. However, you can buy already thickly sliced pork. Make sure that the roasting dish you use is large enough to fit the meat slices in one single layer. Still, the meat slices should be close to each other and be covered in sauce before you put them in the oven.
The garlic and tomato sauce is absolutely delicious, I love any kind of tomato sauce, their fruitiness and freshness and when combined with lots of garlic it can only get better. Do try to serve this roast with mashed potatoes; the soft potatoes, the tomato sauce and the tender meat pieces make a wonderful combination. We served this Easy Roasted Pork in Garlic, Tomato and Paprika Sauce with pickled vegetables, the Romanian style I would say, pickled green tomatoes for me and mostly gherkins for the rest of the family.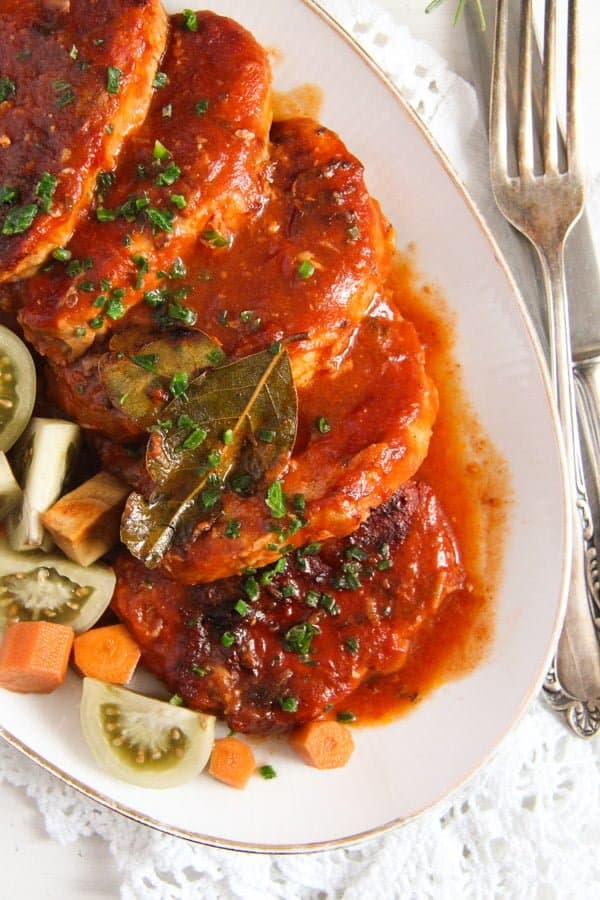 Other delicious pork dishes: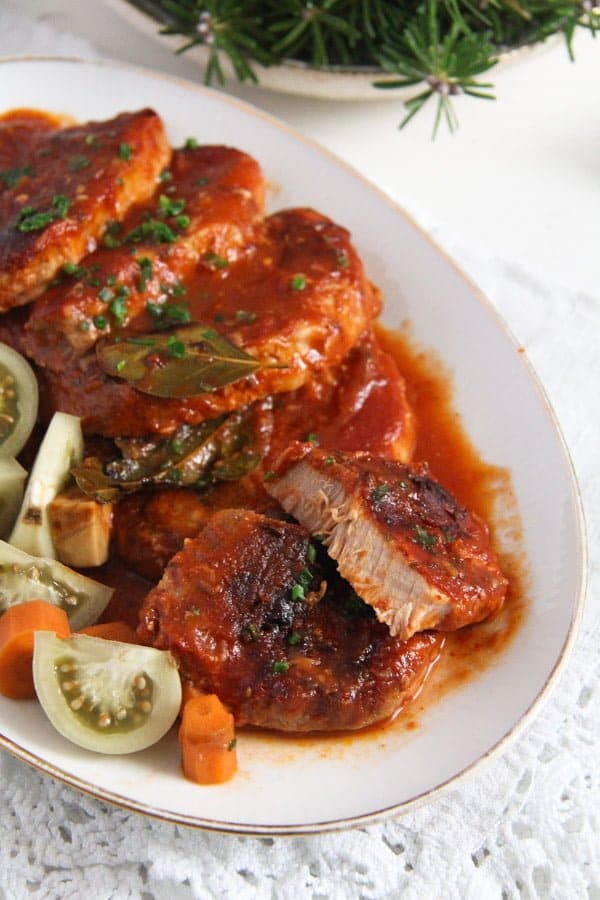 This post contains affiliate links. The price you pay as a consumer does not change, but if you make a purchase we will receive a commission which helps support the blog.