Delicious, hearty roasted pork in tomato sauce with garlic, served with mashed potatoes and pickles.
This sort of sliced roasted pork in tomato sauce was an important part of our traditional Romanian Christmas dinner. There were always the Chicken Soup with Dumplings – Supa de galusti, the Romanian Boeuf Salad with Potatoes, Gherkins and Mayonnaise, the Sarmale – Traditional Romanian Cabbage Rolls with Pork and Rice, the Romanian Sweet Bread with Walnuts – Cozonac and a pork roast.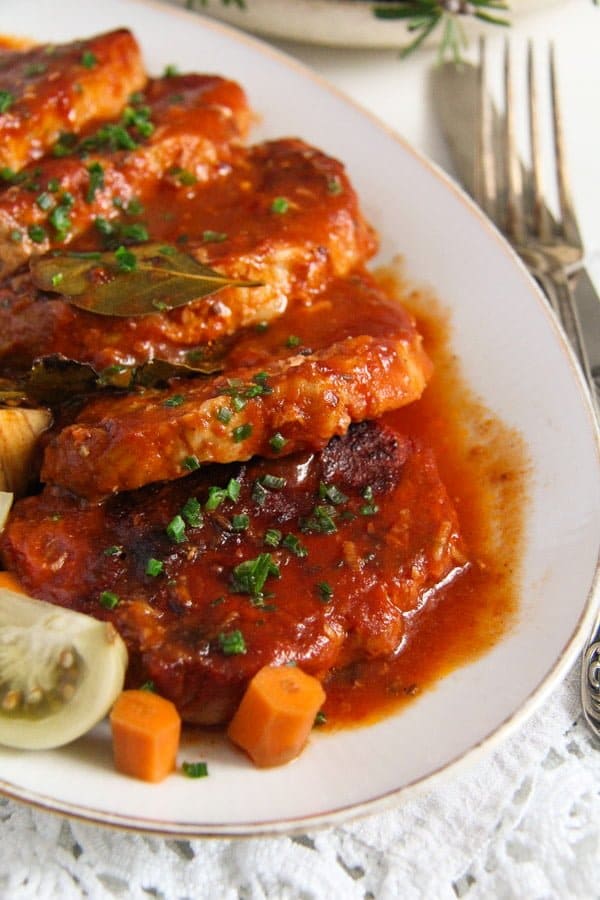 SLICED PORK IN TOMATO SAUCE
My grandmother, like my aunt nowadays, would start cooking all these things one or two days before Christmas Eve and we would keep eating the same things for lunch and dinner until they were all gone, which considering the quantities and the fact that there was only the two of us, it always took a week or so…
Her usual pork roast for Christmas was even more basic than today's recipe, actually I could not even call that a roast, as she would only fry slices of pork in a frying pan, which she served with mashed potatoes (or sometimes only bread) and pickles, mostly Green (Unripe) Tomato Pickles.
I loved those pork slices fried in the pan and sometimes I think I can never manage to make my fried pork taste like the one my grandmother's. Probably the main reason for that is that she usually made those steaks around Christmas with meat from freshly slaughtered Christmas pigs.
We had a big tradition of Christmas pig slaughtering in Romania during the communist times and later on in the 90's. People probably still do that nowadays (especially in the villages), but not the way it used to be done during those times when meat was so scarce and people were depending on raising their own pigs if they wanted to have any meat for Christmas at all…
It was not a very enjoyable thing for me as a kid. I mean, I loved the meat but the slaughtering process always caused me nightmares.
We lived in a flat in a neighborhood where everybody lived in a flat, so hundreds of families would slaughter their pigs in December. And because not all of them had relatives who lived in the country or in a house with a yard and a garden, they had no choice but to slaughter the pigs in front of the apartment buildings in the vicinity of a drain, where the blood could seep in.
So, December was a month were I often woke up in the morning hearing the screams of the pigs and when I was going or coming back from school I always afraid that I would see a dead pig or some bloody snow when I turn the next corner … Not nice, but normal! It would have never occurred to me to refuse eating meat because of that, that was the way things were and I had never known it any other way.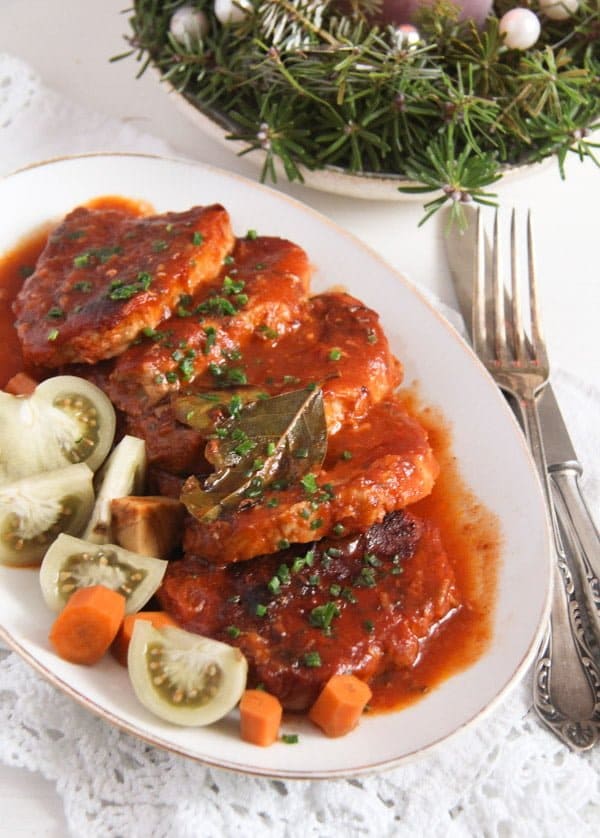 And the things my grandmother (and my aunt) used to do with that pig!
They used every single part of it, nothing ever went to waste. We ate the ears, tails and some parts of the burned skin as a special treat during the slaughtering day, they made sausages, liverwurst and lard, preserved meat in lard, used the organs to make some kind of terrines, the blood to make blood pudding/ sausages and the feet to make aspics.
And except for the blood pudding, which I could never be persuaded to try, I loved all those things.
I must laugh now imagining offering my own kids some pig tail to eat… they would think I'm nuts, but for us kids back them they were really a delicacy!
HOW TO MAKE PORK IN TOMATO SAUCE?
So, after this insight in Romanian food history, let's get back to the pork roast. This is indeed a very recipe for pork in tomato sauce. It needs a bit of oven time, but that is really not that bad. I mean, once you get it in the oven you don't really have any actual work to do anymore.
Pork:
I had a whole pork roast from the neck of the pork, which I sliced in finger-thick slices. However, you can buy already thickly sliced pork neck.
After slicing and seasoning the pork, if you have to, there is not much you have to do except for mixing the sauce ingredients.
Make sure that the roasting dish you use is large enough to fit the meat slices in one single layer. Still, the meat slices should be close to each other and be covered in sauce before you put them in the oven.
Tomato sauce:
The garlic and tomato sauce is absolutely delicious: fruity, fresh and garlicky. It contains garlic, which is an ingredient that you cannot think out of the Romanian cuisine.
Another typical Romanian ingredient that I use to make the pork in tomato sauce are the dill seeds. They are not easy to find in Germany, so I mostly grow and harvest my own dill seeds, but you could buy them online as well.
If you cannot find or don't want to buy dill seeds just for making one dish, you could replace them with other dried herbs like summer savory (also very much used in Romanian recipes) or even thyme or oregano. The flavor will be rather different, but the pork in tomato sauce will still be delicious.
And if you do buy the dill seeds and are interested in some serious Romanian cooking, why not try making Sarmale – Romanian cabbage rolls?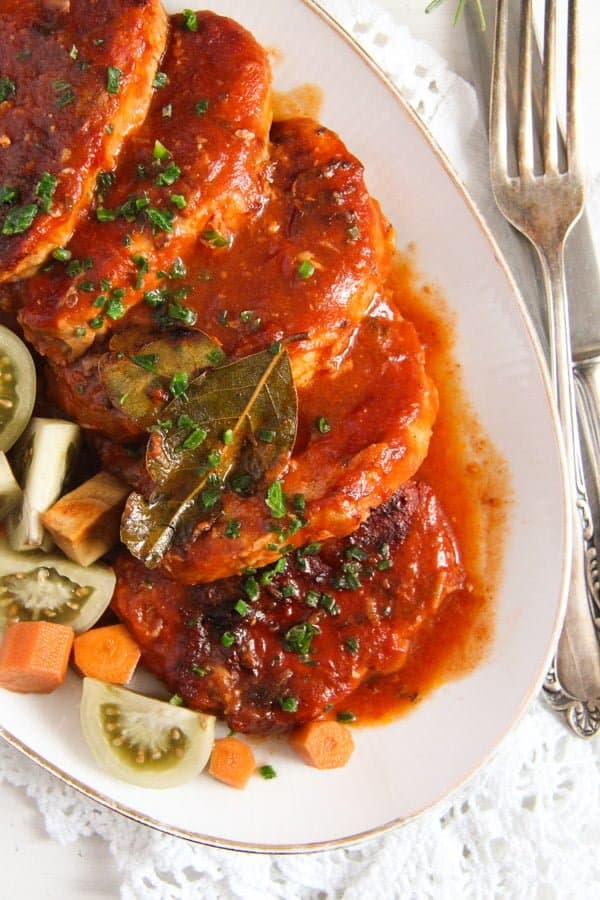 HOW TO SERVE THE PORK SLICES IN TOMATO SAUCE?
Do try to serve this pork in tomato sauce with mashed potatoes: The soft potatoes, the tomato sauce and the tender meat pieces make a wonderful combination.
We served this roasted pork dish with pickled vegetables, the Romanian style I would say, pickled green tomatoes for me and mostly gherkins for the rest of the family.
Other delicious pork dishes: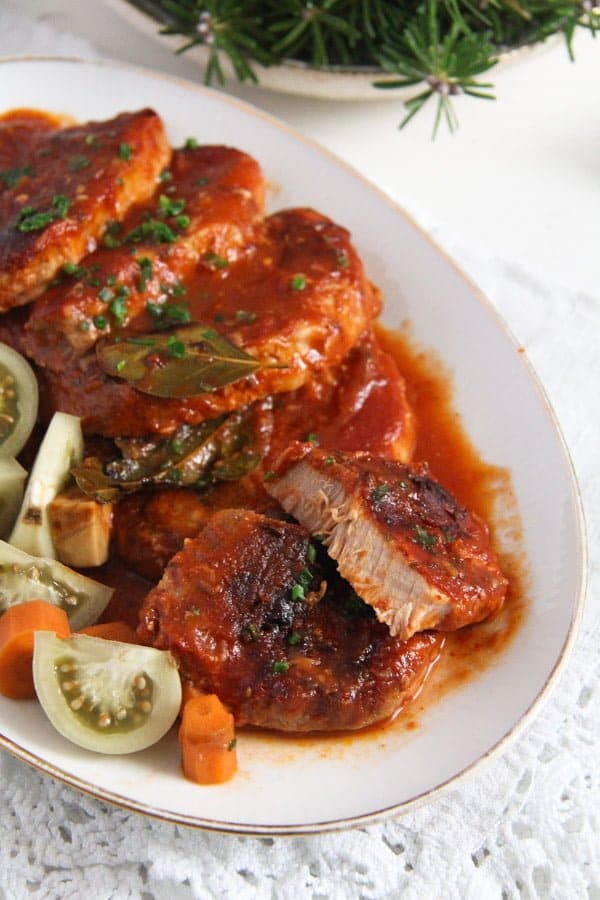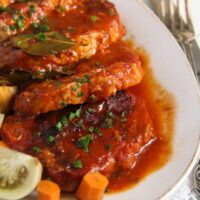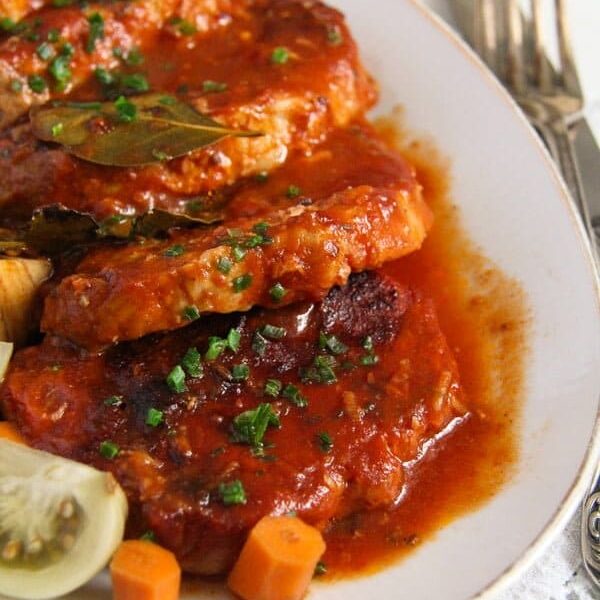 Pork in Tomato Sauce
Delicious, hearty roasted pork in tomato sauce with garlic, served with mashed potatoes and pickles.
Print
Pin
Share
Grow
Saved!
Rate
Ingredients
1

kg/ 2.2 lbs pork neck

3

large garlic cloves

1

tablespoon

sunflower oil

250

g/ 8.8 oz/ 1 cup tomato puree

150

ml/ 5 fl.oz/ 2/3 cup water

1

teaspoon

Hungarian sweet paprika powder

2

teaspoons

dill seeds

4-5

bay leaves

fine sea salt and black pepper

some fresh parsley
Instructions
Preheat the oven to 200 degrees Celsius/ 400 degrees Fahrenheit.

If the neck pork roast is whole, cut it into finger-thick slices. Pound them very lightly with a meat mallet. Place the meat in a roasting dish large enough to fit the meat slices in one single layer. Still, the meat slices should be close to each other and be covered in the sauce before you put them in the oven.

Sprinkle the pork with some salt and pepper.

Press or grate the garlic cloves and mix them with the oil, tomato puree, and water. Add the paprika powder, dill seeds, salt, and pepper to taste. Mix well.

Pour this mixture over the meat in the roasting pan making sure that all the pork slices are covered in sauce. If necessary, thin the sauce with a little bit more water to make sure you have enough of it. Place the bay leaves here and there in the sauce.

Cover the pan tightly with foil. Place it in the hot oven and roast for one hour. Remove the foil and continue roasting for about 30 minutes. Check the meat, it should be cooked through and really soft. If it isn't soft enough, prolong the roasting process, checking again after 10 minutes or so. But I find one and a half hours to be normally sufficient, the meat is always very soft.

Sprinkle with some parsley and serve immediately with mashed potatoes and pickled vegetables.
Nutrition
Serving:
1
g
|
Calories:
655
kcal
|
Carbohydrates:
7
g
|
Protein:
67
g
|
Fat:
38
g
|
Saturated Fat:
13
g
|
Polyunsaturated Fat:
22
g
|
Cholesterol:
220
mg
|
Sodium:
425
mg
|
Fiber:
2
g
|
Sugar:
3
g