Deliciously sticky, tender Syrian vine leaves stuffed with a lemony and garlicky rice filling and cooked over a bed of chicken legs.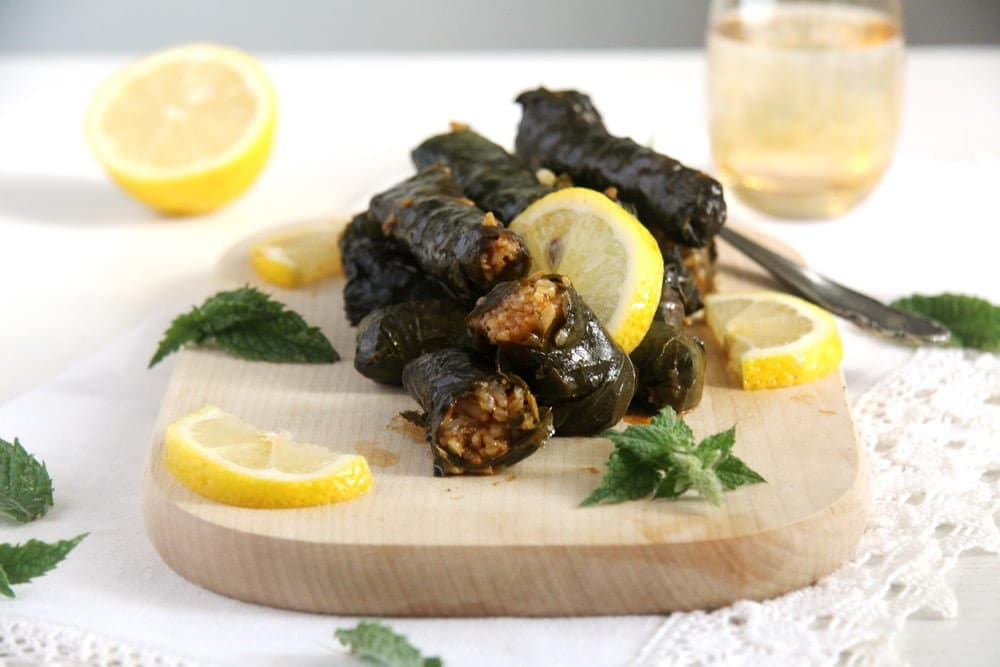 Let me begin by telling you that these stuffed grape leaves are one of the best meals I have had for years. I like food, most of what I cook or eat somewhere else, but this recipe is just out of this world! As far as it concerns me, it is really not an overstatement. It is time consuming to make, not exactly something one would make on a regular occasion, but if you do take your time and make it, you will be amazed. And after making it once, you will just not care about all the work it involves anymore and you will make it again and again just because it is so good and you will start craving it just by thinking about it.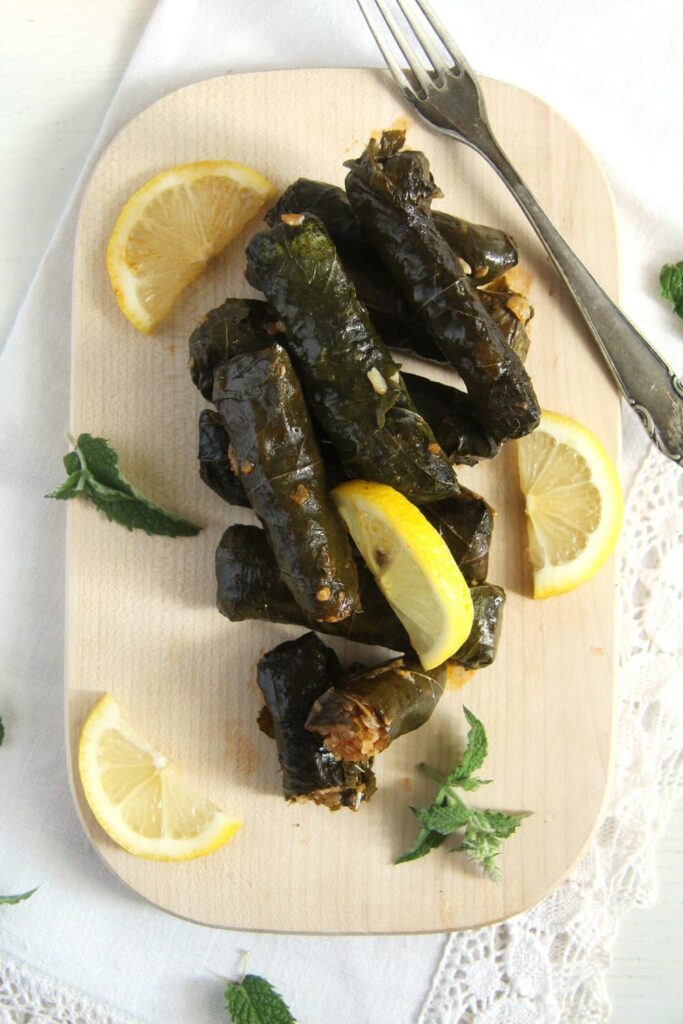 It is an original Syrian recipe brought to me by Nesrin, a Syrian friend, who has been living in our village with her family for about one year now. You must all be familiar with the Syrian (and not only Syrian) refugee situation in Europe and I have to use this opportunity now to say how proud I am about the way Germany reacted and deals with the refugee situation. Not that every German person I know is that open and welcoming, but many people are and that is amazing. Although we live in a very VERY small village (about 500 inhabitants), we did get our share of refugees coming from Syria, Afghanistan and Iran. In the next village, which is larger there are much more of them as well. And you will not believe how many people do take their time and try to help as much as they can.
I got to know Nesrin and her family better than the other families, due to the fact that we both speak English and have children of more or less the same age. Her oldest daughter goes to school with my Bruno and this is how we got to know each other better. And I have to tell you that she is the best cook I know. I had the luck of tasting quite a few of her dishes and I was amazed by each one of them.
She made these grape leaves for a kindergarten party a few months ago and although the choice was large and one got to taste quite a few different things brought by many mothers, these rolls were by far the best thing on the table. I was so awed and so greedy, I kept going back to the table to take yet another one of the thingies until they were all gone. After I had the first one I was not even tempted to eat anything else anymore that afternoon, not even cake. 🙂
I immediately asked for the recipe and, as usual, Nesrin told me she cannot really explain or write down the recipe, she has to cook it in front of me and I could help and take notes. And so we did, like a few times before. It took us a few hours to make the rolls and another couple of hours to cook them. But all the work and time were well worth it. My whole family loved them, everybody else who tried them was amazed and we had enough food for 3 days, so when I put it that way, I realize that although they took a long time to make, I still didn't have to cook anything else for the next 3 days, so… And trust me, eating these stuffed leaves for 3 days in a row won't make you tired of them. You will wait for the next lunch or dinner just as greedily as you would wait for a new dish every day. They are that good!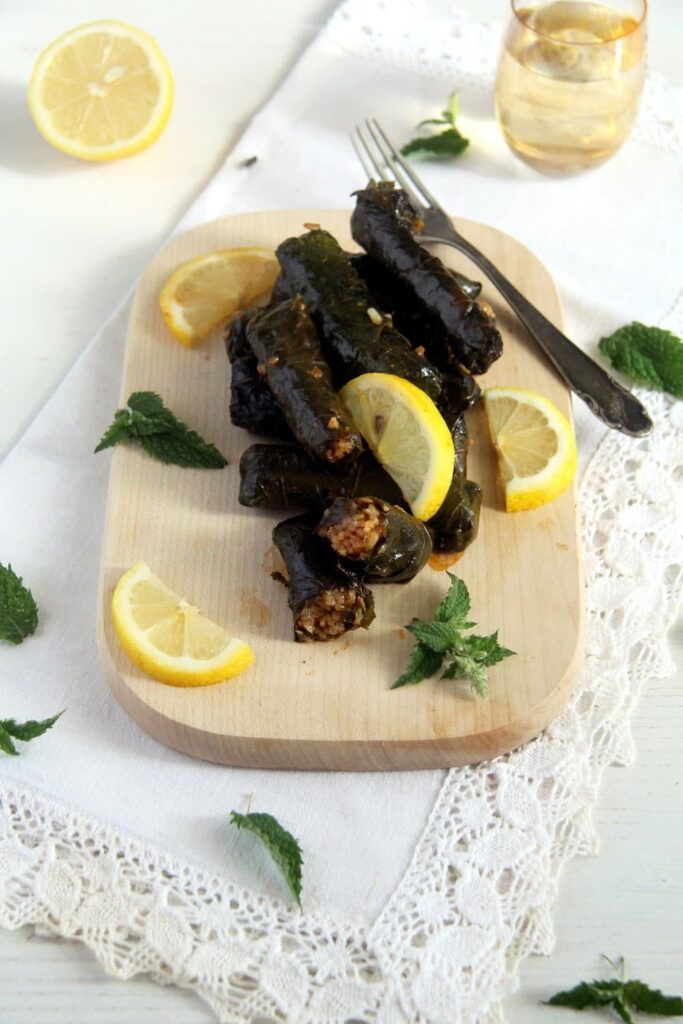 Of course, you can easily halve the recipe, but making more of them is worth it. They are delicious hot or cold, you can have them as a main meal or as a snack, you can arrange them on a platter and take them to a party (leave the chicken legs at home if you do that 🙂 ), and you can keep them, covered, in the fridge for up to a week, or so Nesrin says, I don't know, they never last more than 3 days in our house…
I have never seen anyone being so generous with the spices in her cooking, Nesrin throws them in by the handful, but it works. The food is unbelievably tasty and delicious without being overladen.
Prep time:
Cook time:
Total time: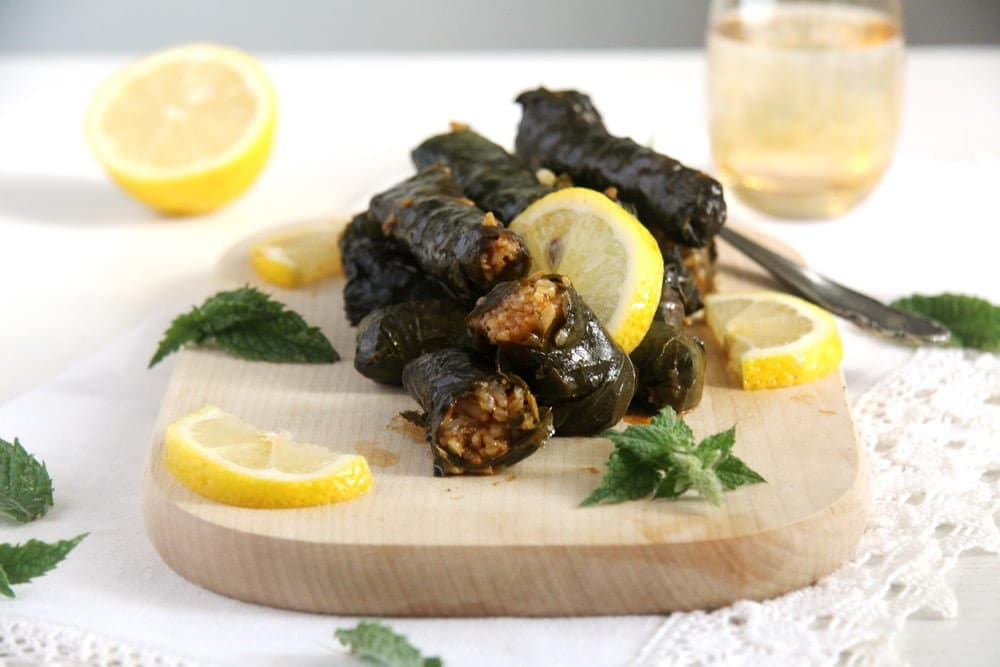 Ingredients
1 kg/ 1.1 lbs long grain rice
2 jars grape/vine leaves in brine (each jar 350 g/ 12.3 oz drained net weight)
1 large bunch parsley
1 handful Syrian mint (or regular if you cannot find the original)
1 large onion
2 ½ bulbs garlic (that's right – whole bulbs), divided
2-3 teaspoons cayenne pepper
2 heaped tablespoons sweet paprika
1 heaped tablespoon ground black pepper
4-5 teaspoons sea salt, divided
3 tablespoons pomegranate molasses, divided
270 g/ 9.5 oz tomato paste
250 ml/ a bit more than 1 cup olive oil
200 ml/ almost 1 cup lemon juice from a bottle, divided
3 large whole chicken legs
Greek or Turkish yogurt to serve
Instructions
Place the rice in a large bowl, pour boiling water over to cover it and let soak for 1 hour. Massage the rice with your hand to clean it, drain it through a fine mesh sieve and wash it again under running water very very well. Let drain well and place it in a large bowl.
While the rice soaks, drain the two grape leaves jars. Carefully take the leaves apart and remove the stems. If some of the leaves break, you can put some pieces together when filling them and still be able to get a nice roll. Nesrin says, that really good quality leaves don't break so much. Bring a large pot of water to a boil and cook the leaves for about 15 minutes, turning them around in the water 3 or 4 times in between. Drain well.
While the leaves are cooking chopped the onion and the herbs very very finely. Peel the cloves of 1 ½ of the garlic bulbs and grate them finely. Give these ingredients to the drained rice and add the cayenne pepper, sweet paprika, black pepper and about 2 teaspoons of the salt. Mix well, add the pomegranate molasses, about 170 g/ 6 oz of the tomato paste, the olive oil and about half of the lemon juice. Mix very well with your hands.
Take a very large pot and place the chicken legs in it.
Make the rolls. Place one or two grape leaves on your left palm (if you are right handed). If you have some broken leaves, place more of them on your palm, so that you have a nice even layer. Give a small amount of the filling about 1 cm above the base of the grape leaves. Start rolling, first the lower side over the filling, then the left and right side over the filling, then again from below forming a relatively tight roll. Place each roll in the pot, over the chicken legs, starting circularly around the edge of pan and continuing with smaller circles towards the middle of the pan. You will have several layers.
Place a large plate, upside down, on top of the rolls. Fill a metal bowl with water and place this on top of the plate. You have to do this, so that the rolls will stay put in the pan and not flow around when you add the cooking liquid.
Use the same large bowl to mix the necessary cooking liquid, unwashed, of course. Place 2 ½ liter/ 10.5 cups boiling water in it. Add the remaining bulb of garlic, cloves finely grated, to it. Add the remaining lemon juice, the remaining tomato paste, the remaining tablespoon molasses and the remaining salt (2-3 teaspoons to taste). Mix well and taste, it should taste salty and lemony.
Carefully give about ¾ of this mixture to the pot with the grape leaves. Turn the heat on high and bring to a boil. Reduce heat to medium and cook for 1 hour. Reduce the heat to low and cook for another ½ hour. Take one roll out of the pan and check to see if the rice is tender. It should be really soft and a bit sticky. If it's not done, add some more of the reserved cooking liquid and continue cooking on low, checking from time to time, until the rice is soft, about 20-30 minutes more. Use as much of the remaining liquid as needed to keep the rolls stewing in it, but you don't have use it all.
Serve hot with the chicken legs and yogurt or cold with yogurt.
Others you might like: