How to make a chicken shawarma plate at home. A delightful and healthy Middle Eastern recipe for shawarma served with hummus and tabbouleh.
A light, spicy and delightful chicken shawarma plate, Saudi Arabia style, served with fresh vegetables, hummus and tabbouleh.
Middle Eastern food is amazing, wouldn't you agree? Only talking about hummus, stuffed wraps with chicken, muhammara or stuffed grape leaves makes me hungry.
I do cook loads of Middle Eastern food, recipes inspired by Yotam Ottolenghi's or Claudia Rhoden's books or recipes I get from a Syrian neighbor of ours. They are all delicious, I don't think I have ever cooked a Middle Eastern recipe I didn't love.
And this chicken shawarma plate is no exception. A simple and spicy way of cooking chicken, enjoyed together with other scrumptions little dishes on a large plate, perfect food for a healthy family dinner and definitely something you could make for guests as well.
SPICY CHICKEN SHAWARMA PLATE
Are you much into football? Or soccer, how the Americans call it? Well, I am not really… But, with the World Cup having started yesterday, there is really no way I can avoid it here in Germany. Germany loves football/soccer, Germany is the world champion at the moment, and there is football everywhere now.
On the streets, in the stores, on television, on the radio and so on. It has just started, so it is still rather quiet, but wait a few days… until Germany plays its first game tops, and all hell will break loose.
My husband is usually not a football person either, he never cares about Bundesliga (first German Federal League – I am not even sure if that is the correct translation), but when it comes to the World Cup, he gets the fever as well. He watches every game he can (when he is not at work), so every evening for the next month there will be only football in our house. Goodbye Netflix…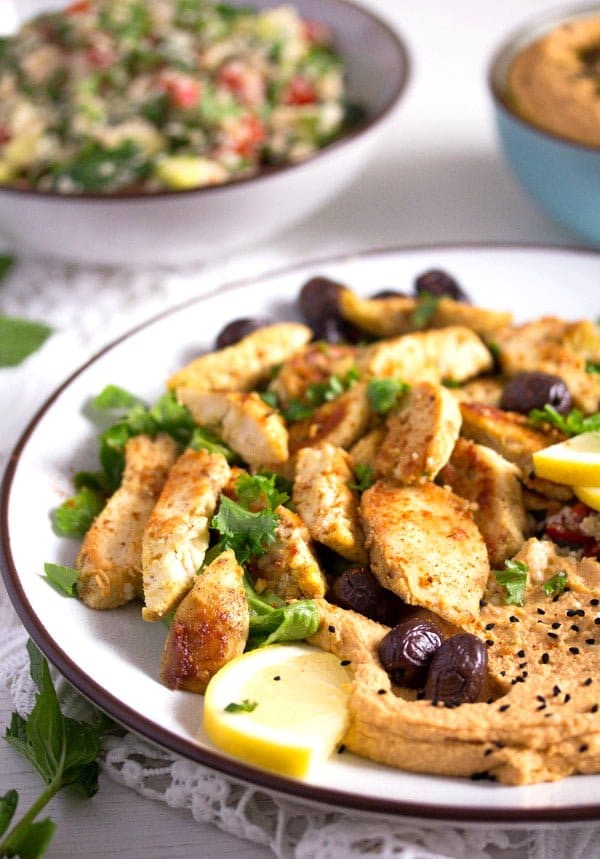 Well, for me is not as bad as it might sound now. Even if I really don't care much about who wins the World Cup (Germany would be nice, but not mandatory… :)), I still find it rather exciting to follow a good game from time to time. And I like it when smaller teams like Iceland last time (don't know if it was World Cup or European Cup) manage to make their way closer to the top, it is far more interesting than having the same football countries winning over and over again.
But I have never in my whole life managed to sit for 2 hours and watch a game from start to finish, not even when Germany played against Romania for instance, not even the last World Cup finals when Germany became champion.
I would go nuts if I was forced too, I just don't have the patience, the understanding and the interest for it. Instead, I sit by either with a cookbook on my lap or with the knitting needles in my hands… I know… don't laugh…
MIDDLE EASTERN CHICKEN SHAWARMA
To make it more interesting for me this year, I've decided to bring some cooking into this whole football/soccer story and try to cook some dishes from some of the countries participating in the World Cup.
Funnily enough, when I had first thought about this, the first thing that came to mind was Italy and I had already cooked something Italian for the blog.
Yesterday, I finally managed to check the list of the participating countries and I was shocked to see that Italy didn't qualify for this year's World Cup. Apparently, the first time since 1958… Lucky me… now I have an Italian dish waiting there with no use whatsoever. 🙂
The first country I chose for this football-cooking challenge was Saudi Arabia. They were part of the opening game against Russia yesterday, and unfortunately for them, they lost quite dramatically: 5 to 0.
I was looking for some typical street food from the region and one of the recipes to pop up the most was shawarma.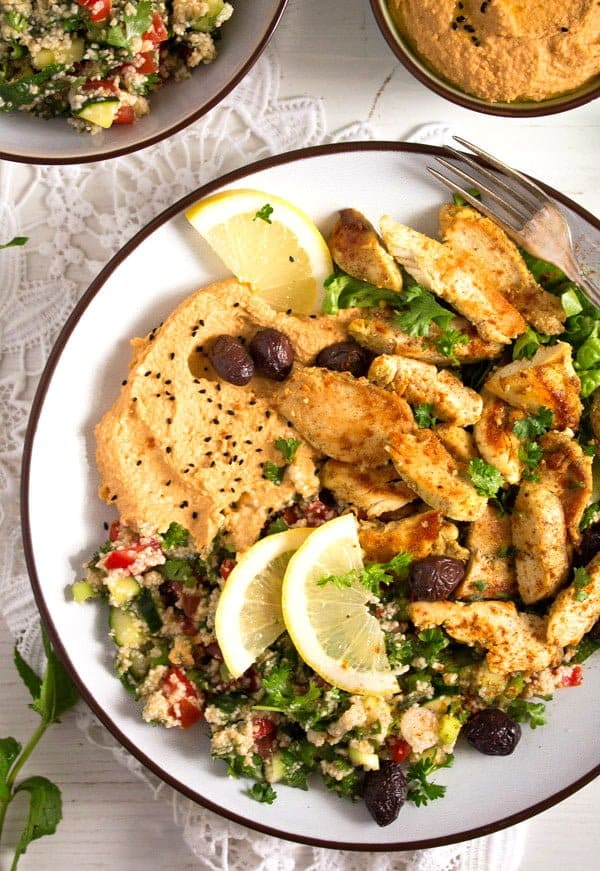 CHICKEN SHAWARMA RECIPE
Chicken shawarma is not an extremely popular street food only in Saudi Arabia or the Middle East, but in many parts of the world nowadays, Romania included. I think that shawarma was the very first fast food I have ever eaten in my life.
We didn't have fast food in Romania until after the fall of communism, the first McDonald's and stuff started appearing sometimes at the end of the 90's, I think. During a short trip to Bucharest about 20 years ago, I got to eat the first shawarma of my life. It was a rather sloppy and greasy affair, wrapped in a large flatbread and I thought it was great, I can still remember it after so many years.
After that, shawarma places started appearing in our town Sibiu as well, I did not have them often, but when I did, I've always enjoyed them.
So, I've decided to make a shawarma to celebrate the food of Saudi Arabia. An easy choice, you might think, but after all, this is about football as well and I was thinking, when possible, to choose dishes that one would enjoy eating while watching a football game.
To make it healthier than the greasy and sloppy shawarma that I remember from my youth, I went for an unwrapped version of the shawarma. Just a chicken shawarma plate of tender and spicy chicken pieces, served with hummus, tabbouleh and olives.
WHAT IS SHAWARMA?
Shawarma is a kind of meat preparation where stacked pieces of meat (lamb, chicken, beef, turkey) are cooked on a vertical spit. The spit rotates slowly in front of a heat source for hours at a time and the cook keeps slicing the meat off as soon as it cooks. The result are juicy, flavorsome pieces of meat, that can be served wrapped in flatbreads or on a plate with other accompaniments.
Shawarma is similar to the Greek gyros (which is often made with pork or lamb) or the Turkish döner (which, at least in Germany, is very often made with turkey). What sets the shawarma apart from the two is the seasoning, the meat used for shawarma is seasoned with spices like cardamom, turmeric, cinnamon and cloves.
SHAWARMA INGREDIENTS
Shawarma is a delicious thing and roasting it on the spit is definitely the way to make it, whatever you can do at home, a real shawarma from the roasting spit will still be better.
But, as you can hardly get yourself a spit at home, there are, of course, ways around it. My chicken shawarma today was absolutely delicious despite the fact that the chicken was cooked in a pan and not on a roasting spit.
I used chicken breast for the chicken shawarma plate. Boneless chicken legs would be a great option as well, but boneless chicken legs are not available in Germany and I really didn't have the time to bone the legs myself, I usually find that to be a pain… I do it when absolutely necessary, but avoid it when there is another way. And chicken breast worked great, the short cooking time making sure that the breast pieces remain moist and tender.
Slice and marinate the chicken breast.
Marinate the chicken for several hours, at least 2 or 3 and even longer or overnight, when possible. I marinated the chicken in a Persian inspired mixture of cinnamon, turmeric and cardamom. All mixed together with the juice of 1 lemon and a little olive oil. So aromatic! But just in case you don't have or don't like any of these spices, feel free to change the mixture according to your taste.
Cook the chicken in several batches, to avoid overcrowding the pan. If you do that, the meat pieces will start releasing their juices and the chicken will not be golden and fried, but rather soggy and bland. So, taking your time when cooking the chicken is crucial!
The cooking time is rather short. The chicken breast for the shawarma is thinly sliced, so the pieces of meat will actually cook in no time, about 5 minutes per batch, turning the chicken slices around so that they get nicely golden all over.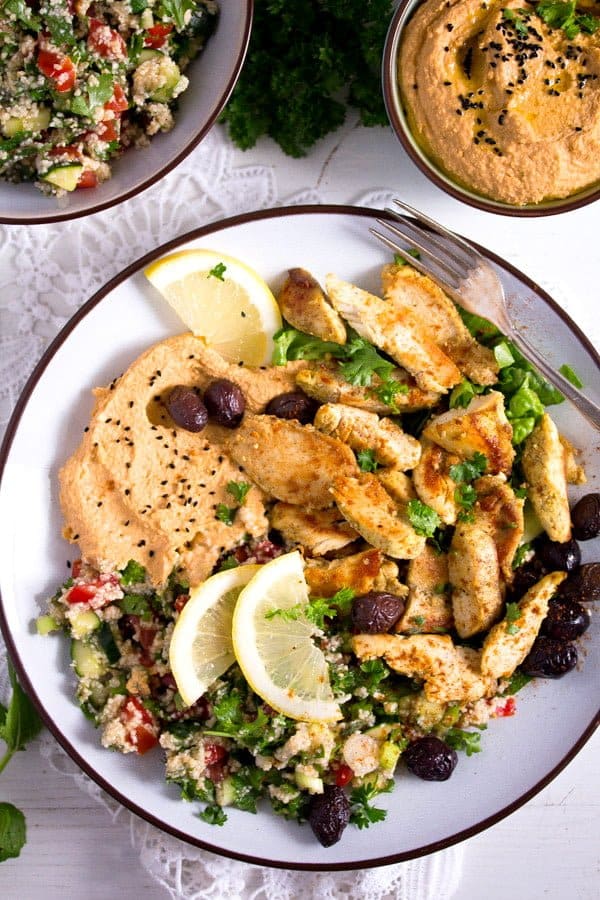 How to prepare a chicken shawarma plate
I chose to serve the chicken with hummus, my beloved recipe, the one I make on a regular basis and the tabbouleh salad from a few days ago. I also added some sliced salad leaves and some wrinkly black olives. I drizzled everything with very little extra olive oil and sprinkled the plate with nigella seeds.
We also had some sliced tomatoes and cucumbers on the side. A nice tahini or yogurt sauce would have been great as well, maybe next time.
So, if you are a football/soccer fan, enjoy the World Cup and maybe try a few of the recipes coming next on Where Is My Spoon.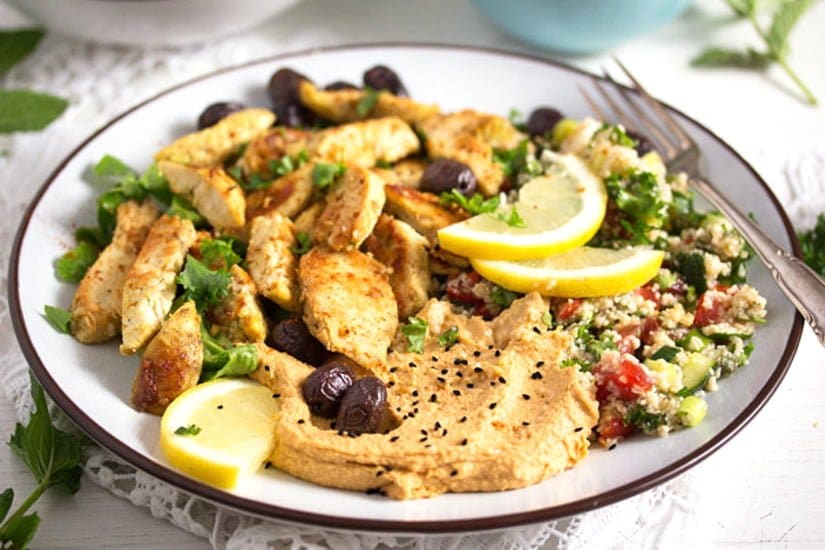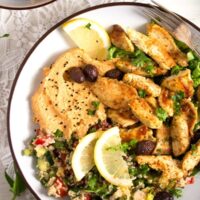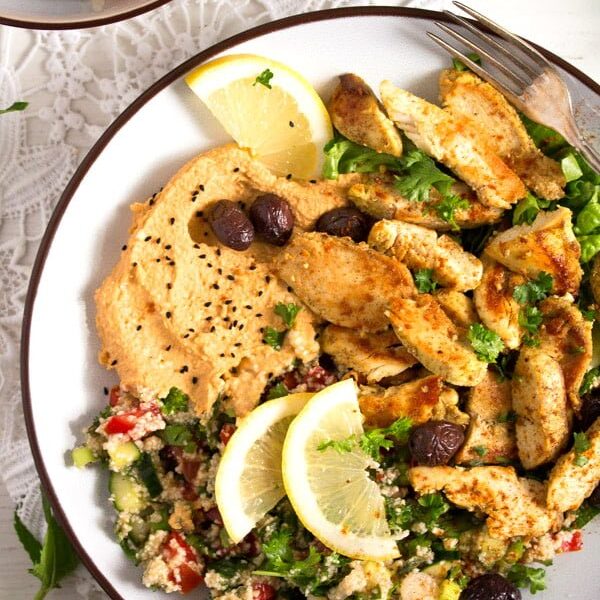 Chicken Shawarma Plate
How to make chicken shawarma plate at home. A delightful and healthy Middle Eastern recipe for shawarma served with hummus and tabbouleh.
Print
Pin
Share
Grow
Saved!
Rate
Ingredients
500

g/ 1.1 lbs boneless

skinless chicken breasts, about 4 (See note)

juice of 1 lemon

2

tablespoons

olive oil

½

teaspoon

salt

¼

teaspoon

ground black pepper

2-3

tablespoons

olive oil for frying the chicken strips

To serve:

hummus

tabbouleh

black olives

sliced salad leaves

sliced tomatoes

sliced cucumbers

nigella seeds

a drizzle of extra virgin olive oil
Instructions
Chicken:
Slice the chicken breast into thin strips. Place into a bowl. Add the lemon juice, olive oil, cinnamon, cardamom, turmeric, salt, and pepper and stir well to coat the chicken with the spice mixture. Cover the bowl and leave to marinate in the refrigerator, for at least 3-4 hours or overnight. Take the chicken out of the fridge about half an hour before cooking the meat.

Heat about 1 tablespoon of the olive oil in a large skillet or pan. Cook the chicken breast in 2 or 3 batches, depending on the size of your pan. Don't overcrowd the pan or the chicken will be cooked in its released juices instead of being properly fried.

Cook the chicken, stirring occasionally, for about 4-5 minutes per batch or until the chicken strips are golden and cooked through, but still tender and juicy. Don't overcook the chicken or it will not be that tender anymore. Add some more olive oil between the batches.
Chicken shawarma plate:
Place some hummus on one side and some tabbouleh on another side of the plate. Arrange the sliced salad leaves in between and give the chicken strips on top. Add some black olives, sprinkle the plate with nigella seeds and finish with a drizzle of extra virgin olive oil.

Arrange the tomato and cucumber slices on the plate as well, if the plate is large enough. If not, serve them on the side. You could also serve some yogurt or tahini sauce with the chicken shawarma plate.

The nutrition is calculated only for the chicken breast.
Notes
The same amount of boneless skinless chicken thighs can be used instead.
Nutrition
Serving:
1
/4 of the dish
|
Calories:
330
kcal
|
Carbohydrates:
1
g
|
Protein:
39
g
|
Fat:
18
g
|
Saturated Fat:
3
g
|
Polyunsaturated Fat:
14
g
|
Cholesterol:
106
mg
|
Sodium:
357
mg