Romanian potato salad with gherkins, olives and eggs. The classic Oriental Salad or Salata Orientala made in every Romanian home.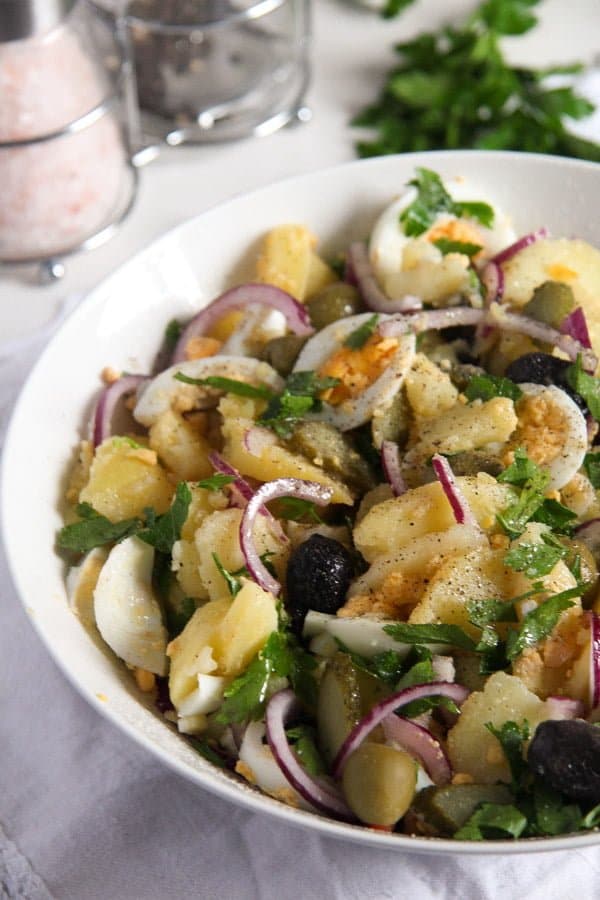 This Romanian potato salad - salata orientala - is the one potato salad my grandmother used to make a lot, the only one she ever made, I think. Everybody in Romania makes it; you could call this Romanian potato salad a national dish.
Salata orientala or Oriental Potato Salad, I have no idea why oriental; I could hardly say what it is that makes it oriental... But it's a classic, and nobody else would ever call it any other way.
Check out more potato salads: Potato Asparagus Salad, Sour Cream Potato Salad without Mayo, Deviled Egg Potato Salad, Salad Russe, or German Potato Salad.
Jump to recipe
What are the best potatoes for potato salad?
There are so many sorts of potatoes out there; how do you know which ones are best for salad?
Well, the easiest answer would be: definitely NOT floury potatoes; these kinds of potatoes will fall apart when cooked, and the salad will be a mess. Floury potatoes are best when making mashed potatoes or baked potatoes, for instance. You can also use them to make creamy soups, gnocchi, or potato dumplings.
Use a waxy sort of potato for potato salad. They contain less starch than floury potatoes and will keep their shape best when cooked. Look for red potatoes, new or fingerling potatoes. Waxy potatoes are also suitable for roasting, boiling, gratins, or casseroles.
The in-between type or all-purpose potatoes could be used as well. They have a medium starch content and can be used for pretty much anything. These are the sort of potatoes I buy most of the time; I always have some in the cellar.
Names of different types of potatoes
Starchy potatoes: Idaho, Russet, Maris Piper, King Edward, Desiree, or Estima.
In Germany (blue label): Adretta, Gunta, Karat, Aula, or Freya.
Waxy potatoes: Red Bliss, Maris Peer Jersey Royals, Bintje, Asterix, Anabelle, Red Thumb, French Fingerling.
In Germany (green label): Anabelle, Kipfel, Charlotte, Agata, or the ones I seem to find more often than others, Linda.
In-between or all-purpose potatoes: White and Yukon Golds, Red Gold, Purple Majesty, Norland Red, or All Blue.
In Germany (red label): Christa, Finka, Bolero, Gala, Maja or Saskia.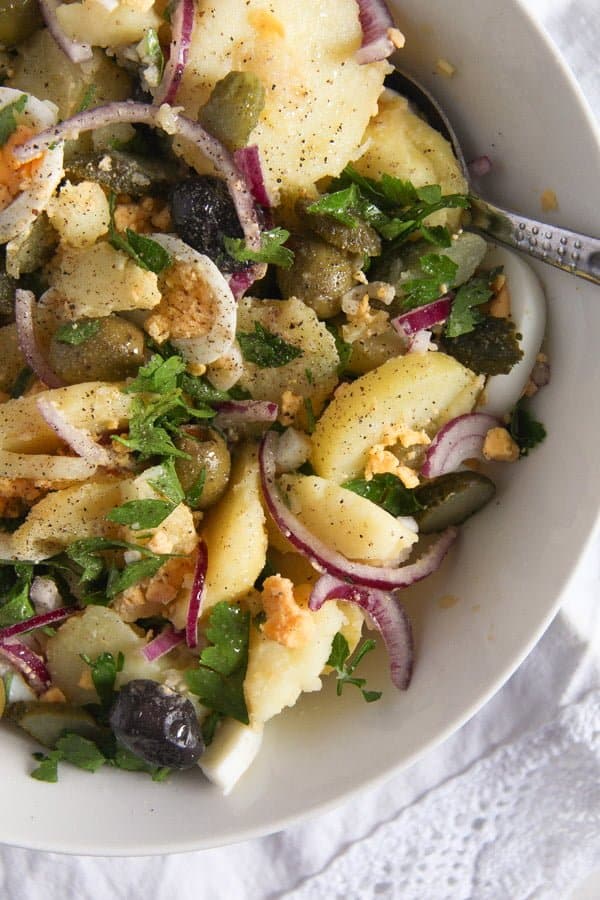 Ingredients
As mentioned above, it is best to use waxy potatoes when making this Romanian potato salad. But if you only have in-between or all-purpose potatoes in the house, don't let that stop you.
I prefer to use red onion, but white onion is OK as well.
You can either use leftover boiled eggs or you can cook some eggs. Place the eggs into a saucepan, cover well with water, and bring to a boil. Remove from the heat and let stand, covered, for 13 minutes. Drain and place in a bowl of iced water. Let stand for about 5 minutes. Peel the eggs. Let them cool down while you prepare the rest.
I like sweet and sour dill and mustard seed gherkins (I used them for the Deviled Egg Pasta Salad too). You can use them or any other (dill) pickles you happen to like.
Black olives or a mixture of black and green (the Amazon affiliate link opens in a new tab). Preferably unpitted olives; they taste so much better, and they are the authentic choice for this recipe. Warn the people at the table about the pits.
I use sunflower oil for making Oriental salad, it is the kind of oil my grandmother always used, and I like it like that. However, you can use another kind of oil as well, either a mild olive oil or neutral-tasting vegetable oil.
Make in advance and store
The Romanian potato salad with gherkins can be served as soon as you make it, or you can keep it in the fridge until ready to serve.
In this case, let the salad come to room temperature and check the seasoning again before serving.
The potatoes will absorb most of the dressing, and you will want to add a bit more moisture. Add a bit more oil, gherkin water, vinegar, some salt, and pepper.
The Oriental salad keeps well in the fridge for 3-4 days; stir it well before each serving and add more of the liquids mentioned above if it is too dry.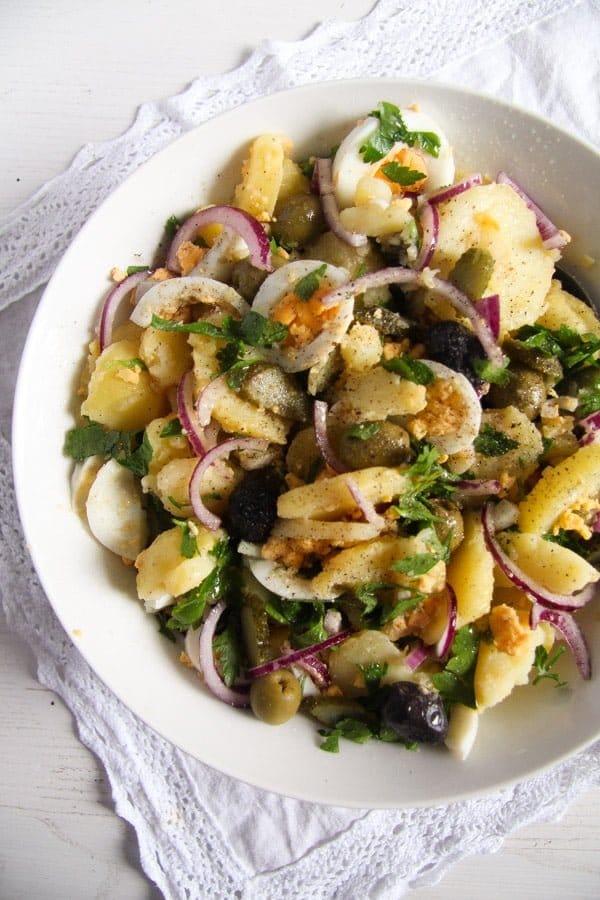 More traditional Romanian salads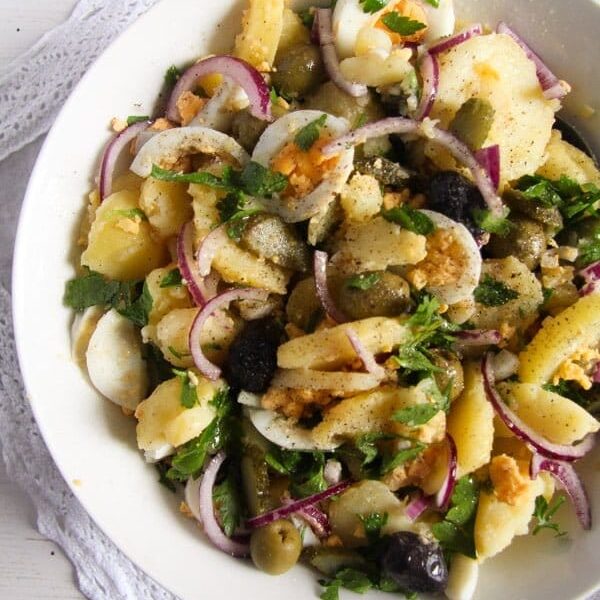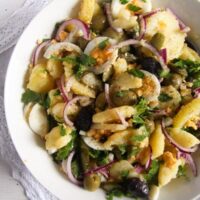 Romanian Potato Salad - Oriental Salad
Romanian potato salad with gherkins, olives, and eggs. The classic Oriental Salad or Salata Orientala is made in every Romanian home.
Print
Pin
Share
Grow
Saved!
Rate
Ingredients
Salad:
2

lbs

waxy potatoes

1 kg

1

large red onion

4

hard-boiled eggs

4

oz

sweet-sour cucumbers (gherkins)

120 g, more to taste

10

black olives

Note 2

10

green olives
Dressing:
1-2

tablespoons

white wine vinegar

to taste

2

tablespoons

gherkin water or more to taste

1

teaspoon

medium mustard or Dijon mustard

4

tablespoons

sunflower oil

fine sea salt and pepper

a small bunch of parsley
Instructions
Salad:
Cook potatoes: Wash the potatoes. Bring a large pot of water to a boil. Add 1 tablespoon salt and the potatoes. Bring to a simmer again and cook for 15-20 minutes or until you can easily pierce the potatoes with a fork. Drain well and let cool slightly. Peel the potatoes and cut them into slices. Place them into a bowl.

Prepare ingredients: Quarter the onion and slice it thinly. Add to the bowl. Slice the hard-boiled eggs and the gherkins and add them to the salad as well. Finally, add the olives; you can either leave them whole or slice them.
Dressing:
Whisk together 1 tablespoon of the vinegar, gherkin water, and mustard. Slowly add the sunflower oil while whisking all the time until the dressing emulsifies slightly. Add salt and pepper generously.

Combine: Pour the dressing over the salad and mix gently until all the ingredients are coated with the sauce.

Adjust taste and add more vinegar or gherkin water and salt to taste.

Serve: Stir again before serving and adjust the taste again if necessary, you could add one extra tablespoon oil, vinegar, gherkin water, and salt and pepper. Chop the parsley and sprinkle it over the salad just before serving.
Notes
The Romanian potato salad is usually served as a main dish. However, it makes an excellent side dish for grilled meats, sausages, and so on.
Preferably unpitted black olives, they taste so much better. However, if using them, warn the people at the table about the pit.
Nutrition
Serving:
1
/4 of the salad
|
Calories:
503
kcal
|
Carbohydrates:
66
g
|
Protein:
13
g
|
Fat:
22
g
|
Saturated Fat:
3
g
|
Polyunsaturated Fat:
17
g
|
Cholesterol:
187
mg
|
Sodium:
744
mg
|
Fiber:
7
g
|
Sugar:
12
g