Noodle salad with peas, sour cucumbers, and a creamy dressing. This is one of the most popular potluck German pasta salads in our region.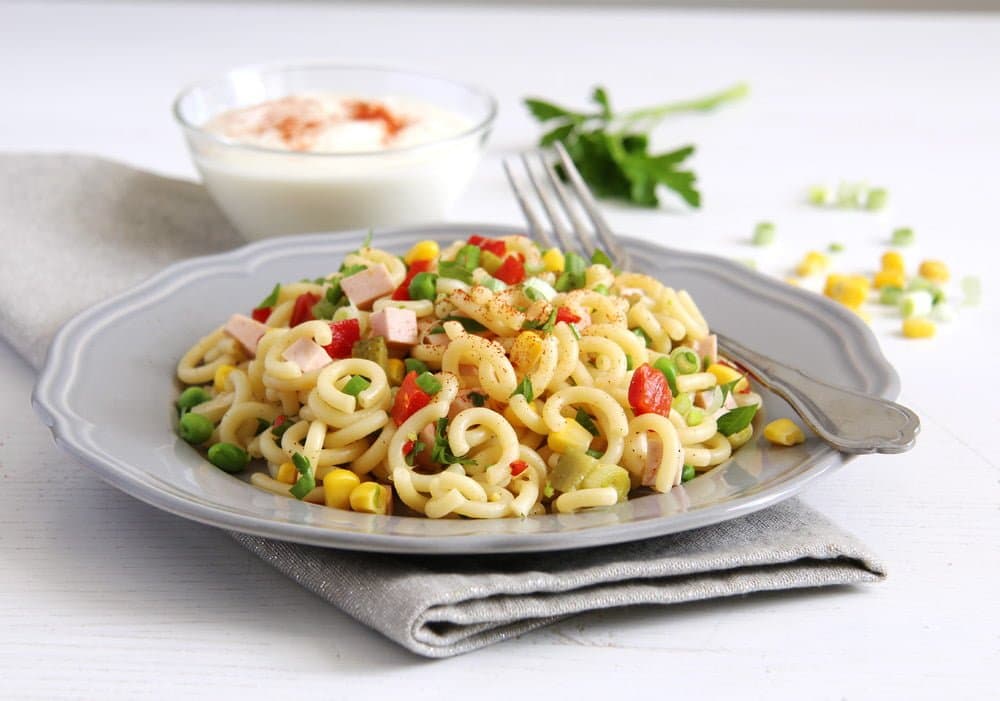 There is no grill party or any potluck party around here without a typical German salad with noodles, sausage, and peas. Really, I am not kidding!
This pasta salad together with some others like the Napa cabbage noodle salad, the tortellini salad, or the potato salad. And a few more, which I have never gotten the chance to post. Maybe because those others I don't like that much, so I don't bother making them myself. For instance, a ground beef salad with sauce from a jar, tons of cheese and sour cream, and tortilla chips on top... really not good...
But this German pasta salad I like. Very much actually. I make it myself at least once or twice every year for one party or another and I make sure to have some at any potluck party I attend.
It has been THE noodle salad for the last 30 or 40 years around here I suppose, my mother-in-law told me she started making it sometime in the 70's, when her children were still very small and she was still very young.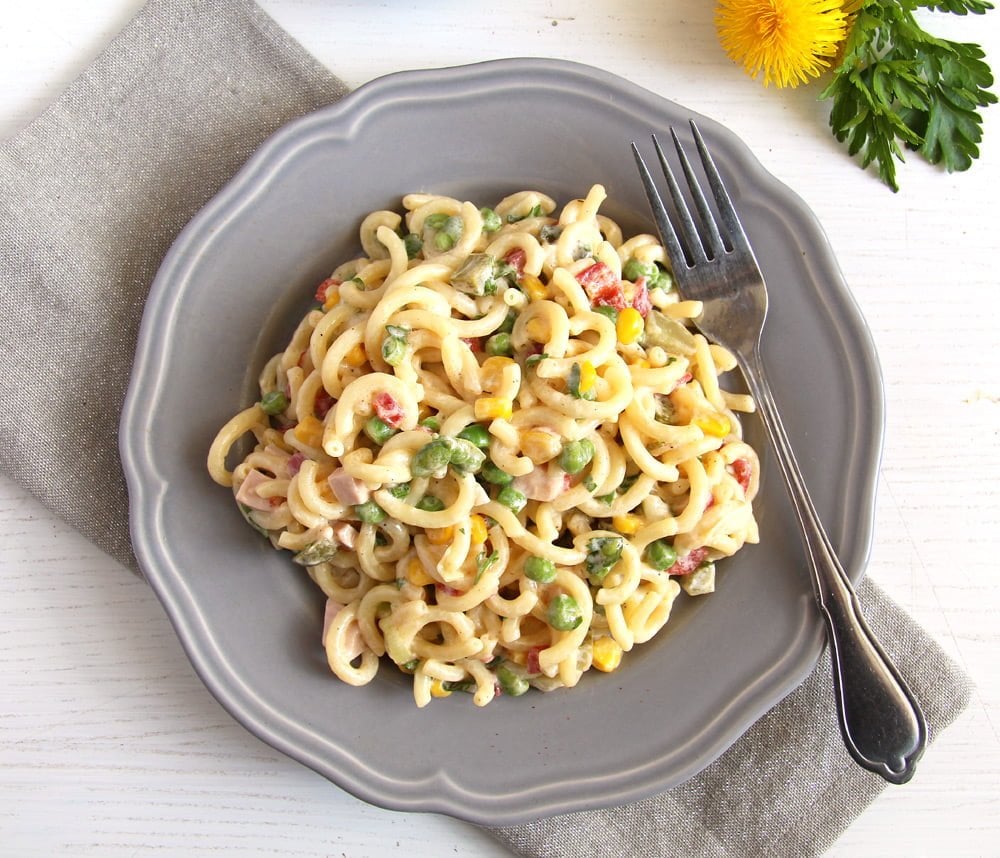 Ingredients for German Pasta Salad
Pasta:
The small pasta you can see in the pictures is typical for this German salad. In Germany, they are called Gabelspaghetti = fork spaghetti.
However, you can use any short cut pasta you happen to have and like.
Just make sure the pasta is small.
Sausages:
The typical German Fleischwurst. You can also use frankfurters or wieners to make the German pasta salad.
You can use leftover frozen sausage if you have it. Have a look at How to Cook Frozen Sausages, there is a section there dedicated to this kind of sausage.
I was told the American baloney, preferably bought from a deli shop, makes a good substitute.
Funny word baloney. So I know the word, I definitely heard it before, but I haven't heard in more than 20 years probably.
You see, I started learning English by watching a lot of American films and series in Romanian television as a child. Thank God, they don't synchronize the films there. There are only subtitles in Romania, so one is able to start learning some English, without even meaning to, at a very early age.
I will forever associate baloney with policemen eating white bread-baloney sandwiches in some old American series from the '80s. 🙂
Vegetables:
Not many fresh vegetables, except the scallions and I think that they are not part of the original recipe.
As mentioned above, this salad became popular in the '70s. And what was also popular in the '70s in Germany? Convenience food!
It was a time when cooking from scratch was considered out, a waste of time, people were impressed by the commodity of eating frozen meals and canned or packaged food...
So, there are a lot of recipes from that time using only stuff coming from the freezer or one jar/ can or another. This recipe for noodle salad included.
But not to worry, despite the many pantry, jarred and frozen ingredients, the salad is still relatively healthy and tastes amazing.
Dressing:
The major change I have made when putting together this German salad is the dressing.
The original dressing is made by mixing together 1 cup of heavy cream and 1 smaller jar of Miracle Whip.
You can do that if you like, but I really don't. I can eat a little of the salad when made with Miracle Whip, it doesn't taste bad, but it is way too heavy and like a stone in your stomach, especially if you eat this as a side dish for a bratwurst or a fatty pork steak, for instance.
So I make my own version with Greek yogurt and just a little bit of mayonnaise, it is just as tasty but less heavy. So much better, trust me on that!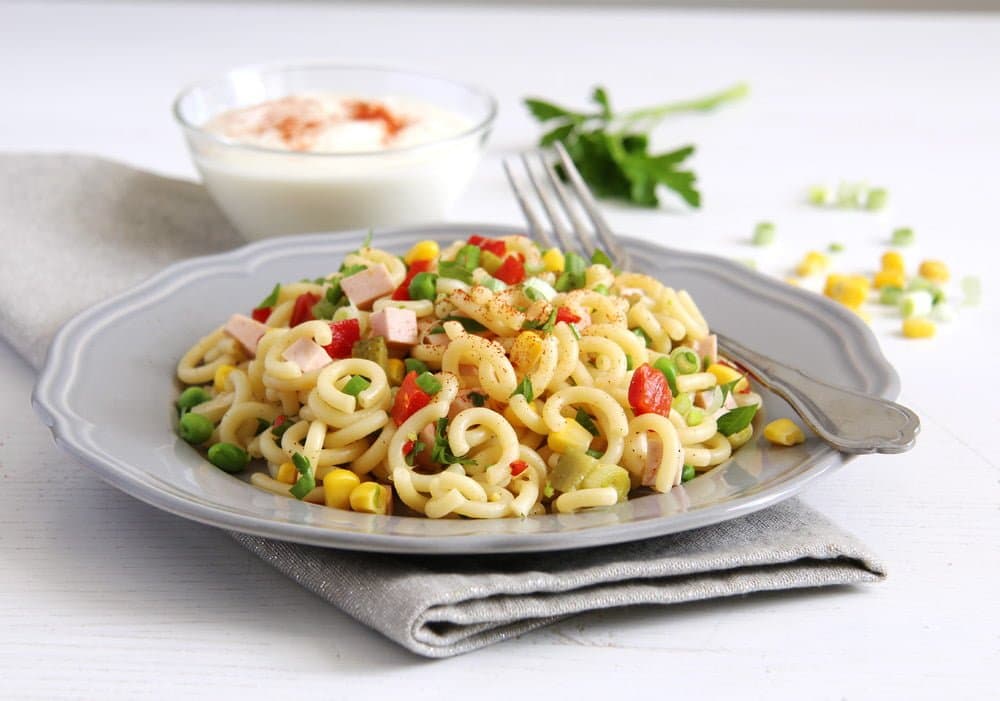 Can you make it in advance?
Definitely. I actually prefer to make it in the morning or the evening before serving it. This way the flavors will have time to develop and mingle.
Cover it with cling film and keep it refrigerated.
Make sure to bring the salad to room temperature before serving, fridge-cold pasta salad is not that nice. About half an hour would suffice.
And make sure to adjust the taste again with salt and pepper and maybe some more gherkins water to make the noodle salad smooth and shiny again.
If you make the salad with homemade mayonnaise (raw eggs), make sure to keep it refrigerated and don't leave it lying around on the table, especially in summer.
The salad keeps well for 2 or 3 days in the fridge.
MORE GERMAN POTLUCK RECIPES:
NAPA CABBAGE SALAD WITH RAMEN NOODLES - This is my favorite noodle cabbage salad: instant ramen noodles, napa cabbage and lots of roasted almonds and sunflower seeds.
FETA PASTA SALAD GREEK STYLE - A hearty feta pasta salad with green peppers and tomatoes, pasta salad Greek style.
DEVILED EGG PASTA SALAD - Simple and creamy deviled egg macaroni or pasta recipe with bacon, Dijon mustard, mayonnaise, and gherkins.
SOUR CREAM POTATO SALAD WITH BACON - My favorite sour cream potato salad with bacon and dill and without mayo.
SIMPLE WHITE CABBAGE SALAD - Only a few ingredients and so easy to make, this white cabbage salad is the perfect side dish for almost any kind of meal.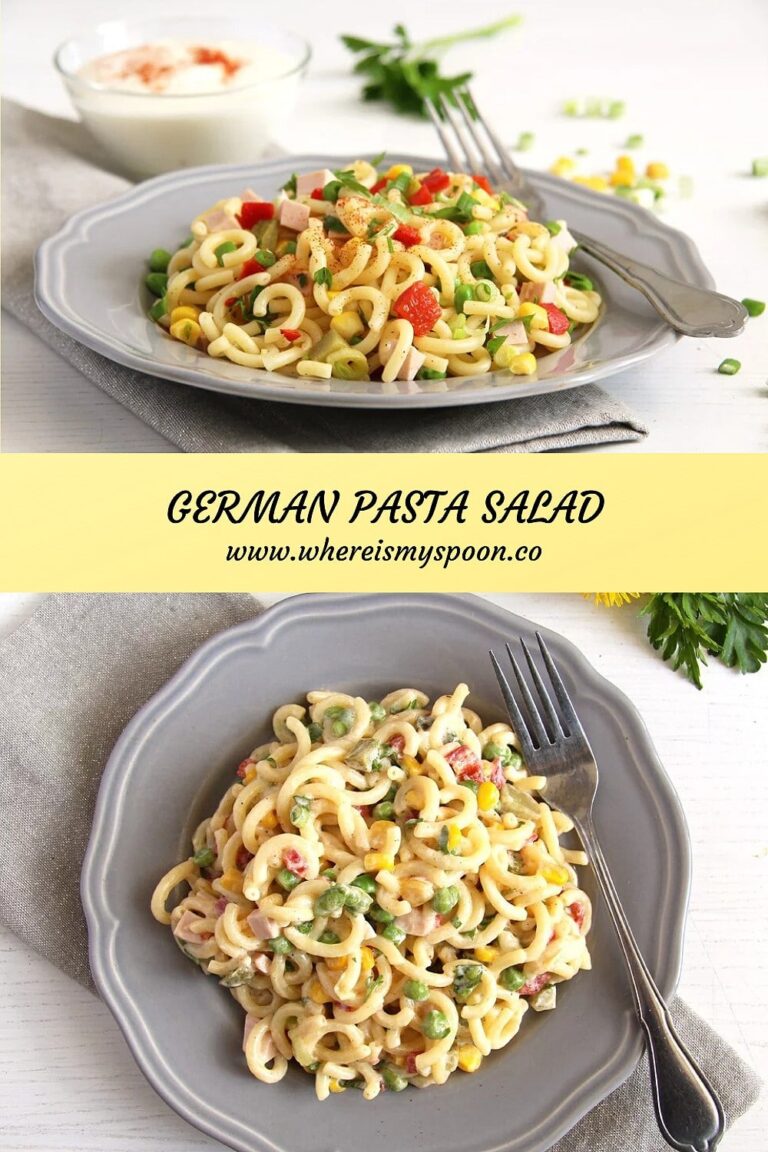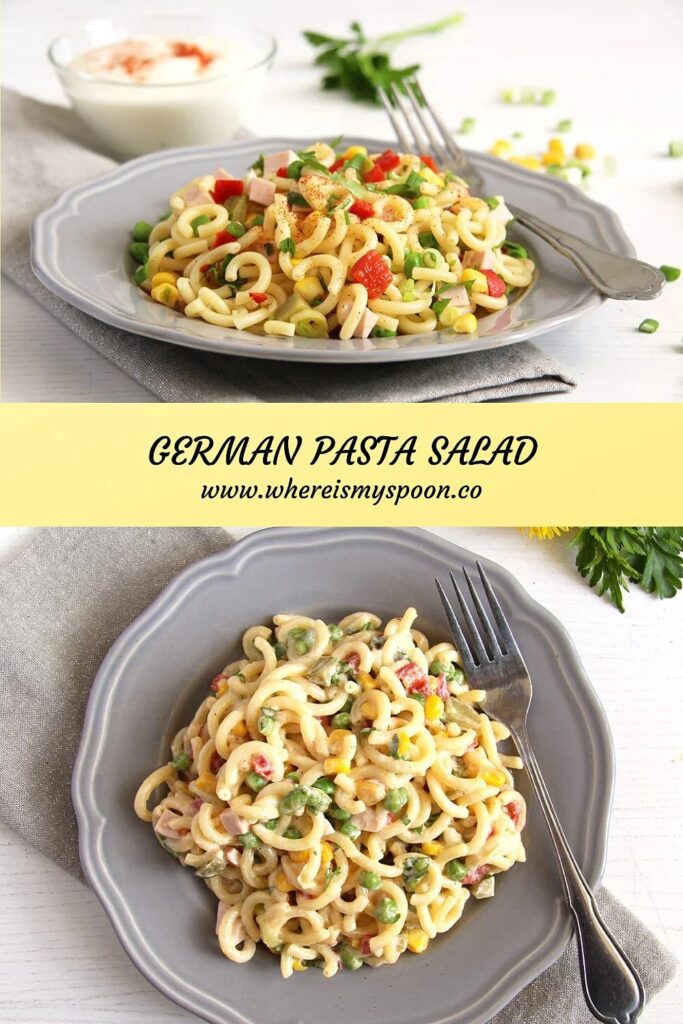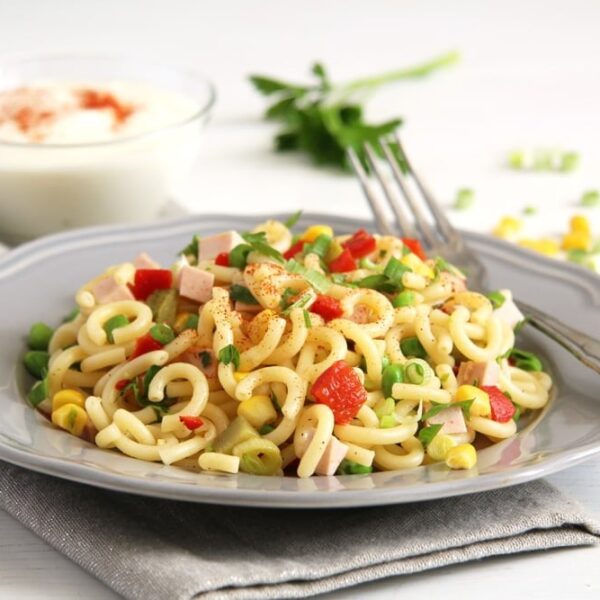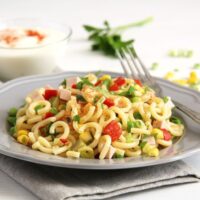 German Noodle Salad
Noodle salad with peas, gherkins, and a creamy dressing; this is one of the most popular potluck German pasta salads in our region.
Print
Pin
Share
Grow
Saved!
Rate
Ingredients
3

cups

short cut pasta

1

cup

frozen peas

7

oz

baloney

See note

5 to 10

sweet and sour gherkins

depending on size

2

roasted peppers from a jar

2-3

scallions

1

cup

corn

1 ¼

cup

Greek yogurt

2

tablespoons

mayonnaise

1

teaspoon

Dijon mustard

a few tablespoons gherkin water

to taste

1

teaspoon

sugar

if necessary

1

small bunch parsley

fine sea salt and pepper
Instructions
Boil pasta: Bring a large pot of salted water to a boil and cook the noodles according to the packet's instructions. Add the frozen peas during the last 3 minutes of the cooking time. Drain well and place everything into a large bowl.

Chop the baloney into small cubes. Next, chop the gherkins, scallions, and roasted peppers finely. Add them to the noodle bowl, together with the drained corn. Mix well.

Dressing: stir together the yogurt, mayonnaise, mustard, and a few tablespoons of gherkin water. Add salt and pepper and adjust the taste with more gherkin water and some sugar, depending on how sweet the gherkin water is. Mix the dressing with the pasta and place it in the fridge, covered for at least two hours or overnight.

Serve: Bring to room temperature before serving, add the chopped parsley and adjust the taste with salt and pepper.
Notes
Or pork sausages like frankfurters, wieners, or similar.
Nutrition
Serving:
1
/6 of the dish
|
Calories:
334
kcal
|
Carbohydrates:
35
g
|
Protein:
15
g
|
Fat:
16
g
|
Saturated Fat:
5
g
|
Polyunsaturated Fat:
9
g
|
Cholesterol:
30
mg
|
Sodium:
792
mg
|
Fiber:
3
g
|
Sugar:
14
g